Best Resistance Bands for Pull-Ups + 8 Pull Up Assist Bands Reviewed 2023
There are many ways to build a strong upper body. A good exercise is the one which is performed properly. You may have troubles doing pull-ups, but when you choose the best pull up assist bands, this problem becomes a history.
Do you really think a beginner doesn't want to pump his muscles like an advanced practitioner?
Everybody should get a chance to defy gravity!
If you are coaching women, the best resistance bands for pull-ups are a must in your equipment repertoire! Not only will you make training sessions more interesting but your women will be able to compete with men. They will not feel neglected!
A successful training session requires variety and motivation. A beginner will be demoralized when he sees there is no successful pull-up.
The best pull up assist bands should have one goal only – decreasing the difference between a Batman looking practitioner and a fatty who wants to go forward!
Stop pitying yourself!
Now everybody will be able to perform ten pull-ups and enjoy super strong upper body with a new ultimate weapon!
Positive Sides
There are many positive effects of pull up assist bands:
You can perform CrossFit WOD with ease;
There is no need to perform negative reps, jumping pull-ups, or half pull-ups through a mid-range movement;
You can combine endurance, power, and explosiveness training sessions;
You will be able to perform so many various types of pull-ups – archer, typewriter, scoping, one-handed, close grip, medium grip, wide grip, alternate grip, switch grip, plyometrics…
You can boost your confidence;
Upper body muscle training has never been easier, and you can target muscles more precisely;
You will not squeeze your hands that much;
You can use more than one pull up assist band to hit various angles;
You may focus on the technique without the need to think whether you will go to the top;
An ability to train core, lower back muscles, and legs – the best pull up assist bands can be used to improve the difficulty of exercises for your abdominals, lateral abdominals, hip flexors, bench presses, or even adductor muscles;
You can improve stretching and mobility;
Aerobic conditioning and speed training is one more great benefit;
CrossFit sessions may become more interesting;
You can perform advanced positions (front lever, for example) with ease;
As a final option, you can hold an elite athlete who runs and makes his strength and conditioning training sessions interesting like never before.
What Are Pull Up Assist Bands?
These are large resistance bands, which are set around the horizontal bar, hanging down. It enables you to place foot or knee, and the primary purpose is to load your bodyweight. It opposes the force of gravity, launching you in the air.
The pull-up assist band will provide you help in the starting phase of the pull-up. Many practitioners go slightly up and their muscles simply don't listen to their brain anymore. Final or starting phase, you will go to the top once you initiated the pull!
If the band stretches more, it also means more force will be expended in the opposite direction. As you get near the pull-up bar, the resistance decreases.
How To Use Pull Up Resistance Band Properly?
After you have purchased the best pull up bands for your gym or individual training sessions, you will notice the use is easier than ever:
Bend the tape around the pull-up bar – wrap one end around the free part which hangs;
Grab the end of the band, pull it down, and place your foot, knee, or both feet into the loop;
If you are a beginner, assume middle or wide grip position for more balance.
Pull yourself up and try to get over the top of the pull-up bar. Don't swing or jerk, go slowly, contracting the muscles of your upper back.
Return to the starting position slowly and repeat.
Continue until the remainder of the set.
What To Look For When You Choose The Best Pull Up Assist Bands?
The offer on the market is huge and you need to know which qualities are the most important ones before making a wrong choice.
Remember, every seller will try to persuade you his product is the best!
Color
The manufacturers mostly code their resistance bands with colors, so the buyer can choose easier between the best pull up assist bands they offer. Colors usually vary among manufacturers.
Thickness and Length
Thicker resistance band means the load capacity is bigger. The shorter band also means more resistance and better load capacity.
Long and narrow resistance bands don't have high capacity.
Load
It can vary from 2 lbs to more than 200 lbs. The smaller ones are better for strength and conditioning, while more load is great for weightlifters and bodybuilders.
Material
The resistance bands are usually made of latex or rubber. The high-quality rubber is mostly qualified as a great choice. If you purchase a latex one, check whether it's free from latex allergens.
Price and Training Requirements
These two components are highly related.
The lighter and longer ones cost less money, while the thicker and shorter are more expensive. You need to determine your training session goals in the first place.
TOP 8 Best Pull Up Assist Bands 2023
Freetoo Resistance & Pull Up Assist Bands
FREETOO Pull Up Assist Bands - Resistance Bands Workout Exercise Bands Stretch Bands 100% Natural Latex Best for Body Stretching,Pilates,Resistance Training,Cross Fitness,Yoga and Home Fitness
HIGH QUALITY: Freetoo durable pull up assist band made of 100% natural latex, the size and bear load of the mobility band designed strictly according to America standard
CUSTOMERIZED: Choose the most suitable single fitness band or combined bands from the four different levels Freetoo assist band based on your bodyweight and exercise plan
FREE YOUR MUSCLE: The assist bands perfect for body stretching, powerlifting, resistance training, yoga and physical therapy to help you enjoy the pleasure of sports
MULTI-FUNCTIONAL USE: You can use the assist bands in any place as you want, and it not only can be used alone, but can be combined with different fitness equipment
Review: Freetoo offers resistance bands of four different resistance levels. This gives you the chance to choose from 15-35lb up to 50-125lb of resistance.
All bands are 81.9 inches long which is why we place them under pull-up assist bands primarily.
However, there are plenty more exercises you can do with them.
The bands are 100% natural latex and soft enough to not cut into your skin when doing specific exercises.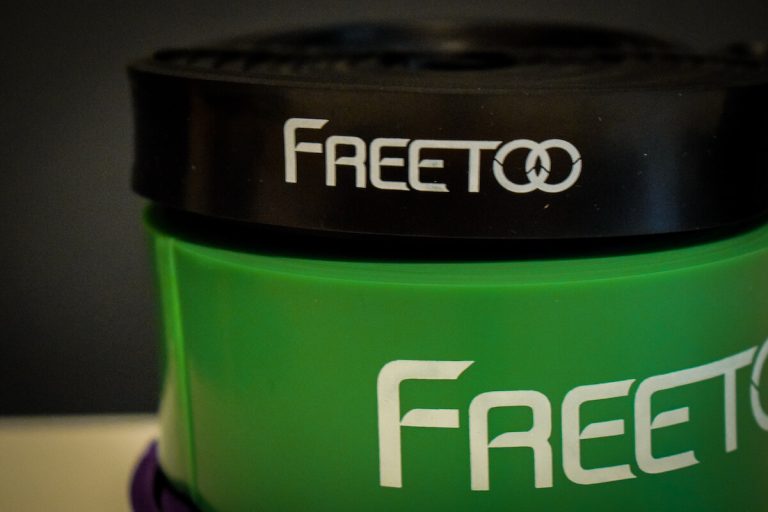 Pros
Great range of resistance.
100% natural latex.
Well-made for pull-up assistance.
Come complete with carry bag and workout guide.
Cons
Might me too long for some resistance band exercises.
Takeaway
High-quality bands that offer great range of resistance for a variety of exercises, mainly focusing on pull-up assistance due to their length.
WODFitters Pull Up Assistance Band
Sale
WODFitters Pull Up Assistance Band for Stretching, Mobility Workouts, Warm Up, Recovery, Powerlifting, Home Fitness and Exercise… (#2 Black)
Whether you are just starting out with pull ups or you are an athlete working on regaining or enhancing your strength, the WODFitters resistance band will help you take your pull up and chin up training to the next level
WODFitters Pull Up Assistance Band for Stretching, Mobility Workouts, Warm Up, Recovery, Powerlifting, Home Fitness and Exercise - Single Band
WODFitters Pull Up Assistance Band for Stretching, Mobility Workouts, Warm Up, Recovery, Powerlifting, Home Fitness and Exercise
Review: If you specifically look for the best CrossFit pull up bands, you will be thrilled by WODFitters. It is the most popular name in the world of CrossFit.
Pros
Made of high-quality rubber.
Five different colors and resistance levels.
The length is 41 inches.
Multifunctional – mobility and stretching exercises, pull-ups, powerlifting, strength and conditioning…
Outstanding durability.
Modern design.
Very sturdy.
Cons
Takeaway
Are you ready to hold a CrossFit session and push yourself to the maximum limits? You won't find a better set of resistance bands for this purpose!
Serious Steel Assisted Pull-Up Band
SERIOUS STEEL FITNESS Assisted 41" Pull-Up Band, Resistance & Stretch Band, Powerlifting Band & Pull-up Assist Loop Band (#3 Blue - Single Band)
Sale is for a SINGLE BAND. We offer six different size bands that have tensions ranging from 5 lbs. to 150 lbs. Bands are perfect for any users from beginner to professional athlete. Whether it is mobility training or powerlifting - Serious Steel bands have been the #1 trusted bands on Amazon for over 10 years. Often Imitated, Never Duplicated.
YOU ARE CURRENTLY VIEWING OUR #3 (BLUE) Light BAND. This band measures 1 1/8" wide, 4.5 mm thick and 41" in length. It offers resistance from 25-80 lbs. The #3 band provides a strong amount of tension for the resistance training of small muscle groups (arm curls) and moderate resistance on the larger muscle groups (band squats). These are great for stretching, speed and agility training or even adding them to your barbell for bench press, squat or deadlifts.
PULL-UPS: Serious Steel Bands are a perfect tool to help you with your pull ups, dips or muscle-ups. Take a quick look at the Pull-Up Guide image to your left to get an idea of the best band for you. Choose a band based on your bodyweight and the current number of unassisted repetitions you can complete.
MULTIPLE BANDS: Do you think you need a #4 band, but concerned it may be too much tension? You can purchase multiple smaller bands to equal the tension of heavier bands. Try the #2 & #3 instead of the #5 or try the #3 & #1 instead of the #4 band. Combining multiple sizes gives you more levels of tension because you can use them individually or you can use them at the same time.
ALL ABOUT THE LAYERS: Serious Steel bands have stood the test of time. Our bands are 15-continuous layers made from a single piece of natural latex. The individual layers make Serious Steel bands up to 5X stronger than molded bands and 2X stronger than other "layered" bands. Does not include colored storage rubber bands.
Review: One of the best pull up resistance bands. The bands are made of pure latex and free of latex allergens.
Pros
Affordable.
Six colors and resistance levels.
Load range is 5-150 lbs.
It can easily tolerate people who weigh over 300 lbs.
Free pull-up and band starter guide.
Multifunctional – you can train every part of your body and every feature.
Suitable for all training levels.
Takeaway
The coach who looks for the best pull up bands will be satisfied for sure. A man heavier than Shaquille O'Neal will be able to perform pull-ups without fear!
Draper's Strength Heavy Duty Pull Up Assist
Sale
DRAPER'S STRENGTH Heavy Duty Resistance Stretch Loop Bands for Powerlifting Workout Exercise and Assisted Pull Ups 02. Red
From light to heavy resistance (2-200 lbs) - To choose the best bands for your needs, check out the band tension chart in the images to the left
Bands are 41" inches long and are made of high-quality latex material built to last for years.
A variety of exercises can be performed - for physical therapy, rehabilitation, pull-ups, stretching, strength training, and powerlifting
Lightweight and Portable so you can take your workout with you
90-DAY NO QUESTIONS ASKED MONEY-BACK GUARANTEE, LIMITED LIFETIME WARRANTY and EMAILED WORKOUT e-GUIDE with every band purchase
Review: This is the best pull up assist band for all-around practitioners. The load ranges from light to heavy resistance (2-200 lbs), and it can be a part of any training session.
Pros
A variety of exercises can be performed.
Lightweight.
It is excellent for travel purposes.
Affordable.
Seven colors and resistance levels.
Very strong and durable.
Made of high-quality latex.
Free workout E-guide.
Suitable for all training levels.
Easy to clean.
Takeaway
You don't know which training session will come up to your mind? You train everybody, from beginner to advanced level? Purchase Draper's Strength!
Synergee Pull Up Assist Bands
Synergee Set of 4 Pull Up Assist Bands - Heavy Duty Resistance Super Bands - Power Band Resistance Loop Exercise Bands Mobility & Powerlifting Bands - Perfect for Stretching & Resistance Training
★ PROFESSIONAL-GRADE QUALITY ★ – You deserve to use gear that is intended for the best – because YOU ARE THE BEST! Our Power Bands are Physical Therapist approved, used by athletes and professional trainers alike, and are built to with 15 layers of latex to last longer than our competitors! Perfect for using by yourself, for running fitness classes, or using for rehabilitation exercises.
★ BUST THROUGH PLATEAUS ★ – Tired of doing the same squats, push-ups, & lunges? Stuck on pull ups? Add some resistance bands! Adding a Synergee Power Band adds variable resistance and a balance challenge to bodyweight and lifting exercises and adds a counterweight to gymnastics moves to work through full range of motion progressions. Work through your sticking points and become a stronger athlete!
★ ENDLESSLY VERSATILE ★ – Synergee resistance bands are perfect for pull up assistance, stretching, strength training, mobility training and much more! We offer 4 different band tensions that you can do hundreds of different exercises with to keep your workouts fun, varied, and exciting! Their versatility and resistance make them perfect sub-ins for free weights, especially for travelling or gyms short on space!
★ WHATS IN THE PACKAGE ★ – Includes: (1) Yellow Power Band - Resistance 5-15lbs, (1) Green Power Band - Resistance 30-50lbs, (1) Blue Power Band - Resistance 40-80lbs, (1) Black Power Band - Resistance 50-120lbs and Exercise Manual with six different exercises. All bands measure 41" in length.
★ NO SWEAT GUARANTEE ★ – Leave the sweating and swearing for your training! Buying from Synergee means quick, hassle-free, and caring customer service! Plus, we offer a better-than-money-back guarantee: if there is an issue with your product for any reason, we will send you a new one quickly and absolutely FREE! 100% Customer Satisfaction is our Number 1 Goal!
Review: This multifunctional set of pull up assist bands is economic, but at the same time, it allows you to purchase one band only. Excellent choice for tight budget buyers.
Pros
Very cheap.
Five colors and resistance levels.
Multifunctional.
High quality.
The most suitable for physical therapists, mobility training, and post-injury muscle strengthening.
Good durability and versatile workouts.
Suitable for travel purposes.
You will get exercise manual with six different exercises.
Cons
It is questionable for practitioners that weigh over 200 lbs.
Takeaway
It is a good set of pull up assist bands when your money income is limited.
MummyStrength Resistance Bands For Men & Women
MummyStrength Resistance Bands for Men and Women. The Best Stretch Band for Pull Up Exercise and Powerlifting. Works with Any Pull Up Bar or Station. Single Band. Workout Guide Included
TOUGH AS NAILS. Make gym time your time by picking the perfect resistance band for you. Our durable bands are made from premium grade latex rubber and come in resistances ranging from 5 to 175 pounds. Our extensive range is designed to meet your specific resistance workout needs from simple leg and ankle stretching exercises to pull ups to pilates and even warm up exercises for ballet. Find the band that's right for you by referring to the photo chart in the images.
YOUR WORKOUT, YOUR RULES. Your MummyStrength Resistance Bands are heavy duty and super versatile so both men and women can use them. Not just for pull ups, loop and tie these non slip bands to a post and use for rows or a twisting oblique exercise. You can even stand on it and stretch them up for shoulder presses or curls. These highly resistant bands can support your weight but are versatile enough to let you create and customize the most challenging "Workouts of the Day" ever.
THERAPY GRADE. Maybe this isn't your first try at a pull-up. Maybe an injury put you out of the game, and you need a helping hand getting back up. From low intensity to high intensity workouts, our elastic bands are top tier quality, and can offer the support you need to get that chin over the bar again, while increasing mobility and giving you back your strength. From mini workouts to complex stretches, watch yourself get back in the game in no time.
UNLOCK YOUR FITNESS GOALS. Want a flat tummy, toned legs or a strong core? Your MummyStrength Resistance Band is the kind of product anyone can get behind. Whether you're a man or woman, fitness professional or newbie, this adjustable workout equipment is designed with your fitness goals in mind. To get you started, we've included a bonus QuickStart Guide with 9 warmups and 11 toning exercises, free to download.
LIFETIME AT-COST WARRANTY. After nearly 10 years of fulfilling our promise of free replacement bands, due to inflation increasing the cost of materials, we can no longer offer free replacements. Replacements will now be offered at-cost, which is the lowest price we can offer during this era of skyrocketing costs. We hope that you understand.
Review: MummyStrength resistance bands come as a good choice for the coach who wants to be sure it won't snap or lose elasticity.
It is one of the best pull up bands when you want high-performance and safety.
Pros
Made of premium latex rubber.
The load varies from 5 to 175 lbs.
Different colors and resistance levels.
Thicker and heavier than many in the market.
Good for all kinds of training sessions, from HIIT to mobility and strength returning.
Good choice for WOD sessions.
Amazing durability.
Cons
Too strong smell.
Mid-range price.
Takeaway
The product is definitively worth giving some extra money. Don't stretch this band more than twice its original length and you will have lifetime piece of equipment!
Iron Core Athletics Pull-Up Assistance Bands
Pull-Up Assistance Bands - Set of 4 Assisted Pull Up Bands - #2 Red, 3 Black, 4 Purple, 5 Green – Provides 10 – 285lbs Resistance/Assistance
Pullup Assist Band #5, #4, #3 and #2 Combo Pack -- Green Band 1 3/4" Wide -- Purple Band 1 1/8" Wide -- Black Band 3/4" Wide -- Red Band 1/2" Wide
Great for Assisted Pull Ups, Power Lifting, Crossfit workouts, Yoga, Stretching as well as any other body weight assisted exercises
Green Band -- Provides from 50 - 120lbs of resistance, Purple Band Provides 40 - 80lbs of resistance, Black Band Provides 30 - 50 lbs of resistance -- Red Band provides 10 - 35 lbs of resistance
Professional Quality 100% Natural Latex Material -- Length : 41" Loop -- Thickness 3/8" -- These bands are designed for everyday use and are favorites of Commercial Gyms and Personal Trainers
All Iron Core Athletics Exercise Bands come with an Industry leading 2 year warranty - We Stand behind our products 100% -- If you aren't satisfied with the quality of our products we will fix it, GUARANTEED!!
Review: Iron Core is the set of the best pull up resistance bands for beginners. You will look like a pro to someone who enters the gym for the first time. All you need to do is smile and look confident.
Pros
Cheap.
Different colors and resistance levels.
Made of natural latex.
Multifunctional.
Cons
Not suitable for people who weigh over 250 lbs.
Not suitable for advanced practitioners.
Takeaway
This set of resistance bands is worth every cent. You have a chance to impress beginners and lead them into the world of CrossFit and strength training!
Functional Fitness Pull Up Assistance Resistance Band
Rubberbanditz- Functional Fitness Pull Up Assistance Bands - Set of 1 Resistance Heavy Duty Workout, Exercise, Cross Training, Stretch Fitness Bands Assist Set for Body, Instruction Guide (Green: 1 3/4" 50-120 lbs.)
SUITABLE FOR ANY WORKOUT: Our pull up assistance bands offer effective training. Workout your arms, back, legs, and butt all at once with mobility band, perfect for body resistance training and physical therapy to help strengthen torn ligaments or muscles. Different bands are perfect for learning pull ups, Pilates, Mobility, Powerlifting, Chin ups, Yoga, Stretching, Gymnastics, physical therapy, push-ups
DURABLE & ENVIRONMENTAL: Our assistance bands are 100% natural latex. This gives extra strength and last longer than competitors.
FIND THE RIGHT BAND: Start working out from the pull up assistance bands with the least resistance. As you get stronger you'll need to lower the assistance to account for your new strength.
We offer a FREE REPLACEMENT POLICY without any costs from your side and LIFETIME WARRANTY, totally no risk for you! Any problems or questions just contact us via Amazon.
FOR DAILY USE: Each fitness bands is carefully constructed to resist snapping and breaking,which are able to withstand intense daily exercise sessions.
Review: These are the best CrossFit pull up bands for the coaches who want to satisfy wide population. Stick to the Functional Fitness when you have 4 or more beginners in your group.
Pros
You can choose between eight resistance levels.
Multifunctional – powerlifting, Pilates, stretching, mobility, strength and conditioning…
The load varies from 20 to 150 lbs.
Good durability.
Great choice for highly creative coaches.
Cons
Expensive.
Not suitable for practitioners that weigh over 250 lbs.
Takeaway
Satisfying masses has never been easier. Every advanced CrossFit coach should purchase this one!
The best pull up assist bands should be multifunctional, easy to use, mobile, and durable. Other modifications strictly depend on your training session goals and requirements.
There is no need to be a super pro any more to perform pull-ups, or even harder exercises on the horizontal bar. With the best resistance bands for pull-ups, even the complete newbies can control their own bodies like a gymnast or calisthenics expert!
Follow our guide and purchase the best product for yourself. Patience is the key – you will see that your body becomes stronger. In a short period of time, you will be working a few pull-ups without assistance, and you will notice other improvements!
Write us a comment. Are you looking for mobility, pull-up assistance, flexibility, weightlifting, strength training, or something else in a pull up assist bands? What is your choice and why?