TOP 12 Best Wrist Wraps for Lifting to Stabilize Wrists & Increase Your Lifts 2023
The stress on your wrists as you increase your lifts becomes evident to all lifters who keep on pushing their limits.
Look at any powerlifting, strongman or weight lifting competition and you see many lifters using wrist wraps!
These pros use wrist wraps for a good reason!
If you want to avoid wrist injury, lift heavier or lift through an existing wrist injury, supportive wrist wraps are a must.
I spent a LOT of time searching for the 12 best wrist wraps for lifting of 2023 and reviewed each one, so you can find the pair that's right for you.
Many wrist wraps in this list are designed and used by professional lifters so I am sure you will find a pair of wrist wraps that work for you.
I also included a buying guide and wrist wraps for weightlifting FAQs to answer all your questions.
TOP 12 Best Wrist Wraps for Lifting 2023
Sale
Review: The Sling Shot Gangsta wraps are designed to be extra stiff for really heavy lifts. They are quite tight around the wrist, but in spite of that, they are still comfortable to wear.
If you want to lift heavy and your wrists or grip strength are holding you back, pick up a pair of these gangsta wraps.
Pros
Stiffer and longer than most other wraps – designed for heavy weight.
Flat sewn thumb loops can be used in many locations.
Split Velcro closures.
Level 3 stiffness.
Cons
Takeaway
Firm wrist wraps with ample length. Best weightlifting wrist wraps for HEAVY weight.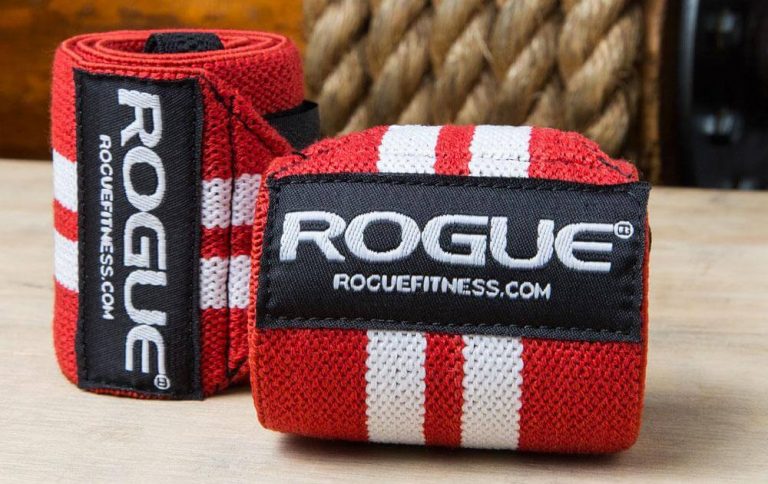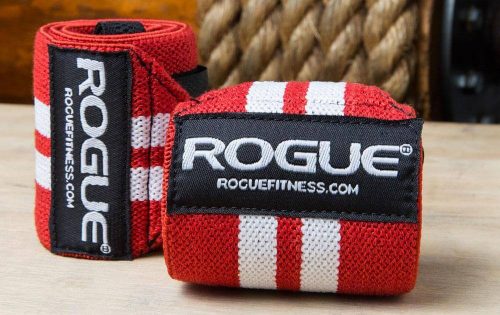 Review: These Rogue wrist wraps are simple, effective, and inexpensive. They are made of cotton, which breathes better than synthetic material and feels nicer too.
These Rogue wraps are moderately stiff, while remaining comfortable, but if you like a super stiff wrap, try Rogue's White series wrist wrap.
Pros
Made with real cotton.
Includes thumb loop and Velcro closure.
Firm yet comfortable fit.
Cons
They have a lingering odor that takes a while to dissipate.
Takeaway
These Rogue wraps are a great bang for your buck for weightlifting, strongman and CrossFit.
Rogue is famous for their CrossFit gear, and these wrist wraps are no exception. If you CrossFit, check out this list of wrist wraps specifically chosen for CrossFit.
Sling Shot Wrist Wraps by Mark Bell
Review: Sling Shots are a little less stiff than the Gangsta wrist wraps, which many lifters find more comfortable.
The thumb loop is sewn flat and expertly placed so it feels right when you lift.
Pros
Level 2 stiffness.
Sewn-in thumb loop.
Comfortable and supportive.
Not too stiff.
Cons
Tend to fray at the edge after multiple uses.
Takeaway
Expertly designed wrist wraps are some of the most comfortable yet supportive wraps you will find.
Gasp Branch Warren Wrist Strap
Review: The Gasp Branch Warren wrist wraps are shorter than other wraps, at just 18 inches, which some lifters appreciate. The elastic is super stiff and strong, so 18 inches is plenty to keep your wrists stable, plus the sewn thumb loop keeps them comfortably in place.
The Velcro closure makes them easy and fast to get on and off, too.
Pros
Strong stiff elastic.
18" length, perfect for wrists.
Velcro close and adjustment.
Sewn, reinforced thumb loop.
Cons
Thumb loop stretches with use.
Takeaway
Best wrist wraps for lifting weights, with strong elastic and a short, no fuss length.
Nordic Lifting Wrist Wraps
Sale
Review: The Nordic Lifting straps are the best you can get in this price range. They are not too long, just 14", and not too thick, so they do not feel bulky.
The Velcro is strong, so be careful that it does not attach to the fabric or it may cause the wraps to fray.
These wrist straps look great and function like they should, supporting your wrists through heavy lifts.
Pros
Short 14" length.
Relatively thin wraps, not bulky.
Good support.
Velcro closure.
Cons
Narrow thumb loop may be too tight.
Takeaway
Favorite budget wrist wraps for lifting, good quality at a great price.
Iron Ape Professional Grade Wrist Wraps
IRON APE Extra Stiff 18" Wrist Wraps. New Versatile Twin Thumb Loop Design for Powerlifting, Strongman, Weightlifting, and Bodybuilding. Weightlifting Wrist Support for Men and Women
VERSATILE & INNOVATIVE: Our UNIQUE design with DUAL thumb loops gives FOUR ways of putting the straps on. You can use the loop over the thumb, or feed the hook fastening one of TWO ways through the loop to form a band. Finally, you can use the traditional thumb loop. All thumb loop stitching is specially reinforced.
AN EYE FOR DETAIL: As well as the dual thumb loops, our fastening is strong to keep the wraps firmly in place during your set. We also use 2 blocks of fastener, for maximum stretch while maintaining a strong grip. To help undo the wraps at the end of your set, we've devised a unique pull tab to make taking off your wraps quick and easy.
INJURY PREVENTION: The increased stiffness of our wraps helps prevents over-extension of the wrist during heavy training, and movements which put extra strain on the wrist, such as shoulder and bench presses. They can also be used with exercises such as the squat where extra support is beneficial.
DESIGNED FOR supporting you in hitting new PRs in disciplines such as Powerlifting, Bodybuilding, Strongman/Strongwoman, and general Weightlifting. Also suitable for some Olympic lifts.
SIZING: We offer three sizes of wrap - 18", 24", and a 34" to help you get the fit/support that suits you best.
Review: The Iron Ape wraps have several clever design features that set them apart.
First, they included two thumb loops on these wrist straps so they can be fastened in three different ways.
They also sewed the Velcro close strips in sections so the Velcro does not stop the wrap from stretching.
Pros
Dual thumb loops for various fastening and wear options.
Extra stiff and supportive material.
Segmented Velcro strap is elastic the entire length.
Cons
These wraps are thicker than others.
Takeaway
Best wrist wraps for weightlifting in this price range, clever design and superior support for heavy lifts.
Inzer Atomic Wrist Wraps (Pair) - Powerlifting Weightlifting Strength Training (Blue, Medium (20"))
Tight and hard, with Quad-Track interwoven condensed-rubber cords, delivers integrated support for your wrists.
Locks into place and grips the surface of each revolution around your wrists. This exclusive action performs as one solid unit.
Easier + Faster Wrapping saves energy. Atomic Wraps are easy and fast to wrap hard and tight.
Wraps are identical and interchangeable, no Left or Right to keep track of
Newly designed thumb loop stretches across entire width of the wrap to allow for wrapping in either direction on either hand
Review: Inzer Atomic wrist wraps have a unique patented design not found in other wraps. They have strong, grippy, rubber cords interwoven in the wrap.
These cords grab the lower layer under it and hold on tight, making each layer of the wrap secure and allows the wrap to function as one unit.
This technology allows you to wrap your wrists fast and results in a tight, rigid wrap support.
Pros
Quad Track rubber cord technology grabs each layer tight.
Fast and easy to wrap.
Relatively thin wrap, not bulky.
Cons
Takeaway
Best powerlifting wrist wraps with superior technology for a firm and supportive hold.
Warm Boy Cold Mind Wrist Wraps
WARM BODY COLD MIND Premium Cotton Wrist Wraps for Crossfit, Olympic Weight Lifting, Powerlifting, Bodybuilding, Deadlift, Strength Training and Wrist Support with Thumb Loop (Orange/Focus)
🏆 Professionally Designed workout wrist wraps by a winner of World and European weightlifting Championships Oleksiy TOROKHTIY.
🦾 Greater Support and Stability: These lifting wrist wraps allow to perform all sorts of movements like snatch, clean, kettle bell exercises, shrug, deadlift, push press, push jerk, split jerk, overhead squat. Boost your performance and use the wrist bands for greater wrist stability anytime during Weightlifting, Powerlifting, and Strongman training.
✔️ Ultra-strong & Adjustable: WBCM Weight lifting wrist wraps for men & women are easy to put on and off due to elastic strap and anchor system. Simply slide your thumbs through the thumb loops and wrap around your wrists. Lift more with our lifting bands and feel no more wrist pain.
🖐 Forget About Wrist Pain: Purchase our Premium wrist wraps to protect your wrists and prevent injury during strangth training. We designed and tested wraps with a professional understanding of what you need for a comfortable and successful achievement of your athletic goals.
💯 Satisfaction guaranteed! We at WBCM stand behind our products and provide our customers with the best quality and service. Risk-free purchase.
Review: These cotton cloth Velcro free wrist wraps by Warm Body Cold Mind are designed by a weightlifting champ who knows his stuff.
This is an elastic wrap with a sewn thumb loop and a strap style anchor system to close. It does not use Velcro to close, so you never have to worry about the Velcro wearing out of becoming un-sticky.
The cotton blend is more breathable and does not promote odor like synthetics either.
Overall a very nice pair of wraps
Pros
Cotton material inhibits odor, absorbs sweat and breathes well.
Elastic band anchor close, NO Velcro.
Thin wraps, not awkward or bulky.
30 inch length, 3 inch width.
Cons
Thumb loop is tight, recommended to use during wrap and remove loop from thumb before lifting.
Takeaway
High-quality cotton wrist wraps that use NO Velcro to tighten.
These wrist wraps by Warm Body Cold Mind are excellent. Warm Body Cold Mind also makes a great pair of lifting straps. Lifting straps are another tool you can use to prevent injury and lift more weight. I have a list of the best wrist straps for weight lifting here if you want to give straps a try.
Review: Olympiada brand wrist wraps claim to fame is how thick and long these wrist wraps are. They are very supportive and great for folks with weak wrists.
They are quite stiff, and perform well when you lift really heavy.
Pros
20" long, ideal for thick wrists.
Ultra-stiff, maximum support.
Sewn-in thumb loop.
Cons
A little thick and bulky, ideal for weak wrists.
Takeaway
Really stiff and thick, the most support you can get.
Villain Wrist Wraps by Tuff Wraps
16" Black Villain Wrist Wraps
Redesigned loop removing the thumb loop
Overall length with velcro is 20 inches
16 inches + 4 inches velcro = 20 inches
Width of wrap is 3 inches
Velcro width is 2 inches
Review: These Villain wrist wraps are durable, yet comfortable, with maximum support. They use a belt style loop to tighten and you can adjust them with one hand.
Once you learn how to adjust the tightness, they are easier than other styles, and the lack of thumb loop makes them more comfortable when you have the tightness really ratcheted up.
Pros
16 inches long, plus 4 inches of Velcro – not too bulky.
NO thumb loop – uses belt loop style to tighten instead.
Cotton blend fabric absorbs moisture and breathes without getting stinky.
Cons
Takes a few tries to learn to tighten them just right.
Takeaway
Top-rated wrist wraps for weight lifting at a reasonable price with NO thumb loops to get in the way.
Sale
MANIMAL Wrist Wraps for Weightlifting (Since 2010) – Professional Wrist Straps for Men and Women – Use for Strength Training, Bodybuilding, Powerlifting, Cross fit to Eliminate Wrist Pain in The Gym
Original Wrist Wraps Since 2010 - MANIMAL wrist wraps were designed to eliminate wrist pain. Founded by a cross fit coach who broke both his wrists and needed a solution to keep training without pain. At 17.5 inches, our wraps are the shortest and the easiest to put on and take off. They provide the perfect amount of compression and stabilization without having to use extra length to achieve the same result. Unparalleled comfort means continuous wear for long workouts without adjustment.
Built to Last 3 Years of Daily Use - You shouldn't have to replace your wrist wraps every 3 months. We've overbuilt our wraps with excess materials that are durable, comfortable and high-quality so they last years of daily use, instead of months. They feature a strong thumb loop with double stitching for the perfect, accurate fit every time. Backed by a Lifetime Warranty and USPA-approved you can feel good knowing your wrist wraps will perform better and last longer.
Continue to Train Hard - Pain Free - It takes time to build strength. Avoid wrist pain and injury during training with MANIMAL wrist wraps. They provide support, allowing you to push harder and go longer towards your fitness goals. With consistent use, you can make gains in strength and achieve bigger wins in the long run. MANIMAL is committed to helping you reach your training potential, without wrist pain!
Backed by a Lifetime Warranty - You've got goals to hit, you shouldn't be worried about faulty cheap gear! We know gear breaks down when you train hard or after years of daily abuse – we made them for this purpose, that's why we back every pair of MANIMAL wrist wraps with a Lifetime Warranty. If you experience any defects during your workouts, we'll be happy to replace your wraps. If your issue is outside our policy, we'll still find a way to take care of you and get you back to training.
Join a Community of Strong Men & Women - If you believe strength is a choice you're invited to our community of strongmen, weightlifters, bodybuilders, powerlifters, crossfitters and serious sport athletes who choose MANIMAL to help them hit their goals everyday. Every Wrist Wrap comes with an invitation to our website where you can join an exclusive community where you can get training tips, programs and other performance products.
Review: These Manimal wrist wraps will last you for several years of serious use. They use the highest quality Velcro, while other brands go cheap and wrist wraps fail, this Velcro will not lose its grip.
The wraps are about 3 inches thick, but on the short side, so they are not too bulky. They are very stiff, despite not being very long, and offer some of the stiffest most stable support you can get.
Pros
Longest lasting wrist wraps.
Ultra-stiff, maximum support without being too bulky.
Superior quality Velcro lasts for years.
Cons
The sewn thumb loop is not heavy duty, but it is should be tucked under before you lift.
Takeaway
These top-quality wrist wraps strike the perfect balance between elasticity, stability and comfort.
Titan Signature Series Gold Wrist Wraps
Titan Signature Series Gold Wrist Wraps (19 inch Pair)
Titan has re-released the signature series wrist wraps.
It is the most supportive wrap Titan has ever made.
More tension and support that the THP wraps yet more comfortable.
his wrap definitely is not for beginners; this Premium wrap was constructed for huge weights for Elite lifters.
Made in the USA - IPF approved
Review: Titan Signature Series Gold wrist straps are designed specifically for the serious lifter. They are the stiffest wraps you can get. They are available in several lengths, and the longer they are, the stiffer they will be.
Pros
Made for really heavy weights and advanced lifters.
Made in the USA.
Available in several lengths, longer wraps are stiffer.
Cons
Thumb loops are sewn on the same side for both wraps, making it a challenge to get one on.
Takeaway
Much stiffer than any of the other guys, pro grade heavy lift wrist wraps.
How to Choose Wrist Wraps for Lifting, Weightlifting and Powerlifting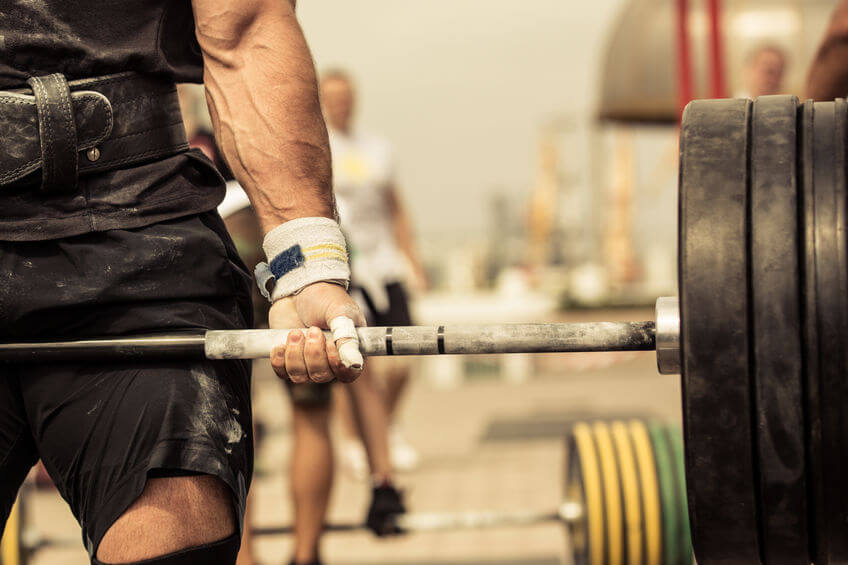 You may be asking yourself: How do I choose wrist wraps?
There are several styles and designs out there and you need to know what options you like best before you buy a pair.
To give you a good start, let's talk about the different wrist wrap characteristics you can choose from.
Decide what you want in a wrist wrap when it comes to these factors:
Length – Shorter or Longer? What Size Wrist Wraps Should I Buy?
If you opt for thinner wraps, a longer length can add stability.
However, if the wraps you choose are quite thick, longer length would make them bulky.
Generally, the longer the wrap the more supportive it is, but the less it allows you to move, or in other words, longer wraps can decrease your range of motion.
If you are not lifting too heavy, shorter wraps are ideal, but on heavier lifts, like one rep max, longer wraps are your best bet.
Stiffness & Thickness of the Wrist Wrap
Some wraps are stiffer than others.
For example, the Sling Shot Gangsta Wraps and MANIMAL Wrist Wraps are some of the stiffest and most supportive wraps you will find.
Stiffer wraps can limit your range of motion and are best for really heavy lifts.
Wraps like the Rogue Wrist Wraps and Klokov Wrist Wraps are thinner and more flexible than most other wraps. They can be made more supportive by using longer wraps.
These wraps allow more movement and are good for lifting lighter weights.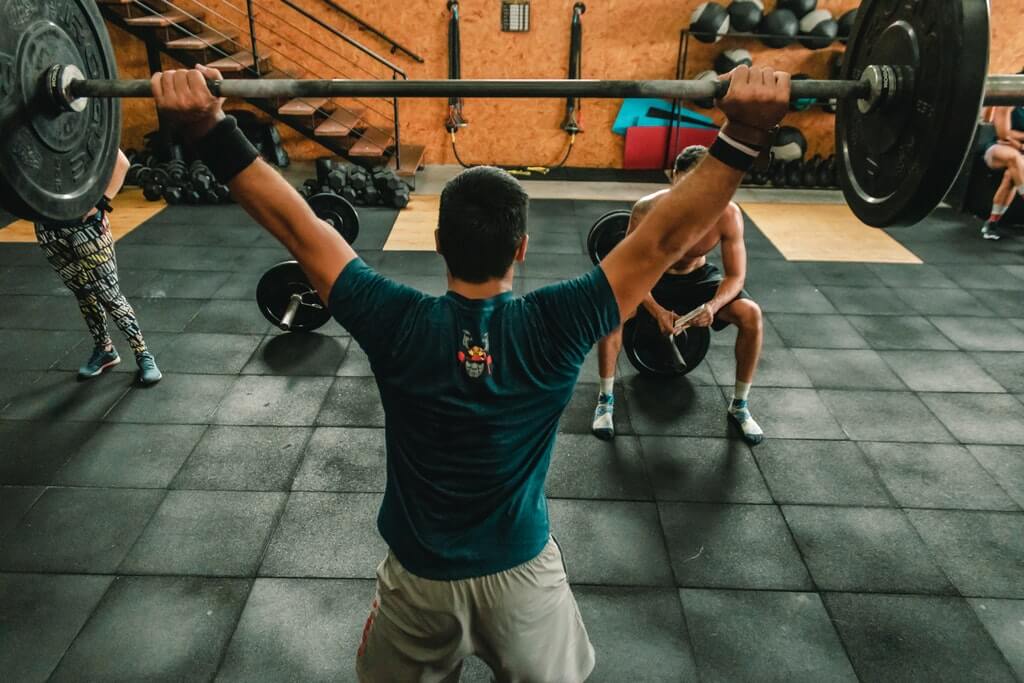 Material Quality
You get what you pay for, and that applies to wrist wraps.
Look at the Velcro on a really inexpensive pair of wrist wraps like the Nordic Lifting Wrist Wraps and compare that to a pair of high-quality wrist wraps that use top-notch material and craftsmanship, like the MANIMAL Wrist Wraps.
The difference in material quality and craftsmanship is evident. But the price difference is also noticeable.
Closure Type – Velcro or Strap
There are two types of wrist wrap closures represented in the above list of the best wrist wraps for lifting. Each style has its own advantages and disadvantages.
Velcro Closure
Velcro is simple, easy to use and quick.
But…
If you are familiar with Velcro you know that over time it can lose its stickiness from wear or crap getting stuck in the teeth.
Strap or Elastic Band Anchor Closure
The strap or elastic band goes around the wrist after the wrist wrap has been wrapped. Warm Body Cold Mind Wrist Wraps makes a wrist wrap like this.
The elastic band takes a few tries to learn how to wrap and close, so it is not as fast as the Velcro style.
The benefit is that it will maintain its ability to secure the wrap, unlike Velcro which loses its stickiness with time. They also don't make noise when you remove them as Velcro does.
Thumb Loop or No Thumb Loop
Most wrist wraps have thumb loops, but a few brands do not.
What some people do not realize is that the thumb loop is there to assist you in placing the wrap on your wrist, it is not designed to be worn during the lift.
Normally, what you do is wear the thumb loop while your wrap your wrist, then remove the loop and tuck it up under the wrap so it stays out of the way during your lifts.
If you want a pair of wrist wraps with NO thumb loop, take a look at the Villain Wrist Wraps by Tuff Wraps.
Wrist Wrap for Lifting FAQs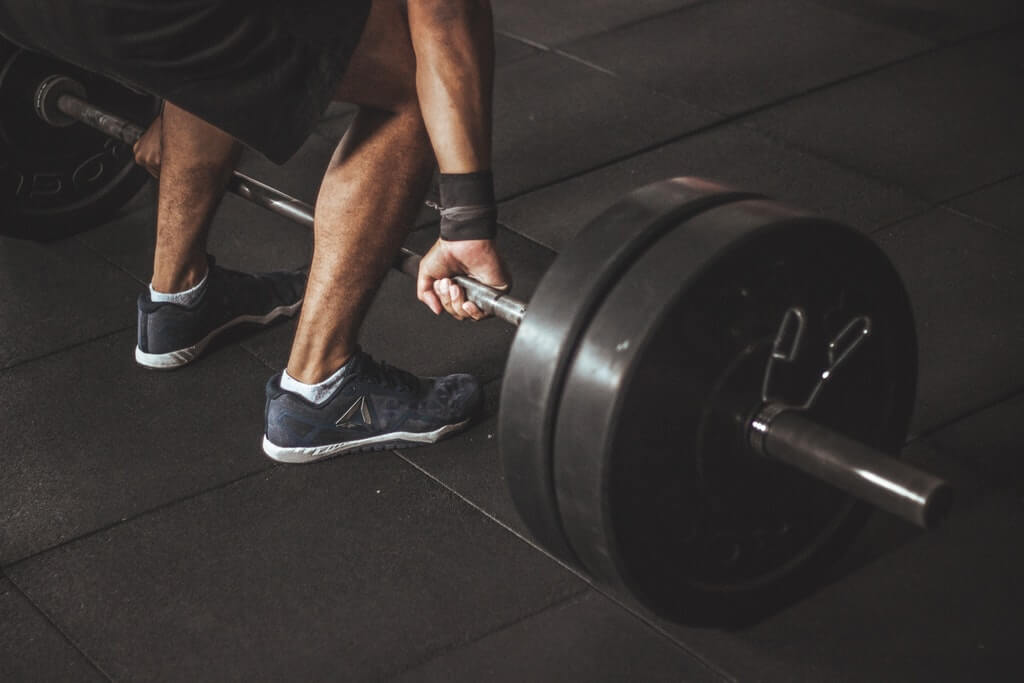 Should I use Wrist Wraps for Lifting?
Wrist wraps are a great tool for lifting, but they should not be used all the time.
You first need to learn good form and technique before you use wrist wraps, so that the wraps are not compensating for bad form or bad technique. Wrists should be locked and straight as you lift.
Many lifters use wraps after their working sets, or only use wraps for heavier sets and max weight sets.
Wraps are also great if you develop a wrist injury and want to lift through it.
Plus, if you compete where wrist wraps are allowed, you should use them too because they do give a slight weight advantage since they take on a small amount of the load, and you want all the advantages your competitors have.
Are Wrist Wraps Worth it?
In most cases, wrist wraps for lifting, if used for the right circumstances, are worth having and using if done judiciously.
Wrist wraps can stabilize and support the wrist during heavy lifts and competitions, and prevent pain or injury to the wrist.
If you don't lift heavy or never have wrist pain, or find you can easily lift heavy without wrist wraps, then, in that case, they may not be worth it for you.
But most lifters find wrist wraps useful for preventing pain and injury, and allows them to lift higher weight.
What are the Benefits of Wrist Wraps?
Wrist wraps can prevent wrist pain while lifting.
Keeps your wrists straight when lifting.
Wrist wraps can stabilize your wrist if it is already injured, allowing it to heal.
Wrist wraps can allow you to lift a little heavier since they take on a small amount of the load during a lift.
Wrist wraps make you more aware of your wrist position and encourage better form.
Increases your grip strength.
Speaking of grip strength, if you find your hands get slippery on the bar, a pair of weight lifting gloves may help. Here is a list I put together of the best weight lifting gloves. Check it out.
Do Wrist Wraps Make You Weaker?
Wrist wraps will not make you weaker, but using wrist wraps for every lift will not allow you to strengthen your wrist, your grip and stabilizer muscles like you would lifting wrap-less.
Try going without wrist wraps when you feel no pain or discomfort, such as lower weight lifts, or at the start of your workout before you get tired.
This gives you a chance to work on strengthening your wrists and improving your wrist stability naturally.
If you need help increasing grip strength, here is a list of the best grip strengthening tools available.
How Tight should Wrist Wraps be?
Ideally, you want the wrap so tight, you cannot bend your wrist. Wrist wraps are supposed to stabilize the wrist and keep it straight, after all.
However…
If you are new to using wrist wraps, this may be uncomfortable since you are not used to this sensation and it feels like your circulation is being cut off.
If you want, wrap your wrists less tight and work your way up to tighter and tighter wraps as you go. Eventually, you will get used to it, and even prefer tighter wraps as you gain experience.
Do Wrist Wraps Help Lift More Weight?
Wrist wraps do help you lift a little more weight.
First, wrist wraps take on a small amount of the load of the weight, so there is that.
Second, if you have less pain, it stands to reason you can lift more.
So yes, wrist wraps do indeed help you lift more weight. I am not sure how much more weight you can lift, but I have heard from others it is about 5 lbs more, give or take. Not astronomical, but it's something.
That's a Wrap…
Now that you have seen the best wrist wraps for lifting for 2023 that I could find, go out and pick up a pair. Your wrists and your PR will thank you!
Are you on the lookout for the best weight lifting equipment for your garage or home gym? Take a look at this list I put together and get your gym decked out.
If you LOVE Gym Gear we share your passion!
Sign up for the Garage Gym Power newsletter and we will notify you when new gear reviews are available.