Best Medicine Balls for 2020 – Guide with Workouts and TOP 8 Reviews
Did you know Hippocrates was a CrossFit Practitioner?
OK, that may not be completely true, but he was said to have stuffed animal skins for patients to toss for medicinal purposes.
So these Medicine balls have been around for quite a while. But they sure have become popular among Bootcamp, CrossFit and Functional Fitness athletes.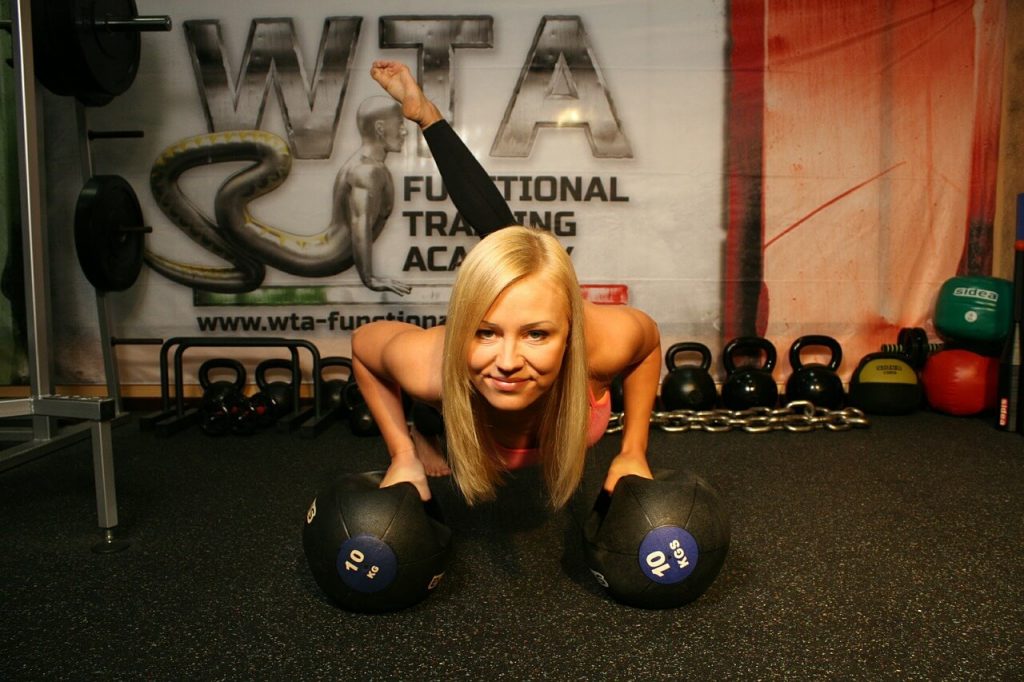 The medicine ball has evolved considerably since the days of Hippocrates, and I for one, am thankful that we are not tossing stuffed bunnies and slamming a stuffed Bambi into the wall.
In Fact, we use a rubber ball filled with gel, which is a little more animal friendly.
A lot has changed since the first Medicine ball was created, so here is a quick update.
We will cover the 4 types of Medicine balls, recommend the best exercises with medicine balls and offer some workout routines that showcase each type of med ball.
We will finish with reviews, also based on medicine ball type.
Ready??
How to Choose a Medicine Ball?
Medicine balls vary in stiffness, material, features and weight, based on the exercise they are used for. It makes sense to choose a medicine ball that fits the exercises you perform.
Many home gyms use more than one style, and commercial gyms usually have a variety of weights and styles.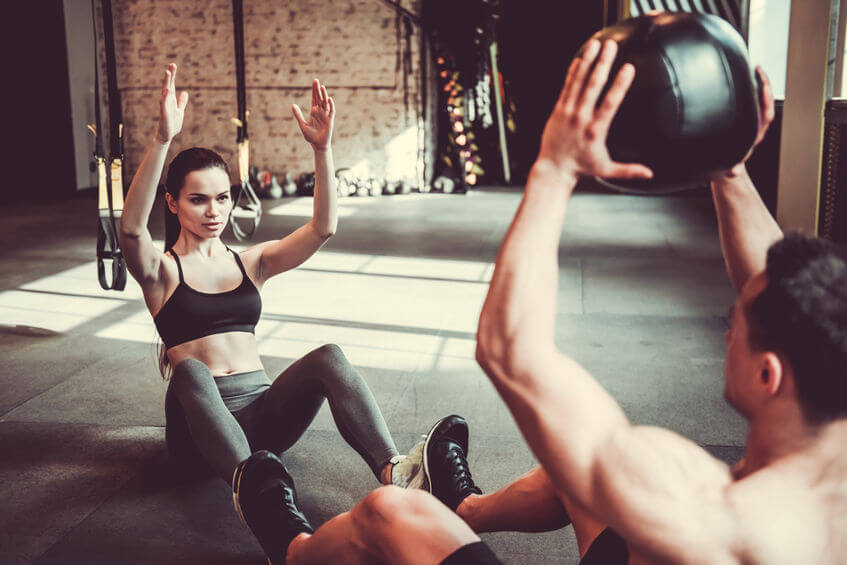 Medicine ball Variations and styles
Slam Ball/ dead ball- Does not bounce, you can throw it really, really hard against the ground or wall and it will not ricochet and hit you.
They are generally heavy for size and have a thick rubber shell.
These balls can be used for lifting, Atlas style, or can be incorporated into planks and pushups, because they are more stable on the ground and do not roll as easy.
Technically you can do your wall balls using a slam ball, but if one lands on your face it has more ouch than a wall ball. But overall, a slam ball is more versatile than a wall ball.
Note: It is normal for Slam balls to have space or "play" on the inside, so they slam properly. You may find the ball seems only ¾ full. Don't be alarmed, this is by design.
Wall Balls
These balls also do not bounce. They are usually made with a vinyl fabric, and some padding.
They are less heavy, for size, than the slam pall. The softer cover and padding make them easier to catch after you throw the against the wall.
Traditional Hard Bouncy Medicine Balls
Traditional style ball for traditional exercises. This ball will bounce, so don't throw it against the wall or slam it into the ground, as it can hit you on the way back.
This is the med ball you want for core exercises, and tossing the ball to a partner.

Tornado ball/ Rope ball
A hard bouncy med ball on a rope. You swing the ball on a rope, like video below.
This is a medicine ball for advanced athletes, because it needs to be used properly or injury can occur.
Killer video demonstrating different types of medicine balls. Bonus: He also explains why 2 lb balls are necessary
Best Medicine Ball Exercises
Best medicine ball workouts for the Core and ab exercises
100 Core Exercises with the Medicine Ball
This video has no speaking and is simple, and effective. Mat demonstrates 100 core exercises you can perform with the med ball so you will never grow bored with your core routine.
There are helpful tips written on the screen. Nice touch, Thanks Mat!
Top 10 Medicine Ball Core Exercises
Zeus himself demos 10 core exercises. This video also has no speaking, and is quite a bit shorter that the previous video, so if you are pressed for time, this is the core video for you.
Best Wall Ball Workout
Top 4 Wall Ball Exercises
Coach Brian demos 4 wall ball exercises done with the softer padded vinyl ball. Includes wall ball toss, Wall ball chest press, wall ball side toss, Underhand toss.
These exercises build upper body power.
How to do Wall Balls
I lie this video because Case explains proper form and give several tips to perform wall balls. Great video for beginners and those new to CrossFit.
Best Slam Ball Dead Ball Workouts
Dead Ball Training with Derek Boyer
These are Dead ball workouts that "Anyone, and I mean anyone" can use. Derek Boyer, Strongman sensation believes Dead balls, aka slam balls are one of the best training tools a CrossFit or Functional Fitness Athlete can use.
Mr. Boyer demonstrates proper form and explains the exercise, including reps and time to complete.
This workout targets legs and core. Highly recommended video for those who want to lift heavy med balls.
10 Minute SLAM Ball Workout
Coach Brian shows us a quick (but not easy) 10 minute slam ball workout. The text on the screen guides you through the sets and reps, which is nice.
The music however is distracting. That's OK, you can silence the video and still easily follow along.
5 Minute Slam Ball HIIT
Got 5 Min and a slam ball? This quick video by Chelsey Hendrikson, Trainer and gym owner is slamming. Literally. For an intense 5 minutes. Give it a try. Once you catch your breath, let us know what you think.
Best Tornado Ball Workout
Dynamic Core Workouts
If you are an intermediate to advanced athlete, you may want to give a tornado ball workout a try. This video is for advanced athletes, who are new to the tornado ball.
The trainer explains how to get started and emphasizes proper form, as well as the pitfalls and potential injury points. Overall, an excellent video for those who have not used a tornado ball.
Best workout for a Med Ball with handles
Full Body Workout is done with dual or single grip Medicine Ball
This 30 Minute full body workout will give you a well rounded workout using a medicine ball with one or two handles. The workout is fun and pretty easy, depending of course on how heavy your med ball is.
Best Full Body Workout with a traditional Med ball
Total Body Medicine Ball Workout
This 27 min video uses the bouncing style traditional ball, plus a floor mat. It is three rounds of 8 exercises.
This workout is for moderately athletic folks and includes push ups done with one hand on the ball, squats, lunges, and ample core work. But what would a med ball workout be without a lot of ab work, huh?
So on with the show…
TOP 8 Best Medicine Balls Reviews 2020
Best Medicine Balls for Slamming
j/fit Dead Weight Slam Ball
Review: This jFit Dead Weight Slam ball comes in a wide range of weights, from 10 to 50 lbs and has a thick rubber shell that is built to withstand a beating.
Pros
Several weights available 10 lb to 50 lb
All weights are 9" in diameter so you can increase weight, without increasing size
Now made with 20% thicker skin than the previous model
Cons
Previous models leaked after extended use, be sure to get the latest model
Final Thought
If you want a slam ball with thick skin the j/fit withstands all manner of slamming and may even tolerate bad words and criticism, too.
Titan Fitness 10 - 60 lb Slam Spike Ball
Review: This Titan Slam ball comes in weights of 10 to 60 lbs is made from a thick rubber shell.
PROS
Variety of weights
Very durable, thick rubber shell
On the squishy side, can be used for planks and pushups
CONS
Some users have needed to remove air from the interior
FINAL THOUGHT
A quality slam ball at a pretty reasonable price. One of the best medicine balls for slamming at a budget price.
Hot Tip: If you live in a second story apartment, a slam ball may not be the best choice for home gym equipment.
Best Medicine Ball of the Traditional Style
Valeo Medicine Ball
Review: The traditional style Valeo medicine ball is made from sturdy rubber and has decent bounce.
PROS
Weights from 4 to 12 lbs available
Basketball like feel, texture and size (all weights are the same size)
Dense feeling
Some bounce
CONS
Do not slam this ball, it will split
FINAL THOUGHT
One of the best medicine balls for core and partner exercises.
AmazonBasics Medicine Ball
Review: The AmazonBasics med ball comes in a wide range of weights, from 4 all the way to 20 lbs. It looks similar to a basketball but with a different texture.
PROS
Sturdy rubber outer
Has some bounce
Harder, denser med ball
Good for ab work and exercise with a partner
CONS
11" diameter, a few inches bigger than a basketball
FINAL THOUGHT
If you like a medicine ball that is a little bigger, this is a solid traditional style ball.
Best Wall Balls
j/fit Soft Wall Ball, Medicine Ball
Review: Ranging in size from 6 to 30 lbs, and each ball undergoes a quality control test in the "balance Tunnel" to insure the ball rolls straight and is not lopsided.
In addition to that, they weigh each ball before closing it up. We like that kind of attention to detail.
PROS
Soft, has padding and some give
Does not bounce, appropriate for wall balls
Roughly the size of a standard size beach ball
Does not hurt as bad as a slam ball, if you accidentally drop it on your face
CONS
Not for slamming nor commercial gym use
FINAL THOUGHT
This is a good wall ball, and should only be used for wall ball. It is not like a traditional medicine ball. It is larger and softer. One of the best medicine balls for CrossFit wall balls.
Rep Soft Medicine Ball
Review: This soft wall ball is made from faux leather and is easy to grip, which is important if you plan to catch the thing as it hits the wall and comes back at you.
These are also individually tested and balanced before being shipped.
PROS
Every weight is 14" in diameter (about 5 " more than a basket ball)
Huge range of weight, from 4 to 40 lbs balls available
Weight and logo are stitched into the fabric, so they will not come off when the ball is used.
Loops on the side allow you to pick up the ball with one hand
CONS
Not for slamming. Slamming can ruin the ball
FINAL THOUGHT
A very high quality wall ball that will last if used properly.
Best Tornado Rope Ball
6 Lb Power Rope Medicine Ball
Review: This 6 lb tornado ball is made from SOLID rubber with a rope threaded through.
PROS
Solid rubber construction
High quality tornado ball
CONS
Inspect the rope knot before each use as it has been known to come untied, which can be dangerous
FINAL THOUGHT
This is a high quality ball from a know manufacturer.
Best Med Ball with Handles
Goplus Dual Grip Medicine Ball for Fitness Weighted
Review: This med ball with Dual grips is easy to grip while doing ab work or one handed medicine ball work.
PROS
Hold the ball securely while doing ab twists, or other rotational movements
Solid, hard all with some bounce
Weights 6 to 20 lbs available
Easy to hold handles (Other balls with handles fail in this department)
CONS
Strong rubber odor initially
FINAL THOUGHT
With easy to hold ergonomic handles, this is one of the best med balls with handles.
That wraps up the Med Ball reviews. Let us know in the comments you favorite med ball workout or exercise.
We look forward to hearing from you!