TOP 13 Best Medicine Balls of 2022 Reviewed + Guide & Workouts
Medicine balls have been around for quite a while, but they have been popularized by the functional fitness movement including Bootcamp, CrossFit.
Why are medicine balls so popular these days?
Because they are versatile, train cardiovascular endurance and strength, and are a unique and effective tool to strengthen the challenging to reach core muscles.
I did my research and found 13 of the best medicine balls of 2022 and reviewed each one.
In addition to that…
I cover the 4 types of medicine balls, recommend the best exercises with medicine balls and offer some workout routines that showcase each type of med ball.
Ready???
TOP 13 Best Medicine Balls of 2022
Best Wall Balls
Best Medicine Balls for Slamming
Hot Tip: If you live in a second-story apartment, a slam ball may not be the best choice for home gym equipment.
Best Medicine Ball of the Traditional Style
Best Tornado Rope Ball
Best Med Ball with Handles
Medicine balls vary in stiffness, material, features, diameter and weight, based on the exercise they are used for. It makes sense to choose a medicine ball that fits the exercises you plan to perform.
Many home gyms use more than one style, and commercial gyms usually have a variety of weights and styles. To get started, lets go over the 5 different styles of medicine balls
4 Medicine Ball Variations and Styles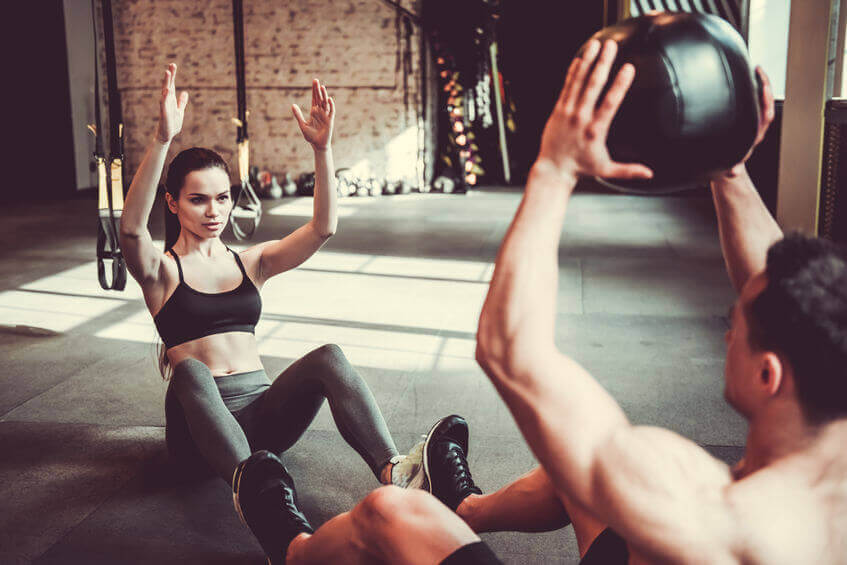 Slam Ball – Dead Ball
This ball has a thick rubber shell that is filled with sand and air. The shell has some give to it. It does not bounce, you can throw it really, really hard against the ground or wall and it will not ricochet and hit you.
They are generally heavy for size and have a thick rubber shell.
These balls can be used for lifting, Atlas style, or can be incorporated into planks and pushups, because they are more stable on the ground and do not roll as easy.
Technically you can do your wall balls using a slam ball, but if one lands on your face it has a bigger ouch factor than a wall ball. But overall, a slam ball is more versatile than a wall ball.
Looking for a slam ball to take out your frustrations on? Check out this list I created, the best slam balls out there.
Wall Balls – Soft Outer with Hard Core
These balls also do not bounce. They are usually made with vinyl fabric, and some padding on the outside, with a harder, denser core
They are less heavy, for size, than the slam ball. The softer cover and padding make them easier to catch after you throw it against the wall.
Traditional Hard Bouncy Medicine Balls
Traditional style ball for traditional exercises. The traditional medicine ball will bounce, so don't throw it against the wall or slam it into the ground, as it can hit you on the way back.
This is the med ball you want for exercises like tossing the ball to a partner and trunk twists. The Title Boxing rubber medicine ball is a good example of this style.
Tornado Ball – Rope Ball
A hard bouncy med ball on a rope. You swing the ball on a rope, like video below.
This type of ball is swung similar to how you might swing and ax or sledgehammer.
This is a medicine ball for advanced athletes, because it needs to be used properly or injury can occur.
Killer video demonstrating different types of medicine balls. Bonus: He also explains why 2 lb balls are necessary.
Medicine Ball FAQs
Are Medicine Balls Good?
Medicine balls are great for cardiovascular endurance and conditioning and strengthening your core muscles primarily, and arms and legs as well.
Medicine balls are as fun to use as they are useful, and you will look forward to your workouts that include them.
They are SIMPLE and take little skill to use, so even beginners and kids can get a lot of use from them.
But just because they are simple, does not mean they are not a serious training tool. Their simplicity means you can focus on the weight and reps and how hard you are going at it, instead of worrying about form and "doing it right".
Not only that, but using the medicine ball, especially the slam ball which you slam to the ground with all the force you can muster, is satisfying. If you have had a rough day and need to blow off some steam, there is nothing quite like slamming that heavy ball into the ground. It's a much better option than punching the wall or getting into a fight.
Which is Better Kettlebells or Medicine Balls?
Take a look at any CrossFit box, or scan the daily WOD, and invariable you will see both kettlebells and medicine balls in there at some point.
While these two fitness tools have some crossover in terms of what the do and how they can potentially work the body, they are not completely interchangeable and one is not necessarily better than the other.
Both the kettlebell and the medicine ball focus on the core muscles, but can also work the arms and legs.
Both can be used to improve strength, explosive power, cardio and balance too.
Both are small, portable, versatile and affordable.
However…
Each has its own unique benefits.
Benefits of the Kettlebell
Benefits of the Medicine Ball
I recommend you include both kettlebells and medicine balls in your CrossFit gym. If you need some ideas on how to get started building a CrossFit gym for your home, check out this guide.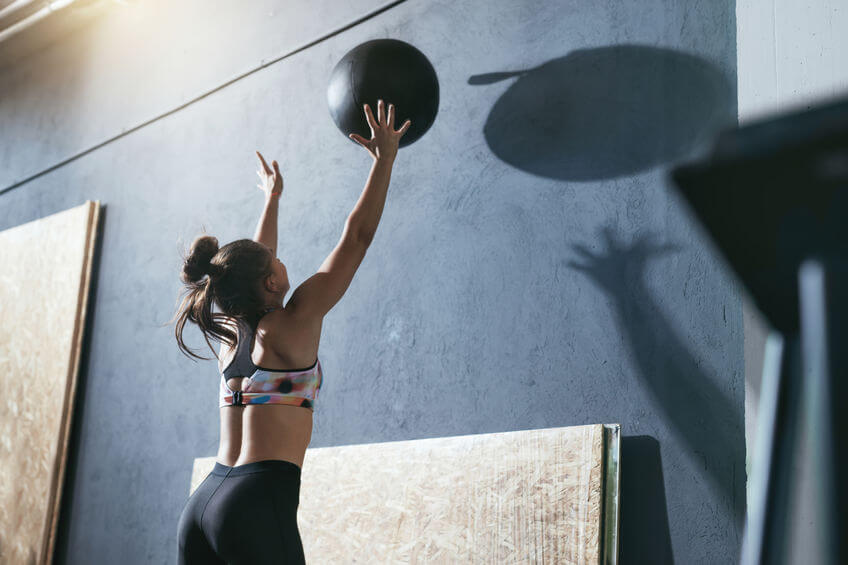 Do All Medicine Balls Bounce?
No.
Only a few types of medicine balls are designed to bounce.
The traditional rubber medicine ball has decent bounce and can be used for bounce toss, and if used carefully, could be used for wall balls.
The tornado ball, which is a medicine ball with a rope attached, is designed to be hit against a wall or floor using a motion like chopping wood or swinging an ax or sledgehammer.
How Heavy Should My Medicine Ball be?
It depends on the medicine ball style, your strength level and even your gender.
For example, a good place to start for the popular medicine ball workout, the wall ball, a woman might start with anywhere from 8 to 14 lbs, and a man would start with 10, 14 or even 20 lbs, depending on fitness level.
That said, in CrossFit, the most common standard prescribed is weight 14 lbs for women and 20 lbs for men, but most need to scale down the weight, at least in the beginning.
What Muscles are Used in Medicine Ball Slams?
The mighty medicine ball works almost the entire body, strengthening the core, abs, arms, upper body and even legs if used in a squat position.
The slam and wall ball focus on core strength and increase cardio capacity.
The slam ball is a great tool for building explosive core power.
What can I Use Instead of a Medicine Ball?
If your gym does not have a medicine ball, you need to get creative.
If the medicine ball exercise you are trying to replace is:
The wall ball, try a barbell thruster
For the slam ball, try a sledgehammer swing or woodchopper
If the medicine ball exercise you are trying to replace does not involve throwing or bouncing, sometimes a weight plate or kettlebell can stand in place of the medicine ball.
Is Slam Ball Same as Medicine Ball?
A slam ball is one type of medicine ball. A slam ball has a somewhat malleable thick durable rubber shell. It is generally filled with sand and air and is designed with good texture on the outside so you can easily grip it.
A slam ball is meant to be hefted up over-head and slammed down to the ground as hard as you can.
A slam ball should have very little to NO bounce.
The idea is you build upper body strength and cardio endurance by slamming the ball, and get a little bit of a leg workout squatting down to the ground to pick it up.
My favorite slam balls are the Rogue Echo Slam Balls because they come in so many different weights and are very durable.
Can You Use a Slam Ball for Wall Balls?
Yes, sort of.
While medicine balls with a soft outer layer are common for the wall ball exercise, a slam ball can be used, but it's not quite the same workout.
Since a slam ball has no bounce, it will not come back at you after you throw it. It will fall to the floor and you will need to squat down to retrieve it.
That's is an easy way to add some leg action into your wall balls, but the exercise will not be as fast passed as wall balls done with a wall ball style medicine ball.
Best Medicine Ball Exercises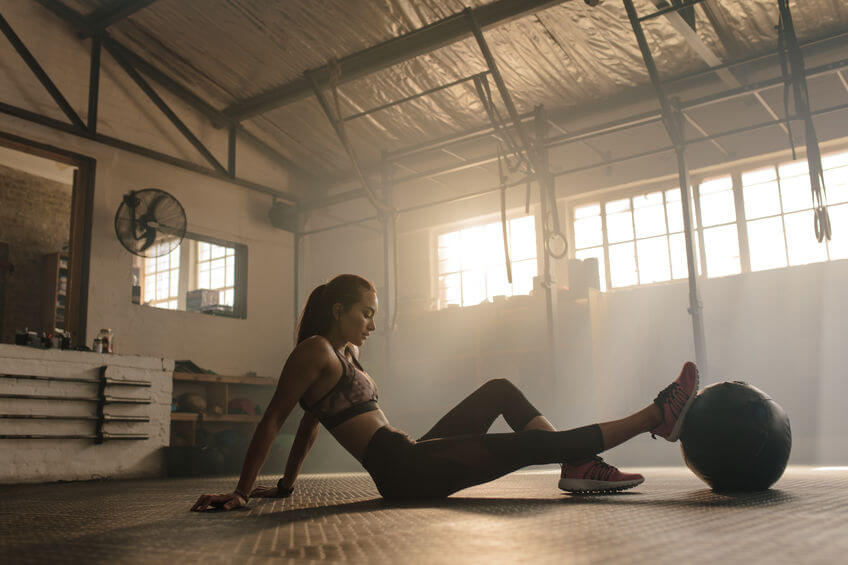 Best Medicine Ball Workouts for the Core and Ab Exercises
100 Core Exercises with the Medicine Ball
This video has no speaking and is simple, and effective. Mat demonstrates 100 core exercises you can perform with the med ball so you will never grow bored with your core routine.
There are helpful tips written on the screen. Nice touch, Thanks Mat!
Top 10 Medicine Ball Core Exercises
Zeus himself demos 10 core exercises. This video also has no speaking, and is quite a bit shorter than the previous video, so if you are pressed for time, this is the core video for you.
Best Wall Ball Workout
Top 4 Wall Ball Exercises
Coach Brian demos 4 wall ball exercises done with the softer padded vinyl ball. Includes wall ball toss, wall ball chest press, wall ball side toss, underhand toss.
These exercises build upper body power.
How to do Wall Balls
I like this video because Case explains the proper form and give several tips to perform wall balls. Great video for beginners and those new to CrossFit.
Best Slam Ball Dead Ball Workouts
Dead Ball Training with Derek Boyer
These are Dead ball workouts that "anyone, and I mean anyone" can use. Derek Boyer, Strongman sensation believes Dead balls, aka slam balls are one of the best training tools a CrossFit or Functional Fitness athlete can use.
Mr. Boyer demonstrates proper form and explains the exercise, including reps and time to complete.
This workout targets legs and core. Highly recommended video for those who want to lift heavy med balls.
10 Minute Slam Ball Workout
Coach Brian shows us a quick (but not easy) 10 minute slam ball workout. The text on the screen guides you through the sets and reps, which is nice.
The music, however, is distracting. That's OK, you can silence the video and still easily follow along.
5 Minute Slam Ball HIIT
Got 5 min and a slam ball? This quick video by Chelsey Hendrikson, trainer and gym owner is slamming. Literally. For an intense 5 minutes. Give it a try. Once you catch your breath, let us know what you think.
Best Tornado Ball Workout
Dynamic Core Workouts
If you are an intermediate to advanced athlete, you may want to give a tornado ball workout a try. This video is for advanced athletes, who are new to the tornado ball.
The trainer explains how to get started and emphasizes proper form, as well as the pitfalls and potential injury points. Overall, an excellent video for those who have not used a tornado ball.
Best Workout for a Med Ball with Handles
Full Body Workout is Done with Dual or Single Grip Medicine Ball
This 30 minute full-body workout will give you a well-rounded workout using a medicine ball with one or two handles. The workout is fun and pretty easy, depending of course on how heavy your med ball is.
Best Full Body Workout with a Traditional Med Ball
Total Body Medicine Ball Workout
This 27 min video uses the bouncing style traditional ball, plus a floor mat. It is three rounds of 8 exercises.
This workout is for moderately athletic folks and includes push-ups done with one hand on the ball, squats, lunges, and ample core work. But what would a med ball workout be without a lot of ab work, huh?
Most medicine ball workouts can be done right in your home gym. If you want to see more workouts you can do from home, this list is for you: The top CrossFit workouts you can do from home.
That's a Wrap
That wraps up the top 13 medicine ball reviews.
If you are looking for a medicine ball for your home gym to save on space, why not also consider a space-saving all in one home gym? I have a list of the best right here.
If you like garage gym gear reviews and news, sign up for the Garage Gym Power newsletter and we will keep you updated as new gear reviews come out.