TOP 13 Best Medicine Balls of 2023 Reviewed + Guide & Workouts
Medicine balls have been around for quite a while, but they have been popularized by the functional fitness movement including Bootcamp, CrossFit.
Why are medicine balls so popular these days?
Because they are versatile, train cardiovascular endurance and strength, and are a unique and effective tool to strengthen the challenging to reach core muscles.
I did my research and found 13 of the best medicine balls of 2023 and reviewed each one.
In addition to that…
I cover the 4 types of medicine balls, recommend the best exercises with medicine balls and offer some workout routines that showcase each type of med ball.
Ready???
TOP 13 Best Medicine Balls of 2023
Best Wall Balls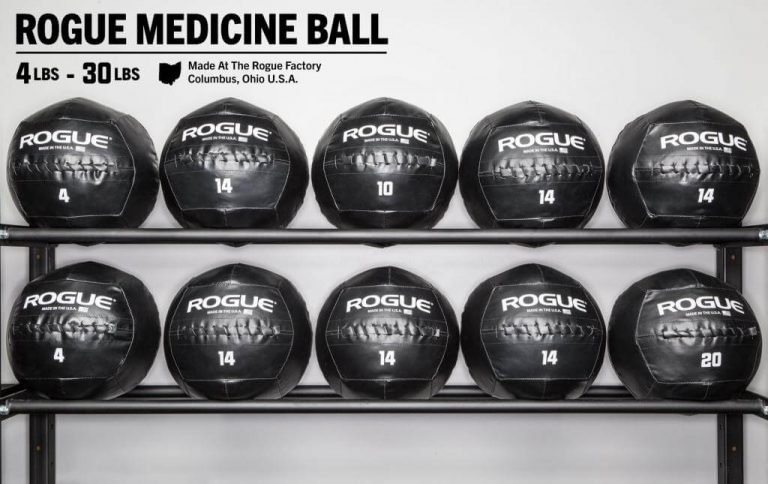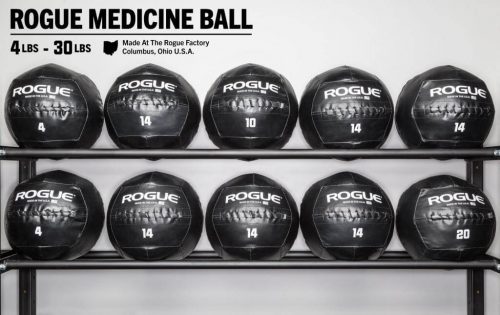 Review: The Rogue medicine ball is easy to work with because regardless of the weight, each ball has a uniform 14" diameter that is just right for wall ball tossing. The surface is not slippery but has decent texture and grip.
These medicine balls are double-stitched and will not fall apart or become lopsided and uneven like cheap brands sometimes do. Rogue makes some of the best medicine balls for CrossFit, so don't hesitate to pick one up.
Pros
Available in 11 weights from 4 lbs up to 30 lbs.
Manufactured in the USA.
Double reinforced nylon stitching.
14" diameter.
Cons
More expensive that others.
Takeaway
Rogue makes the best medicine balls for CrossFit, they are well balanced, double stitched, and do not get lopsided.
Title Boxing Max Medicine Ball
Review: This Title Boxing med ball is individually stitched and made from durable synthetic leather. It has a firm center and softer outer layer that stays balanced and holds its shape, yet is soft enough on the outside to catch safely at high speeds.
The outer surface is easy to grip and slip-resistant so you will enjoy throwing this med ball around.
Pros
Synthetic leather is easy to catch and grip.
Well balanced, firm interior keeps its shape.
Softer outer layer for safety when catching at high speeds.
Cons
Not available over 20 lbs.
Takeaway
A high-quality medicine ball at a reasonable price.
j/fit Soft Wall Medicine Ball
Sale
JFIT Wall Ball, Red/Black, 10 LB
FUNCTIONAL TRAINING: Not intended for slamming exercise, this extremely versatile, premium JFIT Soft Wall Ball can be used for multiple workout goals, with use in strength training and plyometric exercises, burpees, crunches, and beyond
DURABLE CONSTRUCTION: Premium heavy-duty vinyl coated shell, has been laser cut, double stitched, and hand stuffed to maintain balance and keep shape, while featuring a non-slip grip making it easy to hold during your sweat session
MULTI-PURPOSE TOOL: Use this quality wall ball for more than just your workout by stretching and rolling out tight and sore muscle fibers using your weight and gravity against the surface area of the ball to release tension
IMPROVE ENDURANCE: Excellent for men and women looking to increase core strength, improve stabilization, and muscle density, press through your next wall squat while maintaining a steady grip during your exercise routine
PERFECT SIZE: All sizes have a 14" diameter, except the 4LB ball which has a 9" diameter, allowing you to add variety and challenge yourself with our premium wall balls that are balance tested, with even weight distribution
Review: Ranging in size from 6 to 30 lbs, each ball undergoes a quality control test in the "balance Tunnel" to insure the ball rolls straight and is not lopsided.
In addition to that, they weigh each ball before closing it up. I like that kind of attention to detail.
Pros
Does not bounce too much, great for wall balls.
Roughly the size of a standard beach ball.
Does not hurt as bad as a slam ball, if you accidentally drop it on your face.
Cons
Not for slamming or commercial gym use.
Takeaway
This is a larger and softer medicine ball and one of the best medicine balls for CrossFit wall balls.
Rep Fitness Soft Medicine Ball
Review: This soft wall ball is made from faux leather and is easy to grip, which is important if you plan to catch the thing as it hits the wall and comes back at you.
These are also individually tested and balanced before being shipped.
Pros
Every weight is 14" in diameter (about 5 " more than a basketball).
Huge range of weight, from 4 to 40 lbs balls available.
Weight and logo are stitched into the fabric, so they will not come off when the ball is used.
Loops on the side allow you to pick up the ball with one hand.
Cons
Not for slamming. Slamming can ruin the ball.
Takeaway
A very high-quality wall ball that will last if used properly and one of the best medicine balls for home gym because it is so affordable.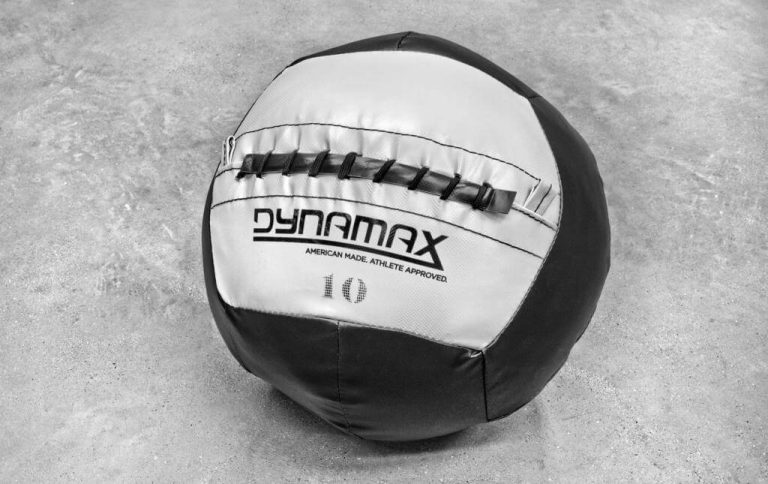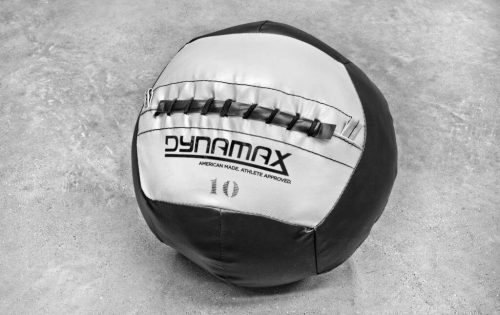 Review: The Dynamax medicine balls are the real deal. You will frequently find this brand medicine ball in a CrossFit box or gym. This ball is a top-rated ball made in the USA.
This ball has a well-padded exterior, superior to cheap med balls, making it safe to catch at high speeds. If you want a ball that lasts a long time, and holds up under abuse, get this medicine ball.
Pros
Well padded, safe to catch at high velocity.
Extremely durable, will last for years.
Available in weights of 4 to 30 lbs.
Made in the USA.
Cons
Takeaway
The sturdy, well-padded ball that used in CrossFit boxes everywhere.
Best Medicine Balls for Slamming
Hot Tip: If you live in a second-story apartment, a slam ball may not be the best choice for home gym equipment.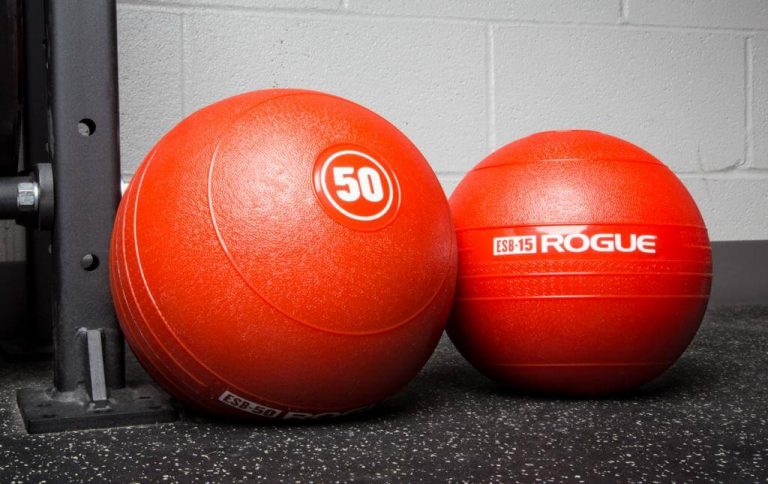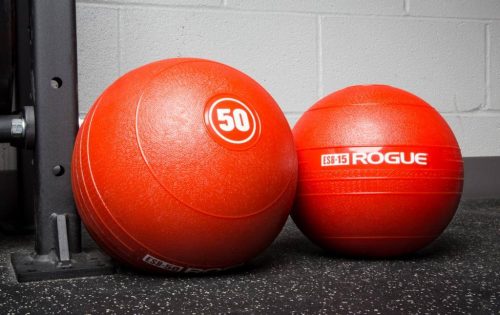 Review: The Rogue Slam Balls are extra grippy thanks to the rubber shell which is quite sticky.
This ball will change shape as you slam it on the ground, so it gives you a little extra challenge because you must approach the ball differently on each pick-up.
If this ball loses a little air, it can be inflated using a standard ball pump, no problem. You will love the way this ball feels, it is satisfying to slam it to the ground and grippy so you feel secure hefting it over your hear.
Pros
Available from 10 to 50 lbs.
Grippy rubber shell.
Dead bounce – will not bounce.
Cons
Takeaway
Most comfortable slam ball with the best grip. Best medicine balls for throwing to the ground.
Fringe Sport OneFitWonder Slam Ball
Review: The Fringe Sport OneFitWonder slam ball will not disappoint. The textured rubber shell allows you to easily pick it up, even if your hands are sweaty.
The OneFitWonder slam balls are a little bigger than other brands, and unlike some others, they do not lose their shape or deform over time.
Pros
Dead bounce, not much rebound.
Textured rubber shell is grippy even with sweaty hands.
Available in 10 to 150 lbs.
Cons
Takeaway
Long lasting, durable slam ball with great texture for the best grip.
j/fit Dead Weight Slam Ball
JFIT Weighted Slam Ball, Classic Black, 15 LB
TAKE YOUR WODS TO THE NEXT LEVEL: Cross training is founded on innovation and variety – and our slam ball helps transform your WODS and quickly advance cross training levels, all while letting you reap all of its benefits with unprecedented ease.
BOOST YOUR AEROBIC CAPACITY: Slam ball workouts tone the cardiovascular system, enhance circulation and dramatically improve your strength and endurance. By moving at a high speed, you push your body towards producing more power – and FAST.
BUILD MUSCLE MASS & ATTAIN PERFECT BALANCE: Slam balls add a layer of resistance to exercises which traditionally rely on bodyweight. They naturally increase muscle mass and improve posture and balance, through aiding in regulating movement patterns.
ENGINEERED FOR PRECISION & DURABILITY: Simply the highest quality slam balls on the market. Our slam balls have gone through over 10 re-designs throughout the years, aiming for perfection and both indoor and outdoor exercise precision.
CHOOSE YOUR SIZE: Our 9" diameter balls are offered in 10-lb, 15-lb, 20-lb, 25 lb, 30 lb, 35 lb, 40 lb and 50 lb sizes. Get one now according to your strength level and come back to buy more, as your endurance increases!
Review: This jFit Dead Weight Slam ball comes in a wide range of weights, from 10 to 50 lbs and has a thick rubber shell that is built to withstand a beating.
Pros
Several weights available 10 lb to 50 lb.
All weights are 9" in diameter so you can increase weight, without increasing size.
Now made with 20% thicker skin than the previous model.
Cons
Previous models leaked after extended use, be sure to get the latest model.
Takeaway
If you want a slam ball with thick skin the j/fit hard slamming, abuse and may even tolerate bad words and criticism, too.
Titan Fitness Slam Spike Ball
Review: This Titan slam ball comes in weights of 10 to 60 lbs is made from a thick rubber shell. It is one of the more affordable slam balls, great for tight budgets.
Pros
Variety of weights.
Very durable, thick rubber shell.
On the squishy side, can be used for planks and pushups.
Cons
Some users have needed to remove air from the interior.
Takeaway
A quality slam ball at a pretty reasonable price. One of the best medicine balls for slamming at a budget price.
Best Medicine Ball of the Traditional Style
Title Boxing Rubber Medicine Balls
Title Boxing Rubber Medicine Balls, Grey/Black, 12 lbs
The medicine ball has been used for decades to strengthening the core, trunk, abs, arms, obliques and upper body for explosive results
The rubber medicine ball is ideal for bounce passes, chest passes and overhead passes with a partner or off a secure wall training solo
Increase strength, power, thrust, explosiveness, agility, coordination and balance
Ideal addition and component for all training and fitness workouts
Sizes/Weights:  6 lbs / 7", 8 lbs / 8", 10 lbs / 9", 12 lbs / 10", 15 lbs / 12"
Review: This traditional style medicine ball has some bounce. This means you can use it for bounce passes with a partner or bounce it off a wall by yourself.
This rubber medicine ball has excellent grip allowing you to easily and securely catch it and feel safe throwing from over your head and tossing up to catch it.
Pros
Excellent texture.
Good bounce, great for bounce pass or bouncing off a wall.
Color-coded by weight.
Cons
Not available over 15 lbs.
Takeaway
Top quality traditional style medicine ball with good bounce and excellent grip.
Valeo 8 lb Medicine Ball With Sturdy Rubber Construction And Textured Finish, Weight Ball Includes Exercise Wall Chart For Strength Training, Plyometric Training, Balance Training And Muscle Build
STRENGTH, COORDINATION, BALANCE: Classic medicine ball workout helps develop core strength, improve coordination, and fine-tune balance ideal for strength training, plyometric training, balance training and building muscle
SIZE & BOLD COLOR OPTIONS: Based on your personal strength needs, available weight options: 4lbs, 6lbs, 8lbs, 10lbs, 12lbs
DURABLE & TEXTURED MATERIAL: Sturdy rubber construction, textured surface provided an easy solid grip. Can bounce off hard surfaces
FITNESS GUIDE: Exercise wall chart included for Medicine Ball Training made easy
Review: The traditional style Valeo medicine ball is made from sturdy rubber and has decent bounce.
Pros
Weights from 4 to 12 lbs available.
Basketball like feel, texture and size (all weights are the same size).
Dense feeling.
Some bounce.
Cons
Do not slam this ball, it will split.
Takeaway
One of the best medicine balls for core and partner exercises.
Best Tornado Rope Ball
Ader Power Rope Medicine Ball
Ader Sporting Goods 6 Lb Power Rope Medicine Ball
6 lb rubber (no sand or water inside) medicine ball with a rope threaded through the center to facilitate swinging motions
Useful for upper body and core strength training
NO shipping to Alaska, Hawaii, or APO/FPO addresses or PO boxes
Review: This 6 lb tornado ball is made from solid rubber with a rope threaded through.
Pros
Solid rubber construction.
High-quality tornado ball.
Cons
Inspect the rope knot before each use as it has been known to come untied, which can be dangerous.
Takeaway
This is a high-quality ball from a reputable fitness weights brand.
Best Med Ball with Handles
SPRI Dual Grip Xerball Medicine Ball
Sale
SPRI Xerball Medicine Ball with Handles - Weighted Ball for Exercise (6 lbs, 8, 10, 12, 14, 16, 18, 20 Pounds) - Med Ball for Abs, Core, Strength Training - 8 Pound
EASY TO GRIP: SPRI weighted exercise ball with thick handles provides comfort and leverage for an intense routine so you can feel more in control of your everyday workout.
LONG LASTING DURABILITY: Our exercise balls for working out are made to handle any force or exertion from your exercise routine so you can be proud of reaching your fitness goals.
OPTIMAL PERFORMANCE: Thick handles provide expansive rotational movement for sport activities such as golf swings and tennis strokes. Conduct abdominal exercises, upper extremity cross-body patterns, lower-body dynamic and locomotor drills.
FREE INSTRUCTION SHEET: A complimentary instruction sheet is included about the safety and uses of the SPRI medicine ball as well as an exercise guide for various routines.
ENHANCE ABDOMINALS: This exercise tool is great for toning abdominals, increasing core strength, and coordination.
Review: This dual handled rubber medicine ball has just enough give that you can put it on the floor and hold the two handles for pushups, mountain climbers and more.
Having tow handles also allows you to use it for ab crunch rotations and twists with ease.
Plus…
You can use it for kettlebell type swings so it could take the place of a kettlebell, saving you space and money.
Pros
Available in 6 to 20 lb weights.
Ball has slight give for floor movements like push-ups.
Ample handles allow single-handed "kettlebell" type swings.
No bounce.
Cons
Not for throwing, bouncing or high speed movements.
Takeaway
The best dual-handle medicine ball on the market, grippy texture, large handles and no bounce.
Medicine balls vary in stiffness, material, features, diameter and weight, based on the exercise they are used for. It makes sense to choose a medicine ball that fits the exercises you plan to perform.
Many home gyms use more than one style, and commercial gyms usually have a variety of weights and styles. To get started, lets go over the 5 different styles of medicine balls
4 Medicine Ball Variations and Styles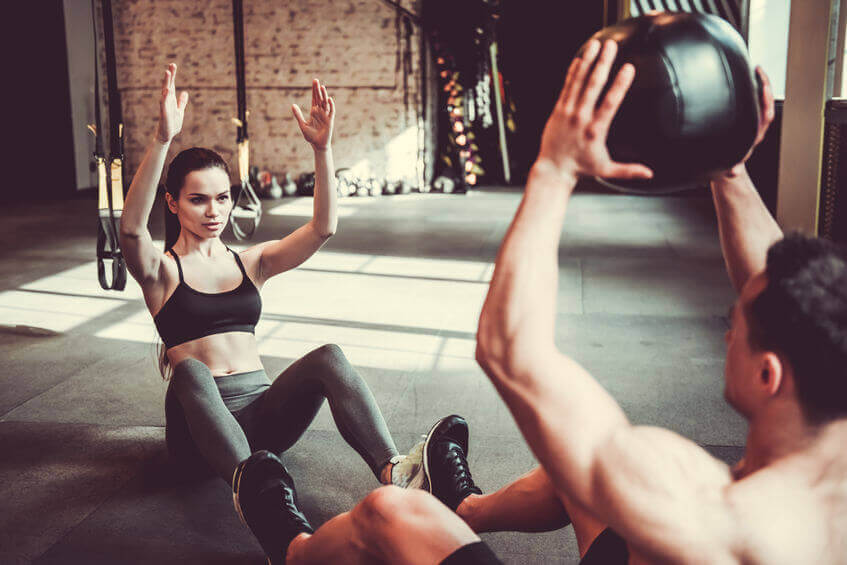 Slam Ball – Dead Ball
This ball has a thick rubber shell that is filled with sand and air. The shell has some give to it. It does not bounce, you can throw it really, really hard against the ground or wall and it will not ricochet and hit you.
They are generally heavy for size and have a thick rubber shell.
These balls can be used for lifting, Atlas style, or can be incorporated into planks and pushups, because they are more stable on the ground and do not roll as easy.
Technically you can do your wall balls using a slam ball, but if one lands on your face it has a bigger ouch factor than a wall ball. But overall, a slam ball is more versatile than a wall ball.
Note: It is normal for slam balls to have space or "play" on the inside, so they slam properly. You may find the ball seems only ¾ full. Don't be alarmed, this is by design.
Looking for a slam ball to take out your frustrations on? Check out this list I created, the best slam balls out there.
Wall Balls – Soft Outer with Hard Core
These balls also do not bounce. They are usually made with vinyl fabric, and some padding on the outside, with a harder, denser core
They are less heavy, for size, than the slam ball. The softer cover and padding make them easier to catch after you throw it against the wall.
Traditional Hard Bouncy Medicine Balls
Traditional style ball for traditional exercises. The traditional medicine ball will bounce, so don't throw it against the wall or slam it into the ground, as it can hit you on the way back.
This is the med ball you want for exercises like tossing the ball to a partner and trunk twists. The Title Boxing rubber medicine ball is a good example of this style.
Tornado Ball – Rope Ball
A hard bouncy med ball on a rope. You swing the ball on a rope, like video below.
This type of ball is swung similar to how you might swing and ax or sledgehammer.
This is a medicine ball for advanced athletes, because it needs to be used properly or injury can occur.
Killer video demonstrating different types of medicine balls. Bonus: He also explains why 2 lb balls are necessary.
Medicine Ball FAQs
Are Medicine Balls Good?
Medicine balls are great for cardiovascular endurance and conditioning and strengthening your core muscles primarily, and arms and legs as well.
Medicine balls are as fun to use as they are useful, and you will look forward to your workouts that include them.
They are SIMPLE and take little skill to use, so even beginners and kids can get a lot of use from them.
But just because they are simple, does not mean they are not a serious training tool. Their simplicity means you can focus on the weight and reps and how hard you are going at it, instead of worrying about form and "doing it right".
Not only that, but using the medicine ball, especially the slam ball which you slam to the ground with all the force you can muster, is satisfying. If you have had a rough day and need to blow off some steam, there is nothing quite like slamming that heavy ball into the ground. It's a much better option than punching the wall or getting into a fight.
Which is Better Kettlebells or Medicine Balls?
Take a look at any CrossFit box, or scan the daily WOD, and invariable you will see both kettlebells and medicine balls in there at some point.
While these two fitness tools have some crossover in terms of what the do and how they can potentially work the body, they are not completely interchangeable and one is not necessarily better than the other.
Both the kettlebell and the medicine ball focus on the core muscles, but can also work the arms and legs.
Both can be used to improve strength, explosive power, cardio and balance too.
Both are small, portable, versatile and affordable.
However…
Each has its own unique benefits.
Benefits of the Kettlebell
You can hold a kettlebell better because it has a handle and use more weight without worrying about it slipping (e.g. swinging it overhead is safer than with a heavy med ball, which could slip and hit you or someone else).
Kettlebells train grip strength more than med balls.
Kettlebells can be used with one hand ( one arm swing, Turkish get up).
In many instances, kettlebells can be used as dumbbells.
Benefits of the Medicine Ball
Medicine balls can be thrown, bounced and caught (e.g. wall balls, bounce pass, tossing to a partner).
Slam balls can be slammed into the ground, mimicking the movement of chopping wood.
You can use them with a partner for working in pairs.
You can throw them straight up and catch them again.
I recommend you include both kettlebells and medicine balls in your CrossFit gym. If you need some ideas on how to get started building a CrossFit gym for your home, check out this guide.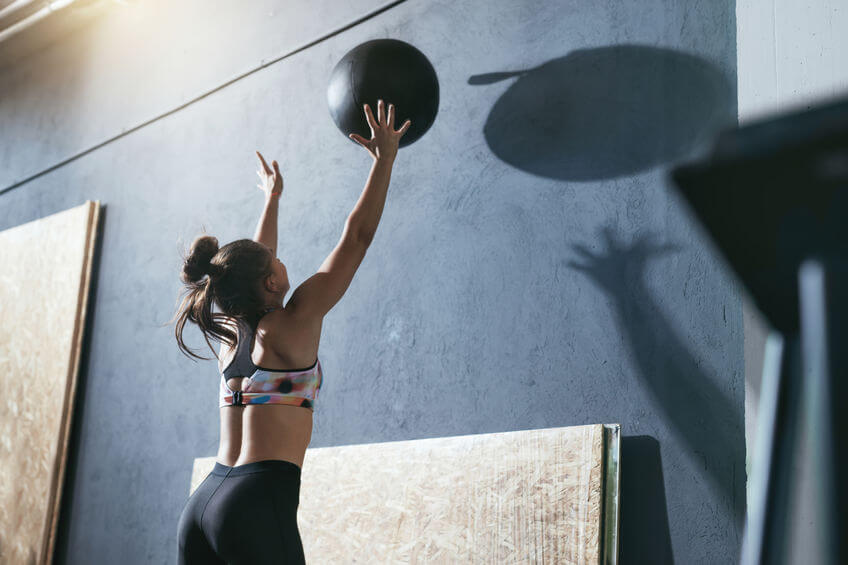 Do All Medicine Balls Bounce?
No.
Only a few types of medicine balls are designed to bounce.
The traditional rubber medicine ball has decent bounce and can be used for bounce toss, and if used carefully, could be used for wall balls.
The tornado ball, which is a medicine ball with a rope attached, is designed to be hit against a wall or floor using a motion like chopping wood or swinging an ax or sledgehammer.
How Heavy Should My Medicine Ball be?
It depends on the medicine ball style, your strength level and even your gender.
For example, a good place to start for the popular medicine ball workout, the wall ball, a woman might start with anywhere from 8 to 14 lbs, and a man would start with 10, 14 or even 20 lbs, depending on fitness level.
That said, in CrossFit, the most common standard prescribed is weight 14 lbs for women and 20 lbs for men, but most need to scale down the weight, at least in the beginning.
What Muscles are Used in Medicine Ball Slams?
The mighty medicine ball works almost the entire body, strengthening the core, abs, arms, upper body and even legs if used in a squat position.
The slam and wall ball focus on core strength and increase cardio capacity.
The slam ball is a great tool for building explosive core power.
What can I Use Instead of a Medicine Ball?
If your gym does not have a medicine ball, you need to get creative.
If the medicine ball exercise you are trying to replace is:
The wall ball, try a barbell thruster
For the slam ball, try a sledgehammer swing or woodchopper
If the medicine ball exercise you are trying to replace does not involve throwing or bouncing, sometimes a weight plate or kettlebell can stand in place of the medicine ball.
Is Slam Ball Same as Medicine Ball?
A slam ball is one type of medicine ball. A slam ball has a somewhat malleable thick durable rubber shell. It is generally filled with sand and air and is designed with good texture on the outside so you can easily grip it.
A slam ball is meant to be hefted up over-head and slammed down to the ground as hard as you can.
A slam ball should have very little to NO bounce.
The idea is you build upper body strength and cardio endurance by slamming the ball, and get a little bit of a leg workout squatting down to the ground to pick it up.
My favorite slam balls are the Rogue Echo Slam Balls because they come in so many different weights and are very durable.
Can You Use a Slam Ball for Wall Balls?
Yes, sort of.
While medicine balls with a soft outer layer are common for the wall ball exercise, a slam ball can be used, but it's not quite the same workout.
Since a slam ball has no bounce, it will not come back at you after you throw it. It will fall to the floor and you will need to squat down to retrieve it.
That's is an easy way to add some leg action into your wall balls, but the exercise will not be as fast passed as wall balls done with a wall ball style medicine ball.
Best Medicine Ball Exercises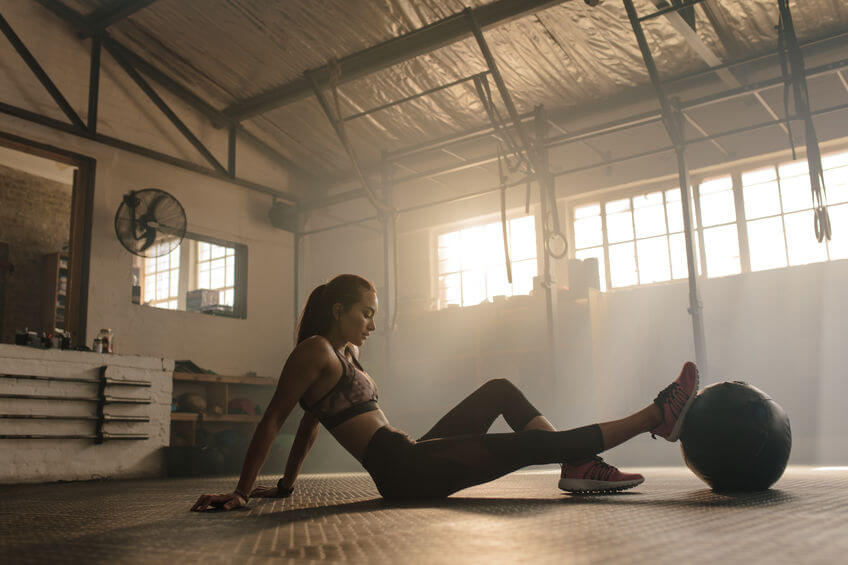 Best Medicine Ball Workouts for the Core and Ab Exercises
100 Core Exercises with the Medicine Ball
This video has no speaking and is simple, and effective. Mat demonstrates 100 core exercises you can perform with the med ball so you will never grow bored with your core routine.
There are helpful tips written on the screen. Nice touch, Thanks Mat!
Top 10 Medicine Ball Core Exercises
Zeus himself demos 10 core exercises. This video also has no speaking, and is quite a bit shorter than the previous video, so if you are pressed for time, this is the core video for you.
Best Wall Ball Workout
Top 4 Wall Ball Exercises
Coach Brian demos 4 wall ball exercises done with the softer padded vinyl ball. Includes wall ball toss, wall ball chest press, wall ball side toss, underhand toss.
These exercises build upper body power.
How to do Wall Balls
I like this video because Case explains the proper form and give several tips to perform wall balls. Great video for beginners and those new to CrossFit.
Best Slam Ball Dead Ball Workouts
Dead Ball Training with Derek Boyer
These are Dead ball workouts that "anyone, and I mean anyone" can use. Derek Boyer, Strongman sensation believes Dead balls, aka slam balls are one of the best training tools a CrossFit or Functional Fitness athlete can use.
Mr. Boyer demonstrates proper form and explains the exercise, including reps and time to complete.
This workout targets legs and core. Highly recommended video for those who want to lift heavy med balls.
10 Minute Slam Ball Workout
Coach Brian shows us a quick (but not easy) 10 minute slam ball workout. The text on the screen guides you through the sets and reps, which is nice.
The music, however, is distracting. That's OK, you can silence the video and still easily follow along.
5 Minute Slam Ball HIIT
Got 5 min and a slam ball? This quick video by Chelsey Hendrikson, trainer and gym owner is slamming. Literally. For an intense 5 minutes. Give it a try. Once you catch your breath, let us know what you think.
Best Tornado Ball Workout
Dynamic Core Workouts
If you are an intermediate to advanced athlete, you may want to give a tornado ball workout a try. This video is for advanced athletes, who are new to the tornado ball.
The trainer explains how to get started and emphasizes proper form, as well as the pitfalls and potential injury points. Overall, an excellent video for those who have not used a tornado ball.
Best Workout for a Med Ball with Handles
Full Body Workout is Done with Dual or Single Grip Medicine Ball
This 30 minute full-body workout will give you a well-rounded workout using a medicine ball with one or two handles. The workout is fun and pretty easy, depending of course on how heavy your med ball is.
Best Full Body Workout with a Traditional Med Ball
Total Body Medicine Ball Workout
This 27 min video uses the bouncing style traditional ball, plus a floor mat. It is three rounds of 8 exercises.
This workout is for moderately athletic folks and includes push-ups done with one hand on the ball, squats, lunges, and ample core work. But what would a med ball workout be without a lot of ab work, huh?
Most medicine ball workouts can be done right in your home gym. If you want to see more workouts you can do from home, this list is for you: The top CrossFit workouts you can do from home.
That's a Wrap
That wraps up the top 13 medicine ball reviews.
If you are looking for a medicine ball for your home gym to save on space, why not also consider a space-saving all in one home gym? I have a list of the best right here.
If you like garage gym gear reviews and news, sign up for the Garage Gym Power newsletter and we will keep you updated as new gear reviews come out.