15 Best Slam Balls for CrossFit and Gym Workouts Reviewed 2019
Why do you even need a slam ball if you already have a medicine ball?
Most gyms have med balls, and even athletes new to CrossFit know what a wall ball is when they see it on the WOD.
But…
If you are new to CrossFit, you may not yet know about the slam ball, what you do with it, and what it's good for.
With that in mind…
I would like to explain the difference between a medicine ball vs a slam ball, show you several workouts and the best slam ball exercises you can do, introduce 2 CrossFit WODs that use the slam ball, and finish off with a review of the 15 best slam balls on the market today.
What is the Difference Between Slam Ball and Medicine Ball?
Slam Ball vs Medicine Ball
A medicine ball is designed more for cardio, is usually lighter than a slam ball, and has a uniform round shape, keeps its shape well, and usually has a little bounce, so it rebounds back to you after you throw it.
In CrossFit, you might see a med ball used for wall balls.
A slam ball is softer, sand filled, will not bounce or roll when you throw it, and will not rebound and bounce back to you.
Slam balls are usually heavier and more geared toward strength training vs cardio. In CrossFit, you might see a slam ball used for the Ball Slam, Russian Twist, or even heavy dead ball deadlifts.
Quick Guide to Choosing the Best Slam Balls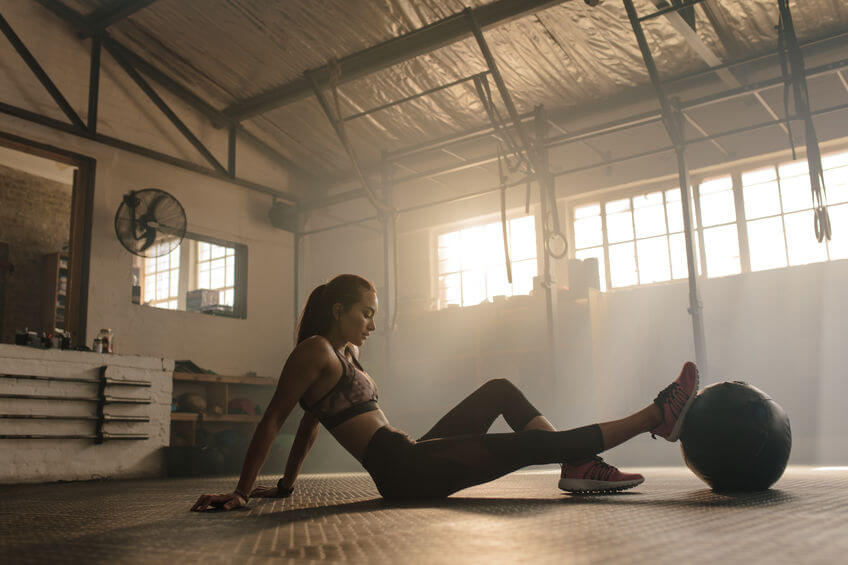 Texture and grip
Slam balls generally have two styles of grip texture.
Heavy aggressive, tire tread-like texture.
Heavy texture allows you to get the best grip, but can be hard on soft hands, especially when the WOD calls for 150 repetitions.
Or
Moderate to light texture, like a basketball.
This texture is easier on the hands, but can get slick when your palms start to sweat.
Valve or no valve?
A few slam balls out there have a valve built-in so you can adjust the air pressure.
The benefit of a valve is you can inflate or deflate the ball so it is as firm as you want. Inflating it will make it firmer and may give it a small amount of bounce.
The downside of a valve is it creates a weak point in the slam ball.
I recommend you throw the slam ball down in such a way that the valve stays up and does not hit the ground.
The benefit of a ball with no valve is that it does not have a built-in weak spot. The downside of a slam ball with no valve is that you cannot adjust it at all.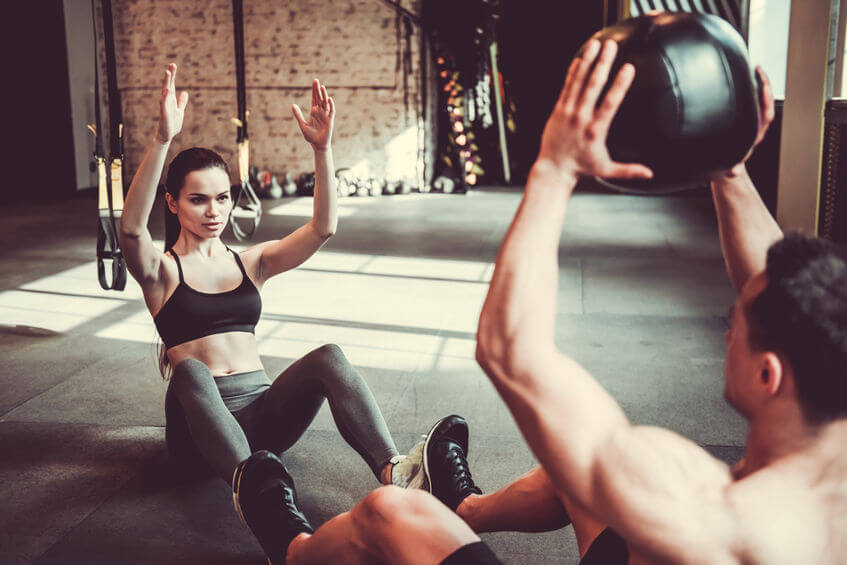 Bounce, roll firmness and shape
Slam balls fall on a spectrum of soft and pliable, to quite firm. Most are somewhere in between. A firm ball will have more bounce, usually.
Traditional slam balls should not bounce or roll, they should stay in place after you slam them.
A softer slam ball will change shape after you slam it. This makes it more challenging to pick back up, which only adds to your workout.
A softer slam ball will be filled with sand and have a core that shifts as you throw it, making it more challenging to handle and throw. This is how a slam ball should be.
Best Slam Ball Workouts and Exercises
Slam Ball Exercise
The very basic slam ball move. This is the slam ball exercise you will often see in a WOD. It is a basic but intense more every beginner should master.
10 Minute Total Body Slam Ball Routine
10 minute Total Body Slam Ball Routine. This three circuit workout is simple, fast and intense.
The best part? All you need is a little motivation, 10 minutes of your time, and a slam ball to get it done.
What can you do with a HEAVY Slam Ball, aka Dead Ball?
Cleans, deadlifts, hip tosses and shoulder throws, heavy squats and lunges are just a few of the strength training exercises you can do with the heavier slam balls. They are all demonstrated here in this Iron Edge video.
Slam Ball Core Workout
The core and abs are a common problem area for athletes. Follow this slam ball core routine to tighten and tone your core.
This routine includes Russian Twists and Cross Body slams, so using a slam ball with a shifting core will give you an even greater workout.
CrossFit WODs that use a slam ball
Looking for a few great Ball Slam WODs?
Here are a few you can use to take out your rage using a slam ball.
Dimas WOD
Instructions
Round 1: 50 of each exercise
Round 2: 40 of each exercise
Round 3: 30 of each exercise
Round 4: 20 of each exercise
Round 5: 10 of each exercise
Equipment needed
20 lb Slam Ball
20 lb Wall Ball
Exercises
Beowulf WOD
Instructions
Do all exercises in the Rxed amount in the list as fast as you can.
Equipment needed
Exercises
Row 1000 meters
Run 800 meters
50 ring dips
100 pull ups
150 jumping ball slams
Run 800 meters
Row 1000 meters
Looking for more CrossFit WODs you can do at home? Check out this compilation of home gym WODS.
TOP 15 Best Slam Ball Reviews 2019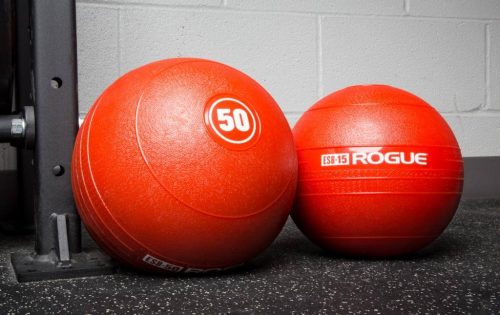 Review: These battle tested Echo slam balls by Rogue take a beating without busting open.
They produce very little bounce when slammed against a wall or on the ground for a little extra challenge over traditional med balls.
These red rubberized slam balls have good texture so you won't lose your grip as you lift it over your head and hurl it at the ground.
Pros
Available from 10 lbs all the way up to 50 lbs.
Super durable rubberized ball will not bust open on you.
Well balanced.
Striking red color.
Cons
Takeaway
High quality, practically unbreakable slam ball that takes all the abuse you can give it.
Titan Fitness Slam Spike Ball
Review: Titan slam balls are great quality rubber sand filled slam balls that have no bounce, which is exactly what you want in good quality slam balls.
They have a good grippy texture and are clearly marked with their weight in lbs. The sand filling shifts inside the ball, changing the center of gravity of the ball, causing you to work a variety of muscles as you slam.
Pros
Dead bounce/no bounce slam ball.
Sand and air-filled ball.
Available in weights from 10 lbs to 60 lbs.
Cons
Some athletes wish it had more grip or better texture.
Takeaway
A great slam ball for garage or home gym use.
Review: The Rep V2 slam ball is a popular choice for the home gym.
It has decent grip, is available in a wide range of weights, and has no bounce, and the sand inside shifts a bit, adding an extra challenge to your CrossFit workout.
Pros
Available in 10 lbs all the way up to 70 lbs.
Sand filled the shifting center of gravity adds challenge to your workout.
No bounce at all, which is what you want.
Cons
The sand may start leaking from the inflation hole after heavy use.
Takeaway
Tough and reliable slam ball for your CrossFit Workout.
Review: This Power Guidance slam ball is one of the best slam balls for CrossFit. It has thick strong walls, with just a little give when you slam it to the ground.
The tread pattern makes it really easy to grip, even if your palms start to get sweaty from the intense workout this slam ball gives you.
Pros
Thick sturdy rubber wall.
Excellent tire tread like grip.
Has a little give and no bounce.
Cons
The sand shifts a lot inside the ball.
Takeaway
The Power Guidance slam ball has the best grip!
Review: This high quality slam ball by Shogun will not disappoint. It is filled with bounce proof iron sand for a satisfying solid feel as you slam the ball to the ground.
The chevron-shaped texture means you will always get a good grip as you heave this beast over your head and you can be confident the PVC outer layer will stay intact as you slam the ball back down.
Pros
Effective tread pattern, won't lose your hold on this slam ball.
Will not bounce or roll.
Iron sand filled slam ball.
Cons
Not the least expensive slam ball.
Takeaway
Long lasting PVC wall slam ball shell with excellent grip.
Review: Take out all your rage by slamming this tough slam ball to the ground. This Rage brand slam ball can take all you've got and more.
The strong rubber shell is designed for high impact and won't burst when you slam it down.
Pros
Sand filled, can add more air via inflation valve.
Absolutely NO bounce, even with extra air added.
Strong and impact resistant.
Cons
The slam ball loses its round shape after a few slams.
Takeaway
Durable bounce free slam ball that will take all your punishment without complaining.
Slam Ball by Day 1 Fitness
Review: The Day 1 Fitness brand is well known in fitness and CrossFit circles and has a good reputation for quality.
This well-constructed slam ball includes an air valve so you can make the ball softer or firmer depending on what you like.
Pros
Will not bounce.
Has an air valve to top off with added air.
Available in increments of 20 lbs up to 50 lbs.
Cons
Not as grippy as other slam balls.
Takeaway
Customizable slam ball, perfect for home or garage gym.
Review: TRX makes great CrossFit medicine balls, slam balls and tons of other high-quality equipment.
This robust slam ball has a robust texture so this ball will not slip from your grasp, thick rubber walls so it will not burst on impact with the ground, and a large variety of weight options, from 6 lbs up to 40 lbs for every fitness level.
Pros
Strong thick rubber shell.
Lugged texture for excellent grip.
Available from 6 lbs to 40 lbs.
Cons
Tread may be too aggressive for softer hands.
Takeaway
Sturdy ball with awesome grip from a well-known fitness company.
Review: The Valor ball is a favorite of some athletes because the texture is grippy, without being hard on the hands.
The ball has no bounce and changes shape with each slam, for added challenge.
Pros
5mm thick rubber walls.
Moderate texture grip.
Can inflate with air to ideal psi using inflation valve.
Cons
The valve is a weak area, do not throw or aim so the valve hits the ground.
Champion Sports Rhino Slam
Review: This lightly textured 8 lb slam ball is great for beginners or high rep activities. It comes in a fun blue color and the softer shell make it a good choice for softer hands.
Pros
Light texture and softer shell make it a good choice for women.
Striking blue color.
8 lb weight.
Cons
No other weights available.
Takeaway
Best medicine balls for slamming for women.
Power Systems Premium Slam Ball
Review: This premium quality slam ball will be a staple of your home or garage gym for years.
The thick-walled yet flexible construction allow this ball to withstand years of abuse without a blowout.
Pros
No bounce.
Basketball like texture for comfortable grip.
Very sturdy, will last for years.
Cons
Takeaway
Commercial quality and exceptional durability – one of the best gym slam balls around.
Fitness Solutions Slam Ball
Review: This gym grade slam ball will not blast open during an intense ball slam WOD, so you can trust it in your home gym.
The high quality, thick walled rubber make this ball strong and secure. The ball is lightly textured so it won't chew up your hands as you slam it to the ground again and again.
Pros
Available from 6 to 60 lbs.
Designed with an air valve so you can adjust the psi and firmness to your liking.
Commercial quality rubber shell.
Zero bounce.
Cons
Texture may be too slick for some.
Takeaway
Gym quality adjustable slam ball.
Crown Sporting Goods Slam Ball
Review: The moderately textured slam ball has stripes like a basketball but performs like a slam ball, with no bounce and a shape that is changed when you slam it to the ground.
The changing shape and unpredictability make it more of a challenge to pick up, which adds intensity to your WOD.
Pros
Attractive colored pin striping make this slam ball stand out.
Changes shape with each slam.
NO bounce at all.
Cons
Not available in heavy weights over 20 lbs.
Takeaway
This slam ball is attractive without sacrificing performance.
Champion Barbell Reactor Smash Ball
Review: The Champion Barbell Reactor smash ball is a softer style slam ball that will not move after you slam it to the ground.
It is sand filled, but has more give, so its shape contorts as you slam it, adding challenge as you go to pick it back up. It is unstable and unbalanced by design, to make it harder to throw and give a better work out.
Pros
Available in 6 to 35 lbs.
Will not bounce or roll.
Sand filled core shifts with each slam.
Cons
Some users wish it was firmer or more stable.
Takeaway
A softer slam ball with a shifting core make a challenging, unbalanced style slam ball.
Review: This Reebok Slam ball has a mild basketball like texture so you can get a decent grip.
It is designed to minimize bounce and feel like a weighted ball, where the core shifts a bit to add intensity and a bit of unpredictability to your slam to challenge your arm, shoulder and core muscles.
Pros
Eye-catching Reebok logo imprinted on the ball.
Reduced bounce.
Shifting, weighted sand filled core.
Cons
Not many weight options available.
Takeaway
An excellent slam ball by Reebok.
That wraps up the 15 best slam balls available today.
Looking for more WOD balls? Check out this collection of the best medicine balls and add a pair to your home or garage gym.
Don't forget to sign up for the Garage Gym Power newsletter and get notified when new gear reviews and fitness articles come out.