Best Rowers for CrossFit and TOP 9 Rowing Machines Reviewed 2023
Buying a rower for your home or garage CrossFit gym is a sizeable investment, and with so many options out there it can be hard to decide which is the right rower.
Both Concept 2 and Water Rower brands are great, so how do you pick between two really good choices?
I will quickly tell you what to look out for before you decide on the best rowers for CrossFit for your home gym, let you know the difference between the Concept 2 vs Water Rower vs First Degree Rowers and give an in-depth review of 9 of the best rowers for CrossFit below.
Fast Guide to Rowers: What You Need to Know Before You Decide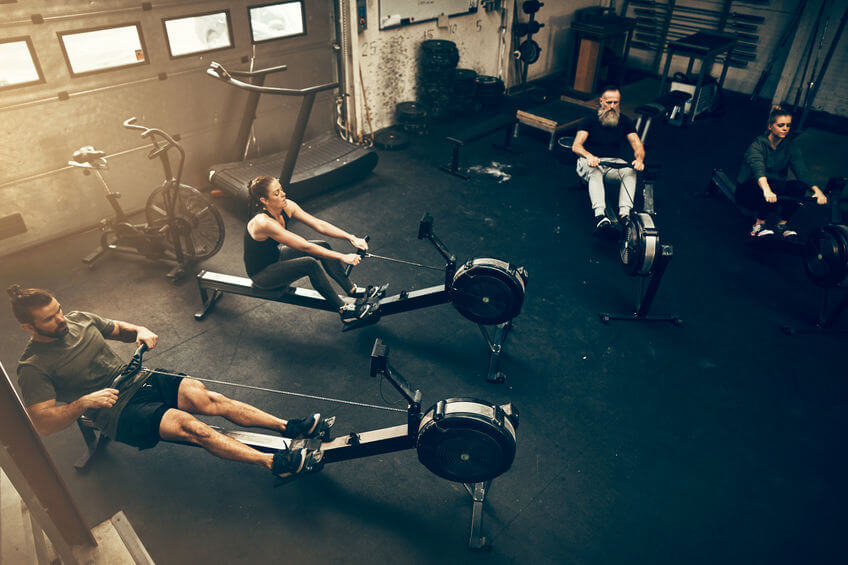 Air, Water or Magnetic Resistance?
There are three ways rowers add resistance to the row:
Air Resistance
Air flows over a fanned flywheel creating resistance. If you row faster, more resistance is created.
Some air resistance style rowers, like the Concept 2 rowers, have a damper that controls how much air is allowed to flow in, changing the resistance.
Water Resistance
Water resistance rowers use a flywheel with paddles submerged in water to create resistance. Water Rower brand rowers and First Degree Fitness Rowers use an enclosed water bowl with a paddle flywheel to create resistance.
To increase resistance you can either add more water to the bowl if it is a Water Rower, or if it is a First Degree Rower, you turn a dial to increase resistance.
Magnetic Resistance
A magnetic resistance rower like the GoPlus Magnetic Resistance Rower uses a magnetic flywheel and strong magnet to create resistance.
The closer the magnet comes to the flywheel, the more resistance you have. Turning the resistance dial moves the magnet closer to or further from the flywheel.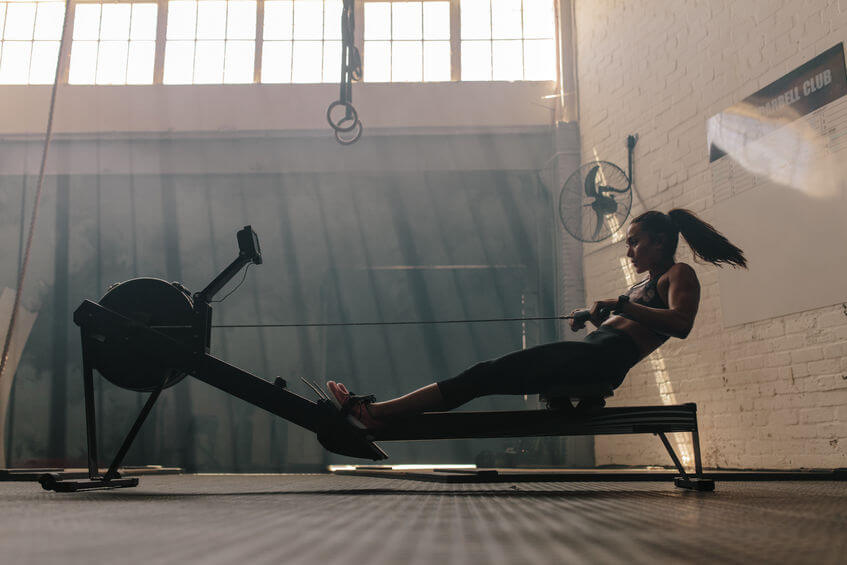 High or Low to the Ground?
A typical rower sits just inches from the ground, which is fine if you are young and athletic and have no mobility issues.
The most popular rower, the Concept 2 model D is a rower that sits low to the ground.
However…
If you are older, have joint or mobility issues, are not in great shape or recently had surgery, this low rider style rower may be a challenge to get on and off of.
High-end rower companies have a solution.
The Concept 2 rower made a special model, model "E" which sits higher off the ground and is much easier to get on and off of.
The Water Rower brand makes a matching rower stand called a high rise attachment, sold separately or as part of a kit, that you install under the rower so it sits higher off the ground.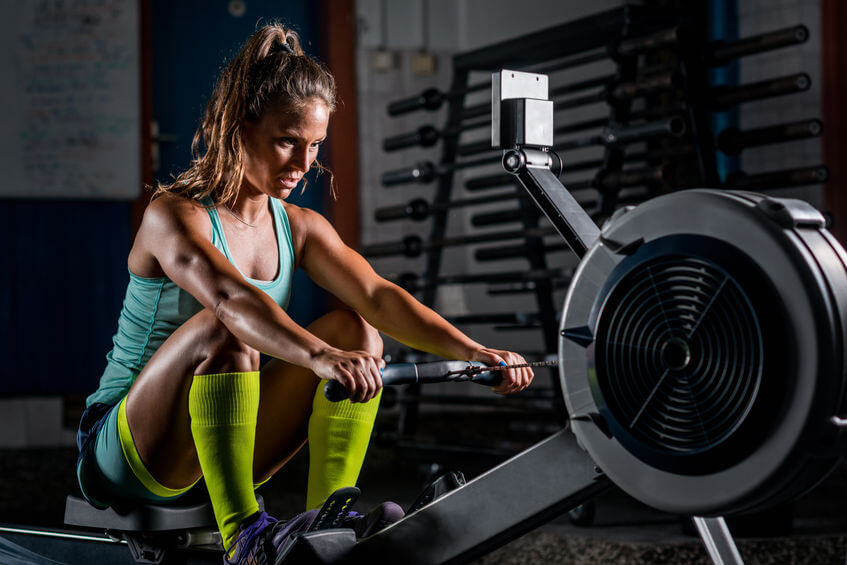 One Rail or Two?
I will say this right off the bat.
If you buy a budget rower with one rail, you can expect some seat wobble.
It does not mean that a budget rower is off limits, just be aware of what you are getting into and think carefully about how often you plan to use the rower.
The Concept 2 rower, which is a quality rower, has one rail, but it is very sturdy and the rail is wide and the rollers are precision crafted so you will not experience wobble on this machine.
Both Water Rower and First Degree brands have two rails for an exceptionally smooth, stable glide – no problems with either of these two rowers in terms of seat stability.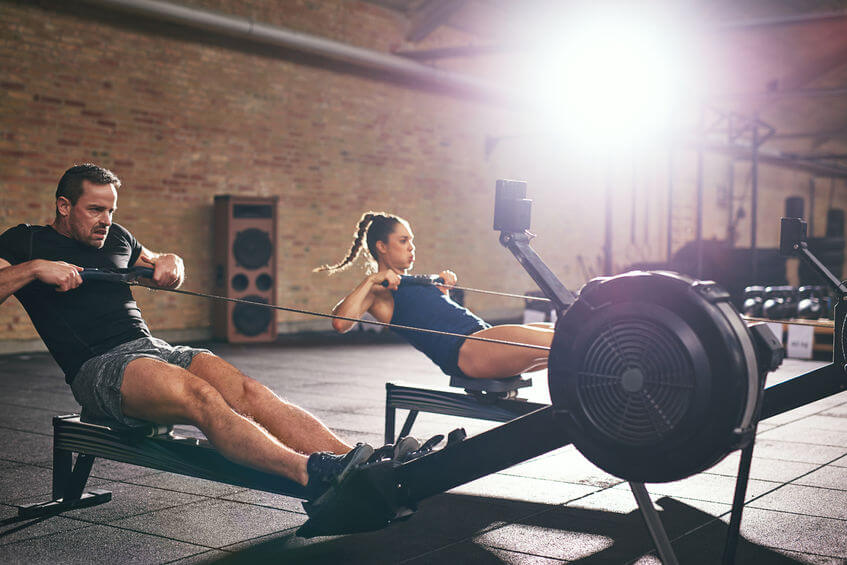 Aesthetics: Do Looks Really Matter?
The concept 2 rowers, which are by and far the most popular, have a very utilitarian look.
They look and feel like they belong in a commercial gym, and you will often find them in real gyms because they are so sturdy. The Concept 2 rowers will look right at home in your CrossFit Garage Gym.
As strong and well-built as the Concept 2 rowers are, you still may not want to display one in the middle of your living room. Sure, they have clean lines and a minimalist look, but they still look like Gym equipment.
Compare that to the beautiful real wood frames and water used in the Water Rower and First Degree Rowers. These two brands are attractive enough to keep in the living room, if that is where you plan to store it.
They are so good looking, your guests are sure complement their looks and ask about them.
TOP9 Best Rowing Machines for CrossFit Reviewed 2023
Black Concept 2 Model D Rower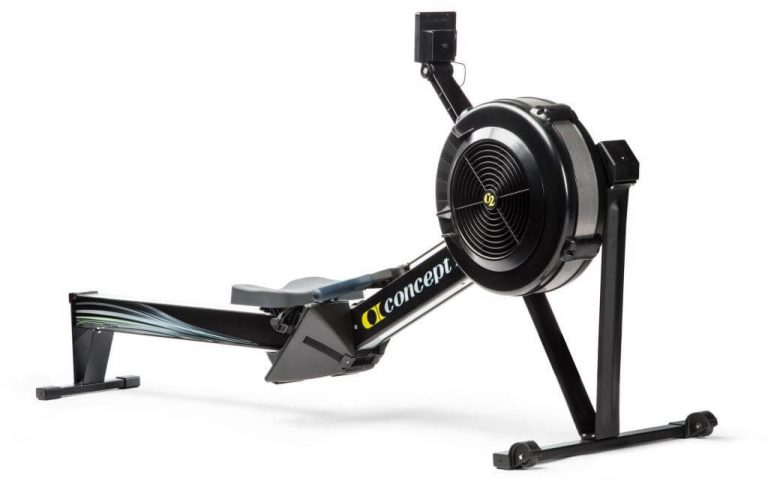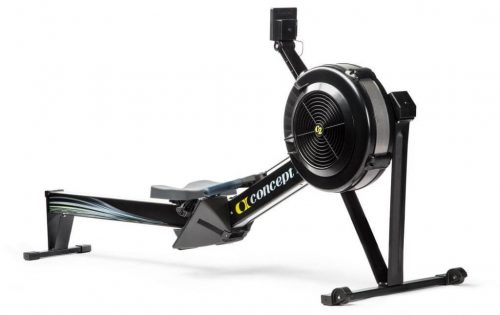 Review: This is the number one rower for CrossFit. The rower offers an intense, yet low impact cardio workout that is easy on the knees and back.
This model is one of the best quality rowing machines for CrossFit with smooth erg action, a backlit LCD display with Wi-Fi capability and the ability to save data to USB and the 500 lb capacity and long rail make it ideal for big and tall rowers.
Pros
Very easy to install and put together.
Breaks down into two pieces for storage.
Wi-Fi LCD screen connects to apps and has built-in games for added challenge.
Heavy Duty, hold users up to 500 lbs.
Cons
Seat could be more comfortable.
Heart rate monitor not included.
Takeaway
The best of the best in terms of quality and user experience. Easily one of the best rowers for CrossFit.
Black Concept 2 Model E Rower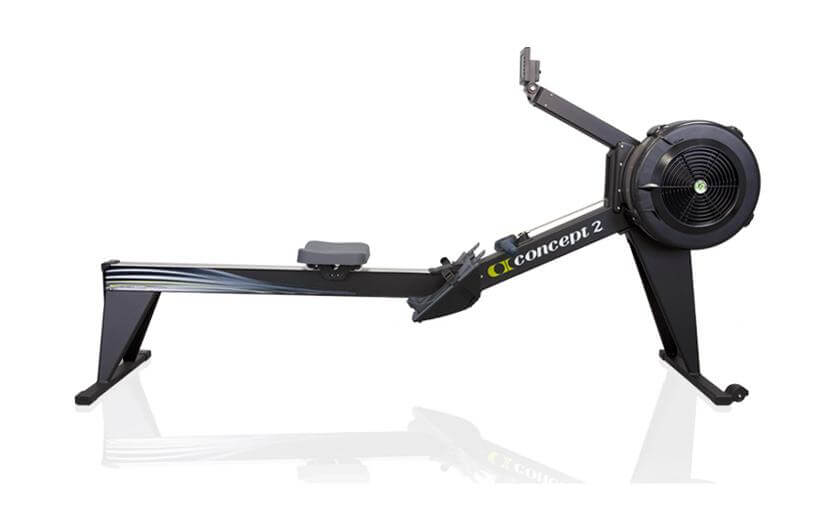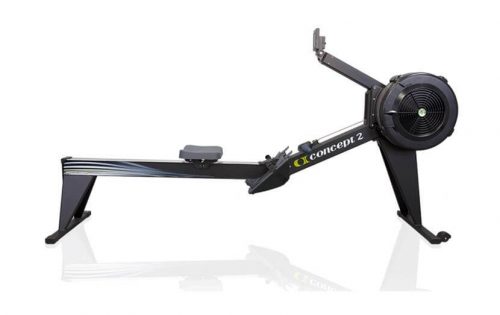 Review: The difference between the Concept 2 D rower above and this Concept 2 E model are this E model is higher off the floor, making it easier to get on and off of.
The Concept 2 model E is the right choice for older or heavier riders, or anyone with mobility issues who may find it challenging to get so low to the floor.
Other than that, this rower is identical to the Model D in terms of performance.
Pros
Higher off the ground than the Concept 2 Model D for those with mobility issues.
Smooth rowing function you can have confidence in.
Very easy to put together.
Cons
More expensive than the Concept 2 Model D.
Takeaway
Easy on, easy off, a great rower that sits higher off the ground.
WaterRower Club Rowing Machine
WaterRower Club Rowing Machine w/ S4 Monitor & Hi Rise Attachment
WaterRower Dimensions: 82in x 22in x 28in / Weight: 114 Lbs (With Water) / Storage Dimensions: 28in x 22in x 82in (Easily Store It On End)
Built For Light Commercial Use and Practically Maintenance Free, Rowing Machine Targets All Major Muscle Groups (84 percent Of Total Muscle Mass) W/ Excellent Adjustable Resistance Levels
Made W/ Kiln Dried Harwood; Danish Oil and Urethane Finish For Better Wood Performance/Strength and Cozy Feel To Your Gym
Boasts A Patented Water Flywheel That Mimics The Natural Dynamics Of Rowing Yet Suitable For Users W/ Joint Concerns (Chlorine Tablet Is Available Free Of Charge)
Review: The Water Rower Club rower is a quality rower erg that uses water to create resistance. The water level in the water bowl determines the resistance you feel as you row.
The water also makes for a nice smooth row and gives each stroke a realistic feel and sound as you erg.
The wood frame absorbs sound and the risers included on this model hole the machine higher off the ground making it a good choice for those with limited mobility.
Pros
Water level determines resistance of the erg.
Includes a riser which raises the unit higher off the ground for easy on and off.
Can be stood on end to store out of the way.
Beautifully crafted with real wood. Made in the USA.
Cons
The foot rest feels cheap and the straps need more slack.
Takeaway
An absolutely beautiful piece of workout equipment that functions and pleasantly as it looks.
WaterRower Classic Rowing Machine
WaterRower Classic Rowing Machine in Black Walnut with S4 Monitor
Handcrafted rowing machine with "water flywheel" that replicates actual rowing feel
Flywheel sits in enclosed water tank to provide smooth, quiet, self-regulated resistance
Series 4 performance monitor tracks workout intensity, stroke rate, heart rate, and more
Solid black walnut construction absorbs sound and vibration; hand finished in Danish oil
Stores upright; measures 84 x 21 x 22 inches (W x H x D) and weighs 117 pounds
Review: The Classic Water Rower is made entirely from solid walnut which makes it not only aesthetically appealing but sturdy and quiet as well.
This machine is well built with a smooth rowing motion. The seat sits on two rails for a secure glide, the classic water rower uses a water-filled bowl for resistance, which can be adjusted depending on how much water you fill the bowl with.
Pros
Constructed entirely of solid black walnut, absorbs sound and looks great.
Dual rails under the seat lead to a smooth secure rowing motion.
Extremely sturdy, 700 lb limit, also good for tall folks.
Cons
Takeaway
The most attractive, realistic and sturdy rowers your money can buy.
First Degree Fitness Water Rower Apollo Pro II
First Degree Fitness Apollo II Reserve AR Indoor Water Rowing Machine, Black
LED display indicates time, distance, 500 meter split time, strokes per minute, calories burned per hour, watts, and heart rate
Frame constructed with high quality steel and hand lacquered ash
Water tank features two triple-bladed impellers for smooth resistance
Ergonomic handles help prevent twisting and straining or wrists and forearms
Built-in wheel for moving and storing rower with ease
Review: The Apollo Pro II water rower uses a water-filled bowl to give resistance while rowing, but unlike the "Water Rower" brand, the resistance on the Apollo is adjusted using an easy turn dial.
This luxury machine is quieter and smoother than the popular chain based rowers and ergs, and many people prefer the aesthetics and lifelike feel and sound to the more mainstream brands.
Pros
330 lb user weight limit.
You can stand it on its end, even filled with water, to store away.
Consistent and smooth row, thanks to the use of a realistic water resistance system.
Cons
More expensive than the top brand.
Takeaway
Lifelike, smooth, attractive and well-built rower that will not disappoint.
Sale
Stamina Pro Dual Air and Magnetic Resistance Rowing Machine Foldable w/Fitness Coaching App and Wireless Chest Strap Heart Monitor - Folding Rowing Machines for Home Use
DUAL RESISTANCE TECHNOLOGY: Air and magnetic resistance provide double the workout potential with this foldable row machine. Set the base magnetic intensity level. Then row harder to increase the air resistance; slow down to decrease.
SET CUSTOM WORKOUTS: Program custom workouts, including intervals and target heart rate. Monitor your heart rate, distance, workout time, strokes per minute, calories burned, and more. Pulse is tracked with the heart rate monitor strap included with your rower.
FOLDING FRAME: The frame of the rowing machine folds and stands on end to save space. Use the built-in wheels to roll the row machine to storage when done exercising.
FITNESS COACHING APP: This rower machine includes muuv, the all-in-one fitness app that provides a follow-along assembly video, personalized workouts, coaching and motivation. No subscription required.
PREMIUM FEATURES: This rower machine for home includes a high-strength nylon rowing strap, contoured and comfortable seat, durable aluminum rowing beam, padded rowing handle, and pivoting foot plates with adjustable straps.
Review: If you are looking for the CrossFit rowing machine on a budget, why not consider the Stamina DT Pro?
This rower is light, quiet, foldable and easy on the pocketbook.
Pros
Quieter than the competition.
Budget-friendly.
Foldable and easy to store.
Cons
Seat sits on a single rail and may feel wobbly.
Takeaway
This low cost rower is a good fit for home or garage gym.
Stamina ATS Air Rower | Rowing Machine | LCD Monitor | Dynamic Air Resistance | Folding Design | Tone Muscle and Improve Heart Health
EFFECTIVE, PROVEN RESULTS: Provides a nearly unsurpassed aerobic workout without the relentless pounding to your joints. Quickly improve your fitness while drastically reducing injury risks. This low impact, full body workout targets all major muscle groups and pushes your heart rate to levels that increase your metabolism so you can burn calories and fat more efficiently. Supports all body types and frequent use. Feel secure and safe while rowing your way to a stronger, tighter, healthier body.
DYNAMIC AIR RESISTANCE: One of the main benefits of air resistance is that it always matches your pace. Row harder if you desire more resistance and ease off if you want less. The air transfer system constantly adjusts to match your rowing speed. Designed for rigorous use, The Stamina 1403 provides an efficient, smooth rowing stroke and the intensity of your workout is up to you.
LCD WORKOUT MONITOR: During your routine, track speed, distance, time and calories burned and adjust accordingly with the large, easy-to-read LCD display.
EASY ASSEMBLY AND STORAGE: Once assembled the rower is 77" long x 18.75" wide x 22" tall. Folded dimensions are 48" x 18.75" x 28". The Stamina 1403 Air Rower folds to a compact size with built-in wheels for easy storage. Assembled weight: 54 lbs. Weight Capacity: 250 lbs.
WARRANTY INCLUDED: The Stamina 35-1403 air rower rowing machine comes with a 3-year frame warranty, 90-day parts warranty. Guaranteed support for parts, repair or replacement at no cost. Customer satisfaction is our priority.
Review: This Budget rower features air resistance, which means the resistance increases as your speed increases. No need to adjust the resistance at all.
The seat is padded and the footrest is adjustable for a comfortable ride. The rower even has a simple display that shows speed, distance, time and calories burned.
Pros
Air resistance – tension or resistance increases based on how fast you row.
Comfortable padded seat and adjustable foot rests.
Low, entry level price.
Cons
Only accommodates riders up to 250 lbs.
Takeaway
Great rower for occasional use.
First Degree Fitness Viking 2
Review: This elegant all wood water resistance rower is perfect for your home gym.
The difference between this brand and the Water Rower brand is that with the water rower you must add more water to increase the resistance. With the Viking 2, you simply adjust the dial to increase resistance.
The rower seat sits on two rails making it smooth and secure, plus the all wood construction makes it a quiet machine, much quieter than the chain drive the competition uses.
Pros
Water resistance feels and sounds natural, like rowing on the water.
All wood, super quiet operation.
Comfortable molded seat.
Cons
Takeaway
A real water rower that will last a lifetime, always look good and never go out of style.
Goplus Magnetic Folding Rowing Machine
Sale
Goplus Folding Rowing Machine,Magnetic Rower with Adjustable Resistance and LCD Display, Exercise Cardio Fitness Equipment for Home Use
【Durable and Comfortable Material】Our rowing machine uses high-quality aluminum beam, with better hardness and thickness than regular ones. Besides, it can be used for a long term without leaving any traces. Six wheels inside provides smooth and quiet rowing experience for you.
【Adjustable Resistance and Foot Straps】Magnetic tension system with 8 levels of adjustable resistance, and the large anti-slip foot pedals with adjustable foot straps, it is suitable for different people to exercise with different degrees.
【Clear LCD Display】Goplus Magnetic Rowing Machine equipped with a large LCD screen, which displays total count, calories, count per min, count, scan and time. It can ensure you stay focused when your workout. In addition, with the fully padded seat and non-slip grip handlebars, it makes you comfortable when exercise.
【Easy to Use and Move】Simple operation for you to use it easily. With the built in wheels, it is easy to move and transport. You could both use it in home and other places. A good trainer for excellent and professional indoor exercise.
【Full Body Exercise】Use it for an effective aerobic workout. It can not only exercise your muscles, but also could burns fat to lose weight. You can exercise different parts of your body with one tool.
Review: The Goplus Magnetic rowing machine is an affordable option for the occasional rower.
This machine would make a great choice for a home or garage gym and is the best rowing machine for CrossFit in this price range.
Pros
Folds up, does not take much space to store.
10 levels of resistance. Uses magnetic resistance.
Very light and portable, just 49 lbs.
Cons
Only hold users up to 220 lbs.
Takeaway
The best CrossFit rower at this budget price. Great for use one or two times per week.
You Might also like…
E-Z Kleen Vinyl Rower Mat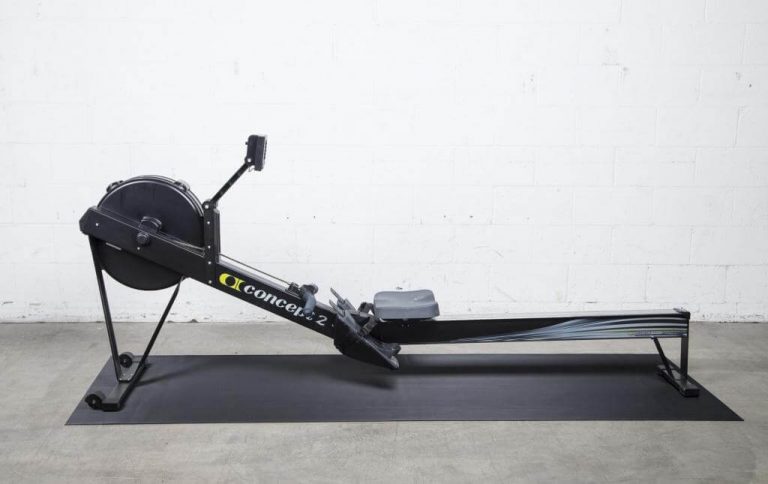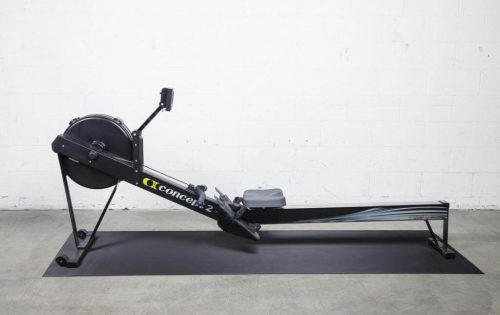 The EZ Kleen Vinyl Rower mat is the perfect size mat to fit under your new rower.
This mat will prevent marks and nicks from developing on your hardwood or laminate floor, will dampen noise, keep the rower from slipping or sliding, and is made in the USA.
The Final Word
I can say with confidence that the Concept 2 Model D is the right choice for most CrossFit athletes and arguably the best rowing machine for CrossFit.
However, if you are looking for a budget rower and do not plan to use the rower every day you might only need the GoPlus magnetic folding rower.
If aesthetics are important than the looks and performance of the realistic Water Rower Classic cannot be beaten.
Be sure to subscribe to the Garage Gym Power newsletter and receive exclusive guides and content and be the first to know when new gear reviews and articles come out.