Concept2 vs WaterRower – Which One is Better? The Debate Ends Here!
There are many things you need to keep in mind when purchasing the most suitable rowing machine for your needs.
Concept2 vs WaterRower is one of the hottest topics in the world of rowing.
This sport requires both outdoor and indoor training sessions, especially during winter, when ice disables training in the lake or river.
Unless you live in Australia or some very hot country, you will have to purchase a good set of rowing machines to train your athletes. When you train outdoor, there are many limiting factors – wind blows, extreme heat or cold, waves… The river is rarely peaceful!
When you want strictly controlled conditions with a specific accent on the rest period and intensity, a rowing machine is the best choice. And it can also be used for other training sessions – CrossFit, aerobic and anaerobic endurance, HIIT, LIIT…
You can even use it to improve cardio and endurance in your home! Most of the rowing machines don't take too much room.
We will guide you through this two great rowing machines and help you resolve the dilemma. Concept2 vs WaterRower, which one is it going to be?
Concept2 vs WaterRower – Comparison Parameters
It is never easy to compare two world-class rowing machines. We will try to help you introduce the good and bad sides of both. Hopefully, you will choose your favorite with ease!
The list of parameters includes:
country of origin;
air or water resistance and manual settings;
material and color;
models;
size, weight, and dimensions;
capacity;
performance monitor;
noise level;
price/quality ratio;
ergonomic features, feet placement, and comfort;
storing options;
maintenance;
fitness level and training options;
storing and mobility;
optional slide.
Of course, overall quality is the most important parameter, and it gets as an arithmetic mean of all the values. And you mustn't neglect individual needs!
For example, someone might be emotionally related to a specific product or manufacturer, or even obsessed with it!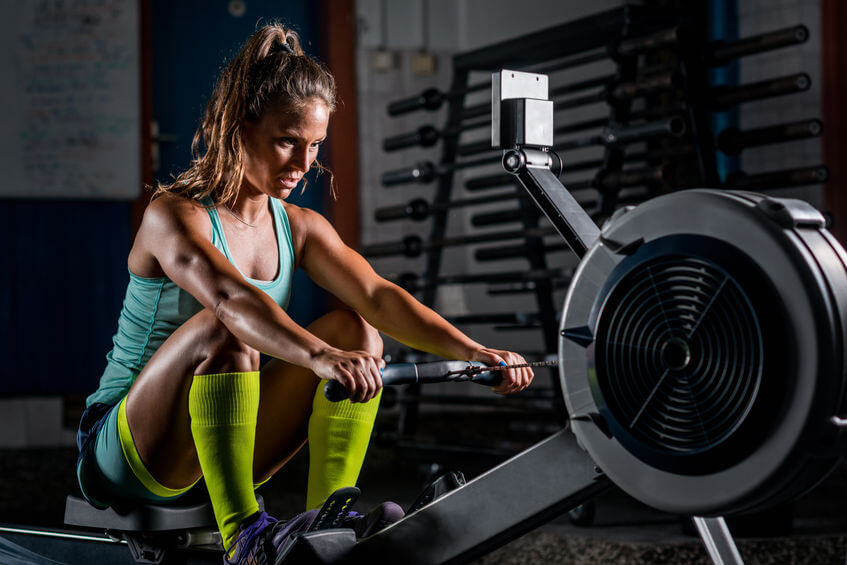 Country Of Origin
Concept2 is originally made in Vermont, USA. WaterRower is also made in the USA. Concept2 vs WaterRower – there is no difference here.
USA-made rowing machines are known as high-quality ones.
Air or Water Resistance and Manual Settings
You will get a manual guide for both models when you purchase it for easier navigation and understanding.
Concept2 is air rowing machine which can be used in almost any kind of the surround. The more intense the subject rows, the higher the resistance will be. You can manipulate resistance level with a manual damper.
WaterRower is a water rowing machine with "water flywheel" which is used to enable the realistic feel of rowing.
This is more oriented towards sports specific training but it can be used for regular practitioners too. It reminds you of a real boat, and resistance levels can also be set. If you row harder, the resistance level is higher.
Size, Weight and Dimensions
WaterRower dimensions are 213.4 cm x 55.9 cm x 53.3 cm, and it weighs 26 kilograms. Concept2 dimensions are 244 cm x 61 cm x 113 cm, and it also weighs 26 kilograms.
So, Concept2 vs WaterRower – WaterRower wins here!
It is definitively more suitable for smaller space, especially your home. But better keep it in the basement on concrete since water is always risky.
Capacity
Concept2 offers 500-pound capacity, while WaterRower may handle up to 350 kilograms, which is around 770 pounds. It has around 1.5 times better capacity.
Material And Color
WaterRower is made of natural ash wood, which is awesome if you like the classic looking style and light brown and black color.
On the other hand, Concept2 is made of a sturdy metal frame and a nickel plated chain, gray or black-colored, and the design is more modern.
WaterRower vs Concept2 – it highly depends on what you prefer but we believe classic style is better for your house, while Concept2 suits better as a gym choice.
Models
Concept2 has three high-quality models – Concept2 Model D, Concept2 Model E, and Concept2 Dynamic Rower.
WaterRower also offers three excellent ones – WaterRower Natural Rowing, WaterRower GX Home Rowing, and WaterRower Club Rowing. So it's a tie!
Performance Monitor
It is a lot easier to track your progress when a computer does everything instead of you. Both Concept2 and WaterRower are great when it comes to this parameter, and the choice depends on your individual needs.
But Concept2 has one big plus – you can track your heart rate!
PM5 monitor, which is a part of Concept2, is great to follow workout and session progress. It shows your heart rate due to compatibility with ATN and Bluetooth. It accepts Wireless connectivity and the coaches can easily export the results of the training session.
S4 monitor, a part of WaterRower, offers workout and stored programs, USB and Wireless connection for other software and apps – We-Row, Row Yo, NetAthlon, UltraCoach…
The monitor shows time elapsed, a timer counter, distance rowed, intensity/speed, and stroke rate all the time. Unfortunately, the display is not backlit and there is no heart rate monitor.
Noise Level
Water resistance rowing machines produce less noise, so it is definitively WaterRower for this parameter. Air resistance rowing machines are not noisy too.
Price/Quality Ratio
Both manufacturers offer high-quality but WaterRower models generally cost more money. Again, someone might dislike specific features. Concept2 vs WaterRower – Concept2 is the winner here!
However, if you are ready to spend more money for a more luxurious look, modern design or less noise, WaterRower might also come in handy. Concept2 Model E is also expensive.
Ergonomic Features, Feet Placement and Comfort
When it comes to WaterRower, the seat glides smoothly. It is very pleasant and comfortable for longer workouts. The handle is covered with rubber for blister protection. Foot places are large and you can use foot straps to keep your feet steady. However, you will have to bend a bit more than normal for a regular workout session.
Concept2 has an ergonomic handle which offers 10-degree bend, which is a better option to prevent back pain. The seat glides smoothly but blister protection might be critical, so we recommend you purchase a pair of gloves. Foot places are large and foot straps are available.
Storing And Mobility
WaterRower can easily be pushed into an upright position. It has rolling wheels and you won't be having many problems to move it.
Overall, a great recommendation for users who don't have much space!
Concept2 can easily be divided into two sections. The storing is easier, and the specialized tools won't be needed. You have transport wheels at the front of the rower for easier mobility.
It means Concept2 is the winner here!
Fitness Level and Training Options
You can adjust your training sessions at both machines. With WaterRower, you can set your alarms if you don't want to watch the screen every few seconds. Despite it is primarily made for sports specific training, it can be used for any fitness level.
Concept2 also has a lot of programs and also an ability to adapt to every level, from novice to an expert rower. But it is generally a better choice for CrossFit and gym training sessions because of the design and performances.
It tracks your heart rate but you will have to take a look at the monitor every single time, there are no alarms.
Maintenance
Both models have their weaknesses when it comes to maintenance.
Concept2 has a metal chain which needs to be oiled regularly to enable perfect gliding. Oil is dirty, so you will have to clean it regularly.
WaterRower needs to be wiped down regularly. You also have to change water from time to time. Our advice is to purchase water purification tablets, it will stop mold and bacteria development.
Optional Slide
This option is available only with Concept2 if you buy slides separately.
You can attach rowing machines with cords and connect them. You can enable on-water rowing simulation.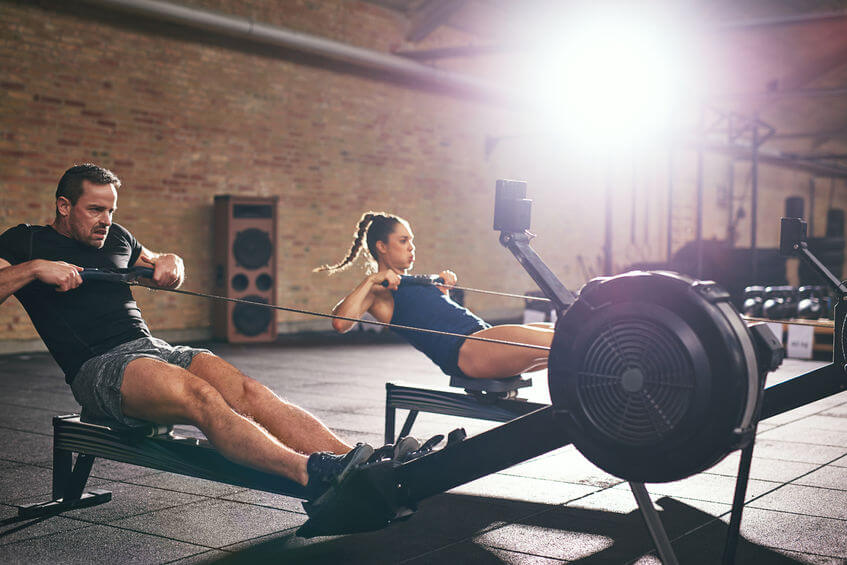 Final word
Concept2 vs WaterRower is a big dilemma for a huge number of practitioners. Now it's time to settle up the score and see which product got better grades!
Fifteen parameters were analyzed.
Concept2 is the winner in price/quality ratio, storing and mobility, and optional slide, which is the bonus option (not available on WaterRower).
WaterRower is the winner of size, weight, and dimensions, capacity, and noise level.
For other 9 parameters, the result is a draw.
And in the end, the score is tied. So we need extra opinions, and the individual needs will have to be the decisive factor.
Please write us a comment and tell us which is your choice and why. Is it going to be the super silent WaterRower, or easy to store Concept2?