Guide to the Best Adjustable Dumbbells with TOP 10 Dumbbell Set Reviews 2018
You aren't going to get much strength training done if you don't have any weights. While weights come in many different varieties, adjustable dumbbells are becoming increasingly popular.
It's no wonder why. These are the most versatile weights on the market. 
But the question remains – how to choose the best adjustable dumbbells? We'll try to answer that.
Picture

Best Adjustable Dumbbells

Our Rating

Available

Editors
Choice
Bowflex SelectTech 552 Adjustable Dumbbells
 
Yes4All Adjustable Dumbbells
 
Unipack One Pair of Adjustable Dumbbells
 
PowerBlock Sport 24 Pound Dumbbell Set
 
Ironmaster 75 lb Quick-Lock Dumbbell System
While the initial investment might set you back quite a bit, the value for money and use you'll get over time justifies the cost.
If you're interested in adjustable dumbbells, you may have some questions about how to use them and which dumbbells will work the best for you.
Since adjustable dumbbells come in several different weights and sizes with a variety of different mechanisms to adjust and lock the plates, you'll have to make a few decisions about what you need before you start shopping around.
Consider how much you're looking to lift, and how much you're looking to spend.
Why Buy Adjustable Dumbbells?
Adjustable dumbbells have made regular dumbbells a waste of your time and money.
There's no reason to buy so many costly dumbbells, find a place to put them, and deal with each increment individually when you can have everything you want in a single product.
There are three main reasons to purchase adjustable dumbbells: storage, value, and customization.
As far as storage goes, adjustable dumbbells are simple. If you buy dumbbells, kettlebells, or any other kind of weight, you're going to need a lot of them.
You'll want small weights for some exercises, medium weights for others, and larger weights as you become stronger. This means you'll have to purchase at least one, but often two, weights for every level.
An adjustable dumbbell is one weight with several plates. Adjust it as you need it. You won't wind up with a closet full of individual weights that you'll use, outgrow, and no longer need.
It is also a question of how much you have to spend.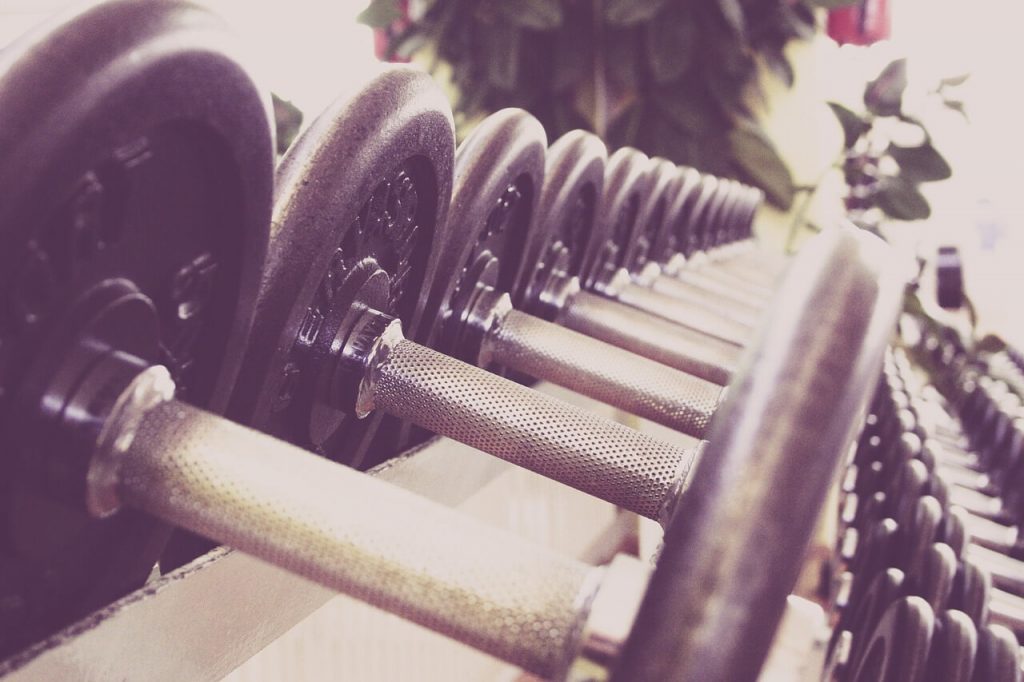 This also helps you purchase efficiently. Because you won't have to buy each weight individually, you're cutting down your costs significantly.
With adjustable dumbbells, you'll only need to purchase weights once.
When you think about how much you'll spend on individual weights over time, it's extravagantly more expensive than purchasing one set that will last you a lifetime.
Since you can customize the load on your adjustable dumbbells, you can ease yourself into higher lifts without straining yourself. Adding five pounds, or even a single pound to your regular load can help you build yourself up without potentially injuring your muscles.
With regular weights, you may feel tempted to make bigger jumps so you can avoid purchasing all of the half steps and mid sizes.
With adjustable dumbbells, you won't need to.
You'll already have everything you need to set yourself custom goals and advance your strength training at a speed that feels comfortable for you.
The Features of Adjustable Dumbbells
There are three types of adjustable dumbbells, and the features depend on which kind you choose. Some have caps, some have selector pins, and some have dials.
Essentially, they all do the same thing. Cap models are generally the least expensive, and you'll pay a little more for the premium features of the new technology used in designing other adjustable dumbbells.
You're probably already familiar with the traditional cap model. Essentially, you put the desired amount of weighted plates on the bar, and securely screw on a threaded cap that keeps them in place.
Selector pin dumbbells will place the pin in place at your desired amount of weight. When you lift the weight out of the holder, the plates you don't want to use will stay behind.
Dialing dumbbells are the easiest to use. You just add the weight by dialing in your desired amount on the dumbbell, and the dial rejects the excess.
While cap dumbbells are the cheapest, they do require the most effort to use. You'll have to manually load and secure your plates before your workout.
While selector pin dumbbells and dialing dumbbells are more expensive, they're easier to keep organized and quicker to load.
Picking The Right Set of Adjustable Dumbbells for You
The model you go with should depend on how much you're willing to spend or save based on convenience. All dumbbells are relatively expensive, since a lot of metal goes into making them.
The cost of the materials is high, therefore, so is the price of the final product. If budget is a concern, there are several ways to approach the selection process.
If you're looking to spend as little as possible, traditional adjustable dumbbells will work best for you. You'll have to manually adjust the weight yourself, securing the plates and threading them on securely.
If you're willing to spend a little more, you'll appreciate the organization and convenience that comes with selector pin or dialing adjustable dumbbells. The easiest to use, by far, is the dialing dumbbell.
What To Look for in a Set of Adjustable Dumbbells
There is one main difference between good adjustable dumbbells and bad adjustable dumbbells, and that's how secure the plates are.
If you've ever used a dumbbell that's improperly fastened, you'll notice that the plates slide around. This makes an obnoxious loud noise, but it's more than the noise you have to be worried about.
If you lift the dumbbell wrong, your skin can get pinched between the plates. Worst case scenario, your fasteners will give out and your plates will fall off.
This can injure you and damage your equipment and environment.
A good adjustable dumbbell will be as secure as possible. You'll want a little bit of room for the plates to move around, because this prevents putting an excess of pressure on the fastener.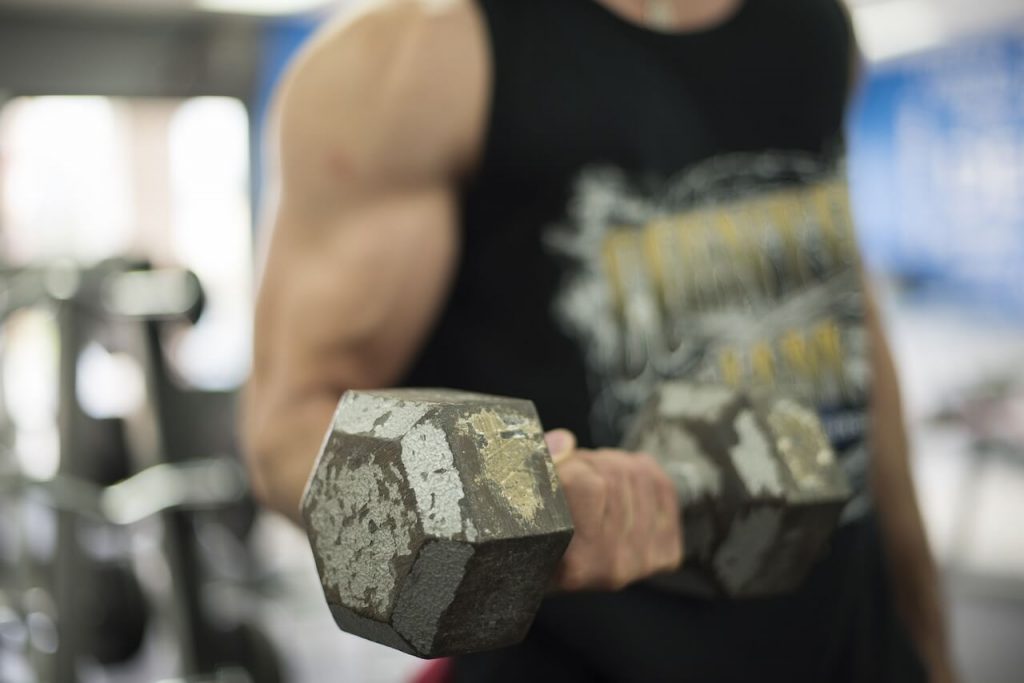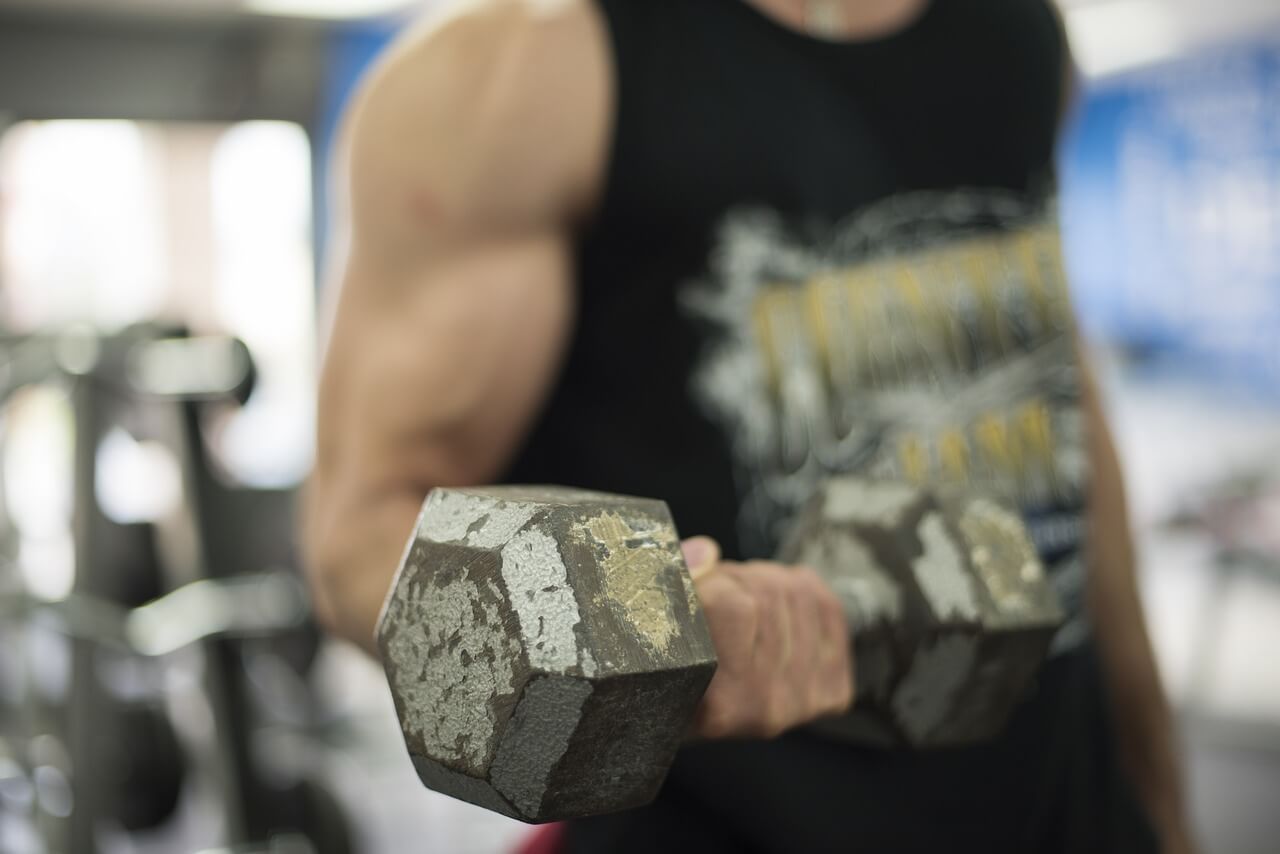 A good fastener should be sturdy and lock tight for your safety and the longevity of your equipment.
10 Best Adjustable Dumbbells with Reviews
This list includes adjustable dumbbells of all varieties in a wide range of prices. You'll be able to find something for your budget to fit your needs.
Since all of these come highly rated and recommended by real lifters, you know you're getting your money's worth with any of the picks on the list.
AmazonBasics 40-Pound Adjustable Weight Set
This is easily the top pick for budget lifters. You're getting two four pound barbells that measure in at 1.3 inches in diameter (which is not standard size), four five pound plates, four two and a half pound plates, and four half pound collars.
This set comes with a carrying case, so you can keep your bars and plates organized.
The grip is textured, so you're less prone to dropping the bar due to sweaty palms or fumbling. If you plan to lift more than 40 pounds, this set may not be ideal for you.
If you're a beginner or you're only looking to do light intensity lifting, this set will give you the best value for your money. Every budget will agree with these dumbbells.
Yes4All Adjustable Dumbbells
Yes4All offers one of the best adjustable dumbbell sets in a variety of weights. You can go as little as 8 pounds or as high as 105 pounds.
Buying the larger set is a better value – you can always start with less weight and add more later, so getting the heaviest set is the most cost effective way to build an entire weight collection.
How many weights you get depends on the size you choose, but every set comes with two standard size bars and four secure collars to fasten your weights to the bar.
Like most adjustable dumbbells, this set also features a textured grip
Bowflex SelectTech 552 Adjustable Dumbbells
Bowflex is no stranger to the workout industry. You may have even seen commercials for some of Bowflex's most popular products on TV.
This set gives you two dumbbells, and each one adjusts from 5 to 52.5 pounds in increments of 2.5 pounds.
You're getting a great range of steps with the Bowflex dumbbells: 5, 7.5, 10, 12.5, 15, 17.5, 20, 22.5, 25, 30, 35, 40, 45, 50, and 52.5 pounds.
There are no dramatic jumps, so you can build slowly.
Unipack One Pair of Adjustable Dumbbells
These dumbbells are straight and to the point.
The plates are made of unfinished cast iron, typical for most weight plates. They're sturdy, reliable, and they won't rust if your workout room is in an area that gets damp, such as a converted porch or a garage.
The total weight of this set is 105 pounds, but it's distributed as two bars and 12 plates, so you can construct two dumbbells that weigh as much as 52.5 pounds each. This amount of weight is solid for many exercises that incorporate weights while simultaneously targeting other muscle groups.
If you're interested in heavier lifting, Unipack also offers the same set in a 200 pound set, so you'll be able to go for 100 pounds per hand. You may not be at that point initially, but if you're looking to go that far, it may be worth it to spend more on the 200 pound set so you'll have it when you need it.
This would eliminate the need for a separate investment in a larger set when it comes time to get one.
PowerBlock Sport 24 Pound Dumbbell Set
These are selector pin dumbbells, and their format may seem confusing at first.
With a minimum weight of 3 pounds and a maximum weight of 24 pounds, these weights are the perfect complement to jogging exercises, or exercises that involve a full range of motion because of their modest limit and the way they're balanced.
Since these are compact and they feature a padded handle to help protect your wrist, you can move as fast as you want with these weights in tow.
The lowest setting of three pounds is the ideal amount of weight for dumbbells to be used while running, so you're increasing the possibilities of your workout by opting for weights like these.
ProForm 25-lb. Adjustable Dumbbell Set
This set is very compact, and that's its best selling point.
It comes with two adjustable dumbbells with dials, each weighing up to 12.5 pounds for a combined maximum of 25 pounds.
Their knurled grip makes them easy to hold, and their dial makes them easy to adjust.
These dumbbells are light – perfect for people who are starting, or people who aren't looking to build a significant amount of bulk.
There are guides on the weight cradle to help you adjust your weight easily and accurately.
Universal by Nautilus Universal PowerPak Adjustable Dumbbells
With these adjustable dumbbells, Nautilus has created a revolutionary, top of the line standard that other lifting equipment brands should take an example from.
Despite their innovations, these dumbbells still manage to be affordable.
The adjustable dial allows you to go from 4 to 45 pounds, a perfect amount of weight for a dumbbell. Move in 5 pound increments to ease yourself into a heavy lift.
The storage stand is an excellent inclusion with this set. It helps you save space and stay organized. This lifted stand keeps your weights off the ground, and is ergonomically designed for easy access and adjustment.
The handles of the weights are coated in a durable thermoplastic rubber, making the grip comfortable and less prone to slippage. This set alone replaces 18 individual dumbbells, justifying its value.
Nautilius also boasts their very own priopriatery plate locking system, ensuring your safety while you work out.
StairMaster Pair of TwistLock Adjustable Dumbbells
Stairmaster makes more equipment than you thought. The twistlock mechanism is their signature spin on the adjustable weight, and nobody else makes the same patented design that they do.
It's an excellent safety mechanism, and no one has ever made a similar adjustable dumbbell. You're getting up to 100 combined pounds, fifty on each weight, or as little as five pounds at a time.
By placing the weights in the cradle and twisting the handle, you'll be able to adjust the weight. The readout window lets you know how much weight is currently loaded onto each bar.
As an additional safety feature, the Twistlock dumbbells will only adjust when placed in the cradle. This prevents you from accidentally unlocking your weights while you're using them, making you less prone to accident or injury.
The handles of the weights are contoured to fit your hands, helping you improve your grip.
Ironmaster 75 lb Quick-Lock Adjustable Dumbbell System with Stand
Ironmaster is a formidable name in adjustable dumbbells. Most enthusiasts regard them as the best adjustable dumbbells on the market, and it's easy to see why.
Their quick-lock design will allow you to adjust from 5 pounds all the way up to 75 pounds in increments as small as 2.5 pounds at a time. Each dumbbell can be adjusted in less than fifteen seconds, making setting your weights up as easy as possible.
You're getting two handles with four locking screws, 24 five pound plates, and four 2.5 pound plates. Each handle weighs 10 pounds before the addition of plates, and you can add a maximum of 65 pounds worth of plates to each handle.
With an optional add on kit, you can decide to go up to 120 pounds on each dumbbell. Most people will find 65 pounds per handle to be a good maximum, but if you're looking to go higher in the future, you can simply purchase the expander kit rather than a whole new set of weights.
This kit also comes with a weight stand. This will give you a place to store your weights and other exercise equipment in your home gym or workout area.
Weider SpeedWeight Adjustable Dumbbell Set
As one of the best adjustable dumbbell sets available on the market, Weider certainly earns its title despite its hefty price tag.
The set itself features 2 adjustable dumbbells, each capable of a 50 pound maximum and a 15 pound minimum. Weight is adjusted in increments of five pounds at a time, quickly and easy.
Since these weights come with a stand, that increases your workout options. Using the stand as part of your workout will create more options for you in terms of how you can utilize the weights.
The locking mechanism is what makes these adjustable dumbbells so unique. The cast iron plates are set inside of the locking cams.
By rotating the center handle, the cams will slide left and right, which shifts the bar in and out of the center of the plates.
This is more secure than selector tabs, because Weider offers a heavy duty lock grip. They're easy to use, easy to store, and their unique design makes them some of the safest adjustable dumbbells that money can buy.
As you can see there are many different options to choose from. Take a look at all of them and make the right decision towards the best adjustable dumbbells for you!
Comments