Best Adjustable Dumbbells & TOP 15 Reviews 2019: From Powerblocks to the Ironmaster
I realize a rack full of heavy, tough, Hex dumbbells will make your gym look absolutely stacked.
But let's be real here.
Not all of us home gym athletes have the space to stack a set of Hex weights against the wall. Sure they are great for bragging rights, Instagram selfies and oh…you can use them to lift too.
But for many folks, there is just not enough room.
That is where adjustable dumbbells come to the rescue. Personally, I think these bad boys look pretty cool too. The 90 lb Powerblock elite's look downright intimidating!
If you have landed here, you are probably looking for a set of the best adjustable dumbbells.
Picture

Best Adjustable Dumbbells

Our Rating

Available

Editors
Choice
Bowflex SelectTech 552 Adjustable Dumbbells
Yes4All Adjustable Dumbbells
Unipack One Pair of Adjustable Dumbbells
PowerBlock Sport 24 Pound Dumbbell Set
XMark Adjustable Dumbbell
You are in luck; we have compiled this guide which lays out what to look for before choosing a set, some simple yet effective adjustable dumbbell workouts to get you started, and a list of the 15 best adjustable dumbbells we could find, reviewed.
If you're interested in adjustable dumbbells, you may have some questions about which dumbbells will work the best for you.
Here are a Few Things You Want to Consider before Deciding what Set is Right for You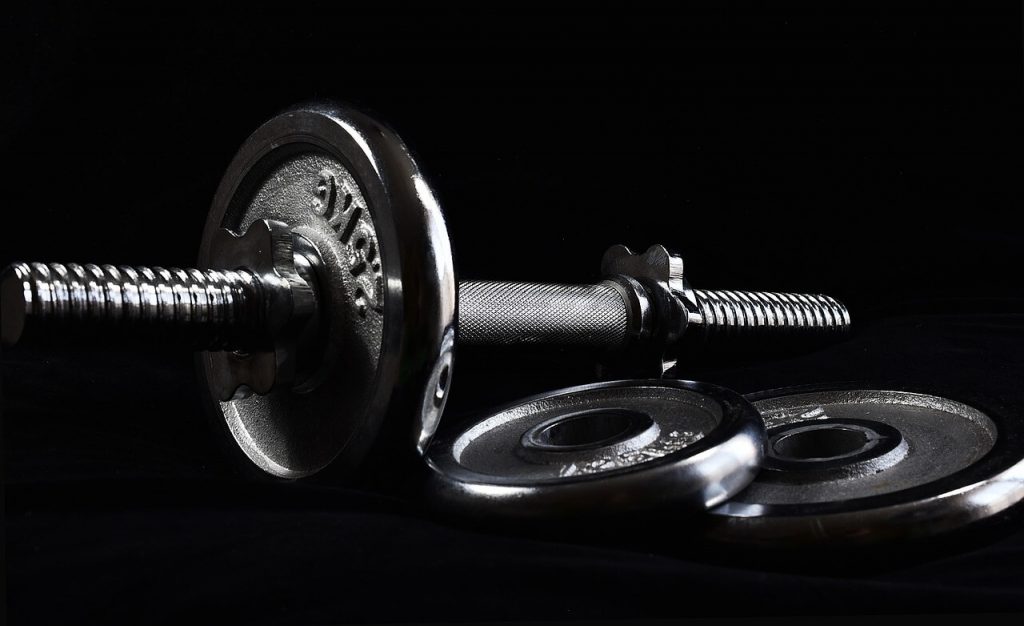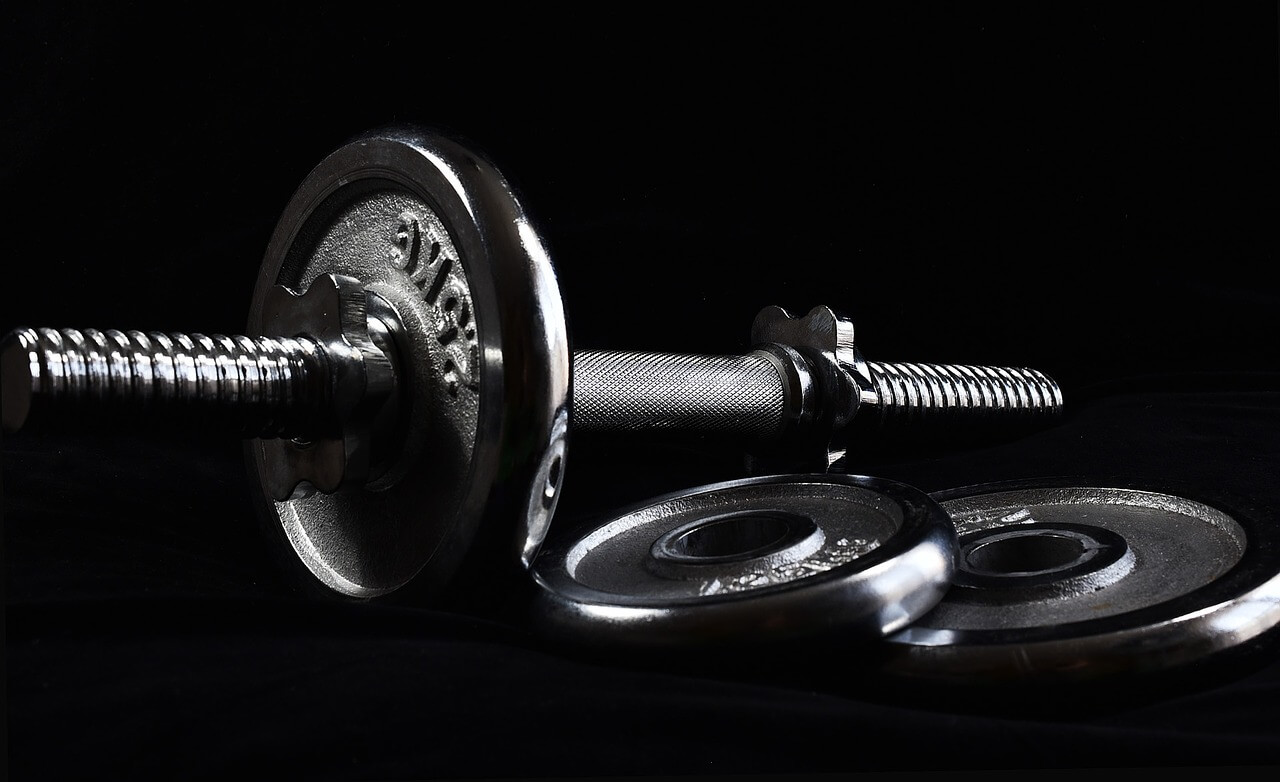 Speed or time it takes to adjust
One reason fixed dumbbells are so well loved is they are easy. To change the weight, just pick up a different dumbbell.
Adjustable dumbbells have this one minor flaw. They take some time to adjust. For some, it is a few seconds, for others a bit longer.
You are a busy person. You value your time, right?
So look for a set of adjustable dumbbells that has a reputation for being easy peasy to adjust.
Weight – How much can you lift?
This seems like a no brainer, but I will mention it anyways. Adjustable dumbbell sets come in a pretty wide range of Min and Max weights.
Some sets max out at 25 lbs on each dumbbell and some max out at around 100 lbs.
If you need a dumbbell that weights more than 100 lbs, it is time to start looking at Olympic weights. They make Olympic dumbbell bars that can be loaded pretty heavy.
Shape. Hint: You want a Flat side
Picture this. You are lying on your bench, with the dumbbells still on the floor. You are really looking to challenge yourself, so you have 35 lbs (or whatever weight challenges you) stacked on each dumbbell.
Now you grab each dumbbell and place it on your thigh so you can maneuver them into position.
Now ask yourself, what do you want right now, around dumbbell or a dumbbell with a flat side?
Fixed hex dumbbells are so popular because they do not roll around and sit comfortably on your thigh as you get into position.
Now, you want those same benefits for adjustable dumbbells, especially if you lift heavy weights. Adjustable dumbbells with a flat edge are best, especially for heavy lifters.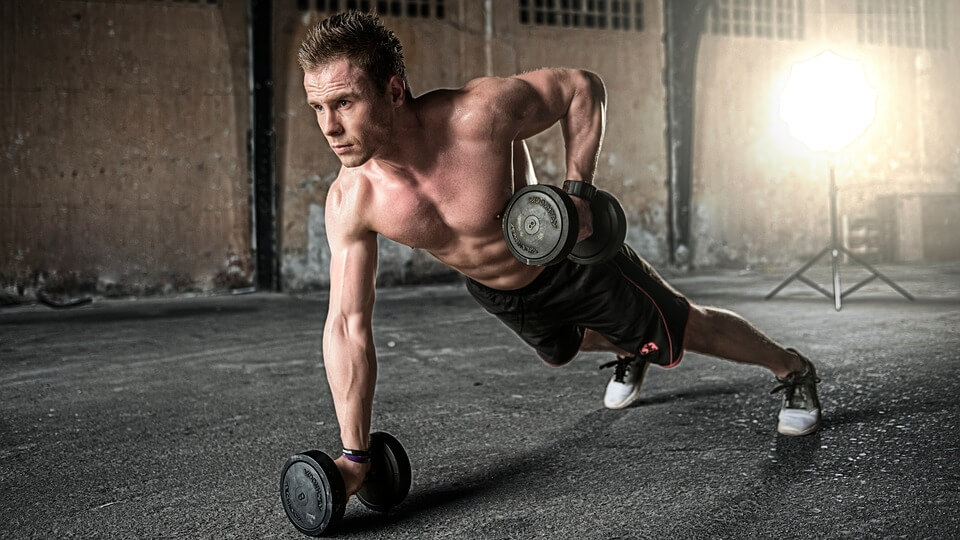 The Dark side of Adjustable Dumbbells
Just like people, adjustable dumbbells are not perfect. They do have pitfalls you should be aware of.
You can't, or more accurately, should not, drop adjustable dumbbells. They are not designed to hit the floor fully loaded. They can be damaged making them harder to adjust. Fixed dumbbells can be dropped, if you don't mind damaging the floor.
Who drops dumbbells anyways?
People who lift to failure, that's who. Challenging yourself and lifting a weight that is heavier than you normally lift could potentially lead to dropping the weight.
Olympic lifters routinely drop weighs.
Public Service Announcement: Video below shows Jeff from Athlean-X demonstrating the safe way to get into a bench press position when using heavy weights and he shows the proper way to drop dumbbells, if you should need to.
Adjustable weights have a "high" upfront cost, relative to fixed weights, which you can theoretically buy piece by piece.
But when you compare a nice set of fixed weight hex dumbbells with a set of high quality adjustable dumbbells, the cost difference is actually pretty small, or at least the sets prices all land in the same ballpark, more or less.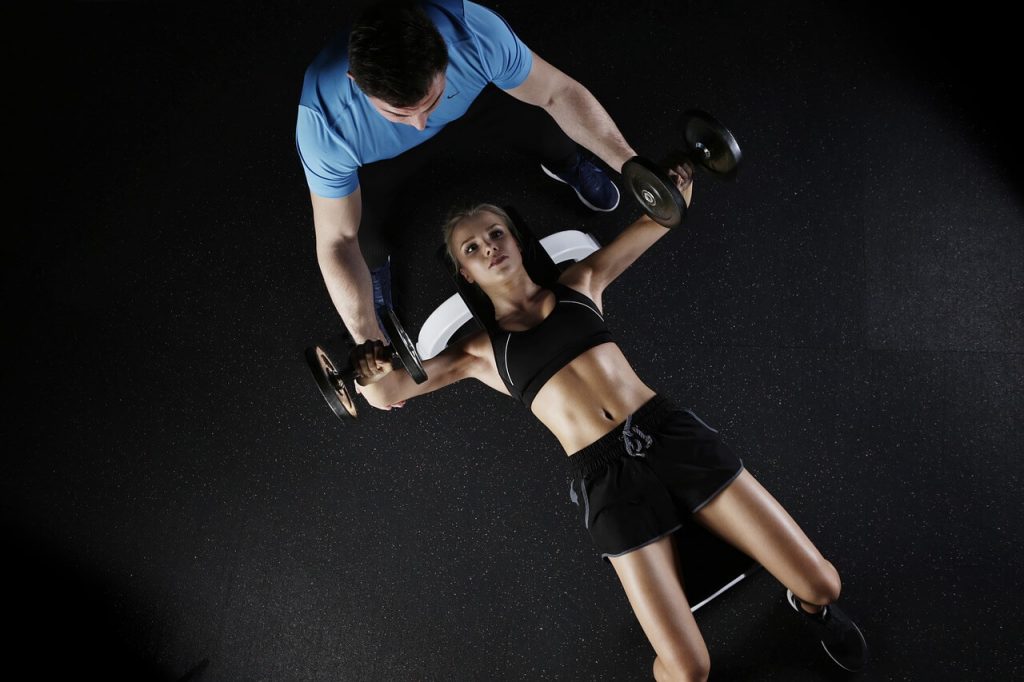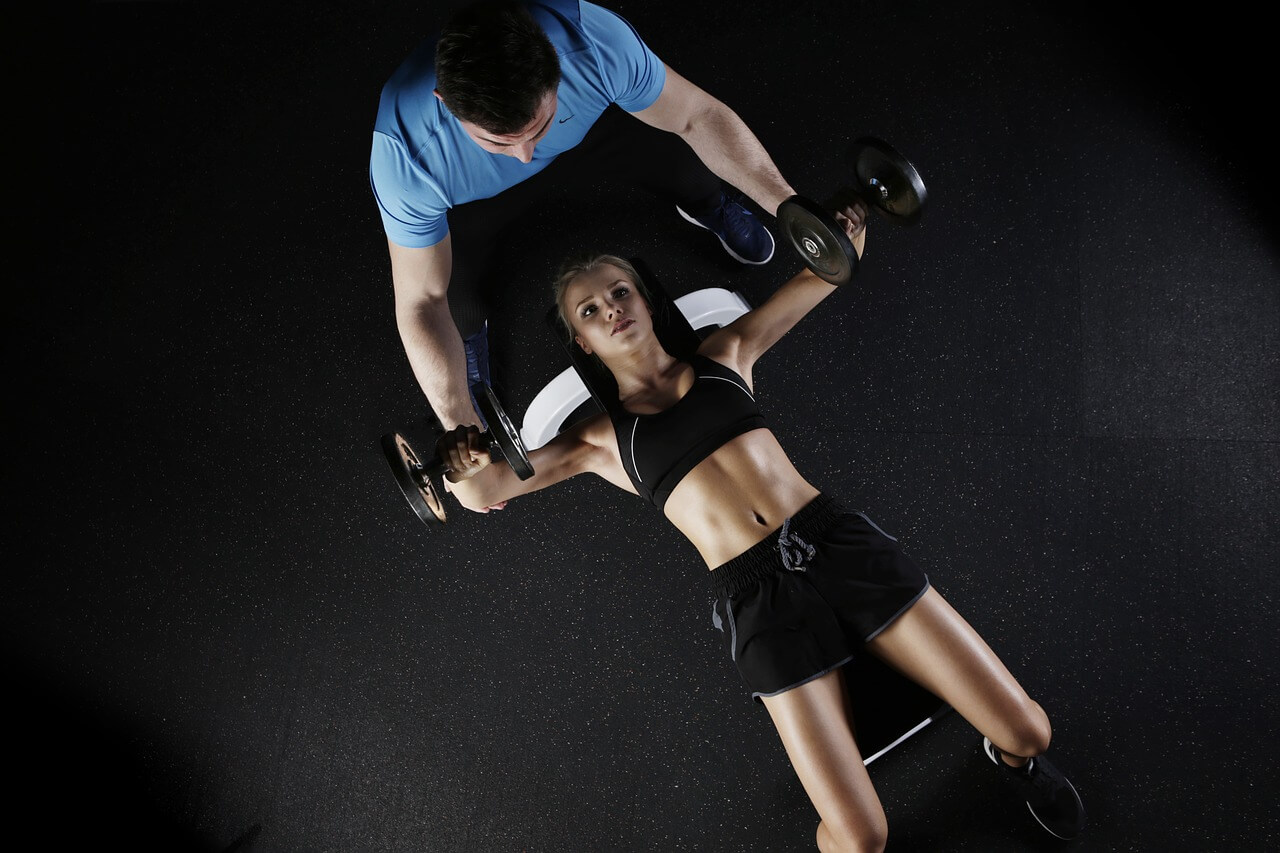 What's to Love about Adjustable Dumbbell Sets?
The best thing about adjustable dumbbells.
Location, Location, location!
If the real estate you have to dedicate to your home gym is minuscule you may be interested in how little room adjustable dumbbells occupy.
Space savings are the biggest benefit to adjustable dumbbells, and it is a pretty compelling benefit to boot.
If you:
Live in a tiny apartment
Have Roommates that do not want the place decorated in early 80's "Gold's Gym" couture
Need to lift in your room
Have a very small home gym
Only have one corner of the garage to use as a gym
Lift in your office (or home office)
Live and lift in a College Dorm
Then adjustable dumbbells are the right choice for you!
Different Styles of Adjustable Dumbbells
Adjustable dumbbells can be adjusted using one of three adjustment styles.
Caps or collars
How does it work: With a cap or collar, you screw the collar off, add the weight plates to the bar, and screw the collar back on.
Pros:
Least expensive adjustment style.
Cons:
This style leaves the bar sticking out past the weight, so you can not rest the weight on your leg if you need to get into position.
Cap or collar adjustments take the longest to change or adjust. You have to take the time to unscrew the collar, load each plate, and screw the collar back on. Some may find this tedious.
Selector Pins
How does it work: With Selector pin dumbbells you place the pin in place at your desired amount of weight. When you lift the weight out of the holder, the plates you don't want to use will stay behind.
Powerblocks use a pin style selector.
Pros:
Fast weight adjustment.
Pin selector style dumbbells tend to be more compact than dial styles which are longer.
More organized than collar style, unused weights stay in the holder.
Cons:
More expensive than collar style adjustment.
Dials
How does it work: Dial style adjustment dumbbells are the easiest to use.
You select the weight by dialing in your desired amount on the dumbbell, and the dial leaves the other weights behind. Bowflex and Stairmaster adjustable dumbbells use a dial style.
Pros:
Easy to adjust.
Can be the fastest to adjust, especially on models that adjust both sides at the same time.
More organized than collar style, unused weights stay in the holder.
Dial styles such as those found on Bowflex, can be fine tuned to place a different weight on each side of the dumbbell.
Cons:
More expensive than collar style.
15 Best Adjustable Dumbbells Reviewed 2019
This list includes adjustable dumbbells of all varieties in a wide range of prices. You'll be able to find something within your budget and weight range to fit your needs.
Since all of these come highly rated and recommended by real lifters, you know you're getting your money's worth with any of the picks on the list.
AmazonBasics Adjustable Weight Set
Review: These basic budget priced dumbbells include a set of two dumbbell bars weights and collar, altogether totaling 40 lbs. Includes a case to keep everything organized.
Pros
For lightweight lifters, total of 40 lbs.
Includes carry case to stay organized.
Collars double as half pound weights, bars are 3 lbs each, can be used for physical therapy.
Cons
Plastic storage case is cheap and does not latch well.
Takeaway
Best cheap adjustable dumbbells for the lightweight lifter short on space.
Yes4All Adjustable Dumbbells
Review: Available as sets of 40 lbs, all the way up to 200 lbs. Choose your ideal lifting weight.
Each set includes dumbbell bars and screw on collars, plus the appropriate amount of weight to complete the set you chose.
Pros
Cast iron plates are coated with a chip and corrosion resistant finish.
Handle is chromed for rust and corrosion resistance.
Bar is knurled, giving good texture and grip.
Cons
Weight plates are thicker and shorter than other brands which quickly take up space on the bar.
Takeaway
Considering their low price these are the best adjustable dumbbells for the price.
Bowflex SelectTech 552 Adjustable Dumbbells
Review: Bowflex makes a unique set of adjustable dumbbells. They are dial a weight style, and increase in 2.5 lb up to the first 25 lbs, and 5 lb increments after you reach 25 lbs.
The weight can be set differently for each side of the dumbbell, if you desire.
Pros
Each dumbbell maxes out at 52.5 lbs, sold in sets of two.
Includes black base to hold unused weights.
Dial adjustment is very rapid.
Cons
Some users experience quirks with the locking mechanism.
Takeaway
A fast adjusting, high quality, compact dumbbell set.
Unipack One Pair of Adjustable Dumbbells
Review: These Unipack Dumbbells have plates are made of cast iron, that are sturdy, reliable, and they won't rust if your workout room is in an area that gets damp.
The total weight of this set is 105 pounds, but it's distributed as two bars and 12 plates, so you can construct two dumbbells that weigh as much as 52.5 pounds each. Perfect for a large array of exercises.
Pros
Great price for a total weight of 105 lbs.
Chrome bars resist corrosion and rust, and have textured center for strong grip.
Cons
16" long to accommodate a lot of weight, longer than most sets.
Takeaway
Best adjustable dumbbells for home gym on a budget.
PowerBlock Sport Dumbbell Set
Review: Powerblocks are selector pin dumbbells and one of the most popular adjustable weight dumbbells available today.
They have a minimum weight of 3 pounds and a maximum weight of 24 pounds, these weights are perfect for exercises that involve a full range of motion because of their modest limit and the way they're balanced and the padded handle means they are comfortable.
These are compact, and have the smallest footprint of all our adjustable weight dumbbells reviews.
Pros
Selector pin allows rapid weight adjustment.
Balanced weight and more compact than most other sets.
Secure weights do not move while exercising.
Powerblocks are self contained and require no base, they are easy to move around without needing to take the base too.
The narrowest of all our adjustable dumbbell reviews.
Cons
Can not adjust on carpet, pins may bend. Adjust only on a hard flat surface.
Takeaway
The most compact, quick adjusting dumbbells available. Period.
ProForm Adjustable Dumbbell Set
Review: These compact weights are sold as a set, and each dumbbell weighs up to 12.5 lbs. They come in their own base, have knob adjustment, and are very affordable.
They adjust in increments of 2.5 lbs, have knurled handles making them easy to grip, and are good for light to intermediate lifters.
Pros
Up to 12.5 lbs on each dumbbell.
Storage and adjustment base included.
Lightweight and adjustable in small increments.
Cons
Knob style, but awkward to adjust.
Takeaway
One of the best adjustable dumbbells for women or those who desire lighter dumbbells.
Universal Selectorized 445 Dumbbells and Stand
Review: From well known maker Nautilus, these Universal adjustable dumbbells weigh up to 45 lbs each, and adjust in increments of 5 lbs.
This set includes a handsome raised metal stand to keep the set organized and to facilitate easy adjustment.
The dumbbells have knob style adjustment and the pins and handles are metal, so the weights are secure.
Pros
Metal connector pins and handle. Handle is coated in thermoplastic rubber for grip.
Includes raised stand.
Easy to adjust.
Up to 45 lbs on each dumbbell.
Cons
The weights shift a bit while lifting.
Takeaway
Best adjustable dumbbells for intermediate to heavy lifters.
StairMaster Pair of TwistLock Adjustable Dumbbells
Review: Stairmaster maintains their first-rate reputation with these excellent adjustable dumbbells. The set includes two dumbbells with a max weight of 50 lbs, and the base.
This set is very compact and has flat ends so you can use them for heavy weight bench work. The dumbbells are short, and shaped like fixed dumbbells, not awkward or too long like some other sets.
Plus, the ends are flat, no bar protruding out the end to get in the way.
Pros
50 lb max on each dumbbell.
Twistlock safety feature, weights only adjust while in base.
Adjusts in 5 lbs increments.
Comfort contoured handles.
Compact, not too long.
Cons
The base and dumbbells together take up a decent amount of floor space.
Takeaway
Ideal for dumbbell bench presses, with heavy weight.
Ironmaster Quick-Lock Adjustable Dumbbell System
Review: Ironmaster is one of the most sought after adjustable dumbbells on the market because of the heavy max weight of each dumbbell and the well thought out design.
These best rated adjustable dumbbells are square, so they do not roll. They are flat on the bottom so you can set up on the bench easily, and they are relatively compact for their weight.
Pros
Up to 75 lbs on each dumbbell in increments of 2.5 and 5 lbs.
Optional add-on kit pumps up the max weight to 120 lbs.
Includes space efficient stand.
Sturdy dumbbells made from welded steel and have chrome plated handles.
They are shaped more like standard fixed dumbbells than Powerblocks are.
Compact, with flat ends.
Cons
They take longer to change than Powerblocks.
Takeaway
Some of the best selectable dumbbells money can buy. An excellent addition to the serious lifter with a small home gym.
Weider SpeedWeight Adjustable Dumbbell Set
Review: This Weider dumbbell has a 25 lb max and adjusts to 10,15 and 25 lbs. The dumbbell includes a base. The locking mechanism is what makes this adjustable dumbbell so unique. The cast iron plates are set inside of the locking cams.
By rotating the center handle, the cams will slide left and right, which shifts the bar in and out of the center of the plates.
Pros
25 lb max dumbbell.
Storage and adjustment stand included.
More secure than selector tabs, because they use heavy duty lock grip.
Cons
Not a set, only one dumbbell and base included.
Takeaway
Some of the safest adjustable dumbbells that money can buy.
Merax Deluxe Adjustable Dial Dumbbell
Review: This impressive Merax set of dumbbells features a noteworthy max weight of 71.5 lbs per weight.
They have a know adjuster and adjust in increments of 5.5 lbs. The set includes the base and rubber coated handles.
These are comparable in weight and design to the much more expensive Bowflex dumbbells.
Pros
71.5 max weight for each dumbbell.
Easy to adjust know style adjustment, similar to Bowflex.
Held in place by metal on metal. No plastic holding the plates on.
Cons
The weight inscribed on the dumbbells is in KG, not lbs.
Takeaway
A high quality, heavy weight set at a reasonable price.
Featol Adjustable Dumbbells
Review: This Featol set is for mid level lifters who don't lift super heavy, but still want a challenge.
Each dumbbell in the set maxes out at 38.6 lbs and the sturdy metal bar is coated in thermo plastic elastomeric for an excellent grip.
These adjust from the side using a button, but the idea is somewhat like the collar adjustment design where you load each plate individually.
Pros
38.6 lb max weight for each dumbbell.
Compact set, not too much bar extending past the weight.
Contoured rubberized handle feels good in the hand.
Cons
Weight not marked on each piece. Side load takes longer than a knob dial or pin selector style adjustable dumbbell.
Takeaway
Best adjustable dumbbell set for the mid range lifter.
Bayou Fitness Adjustable Dumbbell
Review: The Bayou adjustable dumbbells are most similar to the Weider brand adjustable dumbbells, except these are sold in pairs of two.
They are available in 25lb pair, individual 50lb dumbbell or a pair of 50 lb dumbbells. Whichever set you choose, they all include a base for each dumbbell.
They have flat ends for easy workout setup, they have the shape of standard fixed dumbbells, making them less awkward than other styles.
Pros
Up to 50 lb on each dumbbell.
Heavy duty steel bar with chrome plating.
Shaped like standard fixed weight dumbbells for more natural lifting.
14" bar, relatively compact.
Cons
Adjustment may stick from time to time, can be lubricated to make it easier.
Takeaway
Most affordable, best adjustable dumbbells in this weight range.
Adjustable Dumbbell Weight Set By Core Fitness
Review: These Core Fitness adjustable dumbbells, sold as a set of two, include the aluminum cradle base and 2 bars.
The max weight of each dumbbell is 50 lbs, and the set use twist lock technology to adjust the weight, making changing weight easy and the weights are secure.
Pros
Weight can be adjusted using one hand, just set in cradle and twist.
50 lb max weight for each dumbbell.
One of the most affordable in this weight range of all adjustable dumbbell reviews.
Adjusting mechanism very similar to Stairmaster twistlock set (but much less expensive).
Cons
Dumbbells stick in the case sometimes, especially when loaded at max.
Takeaway
Easy twist and adjust design, plus a great price make these an obvious choice for the home gym.
XMark Adjustable Dumbbell
Review: These Xmark adjustable dumbbells are sold in singles and pairs, with features similar to the national brand, at a much lower price.
Max weight is either 25 lbs or 50 lbs, depending on the set you choose. The bars are chrome plated and resist corrosion.
The adjustment mechanism is a sliding knob, which is not as easy to adjust as the top rated adjustable dumbbells Bowflex makes, but the set is significantly less expensive.
Pros
Up to 50 lbs max weight on each dumbbell.
Chrome plated, lightly textured bar.
Includes storage and adjustment cradle base.
Shape and feel of standard fixed weights for more natural lifting.
Cons
Do not adjust as rapidly as Bowflex.
Takeaway
Best selectable dumbbells at this low price, with a respectable max weight.
Conclusion
We hope these 15 reviews give you a good idea of what the market has to offer and you find the best adjustable dumbbells.
We would love to hear from you. Drop us a line in the comments below and we will be sure to reply.