TOP 19 Best Protein Shaker Bottles for 2020 Reviewed & Compared
You have decided to commit to a fitness routine that includes a protein shake, and you know a protein shaker bottle is the easiest way to get the job done.
You came here looking for the best blender bottles and here they are: The 19 best protein shaker bottles for 2020 reviewed.
We have all new models from the top shaker bottle brands listed here.
Ready to shake things up! Let's do this!
TOP 19 Best Protein Shaker Bottles 2020
Helimix Vortex Blender Shaker Bottle
Review: Here is what I love about the Helimix blender bottle – it uses no mixing ball or another mixing device to blend.
The twisted hexagonal shape of the bottle creates a fierce mixing vortex as you shake, which can mix even the stickiest most stubborn powders and ingredients, including peanut butter.
I love that there is less to wash and it can go in the dishwasher without fear of losing parts.
Pros
No balls or mixing contraptions! The shape of the bottle does the mixing.
Made in the USA.
Dishwasher safe.
Cons
The angular shape of the bottle encourages powders to get stuck in corners. Add powder after the liquid.
Takeaway
Made in the USA with no extra small items to wash. I Love it! This shaker bottle is a dream!
ShakeSphere Tumbler Protein Shaker Bottle
Review: The ShakeSphere mixer is another blender cup that does not use a ball or mixing device, which I really like. The capsule shape moves fluid around vigorously enough to mix well.
This cup has no corners for powder to get stuck and I like the oversized thread on the cap because it is easy to secure when I am in a hurry, and I know it won't leak in my bag or car.
Pros
Capsule-shape does the mixing – no blender ball or separate mixer piece.
Oversized threads make it easy to twist the cap on so you feel sure you got a good seal.
Grippy matte finish – perfect for drinking on the go.
Cons
The slide is a pain to clean.
Takeaway
Great blender bottle with several innovative features like shaker ball free mixing and grippy outer cup.
Crsure Portable Blender Cup
Review: This blender bottle is a bona fide mini blender. It has a USB charge, so it's easy to find a power source, and uses real stainless steel blender blades, just like the blender at home.
I also like that one press of a button blends for 20 seconds, so you do not have to hold the blender the entire time.
Pros
Blends like a real blender, with stainless steel blades.
Uses convenient USB as a power source, also can be charged.
Holds 28 oz, more than many other mini blenders of this style.
Cons
Blender is good, but frozen fruits won't blend completely.
Takeaway
Best electric blender shaker bottle for protein shakes and preworkout drinks.
Ice Shaker Stainless Steel Protein Mixing Cup
Review: The Ice Shaker mixing cup means business when it comes to keeping your protein drink or smoothie ice cold. It is double-walled and vacuum insulated so your drink stays cold all day.
The flip-top cap is easy to open and close and the stainless steel design means you never have to deal with lingering odors.
Pros
Double wall vacuum insulated so you drink stays colder longer.
Stainless steel will never absorb odors.
Markings on the inside of the cup for accurate measurement.
Cons
Several plastic parts to wash after each use.
Takeaway
One of the best protein shakers for keeping your protein drinks, pre-workouts and smoothies ice cold. No more chugging lukewarm sludge again!
Rubbermaid Shaker Cup for Protein Shakes
Review: This affordable shaker cup by Rubbermaid is a great choice for everyday gym rats. You can use it and abuse it and it will always be there for you.
It is made with Tritan technology which prevents odor and bacteria growth, it has a little rubber hook to carry it when your hands are full, and the little screw-on lid prevents messes, unlike snap-on caps with can unsnap and the most inopportune times.
Pros
Affordable.
Resistant to odors and other funk thanks to Tritan technology.
Screw on pour spout lid truly prevents leaks.
Cons
The internal shaker ball is not great.
Takeaway
This shaker bottle is easy to clean, does not collect funky odors and stays secure when you screw it shut.
Click Coffee Protein Drink Shaker Cup
Review: This small 20 oz blender bottle by Click uses the blender bottle whisk to mix coffee and protein powders.
What sets this model apart is the flip-top cap and carry-loop with make it easy to tote and a breeze to drink from.
Pros
Drink spout is easy to open and close.
Smaller size is convenient to carry with you.
Does not leak.
Cons
Clean right away or it can get stinky.
Takeaway
This well-built shaker bottle does not leak because the pieces fit together secure and snug and the snap close spout cover stays closed.
Review: The Thermos shaker bottle introduces a new way to deliver shaken protein drinks that prevents them from spilling or leaking in your car or gym bag.
After you prepare and shake your drink, you must first flip the clear spout cover. Then you push down on the button to release your drink. This double protection makes it so your drink will not leak all over.
Pros
BPA free and made with Tritan anti-microbial technology so its odor-free.
Stationary plastic mixer is removable and quiet.
Spout stays sealed and does not leak since there are two steps you need to take to release your drink.
Cons
The stickers on this bottle are challenging to completely remove.
Takeaway
This shaker bottle has a novel spill proof, leak proof drinking spout, and the stationary shaker is quiet as you mix.
Review: The Huracan shaker bottle has a lot going for it. For one, it keeps your drinks super cold for a long time. Second, the mixer is fixed, so it does not make noise, and is removable, in case you don't need it that day.
While the spout cover is easy to open, it can pop open unexpectedly when the cup is jostled.
Pros
Stationary removable mixer is quiet.
Stainless steel design means no odors.
Double-wall vacuum insulated keeps cold drinks cold.
Cons
Not dishwasher safe, can ruin the vacuum seal that keeps things cold.
Not good for hot beverages, spout cover can pop off due to steam pressure.
Takeaway
A great shaker cup for keeping shakes and pre workout drinks icy cold.
Blender Bottle Tritan Shaker Bottle
Review: This 20 oz blender bottle comes in an endless variety of colors, and is made by a trusted brand in shaker bottles.
Pros
20 oz capacity.
Metal agitator, stainless steel.
Made from Eastman triton plastic, won't hold odors.
Sport loop handle allows you to carry without the spout popping open.
Wide mouth.
Cons
Be careful, these will crack if dropped on a hard surface.
Takeaway
Indulge in this high quality, well-designed shaker bottle and you will feel pampered every time you make yourself a shake. One of the best stainless steel protein shakers on the market.
Joyshaker Stackable Protein Shaker
Review: For the price, this protein shaker has a huge number of features. It has a 5oz, 3oz and 2oz storage container, plus a pill tray divider, filter and stir ball.
Pros
Three small storage contains for powder and supplements.
Includes carabiner for hanging.
Cons
Takeaway
If you take a lot of supplements and want to stay organized on the go, this is the shaker bottle for you!
PerfectShaker Performa Protein Shaker Bottle
Review: Everything is better with a punisher logo! Also happens to be a rockin' protein shaker too!
Pros
Other superheroes (and villains) available.
Leak-free, BPA free, dishwasher safe.
Blender ball is installed on a pole inside the cup so you won't lose it to the dishwasher gods.
Cons
Takeaway
Fun cup that WORKS. If you like the punisher, or wonder woman, or darth vader, or whatever, this one is for you.
Review: A dignified protein shaker with a simple design and organization for your supplements, all in one.
Pros
Two storage compartments, one with a pill tray.
Blade style plastic mixer is fixed at the top when lid is screwed on, but can be removed to wash.
Cons
The pill storage fits inside the other storage container, but does not screw on.
Takeaway
A simple protein shaker with convenient storage for protein powder and supplements.
Hydra Cup Dual Threat Shaker
Review: Talk about split personalities! This cup holds two drinks, separately, each with its own drink spout. Pre and post workout? One for you, one to share? The possibilities are endless.
Pros
Two drink chambers and you are Multiflaskn' as the company says.
Made in the USA.
Can use one side for storage, or for ice to keep the other side cold.
Sick designs include "Get Shit Done" and "Ho Lee Chit". It just does not get any better than this.
Cons
Nun brah! Wait… each side only holds 14 OZ.
Takeaway
This is our favorite shaker in the "slightly obnoxious, but I am in that kind of mood" category.
Review: This extremely budget friendly shaker has a lot of features considering the price. It includes storage for your supplements and protein powder, and is perfect for athletes on the go.
Pros
Separate protein powder container screws to the bottom.
Slim profile.
Includes carabiner clip.
Snap top spout.
Cons
On the small side, 17 oz.
Takeaway
This is a great compact, slim shaker with extra storage, offered at a great price! If you are looking for a small and slim shaker, try this one. Best protein shaker bottle in a small package.
Review: Very cool looking bottle, at a great price, that functions as well as it looks. It holds 20 oz of liquid and has storage for protein powder and a pill compartment.
Pros
Measuring marks on the side.
Has the look of a hand grenade, very tactical.
The flip-top has a spot to store pills.
Super heavy-duty.
Snaps shut tight, you can feel the snap.
Cons
Ding dongs may mistake it for an actual weapon.
Takeaway
Looks are not everything. This shaker bottle delivers in both looks and functionality.
Review: The Vortex shaker is a battery powered shaker with a built in blender and detachable powder pod.
Pros
Built-in USB rechargeable blender.
Bpa free.
Can use the blender with soapy water to clean – very cool!
Clear plastic with measurement marks.
Cons
The drinking spout is a little small.
Takeaway
This easy to use protein shaker blender has everything you need and functions well. What more can you ask for? One of the best protein shaker bottles available.
Review: This shaker from a well known brand is useful and simple, with a whisk ball agitator.
Pros
Includes removable handle and stay-open flip cap.
Leakproof guaranteed, spout lid "snaps" in place to insure a good seal.
Metal agitator ball.
Made from high-quality material and opaque plastic.
Cons
Takeaway
We love the secure snap, no spilling on the go protein shaker.
BlenderBottle ProStak Bottle
Review: This protein shaker sports extra storage for pills, protein powder and can expand with interlocking stacking cups.
Pros
Stacking interlocking storage cups.
Pill organizer available.
Loop lift handle that closes the water spout, can pack this cup around anywhere.
Cons
A few people mentioned that the top begins to break or split after a few months use, otherwise this would have been our #1 pick.
Takeaway
For the serious bodybuilder, power lifter, CrossFit athlete or anyone serious about their supplements. This is the protein shaker extreme style!
Fit and Fresh Jaxx Shaker Bottle
Review: This simple mixer has a novel JAX shaped agitator mixer.
Pros
Unique style mixer, convo piece for sure.
Cup includes the removable handle.
Claims to be able to mix baby formula, plus it is pretty easy to clean.
Cons
Since it is not clear, it is hard to measure water and see if there are lumps.
Takeaway
Novel shaker, fun and available with different sayings on them.
Quick Guide: How to Choose the Best Protein Shaker?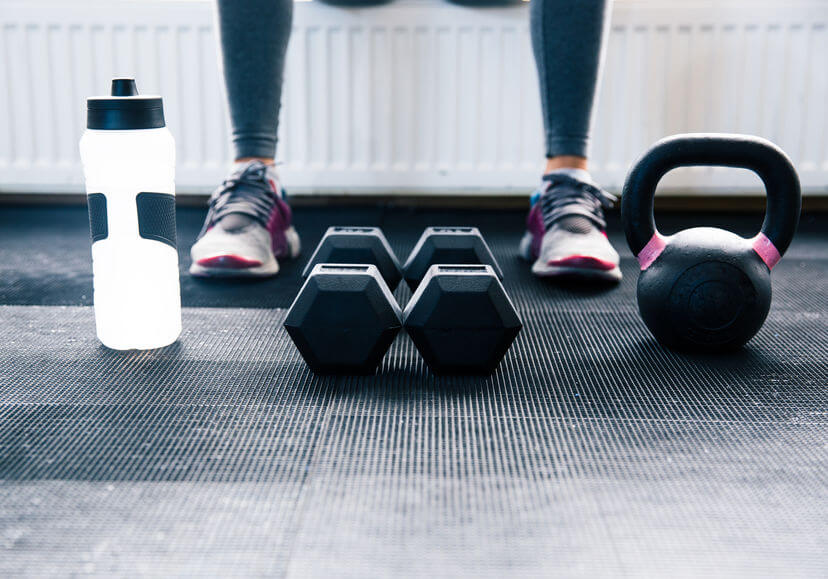 Manual or Battery Operated?
We think the best shaker bottle for protein is a manual bottle. But the opinion is split. Many athletes like the battery-operated blender.
OK, we will tell you why we like manual shakers.
'Cuz the battery never runs out on a manually operated shaker – that's why!
You have enough on your mind on the way to the gym, do you really want to stress about whether or not your protein shaker cup is charged?
Well, if you like the battery-operated models; we reviewed several, so keep reading.
Size Matters
Always check out the size capacity of the shaker bottle to make sure your favorite drink fits.
The best shaker bottle for protein is one that is the right size for your preferred protein drink. Preferably it holds several more ounces than your drink size, because you need room for the powder, and room for the shaky-shaky mixing part.
OK?
Don't do this:
DON'T Buy a 17 ounce shaker for a 16 oz drink. You will have powder everywhere, or clumps because the shaker could not mix because there was not enough "shake margin" in the cup.
Width
Alright, the truth is this:
A really wide cup won't fit in your car's cup holder. If that is important to you, get a slim cup.
We will say this:
A wider cup is more stable and less likely to tip. If that is important, go for a cup with a wider base.
Material
Look for cups that are BPA free and made from a material that will not break. If a shaker has metal parts, they MUST be stainless steel. Medical grade silicone seals are nice, as are rubberized grips on the shaker.
Now that you know how to choose the right protein shaker bottle for you, let's talk about what to put into your shaker bottle.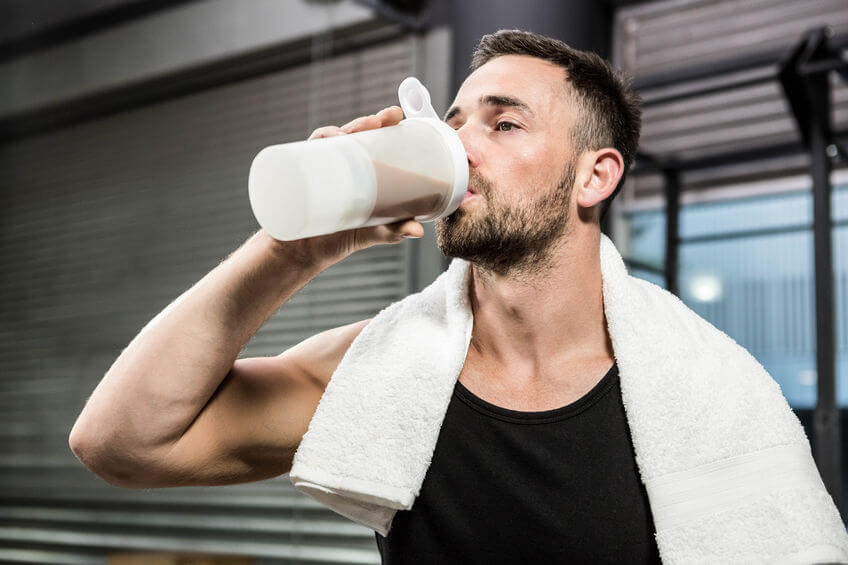 What are the Best Tasting Protein Powders?
Nothing is worse than having to choke down an awful tasting protein powder in the name of health and fitness. But you also don't want a protein powder so full of sugar you risk weight gain and put your health on the line.
ON Nutrition Whey and EAS Whey (links to Amazon.com) are two of the best protein powders out there, in terms of taste.
If you want to see my full list of best tasting protein powders reviewed, it's right here.
What are the Best Protein Powder Brands?
ON Nutrition, EAS, Muscle pharm, True Nutrition, Ascent, Muscle Milk, Animal, NOW Foods and BSN are some of the best protein powder brands I know of. If you want to see my full list of the best protein powder brands, click here.
Should I Drink a Shake, or Eat Real Food? Is it OK to Replace a Meal with a Protein Shake?
A protein shake is not designed to replace a meal, it's a supplement, and should be treated as such.
While you may get away with drinking a shake in place of a meal every once in a while, it's best to not make it a habit because you need the nutrition and micronutrients real, whole food has.
If you want to read more on the subject, see here.
Shaker Bottle FAQs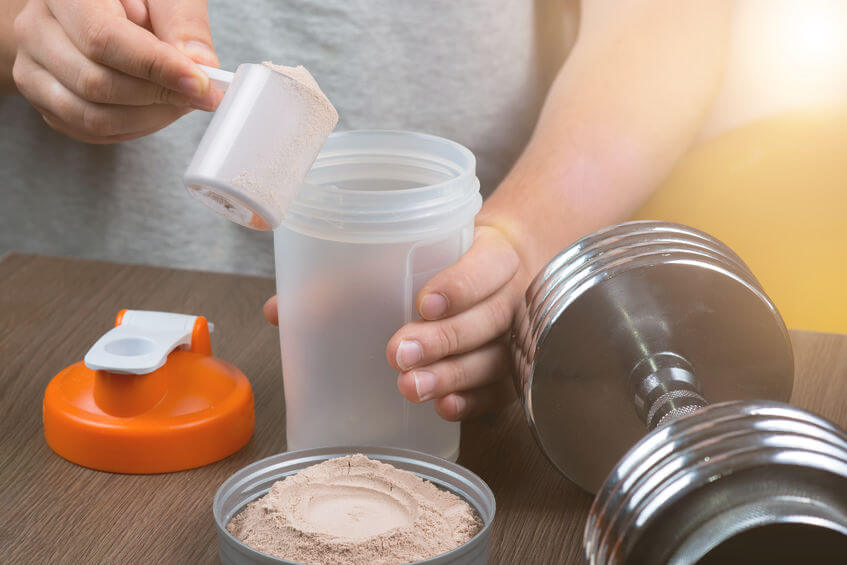 What is the Point of a Shaker Bottle?
Why use a shaker bottle instead of just any old water bottle for your protein shake?
While a water bottle will work, it's not ideal. Shaker bottles are designed with a mixing mechanism.
Either a steel whisk, shaker ball or some other device designed to break up clumps of powder and create a smooth drink quickly.
Do You Need a Shaker Bottle for Protein?
Shaker bottles are not a requirement if you want to drink a protein shake, but they sure are handy.
A shaker bottle allows you to take your shake on the go, because they are sealed and have a drink spout to prevent spills and leaks.
Shaker bottles are easier to use and clean than a traditional blender too. A traditional blender is heavy, takes up space on the counter and is a pain in the butt to clean out.
Most shaker bottles are dishwasher safe and you can simply load it into the dishwasher and be done.
Why do Shaker Bottles Smell?
Protein shakes are usually made from whey protein, which is a milk-derived product. If you know how bad sour milk smells, then you can get a good idea of why a shaker bottle will start to stink after only a few hours.
BPA free plastics, which many shaker bottles are made from, are especially prone to soak up odor.
To keep the smell away wash the shaker as soon as possible, and if you can't wash it, at least give it a good rinse until you can get home and wash it well.
If even rinsing is not an option, at least keep the flip-top cap open to slow the stink and allow air to circulate.
How do You Clean a Shaker Bottle?
Most shaker bottles are dishwasher safe. Simply rise and load into the dishwasher. You can also wash them with ordinary dish soap.
But…
If your shaker bottle has taken on a foul odor, there are a few things you can do.
According to the Blender Bottle website try these tips.
Fill the bottle with a blend of water, baking soda and vinegar and let sit overnight with the flip-top open.
Pour some damp coffee grounds in the cup and let it sit overnight with the cap closed.
Always store the bottle with the lid off.
Can You Microwave a Shaker Bottle?
Probably not.
Shaker bottles are designed for cold drinks only.
The caps, lids and drink spout openings are made to seal tight. Heat can cause pressure buildup and cause the tops to pop open.
If your shaker bottle has a metal ball it should never go in the microwave.
Plus, blender bottles are not insulated and can be really hot to touch and may even burn you if you are not careful.
Can You Put Hot Water in a Shaker Bottle?
Provided the shaker bottle is BPA free, and the water is not extremely hot, it probably won't harm you, but it is not ideal to use hot liquids in your shaker bottle.
Hot liquid can build pressure and cause the flip top to pop open, so point it away from your face as you open.
Also…
Most shaker bottles are not insulated, which means you will feel the heat on the outside, so if the liquid is boiling hot, you won't be able to hold the cup.
Summary
Don't wait! Get shaking, and pick up the best shaker bottle today.
Do you love protein shakes, supplements and gym gear?
If you do, sign up for the Garage Gym Power newsletter and stop missing out gear and supplement reviews.
Speaking of supplements, do you love to CrossFit? If so, I have the perfect list of supplements for CrossFitters right here. Check it out!