Guide to the Best Agility Ladders & 8 TOP Speed Ladder Reviews 2020
Honing Your Craft
It is a phrase we have all said or heard before.
Have you ever thought to apply the phrase to athletic performance? Top athletes do.
At the heart of it, honing, is what agility ladders are all about.
We plan to cover why peak performers use agility ladders, and how they can help you. We will cover some agility ladder drills and review 8 of the best agility and speed ladders.
Difference between an Agility ladder and Speed Ladder
We get this question from time to time so we thought we would like to clarify:
Get this!
There is no difference. A Speed ladder is the same thing as an agility ladder.
With that out of the way, let's move on.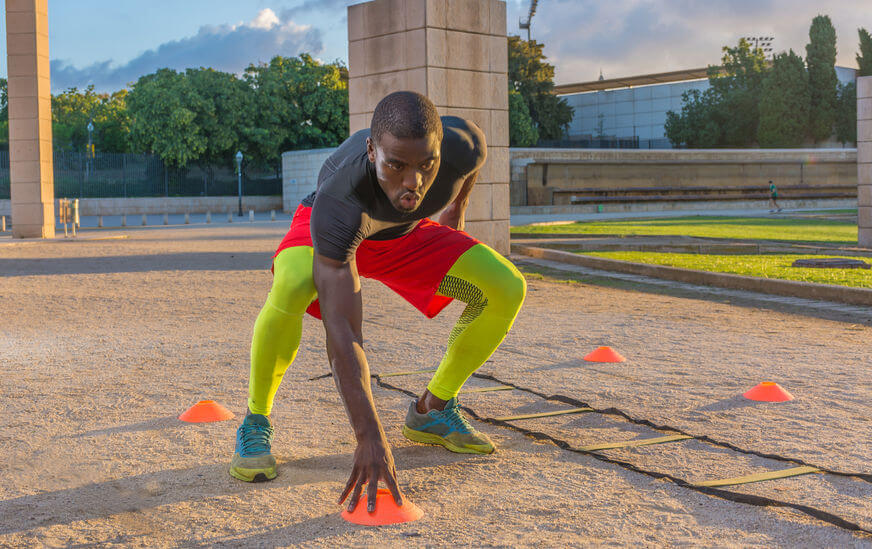 Why use an agility ladder?
Because increasing agility, speed and precision take your game to the next level.
From football to lacrosse and between CrossFit all the way over to soccer, agility and speed are what separate the best from the rest.
You must be faster and able to turn on a dime constantly, in a controlled manner.
What's the Bottom line?
You need to improve your footwork, and a great way to do it is with Agility Ladder Training.
How can a speed ladder help me?
Imagine this:
You are a keeper of the soccer team, guarding your box as you watch the opposing team push the ball down the field. There are players from the opposing team on both your left and your right side, so they could attempt a goal from either side, or even surprise you some other way.
As the players approach you see the player on the right make an ultra quick pass to the other payer, trying to outpace you. You are in the center of the goal, and must pivot, transfer weight to the other leg and jump to the left to block the goal.
It is in these fine tuned moments that an agility ladder can mean the difference between "too slow", to "lightning on his feet".
This is the agility and speed you should seek, and a speed ladder is one tool that can help you up YOUR game.
Speed is not always about how fast you run, it is about how fast you MOVE, just ask any goal keeper.
Let's break it down:
Benefits of training and consistently practicing with a speed ladder
Increase the speed at which you change direction
Increase sprinting stamina
Increase acceleration to power past your opponents
Improve balance, coordination and body/limb awareness
Trains your nervous system to move your legs in various ways
Now on to the drills.
Agility Ladder Drills-Speed Ladder Routines
30 Agility Ladder Drills – Beginner, Intermediate and Advanced Variations
This video progresses from the easiest drill to more challenging drills. Each move is briefly demonstrated, but there is no speaking in the video.
The names of each more are given in text on the screen. It is a useful resource for those looking for creative ways to use their agility ladder because 30 moves are covered.
13 Speed Ladder Drills For Faster Footwork & Quickness
Coach King demonstrates 13 agility ladder exercises using our favorite ladder, the GOALME PRO! Coach King is a football coach and his drills give that away.
Don't miss these 13 great speed ladder drills.
5 Agility Ladder Drills For Muay Thai
You may not think agility ladders and martial arts are a match, but they are!
Muay Thai champion Tiffany Van Soest reviews 5 agility ladder moves to improve your performance.
Thankfully, she demonstrates the move slowly first, for us mere mortals, and then demonstrates the exercise at her speed. It is pretty fun to watch, and her explanation is thorough.
It is easy to see that agility is a cornerstone trait for a huge number of sports.
Just about every athlete can benefit from improving agility. That's why Functional Fitness practitioners and CrossFitter's are so big on the agility and speed ladders, because those sports try to focus on all aspects of fitness.
What to look for in your search for the best speed ladder?
Agility ladders come in lengths of 6 feet to 32 feet. Most are either 15' or 30'. Longer is not necessarily better, however, because the focus is on.
Agility ladders can vary in how wider they are. The dual ladder is 12" wide for each square. The dual ladder is two ladders side by side, so the smaller width makes sense.
Most ladders are between 16 and 20" in width. Consider your foot size, and how much space you like/need.
Snaps and extensions allow you to snap two ladders together to make one long ladder. This is useful for team sports, but probably overkill for a home gym.
Many ladders have adjustable rungs, but there are a few that do not. The space between rungs can vary quite a bit. Each has their merits.
Rungs close together allow for shorter more energetic moves, and longer rung to rung distances allow for moves with long strides.
Are you ready to choose your agility ladder?
TOP 8 Best Agility Ladder Reviews 2020
GOLME PRO Speed + Agility Ladder
Review: The Golme PRO Speed Ladder has a truly unique design.
It is different from other ladders because the rungs are fixed in pace with a seamless rivet, and the rungs are not awkward square strips but molded rung that tapers at the end and anchors the ladder in place.
Pros
Streamlined, molded fixed position rungs that "sandwich" the straps so the ladder truly stays flat
Sturdy carry case with dynamic design
Striking orange and black
No twisting, no tangling
3 sizes available (Athlete, Jr. and Adult)
16.5" width
Cons
Space between rungs is large
Our Take
This ladder is NOT flimsy or awkward. It is a beautiful ladder, you can be proud to take to practice. Absolutely the best agility ladder, in our opinion.
Review: The SKLZ ladder is 15' long with 11 rungs and has a width of 17".
Pros
Stylish carry bag with drawstring
Ability to adjust rungs, plus, since there are just 11, the distance between run can be set farther (many 15' ladders have 12 or more rungs)
Cons
Takes time to "wear in" so it lays flat. It will lay flat eventually
Our Take
This agility ladder works well for athletes who want more space between rungs.
Review: The trained agility ladder is 17" wide, with 12 adjustable rungs and includes 6 agility cones.
Pros
Decent width, 17"
Includes carry bag
Adjustable rungs
Cons
Our Take
This is a solid agility ladder that includes cones to expand your agility routine.
Power Systems Pro Agility Ladder
Review: This agility ladder is designed with a latch that enables you to adjust the rungs and lock them in place.
Pros
Breaks down into two 15' sections.
20" width
Includes carry bag
Quick change latch
Cons
Our Take
This ladder is so easy to adjust you can move between quick short moves, to longer steps easily.
Firebreather Agility Ladder
Review: The firebreather speed ladder is 15' long and has 12 rungs.
Pros
Includes 4 pegs and carry bag, adjustable rungs
Includes 10 cones
Carry bag and pegs
3 colors available
Cons
No snaps to put two ladders together
Our Take
This ladder is among the best speed ladders, plus it includes 10 agility cones.
Cintz Dual Speed and Agility Ladder
Review: This Cintz dual ladder is unique because it has two sides, so two or more persons could use it, or it can be used for more complicated exercises.
Pros
Adjustable rungs
Includes stakes and carry bag
Can be used like an agility net or ladder
Space between rungs measures 12" by 10"
Cons
Rungs for each side do not line up precisely, because of the way the ladder is designed.
Our Take
This agility ladder works as an agility net or ladder and is good for children's leagues (football, etc) due to smaller distance between sides.
World Sport 30 Foot Flat Rung Agility Ladder
Review: This 30 foot agility ladder breaks down into 2 smaller 15' ladders, so it is versatile.
Pros
Flat rungs
Carry bag
Adjustable rungs
17" width
Cons
No pegs to secure to lawn
Our Take
This versatile agility ladder works great for groups, or you can break it down to smaller ladders for home use.
Review: The Fitmox Agility ladder is 15' long, has 11 rungs that are 15 "apart. The ladder width is 15" as well.
Pros
15" width (15' version only, 2 sizes available)
15" between each rung
Carry bag, Velcro close
4 chromed pegs to secure in grass/lawn
Wide straps, lays flat
Cons
No snaps to put two together
Our Take
This is a great home speed ladder for those with a lawn to secure it to.
So, what are you waiting for?
Jump to it!
Let us know what you most want to improve in your athletic endeavors, Agility, speed or stamina?
We look forward to hearing from you!