TOP 8 Best Agility & Speed Ladders Reviewed 2021 (Complete Guide)
Want to work on your agility?
Agility ladders are the best way of including agility drills in your home workout.
I'm going to cover what agility ladders are good for, cover some agility ladder drills and review 8 of the best agility ladders of 2021 to get you started.
First, let's take a look at the reviews.
TOP 8 Best Agility Ladders of 2021
Review: This extra-long 25' ladder has an impressive 20 adjustable rungs making it the longest ladder on this list.
It's an affordable option that comes with a carry bag and allows for a wider range of drills with the extra length available.
Pros
Extra-long – 25'.
20 adjustable rung.
Durable materials.
Easy to set up.
Cons
Takeaway
The extra-long length of this ladder makes it a highly versatile option for a range of agility exercises.
Review: The SKLZ ladder is 15' long with 11 rungs and has a width of 17". It comes with stakes to anchor the ladder to the ground so it won't move during your workout.
The rungs sit flat on the ground and the distance between rungs can be played with to mix up your drills.
Pros
Stylish carry bag with drawstring.
Ability to adjust rungs.
Flat rungs are made of heavy duty plastic.
Cons
Likely not durable enough to hold up to metal cleats stepping on the rungs.
Takeaway
This agility ladder works well for athletes who want more space between rungs.
Review: The Trained agility ladder is 17" wide, with 12 adjustable rungs. It includes 6 agility cones and a carry bag.
The rungs are made of flat, durable plastic and are easy to move to change the distance between them. They can handle being stepped on and are a nice width so you're not too cramped.
Pros
Decent width, 17".
Includes carry bag and cones.
Adjustable, flat rungs.
Durable.
Cons
Tangles easily.
No stakes.
Takeaway
This is a solid agility ladder that includes cones to expand your agility routine.
Power Systems Pro Agility Ladder
Review: This kit comes with two ladders, a 30' that can be separated into two 15' ladders, and an additional 15' ladder that are all 20" wide. It also comes with stakes and a carry bag.
The slats are made of heavy-duty PVC so they'll definitely cope with the occasional high impact foot strike. And, it's designed with a latch that enables you to adjust the rungs and lock them in place so they won't move while you're using them.
Pros
30' ladder breaks down into two 15' sections.
20" width.
Includes carry bag.
Quick change latch.
Cons
Takeaway
This ladder is so easy to adjust you can move between quick short moves, to longer steps easily. It's a more expensive option but you get a lot for the price.
Review: This is a slightly longer ladder than most with a 20' length but the standard 12 rungs. The rungs are 16.5" wide and can be adjusted to sit up to 15" apart.
It doesn't come with any extras like a bag, cones or stakes, but this makes it a simple, affordable option.
Pros
Slightly longer length than most – 20'.
Durable enough for the price point.
Adjustable rungs.
Available in yellow or blue.
Cons
Takeaway
This is a good option if you want a slightly longer ladder.
Cintz Dual Speed and Agility Ladder
Review: This Cintz dual ladder is unique because it has two sides, so two or more people could use it, or it can be used for more complicated exercises.
The rungs can be staggered so they are in different positions on each side, or arranged so that they line up.
Pros
Adjustable rungs.
Includes stakes and carry bag.
Can be used like an agility net or ladder.
Space between rungs measures 12" by 10".
Cons
Rungs for each side do not line up precisely, because of the way the ladder is designed.
Takeaway
This agility ladder works as an agility net or ladder and is good for children's leagues (football, etc) due to smaller distance between sides.
Ohuhu Speed Training Ladder
Review: This 12 rung ladder is 17' long, 15" wide and comes with stakes, a carry bag and 12 cones.
The rungs can be adjusted to up to 15" apart and are made of a durable, flexible PP plastic so they'll bend a little and not snap if you accidently step on one.
Pros
Flexible PP rungs.
Adjustable rung positions.
12 cones included.
Lightweight and easy to transport.
Cons
Takeaway
Another good quality, easy to use agility ladder than comes with cones and a carry bag.
Profect Sports Agility Ladder
Review: Very similar to the other ladders on this list, this agility ladder is 15' long and comes with 12 heavy-duty rungs. The main difference is that these rungs can't be moved. This could be a pro or a con depending on your priorities.
The rungs being fixed in place means they won't slide around and need constantly adjusting mid-workout but it does mean you're stuck with the set spacing.
Pros
4 different colors available.
Cones and stakes included.
Rungs stay in place and don't slide up or down the ladder.
Tangle free straps.
Cons
Rungs are not adjustable.
Takeaway
Provided you don't mind the set spacing, this is good quality and convenient set up.
Difference between an Agility Ladder and Speed Ladder
We get this question from time to time so we thought we would like to clarify:
Get this!
There is no difference. A Speed ladder is the same thing as an agility ladder.
With that out of the way, let's move on.
Why Use an Agility Ladder?
Increasing agility, speed and precision can take your game to the next level.
From American football to lacrosse, or CrossFit to soccer, agility and speed are what separate the best from the rest.
But, while agility ladders are most commonly used for soccer players, agility isn't just for athletes.
Everyone benefits from having good coordination and balance. It lessens your likelihood of falling and injuring yourself and allows you to get more enjoyment out of things like hiking, especially as you age.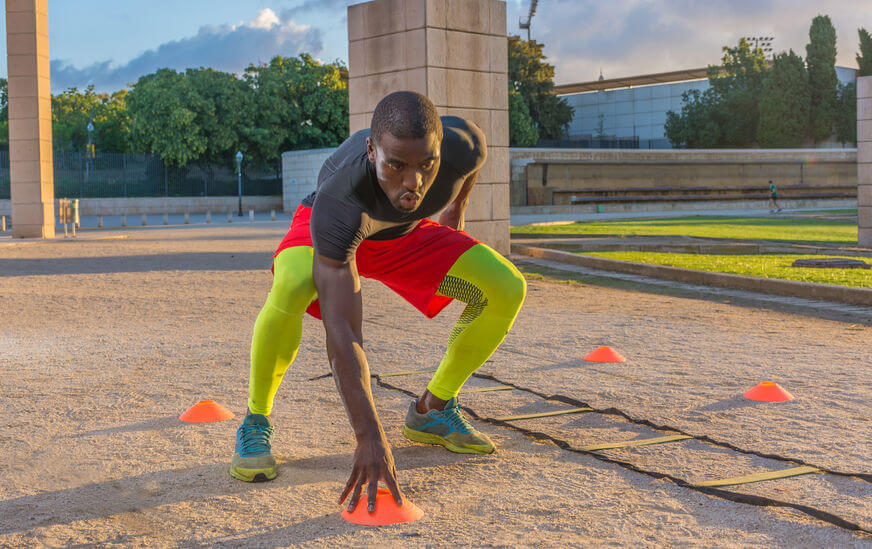 Benefits of Agility Ladder Workouts
Increase the speed at which you change direction
This is what most people think when you say agility. It requires a combination of things like coordination, speed/acceleration and balance, but what it comes down to is that you change direction really quickly without tripping over yourself!
Improve form
Most people's feet start to drag when they're tired. Using an agility ladder trains you to maintain good form as you have to keep your feet up so that you don't trip over the ladder!
Increase acceleration to power past your opponents
Fast drills on an agility ladder could help more with increasing your acceleration than regular sprint drills or shuttles, because the mechanical movement of your legs stays fast, employing plenty of fast-twitch muscle fibers.
Improve balance, coordination and body/limb awareness
This is the main benefit that will apply to most people who aren't participating in sports like soccer, and are looking for more general health benefits than specific sport-related.
And these benefits are not to be scoffed at! You'll age well, maintaining your mobility.
You'll be a lot less likely to have an accident and injure yourself, and will generally be able to get more out of the sports that you do participate in.
Now for some drills!
Agility Ladder Drills/Speed Ladder Routines
30 Agility Ladder Drills – Beginner, Intermediate and Advanced Variations
This video progresses from the easiest drill to more challenging drills. Each move is briefly demonstrated, but there is no speaking in the video.
The names of each move are given in text on the screen. It is a useful resource for those looking for creative ways to use their agility ladder because 30 moves are covered.
13 Speed Ladder Drills For Faster Footwork
Coach King demonstrates 13 agility ladder exercises. Coach King is a football coach and his drills give that away. But they can be performed by anyone and the same benefits experienced.
Don't miss these 13 great speed ladder drills.
5 Agility Ladder Drills For Muay Thai
You may not think agility ladders and martial arts are a match, but they are!
Muay Thai champion Tiffany Van Soest reviews 5 agility ladder moves to improve your performance.
Thankfully, she demonstrates the move slowly first, for us mere mortals, and then demonstrates the exercise at her speed. It is pretty fun to watch, and her explanation is thorough.
It is easy to see why agility is a cornerstone trait for a huge number of sports.
Just about every athlete can benefit from improving agility. That's why Functional Fitness practitioners and CrossFitter's are so big on the agility and speed ladders, because those sports try to focus on all aspects of fitness.
Circuits and Intervals
You can also mix up your agility ladder drills by bringing extra props into your workout and including your ladder in circuit training.
Incorporating props like a medicine ball will include your upper body in the workout, while jump ropes are another excellent way to work on foot speed and overall fitness.
Jumping rope is actually a really intense cardio workout so adding in some jump rope at the end of each ladder drill will be sure to keep your heart pumping!
Mixing up your workouts with different pieces of equipment that are affordable, versatile and easy to track down, will prevent you from getting bored and ensure that you're always getting the most out of your home gym.
We've got great articles on the best medicine balls and jump ropes so you won't have to look far to begin your search.
Alternatively, if you need some serious cardio, you could get really creative and incorporate your agility ladder into some interval training.
Or, if you'd rather the convenience of a home gym set up that's already sorted, have a read of our article on the best all in one home gyms.
What to Look for in Your Search for the Best Speed Ladder?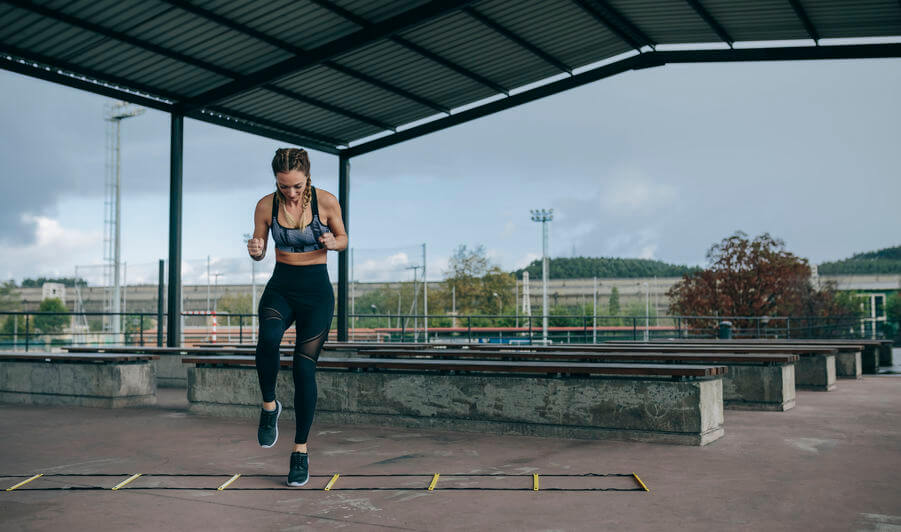 Length
Agility ladders come in lengths of 6 feet to 32 feet. Most are either 15' or 30'. Longer is not necessarily better, though, especially if you're the only one using it and can just do more reps.
You'll also want to think about whether you're going to be using it inside and how much space you have.
Width
Agility ladders can vary in how wider they are.
Most ladders are between 16 and 20" in width. Consider your foot size, and how much space you like/need.
Snaps and Extensions
Snaps and extensions allow you to snap two ladders together to make one long ladder. This is useful for team sports, but probably overkill for a home gym.
Stakes or No Stakes
Some ladders come with stakes to keep the ladder in place when you accidentally catch it (although the stakes can only really be used on grass or sand).
This is beneficial if you're doing drills as a team and everyone will have to stop and wait for the ladder to be repositioned each time someone makes a mistake.
However, there are concerns that staking the ladder to the ground may be dangerous and result in injury if someone trips at speed. I'll leave this one up to you!
Rung Interval
Many ladders have adjustable rungs, but there are a few that do not. The space between rungs can vary quite a bit. Each has their merits.
Rungs close together allow for shorter more energetic moves, and longer rung to rung distances allow for moves with long strides.
Moveable rungs allow for customization, but sometimes they can move too easily and you mind end up having to stop and adjust constantly mid-workout.
That sums up what to look for! Keep reading if you have more questions.
FAQ
Are Agility Ladders Effective?
If you use them in the right way, then yes, agility ladders are a very effective way of improving your speed, balance and coordination.
What does the Agility Ladder Improve?
As explained above, agility ladders improve agility, which includes speed, balance and coordination.
They train muscles in a specific way which means that rather than the kind of strength and bulk that you get with weights and machines, they strengthen and fine-tune a wider range of supporting muscles and tendons, resulting in better control and performance in practice.
And, agility training also has benefits for the brain!
What are Ladder Drills Good For?
Ladder drills are most commonly used for sports such as soccer and in functional fitness workouts. They are designed to increase agility, speed, coordination and balance.
How Often should You do Speed and Agility Training?
This depends on your goals and your baseline fitness when you start. Anywhere from two to five times per week will suit the majority of people.
Is Agility Ladder Good Cardio?
Again, this depends how you use it, but if you perform the drills at a constant speed and maintain them without a break until your heart rate is up and you are having to breathe harder, then yes, you're getting a cardio work out!
How Long should an Agility Ladder be?
As long as fits in your available space! Most ladders and 15'- 30' long which is perfect for most peoples' needs.
So, what are you waiting for?
Jump to it!
You should now be well prepared to choose between the best agility ladders of 2021 so that you can get started on including agility workouts in your fitness regime.
Let us know what you most want to improve in your athletic endeavors, agility, speed or stamina?
We look forward to hearing from you!

Latest posts by Michael DuBoff
(see all)