TOP 15 Best Jump Ropes for Workouts, CrossFit and Boxing Reviewed 2020
They aren't just for double Dutch anymore.
The mighty jump rope is making a comeback in the fitness world.
OK, it never actually left. Boxers have been skipping rope for a long time, refining their footwork and coordination.
The CrossFit WOD frequently includes some jump rope footwork and a simple rope makes for a quick and simple "cardio day" workout.
There are many types of ropes to choose from and it may be hard to decide on the best jump rope for workouts or WODs.
Don't worry, we have you covered.
Here we review the different style ropes, offer reviews for 15 of the best kinds of jump rope for working out, and go over what you should keep in mind when choosing a jump rope.
TOP 15 Best Jump Ropes for Workouts & WODs 2020
Hint* The best jump rope for CrossFit is either speed ropes or lighter nylon ropes. Avoid heavy ropes that make double unders challenging.
Rogue Speed Rope - Best Budget Priced Speed Rope
Review: A reasonably priced ,coated cable speed rope with an adjustable length.
Pros
Adjusts up to 10 feet using a common hex key.
Cable is coated.
Cons
Small 5" all plastic handles, although they are durable.
Takeaway
A value priced introduction into the world of speed ropes and double unders.
WOD Nation Speed Jump Rope - Best for Home or Garage Gym
Review: This sonic speed jump rope is designed to shave time from any WOD calling for a jump rope.
It features sturdy metal connectors, a thin, coated, adjustable wire cable and can be adjusted using just a screwdriver
Pros
75" long handle with metal ball bearings.
11 foot adjustable 2.5mm coated wire cable.
Extra cable and carry bag included.
Cons
Neither the cable nor the handles have a lot of heft to them.
Takeaway
Worth the extra price, a high performance WOD rope. Easily among the best CrossFit jump ropes.
CPOKOH Speed Jump Rope - Lightest Speed Rope
Review: This speed rope has all aluminum handles, a replacement rope and carry bag included, and a 9'8" adjustable coated cable.
Pros
Ball bearings built into the handle.
Perpendicular design makes jumping a breeze.
16 centimeter all aluminum handles are sturdy and do not slip when wet.
Cons
The loop design at the end of the handle adds friction.
Takeaway
Sturdy, smooth and sweat proof CrossFit Jump rope.
Speed Jump Rope by 5Billion Fitness - Great for Boxing
Review: This speed rope by 5Billion features thick non slip handles wrapped in grip tape.
It has an adjustable coated wire jump rope and ball bearings built in to the handle.
Pros
Two different gauge cables and travel bag included.
Includes instructions on how to adjust the rope.
Thick non slip handles.
Adjusts easily with a screw at the end of the handle.
Cons
Some users feel the cable and handles are too light.
Takeaway
Get a handle on your jump rope routine with this thick grip speed rope. The best jump rope for boxing!
King Athletic Jump Rope - Best Leather Jump Rope
Review: This classic leather jump rope is a good fit for the boxer because it is made with durable real leather, has ball bearings incorporated into the handle, and can be used in all climates and conditions and is among the best jump rope for cardio.
This leather Jump rope is one of the best jump rope for boxing because the extra work it takes to get it rotating make a great shoulder workout.
Pros
9'4" rope is adjustable to fit most heights.
Real leather is extremely durable and can withstand most climates and gym conditions.
Foam rubber handles offer good grip and incorporate ball bearings for quick rotation.
Cons
Not as fast as a speed rope.
Takeaway
A classic style rope, perfect for the timeless sport of boxing.
Survival and Cross Beaded Jump Rope - Ideal for Beginners
Review: This bead style jump rope has a heft and tactile feel that allows the beginner to feel where the rope is at as they perfect their coordination.
It may not be as fast as a speed rope, but it is a great rope for training and muscle memory.
Pros
Adjustable nylon rope extends to 10 feet.
Ergonomic grip handle has a fat, capped end.
Jump rope has a good weight and heft.
Cons
Challenging to adjust, must uncap the handle and untie the end knot.
Takeaway
A sharp looking beaded jump rope to cut your teeth on while you perfect your coordination.
RopeFit Heavy Jump Rope - Good for Building Upper Body
Review: This Rope Fit heavy weighted jump rope is made from thick 1.5" gauge rope available in 9 foot and 10 foot length, will give you a serious arm and cardio workout.
Pros
9 foot rope weighs 4 lbs.
10 foot rope weighs 5 lbs.
Rubber coating grips over the end for durability and comfort.
Cons
The handles, or lack thereof, need improvement to prevent blisters.
Takeaway
Burn more calories and strengthen your arms with this specialty weighted rope.
Cross Rope Kit - Perfect for Working Out at Home
Review: This jump rope set includes a lighter speed rope and a weighted rope, making it easy to switch up and add variety on Cardio day.
Pros
Includes speed rope and weighted 1 lb rope.
Ball bearings built into handles.
Exchange ropes quickly and easily with a simple clip.
Durable PVC coating on each rope.
Cons
Cannot adjust the length (order by size, based on your height).
Takeaway
A sensible 1 pound introduction to a weighted rope, plus a speed rope for a well-rounded cardio routine.
FitSkuad Speed Rope - Good Budget Priced Rope
Review: This coated cable speed rope features aluminum handles with 6" rubber grips. The grips will not lose their hold even if your palms sweat.
This is my choice for best jump rope for women because it is completely adjustable and the handles are not too fat for a woman's hands.
Pros
Aluminum handles with rubber foam grip.
10 foot long cable adjusts to fit you with easy screw adjustment hardware.
Includes replacement rope and travel carry bag.
Cons
Some users notice the adjustment screws can work themselves loose.
Takeaway
The best speed rope with the best handles-hands down.
Mybrosport Speed Rope - Ideal for Travel
Review: The MyBrosport speed rope has metal hardware that connects the handles to the rope, not cheap plastic connections like inferior models in the same price range.
Pros
Quality speed rope at a great price.
Speed bearings built into the long, ergonomically shaped handles.
Extra cable and carry bag included.
Easy Philips head screw adjustment, PLUS 11 foot length.
Cons
Takeaway
The best speed rope – High Speed for a low budget.
RX Smart Gear Jump Rope - Perfect for a Quick at Home Workout
Review: This speed rope is designed for speed with no friction, tightness or rubbing in the rotation. Includes thick 6 inch handles and excellent grip.
Pros
9 foot cable.
Thick grip tape wrapped ergonomic handles.
Frictionless axis swivel offers extreme speed.
Cons
Takeaway
Super speed rope with meaty handles.
Rogue Froning SR-1F Speed Rope - Best for Extreme Speed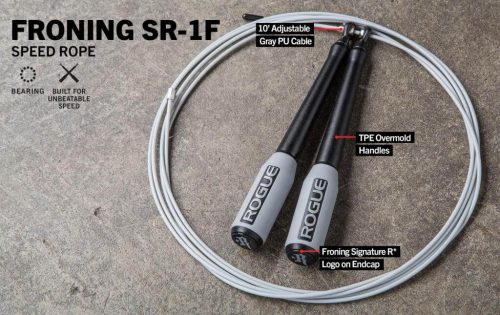 Review: This top of the line speed rope by Rogue features a cable that will not retain a coil shape even after being stowed away a while, has lightning speed cartridge ball bearings, and 6.5" long tapered no slip handles to allow you to bang out those double unders in record speed.
This Rich Froning Speed Rope is my choice for the best CrossFit jump rope for double unders.
Pros
High Precision Bearings.
Unbeatable Speed.
Superior quality TPE No slip handles.
Cons
Screws may come loose – check before use.
Takeaway
Best CrossFit speed rope available
Rogue Thai-Style Jump Rope 2.0 - Best for Martial Artists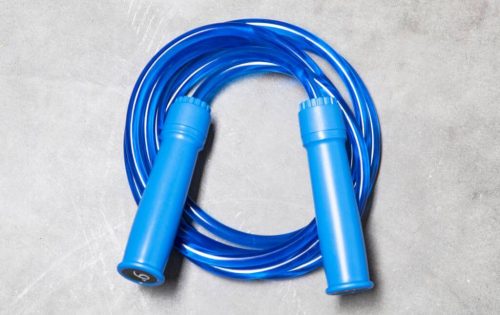 Review: Thai style jump ropes are heavier than traditional nylon ropes or speed ropes. The added weight gives a better cardio workout and provides a light strength boost too.
This style rope is used by Muay Thai practitioners and you should use caution, this rope WILL hurt if you smack yourself with it.
Pros
Adjustable using an easy snap lock system.
Added shoulder workout.
Heavy weight PVC rope.
Cons
Hurts like heck when you miss and hit your toes.
Takeaway
Best Thai style rope available, a special treat to use.
Buddy Lee Aero Speed - Most Durable & Consistent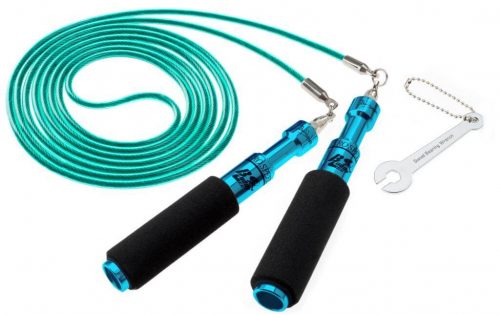 Review: This medium weight coated speed rope rotates smooth and consistently due to the swivel bearing system built into the all-aluminum handles.
The max speed of this rope is between 5 and 6 turns per second for high-intensity training.
Pros
Stainless steel PVC coated cable.
6" long aluminum handles with foam rubber handles.
Replaceable swivel bearings make this rope a good investment.
Cons
Not Adjustable – order by height.
Takeaway
The most smooth, consistent turn you can get.
Rogue SR-3 Beaded Speed Rope - Best for Beginners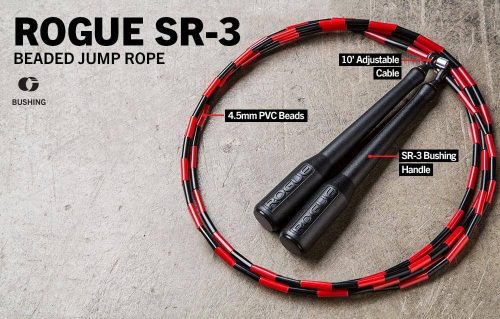 Review: This beaded version of the SR-3 has the same high quality bearing system as the SR-3, with user friendly, toe and knee saving beads instead of a cutting wire speed rope.
Bead jump ropes are designed with the beginner in mind. They move slower, but hurt less when you fail, and allow you to practice coordination with less trepidation.
Pros
The highest quality beaded rope.
Pro level bearing and handles.
The weight allows an athlete to feel where the rope is in order to improve coordination.
Cons
Screws have been known to come loose – check before use.
Takeaway
This is not a toy rope, this is a high quality piece of training equipment for the beginner.
The Humble Jump Rope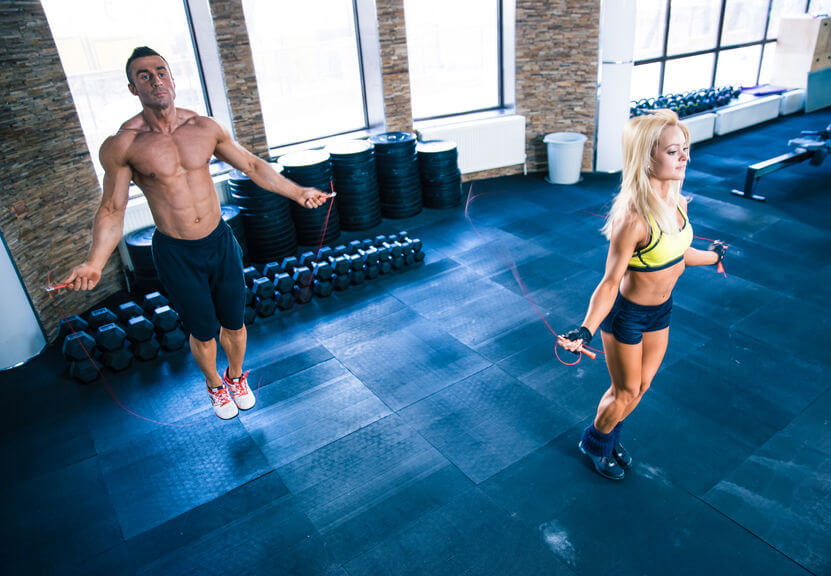 You may associate the jump rope with play grounds and Elementary school children, but they are really an excellent fitness tool for adults and kids alike!
The jump rope offers:
Unlimited variability of steps & footwork, increasing user agility, coordination and balance.
Completely portable & easy to carry, NO excuses cardio workout.
Improved endurance and cardiovascular capacity.
Can be performed just about anywhere.
What is the Purpose of the Jump Rope?
The purpose of the best jump rope for cardio is:
Give a great cardio workout.
Improve performance, balance, footwork, speed and agility.
To be FUN.
Different Jump Rope Styles! When to Use Each?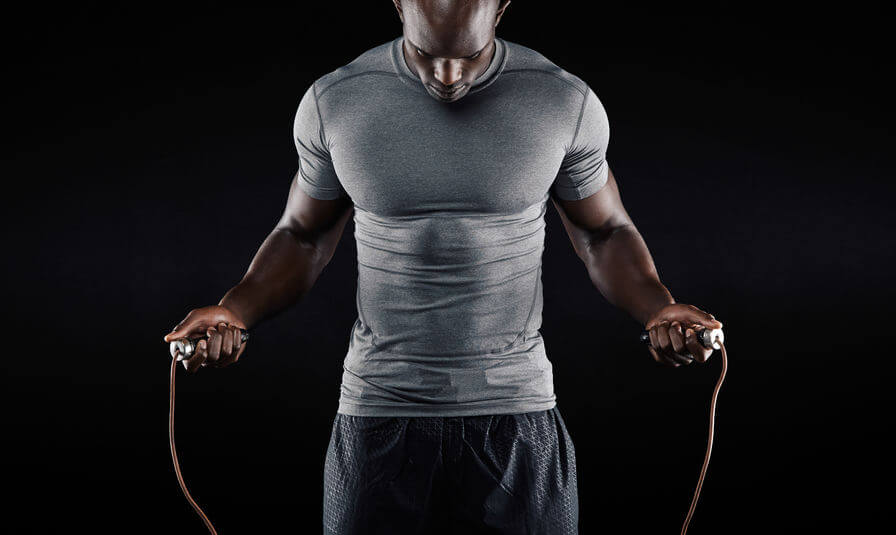 Beaded Rope
These plastic beaded jump ropes are heavier and often very colorful.
They are good for beginners better because they have superior tactile sensation to feel where the rope is at.
Nylon Rope
This inexpensive style rope is often seen at the gym or box and is decent for Double unders or alternating leg work.
The thin nylon rope is appropriate for Intermediate to advanced level jumpers.
The Nylon rope is the best jump rope for double unders.
Speed Rope
With this type of rope, the rope runs thru the handle and spins, this is a very thin wire rope that is very fast.
You cannot see nor feel the rope while spinning-unless it hits you. Ouch!
The best speed rope is for intermediate to advanced users and causes the jumper to rely on coordination.
The best CrossFit skipping rope is the speed rope, and this is the style you most often see at the box.
Cotton or Fabric Jump Rope
These ropes are soft and better for kids than sports. They are slow, making double unders and other moves challenging.
True cotton ropes cannot be used in wet conditions, tend to fray, and become dirty quickly.
Leather Jump Rope
This is a classic style of jump rope. It used to be popular with boxers, but has been replaced by nylon or speed ropes.
The leather jump rope can be used in all climates, is water resistant, and durable.
Plus, the leather rope has an old school vibe and looks cool.
It may not be the most popular style today, but the leather rope is functional and useful. If you ask some old school boxers, you may hear them say the leather jump rope is the best jump rope for boxing.
HEAVY Jump Rope
This is a specialty rope that can be a weighted nylon rope, or a heavy gauge nylon cord rope. They add a jolt to any cardio routine, due to the extra weight.
They are appropriate for intermediate to advanced athletes and make a good addition to home gyms because they are an inexpensive way to add challenge and variety to a routine.
What to Look for When Choosing the Best Jump Rope for Workouts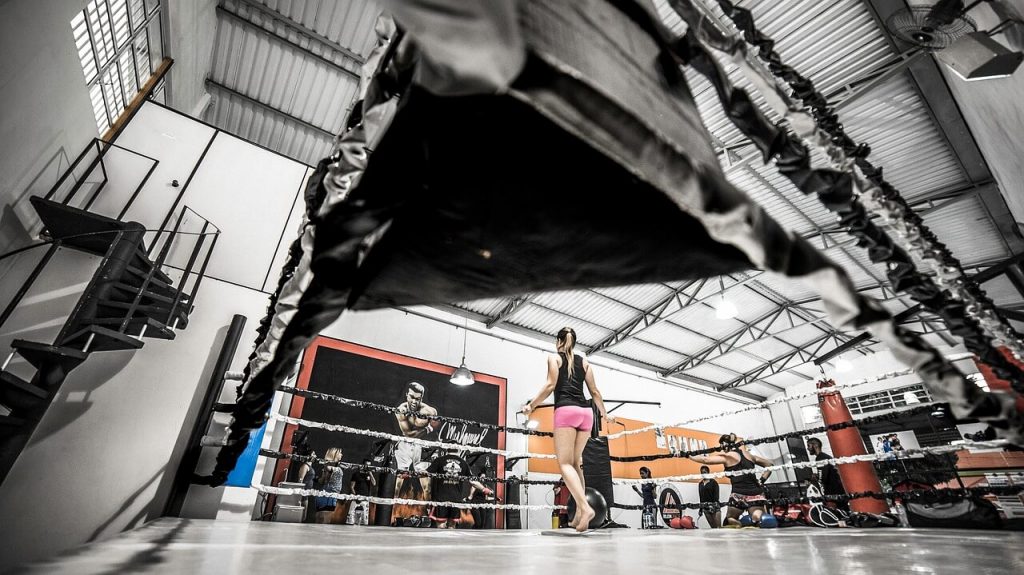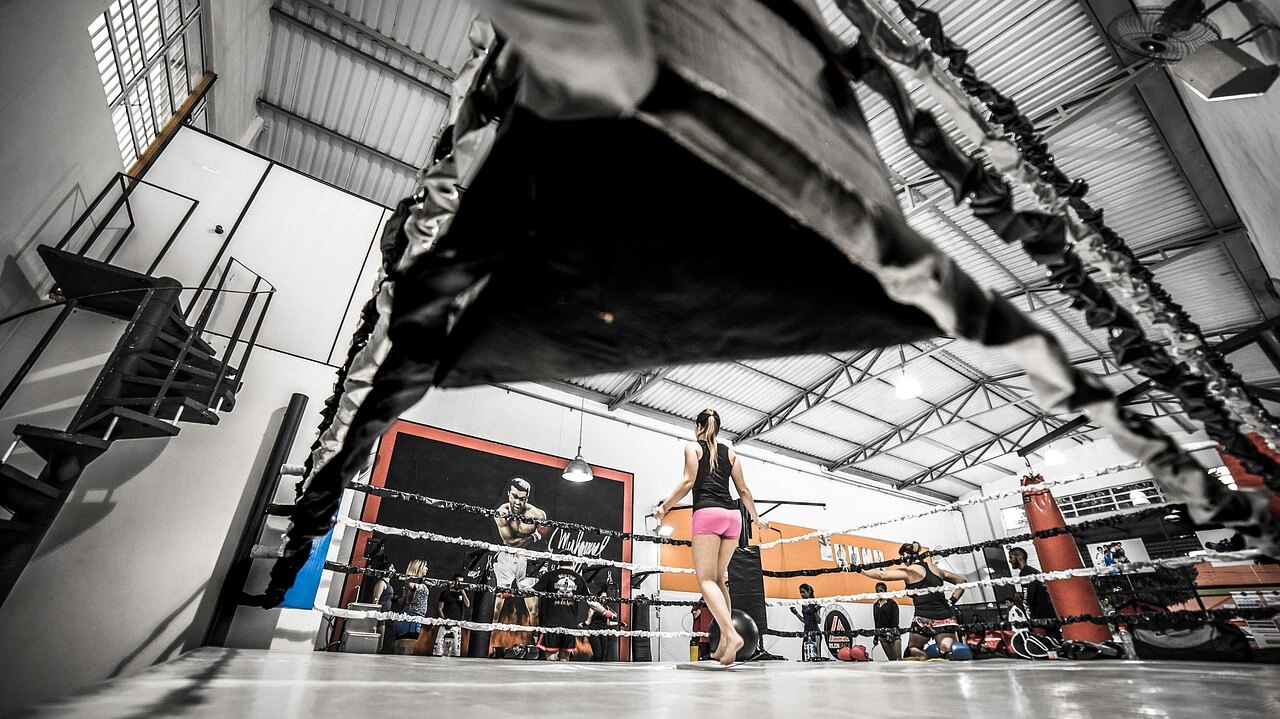 Handles
Make sure you find a rope that is comfortable in your hand. Some prefer skinny handles, and some like the thicker meatier handles.
One thing folks universally dislike is handles that are too short. A handle less than 5" long is too short for most adults.
Weight
Lighter ropes are usually faster, with the exception being cloth ropes. Cloth ropes can be light and slow, and are not the best choice for fitness use.
Some ropes are designed to be heavy or weighted to offer an upper body and cardio workout simultaneously.
Jump Rope Workout Routines You Can Try Today
Short on time? No Excuses! You cannot say you have no time for this short 10 minute workout.
This jump rope routine includes a warm up, cool down and a little body weight strength training for muscle definition.
Looking to switch things up?
Never get bored using the jump rope with these 75 Jump Rope Exercises to Burn Fat and Get Fit.
Add some novelty to your jump rope routine with these 75 different jump rope moves to choose from. This video provides one of the best jump rope workouts.
Plus this video includes short snippets of the jump in slow motion, so you can see the detail and perfect your move.
Using the jump rope to improve your boxing footwork?
Check out this video – How to Jump Rope for Better Boxing: A Beginners Guide.
Float like a butterfly, Sting like a bee
Muhammad Ali
Learn the moves that pro boxers use, and why they use the jump rope to improve their performance in the ring. Improve your reaction time, reflexes and learn how to move quickly.
Your Jump Rope Questions Answered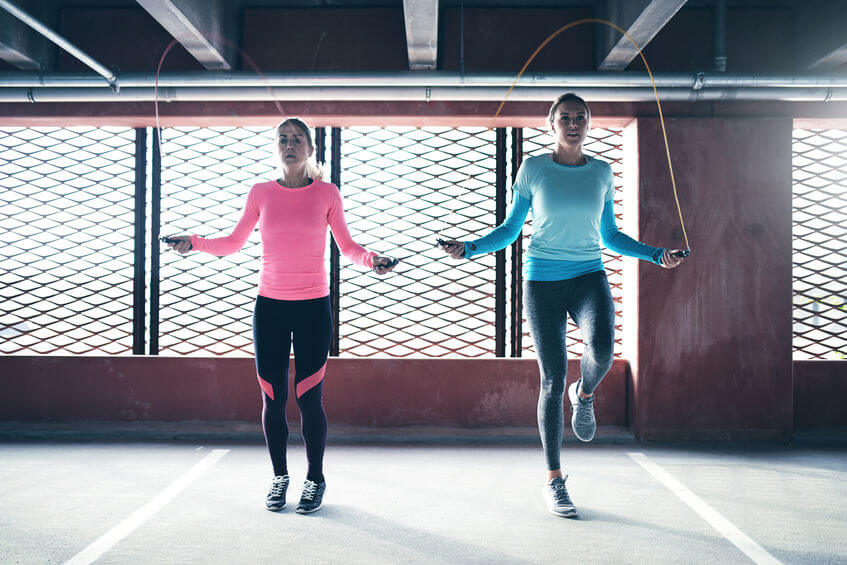 Is speed rope good for weight loss?
Yes, The Speed rope is a great calorie burner. It is easy to get your Max VO2 up and heart pumping using a jump rope, and the more intense your session, the longer the after effects last.
However…
Keep in mind, weight loss is 20 % exercise and 80 % diet. Unless you focus on what you eat in-between jumping rope, you may not get the results you want.
Jeremy Sciarappa shares on his blog how he used just a jump rope to lose his belly and 10 lbs of fat in just 10 weeks. Pretty amazing, right?
What are the benefits of jumping rope?
Jumping rope gives your body and mind many benefits. The jump rope is a simple, inexpensive easy health promoting tool you can take with you just about anywhere.
The benefits of skipping rope include:
Improving coordination, agility and speed.
Burns calories.
You can easily customize the intensity of the workout.
The jump rope makes an excellent piece of travel workout equipment.
Is really inexpensive.
How do I learn to do Double Unders?
From Single-unders to Double-unders with Matt Lodin
Did you Know that CrossFit Coaches can take Certification class to teach how to Jump Rope, including how to do double unders?
Here are some tips for mastering the Double Under:
Start with a heavier rope, maybe even a beaded rope. A beaded rope hurts less when you miss, but the biggest benefit is you can feel where it is in space, and that helps you improve your timing.
Slow down. It is counter intuitive, but slowing down allows you to focus on keeping your elbows in and jumping higher.
Jump in front of a mirror. The mirror gives you a visual on the rope position so you can see where it is as you learn coordination and establish muscle memory for the double under jump.
How long should my jump rope workout last?
Great question! Jumping rope is an intense workout so it does not need to last long to have a big effect.
Just 20 minutes 3 to 4 times a week is a good goal to shoot for.
Each "set" should last 2 to 4 minutes. With a minute rest between each set.
What are the benefits of using a heavy jump rope?
A heavy jump rope is one that weighs a pound or sometimes more. It is best to start with a smaller weight and work up.
A heavy jump rope engages more muscles and gives you a cardio and strength workout at the same time.
A heavy rope works all the muscles a normal rope does, plus it works the triceps, shoulders, forearms and back.
What is the best way to store a jump rope?
Jump ropes can get tangled, kinked, misshapen and even lose their coating if they are not stored properly.
Do not leave it on the floor where it can get stepped on. This can kink the rope and cause the coating to come off.
Look for a jump rope that comes with a travel storage bag or find a cloth drawstring bag to store it in.
Why do Boxers Train with Jump Ropes?
Jumping rope is good for boxers and fighters. It builds coordination of your upper body and your lower body together.
If you are a boxer, you know you need to be able to throw punches and move your feet to get out of the way at the same time.
A simple nylon speed rope is the most common style used by boxers today.
So Step to it!
Choose the best Jump rope for CrossFit that meets your goals and jump on the opportunity to improve your cardio and agility today.
Don't forget to sign up for the newsletter.
All we need is your email address and you with get access to exclusive content and guides, PLUS we will send a short email when new gear reviews are released.