13 Best Travel Exercise & Portable Workout Equipment Reviewed 2021
Is traveling getting in the way of your fitness goals?
Between a chaotic travel and work schedule, constant restaurant food and eating out, and disrupted sleep, it might seem impossible to get a decent workout while you travel.
Take control!
There are countless travel friendly workout equipment options to keep your fitness goals on track.
If you plan to be on the road, take a look at best travel workout equipment to make sure your fitness goals don't run off the rails or fall by the wayside as you tour the world.
Here I share 13 pieces of travel friendly workout equipment, show you a few workouts you can do on the go, and offer tips for keeping in shape right from your hotel room.
13 Pieces of The Best Travel Workout Equipment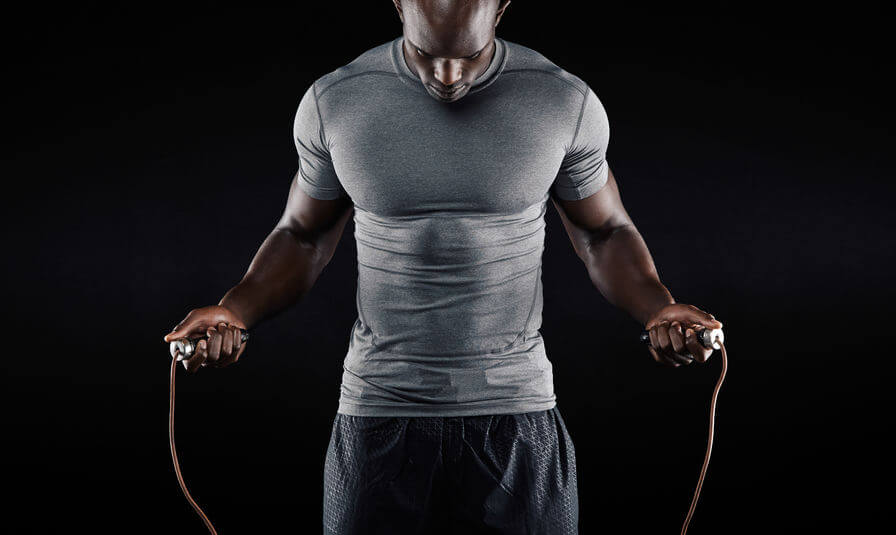 Jump Ropes
Jump ropes, simple and effective. If you are like most folks you already learned to use one in elementary school gym class, or during recess.
Bring back the good old days and throw one in your carry-on for a little cardio.
Why not?
Jump ropes are a staple of many boxers training and for good reason. It gets the heart pumping and trains coordination and agility.
And did I mention?
Most jump ropes weigh less than a teacup poodle and fit in virtually any carry-on, purse or backpack.
Jump Rope Pros
Can use just about anywhere
Great cardio workout is just a short amount of time
Improved coordination
Improved bone density
Jump Rope Cons
Not a strength training tool
Good for Carry-on Luggage? YES!
INTENT SPORTS Jump Rope
This Jump rope from Intent sports is a superior piece of travel workout equipment thanks to the high quality ceramic bearings that allow it to spin smooth, fast and silently.
Extras include a guide and eBook to get the most from this versatile equipment.
The manufacturer has generously included a replacement rope and replacement hardware so this rope will never suffer downtime.
A convenient carry bag holds everything together and ensures your rope is ready to toss into your suitcase at a moment's notice.
Rogue Froning SR-1F Speed Rope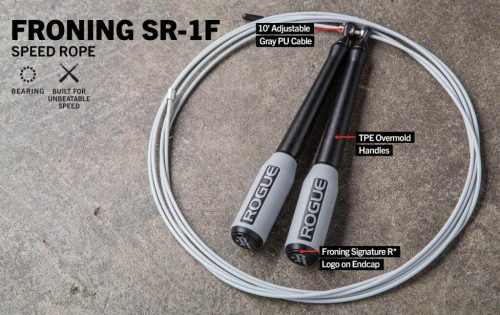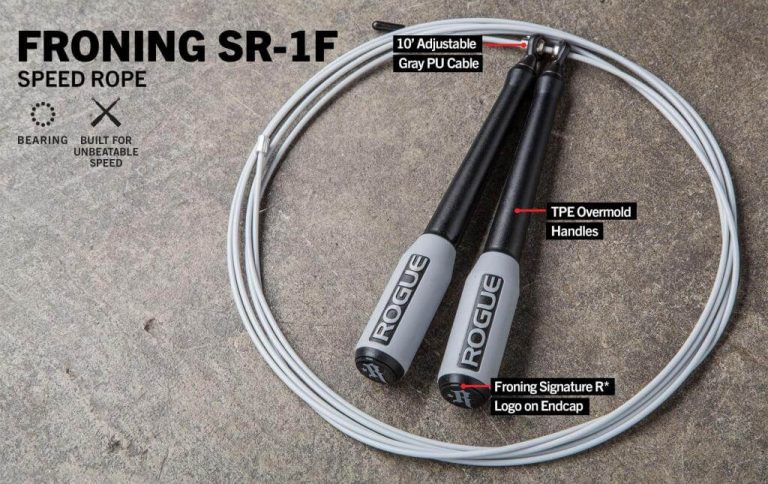 This ROGUE speed rope is thin and light-perfect for travel.
The best part?
Even after being stored away in your travel bag or suitcase for a long time, it uncoils beautifully without maintaining a spiral shape.
You will love how smooth and how fast this jump rope is. It is such a pleasure to use, you will look forward to your hotel room workout and easily maintain your fitness while you are away.
Exercise and Resistance Bands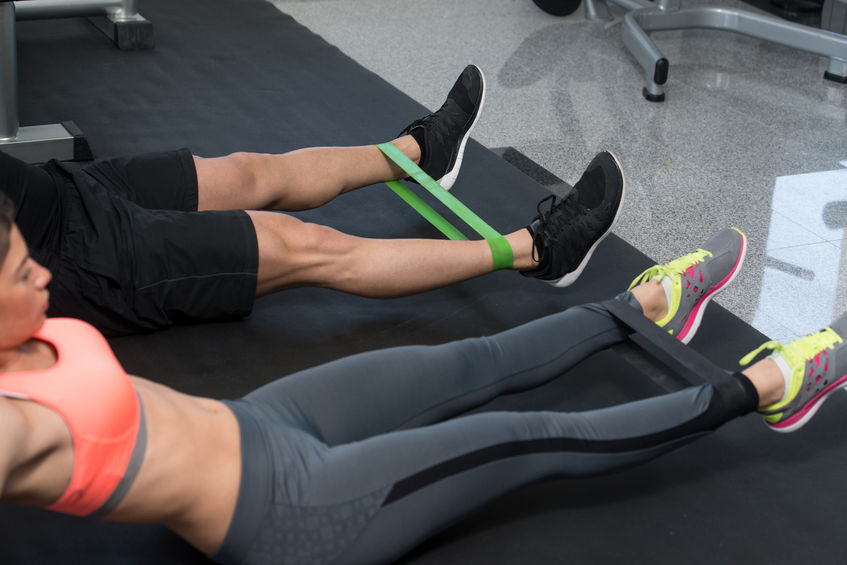 Resistance bands are some of the best portable exercise equipment for travel there is. They fold up and are super compact.
They have resistance bands that offer a lot of resistance, and those that give just a little, so they are available for all fitness levels and goals.
Resistance bands are, in my opinion, the best travel weights.
Weights are clunky and do not travel well, but the resistance these bands give can be adjusted to replicate the weight of your standard dumbbells.
A few of my favorites are:
Bodylastics Stackable Tension Resistance Bands
Bodylastic bands are popular with those who do PX90 because it is so easy to adjust the resistance. You simply add more bands to the included handles.
Plus, the kit includes a door anchor to expand the number of exercises you can do. Perfect for a hotel room exercise session.
HomeGym 4U Hand Strengthener Grip Trainer
These bands strengthen your grip. If you are traveling and not getting as much time at the pull-up bar or Olympic rings as you would like, you can still keep your grip strong with these compact resistance rings.
Rogue Monster Bands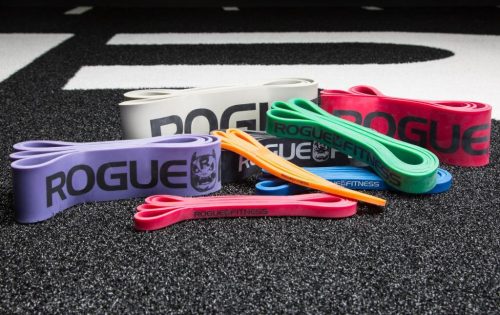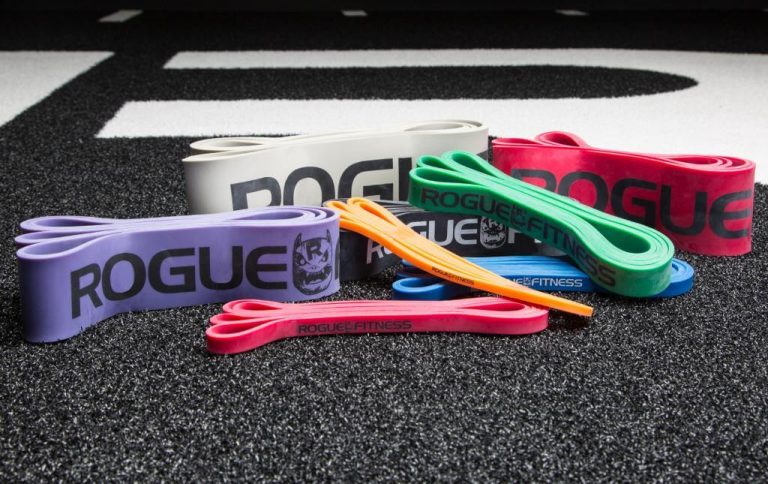 Choose your kit and the levels of resistance you need with this customizable travel exercise solution. Rogue bands are ideal for mobility work and resistance exercise on the go.
Each band is color coded with resistance levels of 15 lbs all the way up to 200 lbs to challenge the fittest athletes, these bands are made from latex rubber and will last for years.
They travel well, won't trigger security checkpoint alarms so they can be stowed in carry-on luggage and work perfectly in small spaces like hotel rooms and tiny hotel gyms.
Pros of Resistance Bands
Adjustable resistance from very light to weightlifter heavy
Very compact, fits in carry-on, purse or backpack
Versatile, strength training for upper and lower body
Make the best travel weights replacement
Cons of Resistance Bands
Not ideal for cardio. Maybe pair with a jump rope?
Good for Carry-on Luggage? YES!
AB Wheel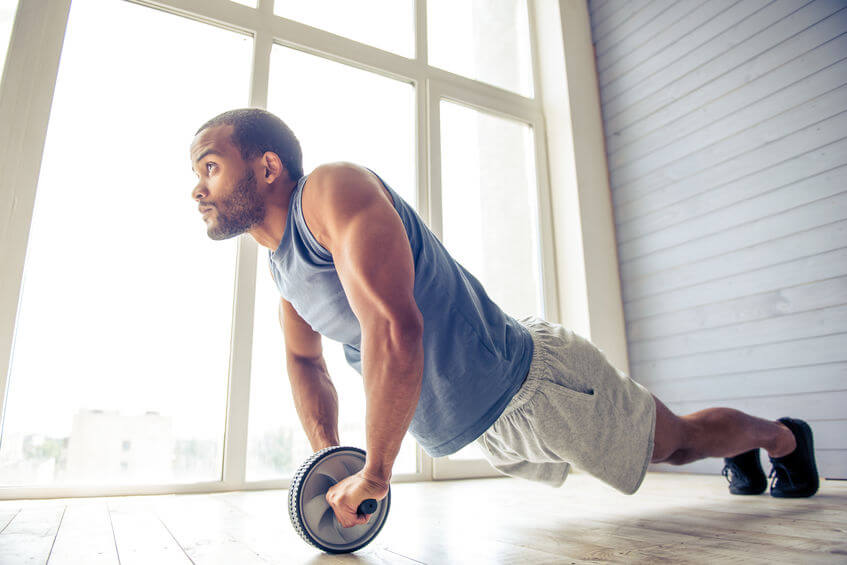 The best portable gym is not complete without an AB wheel.
Make no mistake!
The AB wheel works more than just the abs. The AB wheel works these important muscles:
Triceps
Lats – back muscles. Ab roller builds pulling strength, and even improves pull-up performance
Core muscles- including abs, spine stabilizers all the way down to your tailbone and transverse abdominus which are the front and side ab muscles
JoP Portable Abdominal Roller
One AB roller we like for travel is this JoP Portable Abdominal Roller folding AB wheel that breaks down into a tiny package.
If you want to see how to use the AB wheel specifically for lats check out video below.
Sports Research Sweet Sweat Ab Wheel
The Sweet Sweat ab wheel is perfect for travel because you can detach the handles and lay it flat in your suitcase, backpack or travel bag.
This travel ab wheel has a wider wheel than standard ab rollers, comfy foam grips and comes with a foam knee pad so you can use it virtually anywhere without roughing up your knee
Pros of an AB Roller
Works Abs, lats, triceps and stabilizing muscles
Available in folding or portable models
Good strengthening workout
Cons of an AB Roller
Not all AB rollers are ideal for travel
Good for Carry-on Luggage?
Probably only a portable or foldable AB wheel would be good for carry-on. You could slip a normal AB roller in checked luggage no problem.
Pull Up Bar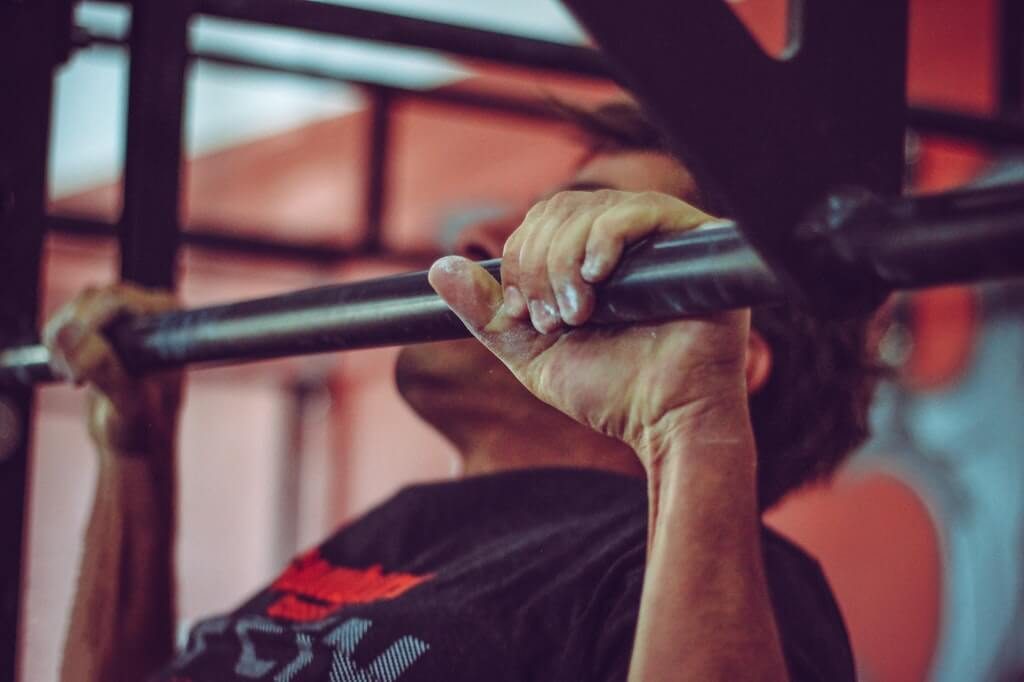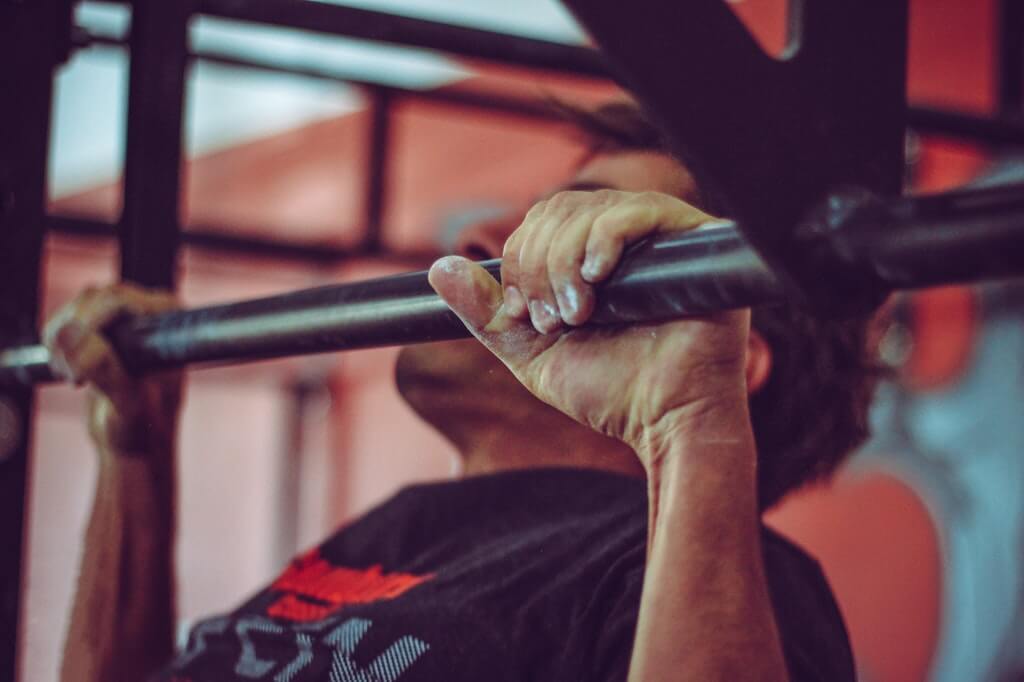 A pull up bar is one of the best travel exercise equipment you can have.
Most portable pull up bars fit inside a door frame, making them ideal if you are staying in a hotel or Airbnb.
Sunny Health & Fitness Door Way Pull Up Bar
Another pull up bar option is the Sunny Health & Fitness Door Way Chin Up and Pull Up Bar which can be used for pull-ups, push-ups, chin-ups, dips, crunches leg raises and more.
IDEA: Pull up bar "On the road" Workout Routine
Burpee Pull-ups – yup, Burpees combined with pull-ups. Brutal, right?
Knees to elbows – a classic CrossFit move that works the abs.
L-sits are an isotonic move where you hang from the bar and raise your legs to a fixed L position, then stay in that position as long as you can while you feel the burn.
Hanging Reverse Shrugs – these work the traps. Grab the bar palms towards you. Keeping your arms straight, try and push your shoulders down, in a reverse shrug.
Chin ups, for your biceps and latissimus dorsi muscles.
Pros of a Pull Up Bar
Works arms, shoulders, back, and core muscles
Can be used wherever you have a door
Cons of a Pull Up Bar
Takes up a little space, but there are some that are quick and easy to assemble and break down and fit in luggage
Good for Carry-on Luggage?
Probably not, this one will probably have to be packed in checked luggage if you fly.
TRX System
TRX Trainer Portable Travel Suspension Trainer
This suspension training system is as minimalist and robust as you can get from portable exercise equipment for travel.
It is IMHO the best travel exercise equipment out of the 5 styles reviewed here.
The TRX system is the best travel workout because it is for both cardio and strength training.
Want to see what I mean?
Check out this TRX routine.
This workout includes a stretching warm-up, strength training including arms, legs and core, a little cardio, and winding the video up with Burpees, of course!
This is a beginner to intermediate level workout.
But the TRX system is also one of the best portable workout equipment for strength training, as seen in this advanced routine.
Advanced TRX Total Body Workout
This workout is nearly 30 minutes of intensity for those who want a challenging routine on the go.
This is my favorite TRX system, as it includes the sturdiest TRX straps, a door anchor and a full color visually oriented workout guide to get you started:
TRX Training – Suspension Trainer Basic Kit + Door Anchor
TRX System Pros
Under 2 lbs, fits in carry-on!
If you have a door, and a TRX system, you have a gym. No Excuses!
Both strength training and Cardio in one system.
Can be used indoors or out, enjoy a natural workout.
Scales to ALL levels of fitness.
TRX System Cons
Need a door, tree or similar to hang.
Good for Carry-on Luggage? You bet!
All in One Total Body Workout Travel Systems
The following 4 portable gym equipment all in one systems are geared toward full body workouts in small spaces.
They use every major muscle group, all weigh less than 10 lbs to carry, and all can easily be used in a hotel room.
Never have an excuse to skip your workout when you travel if you bring one of these along.
Body Boss Complete Full Body Portable Home Gym
The Body Boss is a take anywhere portable travel gym perfect for use in a hotel room. The system folds flat and weighs under 10 lbs, and has a carry handle so you can take it on the go.
To add weight or resistance, simply add more bands to up the challenge.
Bands can be used from the floor platform, or from a sturdy door. This all in one full body workout system offers over 300 exercises and you can go online to see videos and guides to walk you through each move.
Lewin Fitness Total Body Fitness Platform
This dynamic travel fitness system was designed by trainers and body builders Jimmy and Michelle Lewin.
The Lewin Fitness platform is ideal for travel because you can store it flat, it weighs under 10 lbs and comes in its own carry case.
This is a great all in one home gym portable fitness system because the platform lays flat for resistance training, has attachable wheels to use as an ab coaster, and balance bars to work core and stabilizing muscles.
Includes a workout guide and three fitness videos featuring Michelle Lewin are on an included USB drive.
Gorilla Bow Portable Home Gym Resistance Training Kit
This bow shaped all in one portable home gym travels well because it weighs just 8 lbs and includes a carry bag.
It offers up to 107 lbs of resistance with the included bands and if you need more, a Heavy Band Set is available for weight training.
The Gorilla Bow works Chest, Arms, Back, Legs and Core, all from the comfort and privacy of your hotel room.
Workout videos and training resources are available on YouTube and the website so you can see all this bow can do and get the most use from it.
Bullworker Steel Bow Portable Gym for Full Body Workouts
The Bullworker steel bow is shorter and more travel friendly than the classic bullworker steel bow. At just 20" long and weighing just 4.5 lbs, it can easily fit in a suitcase or travel bag and can be stored in the included high quality zippered carry bag.
This unique piece of portable gym equipment has three springs to customize resistance, and a workout guide to get you started.
This portable full body workout targets Chest, back, abs, shoulders and legs and makes a great on the go workout for beginners to intermediate level.
If you are an advanced athlete, consider the Bullworker Classic.
Bonus Travel Fitness Tips!
Read on to learn some great travel fitness tips.
3 of the best travel fitness tips
1. Shake your stuff on the go
If you forget to bring your supplements when you travel, especially your protein shake, pre-workout or creatine mix, this hot tip will help you remember.
Since cleaning shaker bottles is difficult to impossible while on the road you can improvise. You know those water bottles they are forever handing out at conferences and events?
Snag those!
Use a piece of paper as a makeshift funnel for creatine, pre-workout mix or protein powder.
Pop open one of those water bottles and take a swig, so there is room for the powder. Funnel the powder in, place the cap back on.
Shake shake shake!
Viola! A cheap (or free) disposable shaker bottle for your fitness drink. Just drink n toss.
That was easy!
2. Workout in the morning
When you are traveling, you often do not have your entire day mapped out and if you do, it's usually for something work related which means no workout time.
In the evening, you might be worn out from a day of conferences, workshops, or sightseeing.
Or maybe you meet someone, or decide to go drinking or dancing and enjoy some nightlife?
Either way, you actually have the most control over your time, not to mention the most energy, in the morning.
This is why I recommending that you "git er done" in the AM.
3. Put on your walking boots (or sneakers)
Forgot public transport, Uber or taxis and walk if you can. It burns calories plus allows you to really take in and interact with your chosen destination.
The best way to experience your new surroundings is to see them IRL, not the inside or a train or car.
Get out!
Explore the scene.
Even if you are traveling for business and the location is not known for tourism, it is still someplace new and different from home. Give it a chance and check things out.
Get on Yelp and search for hot restaurants and coffee shops within walking distance from your location. Make it your goal to "earn" you breakfast or dinner by walking there.
Travel Workout & Portable Gym Exercise Equipment FAQs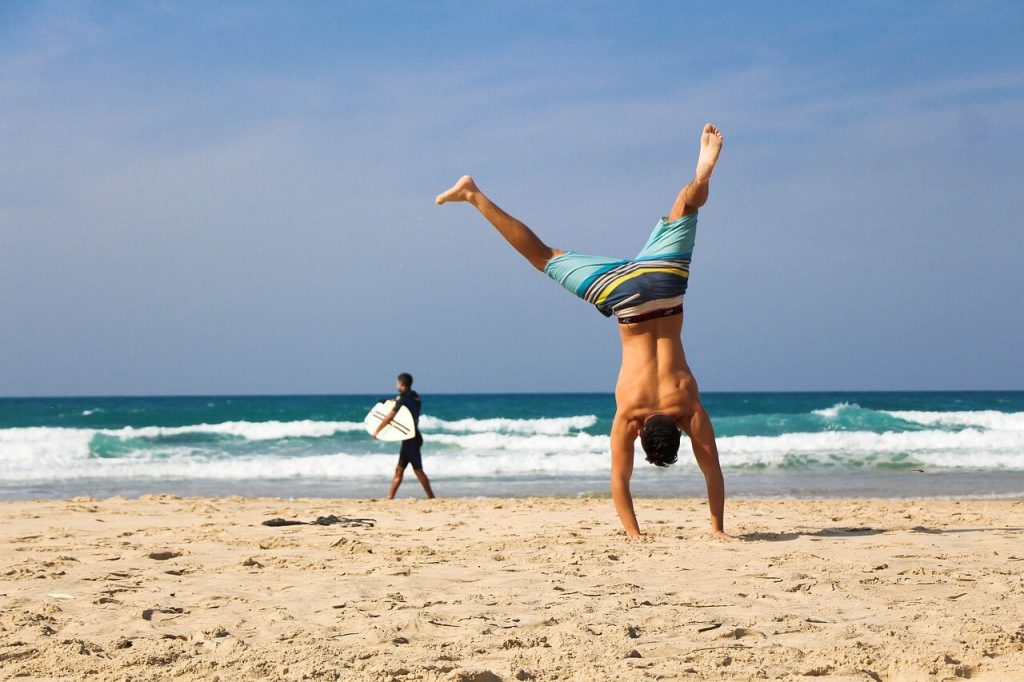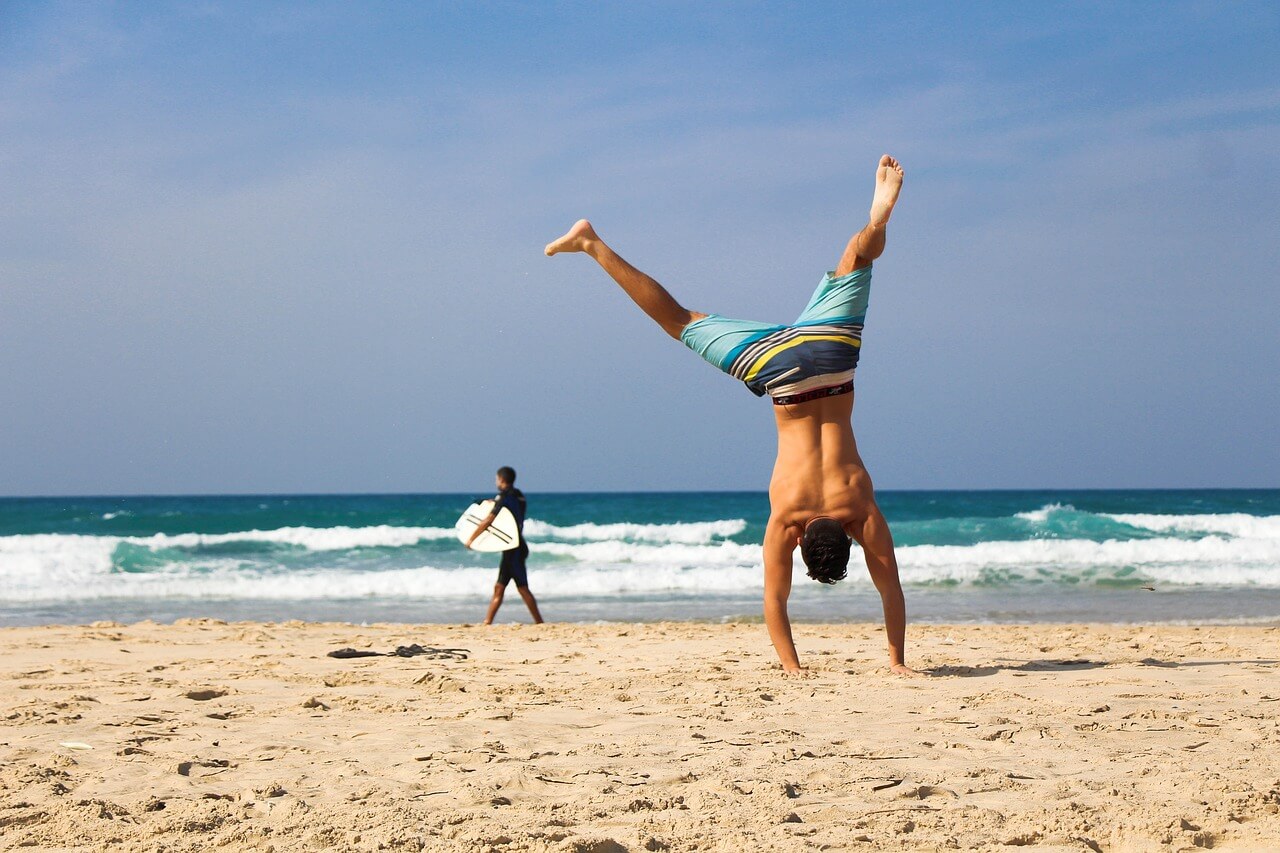 What CrossFit Workouts can I do while traveling?
Do you love to exercise at your local CrossFit box, but need to travel?
There are many WODs you can do while on the road. Here are 7 CrossFit WODs you can do using NO equipment.
You are welcome!
Do I need equipment to stay fit while I travel?
No. There are many workouts you can do right in your hotel room that use no gym equipment.
Try this 16 minute low impact Hotel room HIIT workout before you start the day.
Bodyweight workouts are ideal exercise routines when you are on the road.
Workout at the airport!
There are even airports that have self-guided fitness trails, like this fitness trail at Phoenix Sky Harbor Airport that rewards you with beautiful views of the city as you stay fit and make good use of your time while you wait for your flight.
How cool is that?
What size and weight should I look for when choosing travel fitness equipment?
If you plan to stow your portable fitness equipment in your carry-on luggage, look for travel exercise gear that is 10 lbs or less.
Most carry-on luggage limits range between 15 and 22 lbs, so 10 lb or less is a safe limit.
As for size look for items that are 20 inches or less to easily fit in luggage.
How can I keep my Diet in check while traveling?
A high quality protein shake can make a quick and healthy breakfast or light lunch. Casein protein has the added benefit of sticking with you longer and fighting hunger until your next meal.
How to eat healthy at a restaurant? Check out this video to find the answer.
Don't let travel be an excuse ever again!
Use these tips and suggested travel fitness gear to stay on track and keep your fitness goals near, even if you are traveling far.
I hope you have found some useful tips here to use while you travel, and that you have decided for yourself what is the best travel workout equipment.
Don't hesitate to pick one up today, that trip is right around the corner.
We want to hear your travel fitness tips!
Drop me a line in the comments below and let me know how you keep up with your fitness when you travel.
Don't forget to subscribe to our newsletter for the latest fitness news and info, exclusive guides and content only available to subscribers.

Latest posts by Michael DuBoff
(see all)