Best Casein Protein Powders & TOP 12 Powder Reviews 2023
Whey vs Casein, The battle of the milk proteins rages on!
Or Not.
Actually, both Whey and Casein are great sources of protein and both serve the athlete well.
Here I will quickly sum up what Casein is, how it benefits the athlete, what makes Casein stand apart from Whey Protein and review 12 excellent casein protein powder supplements.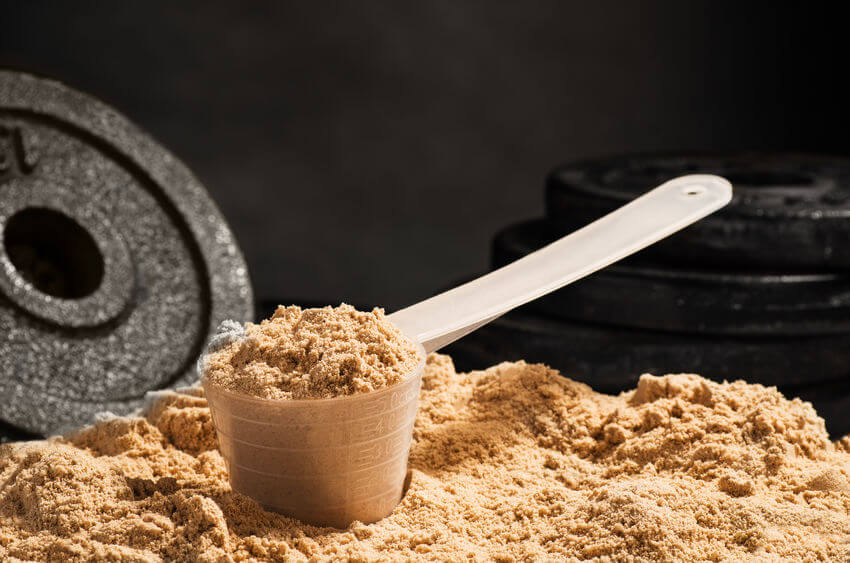 What Exactly is Casein Protein Powder?
Casein is the most abundant protein found in milk. Casein protein consists of long chains of molecules of 20 different amino acids called micelles.
Casein is a much heavier molecule than whey, which is why it digests slower and stays in your system longer.
Casein Processing and Extraction: What You Must Know!
The casein is removed using either acid, heat, or in the best case, a cold microfiltration process.
Heat and acid are the least desirable extraction methods because heat denatures, or degrades the protein and acid extraction may introduce undesirable elements into the casein.
Always look for Cold Extraction, Micro filtered or un-denatured Micellar casein for the best casein protein powder.
Whey vs Casein: Why Should I Choose Casein Protein Over Whey Protein?
Whey and Casein do have their differences and each comes with its own set of benefits.
If you are here looking for the best casein protein powder you probably already know that casein protein is:
Slower to digest and stays with you up to 8 hours
Casein is better able to preserve existing muscle and prevent muscle catabolism
Catabolism is when your body uses your existing muscle tissue to create needed energy.
Not good if you are trying to build muscle!
If you are dieting to lose fat or in a "cutting" you are by definition not eating enough calories to meet your energy needs. The danger is your body will use muscle tissue for energy it needs.
While both Whey and Casein help prevent catabolism, Casein stays in your body longer and therefore wards off catabolism longer.
Because casein stays with you for about 8 hours, it is ideal for nighttime use because it covers your back (and biceps) while you sleep.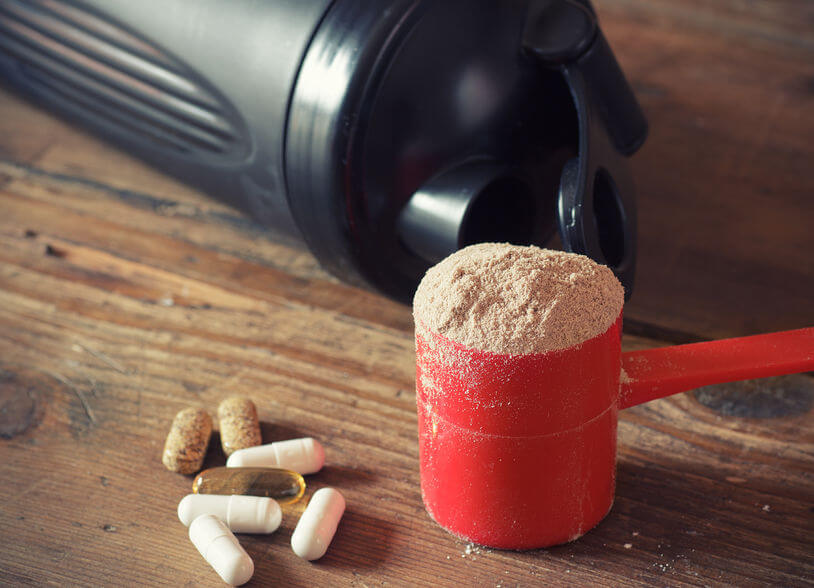 What is Micellar Casein vs Calcium Caseinate?
Calcium Caseinate is casein that is separated using a chemical process involving calcium. The casein protein becomes denatured during this process, which is why it is inferior.
Micellar Casein is superior!
Micellar Casein is extracted from milk using a physical filtration process that keeps the protein intact, while the whey and lactose pass through the filter.
What Does Casein Taste Like?
Real, true, microfiltered and minimally processed Micellar casein should have a mild sweet aroma, and a rather bland mild flavor.
It should not taste offensive.
If your casein powder has a strong sour smell or taste, or a soapy, dirty or brothy flavor, that is a strong indication that it is either acid or rennent processed.
Gross right?
Check labels!
Look for Real, 100% Micellar casein that is micro-filtered or cold processed.
Also note, it is normal for real Micellar Casein to foam when blended, just a little.
Now that you know the story behind Micellar casein, let's look at the best rated Casein protein powders available in 2023.
Top 12 Best Casein Protein Powder Reviews 2023
Dymatize Elite 100% Micellar Casein
Sale
Review: This protein shake uses 100% Millar casein as the protein source. This is a popular brand because it tastes good and is also low carb, with just 2 grams of carbs per serving.
The chocolate flavor is the favorite because it is made with authentic ingredients and real cocoa, but if you want less sweetness, go for the vanilla.
It mixes up well and has no odd taste like some other brands.
Pros
25 grams of protein per serving.
Only 2 grams of carbs and 130 calories per serving.
Rich Chocolate is a favorite, Vanilla is less sweet and is also popular.
Cons
Contains soy ingredients and artificial flavor.
Takeaway
Great tasting, low carb casein protein powder. Voted best tasting casein protein powder.
Bulksupplements Pure Casein Protein Powder
BULKSUPPLEMENTS.COM Casein Protein Powder - Whey Casein Blend Protein Powder - Protein Powder Casein - Micellar Casein Powder - 30g per Serving, 17 Servings (500 Grams - 1.1 lbs)
✔️ Great Source of Protein - Casein Protein Powder, a pure protein powder, is an excellent source of protein, containing all the essential amino acids, especially the branched chain amino acids, or BCAAs, the body needs to build muscle and stay healthy. This casein powder, a low carb protein powder perfect for athletes, bodybuilders, and anyone who wants to improve their health and fitness.
✔️ For Muscle Mass - Protein is essential for muscle growth and repair, making casein protein, a protein shake powder, an important part of any athlete's diet. Our Casein Protein Powder, is a natural protein powder and flavorless protein powder, is a slow-digesting protein that provides your muscles with a steady stream of amino acids for several hours, making it the perfect choice for post-workout nutrition.
✔️ For Muscle Recovery & Endurance - Casein protein, a protein powder, is perfect for both pre and post workout nutrition and its great for athletes, bodybuilders and people with active lifestyle. This low carb protein powder helps your muscles repair and rebuild after a strenuous workout, so you can come back stronger than ever, so you can get back to the gym feeling refreshed and energized!*
✔️Supplement your Workout - Not only is our casein protein powder, or protein powder unflavored supplement, packed with protein, but it also tastes great! It's a great alternative to whey protein because it has a higher bioavailability and slow absorption rate. Mix our Casein Protein powder, or Casein powder, with your favorite smoothie or shake and you'll be enjoying a delicious and healthy snack in no time. Simply stir it in and enjoy!
⭐ High Quality - All whey and casein protein powder blend by BulkSupplements is manufactured according to cGMP Standards to ensure the highest quality for manufacturing, packaging, labeling, and holding operations. We third party test our protein casein at multiple stages during production, procedures and equipment to ensure compliance, standards and consistency.
Review: This is pure unflavored Micellar casein powder, not a drink mix, so you will need to mix it up in a smoothie, milk, water or juice. Because it is just the casein, it is very versatile and a great value.
Pros
Best value is the kilo size with 33 servings.
26 grams of protein in a 30 gram serving.
Less than 1 gram of carb, ideal for Keto.
Cons
Contains soy lecithin to prevent clumping.
Takeaway
Best casein protein powder for weight loss and Keto diets because it is Just the casein powder, you decide what to mix it with.
Muscle Feast Micellar Casein Protein, All Natural Pasture Raised Hormone Free Soy Free, Unflavored, 4lb
GRASS-FED AND HORMONE-FREE: Micellar casein has been sourced from dairy happy cows that graze freely on grass and have not been given added hormones. They are pasture raised, given continuous access to pasture during the growing season (75 servings)
ALL NATURAL: Our protein powders are are all natural and non GMO; we do not use any fillers or artificial ingredients
PURE INGREDIENTS: Natural whey isolate is gluten-free, keto-friendly and it comes from pasture raised happy cows. Our protein is Orthodox Union Kosher Certified for Dairy and sourced from a country that has banned the use of artificial hormones for bovines; contains no fillers or artificial flavors.
ESSENTIAL AMINOS: Hormone-free grass-fed whey has 4.3g BCAAs, plus all the essential amino acids for optimal protein synthesis.
LABELS MAY VARY: All-natural casein protein powder was recently certified by the American Vegetarian Association to be vegetarian; we are updating our labels to reflect this information; you may receive a label without the badge; however, the ingredients have been approved by the American Vegetarian Association
Review: Pure unflavored Micellar casein powder from the milk of Grass fed cows and just a touch of non-GMO soy lecithin to prevent clumping are the only ingredients in this formula.
Each unflavored 4 lb. tub contains over 82 servings so you won't have to constantly re-order.
The company also offers flavored shakes with the same high quality, natural ingredients, if you prefer a flavored powder.
Pros
4 grams of protein per serving.
Just 88 calories per serving with 0 carbs.
All natural, made from the milk of grass fed cows.
Cons
Includes non GMO soy lecithin for flow.
Takeaway
It does not get any more natural that this with grass fed, Non GMO ingredient sources, my choice for best natural casein protein powder.
Ascent Native Fuel Micellar Casein Protein Powder
Ascent Casein Protein Powder - 25g Micellar Casein Powder with Zero Artificial Flavors & Sweeteners, Gluten-Free, No Added Sugar, 4.9g BCAA, 2.2g Leucine - Chocolate, 2 Pounds
Native Fuel Casein Protein - The least-processed chocolate casein protein available today, naturally higher in leucine for muscle synthesis. Create a delicious pudding by mixing 4 oz of milk with a scoop of casein protein powder for a perfect high protein recovery snack.
25g Protein Per Scoop - 11g Naturally occurring BCAAs, and a clean, minimalist ingredient list. Certified Gluten Free and Informed Choice Certified.
Slow Digesting Protein Powder - Designed for overnight recovery with slow digesting casein. Start preventing muscle loss overnight and optimize your muscle growth and recovery.
0g of Added Sugar, Zero Artificial Flavors and Sweeteners - Clean, pure protein that easily fits low carb and keto diets. Perfect for recipes & baking high protein snacks.
2 LB Casein Protein Powder with included scoop - Simple collapsible bag packaging for easier storage in small or irregular cabinets and drawers.
Review: This all natural, modestly sweet Micellar Casein is a great choice for athletes that don't want to put any artificial junk in their system.
There are no soy products used, instead, they chose sunflower lecithin which is more expensive, but soy free, and the flow agent.
Add to that sea salt, real cocoa, and natural, yet sugar free sweeteners and we have a winner.
Pros
Natural sweeteners, monk fruit and stevia.
Uses real flavor and real cocoa. Yum.
NO soy, uses sunflower lecithin instead.
Cons
A bit more expensive due to quality ingredients.
Takeaway
Good casein protein powder drink mix for athletes who want the purest natural ingredients.
Optimum Nutrition Gold Standard Micellar Casein Protein Powder
Optimum Nutrition Gold Standard 100% Micellar Casein Protein Powder, Naturally Flavored French Vanilla, 4 Pound (Packaging May Vary)
Packaging May Vary - New look, with the same trusted quality
NATURAL FORMULA – no artificial flavors, sweeteners, or colors
SLOW DIGESTING – a great option between meals or at bed-time when fasting for long periods and helps support the recovery process of lean muscle mass
MICELLAR CASEIN – 24g of a high-quality, slow-digesting, anti-catabolic protein to help achieve your health and fitness goals
NIGHT-TIME FORMULA – help rebuild torn down muscle fibers and remain anabolic while you sleep with this specifically formulated night-time protein source
Review: I like that this formula is all natural and uses very high quality ingredients like real French vanilla flavoring, and honey as a sweetener.
For what it's worth, this powder is one of the few Micellar Casein protein powders that use real sugar and honey to make it sweet.
Some may not like this, but for those who cannot tolerate artificial sweeteners or even natural non-sugar sweeteners, this is a special benefit of this formula.
Pros
No artificial ingredients.
Uses real French vanilla flavor for superior taste that is better for you.
24 grams of protein per serving.
Cons
Uses real sugar (and honey) as a sweetener, so it has 8 grams of carbs.
Takeaway
Best casein protein powder on market for those who cannot use artificial sweeteners or alternative natural sweeteners.
Kaged Muscle Kasein Premium Protein Powder
Kaged Muscle, Premium Kasein Protein Powder, Micellar Casein, Vanilla, Banned-Substance Free, Protein Supplement, Build Muscle, Boost Recovery, Casein, Vanilla, 50 Servings
ANTI-CATABOLIC – Each serving contains 25 g of ultra-premium cold-pressed micellar casein isolate for a sustained-release protein that helps prevent muscle breakdown*
IMPROVE MUSCLE RECOVERY – KAGED MUSCLE KASEIN is a complete protein that gives you essential amino acids to help repair and rebuild muscle during recovery
MAXIMIZE MUSCLE GAINS – Scientifically proven to boost protein synthesis and enhance gains in size and strength*
PREMIUM MANUFACTURED – KAGED MUSCLE KASEIN is manufactured using an innovative microfiltration process that preserves the structural integrity of the protein
TRANSPARENT LABELLING – Each tub of KAGED MUSCLE KASEIN has 100 percent ingredient transparency on the label so you know exactly what you're putting into your body
Review: Carefully chosen, sourced and processed ingredients make this Micellar Casein Powder stand out from the rest.
They take care in cold-processing the Micellar casein to insure it stays intact and is not degraded and maintains its Micellar form.
Pros
Added L-glutamine for recovery and muscle building enhancement.
50 servings per container.
Contains NO soy, uses sunflower Lecithin.
Cons
Contains sucralose an artificial sweetener.
Takeaway
The best casein protein powder for building muscle with added l-glutamine.
Driven Nutrition 100% Micellar Casein
Driven Casein- 100% Micellar Casein Protein Powder with Added BCAA and Digestive Enzymes for Nighttime Muscle Recovery (Chocolate Dreams)
A BETTER FORM OF CASEIN: this micellar casein powder has a natural spherical structure that's made up of all 5 casein milk proteins (alpha,beta, gamma, delta and kappa). Micellar casein molecules tend to clump together in your stomach, so it takes longer for your body to digest them. However, casein protein powder gradually release amino acids and high levels of amino acid Leucine (the BCAA that is the number one instigator of muscle protein synthesis), making it easier for your body to absorb
BETTER DIGESTION: You workout so you can achieve and maintain fitness that will allow you to meet any physical challenge that life throws at you. If you suffer from gas, nausea, bloating, diarrhea, or abdominal pain when you take your protein supplement, are you really"fit"? Driven Nutrition has designed this casein protein supplement to be easy on your stomach, so you can get the most out of your life and workouts.
BETTER TASTE: Driven's micellar casein is created by athletes for athletes, and we actually take them ourselves. That's why our casein shake tastes so much better than those mass-produced bodybuilding supplements which you buy at the big box stores.
BETTER MANUFACTURING AND TESTING: Unlike some competitors' products, Driven casein supplement is produced in facilities that are compliant with Current Good Manufacturing Practice regulations enforced by the US Food and Drug Administration (FDA). To ensure that every batch of casein chocolate protein powder meets our high standards of quality and purity, every added ingredient and every lot of finished product is independently tested for purity and potency.
GUARANTEED RESULTS OR YOUR MONEY BACK: Driven Nutrition supplements never compromise on quality and always include clear and complete supplement facts without any "proprietary blends." We stand by our products 100%. If you are not completely satisfied with any Driven Nutrition product, we will help you resolve your concern or provide a full refund.
Review: One of the only Micellar casein protein powders that contain digestive enzymes Papain and Protease for superior bioavailability and tummy comfort.
The Driven Nutrition Micellar casein protein powder drink formula uses real cocoa, has 20 grams of protein, a flavor you will look forward too and is easier to mix than some others out there.
Pros
Formulated with digestive enzymes.
20 grams of protein per serving.
Tastes great and easily mixes.
Cons
Uses artificial flavor and sucralose.
Takeaway
Tastes good, mixes well and contains digestive enzymes so you get the most out of it.
ProMix Chocolate Micellar Protein
Promix Casein Protein Powder, Chocolate - 5lb Bulk - Grass-Fed & 100% All Natural - Slow & Sustained Recovery ­Post Workout Fitness - Shakes, Smoothies, Baking & Cooking Recipes - Gluten-Free
Slow and Sustained Recovery: Promix Casein Protein Powder is a cold-processed and acid-free bioactive native casein made from milk of grass-fed cows. This lightly sweetened powder contains highly branched alpha/beta/kappa-proteins for a sustained release of amino acids for bedtime use, as well as sunflower lecithin for improved absorption and blending. Chocolate flavor. 58 servings per container, 2 scoops per serving.
What's Inside: Our Casein Protein Powder is packed with 26g of protein and 5.4g of branched-chain amino acids. Micro-filtered to remove lactose for easy digestion.
Whole Food-Based Ingredients: Made of grass-fed micellar casein, sunflower lecithin (naturally high in phosphatidylcholine), raw cacao and organic cocoa (high in antioxidants), and coconut sugar (lower glycemic index, minimally processed natural sweetener). That's it.
Seriously Clean: Casein Protein Powder is keto-friendly. All Promix products are free of gluten, soy, GMOs, hormones, antibiotics, refined sugar, artificial sweeteners, stevia, gums, fillers, and bleach. 94% of ingredients sourced from North America. Partner of 1% for the Planet. Produced in facilities using GMP (Good Manufacturing Practice) standards.
No Artificial Anything: Promix is a science-based nutrition company making products to the standards specified by professional athletes for performance, ingredient quality, and safety. We deliver seriously clean supplements and snacks to people who want to feel and perform their best.
Review: The Micellar casein in ProMix is a non-denatured, third party confirmed Micellar casein.
Chocolate flavor has 7 grams of carbs, but the company does offer a non-flavored powder with the same high quality Micellar casein, with 0 carbs.
Pros
Formulated with Organic Fair Trade Cocoa.
Cold processed to maintain Micellar structure.
Unflavored version is truly unflavored with no weird aftertaste.
Cons
A bit more expensive than other protein powders per serving.
Takeaway
High quality Micellar casein powder drink formulated with high quality ingredients.
BodyTech Micellar Casein Protein Powder
Review: BodyTech Micellar casein is offered at a fair price. Both flavored drinks and unflavored powder versions are available.
This brand sets itself apart by including patented Aminogen, an enzyme that helps the body break down protein for optimal assimilation.
100% Micellar Casein and Aminogen are the only ingredients in the unflavored version.
Pros
2 lb unflavored has 30 servings.
24 grams of protein per serving.
Includes Aminogen, an enzyme that aids in protein digestion.
Cons
Can be challenging to mix in water or thin liquids like almond milk.
Takeaway
Simple effective two ingredient Micellar protein powder with Aminogen for protein digestion.
Naked Casein - Micellar Casein Protein
Sale
NAKED nutrition Naked Casein - 1Lb Micellar Casein Protein - Bulk, GMO-Free, Gluten Free, Soy Free, Preservative Free - Stimulate Muscle Growth - Enhance Recovery - 15 Servings
ONLY ONE INGREDIENT: 100% Micellar Casein Protein Powder with no rBGH and no rBST. No additives mean your casein shakes, smoothies and recipes will provide clean muscle gains and maximum recovery.
US FARMS ONLY: Our Casein is brought to you only from US farms to ensure that our protein powder is packed full of essential amino acids, clean protein and BCAAs.
COLD PROCESSED: Naked Casein is cold processed, which means there is no contamination from chemical detergents (no acid or bleach) or synthetic additives.
UNMATCHED NUTRITION: 26g of Protein, 2g of Sugar, 0g of Carbs, 110 Calories, and 5.9g of BCAAs (branched-chain amino acids) per serving.
PURE CASEIN PROTEIN: No additives mean your pre and post workout casein protein shakes, smoothies and recipes provide clean muscle gains and maximum recovery.
Review: Simple and reasonably priced pure Micellar casein is all that is in this protein powder.
This Micellar protein powder has a very fine consistency perfect for smoothies and blended drinks. It is cold processed to maintain the proteins integrity so it continues to deliver nutrition hour after hour.
Pros
Cold Processed Micellar Casein.
26 grams of protein per serving.
Unflavored version contains only one ingredient, pure Micellar Casein.
Cons
Some find the powdery texture hard to mix.
Takeaway
Pure cold filtered, unadulterated and unflavored Micellar casein protein powder.
Progenex Cocoon - Micellar Casein Protein Powder
Review: Progenex Cocoon includes Metamorphagen L-tryptophan, and amino acid precursor to 5-HTP, Serotonin and sleep inducing melatonin.
This nighttime recover Micellar protein powder will help you rest and give your muscles a chance to repair and grow while delivering them protein for up to 8 hours.
Pros
Added L-tryptophan, a precursor to 5-HTP for a good night's rest.
23 muscle building grams of protein per serving and Just 4 carbs.
Tastes great with Real Cocoa, Natural flavor and Coconut oil.
Cons
Contains sugar, soy lecithin and sucralose artificial sweetener.
Takeaway
Better sleep and longer lasting protein delivery make the most of your Zzzz's.
True Nutrition Micellar Casein Protein
Review: This True Nutrition cold processed non-denatured Micellar casein protein powder drink mix uses only natural ingredients and is sweetened with stevia instead of sugar or artificial sweeteners.
Pros
26 grams of un-denatured Micellar protein.
Stevia sweetened.
NO soy, NO GMO, No artificial flavor or color.
Only one gram carb, great for Keto.
Cons
Does not dissolve well in water.
Takeaway
A natural, minimally processed low carb Micellar casein protein powder drink mix.
That wraps up the 12 best casein protein powders for 2023.
Looking to shake things up?
We went ahead and found 17 of the best shaker bottles to mix your protein and gave each one a review. Check it out!
Enter your email address to sign up for our newsletter.
It only takes a sec. We promise: NO spam. And you will be notified when new, valuable reviews and content are released.