TOP 11 Best CrossFit Gloves of 2023 for New PRs & No Calluses Reviewed
As a CrossFit athlete, you know that blisters, calluses and tearing can derail your workout.
If you have a tear, gloves can mean the difference between getting your workout done, or sitting this one out on the couch.
When your WOD calls for heavy lifting, using the pull-up bar or any other callus forming exercise, your best bet is a pair of the best CrossFit gloves.
Recently, I found myself in need of a pair of CrossFit gloves and did quite a bit of research.
I reduced my findings down to this list of the 11 best CrossFit gloves of 2023, and I explain why I chose each one.
Let's get to it!
TOP 11 Best CrossFit Gloves of 2023
Grip Power Pads Nova CrossFit Gloves
Grip Power Pads NOVA 2018 Gym Weight Lifting Gloves with Wrist Wraps Support Pro Padded for Powerlifting Cross Training Workout Best for Men & Women (1 Pair) (X-Large, Black)
2 POWER LIFTING & BODYBUILDING ESSENTIALS IN ONE Gym gloves enhance your grip, wrist wraps provide stability and reduce your risk of injury. Why buy two pieces of workout gear when you can get the benefits of both with one comfortable, high quality glove?
SO EASY TO TAKE OFF Unlike other lifting gloves, Grip Power Pads gloves are easy to remove and offer unique removal option.
NO MORE CALLUSES AND BLISTERS! Jet Black padding grips adds extra insulation and enhances grip strength to improve safety and prevent abrasions, burns, calluses and blisters! You'll be able to give every rep your all with these gym gloves
MADE FOR A PERFECT FIT Offered in Small, Medium, Large & Extra Large and even 2X-Large; Consult the sizing chart to find the right option for your hands!
LOVE THEM OR GET YOUR MONEY BACK! Our workout gym gloves are handmade from luxury quality material! We're so sure you'll love them that we offer a 60-day money-back satisfaction guarantee on ever pair! In addition, there is a 1-year Mail In & replacement warranty on each pair of our weight lifting gym gloves sold
Review: Grip Power Pads NOVA gloves are some of the most grippy and most durable gloves you can get. They are great for both the barbell and pull up bar.
They have a neoprene rubber pad that spans the entire palm for a really good grip.
They have other features I like too. They have a sewn-in finger loop that makes them easy to remove after you sweat through an entire WOD.
They also have built-in wrist wraps for added wrist support while lifting heavy – perfect if you do not want to wear two pieces of gear on each hand.
Pros
Superior grip thanks to the rubber neoprene full palm pad.
Stability and wrist support built-in.
Easy off finger loop.
Extremely durable.
Cons
Sizing is confusing; measure circumference your hand with a soft measuring tape in inches.
Takeaway
Best workout gloves for CrossFit, especially if you are a heavy lifter and durability and grip matter to you.
Under Armour ClutchFit Renegade Gloves
Review: The Under Armor ClutchFit gloves are perfect for the pull-up bar because they are not bulky and over padded. The combo of soft goat leather and silicone grip allow you to get a good handle on the bar while still getting feedback.
They impart a second-skin feel and are thin enough that you can still feel the bar.
Pros
Made from soft grippy, durable goatskin.
Full finger coverage for complete protection.
Flexible and thin, protects while allowing you to feel the bar.
Cons
Takeaway
Best looking full finger workout gloves for CrossFit that impart excellent grip and allow you to feel the bar.
Harbinger Power Weightlifting Gloves
Review: These popular and rugged Harbinger gloves are a gym staple for a reason, they are effective. They have mesh backs, real leather palms and an adjustable Velcro strap to keep them secure.
Pros
Stretch mesh back.
Leather palm offers tactile feel.
Adjustable Velcro closure.
Cons
The dye can bleed when your hands get sweaty.
Takeaway
These have both a great price and a good reputation and are a good value considering what they cost.
Bionic Beast Mode CrossFit Gloves
Sale
Men's Beastmode Full Finger Fitness Gloves (3X-Large)
PREVENT FATIGUE AND INCREASE STRENGTH – PATENTED ANATOMICAL PAD RELIEF SYSTEM AND GENUINE LEATHER PALM – Strategically placed relief pads even out the surface of your hand displacing the pressure from your workout.
GET THE PERFECT GRIP – PATENTED DESIGN – The Bionic Glove pre-rotated finger design adapts to your hand's natural curving motion. This patented design gives you a more effortless and comfortable grip that allows you to power through any workout.
KEEP TRACK OF YOUR PROGRESS – TOUCH SCREEN FRIENDLY TECHNOLOGY – keep track of your progress on your phone or tablet without having to take off your workout gloves! Update your personal record or put on your favorite pump-up song without missing a step.
DON'T SWEAT IT – PERSPIRATION MANAGEMENT – Wipe away sweat with The Polytowel thumb and reach your goal. The terrycloth pads inside the gloves are strategically placed in high risk areas to manage your perspiration. Machine wash no bleach, air dry.
KEEP A COOL HAND – MAXIMUM BREATHABILITY – By using the premium material Cool-On for the back of the glove and Lycra between the fingers and flexion zones, these gloves offer maximum breathability and flexibility for your workout.
Review: Bionic Beast Mode gloves are full length, form-fitting gloves that are padded in strategic areas like the thumb joint and where the fingers meet the palm. They protect and prevent calluses without being bulky or impeding grip.
These best-rated gloves are sanitary too, covering the entire hand and preventing contact with the bar and other gym equipment.
Pros
Sanitary, Full length, complete coverage gloves.
Padded in key areas like the thumb joint.
Stretch mesh upper for great ventilation and a good fit.
Cons
Black dye bleeds off during the first few wears.
The fingers are long.
Takeaway
These full coverage gloves are the best CrossFit gloves for the barbell, pull up bar and more.
Skott Evo 2 Weightlifting Gloves
Sale
Review: The Skott weight lifting gloves are the right choice for heavy lifters and reaching new PRs in CrossFit.
These gloves have a gel printed palm that really allows you to get a grip, padding is placed in key areas to protect without making the glove stiff, and the glove is perforated to allow your hands to breathe.
This top-quality glove has several finer details you will appreciate like a pull loop to get them off and a clip to keep them together in your CrossFit gym bag.
Pros
Integrated wrist support.
Strategically padded for protection without loss of grip.
Integrated knuckle protection nubs.
Cons
Runs small.
Padding is a little thick.
Takeaway
Protective, well-padded and durable glove that has many great design details.
RDX Weight Lifting Gloves
Review: These RDX CrossFit gloves are best for when your WOD calls for Olympic lifts. They come with a 50 cm built-in wrist wrap.
They are padded in the palm heel, where the fingers meet the palm, and the thumb joint, offering great protection during heavy lifts.
Pros
Built-in 50 cm wrist support for stability while lifting.
Cowhide palm for good grip.
Half-finger design.
Cons
Takeaway
Good CrossFit gloves with significant wrist protection and support.
RIMSports Workout Gloves for Men and Women - Breathable Weight Lifting Gloves for Gym, Exercise, Weightlifting, Cycling, Rowing, Training Leather Palm Padded Thumb Protected Against Calluses Blister
Breathable Lycra Material: The gym gloves has been designed with high quality breathable material to let your hands stay dry and comfortable, so you can work out for longer periods without getting overheated or sweaty
Ergonomic Construction: The fingerless gloves are designed to fit both men and women whether you are a beginner or pro lifter; And these durable machine washable design lifting gloves can withstand tough workouts without losing their form
Functionally Double Stitched: The weightlifting gloves are durably double stitched to withstand intense workouts; They won't get ripped or torn, so you can train as hard as your heart desires with complete confidence
Supreme Leather Padded: This fitness gloves is a dual leather padded, supremely comfortable, and protective; The padding in the palm protects your hands from calluses during your workouts and provides ultimate support for all types of grip strength
Smartwatch Compatible: These exercise gloves are designed with a low rise wristband which makes them accessible for smartwatch use that helps to monitor your timing during workouts giving better control over switching weights, and for punctual reps
Review: These RIMSports workout gloves are perfect for CrossFit. They have a full leather palm that will protect your hands and keep your grip on the pull-up bar. These gloves are great for the barbell too.
You can use these with kettlebells, dumbbells and the rower, because they are not bulky or stiff.
They are inexpensive and easy to care for, just toss them in the wash and air dry. Most versatile CrossFit glove around.
Pros
Stretch Lycra top for a great fit.
Full soft leather palm for protection and durability.
Angled Velcro strap for a custom fit.
Cons
Color bleeds a bit on the hands.
Takeaway
These high-quality gloves are some of the most comfortable CrossFit gloves out there.
Gripad Airflow Cross-Training Gloves
GRIPAD Airflow Cross-Training Gloves (Red, Small) | Vented Weight Lifting Gloves | Reduced Hot-Hands | Great for Pull Ups, Cross-Training, Fitness, WODs, Weightlifting | Great for Men & Women
✔ Gripad AirFlow weightlifting gloves provide maximum protection with reduced heat and sweat, ensuring the safest and most effective workout.
✔ Ideal for weightlifting, cross-training, pull-ups, snatches, push-presses, muscle-ups, dumbbells, etc
✔ These gloves are constructed with many small venting holes, providing "AirFlow" and more breathable experience to your hands while working out.
✔ Available in a variety of colors, including: (black/red), (black/yellow), (black/pink), and (black/baby-blue)
✔ Use the size chart in the image to choose the right size for your hands
Review: Gripad CrossFit gloves are versatile, well ventilated, full finger gloves.
I like that the padding is not too heavy because it is easier to get a grip on the bar.
With these gloves you can move between activities, like barbell work, to the pull up bar, to jump rope, all without needing to remove the gloves. These are one of the best CrossFit gloves for pull ups!
Pros
Superior "Airflow" ventilation on the palm, prevents sweat.
Mobile phone friendly fingers.
Full coverage, full-finger gloves prevents contact with gym equip.
Cons
Not well padded – only lightly padded.
Takeaway
Full coverage CrossFit gloves that are well ventilated and not overly padded for a wide range of exercises.
Mechanix Wear Original Gloves
Sale
Mechanix Wear: The Original Work Glove with Secure Fit, Synthetic Leather Performance Gloves for Multi-Purpose Use, Durable, Touchscreen Capable Safety Gloves for Men (Black, XX-Large)
MADE FOR WORKING HANDS – Rugged .8mm synthetic leather gloves for hard-working individuals. Great as safety work gloves, mechanic gloves, home improvement gloves, and everything in between
TOUCHSCREEN GLOVES – The perfect blend of dexterity and durability with touch-screen glove capabilities, these gloves can be used for smart phones, tablets, and machines for easy use at the jobsite or in the garage
BREATHABLE – Reduce blisters from repetitive tasks with evaporative cooling TrekDry material that forms to the back of your hand and stays breathable keeping hands cool and comfortable while you work
ADDED DURABILITY – The durable thumb and index finger are reinforced to outlast basic gloves in high wear areas, making this utility glove the perfect tool for any project
SECURE FIT – Prevent gloves from slipping off while keeping out dirt and debris with these secure fit gloves, equipped with an adjustable thermoplastic rubber (TPR) wrist closure and adjustable hook and loop design
Review: These gloves are some of the most popular, and simple, gloves used by CrossFit athletes.
They are some of the best fitting gloves available for functional fitness, plus they have very good dexterity and feedback.
They are not overly padded, and if you are nursing a tear, these have full coverage so you can help prevent infection.
Pros
Form fitting Dry Tech material.
Easy on/off Velcro Strap.
0.8mm synthetic leather material allows you to feel the bar.
Cons
Can be a little long in the finger.
Takeaway
These gloves are an easy, inexpensive and very useful solution to calluses, tears, and sweat at the gym.
They are so easy to get on and off, it's not a chore to use them. Easily some of the best CrossFit gloves in terms of dexterity.
Nordic Lifting Women's Gloves
Review: It was hard to decide which gloves are the best CrossFit gloves for women, but we chose these Nordic Lifting gloves because they are designed specifically to fit female athletes.
They include integrated wrist wraps, making them ideal protection for heavy weights.
Pros
Extremely durable, machine washable.
Include wrist wrap for heavy lifting.
Real leather palm.
Mesh panel on the back of the hand to allow ventilation.
Cons
Takeaway
These weight lifting gloves for female CrossFit athletes give added protection by including wrist wraps, and are among the best CrossFit gloves for women.
Fit Four Callus Guard Workout Gloves
Review: This uniquely designed minimalist glove sits over the top half of the palm and bottom of the fingers.
It can be used for pull-ups, kettlebell swings, rope climb and even heavy lifting. It adds grip and protects the upper palm from calluses.
Pros
Minimalist gloves, covering just the upper hand.
Silicone pads have excellent grip.
Fit snug and secure.
Easy to get on and off.
Very thin, good tactile feel.
Cons
Tend to run small, check size chart carefully.
Takeaway
If you want a simple, minimalist solution to prevent calluses and add grip, try these gloves by Fit Four, they are one of the best pull up gloves for CrossFit.
What's the Deal with CrossFit Gloves – Why do Athletes use Them?
Have you ever noticed how hard it is to grip the pull-up bar halfway into your WOD?
If you have been at it for a while, you are starting to sweat, and getting a good grip seems impossible.
Maybe you try to chalk them, but that only works for a few minutes, and then you are hunting around the box, looking for the chalk bucket every 5 minutes.
It can be annoying.
Maybe you have thought of using something on your hands but cannot decide what is best CrossFit gloves, grips or wrist wraps?
That's a great question!
Before we talk about the best CrossFit gloves, let's get something clear. Let's define the difference between CrossFit gloves, grips and wrist wraps.
CrossFit Gloves vs Wrist Wraps vs Grips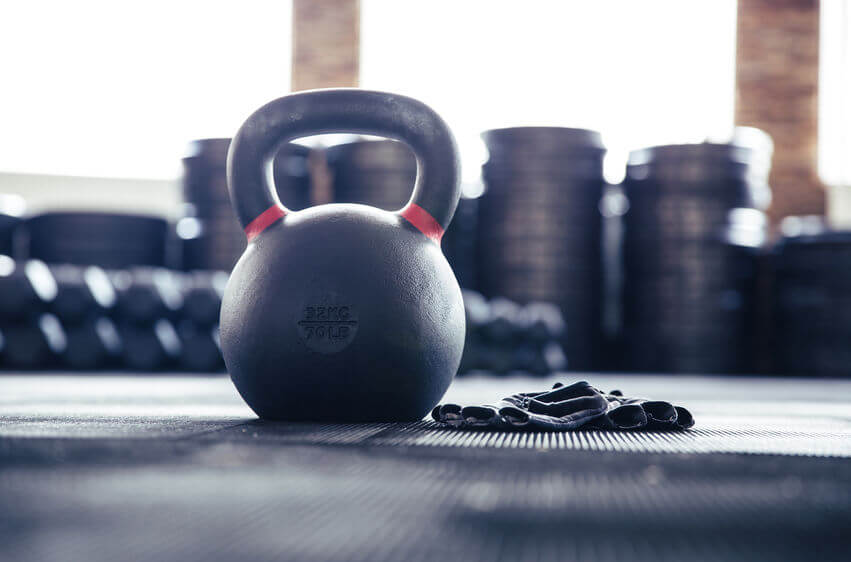 CrossFit Gloves Defined – The Pros and the Cons
CrossFit gloves are full-on, real gloves that cover the entire hand or full gloves with exposed fingers.
There are some gloves made specifically for CrossFit, and some that are used by CrossFit athletes, but intended for weight lifting, which is a key part of the CrossFit regimen.
Mechanics gloves, baseball pitcher gloves and football receiver gloves are sometimes used at the gym, with good results.
Hot Tip: Look for gloves that are thin, with little or no padding. They will grip better and give you more feedback from the bar.
You may still get calluses, but they will be minimized with the glove and the added grip more than compensate.
CrossFit Glove Pros
Protect your hand from painful tears, allowing you to extend workout time and not miss sessions.
Minimize callus formation.
Protect existing injury and tears from infection and re-injury.
Add grip when your hands start to sweat.
Easier to put on than tape, wraps and grips. You can bang out a set of pull ups and take them off easily without interrupting the flow of your workout.
CrossFit Glove Cons
Some gloves can be bulky and slippage.
Some gloves can make hands feel hot.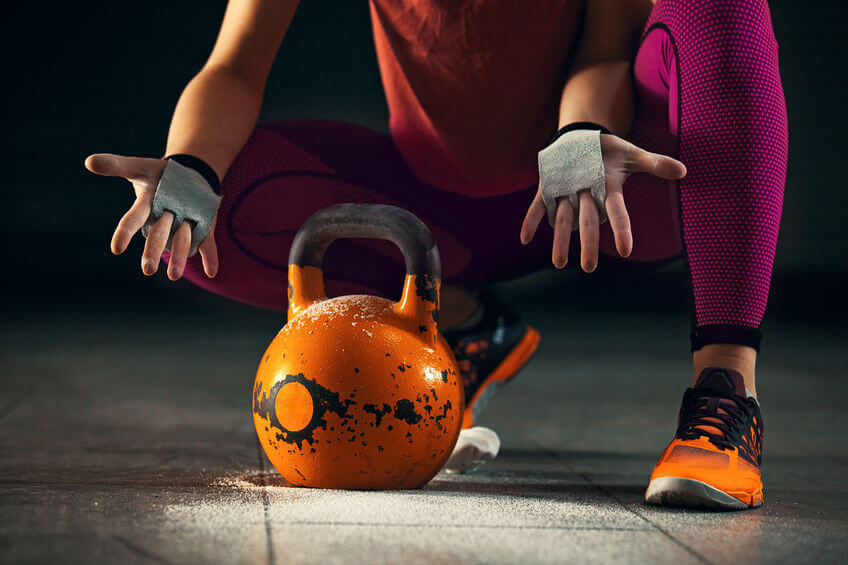 What are CrossFit Grips & How are They Different from CrossFit Gloves?
CrossFit Grips are leather or synthetic material that cover the palms and are secured at the wrist.
They usually have two or three holes that go over your fingers. The grips can be made of leather, canvas or synthetic material. They do not cover the thumb and the top of the hand. They are usually secured by a wrist wrap or band at the wrist.
Some of the pros and cons of wrist wraps include:
CrossFit Grips Pros
Prevents tears and minimizes formation of calluses.
Very well ventilated.
Pairs well with gym chalk for excellent grip.
CrossFit Grips Cons
Does not cover thumb joint, which is important for snatches and clean and jerk, where you want that thumb joint covered.
Not padded.
Challenging to get a good fit.
For more info, please see our in-depth review of CrossFit WOD hand grips.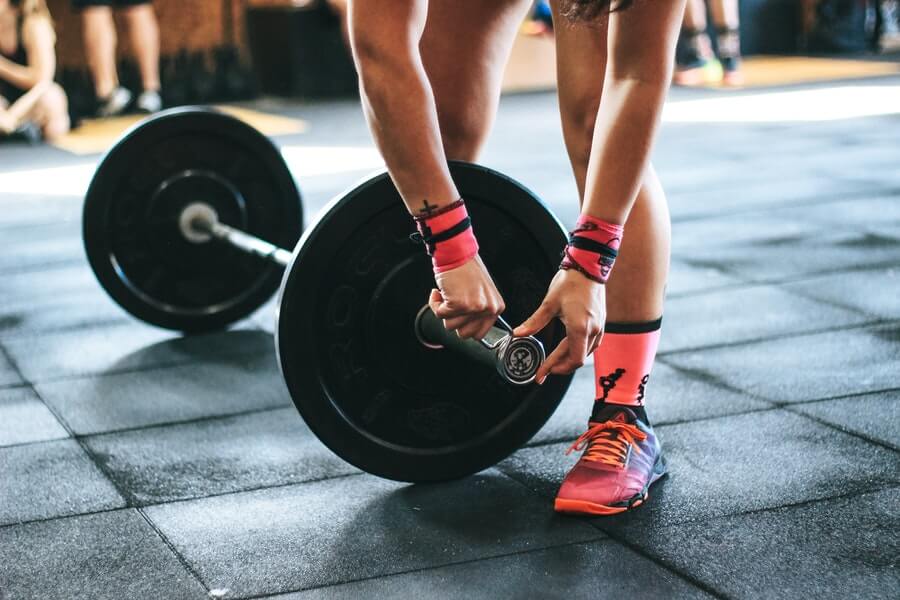 CrossFit Wrist Wraps
Wrist wraps are for wrist support more so than grip. They wrap around the wrist and support the wrist joint during heavy presses and overhead lifts.
They are sometimes used with grips, but not in place of grips.
Wrist wrap tip: Only use wrist wraps for very heavy loads. If it's a high rep WOD with moderate weight it is best to leave the wraps in your bag so you can strengthen your wrists.
Many gloves feature built-in wrist wraps, which is good for some exercises, like deadlifts and other heavy lifting.
The wraps can get in the way on repeated repetition exercises and movements where you need more agility, so just be aware.
Pros of Wrist Wraps
Superior wrist support and wrist injury protection.
Helps you lift more weight.
Cons of Wrist Wraps
Will not help grip.
Will not prevent calluses or tears.
If you want to read more about how weightlifters use wrist wraps click here. Wrist wraps are also used in CrossFit, as detailed in this article.
How do You Choose the Best CrossFit Gloves?
Whether you need extra grip for a set of Kettlebell swings, a WOD that includes the pull-up bar, or a climb up and slide down the rope, you could probably benefit from a pair of CrossFit gloves at some point during your workout.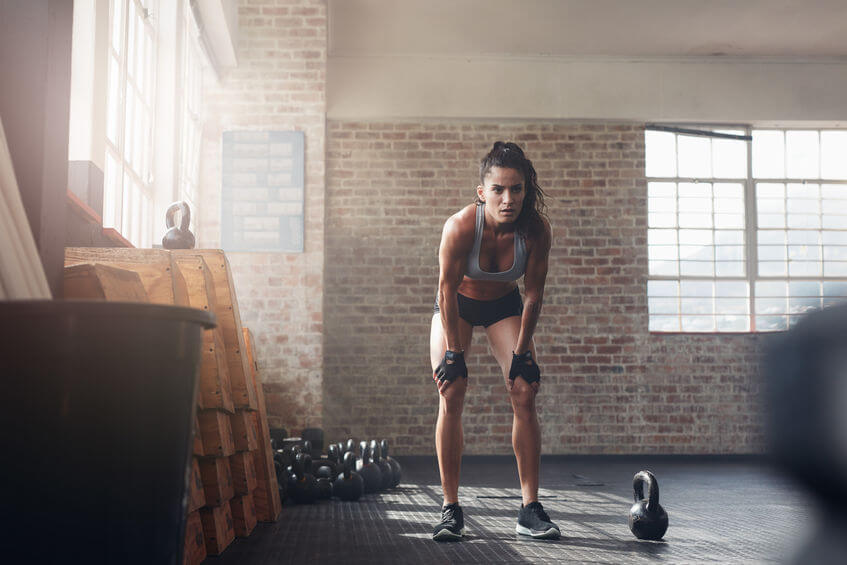 What Exercises are in the WOD?
Consider the activity in the WOD before you put on a pair of gloves. The best pull up gloves for CrossFit probably aren't gloves with an integrated wrist wrap, because they may get in the way.
The very same gloves may be just what you need for deadlifts.
Weight Lifting CrossFit Gloves
When the WOD calls for the snatch, clean and jerk, deadlift or any other work with the barbell, look for a glove that is lightly padded, especially in key areas like the thumb joint and where the fingers meet the palm.
Also…
Gloves with wrist support, or a built-in wrist strap are best. You need the wrist support while lifting heavy.
Pull up Bar and Gymnastics Exercise Gloves for CrossFit
When it comes to the pull-up bar, the grip is king. Second, to grip is callus protection.
That's why thinner gloves with good grip work well. The Under Armour ClutchFit Renegade Training Gloves are great for pull up bar exercises.
How to Decide if You Should Wear CrossFit Gloves or Go Without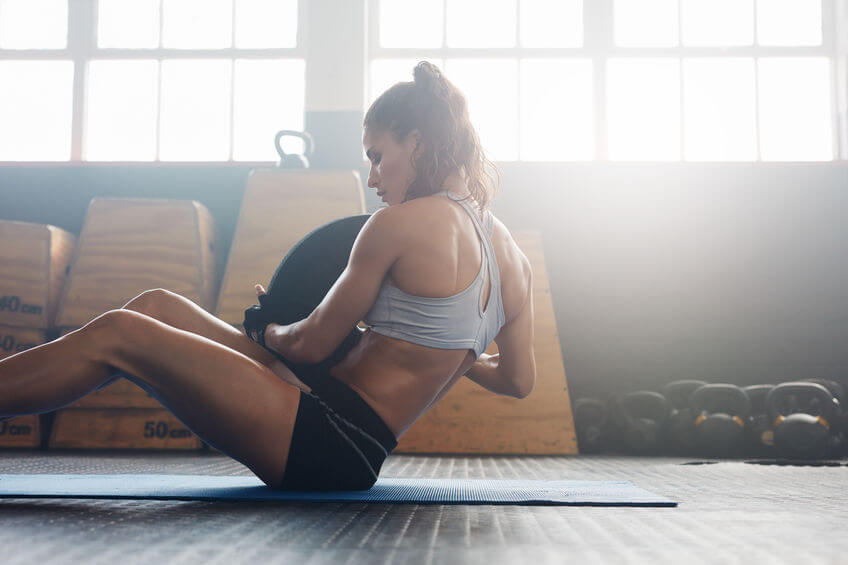 Consider Your Grip
Good grip is crucial on the pull-up bar. Some people do not like to wear gloves at the pull-up bar for this reason. Gloves can cause you to slip easier.
However, in some cases they are necessary. If your hands or palms sweat, then gloves add grip.
If Calluses Tears or Injury are Concerns
If you have an injury, or an open tear, full coverage gloves are virtually required to help the hand heal, prevent more tearing and ward off infection.
If you are a medical professional or have another reason that would make open wounds or hand injuries unacceptable, gloves are your friend, even if you may slightly compromise grip.
Imagine this:
The pull-up bar is used by 30 plus people each day in an average box. They sweat, have dirt, germs and microbes on their hands.
You go to do your pull-ups and end up with a callus. The callus may eventually tear, exposing you to all the bacteria and germs deposited on the bar by all the other people who used the bar that day.
It is my opinion that gloves are a must-have if you have a tear or any open cut, to allow it to heal and protect it from infection.
Ventilation
Consider what the gloves would be like to wear.
Do they offer vent holes, mesh windows or open panels that allow your hand to breath and perspiration to escape?
CrossFit Gloves FAQs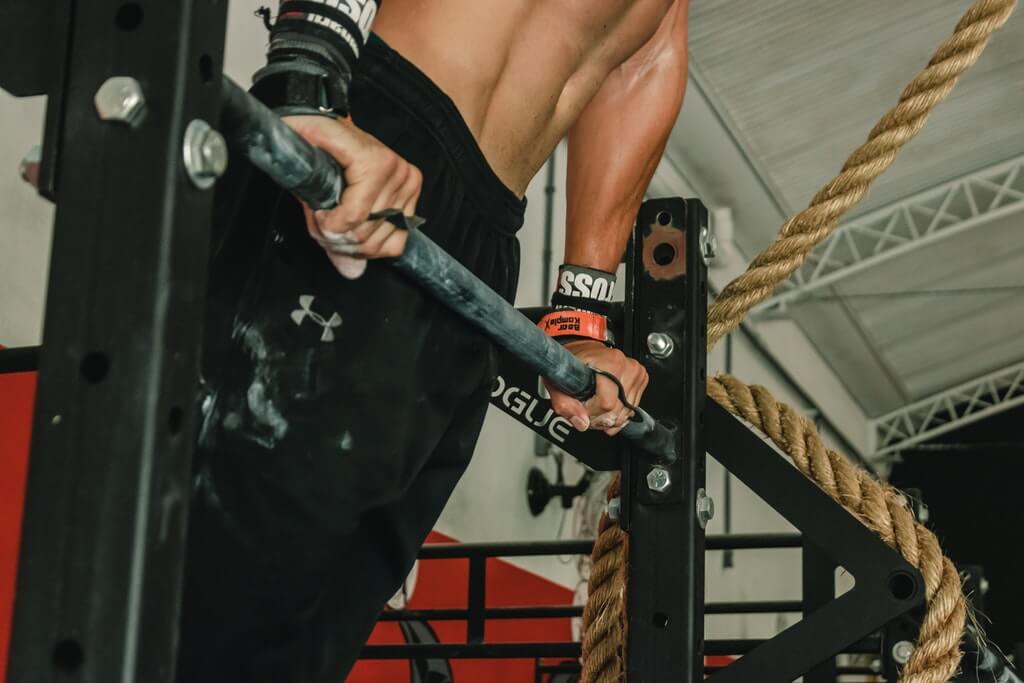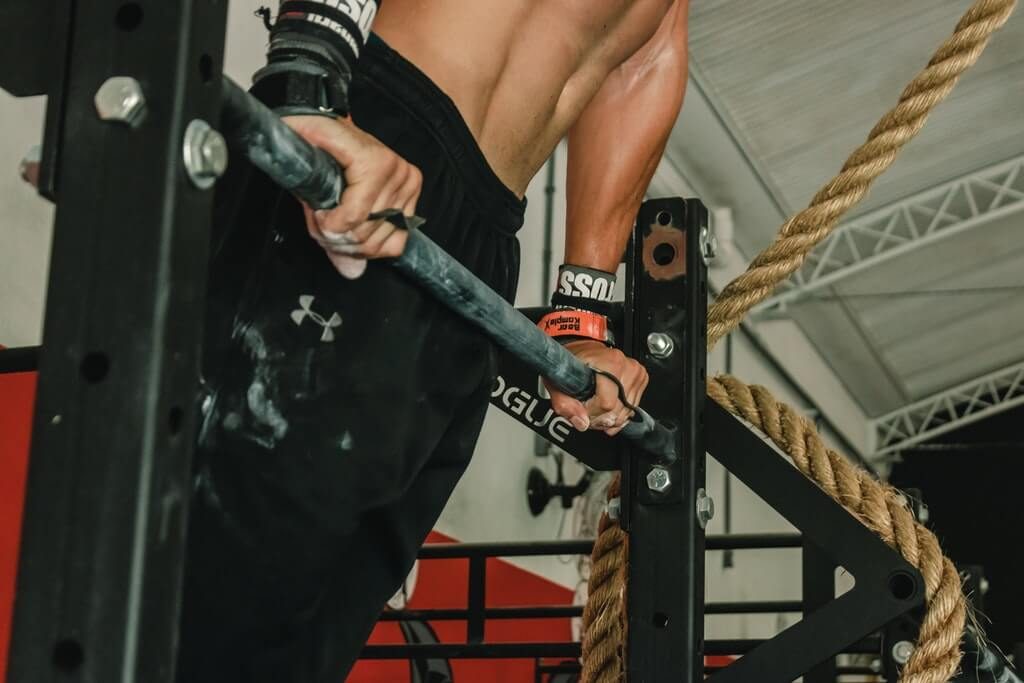 Should You Wear Gloves for CrossFit?
The right CrossFit gloves, if they fit well, are made from the right material and padded in the right place, will prevent callus formation, tears and improve your grip.
Crappy, ill-fitting gloves may hinder your grip and not offer much protection at all.
Some say you should never wear gloves and allow your hands to toughen up, but for me, that is not a good option.
I do not want rough, tough, torn hands, and if I have a choice, I will prevent them.
That's why I choose to use gloves when I use the barbell or pull up bar.
What are the Best CrossFit Gloves?
My top choices are the Grip Power Pads Nova CrossFit Gloves because they have great grip, really protect your hands and are extremely well made.
I also like the Under Armour ClutchFit Renegade Training Gloves because they are thinner and allow you to feel the bar. These are the best gloves for WODs that use the pull-up bar.
Are Weight Lifting Gloves OK for CrossFit?
Sure, if the WOD prescribes any of the Olympic lifts or uses the barbell, weight lifting gloves are perfectly acceptable, and in fact, many CrossFit athletes use weight lifting gloves for barbell exercises.
Check out the best weight lifting gloves for women here, and the best weight lifting gloves overall here.
Summing it All Up
This concludes our take on the 11 best gloves for CrossFit. So, grab a pair and get out there.
If you spend too much time thinking about a thing, you'll never get it done. Make at least one definite move toward your goal daily. – Bruce Lee.
Order a pair of the best CrossFit gloves, and we will see YOU at the Box!
Have you ever thought of creating your own Box or CrossFit gym at home? If so, I created this list of the essential equipment you need to get your CrossFit gym set up right.
Do you love garage gym gear? Get reviews and news direct to your inbox by signing up for the Garage Gym Power newsletter today.