TOP 13 Best Gym Chalks for Weightlifting Reviewed 2022 + Guide & FAQs
Gym chalks are all created equal, right?
Just buy whatever brand or style. After all, gym chalk is only magnesium citrate, right?
Not quite!
The truth is, not all chalks created equal.
There is texture, firmness, added performance enhancers, presentation style and storage to consider.
With that in mind, I went on a quest to find out what the best gym chalk is and I came up with a list of the top 13 best weightlifting chalks just for you.
Plus…
I go over what you need to know to decide what's right for you. Let's start with those reviews!
TOP 13 Best Weightlifting Chalks Reviewed 2022
Different Presentation Styles of Lifting Chalk
When it comes to gym chalk, presentation is probably the biggest difference between brands.
There are three basic styles of gym chalk, each with their own pros and cons.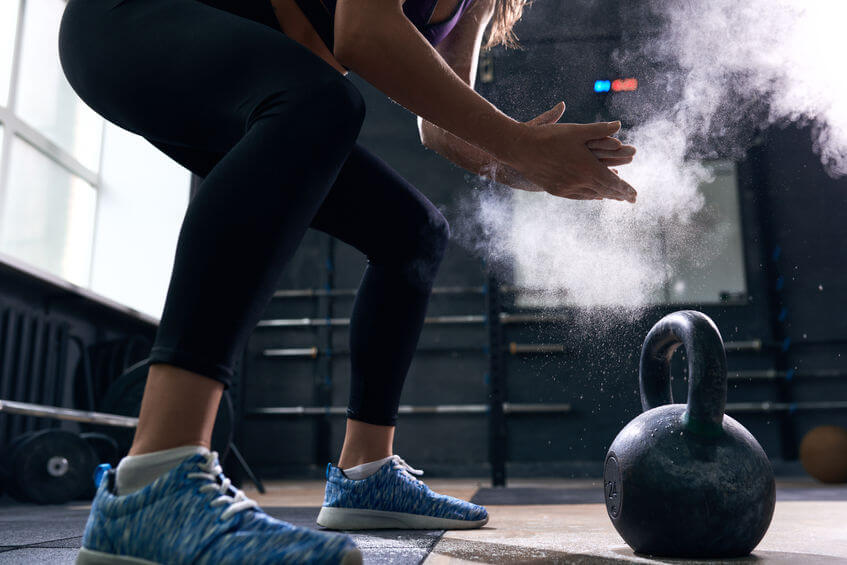 Liquid or Cream
Pros
Cons
Powder
Pros
Cons
Chalk Block
Pros
Cons
And the Winner is?
TBH block style is my least favorite because it's a PITA to apply and I feel like it does not coat well especially of the block is too hard.
Powder is my favorite, despite the mess. Powder coats really well, provided it is refined to be fine and fluffy.
I like the idea of liquid chalk, and it may be great for less sensitive athletes, but I find the alcohol too drying. But I have dry skin anyways, so it's just my opinion, take it with a grain of salt.
Find what works for you, all three styles have their fans, and there is one that will be your favorite too.
Gym Chalk FAQs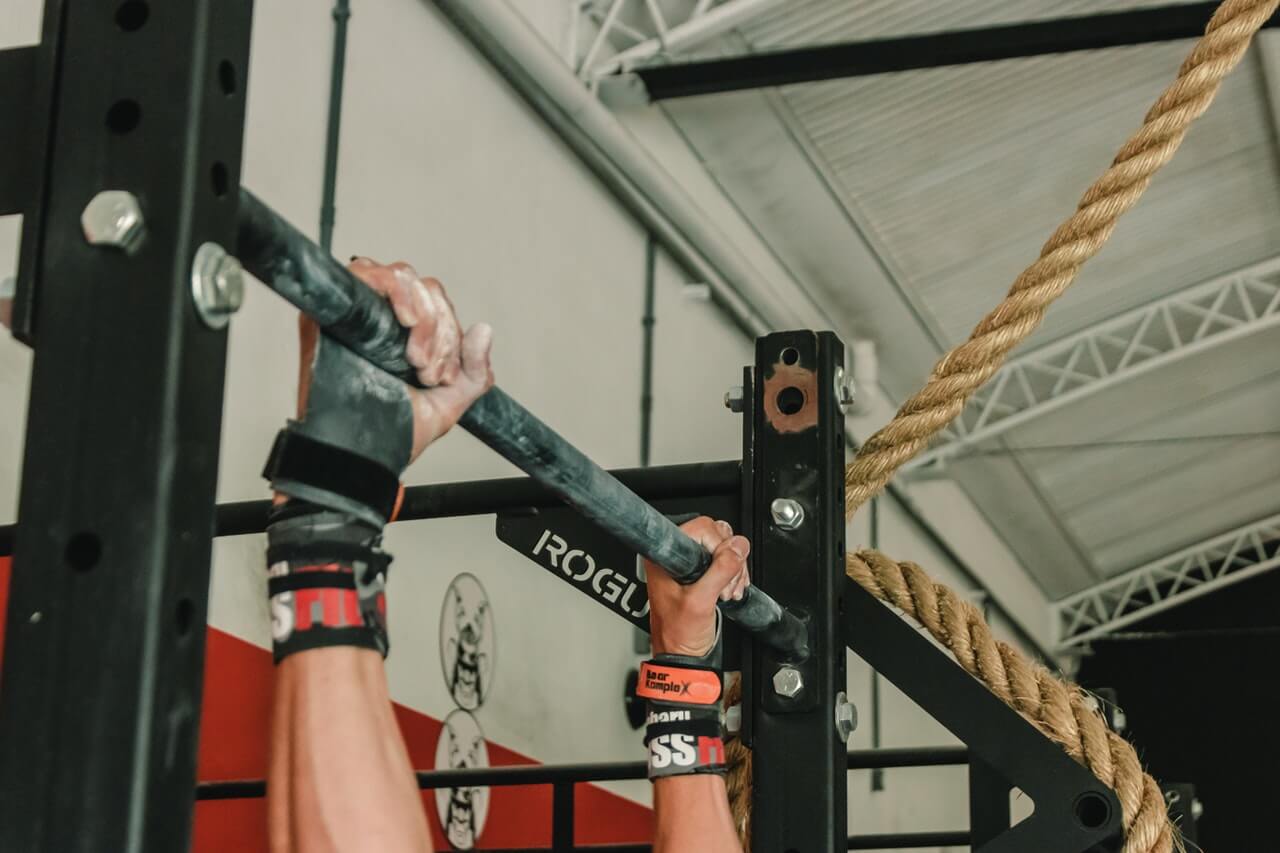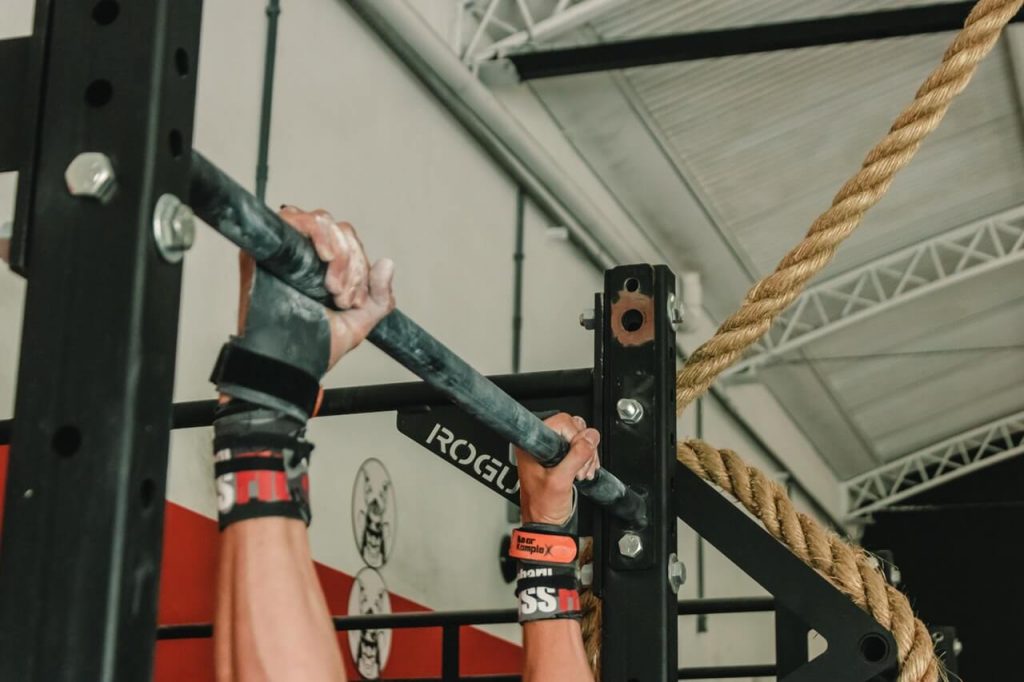 What is Gym Chalk For?
Gym chalk is used to keep your hands dry and improve your grip without the use of weightlifting straps or grips.
If you find your grip failing, try a gym chalk before you move onto weight lifting straps and you might find that chalk is all you need.
Generally, most folks use chalk on their palms and fingers, the part of the hand that comes into contact with the barbell. But, I do know a few guys who put a little chalk where the bar meets their back to help keep the barbell in place while they squat.
Gym chalk is used in several sports. Weightlifting, powerlifting, gymnastics, climbing, bouldering, CrossFit and any sport where good grip is important.
If you are struggling with your grip and want a way to increase your lifting weight but your grip is the limiting factor, consider hand grips. I reviewed several CrossFit hand grips here. These can be used for all style of lifting too.
Benefits of Weightlifting Chalk?
Lifting Chalk Improves Your Grip
An improved grip means you may be able to lift heavier, and push through PRs. Gym chalk also helps keep the bar from spinning in your hand, which allows you to maintain good form and prevent injuries.
Keeps Your Hands Dry
When you lift, your sweat. No surprise there.
Sweat can cause the bar to spin, or even cause you to lose your grip. Both of these situations can be unsafe. Lifting chalk is made from Magnesium Carbonate, which readily absorbs moisture and keeps your palms and the bar dry.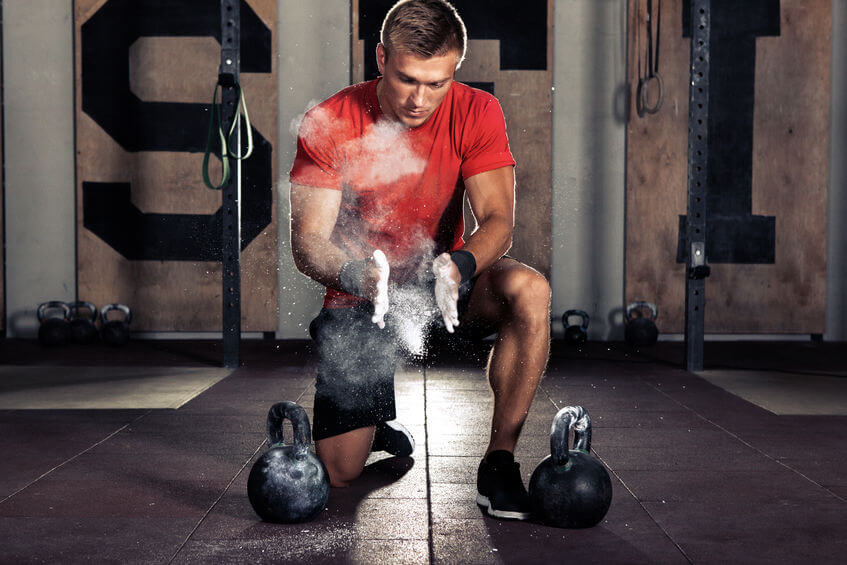 What is Weightlifting Chalk Made Of?
The main, and sometimes only, the ingredient in lifting chalk is Magnesium Carbonate.
But…
Before you say that makes all gym chalk the same, hear me out!
Magnesium Carbonate is made in different grades and textures. Some are chunky and grainy (not good), while other brands use a finely milled magnesium that has a smooth, fine texture that readily coats.
Now let's talk extras…
As I said earlier, liquid chalk is usually a combo of Magnesium Carbonate, alcohol of some sort and fragrance.
However…
Some brands use extra ingredients.
The problem is I cannot tell you what those extra ingredients are because these sneaky gym chalk companies love to keep their secret sauce secret.
So they do not list all the ingredients on the package. But these extra ingredients usually work to keep the chalk in place, add antimicrobial properties, enhance drying ability and to make the texture better.
Why do Bodybuilders Use Chalk?
Bodybuilders use chalk for the same reason other athletes use gym chalk. Gym chalk keeps their hands dry and adds grip, allowing them to lift heavy weights without the bar slipping or their grip failing.
Are you worried about your grip failing? I urge you to try gym chalk and work on improving your grip.
How?
By utilizing hand grip strengtheners. The other day I collected a list of the best hand grip strengtheners you can use to strengthen your grip. Check it out!
Does Chalk Help Weightlifting?
Yup.
Lifting chalk will keep your hands dry during the lift. This prevents the bar from spinning in your palm and allows you to get a better grip on the bar.
Why is Chalk Good for Grip?
Gym chalk is made from Magnesium Carbonate. Magnesium Carbonate is hygroscopic.
Hygroscopic means it attracts or absorbs water, in our case, sweat from your palms, and helps your palms stay dry, improving your grip.
Also, Magnesium Carbonate is not soluble in water which means it will not dissolve and become useless when you sweat. It holds its own.
How to Use Weightlifting Chalk?
Applying lifting chalk is pretty easy.
Article Summary
Thanks for reading and I hope this info helps you choose the best gym chalk for you.
While I have your attention, have you considered using lifting straps to improve your grip strength or allow you to lift heavier? I gathered together the best lifting straps here. Take a look!
Do you love gym gear? So do we!
Sign up for the Garage Gym Power newsletter and we will keep you in the loop by letting you know when new gear reviews and fitness news is available.