TOP 13 Best Gym Chalks for Weightlifting Reviewed 2023 + Guide & FAQs
Gym chalks are all created equal, right?
Just buy whatever brand or style. After all, gym chalk is only magnesium citrate, right?
Not quite!
The truth is, not all chalks created equal.
There is texture, firmness, added performance enhancers, presentation style and storage to consider.
With that in mind, I went on a quest to find out what the best gym chalk is and I came up with a list of the top 13 best weightlifting chalks just for you.
Plus…
I go over what you need to know to decide what's right for you. Let's start with those reviews!
TOP 13 Best Weightlifting Chalks Reviewed 2023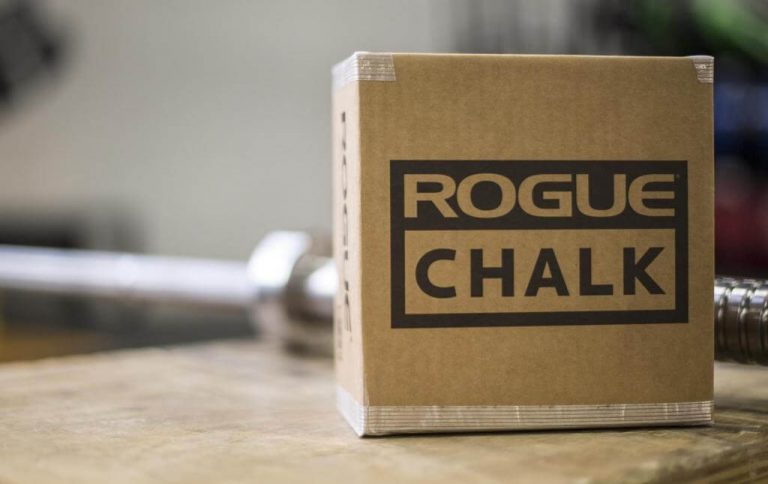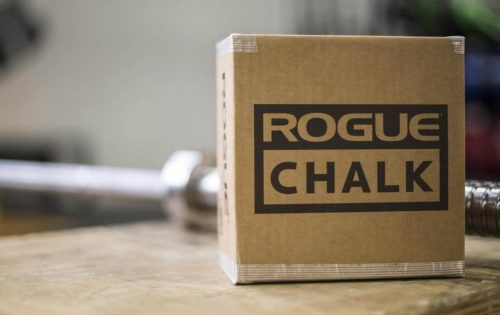 Review: Rogue block style gym chalk is one of the least expensive options out there. It can be purchased in singles or a package contains eight 2 oz. blocks and should last you a long time.
The blocks of Rogue chalk are solid and do not break easily, unlike some others.
Pros
Inexpensive.
Can buy in bulk – 8 blocks to a pack.
Blocks resist crumbling.
Cons
No chalk bag or sleeve included.
Takeaway
Great value gym chalk, best Rogue chalk available.
Friction Labs Unicorn Dust 2.5oz (70.8g) - Fine Texture - The New Standard in Chalk for Rock Climbing, Crossfit, and Powerlifting
GAME CHANGING GRIP: Don't limit yourself because of bad grip. Overcome grip problems caused by sweat, rain, humidity, and oils or sunscreen. Our high purity Magnesium Carbonate makes a single application last longer, giving you the grip you need to stay in the zone.
SKIN FRIENDLY GRIP: Made in Colorado, USA with the highest purity pharmaceutical-grade ingredients. Non-toxic, silica-free chalk that is safe for all skin types. Healthy Skin = Better Performance.
PEAK PERFORMANCE: A bit of moisture can be the difference between success and failure. Our high purity chalk lasts longer so you can keep pushing to that next hold instead of stopping to chalk up. Perfect for indoor & outdoor use.
TRUSTED BY THE BEST: Friction Labs is the only chalk endorsed by champions in multiple sports like rock climbing, tennis & powerlifting. Our chalk provides the long lasting moisture absorption you need to keep performing your best.
COMPLETE THE REGIMEN: Looking for maximum grip and performance? Learn from the pros: Activate your grip with Secret Stuff Liquid Chalk base layer before you climb or lift. Then add loose chalk to refresh your grip when pushing hard.
Review: FrictionLabs is a loose chalk available in 3 textures. Unicorn dust is fine-textured chalk. Gorilla grip has a chunky texture and BAM BAM is super chunky.
So pick what texture you prefer and get lifting!
Pros
Available in 3 textures.
Made in the USA.
No additives or fillers.
Cons
May clump up after a while.
Takeaway
FrictionLabs is the lifting chalk brand that allows you to choose your texture.
Primo Chalk - 1LBS Bucket - Fewer Applications Needed for Improved Focus on Weightlifting, Gymnastics, Rock Climbing, Gym
FEWER APPLICATIONS NEEDED - lasts about 2X as long with half the amount you are used to using from plain magnesium carbonate chalk.
NO HARMFUL CHEMICALS - sustainably sourced and trusted, stripped of fillers and free from heavy metals and dioxins.
REVOLUTIONARY FORMULA - moisturizes and conditions skin by providing natural protection against tears and dryness common from plain weightlifting chalk.
DRAMATICALLY IMPROVES GRIP - fine high purity magnesium carbonate provides unrivaled moisture absorption in a single application and is great for all skin types.
Review: Primo chalk comes in smaller packages and bulk pails up to 6 lbs. Primo chalk has an ultrafine texture and added anti-microbial essential oils.
Epsom salt is added to the mix to help prevent and heal callouses and prevent infection in the event of tears.
Pros
Contains essential oils and epsom salt.
Ultrafine texture.
Bulk sizes available.
Cons
More expensive than most.
Takeaway
Best chalk for weightlifting with added ingredients to kill bacteria.
Bison Designs Standard Chalkball
Review: The Bison Designs chalk ball is a mesh ball filled with loose chalk, and is about the size of a tennis ball.
The fine mesh dispenses just the right amount of chalk for your lift. The chalk is packed tight in the ball, so the ball should last a while.
Pros
Convenient mesh bag.
Dispenses just the right amount.
Tight packed chalk.
Cons
More expensive than bagging your own loose chalk.
Takeaway
As far as convenience goes, this is the best lifting chalk if you are in a hurry.
Black Diamond Liquid White Gold Chalk
Review: Black Diamond chalk is easy to use and stays put. Just apply and let dry and you are ready to lift.
Liquid chalk does not have to be applied as often as the loose stuff, and is way less messy. This liquid chalk is a little more fluid as opposed to creamy in texture, than others, which IMO makes it easier and to apply and has better coverage.
Pros
150 ml container.
Scented.
Sticks really well and offers excellent grip.
Mess-free.
Cons
More expensive and much less product than most others.
Takeaway
Best liquid chalk for weightlifting if you like a more liquefied style liquid chalk.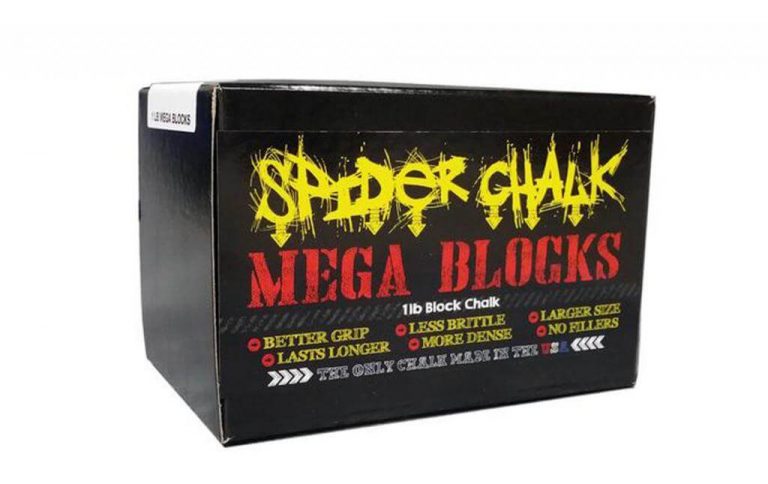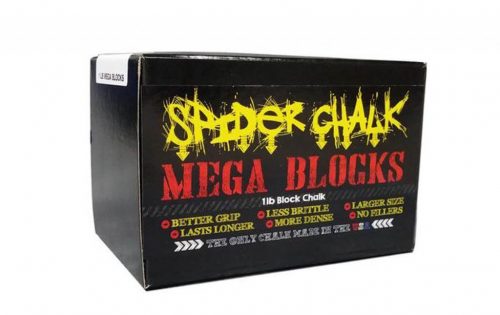 Review: Spider Chalk in the block style offers three big 5.5 oz blocks in one pack. I love that it is made in the USA and is pure Magnesium Carbonate with no funny stuff.
These large blocks will not easily crumble which is another reason I like them so much. If you own a gym, try these out!
Pros
Large block size.
Crumble resistant.
Pure Magnesium Carbonate.
Cons
A little more expensive than other block style chalks.
Takeaway
Get grip like Spiderman with these large chalk blocks that are the best gym chalk in block style.
Review: Metolius chalk is loose, fine power chalk with a special drying ingredient which is a trade secret not listed on the bag. If you sweat a lot, this might be a good choice.
While this chalk is pretty run of the mill, it does work well in mesh bags where it flows readily and coats your hands well.
Pros
Contains "trade secret" drying agent.
Fine texture.
Perfect for use in a sock, bag or sack.
Cons
Takeaway
A great chalk to use as a chalk sock refill.
Review: Salty Lance brings us a great bargain. 2 lbs of 100% Magnesium Carbonate pure gym chalk with bucket and lid included.
The bucket can be resealed which is nice. It's a real value and will last a long time, even in a commercial gym.
Pros
100% Magnesium Carbonate.
Great price – great value.
Bulk container lasts a long time.
Cons
Not portable. It is however suitable for being stationed in a commercial or home gym.
Takeaway
Best weight lifting chalk for the money.
Chalkness Monster Gym Chalk
Gym Chalk Blocks - Chalkness Monster Premium Sport Hand Chalk (8 x 2oz Blocks) - Easy Grip, Moisture Absorbing - Great for Power Lifting, Rock Climbing, Gymnastics, Weightlifting, Crossfit and more
100% MAGNESIUM CARBONATE PREMIUM CHALK For Absorbing Moisture And Improving Grip
ONE POUND OF QUALITY GYM CHALK In 8 2oz Blocks
MASTER YOUR GAME: Use For Power Lifting, Gymnastics Chalk, Rock Climbing Chalk, Kettlebell, Or Crossfit Chalk
BEST MONSTER ON THE MARKET: Chalk Ness Monster Gives You A Powerful No Slip Grip
WE GOT YOUR BACK: Chalk Might Crumble, But Powered Form Does Not Affect Its Usability
Review: Chalkness Monster is a 100 percent pure Magnesium Carbonate chalk in block form. It comes 8 to a package and is a great deal. It's just a basic, low price block style lifting chalk.
Pros
100 percent Magnesium Carbonate.
8 block of 2 oz each.
Long lasting.
Cons
Takeaway
Long lasting gym chalk in block form.
Liquid Fit Chalk, Liquid Chalk Weightlifting, Weightlifting Chalk, Chalk Weightlifting, Weightlifting Liquid Chalk, Liquid Chalk Grip, Chalk in a Bottle (50 ml)
🧗🏼‍LIQUID CHALK - Portable with less mess than block chalk and much less waste. Ideal for gyms who do not allow block chalk or for a home gym where you do not want a mess.
✅EASY TO APPLY - Quick dry and sweat resistant formula. Perfect for weightlifting and obstacle courses.
DEADLIFT LIKE a BEAST - No more slipping off the barbell when you are knocking out heavy deadlifts.
🏋🏽‍GET A GRIP - Significantly improves grip ability for Pull-Ups, Deadlifts, Kettlebells, Rock Climbing, Gymnastics and many other sports activities. Customers claim that they can increase Deadlifts by up to 20% with the additional grip.
🕘LONG-LASTING - This chalk can last through an entire weightlifting workout without the need to re-apply, unlike traditional block chalk. When the chalk dries, it sticks better to your hands and creates a long-lasting base layer.
Review: Liquid Fit chalk is a good value because you do not need to apply it as often as powdered chalk.
It sticks to your hands really well, leaves little residue behind and is a great option for gyms that do not allow powdered chalk.
Pros
Lasts longer on hands than powder.
Anti-microbial – thanks to the alcohol.
Made in the USA.
Cons
Takeaway
A high quality long lasting liquid chalk.
Spider Chalk Weightlifting Liquid Chalk
Spider Chalk Weightlifting Liquid Gym Chalk Made in the USA - No Mess, No Dust, For Gymnastics, Rock Climbing, Workout Lifting, Cross Fitness Training, and Tennis (8oz)
NEW GRIP-LOCK TECHNOLOGY- Includes Grip-Lock Technology composed of several bonding agents, nano-resins and tackifiers which simultaneously dry the hand and increase grip for up to 60 minutes.
LASTS LONGER- Stays on your hand for the entire workout. Our formula includes 2 non-toxic bonding agents so the chalk lasts longer than other liquid chalks.
LAB TESTED- We use pure, lab-made magnesium carbonate. Spider Chalk is the only chalk with that level of purity and you can feel the difference immediately.
GYM BAG SIZE- Over 200+ applications per 8oz bottle.
NEW FORMULA FOR 2022- Developed by chemists and tested on professional athletes, Spider Chalk enhances grip up to 60 minutes.
Review: Spider chalk is next level liquid chalk. It has 8 proprietary ingredients, including lab-grade Magnesium Carbonate and pine resin.
These carefully chosen ingredients allow you to get a superior grip without reapplying.
The stuff stays on your hands, and does not come off on the bar. Perfect for gyms that ban chalk.
Pros
Lab grade Magnesium Carbonate.
8 proprietary grip creating, sweat resisting ingredients included.
Made in the USA.
Cons
Takeaway
Look no further, this is the best liquid chalk I know of.
Spri Chalk Block, Chalk Ball & Liquid Chalk For Gymnastics, Rock Climbing, Bouldering, Weight-Lifting, Crossfit – Single pack
GYM CHALK BLOCK - 2oz magnesium carbonate, pigment free, non-toxic chalk block keeps hands dry, prevents blisters and calluses while reducing slippage during your workout
IMPROVES GRIP AND HANDLE: Great for gymnastics, rock climbing, bouldering, and all power and weight lifting activities including deadlifts, pull-ups, kettlebells and more
KEEPS HANDS DRY: Absorbs and eliminates moisture keeping sweaty hands dry and does not easily rub off so you can lift or climb longer with confidence
EASY TO USE: Block can easily be broken apart to refill your climbing chalk bag or stores well in a Ziploc bag or small Tupperware container
SUPER GRIP: Also great for other grip-intensive activities such as yoga to keep your mat dry for a superior grip
Review: SPRI offers great gym chalk in blocks at a great price. You can order single blocks, which I appreciate because blocks last a LONG time and some folks don't want to store a bunch of blocks around their house for years.
These blocks are pure, soft Magnesium Carbonate that crumbles easily into smaller, easier to use pieces and offers good grip.
Pros
Pure Magnesium Carbonate.
Good value.
Keeps hands dry and improves grip.
Cons
Takeaway
Great block style gym chalk at a great price.
FrictionLabs Secret Stuff Chalk Cream
Friction Labs Secret Stuff Liquid Chalk, Original Formula with Alcohol - Sports Chalk Cream - Great Grip for Gymnastics, Rock Climbing, Weight Lifting, Pull-Ups, Deadlifts, Kettlebells, Pole
QUICK, CONFIDENT GRIP: If you're unsure of your grip, you hold back, make mistakes and don't perform at your best. Whether it's from sweat, moisture, humidity, or oils, Secret Stuff gives power and control to any athlete who needs dependable hands.
FOR ALL SKIN TYPES: No matter the climate or skin type, Secret Stuff is here for you. Original is great for humid climates. Alcohol-free is designed for climate-controlled gyms and/or sensitive skin. Hygienic delivers extra grip while killing germs.
NO MESS = GYM FRIENDLY: While many liquid chalks can reduce dust, Friction Labs is the only company with 2 liquid hand chalk formulas (Alcohol Free and Hygienic) that don't leave ANY marks on clothes or equipment, and wash off hands in seconds.
TRUSTED BY THE BEST: Friction Labs is the only chalk endorsed by champions in multiple sports like rock climbing, tennis & powerlifting. Secret Stuff is the only liquid chalk for grip made in USA with the highest quality magnesium carbonate chalk.
COMPLETE THE REGIMEN: Our liquid gym chalk is the perfect foundational layer to quickly activate your grip. If you're really pushing it and need even more drying power, refresh your grip with Friction Labs loose chalk or chalk ball.
Review: FrictionLabs Secret Stuff chalk cream is the business! It stays on after one application and lasts the entire workout.
It is made with three simple ingredients and no funky stuff. Best of all it gives you great grip without the mess!
Pros
Offers excellent grip.
Leaves minimal residue and makes no mess.
Made with 3 simple ingredients.
Lasts the entire workout without reapplication.
Cons
At about 100 applications per bottle, it's not the most economical choice.
Takeaway
Pure simple, effective and mess free liquid gym chalk.
Different Presentation Styles of Lifting Chalk
When it comes to gym chalk, presentation is probably the biggest difference between brands.
There are three basic styles of gym chalk, each with their own pros and cons.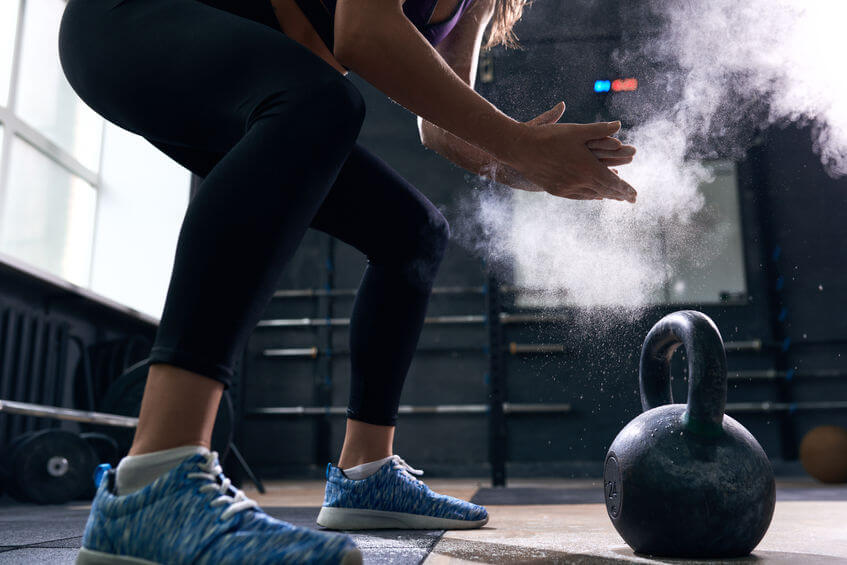 Liquid or Cream
Pros
Stealth mode – if your gym frowns on chalk use liquid chalk. Once it dries, it does not leave much residue and never leaves the powdery mess that loose chalk will.
Cleaner – keep your home gym neat and tidy by using liquid or cream chalk. No more floofy mess.
Liquid chalk stays on your hands longer – often one application is enough for the entire workout. This saves time and offsets the cost a bit too.
Cons
Can dry out hands – most liquid chalks contain quick-drying alcohol, which can dry out natural oils and leave you more vulnerable to chafing and even tears.
Usually, containers are smaller – making the price per application higher.
Powder
Pros
Powder is really inexpensive – usually, powder is just pure Magnesium Carbonate.
Powder can be refined to be really fine, which may allow it to cover your hands better than block style.
Powder can be used with a sock, which makes it much easier to apply, store and carry with you.
Powder is easier to apply than block chalk, and no need to allow it to dry like liquid chalk.
Powder chalk usually contains no added ingredients that are harsh for your skin, and it is certainly alcohol free-unlike liquid chalk.
Cons
Powder is the messiest style of chalk – usually, powder is the style that commercial gyms ban, due to the mess it can make.
Powder is challenging to store and carry – imagine your lifting chalk powder opening up in your gym bag, or someone knocking over the powder bucket and you get the idea. Powder gym chalk is like an unwanted gym fairy dusting all your belongings with magical gym dust. Annoying!
Chalk Block
Pros
Way less messy than powder – a block can not puff up into a cloud like powder.
Lasts a long time, does not overcoat your hands.
Can be carried as smaller pieces – just shove a small piece of the block in a Ziploc bag and you are ready to go.
Cons
Tends to crumble or break – even if you don't want it to break.
The most challenging to apply – of all three styles, this style is the most challenging to apply because you have to rub the block on your hands and it does not coat as readily as powder or liquid.
And the Winner is?
TBH block style is my least favorite because it's a PITA to apply and I feel like it does not coat well especially of the block is too hard.
Powder is my favorite, despite the mess. Powder coats really well, provided it is refined to be fine and fluffy.
I like the idea of liquid chalk, and it may be great for less sensitive athletes, but I find the alcohol too drying. But I have dry skin anyways, so it's just my opinion, take it with a grain of salt.
Find what works for you, all three styles have their fans, and there is one that will be your favorite too.
Gym Chalk FAQs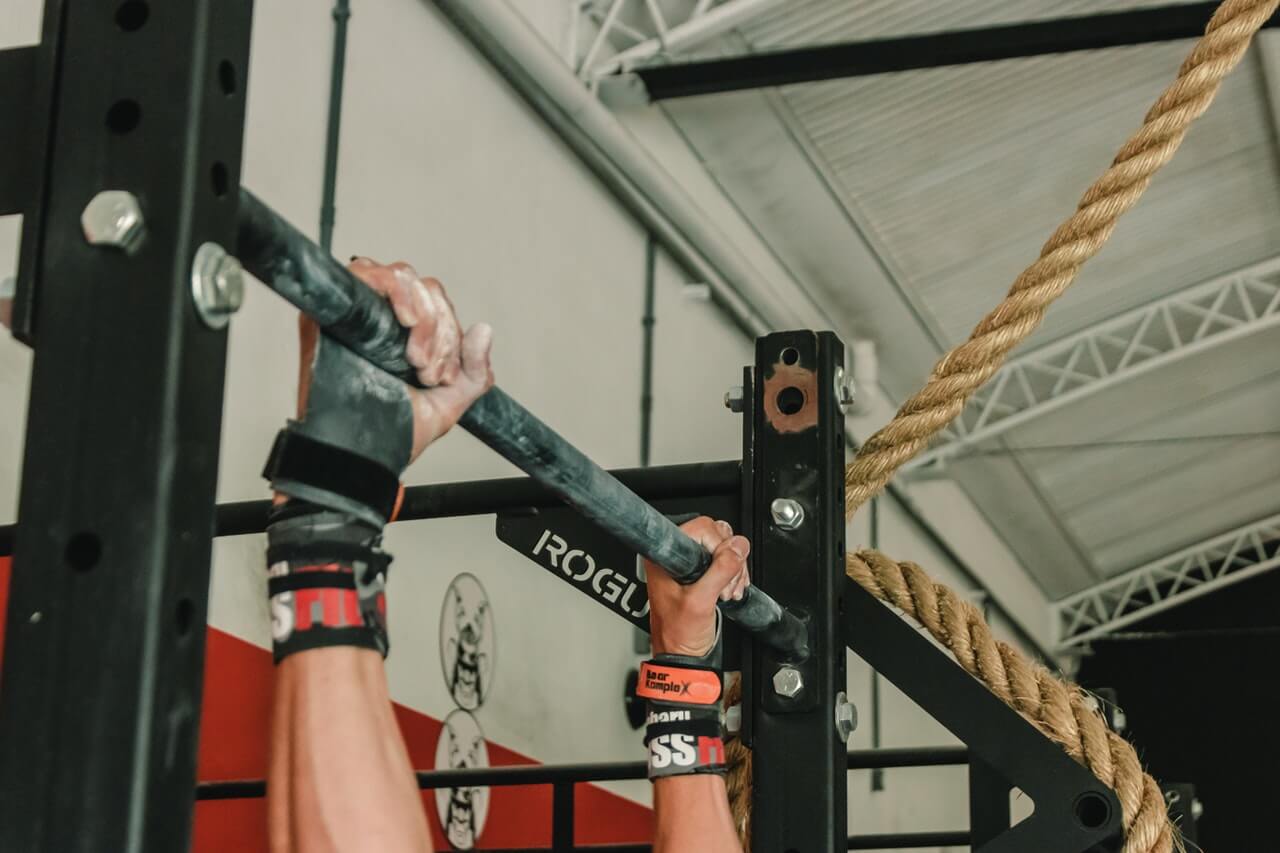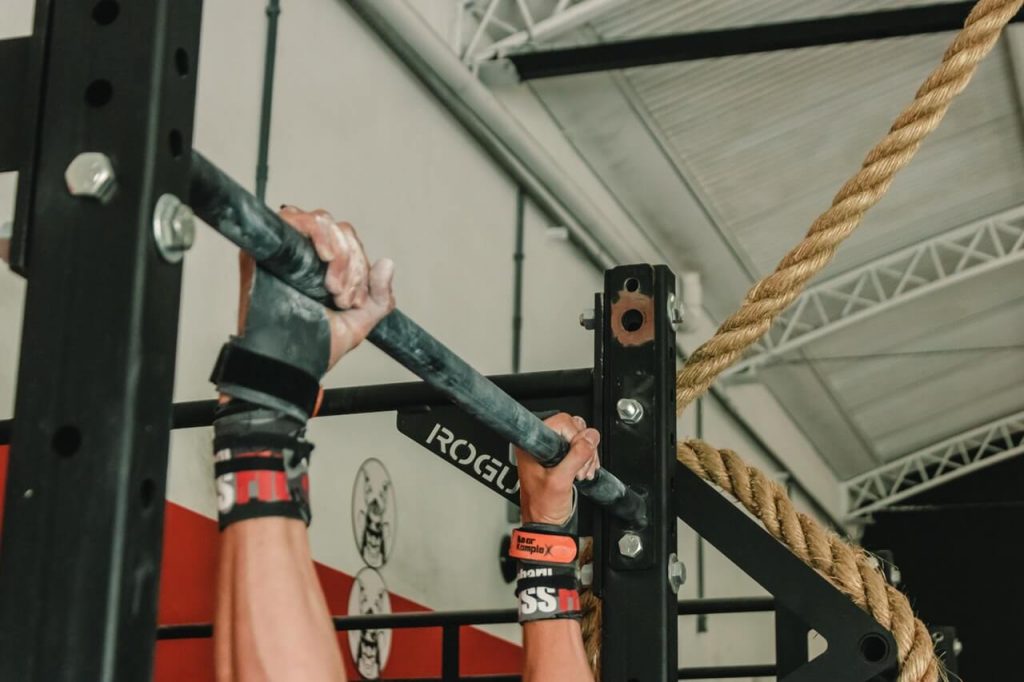 What is Gym Chalk For?
Gym chalk is used to keep your hands dry and improve your grip without the use of weightlifting straps or grips.
If you find your grip failing, try a gym chalk before you move onto weight lifting straps and you might find that chalk is all you need.
Generally, most folks use chalk on their palms and fingers, the part of the hand that comes into contact with the barbell. But, I do know a few guys who put a little chalk where the bar meets their back to help keep the barbell in place while they squat.
Gym chalk is used in several sports. Weightlifting, powerlifting, gymnastics, climbing, bouldering, CrossFit and any sport where good grip is important.
If you are struggling with your grip and want a way to increase your lifting weight but your grip is the limiting factor, consider hand grips. I reviewed several CrossFit hand grips here. These can be used for all style of lifting too.
Benefits of Weightlifting Chalk?
Lifting Chalk Improves Your Grip
An improved grip means you may be able to lift heavier, and push through PRs. Gym chalk also helps keep the bar from spinning in your hand, which allows you to maintain good form and prevent injuries.
Keeps Your Hands Dry
When you lift, your sweat. No surprise there.
Sweat can cause the bar to spin, or even cause you to lose your grip. Both of these situations can be unsafe. Lifting chalk is made from Magnesium Carbonate, which readily absorbs moisture and keeps your palms and the bar dry.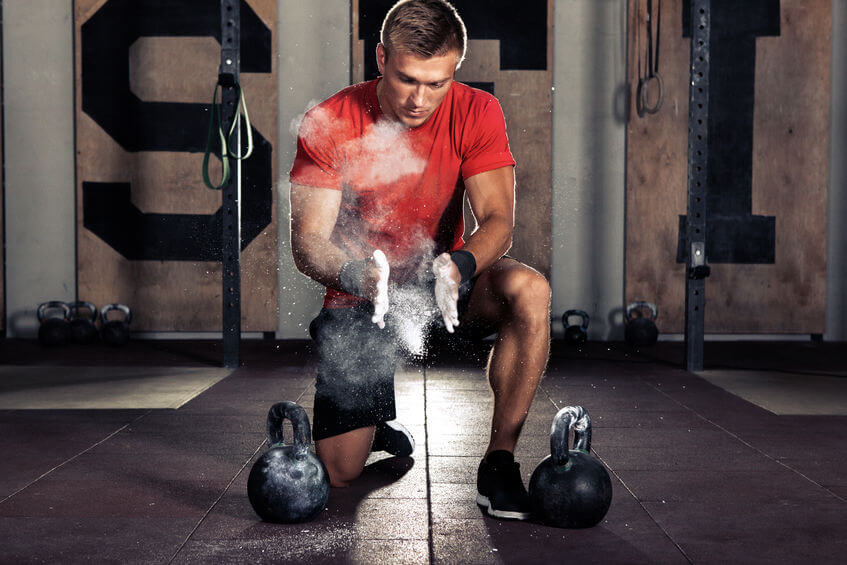 What is Weightlifting Chalk Made Of?
The main, and sometimes only, the ingredient in lifting chalk is Magnesium Carbonate.
But…
Before you say that makes all gym chalk the same, hear me out!
Magnesium Carbonate is made in different grades and textures. Some are chunky and grainy (not good), while other brands use a finely milled magnesium that has a smooth, fine texture that readily coats.
Now let's talk extras…
As I said earlier, liquid chalk is usually a combo of Magnesium Carbonate, alcohol of some sort and fragrance.
However…
Some brands use extra ingredients.
The problem is I cannot tell you what those extra ingredients are because these sneaky gym chalk companies love to keep their secret sauce secret.
So they do not list all the ingredients on the package. But these extra ingredients usually work to keep the chalk in place, add antimicrobial properties, enhance drying ability and to make the texture better.
Why do Bodybuilders Use Chalk?
Bodybuilders use chalk for the same reason other athletes use gym chalk. Gym chalk keeps their hands dry and adds grip, allowing them to lift heavy weights without the bar slipping or their grip failing.
Are you worried about your grip failing? I urge you to try gym chalk and work on improving your grip.
How?
By utilizing hand grip strengtheners. The other day I collected a list of the best hand grip strengtheners you can use to strengthen your grip. Check it out!
Does Chalk Help Weightlifting?
Yup.
Lifting chalk will keep your hands dry during the lift. This prevents the bar from spinning in your palm and allows you to get a better grip on the bar.
Why is Chalk Good for Grip?
Gym chalk is made from Magnesium Carbonate. Magnesium Carbonate is hygroscopic.
Hygroscopic means it attracts or absorbs water, in our case, sweat from your palms, and helps your palms stay dry, improving your grip.
Also, Magnesium Carbonate is not soluble in water which means it will not dissolve and become useless when you sweat. It holds its own.
How to Use Weightlifting Chalk?
Applying lifting chalk is pretty easy.
Just dust or wipe or squirt some chalk on the parts of your palm that touch the barbell.
If you use powder or block form, dust your hands off a bit over the container, to avoid a mess.
Then keep your hands closed until you approach the bar for your lift. That's it.
Article Summary
Thanks for reading and I hope this info helps you choose the best gym chalk for you.
While I have your attention, have you considered using lifting straps to improve your grip strength or allow you to lift heavier? I gathered together the best lifting straps here. Take a look!
Do you love gym gear? So do we!
Sign up for the Garage Gym Power newsletter and we will keep you in the loop by letting you know when new gear reviews and fitness news is available.