TOP 13 Best Hand Grip Strengtheners & Exercisers Reviewed 2023
Why bother with grip training anyways?
I will tell you why…
Do you want to reach greater heights as a rock climber?
Build bigger hands and stronger, more muscular and vascular forearms?
Deadlift more or deadhang longer?
Be a tougher, more well-rounded athlete?
Then stay tuned!
Here I review 13 of the best hand grip strengtheners because you need the right tool for the job.
Then I go over what to look out for before you choose the right gripper for you and go over tips, FAQs and exercise routines you can follow to get a great grip.
TOP 13 Best Hand Grip Strengtheners 2023
Captains of Crush Grippers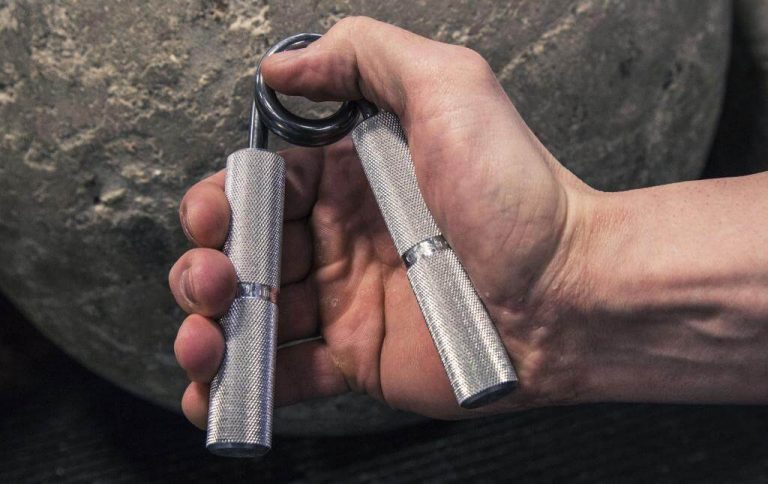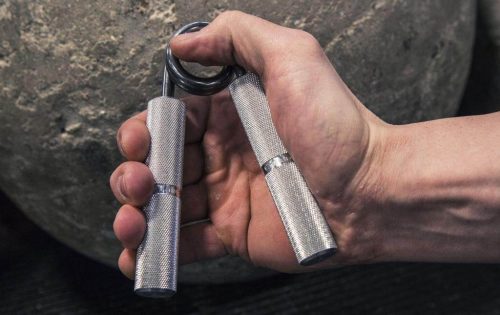 Review: With so much riding on your grip strength, exercising and strengthening your grip is key to improving performance in many athletic endeavors.
The Captains of Crush Grippers are made with hardy aircraft grade aluminum, knurled to grippy perfection.
You will not find their proprietary, precision springs on any other grip strengtheners out there and their quality is unrivaled.
Pros
Knurled just like a barbell for excellent grip.
Made from aircraft grade aluminum and will not corrode.
Made in the USA.
Grippers available with resistance from very light up to a massive 365 lbs.
Cons
Must buy a different pair of grip for each resistance level.
Takeaway
Well known and widely respected grippers, the Captain of Crush strength training grips are one of the best grip strengtheners available.
FitBeasts Hand Grip Strengthener
Sale
FitBeast Grip Strengthener Forearm Strengthener Hand Grips Strengthener Kit - 5 Pack Adjustable Resistance
𝗘𝗿𝗴𝗼𝗻𝗼𝗺𝗶𝗰 𝗗𝗲𝘀𝗶𝗴𝗻 — Our hand grips feature a contoured shape that fits comfortably in your palms, reducing strain and fatigue during workouts. Strengthening your grip can reduce the risk of injuries during sports or everyday activities that involve handling objects.
𝗣𝗼𝗿𝘁𝗮𝗯𝗹𝗲 𝗮𝗻𝗱 𝗣𝗿𝗲𝗺𝗶𝘂𝗺 𝗠𝗮𝘁𝗲𝗿𝗶𝗮𝗹𝘀 — Designed for optimal comfort and performance, the FitBeast features a textured handle for a secure grip. The compact design makes it easy to carry these hand grips anywhere, perfect for home or office and convenient for travel or gym use, enabling you to strengthen your grip on the go. Crafted from high-quality, non-slip rubber, these grips offer excellent durability and provide a secure hold for every exercise.
𝗔𝗱𝗷𝘂𝘀𝘁𝗮𝗯𝗹𝗲 𝗥𝗲𝘀𝗶𝘀𝘁𝗮𝗻𝗰𝗲 — Easily customize the resistance level from beginner to advanced, allowing you to progress at your own pace. The adjustable resistance levels allow you to progress and challenge yourself over time, Ideal for individuals recovering from hand or wrist injuries, our hand grips can aid in rehabilitation and enhance dexterity.
𝗦𝘂𝗶𝘁𝗮𝗯𝗹𝗲 𝗙𝗼𝗿 𝗘𝘃𝗲𝗿𝘆𝗼𝗻𝗲 — Suitable for various activities, including strength training, rehabilitation, sports, and stress relief. Weightlifters, rock climbing, martial arts, tennis, golf, wrestling, and baseball, where grip strength is crucial for performance. In addition to this, musicians, particularly guitarists, pianists, and drummers, office workers and olders can benefit from using hand grippers.
𝗣𝗿𝗼𝗳𝗲𝘀𝘀𝗶𝗼𝗻𝗮𝗹 𝗔𝗳𝘁𝗲𝗿-𝘀𝗮𝗹𝗲𝘀 𝗦𝗲𝗿𝘃𝗶𝗰𝗲 — FitBeast has been committed to providing customers with better products and services. If you have any questions on the usage of the products, you can access to our after-sale customer service 24/7 and we will offer you any help you need.
Review: This kit includes 5 different grip strengtheners and a carry travel bag.
The gripper is adjustable from 20 to 132 lbs, and s good for beginners, as hand therapy or for those who want to start with a lighter weight.
Pros
Includes Gripper, finger trainer, stress ball, finger stretcher, grip ring and carry bag.
YouTube video tutorials show you how to use the system.
Gripper is adjustable up to 132 lbs.
5 pack makes this kit a great value.
Cons
Only goes to 132 lbs of resistance, which is OK, but there are higher resistance options out there.
Takeaway
A great value priced 5 piece kit excellent for beginners.
Sale
Review: Heavy grips are as advertised-heavy! The start at 100 lbs and move up in 50 lb increments to 350.
They are very similar to the Captains of Crunch, but with a smaller price tag.
These knurled aluminum handles are perfect for weight lifters, bodybuilders, rock climbers and CrossFit Athletes who rely on a strong grip. These are not your old man's grip trainers.
Pros
Made with knurled aluminum grips.
Increments of 50 lbs.
Up to 350 lbs of resistance available.
Cons
Must buy a new set if you want to advance, not adjustable.
Takeaway
Offering the heaviest resistances available, The Heavy grips are among the best grip strengtheners available.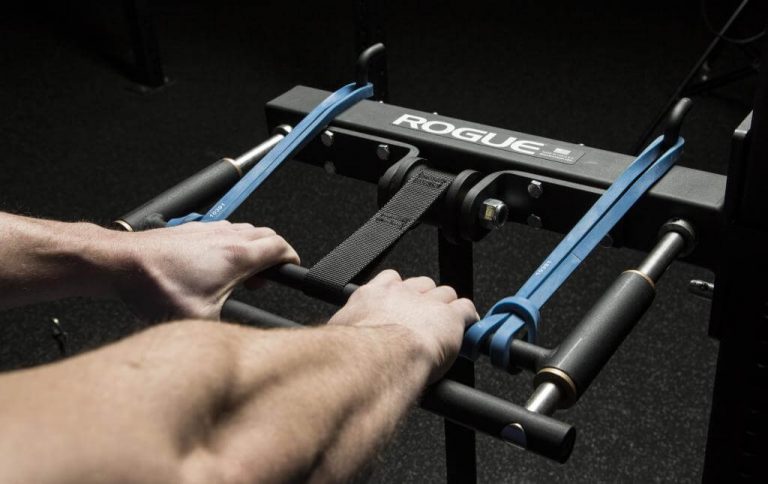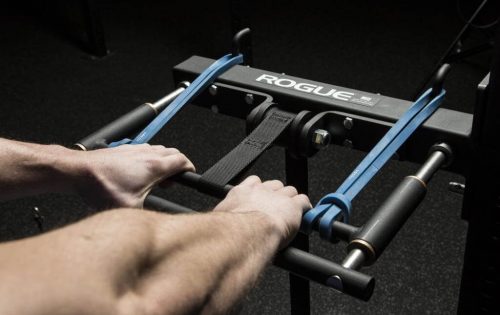 Review: This dual hand grip trainer attaches to your rig and allows you to train your grip and forearm right along with your normal routine.
This machine is completely adjustable since it uses your own Olympic weights, so you never need to buy another one. It has no springs that wear out either, and will last a lifetime.
Pros
Uses your own Olympic weights.
Can be loaded quite heavy.
Made with 11 gauge steel.
Long lasting and will not get lost.
Cons
Takeaway
This bad ass looking Rogue grip strengthen will be the envy of your friends, guaranteed.
Review: Fat Gripz are made from hardened rubber that fits over your barbell forcing you to hold on to a wider object, effectively strengthening your grip.
If you want to move up a level, there are three diameter Fat grips to choose from, 1.75 inches, 2.25 inches and 2.75 inches.
You will kill two birds with one stone and increase grip strength while you strength train.
Pros
Available in three sizes to increase the challenge.
Made from military spec rubber.
Engages more muscles than standard squeeze style grip trainers.
Can train grip while you lift or do pull-ups – a time saver.
Cons
Pricy.
Can't know the exact added resistance.
Takeaway
Fat Gripz are the best hand exerciser for the pull up bar and increasing bar grip strength.
Beaverve Grip Strength Trainer
Beaverve Grip Strength Trainer, Hand Strengthener with 30-50lb Resistance, Hand Exerciser Grip Strengthener for Carpal Tunnel, Forearm Grip Workout, Finger Strengthener Extension Exerciser, 3PCS
FITNESS & SPORT ENTHUSIASTS - Strengthen your wrists, improve the dexterity of your fingers and increase the strength your hands can apply while reducing fatigue. Its rally value is from 30 to 50 lb. Help balance your grip muscles and your expanding muscles.
SUPERIOR-QUALITY DESIGN FOR MAXIMUM PERFORMANCE - SAFE AND DURABLE - Made of top-quality silicone, not easy to tear. It is washable and can be use frequently and comfortably.
REHABILITATION & PREVENTION - Great for rheumatoid arthritis, arthritis, carpal tunnel, tendonitis, tennis elbow and are on the way to recover from a fractured or broken wrist, or when you type, text or any other activities which use your gripping muscles.
ERGONOMIC DESIGN FOR ALL HANDS - Suitable for all age groups and fits well for all hand sizes, different from other "small finger holes bands" on the market. Portable and easy to fit in bag or pocket. You can get repetitions in while driving, at the office or anywhere!
100% MONEY BACK GUARANTEE - If you don't like Beaverve grip strength trainer for any reason, you can just take advantage of our 12 MONTHS GUARANTEE! We will replace it or give you your money back for any reason! NO QUESTIONS ASKED.
Review: These colorful lightweight ring style grip trainers are good for beginners or hand therapy after surgery.
They are sold as a set of three in 30, 40 and 50 lb weights so you can move up when you are ready without needing to buy anything else.
They are also an extremely budget-friendly option, which is always a bonus.
Pros
Very affordable.
Three ring set, 30, 40 and 50 lbs resistance levels.
Good for therapy and hand recovery from surgery.
Cons
May not offer enough resistance for experienced athletehs.
Takeaway
A light and friendly grip strength trainer for beginners, elderly and for therapeutic use.
The Friendly Swede Hand Grip Strength Trainer
The Friendly Swede Stress Balls for Adults and Kids, Hand Squeezer Grip Strength, Hand Therapy Ball, Stress Ball Pack, Squeeze Ball, Stress Balls Bulk - Set of 3 Squeeze Balls for Hand Therapy - Large
✅ STRESS RELIEVER & HAND GRIP STRENGTHENER: These colorful fidget balls in three levels of progression (20 lb - 30 lb - 40 lb resistance) help you focus, relieve stress and train hands, forearms and wrists. Stress relief balls for kids and adults.
✅ PERFECT FOR: Preventing tension, increasing limberness and alleviating joint pain. Great stress toys for adults and kids. Perfect occupational distraction for quitting smoking. Grip muscle training for beginner lifters.
✅ MAKE EXERCISE SIMPLE: Scroll down for hand grip exercise ideas with our stress ball for kids and adults. Always consult with your physician before beginning any physical exercise program for rehabilitation purposes.
✅ FRIENDLY DESIGN AND DURABILITY: Egg shaped for a comfortable fit in your hands. Made of skin-safe thermoplastic rubber (TPR). Three size options - for anyone in the family! XS: 2"x1.3" Small: 2.5" x 1.75" Large: 3.0" x 2.2". Less messy than Therapy Putty. Easy to clean from dust and dirt.
✅ GREAT GIFT AND WARRANTY - This set contains 3 different resistance levels (soft, medium and firm) to fit anyone. Soft is great for children and elderly to get finger and forearms strength or to keep busy. Medium is perfect for the work man to maintain concentration. The firmest is suitable for people wanting to train certain muscles. The Friendly Swede's Lifetime Warranty covers this product.
Review: This set of egg-shaped stress balls are sure to relieve tension while they work your arm and wrist.
They are lightweight and have resistance ranging from 20 to 40 lbs. These are good for kids, for therapeutic use, and for beginners.
Pros
Set of three.
Resistance from 20 to 40 lbs.
Perfect for recovery after your workout – keeps hand joints limber.
Cons
Resistance levels are not very high.
Takeaway
Best hand grip exerciser for recovery, stretching, warming up and hand therapy.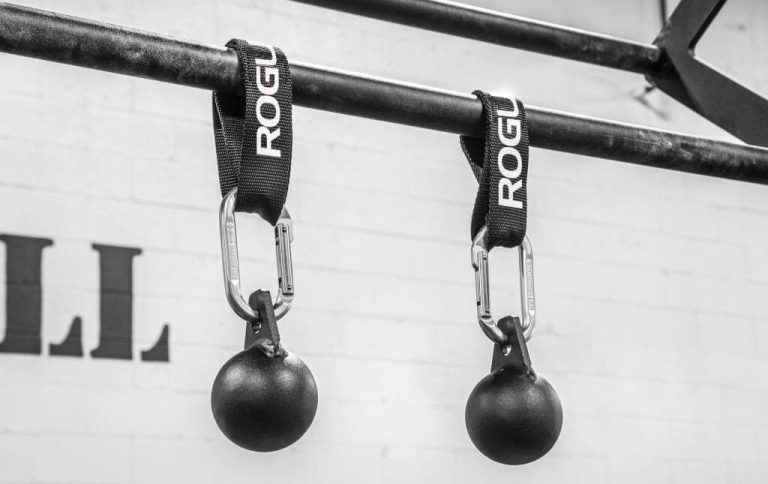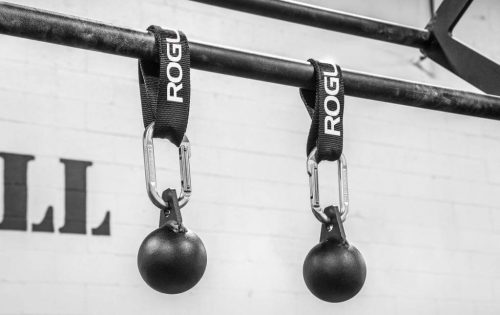 Review: Pick up a pair of Rogue Cannonballs and really give your grip a challenge.
These steel balls are powder coated to resist corrosion, and have ¼ inch steel connectors that will not fail on a pull up or chin up.
Train your grip on a whole new level with these balls!
Pros
Powder coated steel balls.
¼ inch steel connectors.
Cons
DOES NOT include carbineers and straps to attach to the pull up bar (but can be purchased as a set).
Takeaway
A really unique, alternative way to increase strength in the hand and fingers.
Sale
Vive Therapy Putty (4 Pack) - Theraputty for Hand - Stress Putty for Adults, Kids - Exercise Putty for Rehab, Finger, Grip Strength Resistance - Sensory Putty and Therapy Occupational Clay - 3 Ounces
EASY HAND STRENGTH TRAINING: Perfect for rehabilitation, physical or occupational therapy, therapy putty is used for strengthening the hand muscles, improving fine motor skills and relieving stress. Variable stretch resistance putty can be squeezed, pinched, stretched and twisted to effectively work the hand muscles.
FOUR DISTINCT RESISTANCE LEVELS: Gradually increase hand and grip strength with four distinct levels of resistance putty based on industry standard recovery protocols. Varying from extra soft to firm, each easy to open container holds three ounces of putty
3 OUNCES OF EACH COLOR: Each three-ounce container of therapy putty is color coded by resistance level for additional convenience. The yellow putty is rated as extra soft. The red putty is soft, the green is medium and the blue putty is rated as firm
ODORLESS, NON TOXIC SILICONE: Composed of an odorless silicone, the therapy putty is non toxic. The silicone putty is durable and able to withstand extensive use without graining.
VIVE GUARANTEE: 60 day guarantee so you can purchase now with confidence
Review: This set of 4 hand therapy putty can be used before or after a workout, to stretch and warm up the hand, increase agility, and help your hand recover after a hard workout.
Each container holds a generous 3 ounces of putty, so these work for big guys too.
You can also reverse train your hands, and increase musculature and vascularity on the back of your hand as well as strengthen grip.
Pros
Available in 4 resistance levels.
Good for therapy, recovery, and working the fingers and back of the hand.
Pretty challenging – don't let the putty label fool you.
Cons
Color may transfer to hands with heavy use.
Takeaway
Fun and colorful way to stretch and exercise your hand and improve your grip – exercise chart included!
Review: Iron Mind TUG Gripper is like no other. This gripper has wide grips, and allows you to work just one or two fingers at a time.
This gripper is focused on the thumb, fingers, and hand specifically, so it is especially useful to mountain and rock climbers.
Pros
Made from corrosion resistant knurled aluminum.
Available in seven strength levels.
Trains the thumb in isolation too!
Cons
Must buy a new gripper to go up a level.
Takeaway
The smart way to strengthen your grip one or two fingers at a time – even works on your thumb.
Trango Rock Prodigy Training Center Hangboard
TRANGO Rock Prodigy Training Center Hangboard
FINGER STRENGTH MATTERS - One of the most sophisticated hangboards on the market, the Rock Prodigy helps climbers build their finger strength and precision for the moments they need it most; Installation hardware is NOT included
ANY HOLD, ANYTIME - The possibilities are endless; With 2, 3, and 4-finger holds, deep and shallow, plus crimp grips and pinch grips with bumpers, no hand muscle is underworked; Set it up in your garage, living room, office, bedroom; Never stop hanging; Hang while you sleep
ERGONOMIC DESIGN - 2-piece design lets you fine-tune the the board to your shoulder width; Joint-friendly, ergonomic radius on each hold allows for comfortable workouts and reduces the risk of injury
MULTI-TEXTURED - Slick texture on all non all non-hold areas protects inactive fingers; Single texture on all positive surfaces minimizes skin abrasion; Double texture on the sloper, pinch, and jug ensure a stable grip
SET YOUR OWN PACE - Variable depth edge rails simulate both deep holds and micro-edges; Index bumps along variable edge rails promote precise and repeatable finger placement
Review: This Trango Hang board is an excellent way for any rock or mountain climber to strengthen their grip.
Just install in on your rock wall to strengthen virtually any hold. Includes two, three and four finger holds in both deep and shallow depths, this is a must have for any climber.
As an added bonus, the width between the grips is adjustable.
Pros
Grip width is adjustable, can be mounted any distance apart.
Includes more handholds and depths than standard hang boards.
Includes treacherous sloped grips to practice with.
Cons
Takeaway
The best adjustable hand grip strengthener for rock walls.
Mandrill Grip Strength Kit
Hand Grip Strengthener (4 Pack) Forearm Exerciser Adjustable Resistance Hand Gripper, Finger Stretcher, Grip Ring and Finger Exerciser for Men and Women, Injury Recovery and Muscle Builder
Advanced Hand Grip Strengthener – Each hand strengthener forearm grip workout set includes an adjustable grip strength trainer, finger strengthener, finger stretcher, and exercise ring to add more diversity to your forearm exerciser.
Multipurpose Personal Use – Mandrill Grip Strength Trainer can help improve grip strength, finger flexibility, wrist stability or overall forearm power, making them a good choice for athletes, piano or guitar players, drummers and musicians, bodybuilders, and more.
Relieve Pain, Improve Circulation – Offering pre- and post-workout recovery these hand exerciser grip strengthener tools offer occupational therapy for carpal tunnel due to computer use, rheumatoid arthritis, joint pain and stiffness, or tendonitis.
Ergonomic, Travel-Ready Support – Mandrill Hand exerciser grip strengthener is for both men and women with different hand sizes, our hand grip strengthener exerciser and tools come with a convenient storage bag that you can take anywhere, stick in a gym bag, or use during an office meeting. Mandrill Grip Strength Trainer can be used anywhere at any time.
Exercise eBook and 3 Year Warranty – Here at Mandrill we take pride in the long-lasting quality and durability of our forearm grip workout equipment, which is why each one is backed by a 3-year warranty and replace or refund guarantee to ensure your total happiness.
Review: This budget set Mandrill grip strength kit offers resistance up to 88 lbs and is good for beginner to intermediate athletes.
The set adds value by including a grip ring, finger trainer, finger stretcher recovery band and a carry bag so the set travels well.
I also love that the gripper is adjustable so you simply turn up the dial when you want more challenge.
Pros
Set of 5 grip trainers.
Very low price.
Offers resistance up to 88 lbs.
Adjustable resistance gripper.
Cons
Rubber finger stretcher is not very durable.
Takeaway
A good value for beginner grip strength training and hand therapy.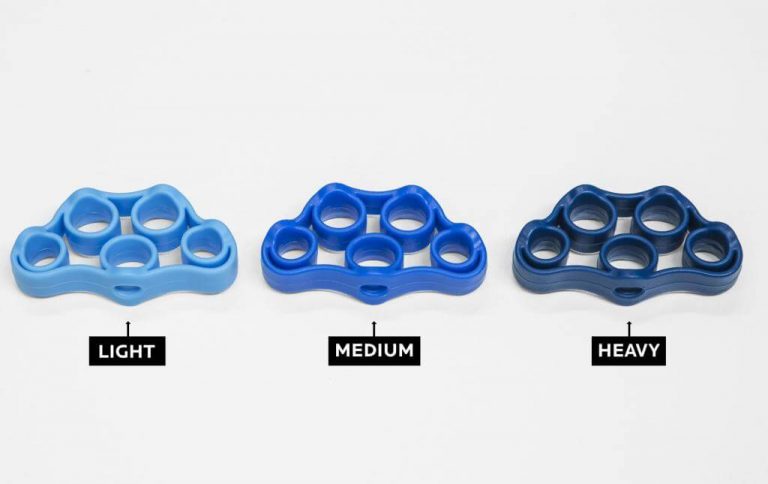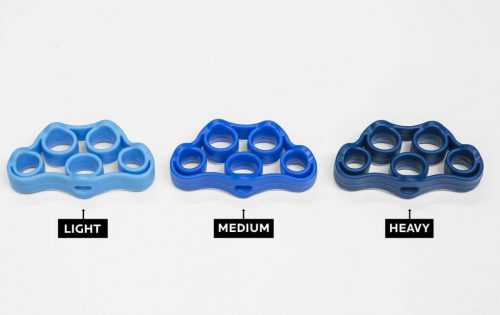 Review: The hand X Band strengthen and defines forearms and upper hand in a unique way. Instead of contracting your hand into a fist, like other grip strengtheners, this strengthener goes over your fingers and you open the fingers instead of closing like a fist.
This works the back of your hand and forearms, enhancing muscle definition and vascularity.
Pros
Inexpensive.
Perfect balance to traditional grip strengtheners.
Easy to carry.
Cons
Bands may break over time.
Takeaway
Handy and portable, the perfect travel grip strength trainer.
Your Guide to Hand Grip Strengtheners – How to Choose the Best?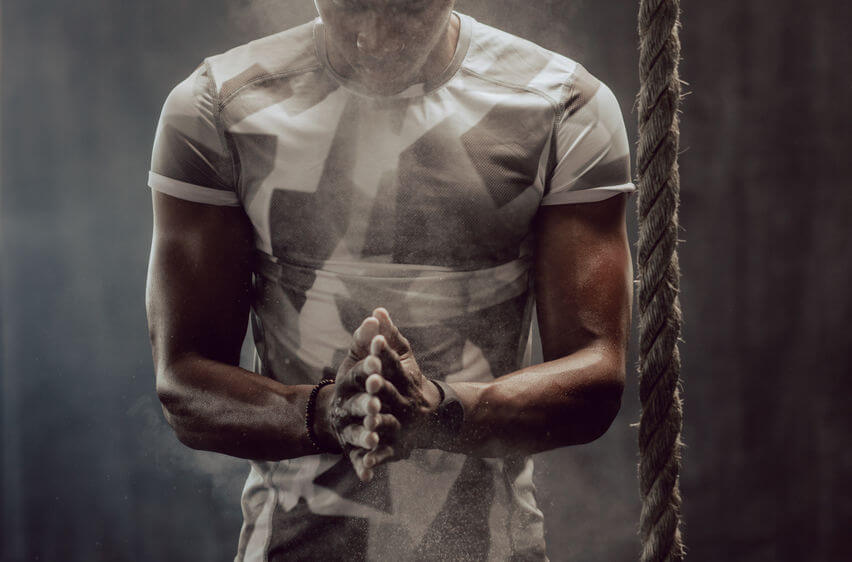 Anti-corrosive
Cheap grippers are made with cheap material and in the case of grip strength trainers – you get what you pay for.
Look for stainless steel, aluminum, high-grade rubber and military grade compounds when you choose a gripper.
Remember: good grippers do not fail often, but cheap grippers might.
A spring under high tension can be dangerous if it fails while you are training, so go with your gut and pick quality over price.
Appropriate Resistance and Purpose
If you are using the grip trainer for therapy or recovery, lower resistances are the right choice. If you want to increase strength and vascularity, higher resistances are the right fit.
Only you know what your goals are, just keep in mind every set has its own purpose and make sure the grip strengthener you choose not only matches your budget, but must match your purpose.
Best Exercises to Strengthen Grip and How to Use Them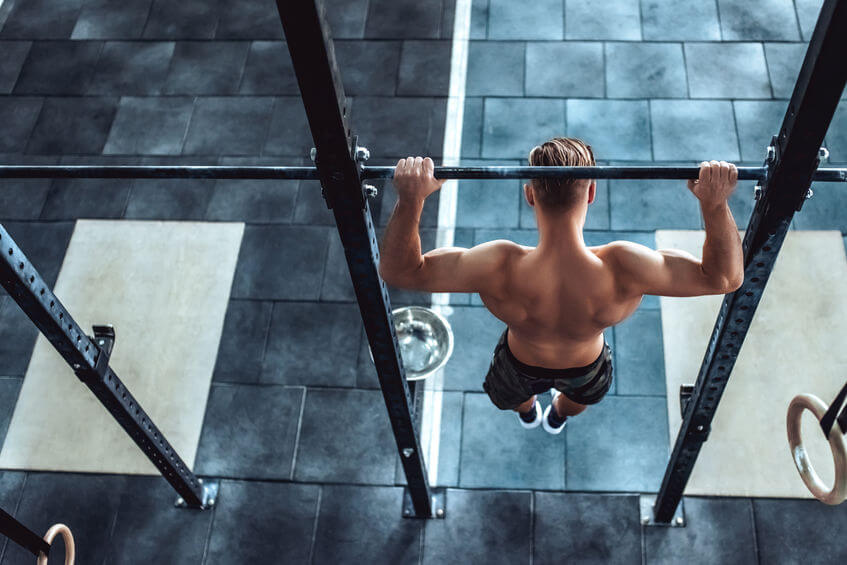 How to Use Grip Strengtheners?
Jedd gets it done in this video by showing us how to use a standard pair of grippers. I highly recommend you watch the video.
Jedd demonstrates which side of the gripper has the dogleg, which side of the gripper to hold, how to place the gripper in your hand, proper angle and more.
Some Exercises that Naturally Increase Grip Strength
Looking for a way to train your grip in addition to grip strengtheners?
Try these exercises:
Farmers carry or distance carries using really heavy weights.
Rock climbing or bouldering.
Deadhang – hang from a pull up bar as long as you can – be sure to change up your grip, underhand, overhand or mixed grip.
Hold a bumper plate for as long as you can hanging in one hand.
Go to a park and do the monkey bars, just like when you were a kid (It is harder now!).
Finger curls or wrist curls using a barbell.
Throw a towel over the pull up bar and hang from the towel as long as you can.
Best Grip Strength Training Resource
The best resource on grip strength training that I know of is the Grip strength Subreddit.
The grip strength Subreddit has resources like routine, ideas for specific muscle groups such as finger training or wrist focused training, ideas and tutorials on how to use specific brands of grip trainers, an entire list of specific grip training routines, and much more.
I highly recommend you check out this gripping resource.
Grip Strength Training FAQs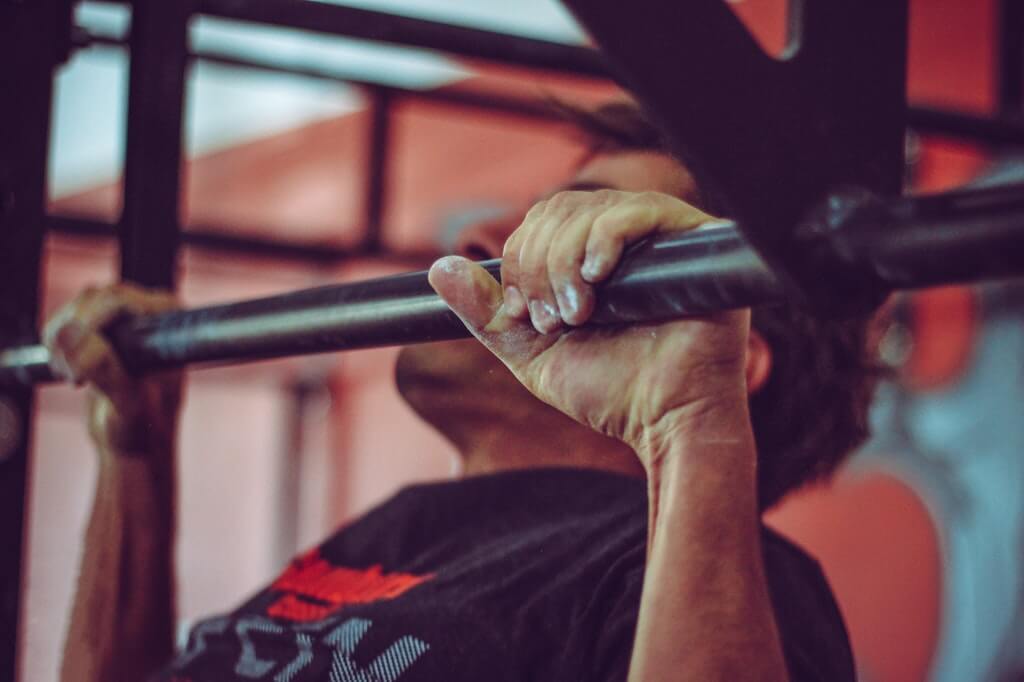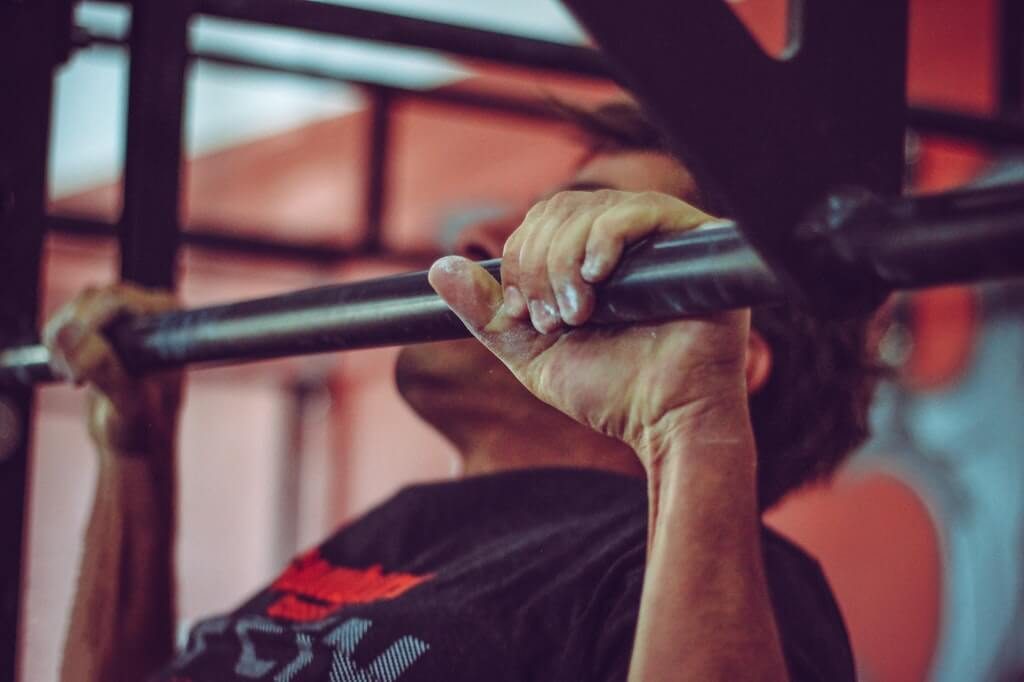 Do Grip Strengtheners Work?
Yes. While it's true there are ways to increase grip strength with no equipment, a grip trainer is a convenient and effective way to increase strength.
I love that they are a travel-friendly piece of workout equipment so you can train your grip from anywhere, even when you don't have access to your regular gym.
I also like the fact that with most grip strengtheners you know the resistance up front, so you are not lefts guessing how strong your grip is, it is quantifiable.
Another great aspect of training with grip strength trainers is they are available in HEAVY resistances, up to 365 lbs for the Captain of Crush grippers and 350 lbs of resistance for the Heavy Grips.
BAM! That's a lot of weight!
What is the Best Hand Grip Strengthener Brand?
My personal favorite brands are Captain of Crush, Cannon Powerworks, Fit Beasts, Heavy Grips, Apollo athletics pinch blocks, Iron Mind, Ivanko, Rogue, Fat Gripz, Trango, Vulcan and Gorilla Strength.
What is the Best Adjustable Gripper, or Grip Strengthener?
I like the Robert Baraban RED Adjustable Hand Gripper. It is not as popular and widely used as the ones I reviewed, but it has a whopping 50 different levels of adjustment between 50 lbs and 100 lbs of resistance.
I also like that it is chrome plated steel so it won't rust, and it's easy to carry with you.
Highly adjustable, and IMO, the best adjustable hand grip strengthener.
How do I Test My Grip Strength?
Two ways.
First Measure:
Find a pull up bar and time how long you can deadhang. Use different grips such as underhand, overhand or mixed grip. Keep track of these times so you can judge your progress based on how long you can hang using each grip.
Second measure:
Get a gripper with a known resistance level and judge your grip based on the most difficult gripper you can close.
Why is Grip Strength an Important Measure?
Your grip strength may be a limiting factor holding you back during training. It determines how many pull ups and chins ups you can do.
It also limits your deadlift weight and weighted snatches, and about a thousand other exercises rely on grip strength. But you already know that, that's why you are here, right?
Fun fact: Your Grip strength may predict your level of aggression and sexual prowess. A study was done by the University of Albany, NY found that, at least when it comes to college-age men, the stronger the grip, the more sexually wanton and assertive the guy was.
It did not, however, find that to be true of women. Hmmm…
Well, What are You Waiting For?!?!
Don't wait, pick up a pair of the best hand grip strengtheners for your routine and start pushing your limits today.
Don't forget to sign up for the Garage Gym Power Newsletter.
Your subscription includes access to exclusive content, and you will be notified when new content is available.