TOP 15 Best Workout and Training Sandbags Reviewed 2019
Have a WOD that includes a sandbag?
Maybe you have an upcoming Mud Run that uses a sandbag or Wreck bag, or you saw a sandbag used at the CrossFit games and that got you interested in what sandbags can do for you, or how they can up your game.
If you want to know what sandbags are good for, if they are worth it, or what exercises you can do with a sandbag you have come to the right place, I will discuss that.
Plus…
I am going to show you what to look out for before you choose a sandbag and give you an in-depth review of 15 of the best workout sandbags out there.
Is it Worth it? What are the Benefits of Sandbags?
Make no mistake!
Sandbags have something unique to offer!
Dynamic Stability
Dynamic stability is the ability to be stable while in motion. Dynamic stability is increased or exercised when you use a tool like a sandbag in your training.
Think of farmers who carry heavy loads or loggers who also work with trees and heavy equipment, and construction workers who work with heavy unstable loads frequently.
These guys build a lot of dynamic stability naturally.
The sandbag, as a functional fitness tool and as a loaded carry tool, is designed to build this same dynamic stability as we train.
Avoiding Injury
Sandbags engage and strengthen muscles in a more complete way than isolation moves, they help you avoid injury because you are strengthening the entire body at once (not merely isolated muscles) and not leaving other muscles weak.
Tips and Advice for Getting the Most From a Sandbag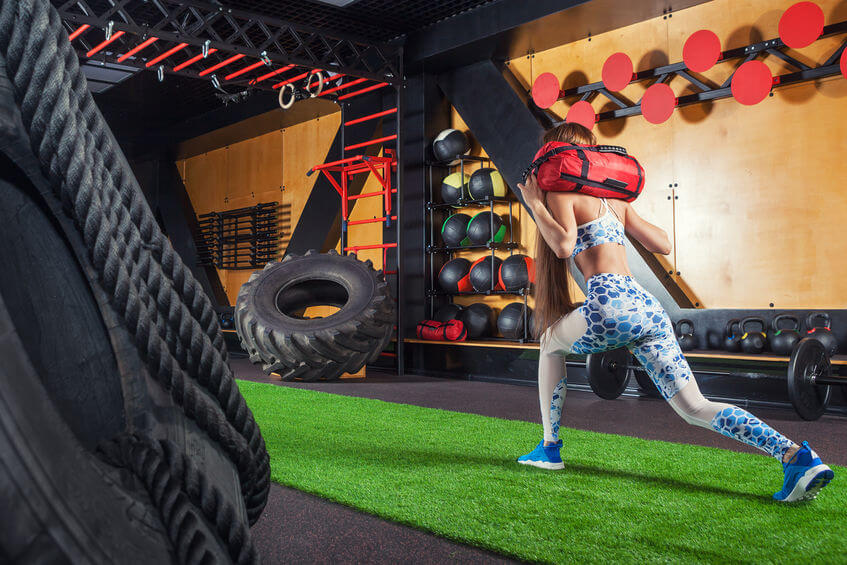 Think Outside the Barbell
Don't treat a sandbag like a barbell, and you will get more utility and results from it.
A barbell produces a stable load, which is exactly why you want to switch up to a sandbag every once in a while.
Sandbags do not produce a stable load.
Sandbags introduce variables into our routine and are meant to be used dynamically, as in, while in motion.
Even holding the sandbag while standing still we are shifting position and our hold on the bag, changing up muscles used.
Sandbags are constantly shifting their weight and changing shape, which means with every exercise as you adjust to hold the bag, you activate more muscles.
The Right Way to Grip Your Sandbag
There is an ideal way to grip sandbag handles so you can move easily doing lifts and presses.
A video, how to grip the sandbag.
What to Keep in Mind before Buying Workout Sandbags?
Think of Weight of Size Based on Training Type
If you are training for a mud run or using the sandbag for functional fitness or everyday WODs, consider a small or medium size bag, one you can lift for many reps without failing.
This bag could be anywhere between 20 to 50 lbs, but the weight ultimately depends on your level of fitness.
If you are training for a strong man even, or the sandbag is meant to be used in place of stone or heavy ball, then you will need to look for a heavier sandbag.
Shape
The ideal shape for Mud Runs, Obstacle Courses, Spartan Races, WODs, and Ultimate Fitness Runs is a duffle bag or cylinder style sandbag.
This is the most common shape available and this bag usually has between 6 to 8 handles.
Wreck bags are also good for this purpose but only have two handles.
Stone and Heavy Ball Alternatives
If you need a sandbag that is meant to be used as an alternative to a heavy stone or heavy ball, there are a few good options.
The Rogue Strongman can be emptied and filled on site for easy transport and they have a short, fat cylinder shape that comes as close to a ball shape as possible.
The Strongfit classic bag is another good option. This bag is shaped like a pillowcase and closes at the top.
Workouts and CrossFit WODs You Can Do with Your Sandbag
Try these Sandbag WODs
The SWAT CHIPPER WOD
Instructions, follow the exercises in order once, performing the reps prescribed, for time.
Equipment needed: a wreck bag.
Moves:
50 Wreck bag Back Squats
40 Wreck bag Deadlifts
30 Wreck bag Alternating Lunges
20 Wreck bag Power Cleans
10 Wreck bag Burpees
20 Wreck bag Power Cleans
30 Wreck bag Alternating Lunges
40 Wreck bag Deadlifts
50 Wreck bag Back Squats
400 Meter Wreck bag Carry/Run
"Collin"
Instructions: Six rounds of the listed exercises for time.
Equipment needed: 50 lb sandbag, Plyo box.
Carry 50-pound sandbag 400 meters
12 reps of 115 pound Push press
12 Box jumps using a 24-inch box
12 reps of 95 pound Sumo deadlift high-pull
Looking for more you can do with a sandbag?
This compilation of the 30 best workouts you can do with a sandbag is a two-part video you can check out.
It is a great resource to demonstrate how versatile and useful a sandbag is.
Part 1
Part 2
Top 15 Best Workout Sandbag Reviews 2019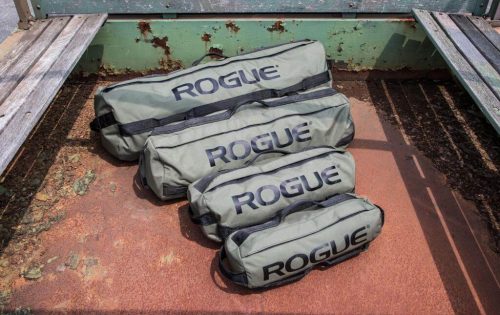 Review: This Rogue training sandbag you will see used at the CrossFit games. It is a classic, tried and true CrossFit training sandbag with a special feature other bags don't have, a funnel filler bag option.
If you chose the funnel filler bag to use with your Rogue Sandbag you will discover it is less expensive and easier to fill than using the traditional filler bags.
Pros
Made in the USA.
Super tough 100 Denier Nylon duffle style outer shell.
Sandbag has 7 double stitch reinforced handles, heavy duty zipper and Velcro flap close.
Cons
Funnel filler bag is not as convenient when changing weight. If you change bag weight a lot opt for the traditional filler bags.
Takeaway
Durable sandbag that will last for years. Simply one of the best CrossFit sandbags in the classic style.
Review: The Cerus Sandbag is a great value especially considering the 3 fill bags are included with your purchase.
The bag is well made, double stitched in high-stress areas, with quality zippers and reinforced handles, 1000 denier military grade nylon and seatbelt material handles so you know they are indestructible.
Pros
Made in the USA.
3 filler bags included at a great package price.
Uses heavy duty, brand name YKK zippers.
Cons
The grey bag is better built than the black one, with 4 handles instead of two, and reinforced stitching.
Takeaway
High quality American made sandbag that is a great value.
Review: The patented Bulgarian bag sandbag by Suples is designed with grip and multi plate functional movement as its focus.
This bag comes prefilled with precision. No shift weight distribution right out of the box. This Bulgarian bag is great for improving your grip and working your back muscles too.
Pros
Available prefilled in precisely calibrated weights of 6 lbs up to 84 lbs.
Made by hand with real leather.
Bags come with useful instructional exercise video by inventor Ivan Ivanov.
Cons
The bag may have a strong odor when you first receive it.
Takeaway
The best Bulgarian bag is the Original Bulgarian bag made by Suples.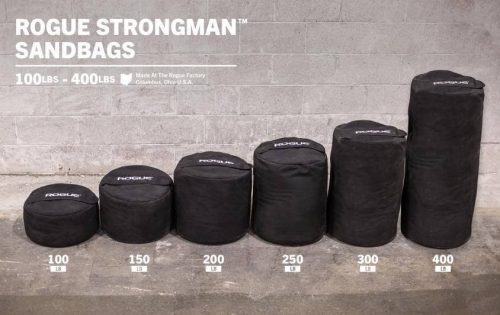 Review: These Rogue Strongman Sandbags are the perfect alternative to stones or heavy balls because they can be emptied so they are light enough for easy transportation.
There are 6 sizes available, with bags that can be filled up to 400 lbs. They are made in the USA from 1000 Denier nylon and have high-quality zip close with Velcro cover and a built-in filler bag.
Pros
Sandbag alternative to stones and heavy balls.
Weight capacity of up to 400 lbs, depending on what size you order.
Filler bag is built in, no need to buy anything extra.
Cons
It is not perfectly round like a stone. Has no handles like other sandbags.
Takeaway
Take your stones on the go with this awesome sandbag alternative to stones and heavy balls.
Fullbore Fitness Adjustable Weight Sandbags
Review: The Fullbore is one of the best exercise sandbags at the low end of the price range. It comes with three filler bags, each with a max weight of 20 lbs so the total max weight of this sandbag is 60 lbs and it is super easy to adjust the weight.
This sandbag has 7 handles making it easy to manage as you workout.
Pros
Great price, 3 filler bags included make it a good deal.
The bag has 7 heavy duty reinforced handles.
Adjust the weight easily from 20 to 60 lbs using the included filler bags.
Cons
Filler bags need better seam reinforcement.
Takeaway
A sturdy bag at a great price, one of the best values around.
OneFitWonder Fringe Sport Sandbag
Review: The Fringe Sport sandbag is a good bag if you like a longer sandbag, just be sure to get the filler bags placed inside evenly.
The filler bags are included. This bag has two top handles and two end handles, but no handles on the side.
The bag is reinforced with sewn on nylon straps/lashing to help support the up to 100 lb max weight.
Pros
Constructed with military grade YKK zippers and Rucksack worthy Cordova nylon.
Included filler bags make it easy to adjust weight mid-workout.
Sewn-on reinforcement straps/lashing.
Long length for a unique challenge.
Cons
Takeaway
A decent heavy sandbag with reinforcement and a nice challenging length.
Ultra Fitness Gear Sandbags
Review: This sandbag is extremely durable with features like diamond stitching, 1600D nylon, seatbelt reinforcement lashing and the same seatbelt material is used for the 10 handles.
This bag has more handles than any other I have seen, plus the super strong seatbelt material they are made with is soft so they won't shred your hands.
Pros
Diamond Cross Stitching on the 1600 Denier Nylon material. The strongest you can get!
5 panel seatbelt material for reinforcement and as handles.
5 sets of handles (10 handles total) more than any other sandbag.
Cons
A lot of empty space if not completely filled so the filler bags shift.
Takeaway
Best training sandbags in terms of durability, they cannot be beat.
Review: The wreck bag is a functional fitness tool you will get a lot of use from. It comes prefilled with clean rubber filling, so it will NEVER leak sand or get water logged.
You can order it in a weight of 25 lbs up to 70 lbs. The filling inside the bag is packed in such a way that the filling has a little give, but does not shift around so much it becomes annoying.
Pros
Comes prefilled with uncontaminated rubber fill.
Packed full, has a little play but not so much it's awkward.
Can be used outdoors without getting moldy or growing mildew.
Cons
Has a bit of a rubber odor at first.
Takeaway
An outdoor friendly heavy bag that will not leak and comes filled.
Review: Brute Force sandbags are one of the original sandbags on the market and they are built to last. That is why they are the chosen brand for military, law enforcement, firefighters and universities.
These sturdy bags have all the quality material you would expect, including YKK zippers, 1000 D Cordura, 5-panel seatbelt straps and handles, and mil-spec Velcro closures.
Pros
Mil spec Velcro, YKK zippers, 1000D Cordura and 5 panel seatbelt handles.
Made in the USA.
This bag is strong enough to be slammed, tossed and abused, unlike some of the competition.
Cons
Hard to fit all the filler bags inside to get to the max weight.
Takeaway
One of the Original and best fitness sandbags you can get.
Review: This rep Fitness sandbag is the business. It has 5 panel seat belt reinforcement and handles, heavy duty Velcro, zippers and Cordura material, and it looks cool.
Plus it's offered at a lower price than similar quality competitors. Three filler bags are included with your order, and they have many colors available to get one in your style.
Pros
Filler bags included.
Affordably priced sandbag.
Performs well in rough conditions, can be tossed, slammed and dragged.
Cons
Even fully loaded, there is quite a bit of play for the filler bags to move around.
Takeaway
Same quality with a lower price than the practically identical competition sandbags.
Dimok Fitness Sandbag Alternative Aqua Bag
Review: The Dimok Sand-less water filled sandbag alternative is a novel choice if you are looking for a heavy bag that is portable and easy to adjust.
The bags are made by a small family-run business right here in the USA wihigh-qualityity standards so they will not leak.
The benefit of a water-filled heavy bag is the fact that water is naturally more unstable than sand or solid fillers, making for an even greater challenge.
Pros
Easy to fill and portable because it is water filled. Just dump the water and go.
More unstable means greater challenge.
Really, really easy to adjust weight, just add or pour out water.
Cons
Some athletes do not like the added instability of a water filled sandbag alternative.
Takeaway
The best alternative to traditional sandbags are the dimok aqua bags.
StrongFit Classic Sandbags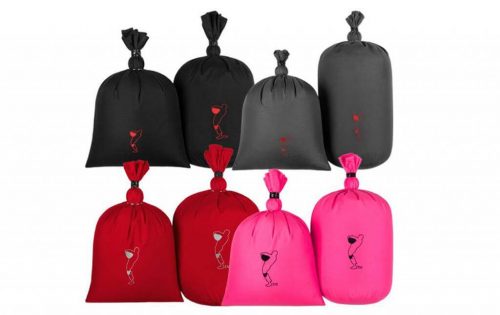 Review: The Strongfit classic sandbag has the traditional sandbag shape, but it's made from heavy duty Cordura and is closed with a lacrosse ball and metal ring so it will not leak.
This bag is available in 12 different weights, and either a pillow case style or punching bag shape. They have no handles, so that really adds to the challenge
Pros
Made from triple stitched Cordura.
Real sandbags with a traditional sandbag shape.
Metal ring and lacrosse ball closure at the bag top is secure and will not leak sand.
Made in the USA.
Cons
Cannot adjust the weight easily once they are filled.
Takeaway
The best classic style sandbag available.
Review: The Ultimate Sandbag is my choice for an everyday WOD sandbag because it has a good weight range of 10 to 40 lbs so it is not overkill, weight wise.
It is not for slamming or dragging, but sandbag WODS do not call for that anyway, and this bag is so affordable, it just makes sense.
Plus the bag is very durable and will not leak, it is just what you need for a WOD.
Pros
Tough rubber grip handles.
10 lb to 40 lb weight capacity.
Filler bags are included, great value.
Cons
Not designed for slamming or dragging.
Takeaway
Very affordable, smaller sandbag that is the perfect size for a sandbag WOD.
Review: This Titan fitness bag is a good bargain considering the filler bags and sand are included.
The bag is customizable from 10 to 60 lbs thanks to 6 separate sandbags you can put inside to give it weight.
This bag has six handles to add variety to your workout and allow you to do different exercises.
Pros
6 filler bags at 10 lbs each make it easy to customize the weight.
Sand and filler bags included – a good value.
Made from strong PVC material and 6 reinforced handles.
Cons
Zippers need to be higher quality.
Takeaway
A good starter sandbag for those who want a lower weight or lots of weight customization.
Ultra Fitness Gear Handless Sandbag
Review: Get ready for any challenge by using this handle-less sandbag. After all, many things you need to lift in real life do not come with carry handles, so why should your functional training tool have handles?
This hefty bag goes up to 125 lbs and includes 3 filler bags so you can adjust the weight.
All Ultra Fitness sandbags are made to military specs, including 1600 D Cordura, YKK zippers and double stitching all over.
Pros
NO handles = More Challenge.
Super strong 1600 Denier Cordura Nylon fabric.
Up to 125 lbs, try and lift that using NO handles.
Cons
Takeaway
The best cylinder/duffle style sandbag you can get with No handles.
That wraps up the 15 best workout sandbags.
I hope you go forward and increase your functional fitness and get the most out of your training sandbag.
Don't forget to sign up for our newsletter to get notified of new gear reviews and valuable content. Your subscription comes with access to special guides and PDFs available only to subscribers.