TOP 15 Best Workout and Training Sandbags Reviewed 2023
Have a WOD that includes a sandbag?
Maybe you have an upcoming Mud Run that uses a sandbag or Wreck bag, or you saw a sandbag used at the CrossFit games and that got you interested in what sandbags can do for you, or how they can up your game.
If you want to know what sandbags are good for, if they are worth it, or what exercises you can do with a sandbag you have come to the right place, I will discuss that.
Plus…
I am going to show you what to look out for before you choose a sandbag and give you an in-depth review of 15 of the best workout sandbags out there.
Is it Worth it? What are the Benefits of Sandbags?
Make no mistake!
Sandbags have something unique to offer!
Dynamic Stability
Dynamic stability is the ability to be stable while in motion. Dynamic stability is increased or exercised when you use a tool like a sandbag in your training.
Think of farmers who carry heavy loads or loggers who also work with trees and heavy equipment, and construction workers who work with heavy unstable loads frequently.
These guys build a lot of dynamic stability naturally.
The sandbag, as a functional fitness tool and as a loaded carry tool, is designed to build this same dynamic stability as we train.
Avoiding Injury
Sandbags engage and strengthen muscles in a more complete way than isolation moves, they help you avoid injury because you are strengthening the entire body at once (not merely isolated muscles) and not leaving other muscles weak.
Tips and Advice for Getting the Most From a Sandbag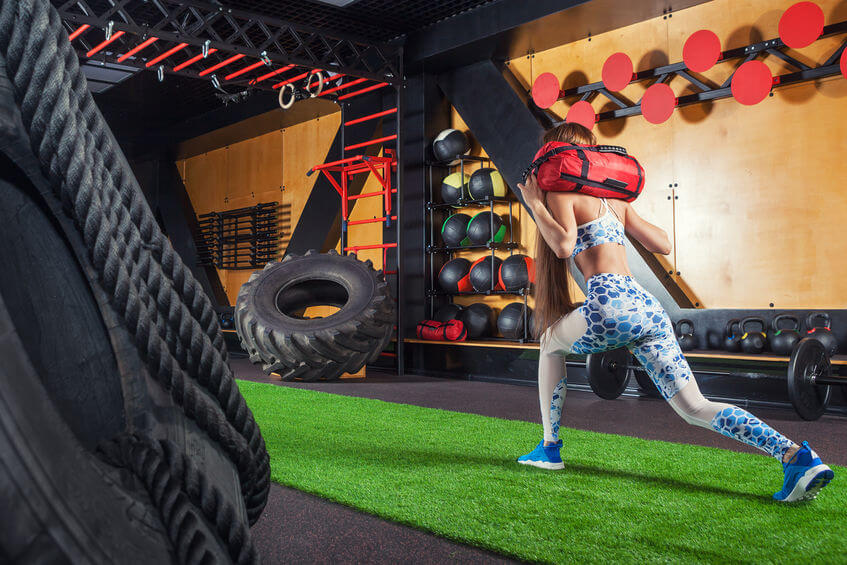 Think Outside the Barbell
Don't treat a sandbag like a barbell, and you will get more utility and results from it.
A barbell produces a stable load, which is exactly why you want to switch up to a sandbag every once in a while.
Sandbags do not produce a stable load.
Sandbags introduce variables into our routine and are meant to be used dynamically, as in, while in motion.
Even holding the sandbag while standing still we are shifting position and our hold on the bag, changing up muscles used.
Sandbags are constantly shifting their weight and changing shape, which means with every exercise as you adjust to hold the bag, you activate more muscles.
The Right Way to Grip Your Sandbag
There is an ideal way to grip sandbag handles so you can move easily doing lifts and presses.
A video, how to grip the sandbag.
What to Keep in Mind before Buying Workout Sandbags?
Think of Weight of Size Based on Training Type
If you are training for a mud run or using the sandbag for functional fitness or everyday WODs, consider a small or medium size bag, one you can lift for many reps without failing.
This bag could be anywhere between 20 to 50 lbs, but the weight ultimately depends on your level of fitness.
If you are training for a strong man even, or the sandbag is meant to be used in place of stone or heavy ball, then you will need to look for a heavier sandbag.
Shape
The ideal shape for Mud Runs, Obstacle Courses, Spartan Races, WODs, and Ultimate Fitness Runs is a duffle bag or cylinder style sandbag.
This is the most common shape available and this bag usually has between 6 to 8 handles.
Wreck bags are also good for this purpose but only have two handles.
Stone and Heavy Ball Alternatives
If you need a sandbag that is meant to be used as an alternative to a heavy stone or heavy ball, there are a few good options.
The Rogue Strongman can be emptied and filled on site for easy transport and they have a short, fat cylinder shape that comes as close to a ball shape as possible.
The Strongfit classic bag is another good option. This bag is shaped like a pillowcase and closes at the top.
Workouts and CrossFit WODs You Can Do with Your Sandbag
Try these Sandbag WODs
The SWAT CHIPPER WOD
Instructions, follow the exercises in order once, performing the reps prescribed, for time.
Equipment needed: a wreck bag.
Moves:
"Collin"
Instructions: Six rounds of the listed exercises for time.
Equipment needed: 50 lb sandbag, Plyo box.
Looking for more you can do with a sandbag?
This compilation of the 30 best workouts you can do with a sandbag is a two-part video you can check out.
It is a great resource to demonstrate how versatile and useful a sandbag is.
Part 1
Part 2
Top 15 Best Workout Sandbag Reviews 2023
That wraps up the 15 best workout sandbags.
I hope you go forward and increase your functional fitness and get the most out of your training sandbag.
Don't forget to sign up for our newsletter to get notified of new gear reviews and valuable content. Your subscription comes with access to special guides and PDFs available only to subscribers.