Best Climbing Ropes for CrossFit and Garage Gym – TOP 13 Reviews 2021
STOP avoiding the rope climb!
Does that pesky Rope Climb keep appearing on your WOD list, but you don't have a rope to climb in your home gym?
Stop putting it off and conquer the climb today!
Install one of the best climbing ropes for your home gym and complete each WOD with pride.
Today I will cover a few Climbing rope basics, what you should look out for, how to use a climbing rope to workout and 13 of the best climbing ropes for 2021.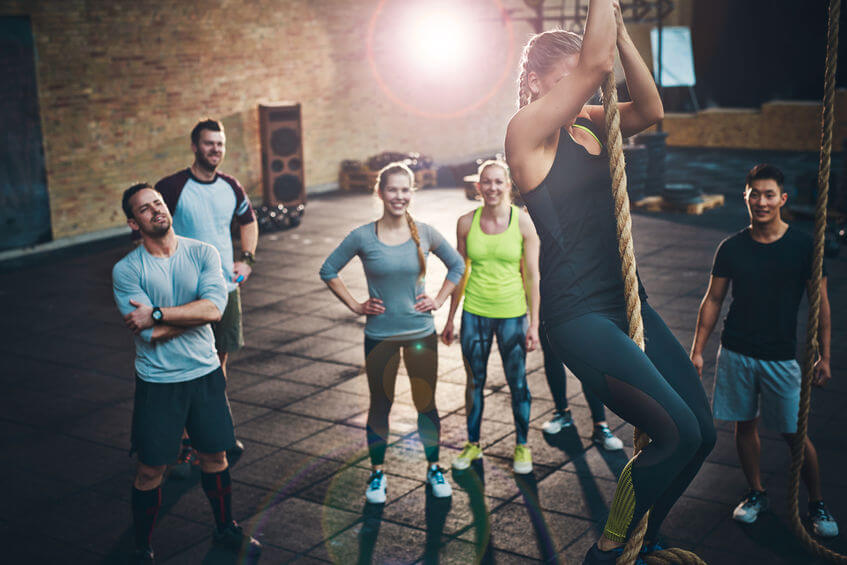 Climbing Rope vs Conditioning Rope vs Pulling Rope – What's the Difference?
First things first.
The rope is used in several different ways in functional fitness, CrossFit and Bootcamp style training.
It can be used for:
OK, that last one is not really related.
This article focuses on the ROPE CLIMB.
BUT…
Since you will encounter different style ropes in your search for the best rope for the CrossFit Rope Climb, I think it's helpful to lay out the differences between ropes based on purpose.
Climbing Rope
Gym Climbing ropes are designed for the rope climb.
That part is obvious, right?
The best gym climbing ropes have an eyelet at one end so you can thread the rope through, which makes it a breeze to hand it from any smooth round surface, like a sturdy solid pull up bar.
Conditioning Rope
Conditioning ropes, sometimes called battle ropes, are actually one long rope that you anchor in or near the ground.
The ends of this rope are wrapped to prevent fraying. The wrap at the end of the rope might be called end whipping.
Pulling Rope
These ropes are longer and have a smaller diameter than climbing ropes.
Although they do have an eyelet at one end to use for attaching to a weight sled or similar obstacle, they are not meant for climbing.
They are built for pulling, dragging and tug of war type activities.
Poly Dracon vs Manila vs Sisal vs Cotton, Which is Better?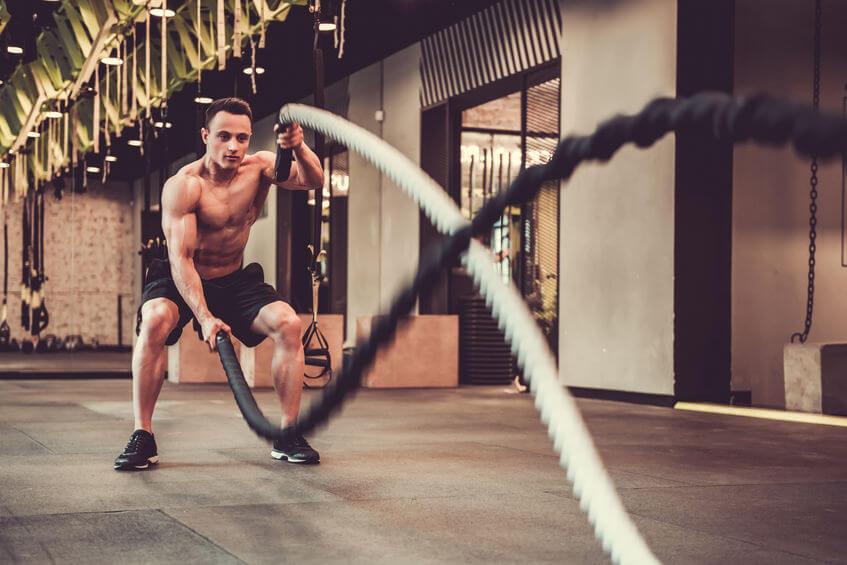 Benefits of Manila Fiber Climbing Ropes
The best CrossFit climbing ropes in my opinion are made from Manila, but Sisal ropes come in a pretty close second.
Just keep in mind, climbing ropes do not last forever. You must check them for wear and replace every few years or so.
The Good:
The bad:
Benefits of Sisal Fiber Climbing Ropes
The Good:
The Bad:
Benefits of Synthetic Material Climbing Ropes
The Good:
The Bad:
Benefits of Cotton Cloth Climbing Ropes
The Good:
The Bad:
How do I Use a Climbing Rope to Workout?
There are as many ways to use a rope to exercise as there are Oompa Loompas in Charlie's Chocolate Factory.
Obviously, I can not list them all, but I do know two Rope Climbing workouts you can expect to see come up in a WOD:
1. The Basic Rope Climb
Rope Climbing Technique- How To
Notice how Ben demonstrates the clamp down on the rope with your feet.
He points out that you need a pair of shoes designed for cross training to get up that rope easier and without destroying your shoes.
Click here for a list of shoes designed to withstand the rigors of CrossFit and Functional Fitness. These shoes have a special tread that allows you to more easily climb the rope without destroying your footwear.
2. The Legless Rope Climb
The legless rope climb is brutal and takes A LOT of upper body strength, and as the name implies, you don't use your legs to help you climb.
Movement Demo – The Legless Rope Climb
Installation Tips
There are two important things to note when hanging and using your rope for rope climbing.
Now that we have those details out of the way, let's get into those rope reviews.
TOP 13 Best Gym Climbing Rope Reviews 2021
Stop avoiding the rope climb and elevate your fitness level.
Choose one of the best climbing ropes to make 2021 your greatest fitness year yet.
Into heavy lifting?
Check out this new full length documentary by Rogue Fitness exploring the ancient art of Stone lifting in Iceland. Talk about upper body strength, these Nordics have it!
Into Fitness?
Be sure and subscribe to the Garage Gym Power newsletter and get notified when new content is released.