Best Whole Body Vibration Machines & Best Power Plates with Reviews 2021
If I told you, you could lose body fat and strengthen your body while just standing there, would you believe me??
How can you improve your health by just standing there??
I admit… I was skeptical.
But…
I did the research and found out that whole body vibration can help you lose weight, tone up, and so much more!
I will explain what I mean, the science and benefits of whole body vibration, how to choose the best vibration machine for your home, and list 10 of the best vibrating plates with reviews.
What are Whole Body Vibration machines and Power Plates?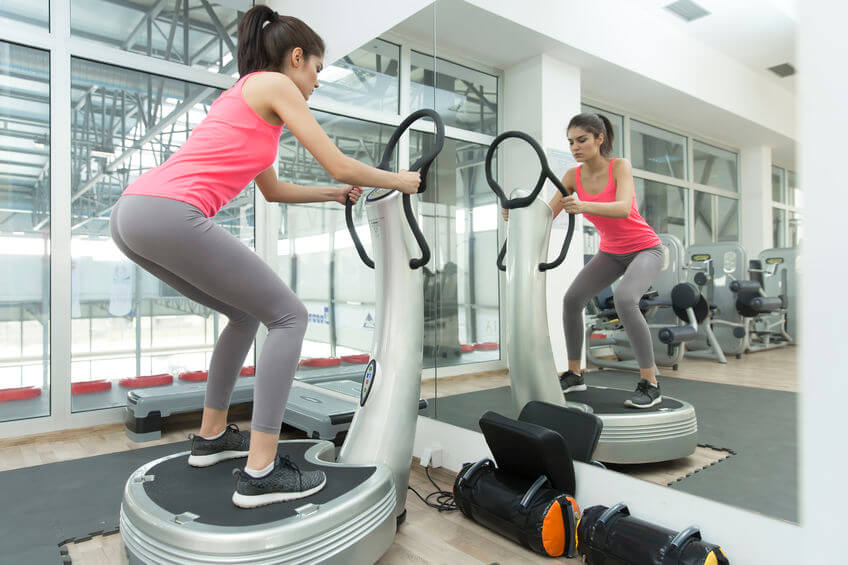 Whole body vibration machines are a vibrating platform that moves rapidly in small increments, either up and down or side to side.
The vibration or motion they give off moves through your body, causing your muscles to involuntarily contract in order to stabilize you.
The contractions use energy, and therefore calories, allowing your body to burn fat.
The contractions also strengthen muscle and set off beneficial hormonal process in your body that have anti aging and bone building effects.
Tell Me More About How Whole Body Vibration Causes Fat Loss
Muscles are composed of three fiber types. Slow Twitch, fast twitch, and super fast twitch.
Slow Twitch (Type I) muscle is very efficient and uses the least amount of energy. Walking is an activity that engages slow twitch muscle. While walking will burn fat, it does not burn it as quickly as other muscle fiber types.
Fast Twitch (Type IIa) is less efficient. Sprinting is an activity that uses fast twitch muscle. It uses a lot of energy in a short amount of time, and some of the energy is wasted, as it is not as efficient as slow twitch muscle.
Super fast twitch muscle (Type IIx) Is very fast, and very inefficient. It uses the most energy in the least amount of time and is involved in reflexes and is not used as frequently as other types, but prompting the body to engage super fast muscle is the key to success with whole body vibration, at least in regards to fat loss.
Whole body vibration turns on super fast twitch muscle, activating fast and slow twitch muscle, burning huge amounts of calories. Making fat loss one of the best way to use vibration plate.
What are the Benefits of Whole Body Vibration?
Increases bode density and muscle strength. Several studies have shown that using whole body vibration increases bone density and this is why it is often recommended for the elderly and those who suffer osteoporosis.
Improved balance – another reason doctors and chiropractors recommend whole body vibration to senior citizens is that it increases Muscle Strength especially core muscles, involved in balance. It decreases falling incidents in the elderly.
Decreased back pain – many users swear by whole body vibration to relieve back pain.
Tremendously decreased time of rehabilitation for patients who've had ACL reconstructive knee surgery
Increased fat loss, decrease Body Fat specifically the more harmful visceral fat (by up to 8 x compared to "regular" subcutaneous fat) and loss in Total Fat Mass
Improvements in function for some patients with multiple sclerosis and Parkinson's Disease
Looking for the Best Vibration Machine? Here is What to Watch out For
Vibration Types
There are several different vibration types whole body vibration machines use.
Triangular Oscillation Vibration moves each side of the plate up and down from side to side like a see-saw. It has a center fulcrum that the plate pivots on.
This type of vibration is ideal for the less active or elderly. It usually moves more, relative to linear vibration, up to 1 cm in each direction. Machines that use this type of vibration also use lower hertz, or frequency, between 5 and 35 Hz.
Linear Vibration, pivotal vibration, Vertical tri-planar; these machines have a platform that moves up and down, both sides together.
This type of vibration is good for the more athletic type, and also for those looking to increase bone density. The machine using this type of vibration usually run between 20 to 50 hz and move just a short distance, 2mm to 4mm.
Elliptical Vibration, 3D vibration
These machines move in an elliptical fashion, both up and down and side to side.
The machine using this motion is less intense and works well for folks with balance issues, or those who have spent a long time inactive. Machines with this type of vibration, and at least 30 Hz frequency, are best of osteoporosis.
Note: Many studies showing the efficacy of whole body vibration used a hertz of about 30 Hz, which is why those looking to increase bone density often seek a machine with at least 30 Hz.
The Best Power Plate Exercises
Power Plate exercises for fat loss and toning
In this quick 5 minute video Dr Kenneth best demonstrates how to use a whole body vibration machine for a low impact fat burning and muscle toning workout.
Power Plate Moves for increasing Bone density and treating Osteoporosis
This video discusses what types of vibration machines work best for Osteoporosis and about 4 minutes into the video a fitness trainer demonstrates exercises you can perform to help increase bone density using a whole body vibration machine.
Want to see our pick for the best vibration machine for weight loss? See the ZAAZ machine in the list of reviews below!
TOP 10 Best Whole Body Vibration Machine Reviews 2021
Confidence Fitness Slim Full Body Vibration Platform
Review: The Confidence Slim Full body Vibration machine has arms you can hold on to while you perform various moves.
The 1.5 hp motor allows for 50 speed settings, and the display console has a heart monitor, speed controls and 3 programmed routines. This machine is top of the line, the best whole body vibration machine.
Pros
User console with programs, speed control and heart rate monitor.
Only 62 lbs, with a small footprint. Portable and easily fits a home gym.
Max user weight of 300 lbs.
Plate moves up and down from left to right (oscillating).
Includes resistance bands for the arms.
Cons
No workout chart included and no place to hang the resistance bands.
Takeaway
Sturdy and effective, a solid Full body vibration machine.
Merax 2000W Whole Body Crazy Fit Vibration Platform
Review: This Merax 200W is full of extras like an MP3 player, speakers, yoga arms and 10 different programs pre-set in the on board console.
You can vary the speed and vibration intensity as well. The unit has a 1.5 Hp motor and uses Triangular Oscillation.
Pros
Uses Triangular oscillation, builds core muscles, for less active or older users.
Console includes 10 programs and displays time and speed.
Yoga arm straps to tone upper body simultaneously.
Cons
Directions and use instructions lack detail.
Takeaway
A powerful vibration machine great for less active people and seniors.
Hurtle Fitness Vibration Platform
Review: This power plate uses oscillation motion, paired with vibration and a set or arm resistance bands to allow you to shake your way to a firmer body.
Works upper, lower and core muscles simultaneously.
Pros
Triangular Oscillating movement.
Remote control changes time and speed.
Includes detachable resistance bands.
Cons
The instructions that come with the unit are vague.
Takeaway
A great power plate with a remote and arm resistance bands.
Rock Solid Whole Body Vibration Machine
Review: This Rockin' model features Oscillating motion and up to 30hz frequency, which has been said to help build bone best.
The unit comes with a remote to control speed and vibration level, with 99 different speed levels and 9 preset programs, plus this unit includes a resistance band kit that use bands with several levels of varying resistance to change up the level of upper body intensity.
Pros
Includes varied resistance arm bands that are color coded according to how heavy they are.
Up to 30 Hz frequency, good for increasing bone density.
Remote included to control speed and vibration level.
Cons
The unit should come with a wall chart, but some complain they did not receive one.
Takeaway
This power plate full body vibration machine is the best power plate to buy for increasing bone density.
Axis-Plate Whole Body Vibration Platform
Review: The Axis-Plate Whole Body Vibration Platform has sturdy metal handles, a detailed front console, and it even has BMI (Body Mass Index) sensors so you can check your weight loss progress as you continue to use the machine.
Pros
BMI sensors built into the handles.
Removable arm resistance bands.
Uses Oscillating motion.
Cons
No instruction book included.
Takeaway
Best whole body vibration machine with handles and BMI sensor.
ZAAZ 15K Whole Body Vibration Machine
Review: The ZAAZ machine includes the same technology used by astronauts use after space travel to re-establish bone density and combat muscle atrophy.
It has controls built into the handlebars, a console with 70 speeds, 8 built in presets, a body fat monitor, and ergonomic handlebars.
Pros
3.2 G forces max.
Certified as an FDA listed medical device.
Body fat sensor, 8 preset routines.
Ergonomic rubberized handles.
Cons
Takeaway
The machine with the same technology NASA uses, easily the best power plate to buy.
Genki 3D Dual Motor Vibration Platform Machine
Review: This innovative Genki 3D Vibration Platform includes two copper motors, where most machines have just one. It moves both up and down, and side to side, giving true 3D motion.
Pros
3D Shake means both up and down, and left and right motion.
120 speed levels, 6 running programs and 3 channels.
Dual 200 watt motor power.
Lineal Vibration, 10 hz and 1725 rpms.
Cons
The included arm resistance bands only work for shorter people.
Takeaway
With two powerful and durable motors, this Genki plate is the best vibro plate with linear oscillation.
DKN Technology Xg3 Series Whole Body Vibration Machine
Review: This DKN XG3 Series WBV Machine is in a class of its own.
It offers 6 G's of acceleration, adjustable Hz from 20 to 50 Hz, has sturdy handles to help you balance as you stand on it and a built in console coach to make workouts a breeze.
Pros
Variable Hz, 20 to 50 Hz.
Console includes preset programs that target upper body, lower body, arms, and abs.
Wide vibration platform- 27.5 inches.
Cons
Vibration type not specified.
Takeaway
High quality, adjustable Hertz machine makes this machine the best vibrating plate.
Pulser 2 Whole Body Vibration Machine
Review: The Pulsar 2 allows you to switch up vibration type from Oscillation, to Spiral, and even use both types at the same time.
This machine has dual motors, a wide 27" platform and comfortable ergonomic handlebars. Hands down, the best whole body vibration machine.
Pros
Dual Vibration types of triangular oscillation and Spiral vibration, variable Hertz of 5 to 50 440 lb weight limit, the highest of all reviewed.
All metal construction, transport wheels.
Sleek design built in console with rotary dials to adjust speed and select vibration mode.
Cons
Takeaway
The ultimate in whole body vibration machines, dual vibration types, dual motors, ergo handles bars, what more could you ask for?
NexHT Fitness Vibration Platform
Review: This novel whole body vibration machine features built in USB speakers, is made from high quality materials, including a high purity rubber non-slip face, and has included resistance bands and remote.
Pros
Goes as high as 50 Hz.
Available in dual (3D vibration) or single motor (Triangular Oscillation).
Includes remote, resistance bands and a music port with speakers.
Cons
Lacks an instruction manual.
Takeaway
Rock and roll with the best vibro plate with built in speakers.
When it comes to the best vibration machine, there are some that are better than others, but it depends on your goals.
Remember: for bone density, gentler 3D motion, with a Hz of at least 30, but much more, is ideal.
For the athletic, linear vibration machines give the best results, ad for the less active and elderly, looking to lose weight, triangular oscillation is the way to go.
Have any questions?
We are here to help! Let us know what your thoughts are and feel free to leave a question or comment below.

Latest posts by Michael DuBoff
(see all)