Whole Body Vibration Machines
Top 15 Best Whole Body Vibration Machines & Best Power Plates with Reviews 2022
Products analyzed
15 Best chosen
If I told you, you could lose body fat and strengthen your body while just standing there, would you believe me? How can you improve your health by just standing there? I admit… I was skeptical.
But…
I did the research and found out that whole-body vibration can help you lose weight, tone up, and so much more! I will explain what I mean, the science and benefits of whole-body vibration, how to choose the best vibration machine for your home, and list 10 of the best vibrating plates with reviews.
What to consider when buying Whole Body Vibration Machines
Price: When purchasing a whole-body vibration machine the first thing you need to consider is your budget and how much you are willing to spend on it.
Type of Vibration: Vibration machines use various types of motions, which can have different effects on your body. It's therefore important to pick the one that will cover your needs.
Platform Dimensions: The dimensions of the machine you pick will not only impact how comfortably you can stand on it, but also how portable it is and how easily it can be stored away.
Intensity of Vibration: A vibration trainer's intensity varies depending on the frequency of vibration. Most vibration trainers have a frequency between 15 to 60Hz, but some can have smaller ranges.
User Reviews and Test Scores: Reading user reviews about the product, as well as how well it scored in tests, is a great way to learn how user-friendly, durable and useful the product is.

This is how we select and evaluate products on GGP
In this article, we review a number of popular products that we have found using in-depth research and analysis work. The products you find in the article are sold by one or more of our partners. Although these partnerships may influence the range of products in the article, our recommendations are based on an overall assessment of the product.
We evaluate and compare products in the article based on:
1

Official and impartial product tests

2

Customer reviews and opinions about the product

3

Data on user behavior and preferences

4

Specifications, characteristics, and disadvantages of the product

5

Guarantees, service, and reputation of the dealer
Apart from that, we compare the price and quality of each product and deliver our subjective assessments and recommendations to our readers. The position of the product in the list does not necessarily reflect its quality, as all the products we review are picked as the best choice for certain users.
What are Whole Body Vibration machines and Power Plates?
Whole body vibration machines are a vibrating platform that moves rapidly in small increments, either up and down or side to side. The vibration or motion they give off moves through your body, causing your muscles to involuntarily contract in order to stabilize you. The contractions use energy, and therefore calories, allowing your body to burn fat. The contractions also strengthen muscle and set off beneficial hormonal process in your body that have anti aging and bone building effects.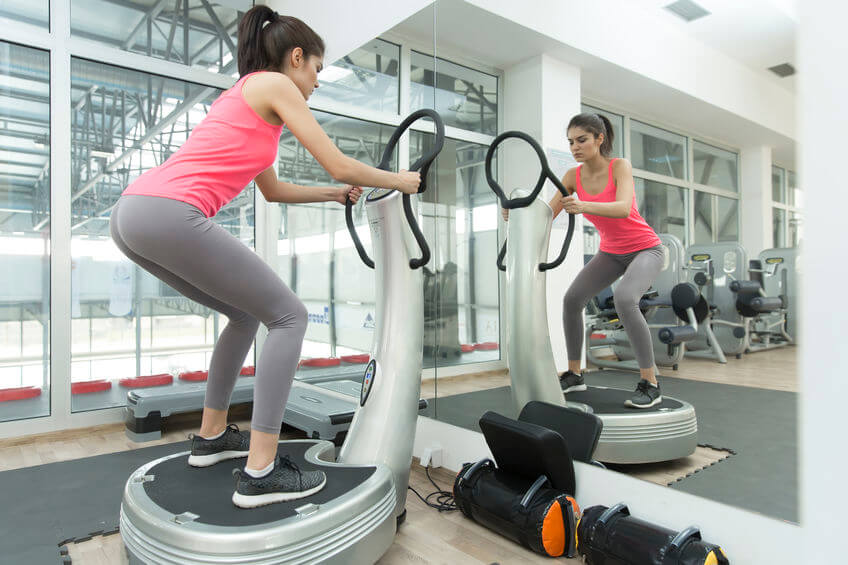 Tell Me More About How Whole Body Vibration Causes Fat Loss
Muscles are composed of three fiber types. Slow Twitch, fast twitch, and super fast twitch.
Slow Twitch (Type I) muscle is very efficient and uses the least amount of energy. Walking is an activity that engages slow twitch muscle. While walking will burn fat, it does not burn it as quickly as other muscle fiber types.
Fast Twitch (Type IIa) is less efficient. Sprinting is an activity that uses fast twitch muscle. It uses a lot of energy in a short amount of time, and some of the energy is wasted, as it is not as efficient as slow twitch muscle.
Super fast twitch muscle (Type IIx) Is very fast, and very inefficient. It uses the most energy in the least amount of time and is involved in reflexes and is not used as frequently as other types, but prompting the body to engage super fast muscle is the key to success with whole body vibration, at least in regards to fat loss.
Whole body vibration turns on super fast twitch muscle, activating fast and slow twitch muscle, burning huge amounts of calories. Making fat loss one of the best way to use vibration plate.
What are the Benefits of Whole Body Vibration?
Increases bode density and muscle strength. Several studies have shown that using whole body vibration increases bone density and this is why it is often recommended for the elderly and those who suffer osteoporosis.
Improved balance – another reason doctors and chiropractors recommend whole body vibration to senior citizens is that it increases Muscle Strength especially core muscles, involved in balance. It decreases falling incidents in the elderly.
Decreased back pain – many users swear by whole body vibration to relieve back pain.
Tremendously decreased time of rehabilitation for patients who've had ACL reconstructive knee surgery
Increased fat loss, decrease Body Fat specifically the more harmful visceral fat (by up to 8 x compared to "regular" subcutaneous fat) and loss in Total Fat Mass
Improvements in function for some patients with multiple sclerosis and Parkinson's Disease
Looking for the Best Vibration Machine? Here is What to Watch out For
Vibration Types
There are several different vibration types whole body vibration machines use.
Triangular Oscillation Vibration moves each side of the plate up and down from side to side like a see-saw. It has a center fulcrum that the plate pivots on.
This type of vibration is ideal for the less active or elderly. It usually moves more, relative to linear vibration, up to 1 cm in each direction. Machines that use this type of vibration also use lower hertz, or frequency, between 5 and 35 Hz.
Linear Vibration, pivotal vibration, Vertical tri-planar; these machines have a platform that moves up and down, both sides together.
This type of vibration is good for the more athletic type, and also for those looking to increase bone density. The machine using this type of vibration usually run between 20 to 50 hz and move just a short distance, 2mm to 4mm.
Elliptical Vibration, 3D vibration
These machines move in an elliptical fashion, both up and down and side to side.
The machine using this motion is less intense and works well for folks with balance issues, or those who have spent a long time inactive. Machines with this type of vibration, and at least 30 Hz frequency, are best of osteoporosis.
Note: Many studies showing the efficacy of whole body vibration used a hertz of about 30 Hz, which is why those looking to increase bone density often seek a machine with at least 30 Hz.
The Best Power Plate Exercises
Power Plate exercises for fat loss and toning
In this quick 5 minute video Dr Kenneth best demonstrates how to use a whole body vibration machine for a low impact fat burning and muscle toning workout.
Power Plate Moves for increasing Bone density and treating Osteoporosis
This video discusses what types of vibration machines work best for Osteoporosis and about 4 minutes into the video a fitness trainer demonstrates exercises you can perform to help increase bone density using a whole body vibration machine.
When it comes to the best vibration machine, there are some that are better than others, but it depends on your goals.
Remember: for bone density, gentler 3D motion, with a Hz of at least 30, but much more, is ideal.
For the athletic, linear vibration machines give the best results, ad for the less active and elderly, looking to lose weight, triangular oscillation is the way to go.
Have any questions?
We are here to help! Let us know what your thoughts are and feel free to leave a question or comment below.