Sit-Up Benches
TOP 12 Best Sit-Up Benches for Chiseled Abs in 2022
Products analyzed
12 Best chosen
Looking to build and sculpt a set of 6 pack abs?
Chiseled abs may seem like the pinnacle of a successful fitness routine, because they are hard to get, and even harder to maintain.
The best sit-up benches can help you attain a carved midsection by allowing you to do ab shaping exercises like decline sit-ups, roman twists, reverse crunches, knee tucks and more.
The best sit up benches allow you to work upper, mid and the notoriously hard to target lower abs.
Plus…
Sit-up benches help you target the oblique's, for fuller definition.
I will go over the top 13 sit-up benches, what to look for before deciding which sit-up bench to get, the best ab bench workouts and ab bench FAQs to answer all your questions.
What to consider when buying a Sit-Up Bench
Price: The first thing to consider is how much you are actually willing to spend on this piece of equipment. The pricerange varies widely, depending on features, size, and other qualities, so it's important to know what you need and where to put your money.
Adjustability: The adjustability of your bench will impact its versatility, and how much value you actually get from it. The more adjustable it is, the more variety it'll bring into your workout, but that usually also drives the price up.
Size: Which size you should pick will depend on your overall size, but also how much space you have to spare. Some are also foldable, which makes them easier to store.
Stability and Balance: For a sit-up bench these are crucial factors because you need to be stable in order to do your workouts properly. A wobly bench will not only make your workouts harder, but also a lot unsafer.
Reviews and Tests: In order to get the most objective picture of a product's overall quality, you should always check user reviews and test scores if possible.

This is how we select and evaluate products on GGP
In this article, we review a number of popular products that we have found using in-depth research and analysis work. The products you find in the article are sold by one or more of our partners. Although these partnerships may influence the range of products in the article, our recommendations are based on an overall assessment of the product.
We evaluate and compare products in the article based on:
1

Official and impartial product tests

2

Customer reviews and opinions about the product

3

Data on user behavior and preferences

4

Specifications, characteristics, and disadvantages of the product

5

Guarantees, service, and reputation of the dealer
Apart from that, we compare the price and quality of each product and deliver our subjective assessments and recommendations to our readers. The position of the product in the list does not necessarily reflect its quality, as all the products we review are picked as the best choice for certain users.
Adjustment Settings – How High or Low Can the Backrest Go?
Many sit up machine manufacturers boast about how many adjustment settings they have, which is fine. The more adjustment settings the bench has on the backboard, the more you can fine-tune your workout.
But…
The real challenge lies in the angle the sit-up bench has. The steeper the angle, the more challenging the exercise.
Look for a bench that can get a steep angle to get the most ab building resistance from your bench.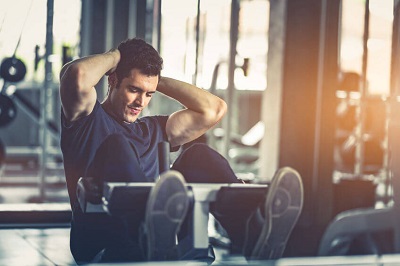 Maximum User Weight – Can I Use Weights with This Sit-up Bench?
Weight limits on these ab benches vary a lot. For example, the Rep Fitness adjustable bench holds up to 1000 lbs, while the Sunny Health and Fitness sit-up bench only holds up to 250 lbs.
It is important to pay attention to the max capacity of the bench before you decide.
The way to get the MOST from your sit-up bench is to use it with weights. After all, abs are built using resistance, and weights provide more resistance.
The weight capacity of the bench must hold you and your weights safely.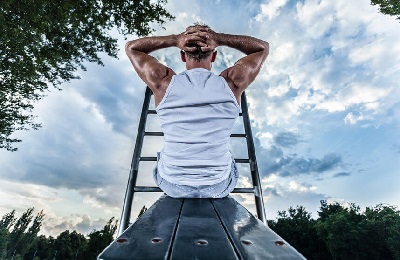 User Height vs Length of the Backboard – Is Bench Long Enough for My Height?
The length of the backboard is something you should be looking at. If you are tall, and the backboard is short, your head may hang from the end, or you may not fit comfortably.
If you are tall, look for a bench that is at least 38" long.
The XMark adjustable decline ab workout bench is a good sit-up bench for tall folks because it has a 40 inch long back pad.
How Sturdy is This Machine – Will it Last a Long Time?
When you invest in a piece of workout equipment, the last thing you want is to have to buy a new one again in a few years. It may seem like a good deal to get an inexpensive sit-up board, but that choice may bite you in the butt later.
A good hint about the stability and sturdiness of an ab bench is the max weight it can hold.
If you are looking for a sturdy bench that won't drain your bank account, check out the Fitness Reality X-Class ab workout bench which holds 650 lbs and is built to last.
What Extras are Included? Is This Ab Bench a Good Value?
Obviously, you should be able to do the basics like decline sit-ups, reverse crunches and such with any sit up bench.
But…
Some sit up benches allow you to do more. A few on this list, allow you to use the bench for back hyperextensions. The Vanswe adjustable ab bench has a hip pad and footrest that allows you to do Hyper Back Extensions.
A few benches in this list also can be used for bench presses, which really adds value, since you get two benches in one. The Rogue Ab-3 a bench that does it all.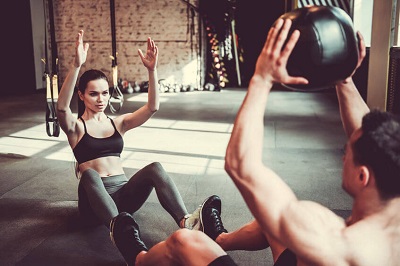 How to Use an Ab Bench & a Sit-Up Bench
The sit-up bench is pretty easy to use and is perfect for beginners and advanced athletes alike. The challenge is getting the most from the bench, learning what exercises you can do on the sit-up bench, how to use weights on the sit-up bench and how to adjust the settings to make the ab exercises more challenging.
Here, Billy Beck demonstrates how to use the sit-up bench.
Best Ab Bench Workouts
After you invest in an ab bench, you want to make sure you get the most from your money by learning all the exercises you can do.
In the following video Jared shows you how to do 5 different exercises on the ab bench.
Some more specialized exercises you can do on your sit-up bench are:
Roman Twist – Grab a Kettlebell or a weight for this exercise.
Decline press – All you need for decline bench presses are a decline bench and a pair of dumbbells.
Reverse Crunch – Look for a sit-up bench with a bullhorn handle to do reverse crunches.
What is the Best Sit-up Bench for Tall Guys and Gals?
Finding a sit-up bench that is long enough for tall folks, and sturdy enough for heavy users can be challenging.
Some great sit-up benches for tall and heavy guys are the Rogue Ab 3, which is a tank, the Rep Fitness bench, which holds up to 1000 lbs, and the Apex sit-up bench which holds 400 lbs and is stable and solid even with a lot of weight.
Are Ab Benches Effective?
Sit-up benches are effective at building all ab muscles. They make it easy to do exercises like the reverse crunch and decline sit-ups, which work the hard to target lower abs, specifically.
Without an ab bench, it is more challenging to reach all the ab muscles.
A sit-up bench is the right tool for the job when it comes to sculpting your midsection.
Are Sit-up Benches Bad for Your Back?
No, not if they are used properly. It is important to maintain good form for whatever exercise you do, to prevent injury.
They say an ounce of prevention is worth a pound of cure and I think that's spot on. Educate yourself on how to perform a proper sit-up and you should have no trouble with your back.
Check out this video to see the proper form for a decline sit-up.
Are Sit-up Bars any Good?
A sit-up bar attaches to the bottom of your door and provides two roller style foot catches to hold your feet as you do sit-ups, like this CAP sit-up bar here (link to Amazon.com).
As long as your sit-up form is good, they are useful, because they give your feet a place to anchor you in place.
But…
Like all floor sit-ups, they are limited in their scope. In other words, a floor sit-up cannot target the ab muscles to the same extent a decline bench or sit-up bench can. This is particularly true when it comes to the lower abs.
Article Summary
While you are setting up your home gym with the best sit up bench, why not take a look at some more CrossFit gym equipment here, and make your home gym complete.
Everyone knows that the right shoes make a huge difference in how you feel and perform in the gym so be sure and check out the best workout shoes reviewed right here.
Do you love gym gear? So do we!
Don't miss any more gear and equipment reviews by signing up for the Garage Gym Power newsletter by entering your email in the box.