Review:
The Best 22 Exercise Equipment for Seniors & Machines 2022
Products analyzed
22 Best chosen
Are you looking to get more fit in your later years?
With the new year, my father was on the hunt for exercise equipment to get himself back into a little bit of shape.
So, I helped him out. I did some research. And I narrowed down the best exercise equipment for seniors.
In this article, I'll outline the best cardio machines for seniors, the best at-home exercise equipment for seniors, and the pros and cons of each piece of equipment.
This is how we select and evaluate products on GGP
In this article, we review a number of popular products that we have found using in-depth research and analysis work. The products you find in the article are sold by one or more of our partners. Although these partnerships may influence the range of products in the article, our recommendations are based on an overall assessment of the product.
We evaluate and compare products in the article based on:
1

Official and impartial product tests

2

Customer reviews and opinions about the product

3

Data on user behavior and preferences

4

Specifications, characteristics, and disadvantages of the product

5

Guarantees, service, and reputation of the dealer
Apart from that, we compare the price and quality of each product and deliver our subjective assessments and recommendations to our readers. The position of the product in the list does not necessarily reflect its quality, as all the products we review are picked as the best choice for certain users.
Ellipticals
What's the elliptical got that other options don't?
Find out below as we take a look at the best elliptical machines for seniors.
Elliptical Pros
Improves balance, preventing falls.
Increases endurance.
Has handles to hold on for extra stability.
Burns calories
Improves the cardiovascular and respiratory systems, preventing heart or respiratory diseases.
It's low-impact, meaning it's easy on the joints.
Elliptical Cons
The movement isn't exactly natural.
It offers only a limited range of motion.
Elliptical trainers can be expensive, but if you use it enough, they can also be entirely affordable when compared to a gym membership.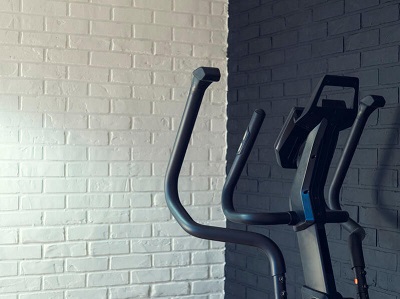 Elliptical Workouts
Psst… cardio doesn't have to be boring. Check out tricks and tips below that you can include when working out on your elliptical to make things more exciting.
And don't forget to mix it up. Try different moves for different durations. Keep things interesting.
The Takeaway
Ellipticals provide optimal comfort for the joints with low-impact. They can also provide a great calorie-torching workout.
However, some consumers have reported hip or knee issues from using elliptical machines. The unnatural movement may aggravate previous hip or knee problems.
It also doesn't target the full range of motion. Consider the pros and cons before making your choice.
Treadmills
Walking is one of the best cardio choices out there. It's also easy-on-the joints. It also comes with a ton of benefits, as listed below.
Is a treadmill right for you and your life?
Treadmill Pros
It benefits the heart and respiratory system.
It doesn't place much stress on the joints.
You can still go for a walk even when the weather is bad.
Treadmill Cons
Can be boring for some.
You don't use as many muscles as you do walking or running outside.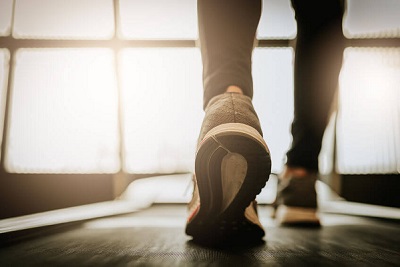 Treadmill Workouts
When it comes to varying your workouts on a treadmill, you can choose different intervals and speeds. You may also choose to walk sideways, although this should only be attempted by experienced and fit users.
Many seniors that use treadmills often set it up in front of a TV or read a book or magazine while they workout. You may also choose to listen to music or a podcast.
Again, it doesn't have to be boring. Find ways to keep yourself motivated and to keep it interesting.
The Takeaway
Treadmills are a simple and easy way to stay in shape, especially for seniors. Even when bad weather hits, you can still walk it out. Walking is easy on the joints and good for your body and mind.
However, if you like more of a challenge or get bored easily, a treadmill may not be the best option for you.
Recumbent Bikes
The recumbent bike is frequently a go-to for the 60+ population.
Why?
Recumbent bikes save your back and knees, which are major problem areas for the senior population. Unlike some of the best indoor spinning bikes, recumbent bikes have a backrest, which provide additional support.
But let's dive a little deeper. What are recumbent bikes pros and cons? Which type of recumbent bike is best for you?
Recumbent Bike Pros
It's fairly safe to use.
It's comfortable.
It's easy-to-use.
It has back support, which spinning bikes do not have.
Recumbent Bike Cons
It often takes up a large amount of floor space.
Some find it fairly boring and not much of a challenge.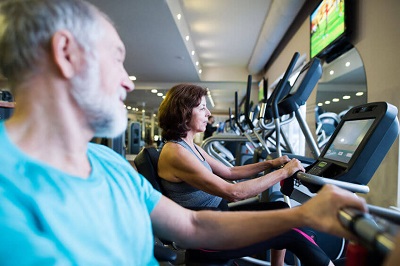 Recumbent Bike Workouts
Recumbent bikes don't give you much to work with.
But…
You can vary your speed and resistance for different intervals and thus, make it more exciting. Many individuals also choose to read or watch TV while on their recumbent bike, again, making it a little more interesting.
All in all, the low impact and safety features are the main reasons why the recumbent bike is one of the best home exercise equipment for seniors.
Now, let's take a look at the best ones on the market today.
The Takeaway
A recumbent bike is great for seniors who have knee, hip, or back problems. It offers a sturdy and safe device for exercise.
However, the type you choose may depend on the space available and whether or not you prefer certain features. It may also depend on your personal budget.
Rowing Machines
When is a rowing machine a good choice? Should you consider this piece of equipment for your home gym?
Find out by checking out the pros and cons, and the reviewed rowing machine options below.
Rowing Machine Pros
It burns calories.
The rowing machine is low impact.
It works out many major muscle groups.
Rowing Machine Cons
It takes up a lot of space.
It isn't the best option for those who have had previous injuries, including back, knee, or hip problems.
There is a learning curve involved in using it.
It may make more noise than other equipment.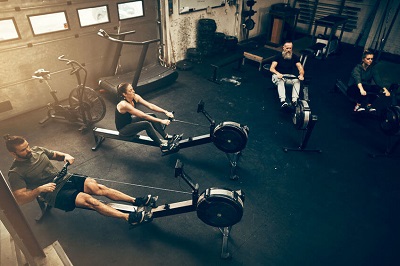 Rowing Machine Workouts
As far as the best exercise equipment for senior citizens goes, this one is highly underutilized. This is also another piece of equipment where you'll likely want to be in fairly decent shape before using it. It isn't exactly back-pain friendly.
Yet, if you're new to the rowing machine, don't worry. There are plenty of options, including variations and workouts described in the video below.
The Takeaway
The rowing machine is likely better for those that are already in decent shape. It does require a bit of learning to get used to proper form and usage.
However, it does work major muscle groups, including the core and back. It also torches major calories (often more than other cardio machines).
Free Weights
The ultimate best exercise equipment for elderly individuals is free weights.
Why?
Because so many studies indicate the benefits of strength training as you age.
In fact, after the age of 30, you lose about 3-8% of muscle mass per decade. This rate goes up after the age of 60.
Yet, strength training via free weights combats this. It promotes the growth and maintenance of lean muscle mass. In turn, you can enter old age with as few aches and pains as possible.
But let's define and refine these pros and cons a bit more. What's the deal?
Free Weights Pros
There are endless options for different strength training exercises you can perform. This means it's easy for anyone – no matter what shape you're in – to make use of this type of equipment.
They're easy to store. They can conveniently fit in a corner, against a wall, or even under a couch.
Strength training improves bone health and prevents muscle loss.
Free weights are some of the best pieces of exercise equipment for weight loss at home, as well as for maintaining a healthy weight.
They allow for a full range of motion, improving mobility and flexibility.
Free Weights Cons
There is a learning curve involved, including determining which exercises you should perform and how to perform them.
Because there is a learning curve, it may be easy to injure yourself.
You may need a spotter in some cases to train effectively and efficiently.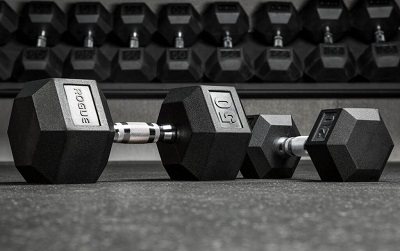 Free Weights Workouts
Again, there are so many options here. When starting out with free weights, it may be best to have a pro – such as a personal trainer – show you the ropes. That way, you can ensure you're performing each exercise correctly. This also means you won't risk injury.
An example of a quick 15 minutes workout for seniors includes the video below. Many good strengthening exercises include squats, deadlifts, core exercises, shoulder exercises, and postural exercises.
The Takeaway
For the best of both worlds, getting both a dumbbell set and a barbell set is cheaper than any cardio machine. It may also be more beneficial for your overall health, especially as a senior.
In addition, there are many forms of free cardio, such as walking outside.
Resistance Bands
What about bands? Resistance bands are similar to free weights. They offer a way to build muscle and also come in a wide variety of resistances.
Resistance Bands Pros
They frequently involve some core engagement, meaning exercises using resistance bands contribute to better balance and stability.
They're easy to store and convenient for traveling.
They provide less joint compression than free weights, which may be better for the senior population.
They're entirely affordable.
Resistance Bands Cons
The user is limited by the resistance level of the bands.
There is a learning curve involved in using them.
It may make it difficult to track training (especially as the bands become worn, stretched, and used).
Resistance Bands Workouts
There are countless options for resistance bands workouts. For seniors, it's likely you want to focus on shoulder strength (a common problem area), hip strength, core strength, and strength in the major muscles of the legs. This helps prevent injuries and aches or pains. It also allows you to age gracefully.
Check out the video below for an example of a resistance band workout for seniors.
The Takeaway
Resistance bands offer a more affordable alternative to free weights. They're also slightly better for storage and for tight spaces.
Bands are further great for exercise options. There are a ton of different ways you can use them.
Stability Balls
You've probably seen on-the-ball classes at your local rec center. Stability balls are great for improving balance and more. See below for a complete list of pros and cons.
Stability Ball Pros
Improves core strength and balance.
Improves posture.
By performing strength training exercises on the ball, you may slightly increase your caloric burn.
Stability Ball Cons
It doesn't provide support for the upper body or back, which may be an issue for some.
It may increase the risk of falling during exercise.
Stability Ball Workouts
There are a variety of exercises you can perform on or with a stability ball. In order to ensure you're doing them correctly and to lower the risk of falls, I recommend checking out a class at your local gym or recreational center, or taking part in a session with a personal trainer to get the hang of it.
The Takeaway
Exercise balls are a great exercise equipment option for seniors. They help work on balance and stability, which begin to falter with age. You can also perform a variety of other exercises while sitting on the ball itself.
But ultimately, the choice is yours. The best exercise equipment for seniors may depend on the person's fitness level and situation.
Use the above information to determine what type of exercise equipment is best suited for you and your life – or your family member or friend.
What is the Best Exercise Equipment for Seniors?
An at-home gym consisting of weight training equipment is the perfect fit for seniors. If cardio outside isn't an option, your gym should also include a cardio machine.
This ensures that you not only maintain muscle mass but also decreases your risk of heart disease or stroke.
How Often should Seniors Workout?
Experts recommend that individuals over the age of 65 get 2.5 hours of aerobic exercise per week. This equates to about 30 minutes a day. It's further recommended that seniors participate in strength training 2 times a week.
What are the Best Strength Training Exercises for Seniors?
A few of the best strength training exercises for seniors include squats, wall push-ups, hip bridges, dead-bugs, and calf raises. These exercises target major muscle groups and the core, which helps prevent injuries, improve balance, and maintain muscle.
What are the Best Balance Exercises for Seniors?
As a senior, balance is an important aspect to consider in your overall exercise and fitness routine. As a person ages, balance decreases and falls become common. But you can practice and improve your balance via one-legged stance exercises.
Further, strengthening exercises like calf raises and squats can also improve your balance and stability.
Are Exercises Safe for those with Arthritis?
Absolutely! In fact, studies show that exercise can help manage arthritis pain. By strength training, you'll build muscle and improve blood circulation. This muscle will support the joints. Improved circulation will help reduce inflammation.
What are Other Good Aerobic Exercises for Seniors?
Many popular aerobic options for seniors include classes, such as Zumba, dance, tai chi, aquatic classes, and more.
Look up gyms or recreational centers in your local area. Usually, they'll have a list of classes.
Why do Seniors Need Exercise?
Individuals who exercise have a lower risk of heart disease, Alzheimer's disease, osteoporosis, obesity, specific cancers, and other chronic diseases. They further often have good blood pressure and improved bone density.
Overall, it frequently improves one's health, life longevity, and quality of life.