13 Best Exercise Balls Reviewed 2023 – Complete Guide & Workouts
We're all looking for ways to make our workouts more challenging and interesting, right?
Exercise balls are one of the best ways to do this, being an inexpensive, versatile item to add to our home gym set ups.
This article will list some of the best exercise balls available right now, and then provide you with all the information you need to get started and mix up your exercise regimen with the best exercise ball for you.
TOP 13 Best Exercise Balls Reviewed 2023
Sale
URBNFit Exercise Ball (65 Cm) for Stability & Yoga - Workout Guide Incuded (Blue)
ANTI-BURST - Built with sturdy PVC material, this anti-burst pilates ball can handle the most rigorous workouts up to 600 lbs of weight. You'll never need to worry about the balance ball bursting or losing its shape.
ANTI-SLIP - The surface of this pregnancy ball is coated in a non-slip glaze that will ensure you have a proper and safe grip. Use it to get fit, relieve back pain, or to soothe aches during pregnancy as a birthing ball.
TOTAL FITNESS - Excellent stability ball for yoga, pilates, or physical therapy. It can even help improve posture and core strength when used as an exercise ball chair, making it great for the office or working from home.
FAST SETUP - These exercise balls for working out have a quick, dual-action ball pump to easily inflate by hand. Your workout ball is delivered deflated and can be pumped up in minutes with minimal effort.
VERSATILE USE - Whether you're using this yoga ball chair for exercise or to bounce your newborn baby to sleep, our customer support team is on-hand to assist you with any questions or concerns.
Review: This is one of the most popular exercise balls on the market right now. It is very tough, long lasting and burst resistant to 2000 lbs.
It is very versatile, copes well with being sat on for long periods and comes with a workout guide.
Pros
High-quality, burst-resistant PVC is extremely durable.
No odor when it comes out of the box.
Available in multiple sizes and colors.
Easy to use pump.
Cons
Hand pump not as durable as the ball itself so you may need to use another pump.
Takeaway
One of the most durable and high quality exercise balls on the market, this is the best exercise ball all round due to its excellent quality and value for money.
Trideer Yoga Ball - Exercise Ball for Workout pilates Stability - Anti-Burst and Slip Resistant for physical therapy, Birthing, Stretching & Core Workout, Office Ball Chair, Flexible Seating, Home Gym
ANTI BURST & SLOW DEFLATION - Our exercise ball is made with the honey comb structure which makes it deflate slowly and burst resistant if punctured, thus reducing the risks of injury due to falls to the ground and offering you the most caring protection like your endearing mom's!
NON SLIP SURFACE - The Swiss ball is not picky at all when it comes to the practice venue - be it home, the gym or outdoors, the premium slip prevention will leave you feeling safe and your movements worry free. Not to mention it's one-thing-for-all - Pilates, Yoga, pregnancy gymnastics or various other low-impact exercises, you name it. And don't forget the total body exercise ball HIIT cardio workout!
Office Ball Chair for Fun and Better Posture - Tired of the ordinary office chairs? No worries! We have you covered! Try our Office Ball Chair for a healthier and more active lifestyle. This chair is a magician that corrects your posture and eventually drives your back pain away! Plus, you can even treat yourself with a highly efficient back and abdominal strengthening or some deep stretches that you long deserve during or after work!
TOP QUALITY MATERIAL - Our exercise ball proudly stands itself out among the products of the same class. It is strictly weight tested and can resist up to 330 lbs. The strong material is nicely made with non toxic PVC material, thus free of BPA & heavy metals.
EASY TO INFLATE AND PERFECT PACKAGING - Time is money! This exercise ball literally save your life in a hectic world with its quick inflation foot pump that comes with it, as well as 2 air stoppers and detailed instructions for you to follow. Available in 5 sizes, 45cm 55cm 65cm 75cm 85cm to meet your special needs.
Review: This exercise ball is designed with durability in mind, being extra thick and capable of withstanding 2200 lbs.
This is the exercise ball you'll want two of, one for the office and one for home.
Pros
Made of non-toxic, BPA free PVC.
Available in multiple colors and sizes.
Slip resistant surface together with ridges makes it ideal for balance and core exercises.
Excellent customer service.
Cons
The ball is a little heavier than others on the market, but this could be a pro depending on how you want to use it!
Takeaway
This is the best yoga ball owing to its extra-thick material and slip resistant surface. For the same reasons, it's also the best exercise ball for pregnancy.
Smarter Life Products Exercise Ball
SmarterLife Workout Exercise Ball for Fitness, Yoga, Balance, Stability, or Birthing, Great as Yoga Ball Chair for Office or Exercise Gym Equipment for Home, Non-Slip Design (65 cm, Black)
BUILT TOUGH: Our premium quality exercise ball was carefully designed with durability and your safety in mind. Whether you want to use our yoga ball at the office or at your home gym, you can count on getting outstanding workouts day in and day out. It's time to drip!
WON'T BURST: Our exercise balls feature an extraordinarily high anti-burst rating thanks to their thick 2.5mm material. Supporting up to 2,000 PSI, our large exercise ball won't explode if punctured, so you can exercise with confidence. You're sure to love our exercise balls for working out!
NON-SLIP DESIGN: A terrific yoga ball for pregnancy, workouts, or just plain fun, our yoga balls were thoughtfully created to be easy to grip, safe to use on virtually any surface, and made to resist slipping and sliding. Plus, our work out balls won't stick to your skin, your clothing, the floors, or collect dust!
MADE SAFE: Free of latex, toxins, heavy metals, and unpleasant odors, our workout ball is safe for those with sensitive skin. Whether you're doing yoga, Pilates, or CrossFit, our fitness ball empowers you to work out the way you want to.
HOME GYM EQUIPMENT: Making a fantastic addition to your existing collection of at home workout equipment, our work out ball is ideal for stretching, correcting posture while sitting at a desk, or exercising.
Review: This is a good quality exercise ball with care taken to ensure even thickness of the casing so that ball doesn't change shape over time, and extra handy measuring tape so you know how much to inflate.
Pros
Comes in 4 sizes and 5 colors.
Anti-burst technology and 2000 lbs rating.
2mm PVC even thickness holds its shape over time.
Comes with a measuring tape to aid inflation.
Cons
Some issues with sizing, if in doubt, go larger.
Takeaway
This is a popular exercise ball that is reliable both for sitting on and using for a variety of exercises.
Live Infinitely Exercise Ball
Live Infinitely Exercise Ball (55cm-95cm) Extra Thick Professional Grade Balance & Stability Ball- Anti Burst Tested Supports 2200lbs- Includes Hand Pump & Workout Guide Access
PROFESSIONAL GYM GRADE EXTRA THICK EXERCISE BALLs: The Live Infinitely pregnancy ball is intended for balance, core strength, increase cardio endurance, control weight, back rehabilitation, birthing ball, pilates ball, toning and sculpting with Pilates, yoga, and many other fitness exercises.
ANTI-BURST CONSTRUCTION & SECURE GRIP: The yoga ball chair features anti-burst & anti-slip design, which can support up to 2200 lbs. The PVC body of the workout ball has a matte surface with horizontal ribs contoured all around making it easier for you to hold it without slipping while bouncing, squeezing, or tossing the ball.
MADE FROM HIGH-QUALITY MATERIAL: Live Infinitely yoga chair weight ball is made of gym grade PVC material that is of a heavy-duty quality and is BPA, Latex, heavy metal, and phthalate-free. Also, the stability base ensures reduced movement of the ball, crucial for perfect form when working out. It can withstand up to a 2cm cut without explosively deflating.
VERSATILE USE MEDICINE BALLS FOR EXERCISE: Get back into shape and achieve flexibility and balance with the help of this well made exercise ball chair. Live Infinitely therapy ball allows you to work out anytime anywhere from the gym to the home or office. It is perfect for abdominal exercises, pregnancy crunches and other work out.
INCLUDED WITH YOUR FITNESS BALL: Our balance ball chair come with a hand pump, two air plugs, and a valve remover tool, along with the Live Infinitely yoga ball for pregnancy you get instant access to our digital exercise guides and online training workouts that are all mobile-friendly.
Review: Another extremely popular stability ball, and easily one of the best exercise balls on the market.
It is durable and anti-burst while coming equipped with free online exercises.
Pros
Designed to cope with 2200 lbs.
Anti-slip ridges make it ideal for exercising.
2mm PVC construction is thick, durable and anti-burst.
Free online workout guides.
Cons
Some issues with the ball's shape, some seem to come a little egg shaped.
Takeaway
This is a good value, durable exercise ball that is ideal for beginners if you're looking to get started.
Black Mountain Products Stability Ball
Review: Another reliable and popular exercise ball that handles office and home life well, this product is versatile and affordable.
Pros
Available in 4 colors and 5 sizes.
Weight rated to 2000 lbs.
Anti-burst construction.
Odor-free.
Cons
Some issues with sizing, some balls arrive smaller than expected.
Doesn't come with a guide for inflation.
Takeaway
This is a good quality exercise ball for home workouts and is ideal for stability exercises.
Yogu Stability Exercise Ball
YOGU Stability Exercise Ball 65cm Yoga Balance Ball Birthing Ball with Air Pump Anti-Slip & Anti-Burst Supports 2000lbs Great for Yoga Pilates Abdominal Workout Fitness Ball and Office Chair
- STURDY AND DURABLE: Push yourself to the limit with or extra-heavy duty exercise ball. It can handle as much as 2,000 pounds, making it perfect for tough workouts. With an anti-burst quality, your mind is at ease whenever you use this ball, as compared to other exercise stability balls.
- VERSATILE AND MULTI-PURPOSE: Do you need an exercise tool for your home workouts? Or perhaps, you want to boost your balance and improve your core muscles for Pilates? No matter what kind of workout you have in mind, this core balance ball works perfectly well. It can even help improve your posture when you use it as a desk chair.
- EASY TO USE: Getting started with this fitness stability ball is a breeze. It comes with an extra air plug, as well as an air pump, so inflating is fast and simple. You can also find the perfect size for you as our therapeutic exercise ball is available in diameters 65 cm to match your unique needs.
- MULTIPLE WORKOUTS: Want to strengthen your abs? Do you think your legs need some firming up? Use this body exercise ball for different types of workouts such as chest presses, crunches, pikes, planks, and squats, to name a few. You can also use the core workout ball to improve your flexibility
- 100% SATISFACTION GUARANTEED: We love it when our customers are thrilled. That's why we've backed our men's and women's exercise ball with a 100% satisfaction guarantee. Reach out to us in case of any issues and we'll do all we can to make you smile. Click 'Add to Cart' now for a stability ball designed to last for years!
Review: This exercise ball is designed specifically with yoga and pregnancy in mind. It is likely too small to sit on for office use, but is the perfect size for core and balance exercises.
Pros
Anti-burst technology.
Easy to inflate.
Light enough to lift with your legs during ab workouts.
Popular as a birthing ball to relieve spasms.
Cons
Hard to know much to inflate it the first time.
Only comes in one size (65cm).
Takeaway
This is the best exercise ball for abs and a great option for use as a birthing ball.
Expansive Living Anti Burst Exercise Ball
EXPANSIVE LIVING Exercise Ball (Black, 65cm) - 2,000 lbs Stability Ball. Anti Burst & Heavy Duty for Yoga, Balance and Birthing. Physio Ball | Office Chair | Professional Grade Swiss Ball
★ 2,000 MICROMETERS = 2,000 LBS ★ Built with 2,000 MICROMETERS of the highest quality Anti-Burst Material. Its ultra-thick casing can SUPPORT A STATIC WEIGHT OF 2,000 LBS, giving you the ultimate support. Don't settle for less, avoid cheaper excersize balls.
🙆 GET RID OF YOUR OFFICE CHAIR. ★ Tired of those aches and pains from sitting at your desk? Replace your office chair with our Sitting Ball to help improve your posture and decompress your spine. The continual Micro-Movements of sitting on one will also help you FEEL GREAT and ENERGIZED as you work hard on the job.
💪 GROW INTO YOUR BEST SELF. ★ Get a low impact, yet rigorous, full body workout. The Expansive Living Fitness Ball will help you grow stronger, while enhancing your balance and core strength. Get ready to take your workouts to the NEXT LEVEL.
😌 FEEL SAFE ON YOUR BALL. ★ A unique Anti-Burst Design. If punctured, instead of popping, it will slowly deflate even with heavy weight. Its extra thick ribbings also give you an enhanced grip, so no slipping as you're sweating. It's also ECO-FRIENDLY, being free of latex, BPA, or harmful phthalates. And it's built to last, which means less trash for the planet. 🌎
★ 100% SATISFACTION GUARANTEE. ★ If You're Not Happy, We're Not Satisfied. At EXPANSIVE LIVING, we dream of a world where all people can grow into their best, authentic, limitless selves. And we constructed one of the TOUGHEST Anti-Burst Exercise Balls to help you Grow Beyond Your Limits. Go ahead, make the decision to grow with us. Click "Add To Cart" now. 🛒
Review: This popular exercise ball is well suited to floor workouts, being durable and with a practical non-slip surface.
Pros
2000 lbs. Static strength rating.
Anti-burst design.
Comes in 4 sizes and 3 colors.
Latex and BPA free.
Non-slip surface.
Cons
Some issues with plugs or pumps missing when shipped.
Takeaway
This is a versatile and durable exercise ball that will cope with all core, balance and birthing exercises.
Epitomie Fitness Active Balance Ball
Review: This ball comes with a unique design twist, having 13 popular exercises printed on the ball for easy viewing and continuous inspiration.
Pros
Comes in 2 colors and 3 sizes.
Includes a PDF Exercise book.
2000 lbs weight rating.
Comes with 2 plugs and a plug remover.
Cons
The pump is a little exhausting to use, but at least you only have to do it once!
Takeaway
This is the best stability ball for core and balance exercises, being a "gym grade" ball.
ProBody Pilates Exercise Ball
Review: This professional grade exercise ball is ideal for Pilates and pregnancy exercises. It is thick, durable and burst-proof.
Pros
Anti-burst up to 600 lbs.
Non-toxic PVC is free of the 6 harmful Phthalates.
Comes in a range of colors and sizes and you can choose whether or not you purchase the pump with the ball in case you already have one.
Cons
Instructions to inflate not included.
Some find that the ball has an unpleasant odor.
Takeaway
This is another of the best exercise balls for yoga and Pilates and the best balance ball.
Exercise Ball Chair, Yoga Ball Chair With Resistance Bands, Pregnancy Ball with Stability Base & Poster. Balance Ball Chair Pilates Ball for Fitness, Home Gym, Physio, Birthing, Office & Working Out
【A Healthier & More Comfortable Workday】Sitting at a desk for 8 hours a day with a traditional office chair is just too easy to slump or slouch, so no wonder your shoulders and hips are sore. Enter……our yoga ball office chair with stability base. By forcing you to sit up, it improves posture, eases shoulder and lower back pain, and helps build core muscles. You can also add your adjustable resistance bands to your sitting ball, exercising while you work and getting fit while you sit!
【Gym Quality Full Body Workouts At Home】Who needs 30 different machines when you can do 30 different full-body exercises with one Pilates ball? From jackknifes to squats, hamstring curls and more, our exercise equipment for home workouts trains your upper body, lower body, abs, back, and core. We include a fitness ball and resistance bands exercise guide (A1 size wall poster and downloadable) so you can learn all the best moves, and a choice of 55cm, 65cm or 75cm to ensure perfect form.
【Life Support For Moms To Be】Our maternity birth ball for pregnancy and labor stimulates blood flow to your pelvis area, helping to relieve pressure, easing lower back pain and making your pre-natal journey much more comfortable. By strengthening your core and stomach muscles you are readying yourself for delivery and sitting upright on the ball will improve your posture. This can also help to change your baby's position from posterior to anterior, to prepare for giving birth.
【Safe & Worry-Free Fitness】If you're going to be lying, bouncing, and rolling on our physical therapy ball, it needs to be safe. Our medicine balls are made from non-toxic PVC and contains no BPA or harmful heavy metals - so no bad chemical smells too. Plus, its anti-slip unique surface means you can sweat it out, without fear of sliding off. Even better, our workout ball is anti-burst, meaning it deflates slowly in 2-3 seconds if punctured, instead of exploding like a balloon!
【All You Need To Get Going & Stay Going】 Since a birth ball won't take you very far if it's flat, we've included an easy-to-use hand pump and quick inflation guide. Overinflated? No problem. There's also a plug remover, spare plug and we even tossed in a tape measure, so you can get the perfect height for great form when training and to improve your posture - especially handy to get that optimal seating position if you plan on using the swiss ball as your office ball chair.
Review: This exercise ball comes as a set with resistance bands and a removable base to keep the ball stable while you exercise or sit.
Pros
The stability base makes this the ideal exercise ball for beginners.
Heavy duty PVC ball is reliable quality and not compromised by being part of a set.
Comes with a tape measure to make inflation easy.
Comes with a large poster detailing all the possible exercises.
Cons
Many issues with defective products and items missing on arrival but the amazing customer service seems to make up for this.
Takeaway
The best exercise ball for beginners who aren't confident balancing.
URBN Fit Mini Pilates Ball
Sale
URBNFit Small Exercise Ball - 9-inch Mini Pilates Ball with Fitness Guide for Yoga, Barre, Physical Therapy, Stretching & Core Stability Workout-Pink
ANTI-BURST - Never worry about your workout ball bursting or losing its shape during rigorous exercise. Our small yoga ball is made with durable PVC material and supports up to 600lbs of weight.
ANTI-SLIP - The surface of each 9" fitness ball is coated in a non-slip glaze to ensure you have a proper and safe grip when working out, seeking back pain relief, or soothing aches during pregnancy.
VERSATILE - Use this small yoga ball for exercise and beyond! Stretch before a HIIT session, build core strength and flexibility on the mat, or place behind you while sitting in a chair for lumbar support.
CONVENIENT - These exercise balls for working out are quick to inflate/deflate for easy use. Just pump with air using the straw provided to inflate or remove the plug to deflate after use.
REINVENT YOURSELF - Fitness goals are only good if you're willing to follow through with them. Luckily, our exercise balls are a surefire way to help you become a happier, healthier you!
Review: This is a mini version of the exercise balls above designed with more specific exercises in mind. It obviously can't be used as a chair for sitting at a desk but that's about the only thing it can't do.
Pros
High quality PVC can sustain 600 lbs.
9" size is ideal as a therapy ball for recovering from an injury.
High grip surface makes it easy to hold and exercise with.
Cons
A little difficult to inflate for some people.
Takeaway
This is the best exercise ball for Pilates exercises that involve lifting the ball with your arms and legs.
Tough Kiwi Mini Exercise Ball
Tough Kiwi 9 Inch Pilates Ball with Pump - Mini Exercise Ball for Home Fitness | Use for Home Fitness, Stability, Barre, Pilates, Yoga, Core Training or Physical Therapy (Blue)
★ HIGH QUALITY mini exercise balance ball. The Tough Kiwi 9 INCH MULTI-USE MINI EXERCISE BALL is intended for core strength, balance, back rehabilitation and for toning and sculpting with Pilates, Yoga or other fitness exercises.
★ INCLUDES A BALL PUMP. Anti-burst balls do not include a valve, but rather have a plug to withstand high pressure.
★ RECOMMENDED BY INDUSTRY EXPERTS - Physical therapists and personal trainers recommend and utilize therapy balls for their wide array of benefits.
★ PROFESSIONAL GYM GRADE DESIGN: Made of soft, flexible, durable PVC. Non-burst and non-slip even when used on a hard surface.
★ 100% SATISFACTION GUARANTEED - If you don't love your mini fitness ball for any reason, get in touch with us and we'll make it right.
Review: This is another reliable mini exercise ball that is a great alternative to a full sized ball and is ideal for core work and Pilates.
Pros
Anti-burst design with a plug, not valve.
9" size is ideal for exercises that involve gripping the ball between your legs.
Durable PVC is non-slip.
Cons
The smaller size makes it a little difficult to not let too much air out in the process of removing the pump and replacing the plug.
Takeaway
This is a convenient 9" ball that makes a great addition to your workout and is ideal for use in small spaces.
Vivora Luno Sitting Ball Chair
Sale
Vivora Luno Exercise Ball Chair, Canvas & Felt for Home Offices, Balance Training, Yoga Ball
The Luno is a stylish sitting ball chair that inflates to between 22in. to 24in. and can support up to 400lbs.
The premium anti-burst PVC inner ball's pressure is contained by one our tightly fitting, meticulously crafted covers that provide a more comfortable surface to sit on that is machine washable.
Sitting on a Luno circle ball chair engages abdominal and leg muscles, which will tone and strengthen those muscles over time.
Luno makes itself at home with any style décor and adds that extra bit of flair you've been looking for!
If anything is wrong with your Luno, we'll replace it - if you don't like it for any reason, we'll refund you your money up to 6 months after your purchase.
Review: This is a balance ball designed to be used as a chair as it has a slightly flatter bottom meaning it should stay in position without rolling away when you're not sitting on it, but it still requires some core strength when sitting on it.
Pros
Anti-burst PCV ball inner.
Attractive ball cover comes in different materials and textures to match your style.
Cover has a convenient carry handle and non-slip bottom.
Comes in 2 sizes, standard and max.
Cons
A little more expensive than the other balls on this list.
Takeaway
If you want an alternative to a chair for your office and home but don't want it to look like an exercise ball, this is the ball for you. This is the best exercise ball for office use.
Why Purchase an Exercise Ball?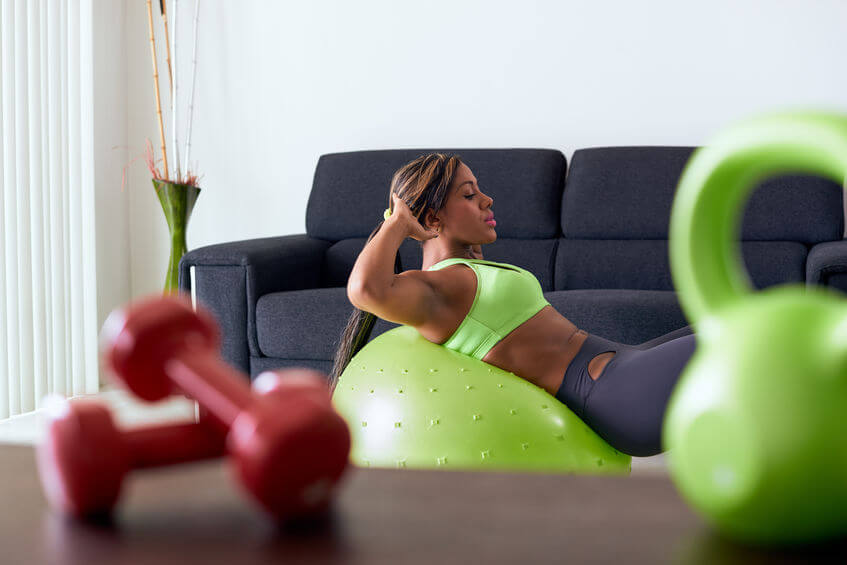 There are so many options for gym equipment out there these days that it can be hard to know what products are actually going to add value to your gym set up.
An exercise ball is an example of a product that is so versatile, it's probably impossible to regret.
Exercise balls, also known as yoga balls or balance balls, can be used for a huge range of balance and core strength exercises, as well as replacing your chair at home or the office, and providing valuable relief for pregnant women.
Many pieces of gym equipment only target specific muscles making it difficult to get a well-balanced workout.
On the other hand, exercise balls activate whole groups of muscles, including all of the often-forgotten stabilizer muscles.
This makes them one of the best ways to improve core strength and balance.
Finally, exercise balls are particularly beneficial for women, being one of the best ways to strengthen pelvic floor muscles and prepare for pregnancy.
What to Keep in Mind Before Buying an Exercise Ball
However, as with most products, there are so many on the market, it can be very hard to know how to choose!
The main thing to look for is the thickness of the PVC and burst resistance.
Obviously, thicker PVC will be less likely to fail. But also, burst resistance means that if something does puncture the ball, it won't explode. Instead, it should deflate slowly so that you don't land on the ground.
The other main thing that you'll need to decide on is size.
Most exercise balls come in a range of sizes suited to people of different heights. A 65cm diameter is a pretty standard size and should work well for most people of average height (between 5' and 6').
If you're taller than 6' you'll want a larger ball around the 75cm mark. If you're shorter than 5' you'll want a smaller ball around the 45 – 55cm mark.
However, most manufacturers should provide a chart explaining the sizing options for their exercise balls.
How to Use an Exercise Ball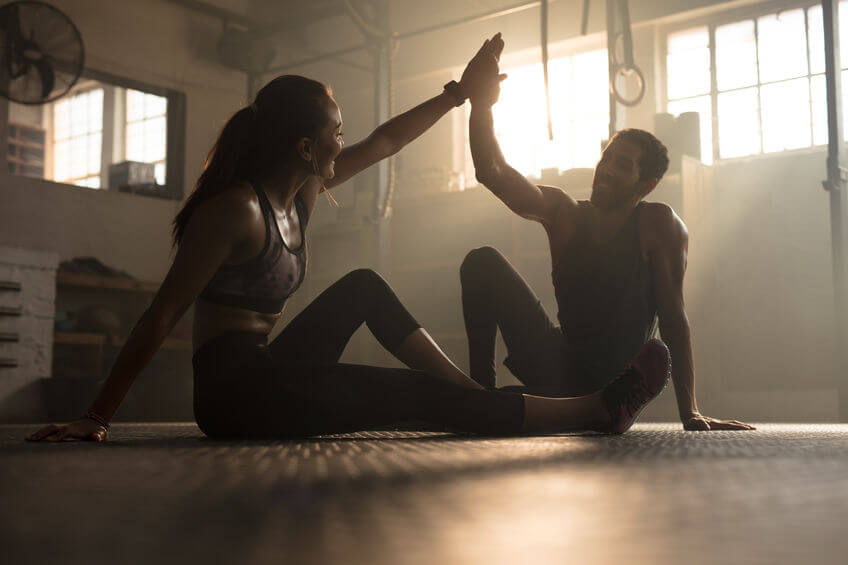 Exercise balls are hugely versatile and can be used in as many ways as your imagination can concoct.
But just to get you started, here are some basics:
Instead of a Chair
One of the most popular ways of using an exercise ball is to sit on instead of a chair.
Sitting on an exercise ball forces you to use more core muscles to sit up straight and maintain good posture. As there's no back to lean against, you can't get lazy and slouch.
Also, as it will move if you relax too much, you need to keep some stabilizing muscles active to keep you balanced in the middle of the ball. This means you get stronger while you sit, and burn some calories too!
Note: When sitting on an exercise ball, your feet should be flat, your back should be straight, and your knees should be bent at a 90˚ angle.
While Using Free Weights or Resistance Bands
Take all the benefits of sitting on an exercise ball instead of a chair, and then add in free weights or resistance bands.
What do you have?
An almost-whole body workout!
Sitting on an exercise ball while you work your upper body with weights actually makes you use more of your core muscles than if you were standing while using the weights.
What's not to love about that?
To Balance on While Doing Floor Exercises
Doing body weight exercises on the floor is an excellent way of building strength. Doing these same exercises while balancing part of your body on your exercise ball activates a lot more muscles and makes the exercises much harder.
For example, instead of doing press-ups on the floor, balance your feet on the exercise ball and then do the press-ups with just your hands on the floor.
Your entire core will be fired in your to keep your feet steady on the ball without rolling off.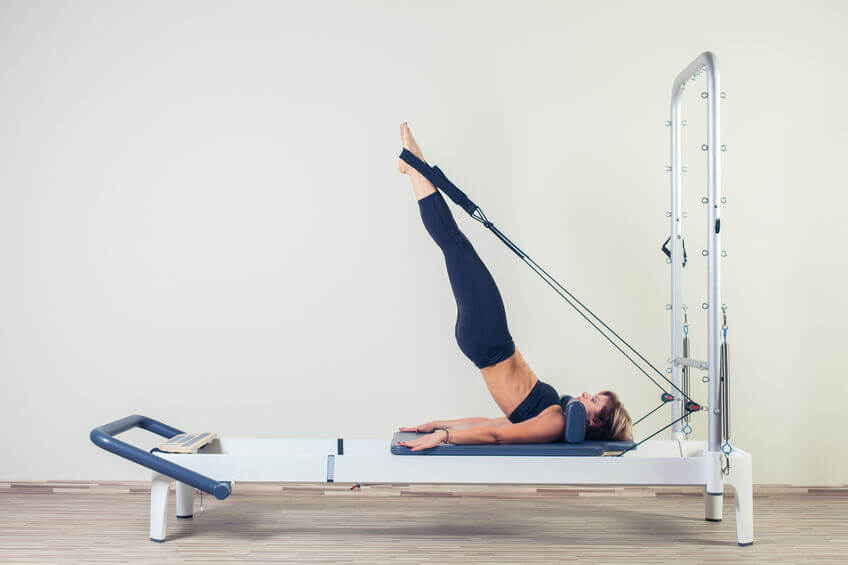 To Use As Part of Your Yoga or Pilates routine
Exercise balls can also be a great addition to your yoga or Pilates routine.
Strictly speaking, if you're using an exercise ball, it's not yoga. But, there is no reason why you can't use an exercise ball in order to support your progress by strengthening certain muscle groups or improving balance.
Pilates on the other hand definitely does utilize exercise balls. So if you're considering getting into Pilates, an exercise ball will be a very useful tool for getting the most out of your workouts.
Exercise Ball Workouts
Did you know that there are entire workouts dedicated to exercise balls?
You can actually spend your entire workout with the exercise ball as your only piece of equipment and get a whole body workout in the process.
There are some excellent videos on YouTube with demonstrations of exercises that make it easier to visualize what you're supposed to be doing.
Here's an example of a basic exercise ball routine:
1. Begin sitting on the ball, bouncing gently and circulating your arms out to the side as if you're drawing little circles with your middle finger on the wall.
2. While doing this, alternate circulating each leg in front of you as if your drawing little circles on the wall in front of you with your toes.
3. Once you feel warmed up, place your exercise ball against the wall at waist height. Press the small of your back into the exercise ball and squat until your knees are bent at a 90˚ Stand slowly and repeat, being careful to keep your knees aligned over your foot as your bend them.
4. Place your exercise ball back on the ground and balance your thighs or shins on the ball while placing your hands flat on the ground.
Hold this position for a plank and then continue to do as many press-ups or press-up – plank repetitions as you normally would.
5. Kneel in front of the exercise ball and place your forearms on the ball with your hands clasped together.
Roll forward until your thighs, back and forearms are aligned in a straight line. Then, being careful not to strain your back, roll the back up to a kneeling position.
6. Lying on your back on the floor, place your ankles and lower calves on the exercise ball with your legs straight. Bend your legs and use your feet to draw the exercise ball towards you.
As the ball comes closer, aim to lift your hips higher so that your torso and thighs are aligned before rolling the ball back away from you.
FAQs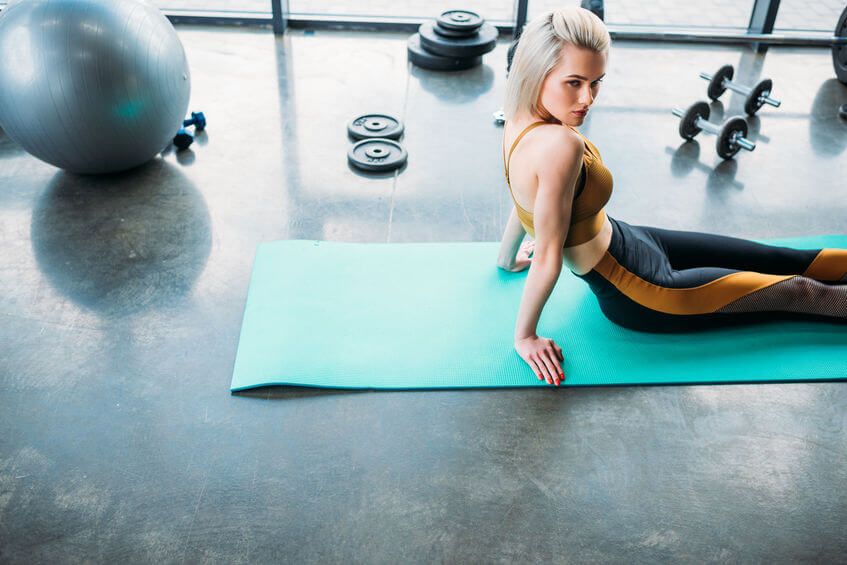 What are the benefits of exercise balls?
Working out with an exercise ball makes your workout more challenging by activating more core and stabilizing muscles that often don't get used.
Is sitting on an exercise ball good for you?
Medical experts would probably argue that sitting on anything isn't exactly good for you. But, sitting on an exercise ball is definitely better than sitting on a chair as it forces you to sit with better posture and strengthens your back and core.
Are exercise balls good for your back?
If used correctly, exercise balls can be a fantastic way of strengthening your back and relieving pain from injuries.
What exercise ball is the right size for me?
This depends on your height.
Generally speaking, an average height person should be comfortable with a 65cm ball. Taller or shorter people will be better suited to 75cm or 55cm balls respectively.
Is using an exercise ball good for pregnancy?
Yes, it definitely can be. Sitting on an exercise ball while doing certain exercises has been shown to help female body cope with pregnancy and prepare for labor by opening up the hips, strengthening and/or relaxing back muscles, and encouraging the baby into the correct position for birth.
Is using an exercise ball good for lower back pain?
This depends on the reason for your lower back pain.
However, if your pain is due to compression or bad posture, sitting on an exercise ball will help to strengthen the muscles in your lower back, supporting better posture and relieving pressure that results from bad posture.
Summary
All in all, an exercise ball is a no-brainer when it comes to your home gym set up.
They are so versatile that they can be used in front of the TV or at the kitchen table, making your day to day life a healthier experience for your body rather than keeping the good habits in your gym room.
Go ahead and comment below if you've tried any of the exercise balls above or had great results using an exercise ball at home.
And don't forget to subscribe if you haven't yet.