13 Best Exercise Balls Reviewed 2022 – Complete Guide & Workouts
We're all looking for ways to make our workouts more challenging and interesting, right?
Exercise balls are one of the best ways to do this, being an inexpensive, versatile item to add to our home gym set ups.
This article will list some of the best exercise balls available right now, and then provide you with all the information you need to get started and mix up your exercise regimen with the best exercise ball for you.
TOP 13 Best Exercise Balls Reviewed 2022
Why Purchase an Exercise Ball?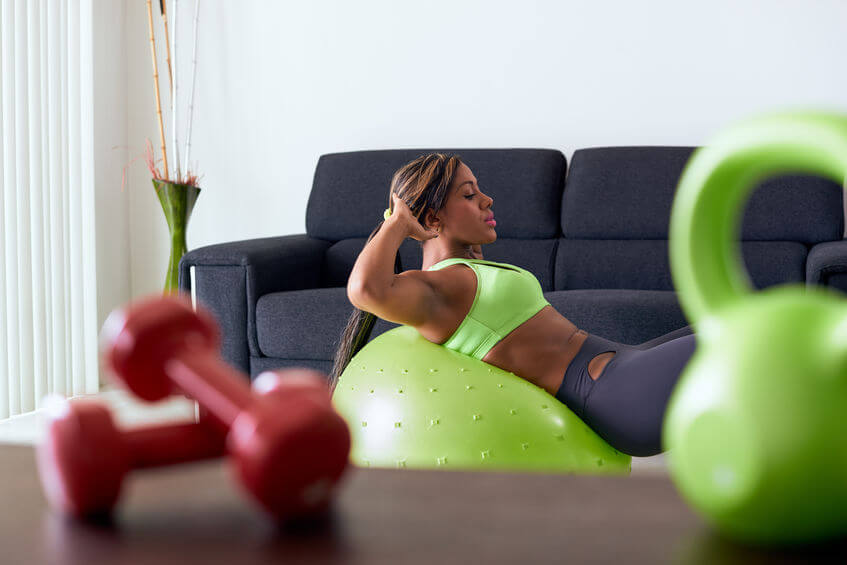 There are so many options for gym equipment out there these days that it can be hard to know what products are actually going to add value to your gym set up.
An exercise ball is an example of a product that is so versatile, it's probably impossible to regret.
Exercise balls, also known as yoga balls or balance balls, can be used for a huge range of balance and core strength exercises, as well as replacing your chair at home or the office, and providing valuable relief for pregnant women.
Many pieces of gym equipment only target specific muscles making it difficult to get a well-balanced workout.
This makes them one of the best ways to improve core strength and balance.
Finally, exercise balls are particularly beneficial for women, being one of the best ways to strengthen pelvic floor muscles and prepare for pregnancy.
What to Keep in Mind Before Buying an Exercise Ball
However, as with most products, there are so many on the market, it can be very hard to know how to choose!
The main thing to look for is the thickness of the PVC and burst resistance.
Obviously, thicker PVC will be less likely to fail. But also, burst resistance means that if something does puncture the ball, it won't explode. Instead, it should deflate slowly so that you don't land on the ground.
The other main thing that you'll need to decide on is size.
Most exercise balls come in a range of sizes suited to people of different heights. A 65cm diameter is a pretty standard size and should work well for most people of average height (between 5' and 6').
If you're taller than 6' you'll want a larger ball around the 75cm mark. If you're shorter than 5' you'll want a smaller ball around the 45 – 55cm mark.
However, most manufacturers should provide a chart explaining the sizing options for their exercise balls.
How to Use an Exercise Ball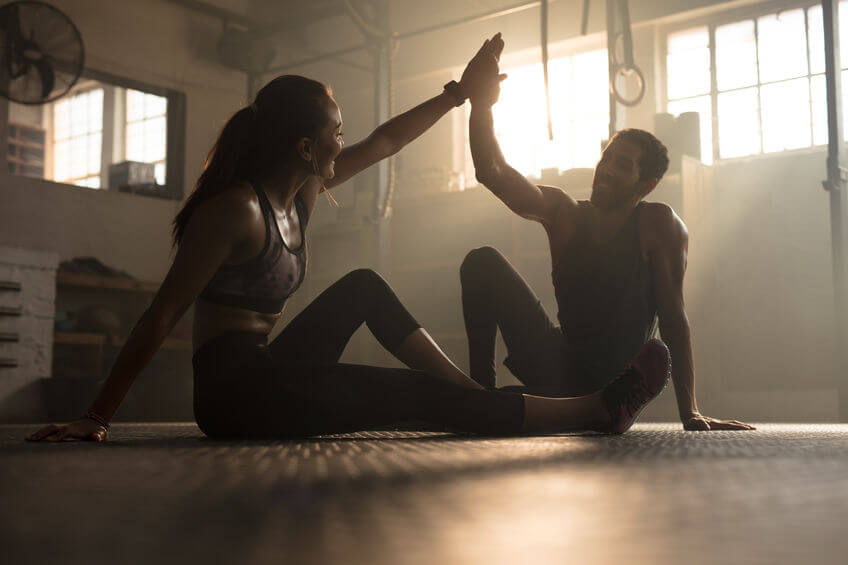 Exercise balls are hugely versatile and can be used in as many ways as your imagination can concoct.
But just to get you started, here are some basics:
Instead of a Chair
One of the most popular ways of using an exercise ball is to sit on instead of a chair.
Sitting on an exercise ball forces you to use more core muscles to sit up straight and maintain good posture. As there's no back to lean against, you can't get lazy and slouch.
Also, as it will move if you relax too much, you need to keep some stabilizing muscles active to keep you balanced in the middle of the ball. This means you get stronger while you sit, and burn some calories too!
While Using Free Weights or Resistance Bands
Take all the benefits of sitting on an exercise ball instead of a chair, and then add in free weights or resistance bands.
What do you have?
An almost-whole body workout!
Sitting on an exercise ball while you work your upper body with weights actually makes you use more of your core muscles than if you were standing while using the weights.
What's not to love about that?
To Balance on While Doing Floor Exercises
Doing body weight exercises on the floor is an excellent way of building strength. Doing these same exercises while balancing part of your body on your exercise ball activates a lot more muscles and makes the exercises much harder.
For example, instead of doing press-ups on the floor, balance your feet on the exercise ball and then do the press-ups with just your hands on the floor.
Your entire core will be fired in your to keep your feet steady on the ball without rolling off.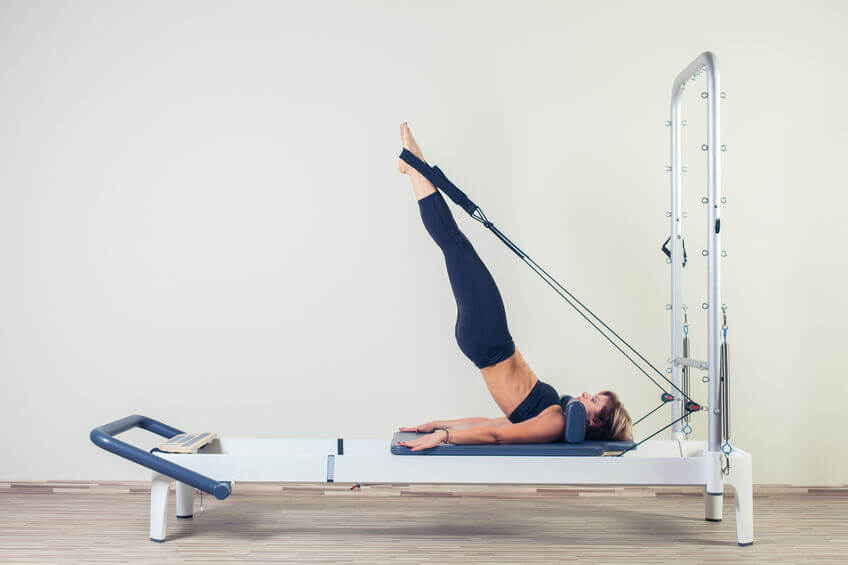 To Use As Part of Your Yoga or Pilates routine
Exercise balls can also be a great addition to your yoga or Pilates routine.
Strictly speaking, if you're using an exercise ball, it's not yoga. But, there is no reason why you can't use an exercise ball in order to support your progress by strengthening certain muscle groups or improving balance.
Pilates on the other hand definitely does utilize exercise balls. So if you're considering getting into Pilates, an exercise ball will be a very useful tool for getting the most out of your workouts.
Exercise Ball Workouts
Did you know that there are entire workouts dedicated to exercise balls?
You can actually spend your entire workout with the exercise ball as your only piece of equipment and get a whole body workout in the process.
There are some excellent videos on YouTube with demonstrations of exercises that make it easier to visualize what you're supposed to be doing.
Here's an example of a basic exercise ball routine:
1. Begin sitting on the ball, bouncing gently and circulating your arms out to the side as if you're drawing little circles with your middle finger on the wall.
2. While doing this, alternate circulating each leg in front of you as if your drawing little circles on the wall in front of you with your toes.
3. Once you feel warmed up, place your exercise ball against the wall at waist height. Press the small of your back into the exercise ball and squat until your knees are bent at a 90˚ Stand slowly and repeat, being careful to keep your knees aligned over your foot as your bend them.
4. Place your exercise ball back on the ground and balance your thighs or shins on the ball while placing your hands flat on the ground.
Hold this position for a plank and then continue to do as many press-ups or press-up – plank repetitions as you normally would.
5. Kneel in front of the exercise ball and place your forearms on the ball with your hands clasped together.
Roll forward until your thighs, back and forearms are aligned in a straight line. Then, being careful not to strain your back, roll the back up to a kneeling position.
6. Lying on your back on the floor, place your ankles and lower calves on the exercise ball with your legs straight. Bend your legs and use your feet to draw the exercise ball towards you.
As the ball comes closer, aim to lift your hips higher so that your torso and thighs are aligned before rolling the ball back away from you.
FAQs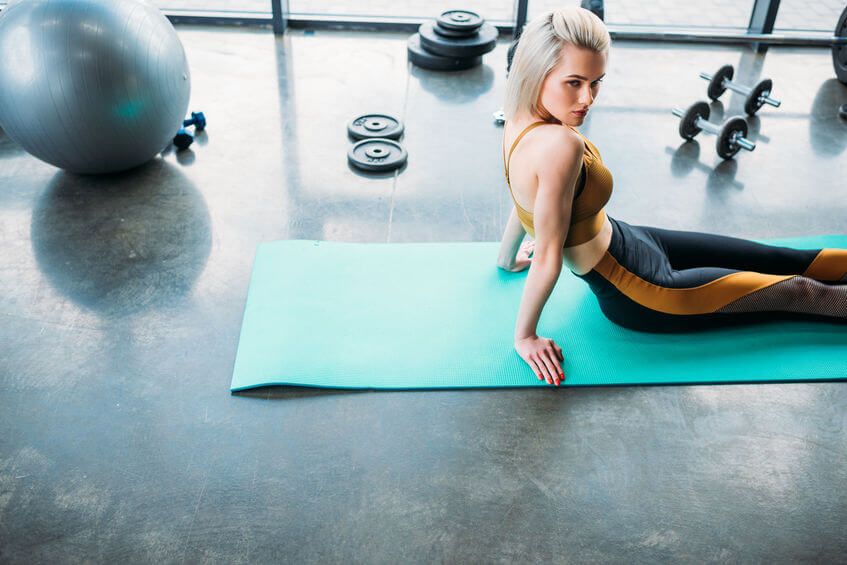 What are the benefits of exercise balls?
Working out with an exercise ball makes your workout more challenging by activating more core and stabilizing muscles that often don't get used.
Is sitting on an exercise ball good for you?
Medical experts would probably argue that sitting on anything isn't exactly good for you. But, sitting on an exercise ball is definitely better than sitting on a chair as it forces you to sit with better posture and strengthens your back and core.
Are exercise balls good for your back?
If used correctly, exercise balls can be a fantastic way of strengthening your back and relieving pain from injuries.
What exercise ball is the right size for me?
This depends on your height.
Generally speaking, an average height person should be comfortable with a 65cm ball. Taller or shorter people will be better suited to 75cm or 55cm balls respectively.
Is using an exercise ball good for pregnancy?
Yes, it definitely can be. Sitting on an exercise ball while doing certain exercises has been shown to help female body cope with pregnancy and prepare for labor by opening up the hips, strengthening and/or relaxing back muscles, and encouraging the baby into the correct position for birth.
Is using an exercise ball good for lower back pain?
This depends on the reason for your lower back pain.
However, if your pain is due to compression or bad posture, sitting on an exercise ball will help to strengthen the muscles in your lower back, supporting better posture and relieving pressure that results from bad posture.
Summary
All in all, an exercise ball is a no-brainer when it comes to your home gym set up.
They are so versatile that they can be used in front of the TV or at the kitchen table, making your day to day life a healthier experience for your body rather than keeping the good habits in your gym room.
Go ahead and comment below if you've tried any of the exercise balls above or had great results using an exercise ball at home.
And don't forget to subscribe if you haven't yet.