Best Pilates Reformer Machines for Home Use with TOP 6 Reviews 2020
So you what to get the skinny on Pilates Reformer?
Maybe you have heard of Pilates, a friend may be encouraging you to give it a go, or you saw a class offered at the gym or community center, and you are curious.
Or…
Maybe you are already familiar with the Pilates apparatuses, and just want a little info on the Pilates Reformer.
Either way, we have you covered.
We are going to discuss what Pilates is and how it benefits the body. Then we will discuss what Pilates reformer is and how the machine operates. After that we will review the 6 best home Pilates reformer machines and give our thoughts so you can decide for yourself.
Picture

Pilates Reformer Machines

Our Rating

Available

Editors
Choice
Stamina AeroPilates Pro XP
Stamina AeroPilates 700 Premier Reformer
AeroPilates 5-Cord Reformer
Elina Pilates Wood Reformer
Allegro (R) 2 Reformer
Studio Reformer Strata Rock Maple Reformer
What is Pilates and what is Pilates good for?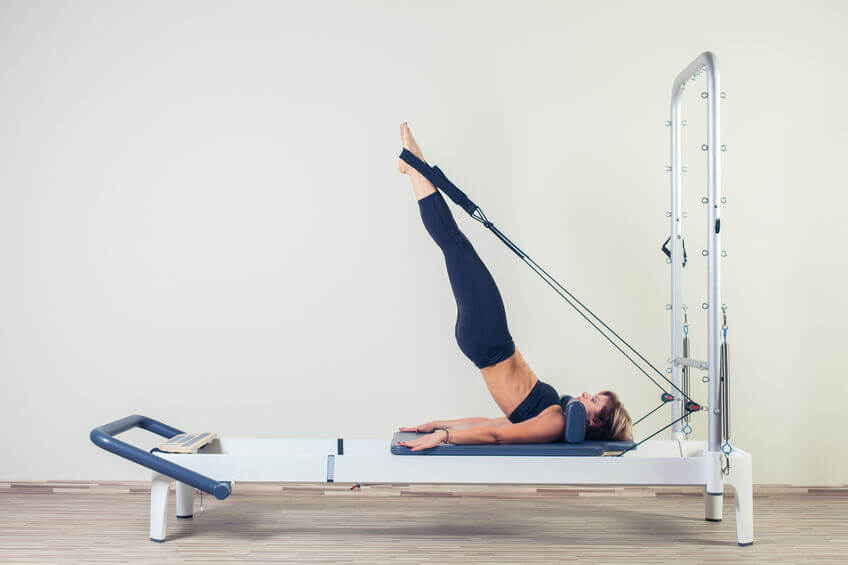 The Pilates reformer is a simple yet creative and extremely versatile machine designed to perform the classic Pilates moves.
Pilates, as an art, is focused on 9 principles:
Breathing: Respiration is a central theme in Pilates. Joseph Pilates, creator of Pilates, advises those performing the art to exhale out when exerting effort, and inhale while returning.
Concentration: Pilates calls for concentration and focus on how the exercise is performed, which is of greater importance that the exercise itself.
Control: All exercises are performed with control over the muscle movements.
Centering: The center is similar to the idea of the core; in Pilates it is sometimes called the "powerhouse". The abs, back, hips inner thighs and glutes make up the center. All exercises in Pilates move from the center out to the limbs.
Flow: Once Pilates exercises have been perfected, one exercise should flow into another, building not only strength, but stamina.
Postural Alignment: Using correct posture and body alignment are foundational themes of Pilates.
Precision: Performing movements perfectly, an idea similar to having "good form".
Relaxation: The idea is relaxation, and a relaxed state facilitates better, more perfect movement.
Stamina: Stamina in Pilates occurs once the precision is achieved and exercises are more easily performed, so the practitioner can easily move from one exercise to the next.
The creator of Pilates used what he called "apparatuses" in the art. Today we might call these apparatuses exercise machines or exercise equipment, if you want to think of it that way.
The most popular apparatus Mr. Pilates used was the Pilates Reformer. The Pilates Reformer was originally called the Universal reformer because it reformed the body, and still does so today.
Keep reading to find out more
Benefits of Pilates reformer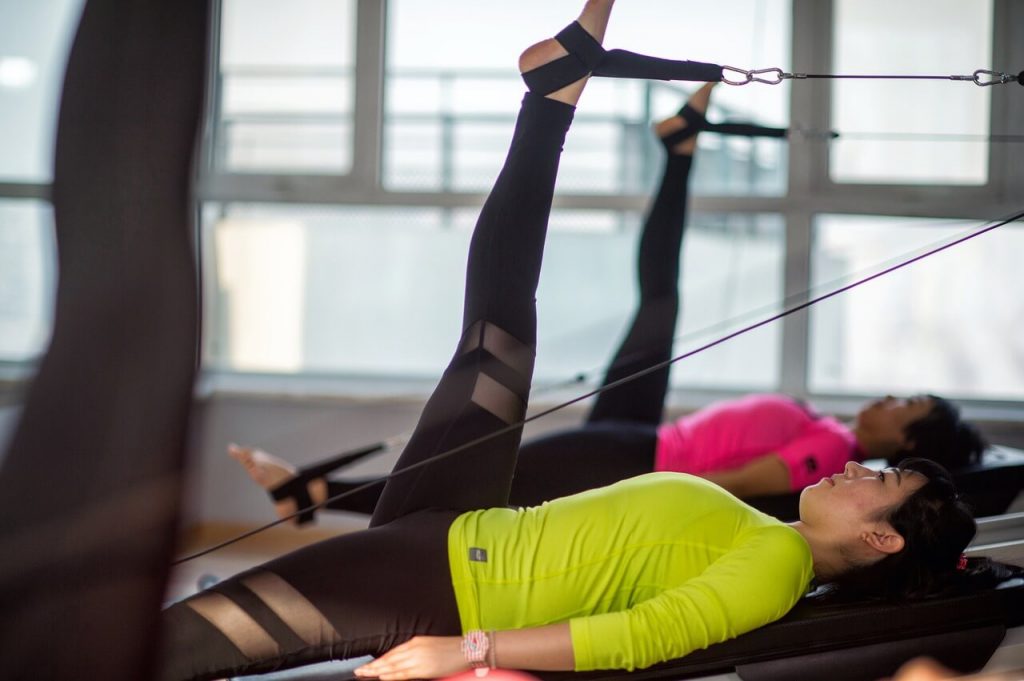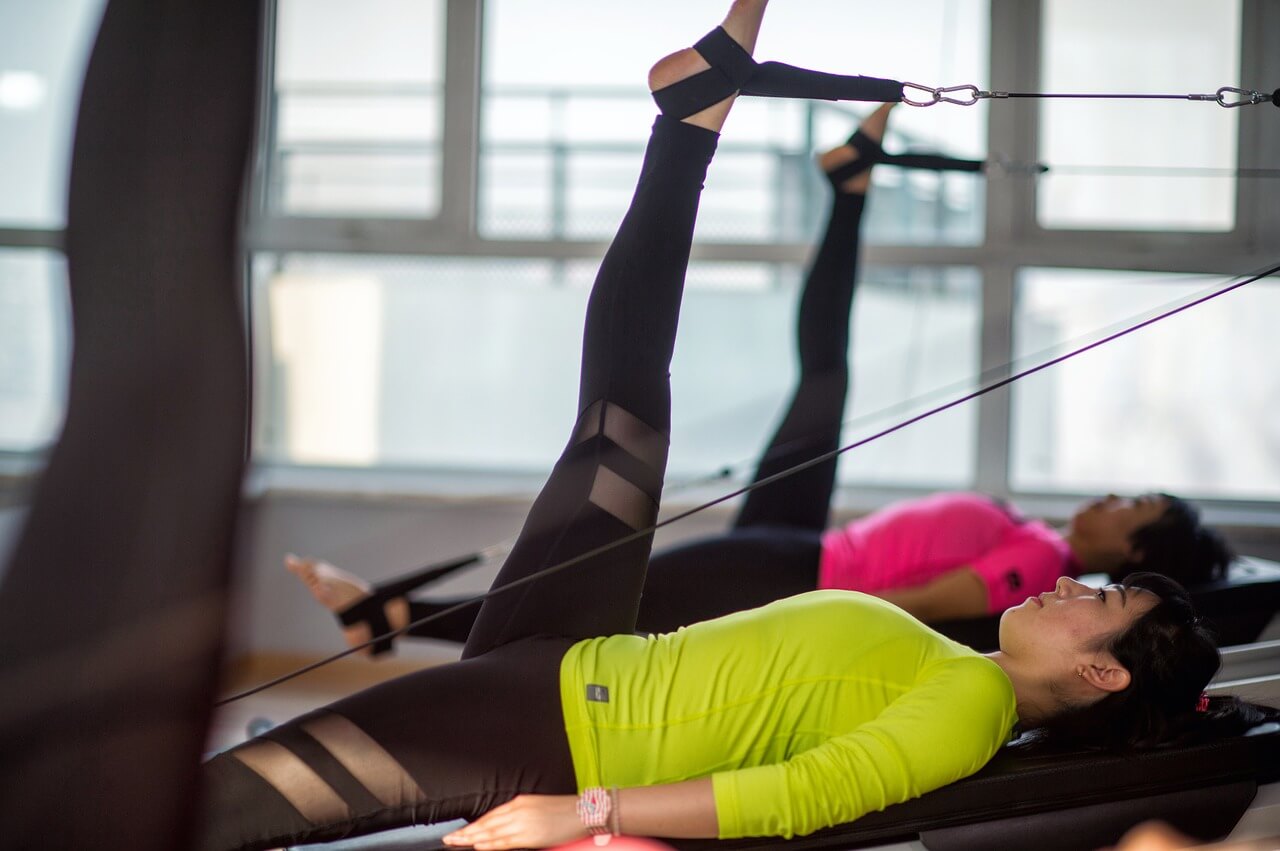 Abs
Since it focuses on the center or powerhouse as the starting point for each exercise; the exercises naturally focus on the abs and other core muscles.
Easy on Joints
Pilates is slow and focused, controlled, low impact movements. No jarring jumps or heavy weights.
Focus
Improves focus the tenants of Pilates call for mindfulness of respiration and muscle movement at all times.
Focus is a central theme you will continually practice as you perform Pilates. This exercises you 'focus muscles' along with the body muscles.
Flexibility
Increases flexibility-many believe that you need to be flexible to do Pilates well. This is not the case.
Pilates was designed to "Lengthen" or stretch, and you will gain flexibility by performing the exercises.
Great machine for those with injuries, especially lower back pain and neck pain.
What is Pilates reformer?
The Pilates Reformer is perhaps the most popular Pilates apparatus available. It is a manual machine used to perform Pilates exercises.
Mechanics of the Pilates Reformer Machine
The Frame: The Reformer features a rectangle frame that sits on the floor, sometimes made from wood.
The Carriage: The frame holds a gliding platform, sometimes called a carriage. The platform is padded and has a headrest.
The Resistance End: One end has a foot bar, and resistance springs. The platform has a headrest.
The Pulley End: The other end has hand straps in pulleys for arm movements. Some models have a platform extension and box you can place on the platform for an endless variety of exercises.
Introduction to the Pilates Reformer John from Free Range Pilates Studio introduces us to the features and function of a Pilates reformer.
Effective at Home Pilates Reformer workouts
Beginner Level
Pilates Beginner Reformer WORKOUT Kathi Ross Nash gives an informative beginner workout where she gives many tips on how to perform moves correctly and shows how to adjust the machine.
Intermediate/Beginner Level
30 Minute Full Body Pilates Reformers Workout Robin gives us a 30 minute intermediate level workout that addresses all areas and muscle groups. Robin is great at explaining each exercise and demonstrating the move.
Intermediate Level
Reformer Monday – Intermediate Reformer Workout This fun and lively workout by John Garey is a mix of traditional Pilates moves and fitness based moves.
This workout uses the box and platform extender with the reformer.
Is it worth it?
Consider what you pay for reformers classes. Private Classes can be between 50 and 125 and group classes may be between 40 to 75 dollars per class. (resource)
Pilates Math Class:
40 per session, minimum x 2 days per week =80 dollars per week.
That's 320 dollars per month, and 4,160 per year!
The most expensive best at home Pilates reformer machine we reviewed is not more than that.
Important things to look for when seeking the best Pilates reformer machine
Price
You get what you pay for. Inexpensive reformers have been known to glide improperly or stick. The gliding carriage is the centerpiece of all Pilates movements.
It MUST glide well, and be well designed.
Space
A full size commercial Pilates machine is over 8 feet long, so measure your exercise space before buying.
Frame
Wood vs metal, the wood framed Pilates machines are beautiful. They are also heavy, so they will probably need to be parked in a permanent home.
The metal ones are easy to stow out of the way if need be. Honestly, we much prefer the wood frame and believe they make the best at home Pilates reformer, but it is not always the most practical solution.
TOP 6 Best Pilates Reformer Machine Reviews 2020
Stamina AeroPilates Pro XP With Cardio Rebounder
Review: The XP557 has aluminum rails and oak cases at the head and feet. Price is mid- range, and it has the cardio rebounder. This model is 10" longer than folding models.
While it does not include a platform extender, the resistance end of the machine is designed to hold your weight as you stand on the machine.
Pros
Adjustable Foot bar
4 springs, 2 low resistance and 2 high resistance
Rope length is adjustable, headrest is adjustable
Double loop foot straps to keep the straps on your feel
Comes with the cardio rebounder found on all stamina models.
Cons
Resistance s via bungee cords vs springs
Our Take
Best home Pilates reformer for tall people or those with long legs.
Stamina AeroPilates 700 Premier Reformer
Review: This metal framed budget priced Pilates Reformer machine is a good value for the money. It can be stowed against a wall to save space, but it is not a folding model.
This model has a wider bed and larger foot bar and rebounder than the 650 model.
Pros
Cardio trampoline rebounder included. Easy on the joints, with the cardio level of walking on a treadmill.
No Extender included, but the plastic case at the resistance end is designed to stand on.
This model has a 10" elevated stand for advanced movements
Cons
Resistance s via bungee cords vs springs
Our Take
Our Take: A Quality budget priced Pilates Reformer
AeroPilates 5-Cord Reformer
Review: This Budget priced model Pilates reformer is foldable and stows easily. It has an aluminum frame and comes with the cardio rebounder found on all stamina models.
Pros
Folding model, storable
Includes cardio rebounder
Quality of the Stamina line at a budget price
Cons
Resistance s via bungee cords vs springs. Foot bar not adjustable.
Our Take
Best Pilates reformer machine for home use because it folds up and can be stored away.
Review: This studio quality Pilates reformer is sturdy enough for commercial use, designed with powered coated aluminum frame, maple accents and genuine metal springs for resistance.
Add an easyset foot bar and you have what is one of the finest commercial quality, best pilates reformer.
Pros
Real metal resistance springs, with spring collars
Foot bar easily adjusts, and can be adjusted with your feet by simply lifting and adjusting
Rope system adjusts using a quick release lever
Sturdy maple platform can be used in place of a platform extender, and may ctually be more stable.
Can be used with a tower, or risers, your choice.
Cons
Unfortunately, this may not be the reformer for you if you are 5'9" or taller
Our Take
Super easy to adjust, gorgeous, well built and strong. What more could you ask for? Easily the best pilates reformer machine for home use and studio use.
Elina Pilates Wood Reformer
Review: The Elina Pilates wood frame reformer will look beautiful and function well for years to come. It is made with high quality materials and is sturdy enough for studio use or home use.
Pros
Stunning wood frame
Sturdy platform at the resistance end for standing exercises.
5 Springs for wide range of resistance
Padded adjustable head rest
Adjustable rope
Includes jump board and box
Cons
Our Take
If you want a reformer with a box included, the beautiful all wood frame reformer will not disappoint.
Studio Reformer Strata Rock Maple Reformer
Review: This Studio Reformer by Balance body features an all wood frame and is made in the USA.
Pros
5 Carriage Stops, able to adjust to any height
Includes a box and foot strap for box work, plus solid standing platform
Uses real metal springs for resistance, color coded by resistance
Adjustable padded footrest
Can adjust the width of the shoulder rest, and the head rest has 3 positions
Cons
Our Take
High performance, long lasting quality reformer for home. Just like the one you find at the studio!
Do you plan to purchase a reformer? Let us know what you think the best pilates reformer is in the comments below.