TOP 8 Best Pilates Reformer Machines for Home Use Reviewed 2023
So you want to get the skinny on Pilates Reformers?
I've got you covered.
I'm going to list 8 of the best pilates reformers of 2023 and then explain a bit more about what they are, how to use them and how to choose the best model for your home set up.
TOP 8 Best Pilates Reformer Machines of 2023
Balanced Body Studio Reformer
balanced body Studio Reformer, Pilates Exercise Equipment with Classic Foot Bar, Black Upholstery
PILATES EXERCISE EQUIPMENT: This reformer grows with your Pilates program. Start basic and add accessories as needed. If space is limited, it stacks and stores on end, making it perfect for home use. Black Upholstery
INCLUDED ACCESSORIES: This Pilates machine has a 41-inch carriage ride, classic foot bar with 2 supports and 3 adjustable heights, upholstered sitting box, cotton foot strap, and neoprene handles.
CUSTOMIZE YOUR WORKOUT: Get a full-body workout without setting foot in the gym with this versatile workout machine. We provide everything you need, from resistance bands to bars and more.
FEATURES: Built of solid Rock Maple, our Studio Reformer is the most smooth, quiet and durable machine on the market. It includes 5 signature springs with spring collars and legs that raise it to 15 inches high. Standard upholstery color: Black
SHIPPING: Delivery for this product is quoted for curbside delivery. White-Glove (premier inside delivery) is available with additional charge, please inquire with Rep on a call after the order is placed. Assembly is not included.
Review: This beautiful studio reformer by Balanced Body features an all-wood frame and is made in the USA. At 41" long, the ride on this machine is as long as it gets and is suitable for people of all heights.
It's at the pricier end of the spectrum, but you pay for quality and the result it a top-rated, highly popular machine that will last you a lifetime.
Pros
5 carriage stops, able to adjust to any height.
Includes a box and foot strap for box work, plus solid standing platform.
Uses real metal springs for resistance, color-coded by resistance.
Adjustable padded footrest.
Can adjust the width of the shoulder rest, and the headrest has 3 positions.
Cons
Takeaway
This is one of the best pilates reformer machines for home use if you don't mind the investment.
Merrithew At Home SPX Reformer Bundle
MERRITHEW At Home SPX Reformer Bundle (Black)
Home Pilates reformer package for increasing core strength, flexibility, mobility, and endurance
Reformer includes 4 full-tension and 1 half-tension reformer springs for variable resistance
Padded platform extender and adjustable 4-position foot bar; extra-thick foam cushioning
Includes such accessories as reformer box, metal roll-up pole, and 2 workout DVDs
Reformer measures 22 by 97 inches (W x L); carriage measures 22 x 38.5 inches (W x L)
Review: This is another high end and highly popular reformer that will serve you well for many years if you're willing to make the investment.
This bundle makes for a complete home studio set up with everything you could ever need for practicing Pilates from home. The extras include a padded platform extender, reformer box and a metal roll up pole.
Pros
4 x full tension and 1 x half tension springs.
Foot bar is adjustable in 4 different positions.
5" long carriage.
Comes with 2 workout DVDs.
Excellent quality.
3 headrest positions.
Cons
Can't be folded away – will take up space when not in use.
Takeaway
The price of this reformer makes it another lifetime investment, but it's worth it for the quality and workmanship.
Balanced Body Pilates IQ Reformer
balanced body Pilates IQ Reformer with Library Wheels, Portable, Home Studio Equipment, Home-Gym Exercise Machine, Black Upholstery
PILATES REFORMER: This premium quality Pilates reformer machine for home is budget-friendly and easy to store. It sets up in seconds and can disappear under your bed or stand-up in closet when your workout is done.
EASY TO STORE: Wheelbarrow wheels allow this fitness machine to be stored under the bed while Library wheels allow the fitness equipment to be stored upright. Choose the best wheel type for your storage needs (WHEELS NOT INTERCHANGABLE)..
INCLUDED ACCESSORIES: It is equipped with a patented footbar, 5 Balanced Body Signature Springs, safety-rated climbing ropes, transport wheels, and cotton loops that adjust easily with nautical cam cleats.
SPECIFICATIONS: The IQ Reformer is 98" (249 cm) long (extended), 62" (157 cm) collapsed, and 24" (61 cm) wide, while the included footbar is 18" (46 cm) high and weighs 70 lbs. (32 kg). Standard upholstery color: Storm Gray
SHIPPING: Delivery for this product is quoted for curbside delivery. White-Glove (premier inside delivery) is available with additional charge, please inquire with Rep on a call after the order is placed. Assembly is not included.
Review: Another top-quality option from Balanced Body, this reformer is more affordable and a little more compact, designed to be foldable and easy to stow away under your bed or standing up.
All the parts are very high quality and the carriage rides smoothly without any noise. It's also very stable and won't wobble despite being a lighter weight construct than the above options.
Pros
Shortens and folds for easy storage.
Foot bar adjustable to 4 positions and headrest adjustable to 3 positions.
Includes standing platform.
You can choose between library wheels or wheel-barrow wheels depending on the kind of storage option you prefer.
Cons
Takeaway
This is easily the best Pilates reformer for home use if you want studio quality in an easy to store package.
AeroPilates Pro XP with Cardio Rebounder
AeroPilates Pro XP 557
The AeroPilates Pro XP557 is our longest AeroPilates reformer with all the features and look of an upscale studio reformer
Reformer dimensions – 100.5" L x 23.5" W x 36" H | Recommended clearance area – 2ft. from all sides | Padded, flared, black platform – 23.25" W x 50" L | Max resistance – 39 lbs. | Max user weight – 300 lbs. | Max user height – 6' 4" | Weight – 133 lbs.
Taller, padded, wider, removable and adjustable foot bar with 3 positions | High density foam shoulder pads
Pro 557 works with adjustable resistance variable springs | Blue (light) spring – 7 to 28 lbs. | Yellow (heavy) spring – 9 to 39 lbs.
Elevated built in silver steel frame raised 15" off the floor with oak wood trim | 9" Aluminum rails with ball bearing wheels | Cardio Rebounder – 14" x 19"
Review: This is a midrange option that makes it very well suited to home gym set ups. It obviously doesn't have the quality or capability of the higher-end models, but what you get for your money is more than adequate.
The XP557 has aluminum rails and oak cases at the head and feet, and it includes a cardio rebounder. This model is also 10" longer than folding models which is a bonus.
Pros
Adjustable foot bar.
4 bungee cords, 2 low resistance and 2 high resistance.
Rope length is adjustable, headrest is adjustable.
Double-loop foot straps to keep the straps on your feet.
Comes with the cardio rebounder.
Cons
Resistance is via bungee cords as opposed to springs.
Takeaway
Best home Pilates reformer for tall people or those with long legs.
AeroPilates Premier Reformer
AeroPilates Premier Reformer 700 - Pilates Reformer Workout Machine for Home Gym - Cardio Fitness Rebounder - Up to 300 lbs Weight Capacity
NO-COMPROMISE PERFORMANCE: The AeroPilates Premier Reformer combines the practicality and versatility of a traditional Pilates reformer with luxurious comfort and performance-enhancing features.
THE AEROPILATES WAY: This all-in-one Reformer is ideal for strengthening the entire body, burning fat, toning major muscle groups, and achieving the physique you desire. The unique Cardio Rebounder allows you to target these goals in a highly effective way without stressing the joints. Four elastic cords of varying intensity allow for a wide variety of potential workout configurations.
ADDITIONAL WORKOUT FEATURES: Execution of traditional Pilates movements is made easier with the padded foot bar and textured standing platform. Risers at the head of the machine allow you to alter the angle of the pulley straps to make exercises more challenging.
DESIGNED FOR COMFORT: Outfitted with a wide and cushioned platform, head and neck support pillow, high-density foam shoulder pads, furry hand and foot straps, folding frame and built-in transport wheels. This Reformer also includes a stand to elevate the machine off the ground (10"), making it ideal for users of all mobility levels.
EXTRA RESOURCES INCLUDED: Comes with two training DVDs - AeroPilates Primer and Basic Workout - as well as a full-color, illustrated wall chart demonstrating Pilates movements.
Review: This metal-framed, budget-priced Pilates reformer is another option that is excellent value for money. It can be stowed against a wall to save space, but it is not a folding model.
This model has a wider bed and larger foot bar and rebounder than the 650 model.
Pros
Cardio trampoline rebounder included which is easy on the joints.
No extender included, but the plastic case at the resistance end is designed to be stood on.
This model has a 10" elevated stand for advanced movements.
Affordable.
Cons
Resistance is via bungee cords not springs.
Not well suited to taller people.
Takeaway
This is a good quality entry-level Pilates reformer that is ideal for people on a budget.
Stamina AeroPilates 5-Cord Reformer
AeroPilates by Stamina 5 Cord Reformer
Adjustable resistance with 5 medium-resistance, elastic bungee cords; padded black platform (23.5" wide); taller (2") cardio Rebounder; padded, flared, wider foot bar
High density foam shoulder pads; padded, 3-position adjustable head rest; six non-skid supports, two on each end and two in the middle, for added stability
Padded hand & foot straps for added comfort; pulley risers for adjustable strap height; standing platform with textured surface for better balance and control
2 DVD's with 3 workouts; aero Pilates Full-color workout wall Chart; foldable frame with wheels for easy portability and storage
Supports up to 350 lbs.; product weight: 63 lbs.; Dimensions Assembled: 85"l x 23"W x 20"H; Dimensions folded: 44"l x 23"W x 9"H; needs large stand (55-4150)
Review: This is an even more affordable option which is also foldable and stows easily. It has an aluminum frame and comes with the cardio rebounder found on all stamina models.
The bungee cords are all medium-resistance, but you control how hard your workout is by how many bands you hold. The more bands, the harder the pull!
Pros
Folding model, storable.
5 resistance bands.
Includes cardio rebounder.
Quality of the Stamina line at a budget price.
Cons
Foot bar not adjustable.
Sits at floor level which may be tricky for mobility-impaired people.
Not compatible with soft carpets. Performs better on a smooth, hard surface.
Takeaway
Best affordable Pilates reformer for home use because it folds up and can be stored away.
Balanced Body Allegro 2 Reformer
Review: Taking quite a significant jump up in price, this studio-quality Pilates reformer is sturdy enough for commercial use, designed with a powder-coated aluminum frame, maple accents and genuine metal springs for resistance.
You can choose between the floor level model or one with 14" legs. Add an easyset foot bar and you have what is one of the finest commercial quality Pilates reformers on the market.
Pros
Real metal resistance springs, with spring collars.
Foot bar easily adjusts, and can be adjusted with your feet.
Rope system adjusts using a quick-release lever.
Sturdy maple platform can be used in place of a platform extender, and may actually be more stable.
Can be used with a tower, or risers, your choice.
Cons
Unfortunately, this may not be the reformer for you if you are 5'9" or taller.
Takeaway
Super easy to adjust, gorgeous, well-built and strong. What more could you ask for? Easily the best Pilates reformer machine for home use and studio use.
AeroPilates Reformer Plus 379
Sale
AeroPilates Reformer Plus 379
Four cord resistance with multiple intensities (1 Red, 1 yellow and 2 black cords)
Firmer, padded platform cushion; firmer, padded platform cushion; high-density foam shoulder pads for comfort and proper body alignment
Patented, larger cardio Rebounder with rounded top for a more varied workout; padded foot bar also included
Foldable frame with wheels for storage and Transport
2 workout DVDs included
Review: Last but not least, this is the most affordable reformer on this list. So, if you're really on a budget, then this is a good option, but you obviously can't expect the level of quality and durability of the more expensive machines.
This reformer comes with 4 bungee cords offering 3 levels of resistance that can be combined for more options. It sits on the ground which is perfect from space and stability standpoint, but not ideal if you find it hard to get down to ground level and then up again.
Pros
4 bungee cords.
2 work out DVDs.
Frame folds into a very compact design for storage.
Very affordable.
Cons
Not as reliable quality as the more expensive models.
Takeaway
This is a good quality reformer considering its low price.
What is Pilates and What is Pilates Good For?
Pilates is focused on 9 principles:
Breathing: Respiration is a central theme in Pilates. Joseph Pilates, creator of Pilates, recommends exhaling when exerting effort, and inhale while returning, or relaxing.
Concentration: Pilates calls for concentration and focus on how the exercise is performed.
Control: All exercises are performed slowly and deliberately with control over the muscle movements.
Centering: The center is composed of the abs, back, hips, inner thighs and glutes. In Pilates it is sometimes called the "powerhouse". All exercises in Pilates move from the center out to the limbs.
Flow: Once Pilates exercises have been perfected, one exercise should flow into another, building not only strength, but stamina.
Postural Alignment: Using correct posture and body alignment are foundational themes of Pilates.
Precision: Performing movements perfectly, an idea similar to having "good form".
Relaxation: The idea is relaxation, and a relaxed state facilitates better, more perfect movement.
Stamina: Stamina in Pilates occurs once the precision is achieved and exercises are more easily performed, so the practitioner can easily move from one exercise to the next.
What is a Pilates Reformer?
The creator of Pilates used what he called "apparatus". Today we might call these apparatus exercise machines or exercise equipment, if you want to think of it that way.
The most popular apparatus Mr. Pilates used was the Pilates Reformer.
A Pilates Reformer is perhaps the most popular Pilates apparatus available. It is a manual machine used to perform Pilates exercises using resistance springs or bands.
Benefits of Pilates Reformers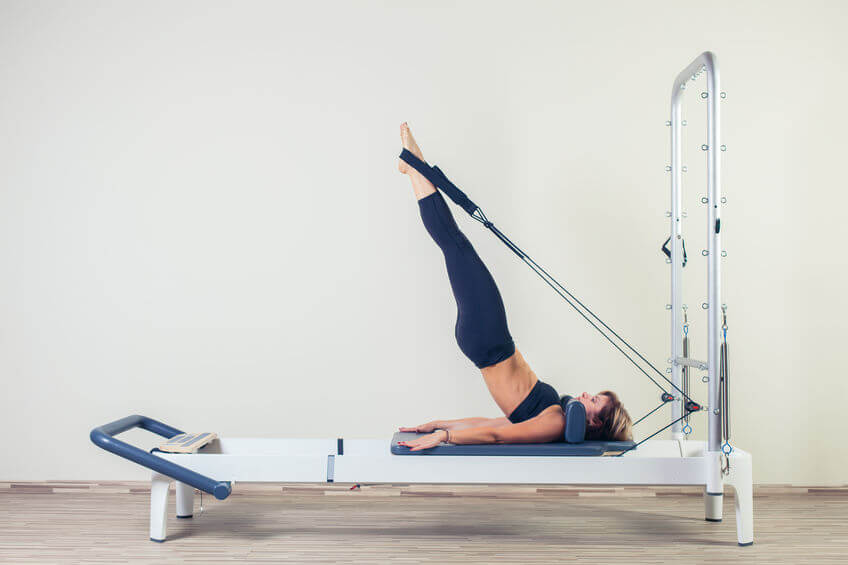 For Mobility Impaired or Injured
The main reason people are drawn to Pilates Reformers is that they allow for all of the benefits of Pilates to be experienced but in a more supported way that is less dependent on having a baseline fitness and flexibility.
Pilates reformers are excellent for people with mobility issues if getting down onto a mat and performing regular Pilates exercises is too challenging.
Pilates reformers are also particularly good for those with injuries or pain in the lower back or neck.
Abs
Since it focuses on the center, or powerhouse, as the starting point for each exercise; the exercises naturally focus on the abs and other core muscles.
Easy on Joints
Reformer Pilates is slow and focused with controlled, low impact movements. No jarring jumps or heavy weights.
Focus
The tenants of Pilates call for mindfulness of the breath and of muscle movement at all times, resulting in a calming effect.
Flexibility
Many believe that you need to be flexible to do Pilates well. This is not the case. If practiced regularly, Pilates will actually increase your flexibility.
What You Need to Know About Pilates Reformers
The Frame: The reformer consists of a rectangle frame that sits on the floor or can be raised up on legs and is either made of wood or metal.
The Carriage: The frame holds a gliding platform, usually called a carriage, which is padded and has a headrest.
The Resistance End: One end of the reformer has a foot bar, and resistance springs.
The Pulley End: The other end has hand straps in pulleys for arm movements. Some models have a platform extension and box you can place on the platform for an endless variety of exercises.
Here, you can watch John from Free Range Pilates Studio introduce us to the features and function of a Pilates reformer to get a better idea.
Effective at Home Pilates Reformer Workouts
Beginner Level
Kathi Ross Nash gives an informative beginner workout where she gives many tips on how to perform moves correctly and shows how to adjust the machine.
Intermediate/Beginner Level
Robin gives us a 30 minute intermediate level workout that addresses all areas and muscle groups. Robin is great at explaining each exercise and demonstrating the move.
Intermediate Level
This fun and lively workout by John Garey is a mix of traditional Pilates moves and fitness-based moves.
This workout uses the box and platform extender with the reformer.
So, is it worth it?
Consider what you pay for reformers classes. Private Classes can be between $50 and $125 and group classes may be from $40 to $75 dollars per class. (resource)
Pilates Math Class:
$40 per session, minimum x 2 days per week = $80 dollars per week.
That's $320 per month, and $4,160 per year!
The most expensive of the best at home Pilates reformer machines we reviewed are not more than that.
So, most people find their Pilates Reformer pays itself off pretty quickly and saves a lot of money in the long run.
Important Things to Look for When Seeking the Best Pilates Reformer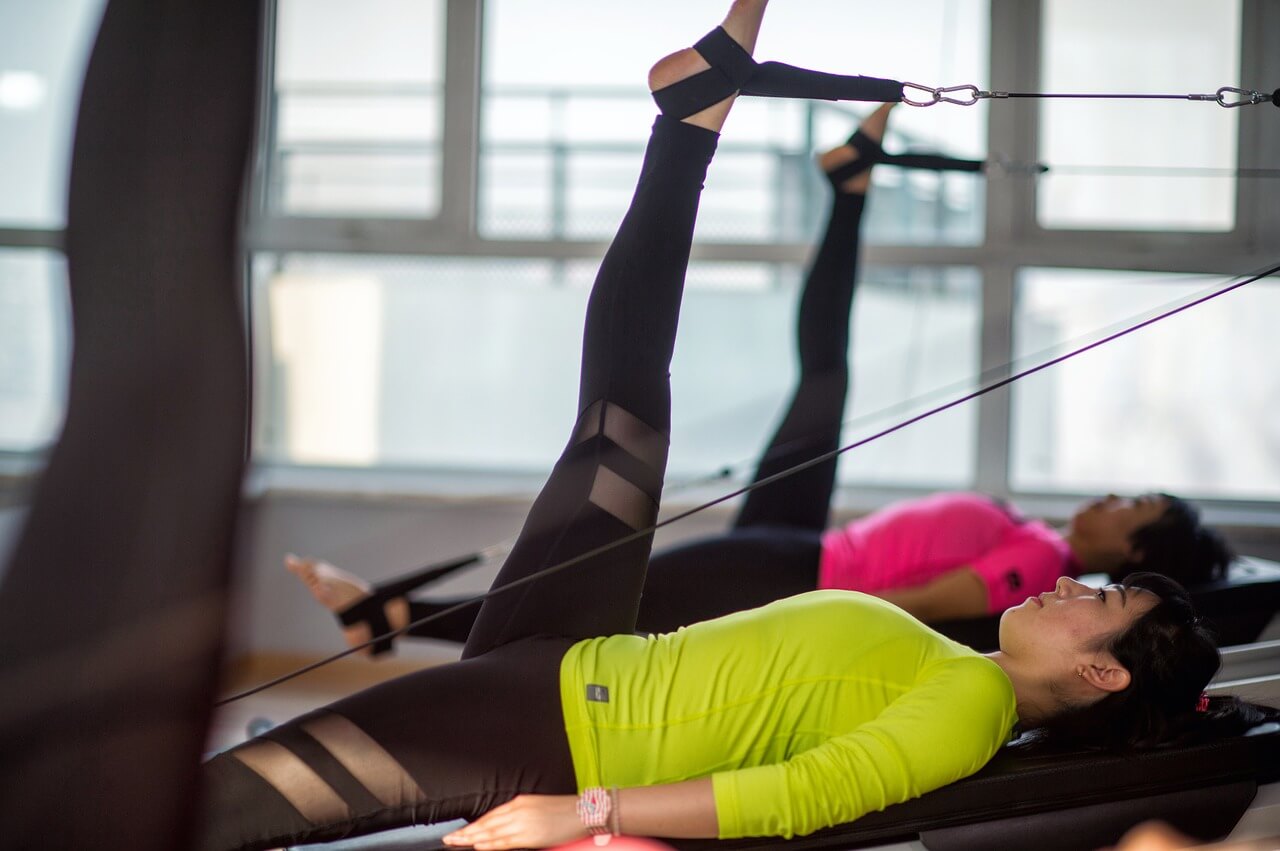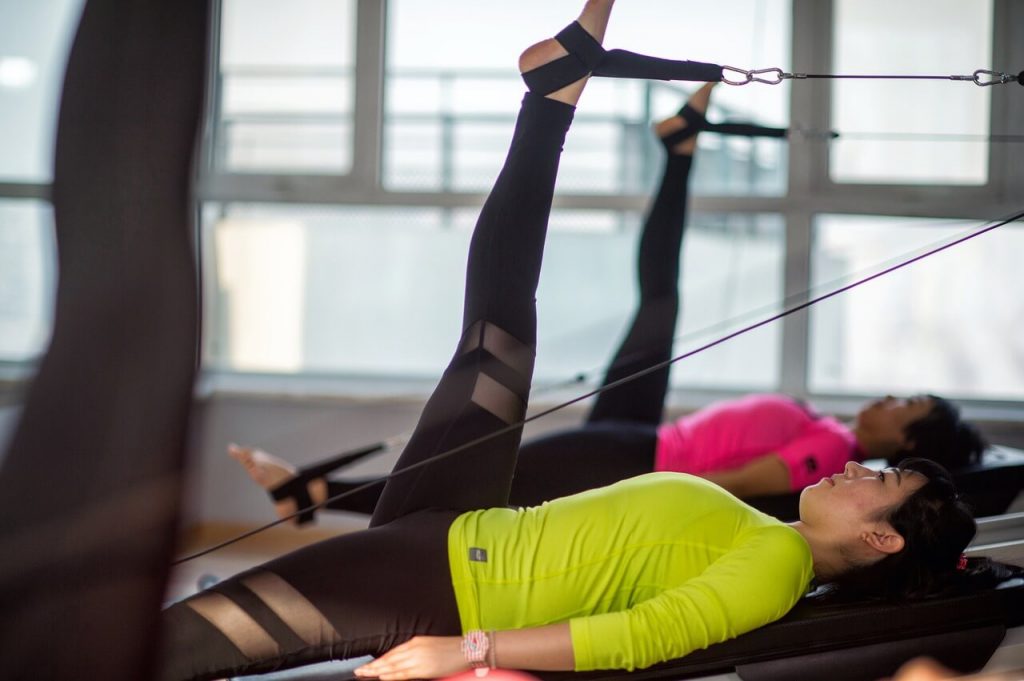 Price
You get what you pay for. Inexpensive reformers have been known to glide improperly or stick. The gliding carriage is the centerpiece of all Pilates movements.
It MUST glide well, and be well designed.
Space
A full-size commercial Pilates machine is over 8 feet long, so measure your exercise space before buying and decide whether you want a machine that can fold away.
Pilates reformers also vary slightly in length so if you're tall, you'll want to make sure that the model you choose is long enough for you.
Wood versus Metal Frame
The wood-framed Pilates machines are beautiful. But, they are also heavy, so they will probably need to be parked in a permanent place. The metal ones are more likely to be easy to stow out of the way if need be.
Springs versus Bungee Cords
Whether your machine uses springs or bungee cords, how strong the tension is and how many options there are for different resistance levels are all things to consider.
Extras
Some Pilates reformers come with extras like the Bundle from Merrithew above. These extras can help make your workout harder or just give you more variety.
But, remember you don't have to get Pilates specific extras! You can use your own props and customize your workouts to get even more variety.
Props like exercise balls and yoga wheels can help to mix things up while providing a different way to stretch and strengthen certain muscles.
Included Classes
If you were previously using a reformer in a group class then you'll probably be looking for some kind of class to follow along with for guidance and motivation.
Most reformers come with DVDs but there are also lots of options online, including the YouTube videos linked above.
On the other hand, if you've decided after all that you might stick to your local gym, have a read of our list of the best group fitness classes to see if your perfect class is something you haven't tried yet.
FAQs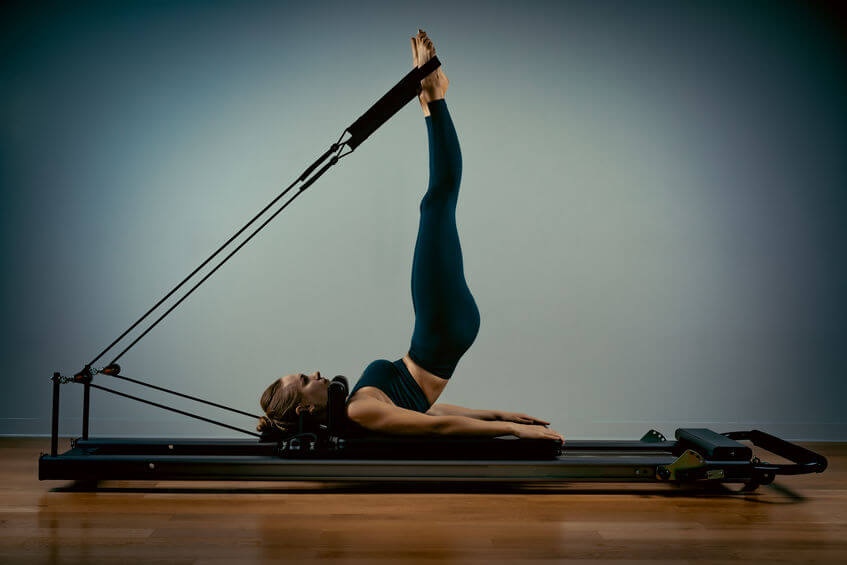 What is the Best Home Pilates Reformer to Buy?
This depends on your budget and whether you want a reformer that you can fold up or whether you want a permanent set up. All of the reformers on the list above that are $1000 and upwards are reliable options.
Does Pilates Reformer Really Work?
Definitely! Pilates reformers are really popular and a lot of people have had excellent results from using them.
There's also the added benefit of working out on a reformer being fun, with plenty of options for variation so you won't get bored.
Can Beginners do Reformer Pilates?
Yes. Reformer Pilates is perfect for beginners. There are plenty of classes available online for beginners.
How Often can You do Reformer Pilates?
You can do Reformer Pilates as often as you like but it's best to start out doing an easy work out every second day (or three times per week) and gradually increasing the intensity.
If you have to wait more than a couple of days for your muscles to recover before you can do another workout then you went too hard!
Is Mat or Reformer Pilates better?
If you have mobility issues or an injury that prevents you from exercising effectively on a mat, then a reformer is a better option. But, it's a personal choice and both are excellent workouts.
Is 20 minutes of Pilates a Day Enough?
This depends on how hard you're working out. But yes, for most people, 10-20 minutes of Pilates a good place to start and then you can gradually increase the time as you get fitter.
Can You Lose Weight doing Pilates Reformer?
Of course! Anything that burns calories and builds muscle is going to help you lose weight provided you don't over-compensate with entire chocolate cakes!
If weight loss is your priority and you're not sure whether Pilates is your thing yet, have a browse through some other machines that are great for weight loss to give you some more ideas.
Alternatively, if you're not sold on a reformer and are still on the hunt for your perfect machine, have a read of our guide to the best cardio machines for home use. There's sure to be something there that will work for you.
That brings us to the end of this guide to the best Pilates reformers of 2023.
Do you plan to purchase a reformer? Let us know what you think in the comments below.