Choosing the Best Group Fitness Class for YOU + TOP 10 Exercise Classes Reviewed
Thinking about taking a group exercise class?
It's a great idea! Group classes are awesome for staying motivated, being accountable and meeting like-minded people.
But how do you choose the best group fitness classes for you?
It depends on your goals, what classes happen to be available to you, and most importantly what YOU like to do.
I am going to outline a few things you should think about and give a review of the 10 best group exercise classes so you can choose for yourself.
Are Fitness Classes Worth it, is Better than Just Enjoying Gym Alone?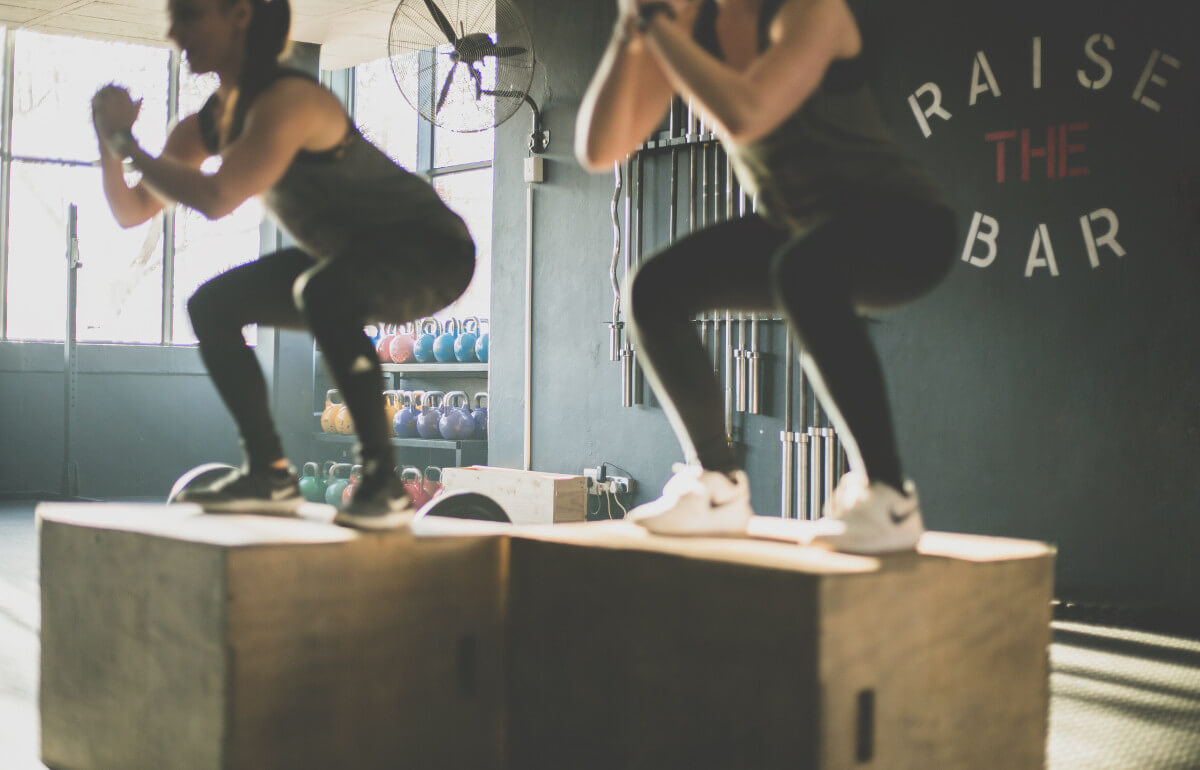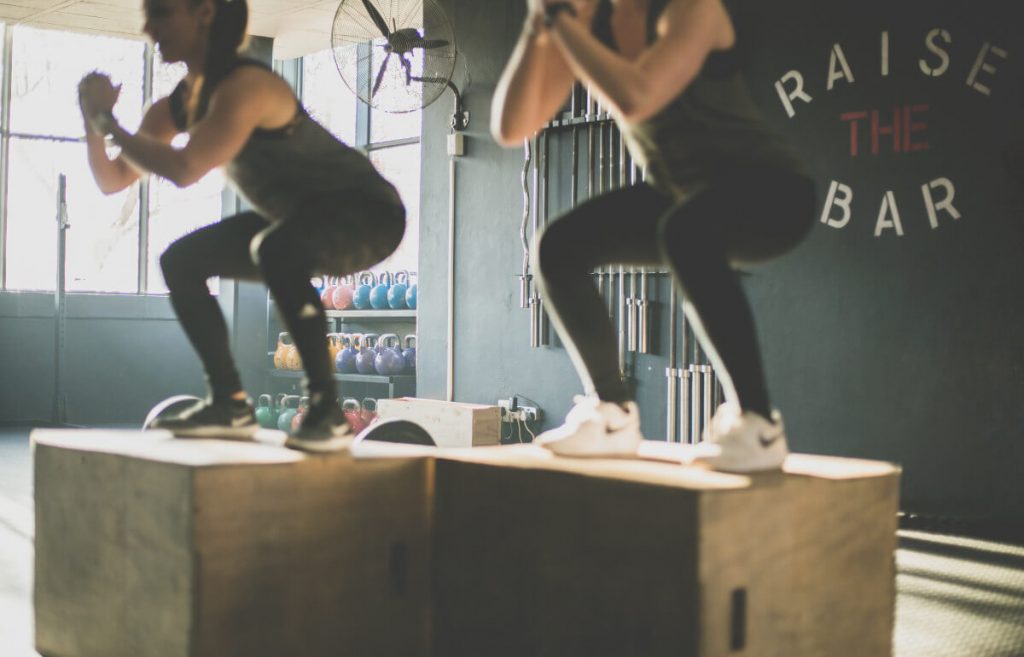 It depends on you!
Consider the pros of group classes vs the pros of going to the gym alone.
Pros of Going to a Group Exercise Class vs the Gym Alone
In a group class, you do not have to plan your routine, music or equipment. The job of the coach is to show you what to do, how much, when and what and provide the tunes and high energy you can feed off of. That makes it easy, especially if you are busy and don't want the added hassle of planning yet another activity.
You meet likeminded people. Do you know who else attends fitness classes? People just like you! People who care about their health. People who are into self-improvement. The class environment makes it more comfortable to interact with others, and you tend to see the same people class after class, so it is more natural that you get to know them.
Pros of Going to the Gym Alone vs a Group Class
You can choose what to do. Want to do more cardio? That's fine, you can do what you want. Want to lift more, you can, and you can focus on the muscle groups you want to work on, without being tied to the class routine.
You don't have to interact with anyone. If you like to stay focused and don't like distractions or don't want to socialize, going to a gym might be better than a class, which are usually more participation oriented.
You can go to a gym on your schedule, you are not tied to a restrictive class schedule.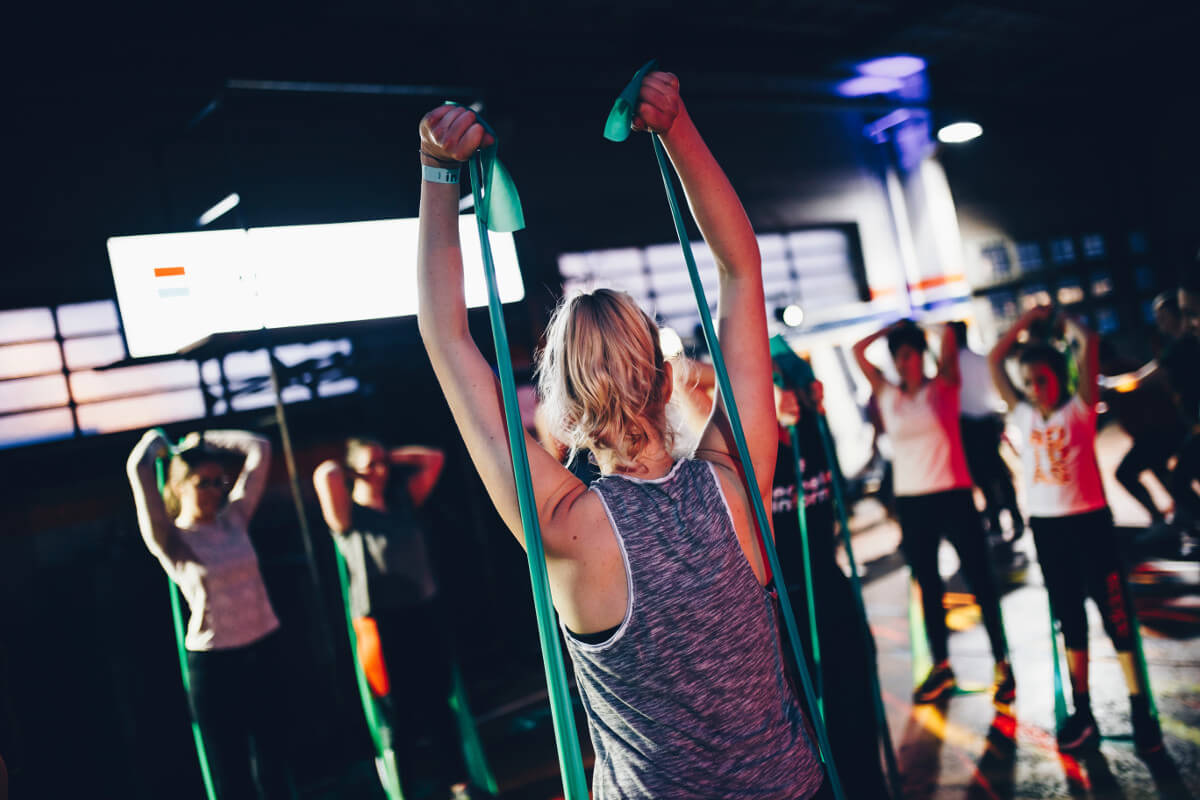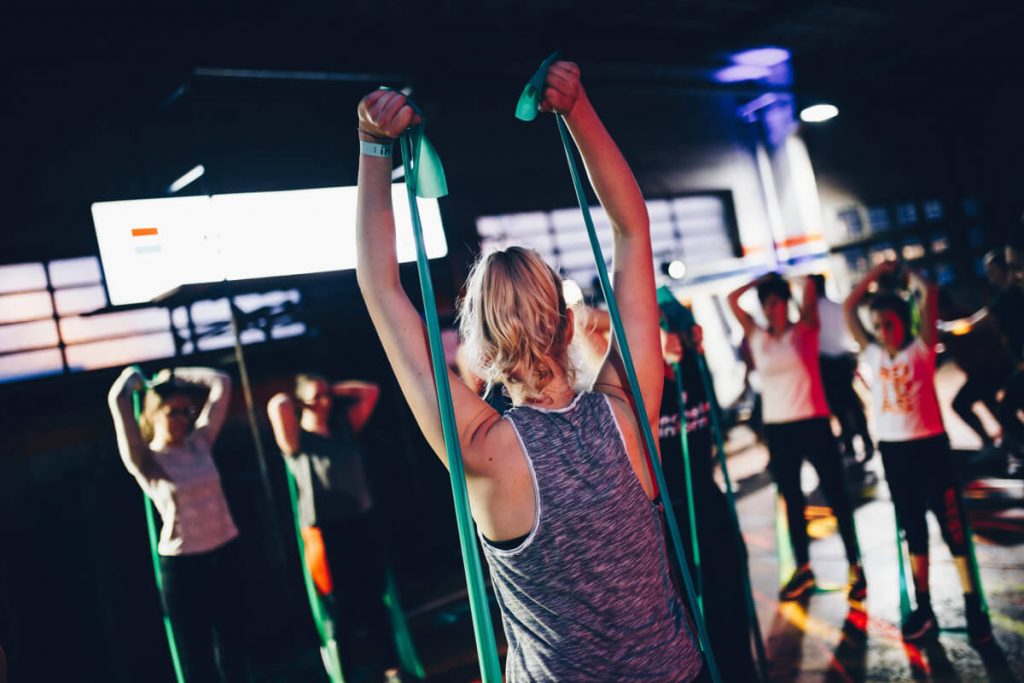 What Type of Group Exercise Class is Best for Me?
Think about what you want.
What do you like? What is your vision for the best group exercise class?
Are You Looking to Make Friends?
A class where participation is the norm might be for you. Try Orange Theory, CrossFit, or even a Cardio Kickboxing class where they pair you up to spar with a partner (using pads, of course, so you are safe).
You might even try a boxing class if you are really adventurous, they often have a lot of group or partner work.
Do You Want to Lose Weight?
Truthfully, weight loss is 80 percent of what you eat and 20 percent how much you exercise, but exercise is still very important.
Tyr a class that burns a lot of calories per hour.
Spinning class jumps into my mind as a top choice.
A running club like those formed from this grassroots movement November Project may be for you. Running burns tons of calories and is great for losing weight.
Do You Want to Build Muscle?
If you want to work on gaining strength and building muscle, CrossFit might be for you.
It involves weight-based training, using heavyweight, so that's what I would recommend.
I also love CrossFit because the coaches are trained to teach you correct lifting form, so later, when you want to work out by yourself in a gym, you have a solid foundation and knowledge to do so.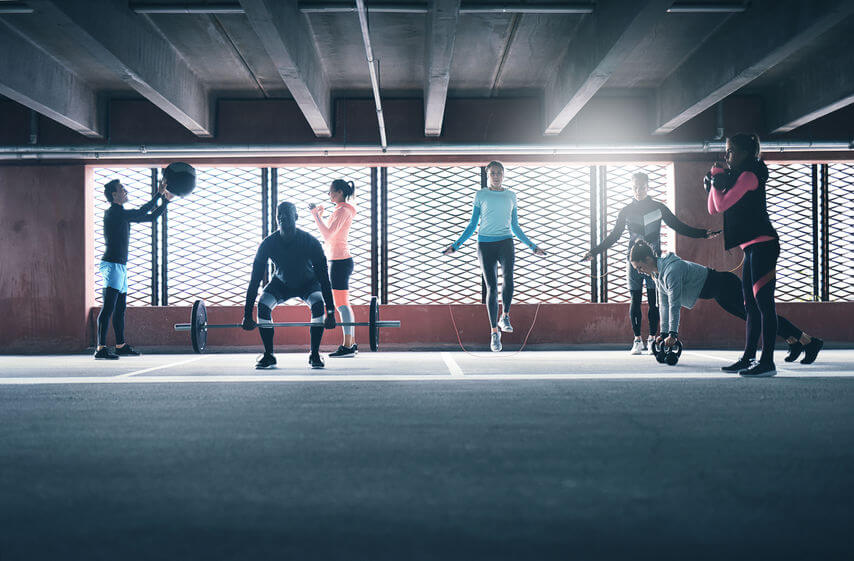 Do You Like High Energy Activities?
If you want a class with a lot of action, try a lively, loud, intense spinning class or a fun dance class like Zumba.
Cardio kickboxing and body pump also have pretty high energy vibes going on, so those make great choices too.
Do You Want a More Relaxed Class Done at a Slower Pace?
Yoga, Hot Yoga, Barre class and even Lagree Fitness might be for you.
Now, let's talk about specific classes.
I handpicked these 10 popular group fitness classes so you can discover what group exercise class is best for you.
TOP 10 Best Group Fitness Classes 2023
Spin class is a group exercise class that provides super intense cardio workout using a spin bike.
There will be times when you sit, times when you stand and pedal, times when you up the resistance as if going uphill, and if you are a beginner, there may be times when you feel you can't keep up.
That's OK, many feel that way at first, but you got this!
You must wear sung fitting yoga pants or tights, put your hair up and out of the way and bring a water bottle because you ARE going to sweat.
Pros
Low impact.
Intense cardio-burns LOTS of calories, up to 900 per hour – WOW.
Fun music and a lively atmosphere.
Don't necessarily need to interact with others, if that's not your thing.
Cons
Does not include weight bearing exercises.
Final Thoughts
Really intense, fun and lively calorie burning cardio. Easily one of the best fitness classes for weight loss.
Zumba is a really fun, energetic dance group class that is a great aerobic workout. The moves are inspired by the passionate Latin dancing arts.
It is great for ALL fitness levels and attracts people of all ages. It just feels so good to dance, you barely feel like you are getting a workout, but you are!
In fact, I have several friends who have lost weight with the help of a Zumba class. It's also pretty easy and you can dial down the intensity if you need to, so it's one of the best fitness classes for beginners.
Pros
IMO the most fun group exercise class.
Workout without feeling like a chore.
Easy enough for beginners.
Cons
More prone to tripping, falling and ankle sprains than other group exercise classes.
Final Thoughts
Great energy, fun moves, this Latin style dance group exercise class just makes you feel good.
CrossFit is a class that combines elements of cardio with strength training, using a barbell. CrossFit is a functional fitness class.
What is functional fitness?
Its exercise that helps you in your everyday life – like building strength to lift heavy things like placing that 5-gallon water jug on the cooler without asking for help, or endurance to keep up with your kids without getting pooped.
If you stick with the program you WILL get fit, I guarantee it!
You will be performing like you did in high school, or doing things you have never done-like pull-ups!
Pros
CrossFit Boxes offer a "Foundations" class specifically to teach beginners.
Incorporates strength training and cardio, builds all areas of the body.
Great for men and women – you scale the intensity and weight to suit your body.
Cons
Easy to overdo it and injure yourself.
Final Thoughts
CrossFit will make you stronger, fitter, and better capable to face the physical challenges in your life.
Wear a pair of leggings, no-slip socks, grab a water bottle and you are set. Barre class if for all ages and body types so it's a good class for beginners, and it also provides plenty of challenge for more experienced athletes.
Of all the different types of workout classes, Barre class is the one that improves your posture and gives you an awareness of how you move your body the most, which translates to benefits outside of class.
Plus, you DO NOT need previous experience with dance or ballet to take a Barre class.
Pros
Strength training upper body component in each class.
Uses moves that improve posture and grace in everyday life.
Low impact, appropriate for all ages.
Cons
Less aerobic intensity that other group exercise classes.
Final Thoughts
Improves your physique, strengthens your core and makes you more aware or your posture inside and outside of class.
Orange Theory Fitness OTF
Orange Theory Fitness, aka OTF is a high energy, a fast-moving fitness class that incorporates both cardio and strength training. The class involves machines like the rower and treadmill, along with weights, TRX style suspension trainers and even uses your own body weight.
Orange Theory is a whole-body workout that is tailored to YOUR level of fitness so you will always be challenged, without pushing yourself to the point of injury.
With Orange Theory your data is displayed along with other classmates on an overhead screen. You always know how you are performing, which can be both motivating and intimidating at the same time. Yikes!
Pros
Uses a heart rate monitor to ensure you are working at a level appropriate for YOU.
Varied Exercises – no boredom here!
Friendly, motivating and inclusive coaches make you feel welcomed.
Cons
Must buy a set number of classes and you lose them if you don't use them.
Final Thoughts
Excellent full body workout that incorporates weights and cardio all in one session. Gets my vote for best fitness classes for toning.
Hot Yoga is HOT and STEAMY.
The temp is cranked to 105 degrees and the humidity is between 30 and 50 degrees.
Rule 1 for hot yoga is STAY Hydrated. A water bottle is a must. The workout includes both standing and floor work. The yoga exercises can be modified to suit all fitness levels and body types, and all are welcome.
My favorite thing about hot yoga is that allows the body to detox and free itself.
The combo of stretching and heat gets the heart moving and allows blood and lymph fluid to flow, and that, combined with how much you sweat releases toxins and relieves stress.
Pros
Increases blood flow and metabolism thanks to the heat.
Relieves stress, releases tension in the body – a very cleansing exercise.
Improves balance and flexibility.
Cons
Not a good class after a night of partying, or if you are not feeling well.
Final Thoughts
Hot yoga is stress relieving exercise that is intense with an afterglow as a bonus.
Lagree Fitness (Formerly Lagree Pilates)
Lagree Fitness, formerly known as Lagree Pilates, is a workout that uses Pilates style equipment called a Megaformer, to achieve results in strength, endurance, flexibility, balance, and coordination.
The workout can be challenging, especially for those new to fitness.
This workout excels at strengthening the core muscles too. Plus you gain strength, without adding bulk, so if strength is a goal, and big muscles are not, this may be one of the best group fitness classes for you.
Pros
Low impact workout.
Strengthens muscles without bulking.
Improves balance and coordination.
Cons
Final Thoughts
A low impact strength training workout that will not bulk you up.
Kickboxing is probably one of the most popular group fitness classes in this lineup, and for good reason. Kickboxing is designed using moves from various combat sports, without involving any hitting or being hit by others.
Note: Cardio Kickboxing group class is different from actual kickboxing, which is a combat sport.
Cardio kickboxing is immensely fun, and a great tool for losing weight.
There is a lot of variation among cardio kickboxing classes. Some use real boxing gloves where you hit and kick pads, and others are more like traditional aerobics classes where everyone faces an instructor, copying the instructor's moves without the need for gloves.
This type of class is easy to follow and one of the best workout classes for beginners.
Pros
Intense cardio – torches calories.
Relieves stress, a nice physical way to release tension and emotion.
Easy for beginners to follow along.
Cons
No strength training component.
Final Thoughts
Cardio Kickboxing is a fun, energetic group class.
Body pump is a cardio workout using weights. The focus is on reputations, building a light lifting base and getting your heart rate up.
You will sweat, you will have fun, and you will get used to being in a gym and get really comfortable with a barbell, so it's a great jumping-off point if you decide to start lifting free weights at some point.
There is an instructor who will guide you to the right weight for you, depending on your abilities and you can just follow along.
Pros
Light strength training – a good starting point for lifting.
Fun, high energy fast passed class.
Suitable for beginners, adjust the weight as needed.
Cons
Don't load the barbell too heavy or you will need to stop to unload.
Final Thoughts
A fun, sweaty into to barbell work, and a darn good cardio workout to boot.
TRX class uses the suspension style trainer we review in this article. TRX class is great for gaining strength, coordination, balance, and flexibility.
It is really easy to adjust to your fitness level because simply changing your position relative to the anchor point makes the exercise easier or harder.
This makes the class inclusive and appropriate for all fitness levels.
Pros
Strength training using your body weight.
Works for all major muscle groups.
Novel and fun way to work out.
Highly adaptable to fit your fitness level.
Cons
Final Thoughts
A good into to strength training which allows you to progress at your pace on the fly.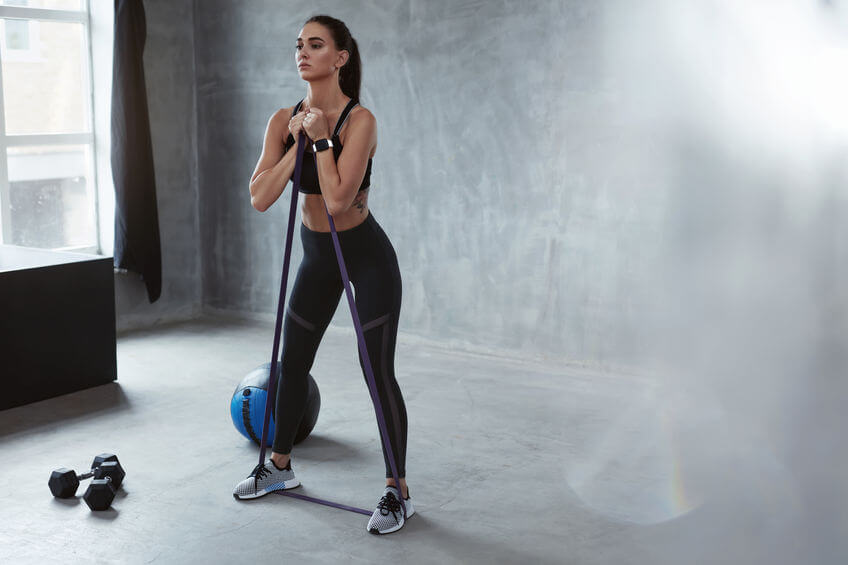 What About Just Working Out at Home?
Now that we have gone in-depth on group exercise classes, I want to say a little bit about the value of having a home gym.
Why Have a Home Gym, if I Can go to a Group Exercise Class?
Great question!
Group exercise classes are amazing. But they do have their limitations, and sometimes, you just can't find the time to go.
A home gym can also serve to fill in the gaps in a fitness class.
Let's say for example that you LOVE your spin class, and would never dream of quitting.
But…
You really would like a little more arm definition. Well, that's where a simple home gym can help.
Just pick up a set of free weights, like these sets I reviewed here, and you can work on your arms from home, without giving up your spin class.
If you take a class that is focused on strength, but light on cardio, like Lagree Fitness, or Barre Class, you can add more cardio at home using an air bike, treadmill, rower, or any piece of cardio exercise equipment that appeals to you.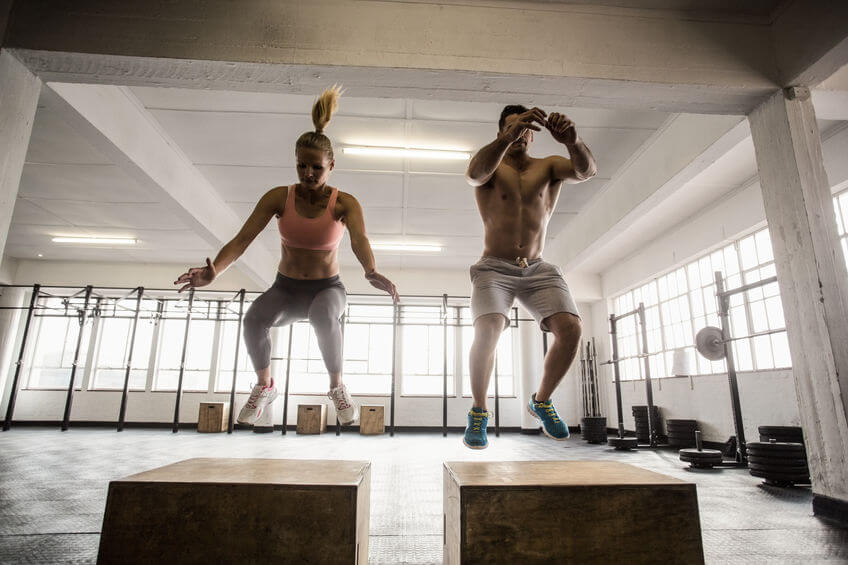 Need help choosing a piece of cardio equipment for your home gym?
I hand-picked and reviewed these 12 best cardio machines for your home gym.
So, what are you waiting for?
Find a class near you and get moving. Tomorrow waits for no one!
Love fitness? So do we! Sign up for the Garage Gym Power newsletter and don't miss another gear or fitness review again.