15 Best Budget Friendly Ellipticals under $1000 – TOP Picks Reviewed for 2021
Ellipticals are the ideal cardio machine if you want a workout that is easy on the knees, low impact and works both legs and arms to burn calories and keep you fit.
While the commercial gym models can be over $5000 each, you can have a QUALITY elliptical trainer for less.
In fact, I have a list here of the 15 best ellipticals under $1000 you can use at home, saving you a costly gym membership and the hassle of driving to the gym.
Take a look!
IMPORTANT! The price of ellipticals listed below can change at any moment due to manufacturer pricing policy or due to different other reasons. The ellipticals listed as budget options (under 500 or under 1000 USD) have been reviewed at their prices in the time of publishing this guide.
TOP 15 Best Budget Elliptical Machines 2021
Buying Guide to Budget-friendly, Affordable, Cheap Elliptical Trainers
What factors you should keep in mind before buying: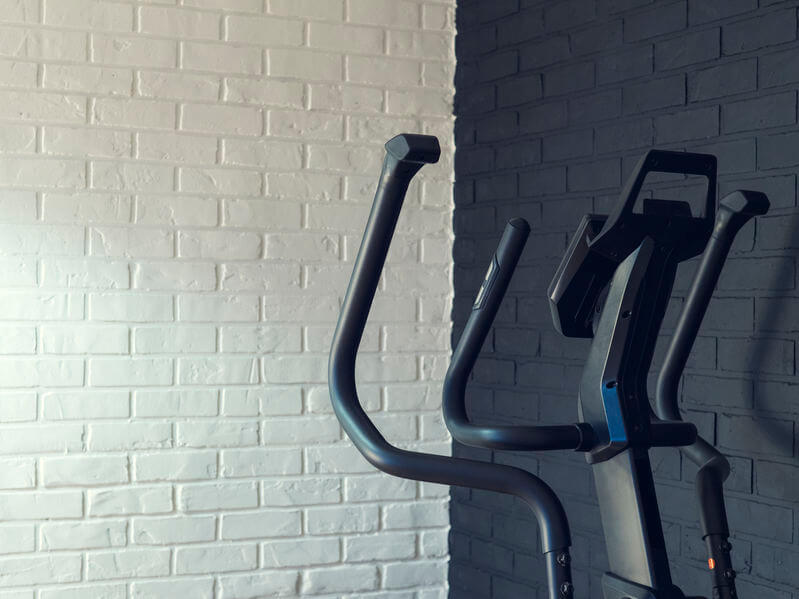 Stride Length
The stride length on an elliptical trainer is the maximum length you can stride and is measured between the tip of your toe on one foot and the heel of your other foot at the apex of the ellipse.
An ideal stride length is about 20 inches. Shorter stride lengths tend to make the stride more vertical and turn into a step-like motion. This is not necessarily a bad thing, but a step motion is a little harder on the knees, so be aware of that if you suffer mobility issues.
Weight Limit
If you are heavy set, check the weight limit of the machine. The max user weight limit of the elliptical machines in this list varies from about 250 to 375.
Naturally, the higher weight limit correlates with a higher quality machine, so it's good to check, even if you don't need a high weight limit due to your weight.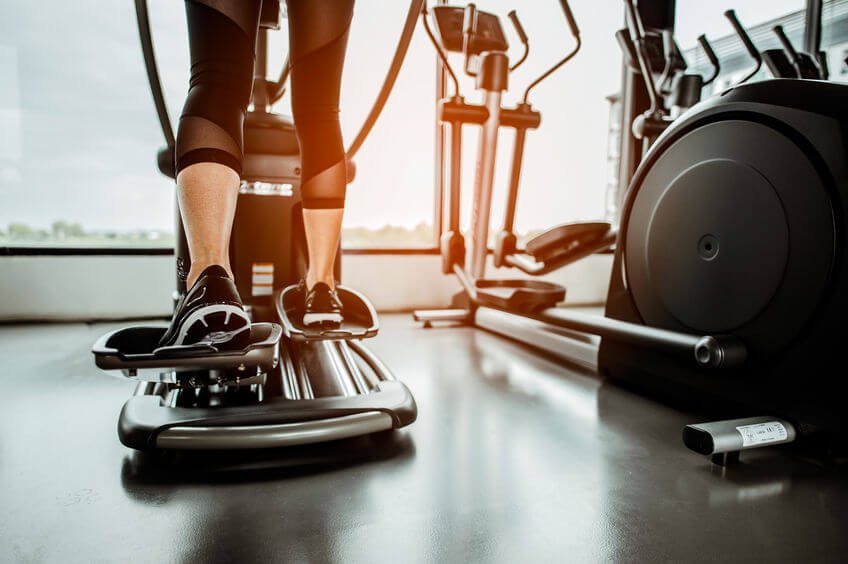 Resistance and Incline
Resistance and incline add challenge to your workout, and in layman's terms, make it harder to stride so you burn more fat and build more muscle.
Most machines over $300 dollars have some form of resistance, usually magnetic resistance provided by strong magnets and the flywheel.
I would not recommend an elliptical without resistance except in very special cases such as someone using the elliptical trainer for physical therapy.
An Incline feature is not always found on cheaper elliptical trainers. Sometimes the budget-priced elliptical trainers have a manually adjustable incline, which is a hassle because you must get off the machine to adjust the incline.
Space and Height Limitations
If you have a small space or low ceilings, keep that in mind as you make your decision.
The Horizon Fitness EX-59 Elliptical has a more horizontal elliptical path and sits lower to the ground, making it a good choice for those with low ceilings.
If you need a compact elliptical machine, the Sunny Health & Fitness Magnetic Elliptical Trainer is my favorite space-saving elliptical trainer.
Are There any Good Foldable or Portable Elliptical Trainers?
I did not find ANY folding elliptical trainers, but there are a few really compact elliptical machines. Keep in mind a compact elliptical machine will have a shorter stride and feel more like a stepper.
A good compact elliptical trainer is the Elliptical Machine Trainer by Sunny Health & Fitness. It has a small footprint, is relatively lightweight and has transport wheels to move it out of the way.
If you need a folding option, why not check out this list of the best folding bikes?
The Q Factor- What is It and Why You Should Care
The Q factor is actually a term used for bikes, but it applies to elliptical trainers. The Q stands for "Quack" because if a bike has a wide Q factor, the rider's feet are far apart as they ride which some say makes them walk like a duck.
The Q factor is the distance between the two cranks of a bike, or as applied to an elliptical trainer, it is how far your legs or feet are from each other as you ride.
A wide Q factor not only has you walking like a duck, but it is hard on your knees and hips.
Elliptical machines that took the care to create an ideal Q factor for elliptical trainers under $1000 are the Sole E25 Elliptical and the Kettler AXOS Cross P Elliptical Trainer.
Watch the following video for an in-depth explanation of the Q factor.
Is a Cheap Elliptical Trainer Worth it?
You can get a high-quality elliptical trainer for under $1000 and yes, they are worth it. You can also get a really crappy elliptical trainer for that price and obviously those are to be avoided.
My most recommended elliptical trainer under 500 dollars is the ProForm 150i Elliptical and if you can spend a little more, my favorite elliptical trainer under $1000 is the Sole New 2019 E25 Elliptical.
Elliptical Trainer FAQ Section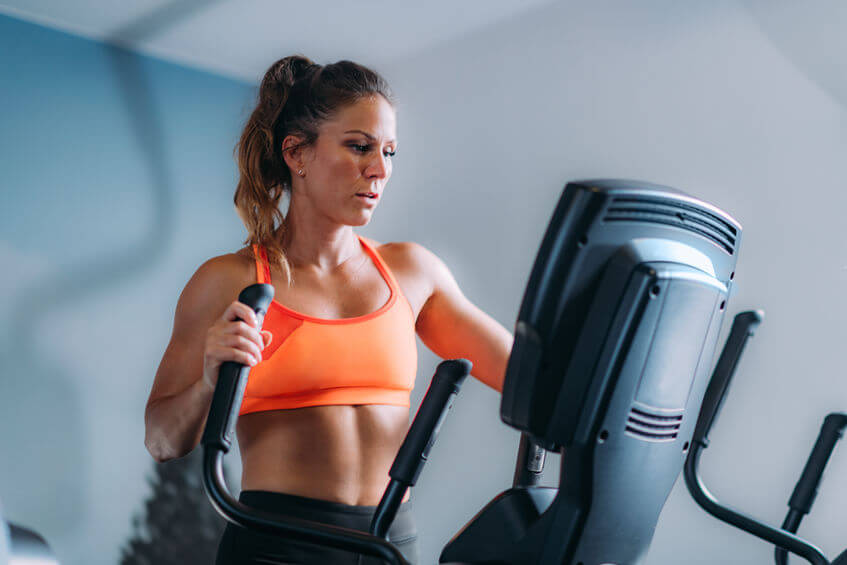 What is the Average Cost of an Elliptical Machine?
There is a HUGE variation of price in elliptical trainers. Prices range from around 150 on the really low end, to 5000 for commercial gym quality machines.
If you want something decent that is built to last has high quality and all the features you want, you can get a really good elliptical machine for around $1000.
What is the Best Cheap Elliptical?
The best cheap elliptical that I can in good conscience recommend is the ProForm 150i Elliptical. It is well under $500 and performs like a much more expensive machine.
It is made by a manufacturer with a good reputation in fitness equipment, has a 17 inch stride, a solid build, is stable to ride and is really, really affordable.
Is it Possible to Buy a Good Elliptical Machine under $500 or $1000?
Yes, absolutely!
There are elliptical trainers under $500 dollars that have a reasonably long stride and other hot features like a phone charger, adjustable height arms and adjustable pedals like the V-450X Elliptical Exercise Cross Trainer.
There are many great elliptical trainers under $1000. The Tunturi C25-F Front Competence Series Elliptical Crosstrainer has amazing quality, an impressive 70 lb flywheel, and looks and performs like a much more expensive machine, and can be purchased for under $1000.
Are There Any Elliptical Trainers I Can Use at Work or Under a Desk?
If you need a really compact elliptical trainer or one you can use under a desk or in front of the TV, the Cubii Jr. – Seated Under-Desk Elliptical is a top-rated under-desk elliptical trainer that is very quiet, low impact, and offers added resistance.
If you like the idea of getting some exercise in at work, take a look at this list of the best under desk bikes and see if one catches your eye.
Article Summary
That wraps up our 2021 list of best ellipticals under $1000 reviewed.
Now you know you don't have to spend thousands of dollars to get a great elliptical machine.
I hope you found the best elliptical for you!
If you love home gym gear and reviews, don't forget to sign up for the Garage Gym Power newsletter and never miss another review.