9 Best Under Desk Treadmills for Work in 2023 + 3 Treadmill Desks Reviewed
Is your desk job derailing your health and fitness goals?
If your work has you stuck in a chair 8 hours or more every day, you probably know how challenging it is to stay fit.
An under desk treadmill or treadmill desk is an easy and practical answer to a sedentary job.
To help you lose weight and keep your heart and body healthy I did my homework so you can benefit from this list of the 9 best treadmill desks of 2023.
I also included a treadmill desk buying guide and FAQs so you can find the best solution for your office and your health.
TOP 9 Best Under Desk Treadmills of 2023
LifeSpan TR1200-DT3 Under Desk Treadmill
LifeSpan Fitness TR1200 Portable Walking Under Desk Treadmill 350lb Capacity, 2.25HP Quiet Motor, LED Console, for Home or Office Standing Desk Workout
WHISPER-QUIET MOTOR: Enjoy a workout with this under-desk treadmill, fully assembled out of the box; Burn calories while being respectful of your shared space with a whisper-quiet 2.25HP Continuous Duty DC motor
ADAPTABLE & PORTABLE: Compact 4.6 inch deck height for optimal ergonomic position and 2 wheels for portability; Adjust speed from 0.4 to 4 miles per hour; Treadmill Dimensions (L x W x H): 63 x 28.5 x 7.25 inches; Weight 114 pounds
CUSTOMIZABLE CONSOLE: LED display is movable for a custom desk set-up and keeps controls within arms reach, use options to set your preferred speed and silence button beeps
DURABLE: High-quality steel frame, 2-ply belt, 6 impact-absorbing compression shocks, and non-slip plastic side rails provide you a durable treadmill; Maximum user weight: 350 pounds
SAFETY & TECHNOLOGY: Intelli-Guard stops the treadmill belt when you step off to promote a safe work environment; Innovative technology counts each step, distance traveled, calories burned, speed, and walking time
Review: The LifeSpan TR1200-DT3 features a long-lasting strong 2.5 HP motor, designed for the demands of a walking only treadmill. It is a well built, best-rated top seller for a reason. It's one of the best you can get without spending thousands of dollars.
This LifeSpan under desk treadmill has a long, wide walking surface making it both comfortable and safe. Plus it is super quiet and if you are a big guy, no worries, this treadmill accommodates up to 350 lbs.
Pros
Extremely well built.
6 compression shocks integrated into the unit.
Max speed: 4mph.
Max user weight: 350.
Cons
The user interface is bare-bones, does not save data and gives a loud beep any time you make an adjustment.
Takeaway
A solid under desk treadmill that will last for many years. Our pick for the best treadmill for a standing desk.
iMovR ThermoTread GT Desk Treadmill
iMovR ThermoTread GT Desk Treadmill for Offices Measures Walking, Standing, & Sitting Time, Calories Burned, Steps
Only treadmill that tracks walking, standing and sitting!  Smartphone-like touch-screen LCD console tracks walking distance, speed, steps taken, calories burned, and time, as well as standing & sitting time + calories burned.
Quieter, with a smaller footprint, yet more powerful and feature-rich than any office treadmill on the market.  Six compression shock absorpers, with ultra-quiet 2.5mm rubber plus 2-ply fabric belt.
Built to last: Premium componentry, "future-proof" updateable software and extensive Warranty - 3 years on motor, 2 years on parts, 1 year on labor.
The first "clean sheet" design of a walking treadmill base geared for the office, not the gym. Powerful 3 Horsepower 4000 RPM DC motor with a continuous duty cycle made specifically for office use.
Keeps track of multiple users with different presets for preferred walking speed. Set the programmable timers to remind you to take a break, or that it is time to stand or sit for awhile.
Review: This slim, elegant iMovR under desk treadmill has a low profile, operates quietly, and has a state of the art user interface that allows you to control the treadmill from your desk top.
Pros
Top speed 2.5 hr.
Desktop interface tracks speed, distance and more.
Specifically designed for walking – with a high torque motor.
Thick 2.5mm rubber belt absorbs noise.
Max user weight: 400lbs.
Cons
Pricy, considering this is the treadmill without a desk.
Takeaway
If long life and a quiet, discreet treadmill are your priority, this is your under desk treadmill.
Rebel Treadmill 1000 Under Desk Treadmill
⭐ QUALITY & RELIABILITY ⭐ Get your steps in no matter what! Quality, reliability, eye-catching design and a proven-track record: the Rebel Treadmill 1000 has it all. This treadmill base fits under a standing-height desk and lets you walk at a leisurely pace while you work. You can be more productive, tone your muscles, burn more calories, and feel less tired. Imagine logging several miles and thousands of steps everyday!
✔️ SIMPLE SETUP - The treadmill base ships for free and arrives fully assembled. At just 88lbs, this lightweight treadmill makes for easy setup. Simply remove it from the box and use the front wheels to roll it into place under a standing-height desk or tall counter. Place the treadmill console on the desktop, hit "Start" and you can start walking and working!
👍 WORRY-FREE WARRANTY - On the Rebel Treadmill, there is NO maximum hours of usage per day so you can walk as long as you want without worrying about voiding the warranty (2 years for any parts and labor and 20 years for the frame). Rebel Desk prides itself on prompt and attentive customer service for as long as you are walking and working on your Rebel Treadmill.
👞 QUIET & SAFE WALKING - The treadmill base has a high-quality, ultra quiet motor that lets you walk and work without disturbing others. The Rebel Treadmill's speed range of 0.5 to 2.0 mph allows for a comfortable walking speed that lets you get work done without working up a sweat. That's because this treadmill base is specially designed to be an office treadmill. At 63 inches in length, you can walk safely and comfortably using your normal walking stride.
🛡️OUR PROMISE - Rebel Desk's promise to you is a 100% moneyback guarantee up to 30 days after receipt of the treadmill. No hidden fees, no questions asked - making this a no-risk purchase for you.
Review: The Rebel under desk treadmill is designed for the office to be used with your desk. It is quiet enough to use during conference calls and durable enough to be used 8 hrs. a day, 5 days a week for a long time.
This under desk treadmill will keep you moving, insuring you get your steps in on your favorite fitness tracker, but be aware, this is meant to walk and work at the same time, so it does not move at high speeds, max speed is 2 miles per hour.
Pros
Durable and long-lasting, can walk all day with no problems.
Control the treadmill from your desk using desktop console.
Long 63 inch deck, good for tall people.
Quiet operation.
Cons
Unit is heavy and cumbersome to move.
2 mph max speed.
Takeaway
Built to last, top-quality, slim and quiet under desk treadmill with a long deck.
Goplus Under Desk Electric Treadmill
Goplus Under Desk Treadmill, Electric Treadmill Walking Pad with Touchable LED Display and Wireless Remote Control, Built-in 3 Workout Modes and 12 Programs, Running Jogging for Home Office
【Heavy-duty Construction & Widened Running Platform】Our slow-walking machine can withstand 220 pounds of weight due to its heavy-duty construction. In addition, the 41" x 17" walking area provides you with a more comfortable sports experience. And the 3" pedals that meet safety standards guarantee your safety during exercise.
【Compact Size & Lightweight Design】The size of the walking treadmill is 51.5" x 23.5" x 6.5", and the compact size allows it to be stored in any desired location. Such as under the sofa, under the bed or at the bottom of the wardrobe. Besides, two wheels allow you to easily move and carry.
【0.5 - 4 MPH Speed Levels & P01-P12 Programs】Available in 0.5 to 4 MPH Speed levels, this Goplus walking treadmill allow you to select different speed depending on your physical condition and workout. There are also 12 programs available for you to choose, and these easy-to-use exercise programs help to improve your cardiovascular fitness, boost your health, and burn fat.
【Touchable Multi-function Display】Features with LED display for better watching experience, it shows time, speed, distance and calories. In addition, the display of this walking machine is touchable, which allows you to use it even if the remote control is damaged.
【Shock-proof Design & Safety Features】The foot pad and rubber struts can effectively reduce the vibration and noise caused by walking. And there is an emergency brake button on the remote control. When an accident occurs, the electric walking treadmill can be stopped when the button is pressed.
Review: The GoPlus under desk treadmill is an economical and space-saving solution if you want to get some steps in while you work.
It is ideal for smaller folks because it has a 41 inch deck length and is noisy for heavier people. But it's one of the lowest-priced under desk treadmills available.
Pros
Compact 41 inch deck length.
Up to 4 mph speed.
Very affordable.
Cons
Only runs for 99 consecutive minutes.
Not for heavy users.
Takeaway
Affordable compact under desk treadmill for lighter walkers.
WalkingPad A1 Smart Walk Folding Treadmill
WalkingPad A1 Foldable Treadmill Walking Pad Smart Jogging Exercise Fitness Equipment, Free Installation Low Noise Footstep Induction Speed Control,Folding Under Desk 0-3.72mile/Hour
【Foldable Design】The WalkingPad can be folded in halfway. Through the 2 rollers at the bottom, it can be moved smoothly in /out to/from the limited space under the desk, sofa or bed, etc.
【Free-Installation, Two Modes of Operation】 Plus and Play. M(Manuel) mode Is operated by remote control to On/Off, Sarte/Stop, Acceleration/Deceleration. A(Auto) mode is operated by the user's footsetp to Sart/Stop, Acceleration/Deceleration
【Footstep Induction Speed Control】By the high Precision pressure sensor in the walking treadmill, you can control the WalkingPad in high, medium or slow speed, through footstep on the front(acceleration) zone, middle(uniform velocity) zone or tail (deceleration) zone.
【Noise Free, Comfortable Fitness Experience:】With the wear-resistant anti-slip walking belt, and the noise-reduction multilayer structure, you can walk or jog comfortably at home or office, without disturbing the work, entertainment or rest of families, neighbors, colleagues or even yourself. Maximum weight: 220lbs.
【Multiple Security Protection and Visualized Walking Data】With the child lock protection, overload protection, auto standby, and novice speed limit functions, you can rest assured to use this WalkingPad. By connecting with the WalkingPad APP or through the LED light on the dashboard, you can see the data for each walk, and quantify and urge you to exercise. Local after-sales service.
Review: The WalkingPad under desk treadmill has a clever design. It is designed to accelerate if you step farther up on the deck, and decelerate as your steps fall back toward the end of the deck. If you continue to step in the middle, the speed stays the same.
My favorite aspect of this treadmill is aesthetics. It has a slim, clean design and data display. It looks very professional. It will fit in well in any office environment.
Pros
Folding design.
75 mph max speed.
Slim enough to slide under the couch.
Accelerates and decelerates based on where you step.
Cons
The app sucks. Use the online tutorial for tips.
Takeaway
Good looking and functional, one of the best treadmills for a standing desk.
The WalkingPad is so slim it can fit under your bed or couch, but it also folds right in half and can be stowed in a closet. If space is an important consideration for you, check out this list of folding treadmills and find a treadmill that fits your lifestyle.
Sole Fitness TD80 Treadmill Desk
SOLE Fitness TD80 Treadmill Desk
2.5 continuous duty horsepower motor guarantees speeds from .5 mph to 4 mph. Walking surface is a comfortable 20" x 50". Flywheels and rollers provide smooth, frictionless action keeping the treadmill quiet and consistent.
Bullet-proof frame and highest grade welded steel construction. Supports up to 325 lbs.. Includes a foldable design for space saving needs.
Cushion Flex Whisper Deck reduces joint impact by 40%. Easy to view LCD console with a clear and bright display. Large 47" x 31" usable desktop.
Model Number: TD80. Made in Taiwan.
Review: This Sole Fitness treadmill desk is a treadmill and desk in one. It has a very quiet operation so you can use it during long conference calls and while chatting with clients.
The desk has 41 inch by 37 inches of usable space, enough for a laptop, a phone and a place to write, and the desk is height adjustable.
With this option there is no need to purchase a separate desk, everything you need to get to work is included. It is one of the only all-in-one treadmill desk solutions available in 2023.
Pros
Up to 4 MPH.
50 inch long deck.
Supports folks up to 325 lbs.
Built-in desk.
Cons
Clears your session every time you stop because it has no pause function.
Takeaway
Best walking desk for the home office, especially if you are on the phone a lot.
Xspec Under Desk Walking Treadmill
Xspec Under Desk Treadmill for Cardio, Workout, Indoor Walking, Running and Exercise, Black
Quality, reliability, eye-catching design and unbeatable price, this machine has it all; This slim walking treadmill is designed to fit under your standing desk, allowing you to walk while you work; Leading to a happy, healthier you
With speeds ranging from 0. 5 to 3. 7 mph, this treadmill is perfect for any office; The silent motor and belt ensures you can exercise, without disturbing your coworkers or family.
This light weight treadmill can handle a max user weight of 265lbs; The high-quality 0. 75 horsepower motor and a durable anti-slip belt will ensure years of use
LED display computer tracks steps, time, speed, calories burned and distance; Touch button interface or remote control
Standing in at only at 4. 5" tall, this machine can be stored just about anywhere, under a bed, in a closet or tucked under a desk; The smooth transportation wheels makes moving the unit a breeze; Measures 52. 3" x 21. 3" x 4. 5"
Review: The Xspec under desk treadmill is a good choice for those on a tight budget. It is compact, so it's perfect for small home offices, and the top speed is plenty for a brisk walking pace.
This treadmill is not the quietest around, but it is one of the least expensive options out there that allow you to get some exercise while you work without making a huge investment.
Pros
Affordable.
250 lb max user weight.
75 MPH max speed.
Compact-great for small spaces.
Cons
Short deck length, of 39.5 inches.
A bit noisy.
Takeaway
Budget price with a high user max weight. Best under desk treadmill for the money.
If you are on a tight budget, do not be discouraged. There are many options to stay fit. You might consider a manual treadmill. Manual treadmills use no motor so they are less expensive and make a great alternative to walking outside. I created a list of the best manual treadmills here, take a look.
GoPlus 2 in 1 Folding Treadmill
Goplus 2 in 1 Folding Treadmill, 2.25HP Under Desk Electric Superfit Treadmill, Installation-Free with APP Control, Remote Control, Bluetooth Speaker and LED Display, Jogging Walking for Home/Office
INNOVATIVE 2-IN-1 FOLDING TREADMILL — Compared to ordinary treadmills, our 2-in-1 Superfit treadmill has 2 modes to meet your different sports needs, so you can easily have a healthy body. When the handrail is raised, the running speed is 1-12km/h. When the riser is folded, it can be used as an under desk treadmill at a speed of 1-4km/h. And the speed unit could be switched between mile and km in APP.
POWERFUL 2.25HP QUIET MOTOR & SHOCK REDUCTION SYSTEM — With a powerful and ultra-quiet 2.25HP motor, this Superfit treadmill allows you to walk or run without disturbing others, making it ideal for home and office use. With a sturdy and durable steel frame and multi-layer shield design, it's shock-absorbing and noise-reducing, making your running quieter, safer and more comfortable.
NON-SLIP RUNNING BELT & MULTIFUNCTIONAL LED DISPLAY — The 5-layer non-slip texture running belt features a spacious running area(40" x16"), providing an effective and safe cushion for your knees and muscles for a superior running experience. The LED display clearly shows time, speed, distance and calories, monitoring your progress in real time and keeping your movement data at a glance.
WITH APP CONTROL, BLUETOOTH SPEAKER, PHONE HOLDER & REMOTE CONTROL — APP control is perfect to record exercise data. Connect the treadmill to your phone through Bluetooth, so you can play music while you are exercising. You can also use the phone holder to watch videos or chat with friends. The remote control (BATTERY NOT INCLUDED) is convenient to adjust the speed of movement and stop instantly. Equipped with a safety key to shut down immediately in an emergency to protect your safety.
EASY TO MOVE AND STORE & HASSLE-FREE AFTER-SALES SERVICE— The compact, foldable design and built-in transport wheels make it easy to move and store this under desk treadmill to save space. And it's out of the box and doesn't need to be installed. CE, ROHS, CB, EN957, IEC certifications by SGS, so you can rest assured to buy.
Review: The GoPlus two in one treadmill can be used alone, with the handles up, or under a desk, with the handles folded down. It's your choice!
With the handles down it functions as an under the desk walking treadmill, but with the handles up, you can use it to jog or run.
It can accommodate users up to 265 lbs and it can be folded and stored away when you are done using it because the treadmill itself is not too heavy.
It is quiet enough to use while working at the computer, talking on the phone or gaming, and best of all, it's not too expensive.
Pros
Up to 12 mph speed with handles up, up to 4 mph with handles down.
Compact, great for apartments and small home offices.
Folding, easy to store.
Cons
Deck is only 40 inches long.
Measure distance in kilometers.
Takeaway
The versatile, folding treadmill that you can use with a desk for walking or without a desk for running.
Rhythm Fun Under Desk Treadmill
Sale
RHYTHM FUN Treadmill Under Desk Treadmill Folding Portable Walking Treadmill with Wide Tread Belt Super Slim Mini Quiet Slow Running Treadmill with Smart Remote and Workout App for Home and Office
1. Safety, Large Wide Running Belt---Compared with other treadmill's thin running belt, RHYTHM FUN under desk treadmill has the 18"=45 cm large wide running belt , with the better comfort level , smooth, balance and stable feeling, and solid design. it is so big enough to walk or moderately-paced running safely on, relaxed, freely! Suitable for all people within 220 lbs no worry to enjoy the fun of walking or slow running in door!
2. Compact, Convenient, Space-saving, and Portable--- Super 2.3"thickness, 78lb light weight, only covering less 0.05㎡ small space in your living room or office. Compact , foldable, and wheels under the treadmill make it easier to put away after use. Lightweight ,portable, and very low & slim profile , making it easy to stored in a closet, under a bed, sofa, or standing desk which you can work and walk at the same time. A great Walker for home walking or jogging fitness exercise.
3. Shock absorption and noise reduction design:---Strong high Peak 2.5hp electric motorized DC power motor, silicon structure running board ,7-level soft large running belt,durable steel frame make up the RHYTHM FUN treadmill's AIR shock reduction and noise reduction system.Less noise and safety make your running quiet and comfortable! No matter beginners or seniors!
4.Large LED display, Smart Remote,Smart Workout APP----RHYTHM FUN standing desk treadmill has the very modern looking with large, clear, and simple display. Smart Remote can control your treadmill remotely when you walking or running with Start , Off , Speed button. Special made Smart Workout APP can control the speed,time, mileage and calories, monitor and track your workout on your phone ,or set up the training program at the same time.
5. Specification --- No assembly required! Just take out the box to use it! [wide running belt ]: 47"x18".[walking speed]: 0.5-3.7MPH [folding size]: L(59")*(W)24"*(H)3".
Review: The Rhythm Fun under desk treadmill is not the cheapest treadmill in the budget category, but it is not expensive either.
For just a little more money, you get a treadmill that is quiet and smooth, goes as fast as a jogging pace, and has a reasonably long deck for a budget treadmill, so tall people will be comfortable using it.
It is well made and comes completely assembled. You will need to use the included remote to control it because the treadmill itself has no buttons and the beep indicator is quite loud. But for the price, it's hard to beat this under desk treadmill.
Pros
47 inch long running deck.
Up to 3.7 miles per hour speed.
Quiet smooth operation.
Cons
Max user weight of only 220 lbs.
Takeaway
The perfect balance between affordable and functional, a well-built treadmill at a fair price. My choice for best desk treadmill of 2023 in the budget price range.
3 Specialized Standing Desks for Your Under Desk Treadmill
Crank Adjustable Height Standing Desk
Crank Adjustable Height Standing Desk 48 x 30 Inches Hand Crank Sit Stand Desk Home Office Workstation with Frame and Solid One-Piece Desktop (White Top + Black Legs)
Crank Height Adjustment: Easy to adjust it to any height between 29" - 48.6" with a smooth crank which can be mounted on either right or left side. No need to place the standing desk next to electric power. Easily place the lift table wherever you want.
Foldable Crank: The crank can be conveniently folded up and out of the way to save space and create a cleaner look.
Spacious Desktop: This Adjustable height table provides a large surface: 48inch x 30inch. Enough for a variety of your monitors, laptop, mouse, keyboard, important work materials and supplies.
Sturdy Structure: The high-quality mechanical structure of this standing desk that supports a maximum weight capacity of 155 pounds. Bottom reinforcement can effectively prevent shaking.
Several Desktop Styles: Our desktop has five different colors to choose from, a variety of color matching sets can be created to fit your style. Choose the desktop for you according to aesthetic needs!
Review: This simple rectangular Gloss black desk adds a stylish touch to the office.
Adjustment style: hand crank adjustment.
Pros
45.25" max desk height (add your treadmill deck height to determine the right fit for you).
Large, sturdy casters make the desk very easy to move.
Desktop can accommodate 75 lb of work gear.
50" wide to accommodate a treadmill easily.
Cons
Not great for users over 6'1".
Takeaway
A beautiful, well built, roomy desk for a desk treadmill.
ApexDesk Elite Series Standing Desk
Review: This Apex desk adjusts electronically, has a max height of 48" to accommodate a treadmill, and has a 220 lb capacity for your computer monitor and other work equiptment.
Adjustment style: electronic.
Pros
Desk surface holds 220 lbs of work gear.
Adjusts for sitting, standing and treadmill use.
Ergonomically shaped desktop has a slight curve so users can sit farther in.
Height adjustment has programmable memory so you can switch from sitting, to standing with the push of a button.
Cons
When paired with a treadmill, will accommodate users up to 6'1".
Takeaway
Finely crafted, programmable adjustment and rock-solid construction make this treadmill desk the best treadmill desk in the mid-range price range.
Pneumatic Adjustable Height Standing Desk
S STAND UP DESK STORE Pneumatic Adjustable Height Standing Desk Computer Workstation (White Frame/Birch Top, 48in Wide
Lever-actuated pneumatic height adjustment for fast and easy transitions from sitting to standing
Extended height adjustment range to accommodate shorter and taller users
Sturdy steel frame for stability and durability
Overall dimensions are 48" W x 29.5" D x 27.5" to 44.5" H"; max weight capacity is 35 lbs; BIFMA certified for safety and durability; easy assembly
Stand Up Desk Store is a US-based company and stands behind all items we sell; this item comes with a 5-year limited warranty against defects
Review: This value-priced standing desk from Stand Up Desk Store adjusts to a max height of 44.5" allowing room for a treadmill.
Adjustment style: pneumatic adjustment.
Pros
Adjusts from 27.5 " to 44.5' for sitting, standing and treadmill use.
Desktop holds up to 150 lbs (Note, pneumatics lift only 35 lbs, so you may need to reduce load before lifting).
Smooth, under desk, height adjustment lever.
Excellent price.
Sturdy construction.
Cons
Not tall enough for treadmill users over 6'.
Takeaway
A sharp alternative to much more expensive desks. One of the best walking desks at a value price.
Why get a Treadmill Desk? Benefits of an Under Desk Treadmill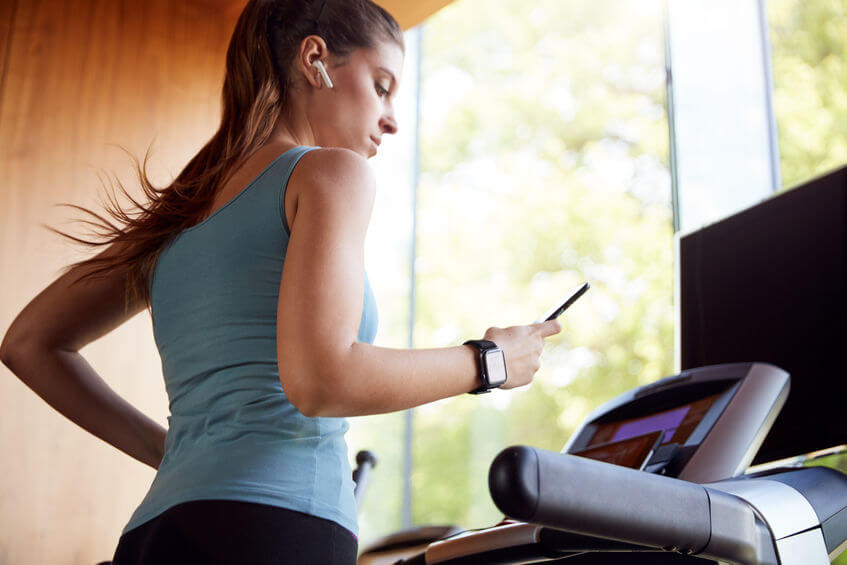 Sitting is the new smoking!
This radical claim is being made by some doctors and other health care professionals.
While the claim seems extreme, it is not unfounded. Recent studies show that both high activity level and low leisure-time sitting are the MOST beneficial for lowering the risk of obesity and metabolic diseases like diabetes.
In other words, you must stay active in between workouts to reap the most benefits.
One way to stay active, get work done, save time and improve your health is by using the best treadmill desk.
So Many to Choose From!
The choices and configuration options for treadmill desks are numerous so we plan to explain the options available to you.
We will also show you what to look out for before selecting the best desk treadmill and review all in one solutions, treadmills and the best walking desks.
How are Desk Treadmills Different from Treadmills at the Gym?
Motor – the best treadmill for standing desks have a stronger motor than a treadmill at the gym.
That sounds counter-intuitive, right?
However, walking puts far more stress on a treadmill than running. That is why desk treadmills are designed with higher torque motors.
If you use a regular treadmill at the desk you may find yourself replacing the treadmill far before you intended.
Handles – Since desk treadmills go under the desk, the handles on a standard treadmill get in the way.
Desk treadmills have no handles or the handles are integrated into the desk, for some all in one units.
Low Profile – The best treadmill for walking desk are built with height in mind, and sit lower to the ground than most standard treadmills. Lower height decks need lower height desks.
How do I Choose the Best Treadmill Desk or Under Desk Treadmill?
You have two options:
All in one solution – desk attached to treadmill.
Pros
The desk and treadmill are one unit, no need to shop for two pieces.
Usually less expensive than buying both components separately.
Cons
The desk on all in one units is generally smaller, and has less adjustment than stand alone.
The desk on an all in one unit is often not as stable as stand-alone desks.
Buy treadmill and desk separately
Pros
There are a large variety of standing desks so you have more choices, such as ergonomically shaped desks, desks with special keyboard trays, larger or wider desks and so on.
Stand-alone desks are generally larger and sturdier.
Stand-alone desks often have either crank or electric adjustments and are easy to adjust.
Stand-alone desks often have a wide adjustment range, meaning the desk allows for sitting, standing or treadmill use.
With stand-alone desks you can move the treadmill out of the way and stand, or sit.
Cons
Buying a desk and treadmill separately is usually a bit more expensive.
One Important Note:
Whichever option you choose you need to find out if the desk adjusts to your standing height, plus the height of the treadmill desk.
What Features Should I Look for in an Under Desk Treadmill?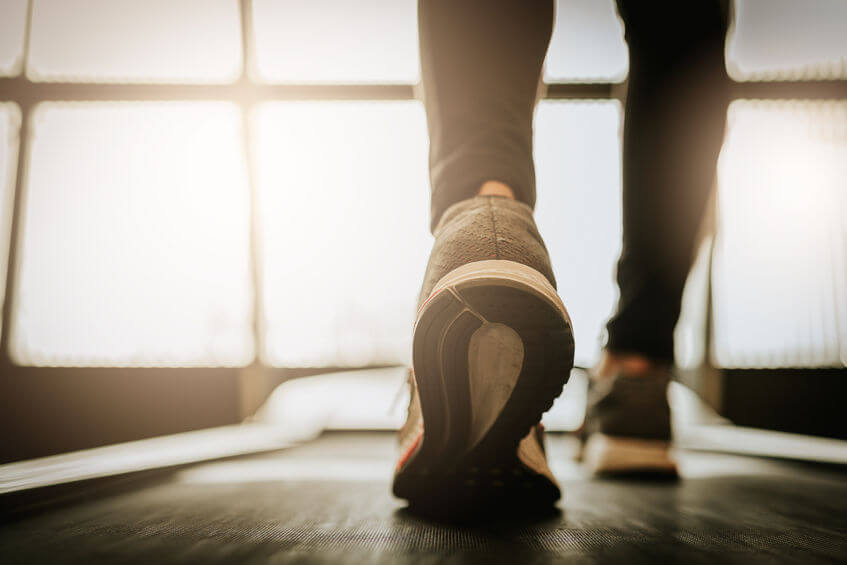 Max User Weight
This is your weight. We have seen treadmill desks that have a max user weight capacity of between 220 to 400 lbs.
I listed maximum user weights in the reviews above.
Noise – How Quiet is the Under Desk Treadmill
If you have ever used a treadmill at the gym you probably noticed that treadmills can be a little noisy.
Under desk treadmills are designed to be much quieter, but as with most things in life, the more money you are willing to shell out, the quieter they will be.
Higher-end stand-alone treadmills designed for treadmill desks are super quiet, especially compared to the gym models.
Max Treadmill Speed
An under desk treadmill should not have a max speed higher than 4 miles per hour because it would not be safe to work and move at the same time at a pace higher than 4 miles per hour.
In fact, the "average" walking pace is 3.1 miles per hour, and its safest to use an under desk treadmill at walking speeds.
Most people who benefit from an under desk treadmill use a speed of between 1.5 to 2 miles per hour. It may not seem very fast, but it keeps you moving and the calories and health benefits add up.
What Features Should I Look for in a Treadmill Desk?
Height Adjustment Range
When standing on a treadmill at your treadmill desk, your hands should be able to rest on the desk or keyboard at a level just below your elbows.
A desk that will not lower or raise enough to accommodate this position may cause problems.
Desktop Capacity
This is how much the desk can safely hold. It ranges from 50 lbs up to 220 lbs.
Consider the work equipment you plan to place on the desk so you know if the solution you choose will work with your equipment.
Lifting Capacity
Stand-alone desks have a crank, electric or pneumatic lifting mechanism that has its own weight max, apart from the actual desk top.
It can vary quite a bit, from 35 lbs to 220 lbs. For the lower weight capacity, you may need to remove equipment to adjust.
The best walking desk models usually lift more weight.
Electric vs Crank vs Pneumatic Desk
This applies to stand-alone desks.
Electric Lift desks are more expensive, but they are also faster, quieter, lift more weight and require no manual work.
Crank lift desks are less expensive, but require you to crank a handle to lift the desk, similar to the handle used to roll your car windows up, back in the day.
Pneumatic lift desks use air pressure to lift the desk.
This is nice but…
Pneumatic lift desks generally only lift about 35 lbs, so you may need to clear your desk off first. This style is also very economical.
Treadmill Desk FAQ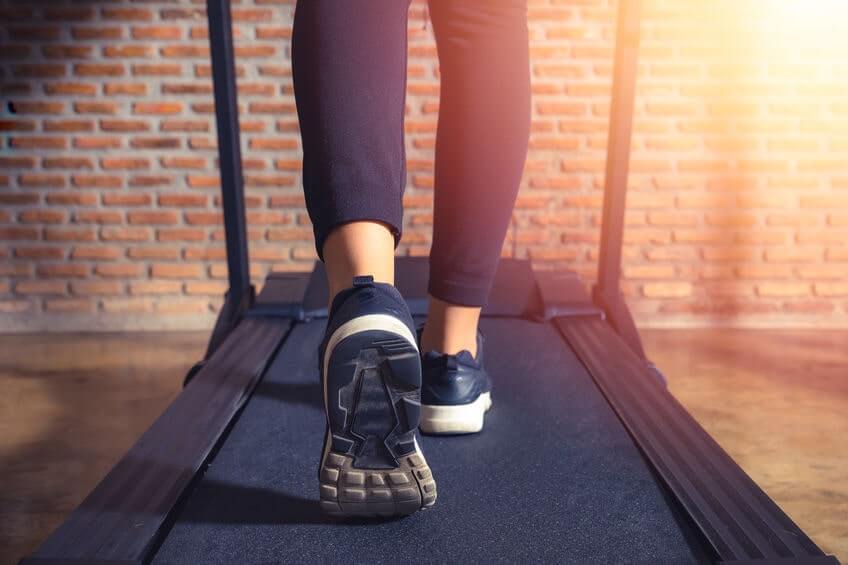 Can You Run on a Desk Treadmill?
Most under desk treadmills are designed for walking and light jogging.
The reason?
It's hard to work, type or use a mouse and run at the same time!
A steady, even walking pace is what most people can manage while working.
That's why most treadmill desks max out around 3.5 to 4 miles per hour top speed. In fact, most folks have a hard time working and walking at a pace faster than 2 miles per hour.
There are a few exceptions. The budget-priced GoPlus 2 in 1 Folding Treadmill has a folding handlebar. When the handlebar is up, the top speed is 12 miles per hour, a fast running pace. When the handlebar is folded down, so it can be used under a desk, the top speed is limited to 4 miles per hour, for walking.
If you are looking for a running treadmill, check out this list I created of the best running treadmills available.
Are Desk Treadmills Worth it?
Yes.
They can improve your health, mood, help you lose weight, may ease back pain and just make you feel better in general.
Even though 1.5 to 2 miles per hour may not feel like much, the time and calories burned add up.
This 1 year trial of a treadmill desk intervention concluded after the year was finished that "Access to treadmill desks may improve the health of office workers without affecting work performance"
Plus…
Plenty of antidotal reports mention significant weight loss over time from making the switch from a chair to a treadmill.
If you are looking to improve your health, walking is a proven way to stay in shape. Check out this list of the best treadmills for walking and stay on top of your fitness goals.
Are Treadmill Desks Safe?
Absolutely!
Under desk treadmills are designed to go at a walking pace, and most max out at 3.75 miles per hour.
The average user goes anywhere from 1.5 to 2 miles per hour.
In fact, treadmill desks are so safe that major corporations and governments use treadmill desks to improve the health and wellbeing of employees.
Just be sure, before you get a treadmill for under your desk, that
You never try to work and walk faster than 3.75 miles per hour
You slow the treadmill to a stop before disembarking
You do not use the treadmill at an incline (true under desk treadmills do not incline)
The treadmill deck has a white safety mark to visually indicate if the belt is moving or not
In my estimation, the benefit to your health and wellbeing far outweigh the potential danger of using a treadmill desk.
If you want a solution that keeps you moving without the risk of standing up or walking, you might consider an under desk cycle. They also burn calories and keep you moving to improve health. I carefully curated this list of the best under desk bikes. Check them out!
What is the Best Treadmill Desk?
I have a few favorite treadmill desks.
The LifeSpan TR1200-DT3 is my favorite. LifeSpan is a trusted name in the fitness space, and while this treadmill is not cheap, it is not the most expensive one out their either. It is the best-selling, top-rated under desk treadmill because it is sturdy, long-lasting, has a long, 50 inch belt, hold riders up to 350 lbs and is very quiet.
If you are on a budget, I recommend the Rhythm Fun Under Desk Treadmill. It's not too expensive and has a reasonably long deck of 47 inches. It is also very quiet, but only accommodates folks up to 220 lbs.
Wrap up
Don't put it off any longer. The treadmill desk is an excellent solution to solve the time crunch issues common to us all.
Work and workout at the same time.
Order the best treadmill desk for you today!
If you love gym gear and fitness reviews, sign up for the Garage Gym Power newsletter and we will notify you when new reviews come out.