9 Best Under Desk Treadmills for Work in 2021 + 3 Treadmill Desks Reviewed
Is your desk job derailing your health and fitness goals?
If your work has you stuck in a chair 8 hours or more every day, you probably know how challenging it is to stay fit.
An under desk treadmill or treadmill desk is an easy and practical answer to a sedentary job.
To help you lose weight and keep your heart and body healthy I did my homework so you can benefit from this list of the 9 best treadmill desks of 2021.
I also included a treadmill desk buying guide and FAQs so you can find the best solution for your office and your health.
TOP 9 Best Under Desk Treadmills of 2021
LifeSpan TR1200-DT3 Under Desk Treadmill
Review: The LifeSpan TR1200-DT3 features a long-lasting strong 2.5 HP motor, designed for the demands of a walking only treadmill. It is a well built, best-rated top seller for a reason. It's one of the best you can get without spending thousands of dollars.
This LifeSpan under desk treadmill has a long, wide walking surface making it both comfortable and safe. Plus it is super quiet and if you are a big guy, no worries, this treadmill accommodates up to 350 lbs.
Pros
Extremely well built.
6 compression shocks integrated into the unit.
Max speed: 4mph.
Max user weight: 350.
Cons
The user interface is bare-bones, does not save data and gives a loud beep any time you make an adjustment.
Takeaway
A solid under desk treadmill that will last for many years. Our pick for the best treadmill for a standing desk.
iMovR ThermoTread GT Desk Treadmill
Review: This slim, elegant iMovR under desk treadmill has a low profile, operates quietly, and has a state of the art user interface that allows you to control the treadmill from your desk top.
Pros
Top speed 2.5 hr.
Desktop interface tracks speed, distance and more.
Specifically designed for walking – with a high torque motor.
Thick 2.5mm rubber belt absorbs noise.
Max user weight: 400lbs.
Cons
Pricy, considering this is the treadmill without a desk.
Takeaway
If long life and a quiet, discreet treadmill are your priority, this is your under desk treadmill.
Review: The Rebel under desk treadmill is designed for the office to be used with your desk. It is quiet enough to use during conference calls and durable enough to be used 8 hrs. a day, 5 days a week for a long time.
This under desk treadmill will keep you moving, insuring you get your steps in on your favorite fitness tracker, but be aware, this is meant to walk and work at the same time, so it does not move at high speeds, max speed is 2 miles per hour.
Pros
Durable and long-lasting, can walk all day with no problems.
Control the treadmill from your desk using desktop console.
Long 63 inch deck, good for tall people.
Quiet operation.
Cons
Unit is heavy and cumbersome to move.
2 mph max speed.
Takeaway
Built to last, top-quality, slim and quiet under desk treadmill with a long deck.
Goplus Under Desk Electric Treadmill
Review: The GoPlus under desk treadmill is an economical and space-saving solution if you want to get some steps in while you work.
It is ideal for smaller folks because it has a 41 inch deck length and is noisy for heavier people. But it's one of the lowest-priced under desk treadmills available.
Pros
Compact 41 inch deck length.
Up to 4 mph speed.
Very affordable.
Cons
Only runs for 99 consecutive minutes.
Not for heavy users.
Takeaway
Affordable compact under desk treadmill for lighter walkers.
WalkingPad A1 Smart Walk Folding Treadmill
Review: The WalkingPad under desk treadmill has a clever design. It is designed to accelerate if you step farther up on the deck, and decelerate as your steps fall back toward the end of the deck. If you continue to step in the middle, the speed stays the same.
My favorite aspect of this treadmill is aesthetics. It has a slim, clean design and data display. It looks very professional. It will fit in well in any office environment.
Pros
Folding design.
75 mph max speed.
Slim enough to slide under the couch.
Accelerates and decelerates based on where you step.
Cons
The app sucks. Use the online tutorial for tips.
Takeaway
Good looking and functional, one of the best treadmills for a standing desk.
The WalkingPad is so slim it can fit under your bed or couch, but it also folds right in half and can be stowed in a closet. If space is an important consideration for you, check out this list of folding treadmills and find a treadmill that fits your lifestyle.
Sole Fitness TD80 Treadmill Desk
Review: This Sole Fitness treadmill desk is a treadmill and desk in one. It has a very quiet operation so you can use it during long conference calls and while chatting with clients.
The desk has 41 inch by 37 inches of usable space, enough for a laptop, a phone and a place to write, and the desk is height adjustable.
With this option there is no need to purchase a separate desk, everything you need to get to work is included. It is one of the only all-in-one treadmill desk solutions available in 2021.
Pros
Up to 4 MPH.
50 inch long deck.
Supports folks up to 325 lbs.
Built-in desk.
Cons
Clears your session every time you stop because it has no pause function.
Takeaway
Best walking desk for the home office, especially if you are on the phone a lot.
Xspec Under Desk Walking Treadmill
Review: The Xspec under desk treadmill is a good choice for those on a tight budget. It is compact, so it's perfect for small home offices, and the top speed is plenty for a brisk walking pace.
This treadmill is not the quietest around, but it is one of the least expensive options out there that allow you to get some exercise while you work without making a huge investment.
Pros
Affordable.
250 lb max user weight.
75 MPH max speed.
Compact-great for small spaces.
Cons
Short deck length, of 39.5 inches.
A bit noisy.
Takeaway
Budget price with a high user max weight. Best under desk treadmill for the money.
If you are on a tight budget, do not be discouraged. There are many options to stay fit. You might consider a manual treadmill. Manual treadmills use no motor so they are less expensive and make a great alternative to walking outside. I created a list of the best manual treadmills here, take a look.
GoPlus 2 in 1 Folding Treadmill
Review: The GoPlus two in one treadmill can be used alone, with the handles up, or under a desk, with the handles folded down. It's your choice!
With the handles down it functions as an under the desk walking treadmill, but with the handles up, you can use it to jog or run.
It can accommodate users up to 265 lbs and it can be folded and stored away when you are done using it because the treadmill itself is not too heavy.
It is quiet enough to use while working at the computer, talking on the phone or gaming, and best of all, it's not too expensive.
Pros
Up to 12 mph speed with handles up, up to 4 mph with handles down.
Compact, great for apartments and small home offices.
Folding, easy to store.
Cons
Deck is only 40 inches long.
Measure distance in kilometers.
Takeaway
The versatile, folding treadmill that you can use with a desk for walking or without a desk for running.
Rhythm Fun Under Desk Treadmill
Review: The Rhythm Fun under desk treadmill is not the cheapest treadmill in the budget category, but it is not expensive either.
For just a little more money, you get a treadmill that is quiet and smooth, goes as fast as a jogging pace, and has a reasonably long deck for a budget treadmill, so tall people will be comfortable using it.
It is well made and comes completely assembled. You will need to use the included remote to control it because the treadmill itself has no buttons and the beep indicator is quite loud. But for the price, it's hard to beat this under desk treadmill.
Pros
47 inch long running deck.
Up to 3.7 miles per hour speed.
Quiet smooth operation.
Cons
Max user weight of only 220 lbs.
Takeaway
The perfect balance between affordable and functional, a well-built treadmill at a fair price. My choice for best desk treadmill of 2021 in the budget price range.
3 Specialized Standing Desks for Your Under Desk Treadmill
Crank Adjustable Height Standing Desk
Review: This simple rectangular Gloss black desk adds a stylish touch to the office.
Adjustment style: hand crank adjustment.
Pros
45.25" max desk height (add your treadmill deck height to determine the right fit for you).
Large, sturdy casters make the desk very easy to move.
Desktop can accommodate 75 lb of work gear.
50" wide to accommodate a treadmill easily.
Cons
Not great for users over 6'1".
Takeaway
A beautiful, well built, roomy desk for a desk treadmill.
ApexDesk Elite Series Standing Desk
Review: This Apex desk adjusts electronically, has a max height of 48" to accommodate a treadmill, and has a 220 lb capacity for your computer monitor and other work equiptment.
Adjustment style: electronic.
Pros
Desk surface holds 220 lbs of work gear.
Adjusts for sitting, standing and treadmill use.
Ergonomically shaped desktop has a slight curve so users can sit farther in.
Height adjustment has programmable memory so you can switch from sitting, to standing with the push of a button.
Cons
When paired with a treadmill, will accommodate users up to 6'1".
Takeaway
Finely crafted, programmable adjustment and rock-solid construction make this treadmill desk the best treadmill desk in the mid-range price range.
Pneumatic Adjustable Height Standing Desk
Review: This value-priced standing desk from Stand Up Desk Store adjusts to a max height of 44.5" allowing room for a treadmill.
Adjustment style: pneumatic adjustment.
Pros
Adjusts from 27.5 " to 44.5' for sitting, standing and treadmill use.
Desktop holds up to 150 lbs (Note, pneumatics lift only 35 lbs, so you may need to reduce load before lifting).
Smooth, under desk, height adjustment lever.
Excellent price.
Sturdy construction.
Cons
Not tall enough for treadmill users over 6'.
Takeaway
A sharp alternative to much more expensive desks. One of the best walking desks at a value price.
Why get a Treadmill Desk? Benefits of an Under Desk Treadmill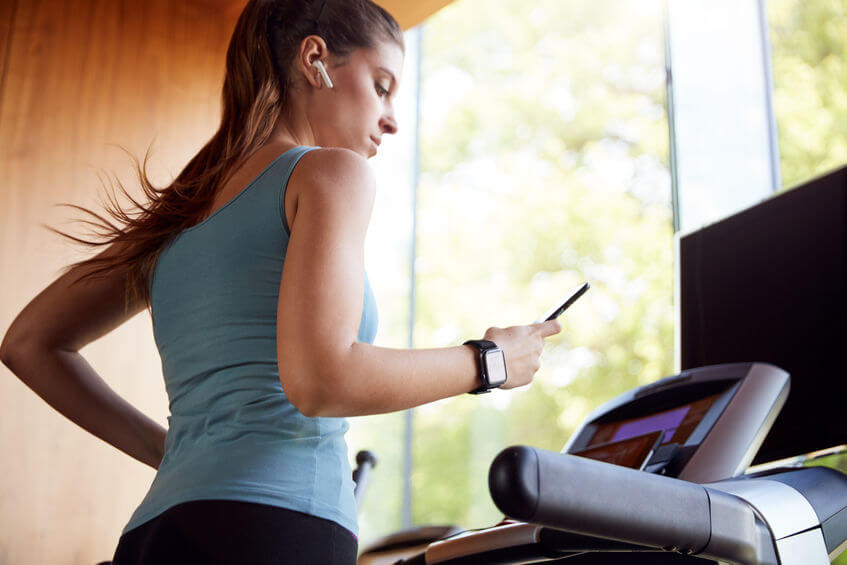 Sitting is the new smoking!
This radical claim is being made by some doctors and other health care professionals.
While the claim seems extreme, it is not unfounded. Recent studies show that both high activity level and low leisure-time sitting are the MOST beneficial for lowering the risk of obesity and metabolic diseases like diabetes.
In other words, you must stay active in between workouts to reap the most benefits.
One way to stay active, get work done, save time and improve your health is by using the best treadmill desk.
So Many to Choose From!
The choices and configuration options for treadmill desks are numerous so we plan to explain the options available to you.
We will also show you what to look out for before selecting the best desk treadmill and review all in one solutions, treadmills and the best walking desks.
How are Desk Treadmills Different from Treadmills at the Gym?
Motor – the best treadmill for standing desks have a stronger motor than a treadmill at the gym.
That sounds counter-intuitive, right?
However, walking puts far more stress on a treadmill than running. That is why desk treadmills are designed with higher torque motors.
If you use a regular treadmill at the desk you may find yourself replacing the treadmill far before you intended.
Handles – Since desk treadmills go under the desk, the handles on a standard treadmill get in the way.
Desk treadmills have no handles or the handles are integrated into the desk, for some all in one units.
Low Profile – The best treadmill for walking desk are built with height in mind, and sit lower to the ground than most standard treadmills. Lower height decks need lower height desks.
How do I Choose the Best Treadmill Desk or Under Desk Treadmill?
You have two options:
All in one solution – desk attached to treadmill.
Pros
The desk and treadmill are one unit, no need to shop for two pieces.
Usually less expensive than buying both components separately.
Cons
The desk on all in one units is generally smaller, and has less adjustment than stand alone.
The desk on an all in one unit is often not as stable as stand-alone desks.
Buy treadmill and desk separately
Pros
There are a large variety of standing desks so you have more choices, such as ergonomically shaped desks, desks with special keyboard trays, larger or wider desks and so on.
Stand-alone desks are generally larger and sturdier.
Stand-alone desks often have either crank or electric adjustments and are easy to adjust.
Stand-alone desks often have a wide adjustment range, meaning the desk allows for sitting, standing or treadmill use.
With stand-alone desks you can move the treadmill out of the way and stand, or sit.
Cons
Buying a desk and treadmill separately is usually a bit more expensive.
One Important Note:
Whichever option you choose you need to find out if the desk adjusts to your standing height, plus the height of the treadmill desk.
What Features Should I Look for in an Under Desk Treadmill?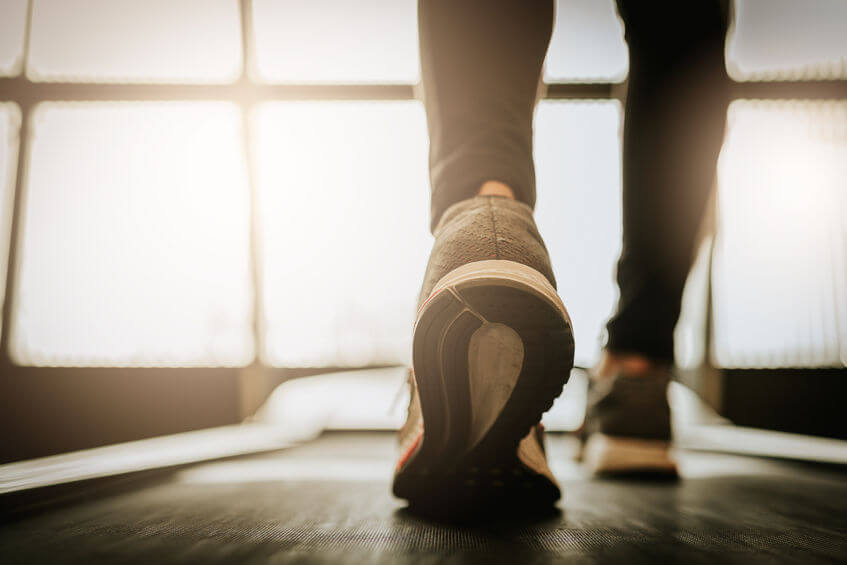 Max User Weight
This is your weight. We have seen treadmill desks that have a max user weight capacity of between 220 to 400 lbs.
I listed maximum user weights in the reviews above.
Noise – How Quiet is the Under Desk Treadmill
If you have ever used a treadmill at the gym you probably noticed that treadmills can be a little noisy.
Under desk treadmills are designed to be much quieter, but as with most things in life, the more money you are willing to shell out, the quieter they will be.
Higher-end stand-alone treadmills designed for treadmill desks are super quiet, especially compared to the gym models.
Max Treadmill Speed
An under desk treadmill should not have a max speed higher than 4 miles per hour because it would not be safe to work and move at the same time at a pace higher than 4 miles per hour.
In fact, the "average" walking pace is 3.1 miles per hour, and its safest to use an under desk treadmill at walking speeds.
Most people who benefit from an under desk treadmill use a speed of between 1.5 to 2 miles per hour. It may not seem very fast, but it keeps you moving and the calories and health benefits add up.
What Features Should I Look for in a Treadmill Desk?
Height Adjustment Range
When standing on a treadmill at your treadmill desk, your hands should be able to rest on the desk or keyboard at a level just below your elbows.
A desk that will not lower or raise enough to accommodate this position may cause problems.
Desktop Capacity
This is how much the desk can safely hold. It ranges from 50 lbs up to 220 lbs.
Consider the work equipment you plan to place on the desk so you know if the solution you choose will work with your equipment.
Lifting Capacity
Stand-alone desks have a crank, electric or pneumatic lifting mechanism that has its own weight max, apart from the actual desk top.
It can vary quite a bit, from 35 lbs to 220 lbs. For the lower weight capacity, you may need to remove equipment to adjust.
The best walking desk models usually lift more weight.
Electric vs Crank vs Pneumatic Desk
This applies to stand-alone desks.
Electric Lift desks are more expensive, but they are also faster, quieter, lift more weight and require no manual work.
Crank lift desks are less expensive, but require you to crank a handle to lift the desk, similar to the handle used to roll your car windows up, back in the day.
Pneumatic lift desks use air pressure to lift the desk.
This is nice but…
Pneumatic lift desks generally only lift about 35 lbs, so you may need to clear your desk off first. This style is also very economical.
Treadmill Desk FAQ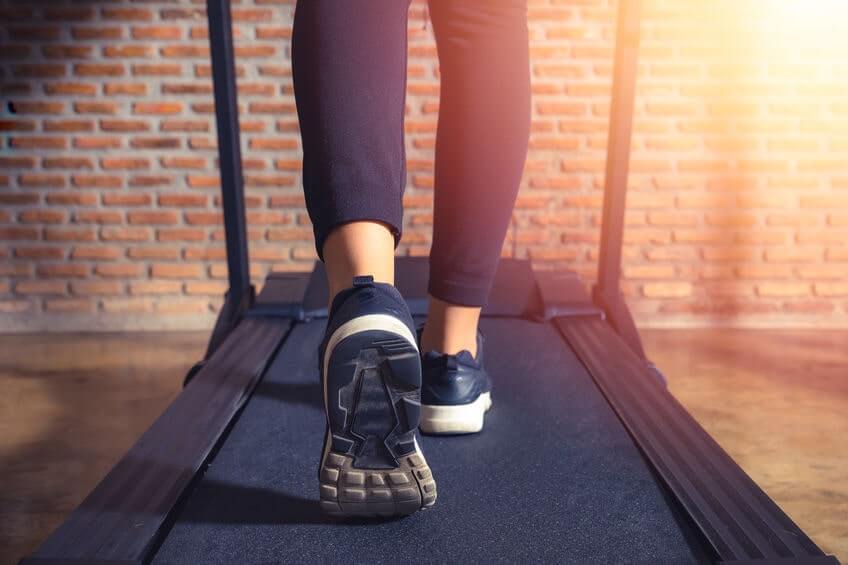 Can You Run on a Desk Treadmill?
Most under desk treadmills are designed for walking and light jogging.
The reason?
It's hard to work, type or use a mouse and run at the same time!
A steady, even walking pace is what most people can manage while working.
That's why most treadmill desks max out around 3.5 to 4 miles per hour top speed. In fact, most folks have a hard time working and walking at a pace faster than 2 miles per hour.
There are a few exceptions. The budget-priced GoPlus 2 in 1 Folding Treadmill has a folding handlebar. When the handlebar is up, the top speed is 12 miles per hour, a fast running pace. When the handlebar is folded down, so it can be used under a desk, the top speed is limited to 4 miles per hour, for walking.
If you are looking for a running treadmill, check out this list I created of the best running treadmills available.
Are Desk Treadmills Worth it?
Yes.
They can improve your health, mood, help you lose weight, may ease back pain and just make you feel better in general.
Even though 1.5 to 2 miles per hour may not feel like much, the time and calories burned add up.
This 1 year trial of a treadmill desk intervention concluded after the year was finished that "Access to treadmill desks may improve the health of office workers without affecting work performance"
Plus…
Plenty of antidotal reports mention significant weight loss over time from making the switch from a chair to a treadmill.
If you are looking to improve your health, walking is a proven way to stay in shape. Check out this list of the best treadmills for walking and stay on top of your fitness goals.
Are Treadmill Desks Safe?
Absolutely!
Under desk treadmills are designed to go at a walking pace, and most max out at 3.75 miles per hour.
The average user goes anywhere from 1.5 to 2 miles per hour.
In fact, treadmill desks are so safe that major corporations and governments use treadmill desks to improve the health and wellbeing of employees.
Just be sure, before you get a treadmill for under your desk, that
You never try to work and walk faster than 3.75 miles per hour
You slow the treadmill to a stop before disembarking
You do not use the treadmill at an incline (true under desk treadmills do not incline)
The treadmill deck has a white safety mark to visually indicate if the belt is moving or not
In my estimation, the benefit to your health and wellbeing far outweigh the potential danger of using a treadmill desk.
If you want a solution that keeps you moving without the risk of standing up or walking, you might consider an under desk cycle. They also burn calories and keep you moving to improve health. I carefully curated this list of the best under desk bikes. Check them out!
What is the Best Treadmill Desk?
I have a few favorite treadmill desks.
The LifeSpan TR1200-DT3 is my favorite. LifeSpan is a trusted name in the fitness space, and while this treadmill is not cheap, it is not the most expensive one out their either. It is the best-selling, top-rated under desk treadmill because it is sturdy, long-lasting, has a long, 50 inch belt, hold riders up to 350 lbs and is very quiet.
If you are on a budget, I recommend the Rhythm Fun Under Desk Treadmill. It's not too expensive and has a reasonably long deck of 47 inches. It is also very quiet, but only accommodates folks up to 220 lbs.
Wrap up
Don't put it off any longer. The treadmill desk is an excellent solution to solve the time crunch issues common to us all.
Work and workout at the same time.
Order the best treadmill desk for you today!
If you love gym gear and fitness reviews, sign up for the Garage Gym Power newsletter and we will notify you when new reviews come out.

Latest posts by Michael DuBoff
(see all)