TOP 8 Best Manual Treadmills for Home Use Reviewed 2023
Love the thought of using a treadmill while watching TV, but just don't have the budget (or space) for one?
A manual treadmill could be the solution!
Manual treadmills are (usually) far less expensive and take up way less space than their motorized counterparts.
In this article, I will list my top 8 picks for the best manual treadmills of 2023 for home use, and then explain what a manual treadmill is, how they operate, and how they may just be the best choice you can make for sustained indoor fitness on a budget.
TOP 8 Best Manual Treadmills 2023
Exerpeutic 100XL Manual Treadmill
Exerpeutic 100XL High Capacity Magnetic Resistance Manual Treadmill with Heart Pulse System
Tested up to 325lbs of user weight
Twin 6" diameter flywheels provide a smoother and more consistent workout unlike other single flywheel manual treadmills
Heart pulse pads allows the user to measure target heart rates
Wider and longer than most other manual treadmills available, providing benefits that only electric treadmills provide
Extra long safety handles are more than 2X the length of other typical treadmill handles, provide walking security and preventing any loss of balance
Review: The Exerpeutic magnetic manual treadmill uses magnetic resistance which works to stabilize the speed and keep movement consistent.
This treadmill includes a heart rate monitor and has an adjustable incline. Plus it folds up for easy storage.
Pros
Uses magnetic resistance.
Max weight 325 lbs.
Track is wider than most manual treadmills available.
Cons
Challenging to assemble, pieces do not always line up.
Takeaway
Best manual treadmill for home because it folds up and has a small footprint.
Fitness Reality TR3000 Manual Treadmill
Fitness Reality TR3000 Maximum Weight Capacity Manual Treadmill with 'Pacer Control' & Heart Rate System
Tested up to 325lbs of user weight. Capable of jogging and running. Heart Pulse pads allows the user to measure target heart rates
Twin 6 inch diameter flywheels provide a smoother and more consistent workout unlike other single flywheel manual treadmills
Treadmill belt is extended to 16" w x 45"L. Wider and longer than most other manual treadmills available, providing benefits that only electric treadmills provide
Pacer control' 8 level magnetic tension, provides different levels of difficulty and helps stabilize the treadmill speed for hands-free walking
Quick release incline adjustments features quick and easy 3 position Inclines of 8, 10, and 13 degrees
Review: With 8, 10 and 15 degree inclines and a full 45" long deck, this Fitness Reality treadmill will have you up and running in no time.
It has extra-long handles and an on-board LCD computer to track time, distance and heart rate. And, it's foldable.
Pros
325 lbs max weight.
Dual flywheels provide smooth ride.
45" long, longer than most.
Has magnetic resistance.
Cons
Takeaway
At 45" long, this is the best manual treadmill for running.
Weslo WLTL99315 CardioStride 3.0 Treadmill
Weslo WLTL99315 CardioStride 3.0 Treadmill
Features and Benefits. Space Saver: Folds Up--Allows for convenient storage when not in use.. Model: WLTL99315.
Incline Minimum: 15 Percent. Power Source: Battery Operated. Maximum User Weight: 250 Pounds.
Overall Footprint: 53 in x 27 in. Treadmill Running Surface Length: 41 Inches. Treadmill Running Surface Width: 17 Inches.
Weight of Machine: 48 Pounds.
Review: The Weslo 3.0 CardioStride is a very economical choice from a well-known manufacturer. There is an on-board console to track time, calories, and distance, and the deck is very low, making it easy to step on and off of. For this reason, it's easily one of the best treadmills for seniors.
Pros
41″ long belt, good for walking, plus 17″ wide, one of the widest available.
Deck folds for storage.
Accommodates up to 250 lbs.
Cons
The belt tends to shift from the center while using it.
Takeaway
This Weslo CardioStride 3.0 could be the best manual treadmill for walking and is one of the best manual treadmills for seniors.
ProGear 190 Manual Treadmill
Sale
ProGear 190 Manual Treadmill with 2 Level Incline and Twin Flywheels
Tested up to 230lbs of user weight
Steel Frame with powder coated finish, Wide side rails for safety
Oversized belt rollers provide a very smooth and consistent walking experience
Incline adjustments feature quick and easy 2 position incline levels of 6 and 10 degrees
Longer handles with foam grips provide for walking security and loss of balance
Review: With a 43" belt, this manual treadmill may be good for jogging, at least for people who don't have a really long stride. Since the resistance cannot be set, it tends to move pretty fast.
The unit has two incline positions and holds up to 230 lbs. It is a low price unit and as such, has pretty basic features, but for the price it is well built.
Pros
6 and 10 degree incline.
43" long belt.
Heart rate monitor.
Affordable.
Cons
No resistance adjustment.
Takeaway
Good manual treadmill for jogging for smaller users and among the best manual treadmills for the price.
SpeedFit Speedboard ProXL
SpeedFit Speedboard ProXL
Speedfit is a time-efficient, incredibly revolutionary program based on your own speed. discover the most satisfying and exhilarating workout
The Speedfit system will layout a variety of 5000 personal workouts and all of this just from one simple test that takes less than 10 minutes.
Speedfit is the only fitness system that creates a standardized level of fitness based solely on your potential
Speedfit keeps the walking but eliminates the jogging from the routine and introduces short- time sprint running on the balls of your feet
SpeedFit uses more of your energy in a shorter period of time. The net result is you will burn many more calories
Review: This SpeedFit manual treadmill is the pinnacle of quality and performance when it comes to manual treadmills.
Its patented curved deck encourages runners to use the ball of their foot while running.
This treadmill is built with extreme quality and care, even the deck has built-in shock absorption that makes using this incredible unit easy on your knees and joints.
Pros
Rotates on ball bearings, needs no maintenance or spray.
On-board computer and heart rate monitor are powered using energy you generate.
Perfect for running, jogging, or walking, you easily control the speed.
Cons
Takeaway
This could be the best manual treadmill for running.
Confidence Fitness Magnetic Manual Treadmill
Review: Sturdy construction and adjustable magnetic resistance make this machine one of the best affordable manual treadmills. It's well constructed and performs reliably, with different incline options and easy storage.
Pros
8 levels of incline, with incline as low as 5%.
Fold to store, with built-in wheels to move.
On-board LCD computer tracks speed, distance, calories, odometer and time.
Cons
Takeaway
Best manual treadmill for walking for long periods of time.
StairMaster HIITMill Incline Treadmill
Review: This is a pretty unique manual treadmill. Made by StairMaster, it features farmers carry lift arms with an amazing 90 lbs. of resistance for each side. Talk about multi-tasking!
With versatile multi-position arms, you can walk or jog sideways as well as forwards, and even add a belt and walk backwards.
It is designed for HITT training and works well for speed, lateral movements and agility.
Pros
Maintenance free magnetic resistance.
Low impact padded belt.
Farmers carry arms, which use Olympic size weights for resistance.
Manual resistance is set with a simple paddle lever.
Extra wide, super stable 23'' wide deck.
Cons
Takeaway
Best manual treadmill for jogging, hill sprints, hiking, sled pulling, HIIT, you name it, this manual treadmill does it.
Sunny Health & Fitness Asuna Cardio Trainer
Sunny Health & Fitness Asuna High Performance Manual Treadmill with Heavy Duty Dual Flywheels, Tablet Holder, Incline, 440 LB Max Weight, 8 Level Resistance - 7700
PERFORMANCE: Dual flywheel design for controlled performance for quicker response with every step. 51L X 17.75W in large heavy-duty deck, designed to stand up to low - high-intensity workouts. . A static recline position of 10 degrees is optimal for building cardiovascular fitness.
DESIGN: Heavy-duty frame made with high-grade steel and a maximum weight capacity of 440 pounds. Handlebars are sweat and slip-resistant coated for a secure grip.
CONVENIENCE: Large device holder conveniently located for easy access. Storing is easy with the foldable design and no power chords to place virtually anywhere in the home. Integrated transportation wheels make moving simple and convenient.
INCLINE LEVELS: Static incline position of 6 - 10 degrees is optimal for cardiovascular fitness.
FLYWHEELS: Sweat guard covers help protect fly wheels, keeping them free of sweat and debris. Solid steel dual fly wheels for maximum velocity and minimal maintenance.
Review: This Asuna luxury manual treadmill has all the quality features you would expect from a well-built piece of equipment like the long, rubber-coated, non-slip, multi-grip handles.
It has 4 levels of incline ranging from 10 to 14 degrees and the resistance easily adjusts with a waist level adjustment knob. The unit folds neatly and easily using a soft drop system.
Pros
440 lbs weight limit.
49" track with 19" width.
Between 10 and 14 degree level of incline.
Dual flywheels control speed and make for a smooth ride.
Cons
Takeaway
Highly recommended manual treadmill for running, walking and jogging with 49" track.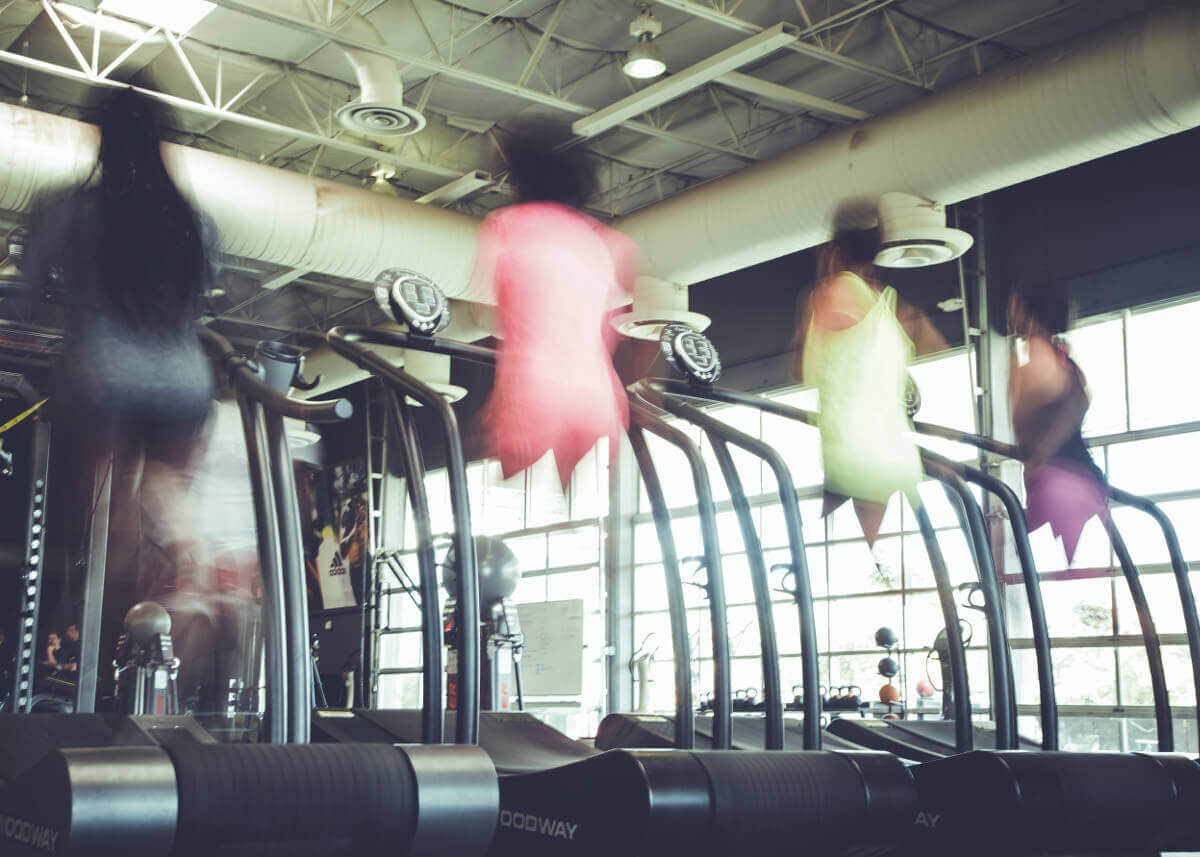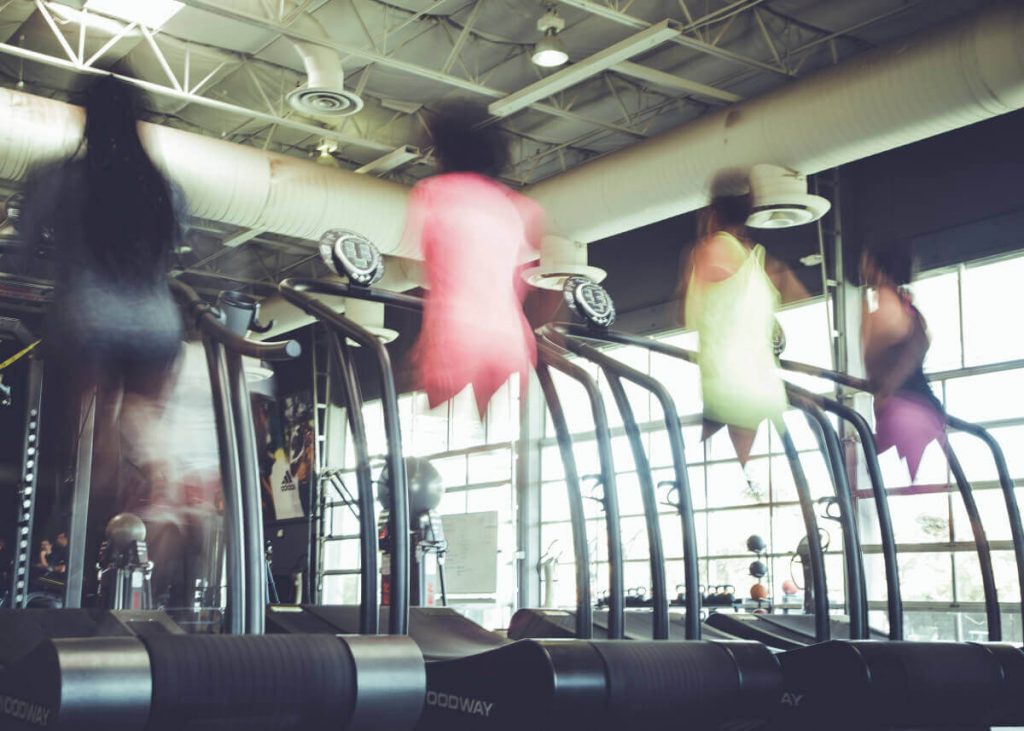 What is a Manual Treadmill?
A manual treadmill is one that you operate using your own power. It does not have an electric motor that drives the belt.
The running platform of manual treadmills sit at a bit of an incline, so your running or walking action combined with gravity, forces the belt downhill. Each time you land on the belt and then push off, your weight plus the action of pushing off, in turn pushes the belt.
The higher the incline is angled, the faster the belt moves, and this is how you end up running on a manual treadmill.
These days, magnetic resistance is also often used to add extra resistance to the belt and allow you to have a bit more control over adjusting the resistance level.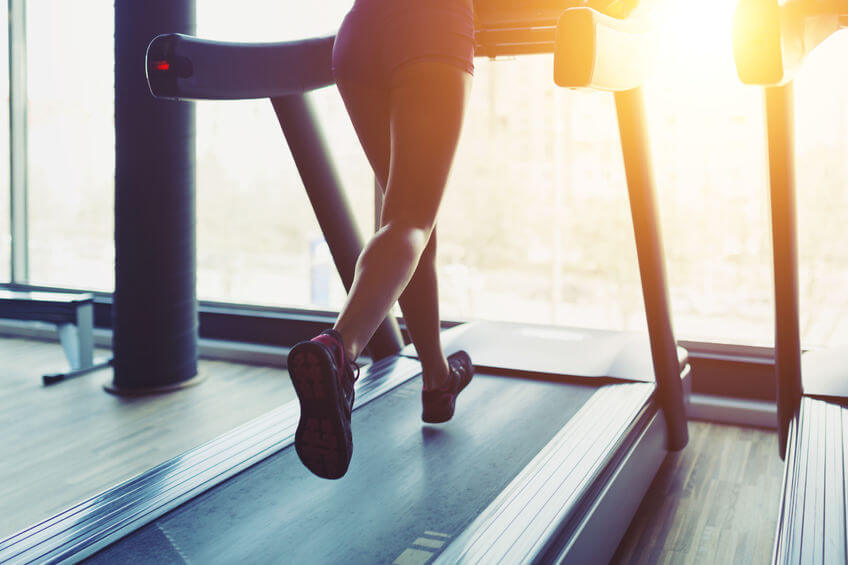 Manual vs Electric Treadmill – Which is Better? Pros & Cons
You may be debating which is right for you, or what the difference is between a manual and an electric treadmill. To lay it out visually, I have listed the pros and cons of each type.
Manual Treadmill
Pros
Less expensive.
Smaller footprint.
Technically safer, since the treadmill stops when you do.
No need to plug it in, no electricity needed.
Uses more back leg muscles, also, may be a better (harder) workout.
Less parts to break or need replacement.
Cons
May take some effort to gain momentum.
You need to get off to manually adjust the incline.
Manual incline treadmills are not able to be used when flat.
Electric Treadmill
Pros
Electric treadmills usually have a longer deck which is necessary for running.
Usually can adjust resistance and incline while walking or jogging.
Usually have on-board computers with workout routines and data display.
Can be used flat.
Cons
More expensive than manual treadmills.
Treadmill may not stop, even if you trip or fall.
Must have a place to plug it in.
Parts often need fixing or replacing at some point.
The Bottom Line
Those who opt for the manual as opposed electric treadmill usually do so for two reasons:
Price and space.
Manual treadmills save money and are usually a lot smaller and lighter than their electric counterparts.
The biggest complaint with manual treadmills is that folks were not expecting the workout to be so challenging, and on most models, the incline is fixed and cannot be made flat.
The other issue some folks had was most manual treadmills need the belt to be lubricated frequently.
But:
If you are on a budget and tight on space, you might like the option of a manual treadmill.
What Should I Look for Before Choosing a Manual Treadmill?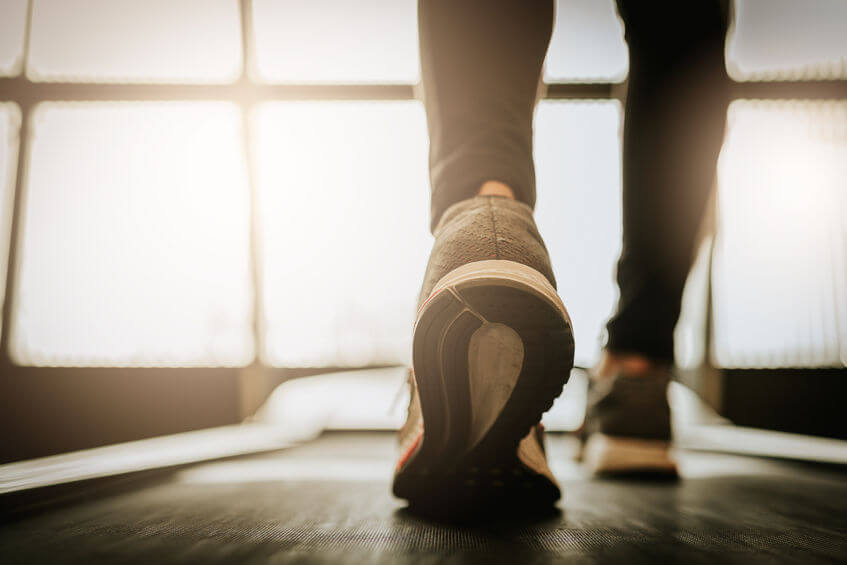 User Weight Max Limit
Maximum weight limits vary considerably among models. Of the manual treadmills we reviewed, the maximum weight for the user ranges from 220 lbs. to 440 lbs. So, you'll want to make sure you choose one that will cope with your weight.
Deck Length and Width
If you plan to jog or run, most manual treadmills are too short. There are a few that will work for running, provided the deck is longer.
Look for a deck of at least 45" in length if you plan to jog, otherwise, stick to walking.
Resistance Type
Newer manual treadmills tend to use magnetic resistance.
This style of resistance not only allows you to customize the level of difficulty you prefer, but magnetic resistance also makes for a smoother ride.
Storage and Stowage
Manual treadmills have a reputation for being the most compact treadmills available.
Many models fold up, are light enough to carry if needed, and have wheels for easy transport.
Some even fold to a height of as little as 9 inches!
Handle Length and Type
One of the biggest differences between electric vs. manual treadmills is that since manual treadmills are self-powered, it is best to hold on to the handles while using them.
This means, the style and length of the handle matters. Longer handles are more comfortable and easier to use.
Extras
Some manual treadmills have extra features you might like to have. A few have small on-board consoles that show time, calories burned, distance and more.
Others have heart rate monitors and pulse monitors built into the handle. Some have a place to store a book or tablet.
If these features are important to you, be sure to check for them before you decide.
Interested in other kinds of treadmills?
We have a guide to the best overall treadmills available right now that might help your search.
Alternatively, we've also divided them up to make it really simple!
Interested in the best treadmills for walking? We've got that sorted right here.
Tight on space and looking to prioritize treadmills that fold? We have a list of the best folding treadmills right here.
Keen on working out those glutes? What about incline treadmills? It doesn't get much more intense than walking uphill! We've got all the best incline treadmills reviewed for you right here.
FAQs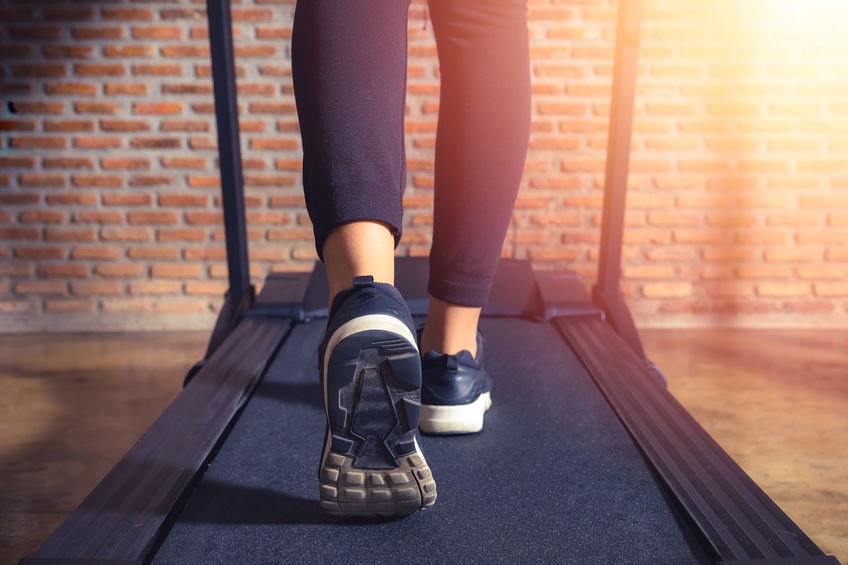 Can You Run on a Manual Treadmill?
In general, manual treadmills have a shorter deck than electric treadmills, which makes them more of a challenge to run on. You need more length for a running stride than you do for walking.
Also, it's often hard to get manual treadmills to go fast enough to run on, and by the time you do, your legs will probably be exhausted.
But, some manual treadmills are great for running, so it pays to read reviews first and see whether others have been able to run successfully.
Are Manual Treadmills Good for Walking?
Yes! Definitely! Manual treadmills are usually better suited to walking than running, but this doesn't mean that the walking is easy. Walking on a manual treadmill can still be really hard work!
How do You Use a Manual Treadmill?
Using a manual treadmill is very easy. Simply follow the manufacturer's set up instructions and set the incline to a level you are happy with (you can always change it later).
Then, take hold of the handles and carefully step up onto the belt, being aware that it will start moving as soon as you put your weight on it. Walk at your chosen speed and push downwards with your feet to get the belt moving.
Can You Lose Weight on a Manual Treadmill?
Losing weight is always a balance between your eating habits and your exercise habits. If you are eating healthy food and slowly increasing your exercise without increasing your caloric intake, you will lose weight, regardless of what kind of exercise you are doing.
SO, the answer is YES, you can definitely lose weight on a manual treadmill.
Is a Manual Treadmill Worth it?
If you are on a tight budget and appreciate the simplicity of a manual treadmill and the walking workouts you can have on it, a manual treadmill is definitely worth it.
Is Manual Treadmill Bad for Knees?
This depends on your walking/running style and whether you are wearing the right kind of shoes for your feet. If you are wearing good shoes and haven't had any problems with your knees in the past, you shouldn't have any problems using a treadmill.
That wraps up this guide to the best manual treadmills of 2023.
Think you might be interested in a different kind of cardio machine for your home gym? No sweat, we have a list of the best cardio machines for home use which make it much easier to choose the right kind of machine for you.
Have you decided to try a manual treadmill? Love them or not, we want to hear what you think!