Best Incline Treadmills & TOP 9 Incline Trainer Reviews 2019
Looking for a low impact exercise that burns as many calories as jogging?
Incline trainers and high incline treadmills just may be the answer.
Using an incline trainer or incline treadmill at low speeds with high incline simulate climbing and hiking while burning calories, building legs and glute muscles, all while being much easier on the joints than jogging or running.
I plan to show you the best incline treadmills and best incline trainers on the market today and explain the differences between these two machines.
I will show you how either of these machines can benefit you finish off with a review of the best incline trainers and treadmills you can get today.
Picture

Best Incline Treadmills

Our Rating

Available

Editors
Choice
FreeMotion i11.9 Incline Trainer
StairMaster HIITMill Self-Powered Incline Treadmill
3G Cardio Elite Runner Treadmill
Guide to the Best Incline Treadmills
What is an incline trainer? Incline trainer vs incline treadmill
An incline trainer may look like a treadmill and indeed there are many similarities, but there are also important differences too.
How an incline trainer is different from an incline treadmill
An incline trainer has a higher incline percentage than a treadmill. Incline trainers can go as high as 40% incline (nearly 22 degree incline)
Most incline treadmills max out at 15 % incline or 8 ½ degrees incline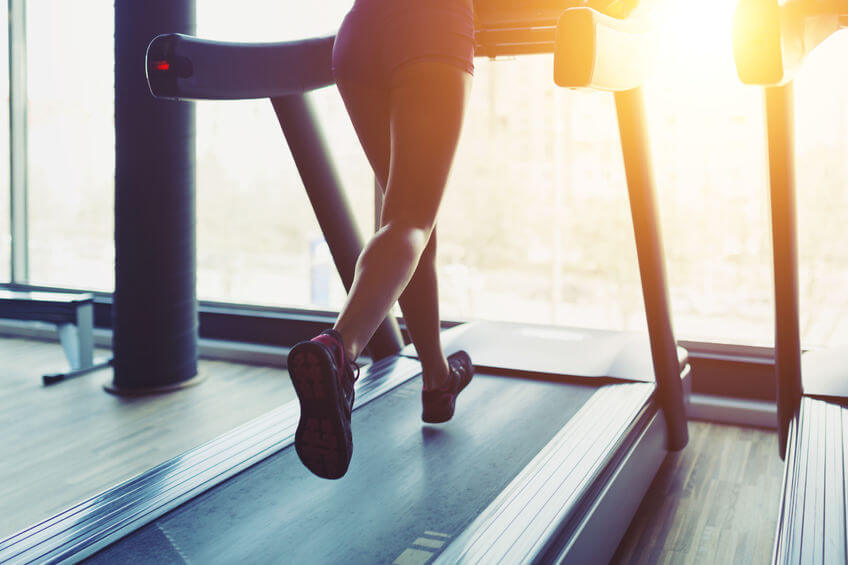 Incline percent or degree of incline?
If you have been researching incline trainers and treadmills for a while you might notice that some list the incline in degree or angle, while most others list it as a percentage.
If you want to convert the percent grade into degrees to find the angle, use this simple method.
Go to google.com
Enter "arctan(%grade / 100) in degrees" except substitute the % with whichever percent you want to convert. For example, let's say I find an incline treadmill I really like and the max incline is 12%. I want to know what the angle is so I enter this:


Hit enter and this displays:


Benefits of using incline treadmill or incline trainer?
Whether you use the highest incline setting on your treadmill, or you decide to get a true incline trainer, the benefits are similar.
Using a high incline has many benefits:
Burns more calories than walking or jogging on a level surface.
Walking or climbing the incline builds leg, calf, glutes and hamstring muscles.
Walking at an incline using a slow speed can burn just as many calories as jogging a faster speed with 0 incline.
The slower pace used with most incline training is easier on the joints and lower impact than jogging or running.
Does Incline Walking Build Butt Muscle?
Yes.
The incline itself causes the walker to use more muscle strength because they are literally using their legs to lift their body weight up the incline.
It takes more strength to move uphill than to move forward on a flat surface.
One of the primary muscles used to walk, hike or climb up an incline are your glutes, or butt muscles, so the incline can build butt muscle.
Best incline setting for treadmill
The best setting varies- literally.
To simulate outdoor running, where various inclines are usually naturally present, use a program on the treadmill that switches up the incline, such as a "hills" routine or something similar.
What is the benefit or changing up speed and incline during your workout?
Different angles engage and focus on different muscle groups.
For example, a high incline strengthens calves, quads and glutes, while a flat incline at a faster speed will improve cardio and aerobic endurance.
I say, switch things up to get the most out of your incline treadmill or trainer.
What Keep in Mind before Buying an Incline Treadmill or Trainer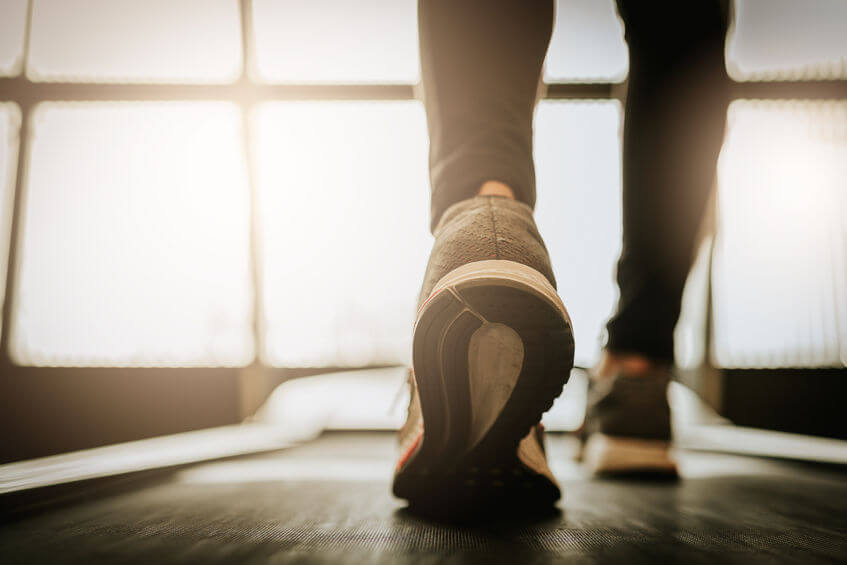 Incline percentage
If you want to use the treadmill to build calves, quads and glutes, you will need one that inclines.
All the inclines treadmills in our list go up to at least 12%, and many go up to 15%. You can use these steep inclines at lower speeds to build muscle as you simulate hiking or climbing.
Most incline trainers have even higher inclines. Our list includes two models that incline up to 30% for a serious booty building climb.
What are your plans for the treadmill
I will tell you, the most common complaint I see regarding treadmills is the deck length.
If you are tall, or you plan to do any jogging or running, look for a longer deck length. Most of the Treadmills and trainers I reviewed have 60" long decks, which is ideal for running.
If the deck is below 55", or you happen to be really tall, you can expect to feel cramped on a shorter deck.
A weighty issue
Another complaint I hear a lot regarding treadmills is their weight and bulk.
Keep in mind, a solid sturdy treadmill will be heavy, as much as 400 to even 600 lbs, depending on the model.
While they do make lighter and more portable models, you will lose some stability if you opt for one. Just keep in mind the tradeoff you are making before you order one.
TOP 9 Best Incline Treadmill Reviews 2019
FreeMotion i11.9 Incline Trainer
Review: Freemotion is one of the few manufacturers of a true incline trainer, and their models are quite robust and well built.
You may even find a FreeMotion incline trainer at a commercial gym. This i11.9 is a home gym model but is every bit as sturdy and usable as their commercial models.
It has a remarkable 30% incline, and a beautiful color display as well as many other features you are sure to appreciate.
Pros
Up to 30% incline.
Sturdy deck and strong "lift force" up to 1500 lbs.
HD Capacitive touch displays.
One touch controls built into the handlebars.
Takeaway
I really love this incline trainer, it deserves the number one spot.
This is the best incline trainer because it is strong, durable, beautiful, so easy to use and has a very advanced HD entertainment system.
Review: This hearty Bowflex incline treadmill made my list because it has an incline of up to 15%, is great for running, and feels like a pro commercial quality treadmill.
Pros
Up to 15% incline and top speed of 12 Mph.
User weight limit of 375 lbs.
Easy to fold up with a gas shock soft drop folding system.
60" long running surface.
Cons
It's hard to find fault with this model, but if I had to pick one thing, its that the Bluetooth does not work for music, only apps.
Takeaway
Best incline treadmill 2019 due to accessible price, high incline, long running surface and easy fold-ability.
Xterra Fitness TR6.6 Folding Treadmill
Review: This reasonably priced Xterra Fitness treadmill is anything but cheap. It has a steep incline and powerful motor, plus a lot of extras you may only find on more expensive models.
Excellent choice for running!
Pros
60" long running surface.
Up to 15% incline.
3 HP motor.
Cons
Takeaway
Sturdy and solid, best incline treadmill for a serious home gym.
ProForm PRO-9000 Treadmill
Review: With a full length 60" deck, and up to 15% incline this treadmill will guarantee a challenging workout.
It is roomy, durable and stable, and would make a solid addition to your home gym.
Pros
From -3% to 15% incline.
12 mph top speed.
40 pre-loaded workouts.
Cons
Some units have had problems with the on board console.
Takeaway
A good incline treadmill for your home gym, with a decent max incline of 15% to work glutes.
3G Cardio Elite Runner Treadmill
Review: With one of the longest decks we have seen on an incline treadmill, the 62" long deck will accommodate even tall runners plus it inclines up to 15%. One of the best incline treadmill for home use.
Pros
62" long deck, great for runners and tall people.
Max user weight of 400 lbs.
4 hp motor.
Built in speakers.
Cons
Heavy and not easily portable.
Takeaway
Gym quality incline treadmill, my choice for best incline treadmill 2019.
FreeMotion Commercial Incline Trainer with Workout TV Console
Review: This commercial grade incline trainer is another excellent choice if you are looking for a true incline trainer.
It reaches an incline of 30% one of the best treadmill incline for glutes. Plus it is maintenance free, runs smoothly, and incorporates a real 10" TV with coax cable input.
Pros
Up to 30 % incline.
Commercial gym quality.
Can be used for running, climbing, walking.
Cushioned deck.
12 mph top speed.
Cons
The unit is heavy, over 600 lbs.
Takeaway
Best incline trainer of commercial quality I found.
Note: If you want a home gym model, check out my TOP choice, the FreeMotion i11.9 Incline Trainer which is a newer model.
ASUNA Hi-Performance Cardio Trainer Self Powered Manual Treadmill
Review: This cardio trainer is a manual treadmill that goes up to 14 degree incline to work the glutes and leg muscles more intensely than lower inclines do.
This unit is manual, meaning it operates using body weight that is countered by the resistance mechanism, so you can control how fast or slow the belt moves.
It is also more affordable than motorized treadmills and there is no motor to wear or break down.
Pros
Up to 14" incline.
Resistance is easily adjustable so you can slow down or speed up at the push of a lever.
Manual treadmill, quiet, affordable, no electric or motorized parts.
Cons
Takeaway
I like that you can adjust the incline to 14% and slow down the deck speed for a true hiking/climbing simulation.
StairMaster HIITMill Self-Powered Incline Treadmill
Review: This HIIT mill is a beast in its own right. Not only does it sit at a fixed 11 % incline to really work legs and glutes, but it can be used for pushing, pulling, running, agility and lifting.
This machine is amazing and even replaces the sled you may be using in your gym.
This is a manual machine with magnetic resistance so you control how fast or slow you want the belt to move.
Pros
Cleat resistant treadmill deck for traction and durability.
Easy to adjust resistance lever with strong magnetic resistance.
Add Olympic weights to perform farmers carry with up to 90 lbs on each side.
Can adjust treadmill resistance to drive and push, seriously working legs and glutes.
No motor or electric parts to wear or break.
Cons
Takeaway
You have to see it to believe it (video below). I love this Machine; it works so many muscle groups, including legs and glutes.
Review: This affordable treadmill by well known manufacturer Nautilus has a max incline of 12% with a 12 mph top speed.
It folds up to take up less space when not in use and has a decent length 55" deck.
Pros
12 degree max incline plus 12 mph top speed.
Accessible price for an inclining treadmill.
Easily folds up with soft drop folding system.
Cons
The fan is weak and speaker quality is not great.
Takeaway
Best incline treadmill under 1000 dollars.
If I were to buy an incline trainer for my home, it would be the FreeMotion i11.9 Incline Trainer without question.
What incline trainer or incline treadmill are you planning to get?
Drop me a line in the comments below and let me know.