Guide to the Best Stepper Machines with TOP 10 Reviews 2020
What is a great workout machine that you are not using?
The Stair Stepping machine!
Why are you not using it?
Maybe you belong to a gym that has one or two, but they are always occupied, usually by someone with a great figure who is very sweaty. (the stair master is an intense workout).
Maybe you never thought a stair stepping machine was a viable option for the home gym. (It actually is an option).
Picture

Best Stepper Machines

Our Rating

Available

Editors
Choice
ProForm Cardio HIIT Elliptical Trainer
StairMaster SM3 StepMill
Bowflex Max Trainer M7 Cardio Machine
Kettler Montana Stair Stepper
The stair stepper machine is not only great for Cardio, but it strengthens the leg muscles as well, sculpting the legs, behind, hips and claves. It has less impact than running and the treadmill, and works for people at all fitness levels.
If you want to explore the benefits of this rear shaping cardio option, keep reading.
I am going to explain just how stair stepping machines will benefit you and review 10 of the hottest, best stepper machines available in 2020.
First Things First, What is a Stair Stepper Machine?
A stair stepper machine is essentially a cardio machine, designed to mimic the action of climbing stairs.
Target muscles of the stair stepper are:
Quads
Glutes
Hamstrings
Calves
There are three general styles of stair stepper machines.
Rotating or revolving stepmills – Stairmasters are famous for have revolving stairs that move around and around as you step. They look like traditional steps, except they move down and around as you step up.
Vertical motion Pedal Steppers – This type of stepper is usually less expensive than the revolving staircase designs. The steps move up and down, as you step. They are designed to keep in contact with your foot at all times.
Hybrid machines – there are several step machines that have pedals, like the vertical step machine, but follow an elliptical, or oval, path as you move. These machines often have arm handles that move and bear some resistance as well, giving a full body workout.
What are the Benefits of the Best Stepper Machines Compared to other Cardio Machines?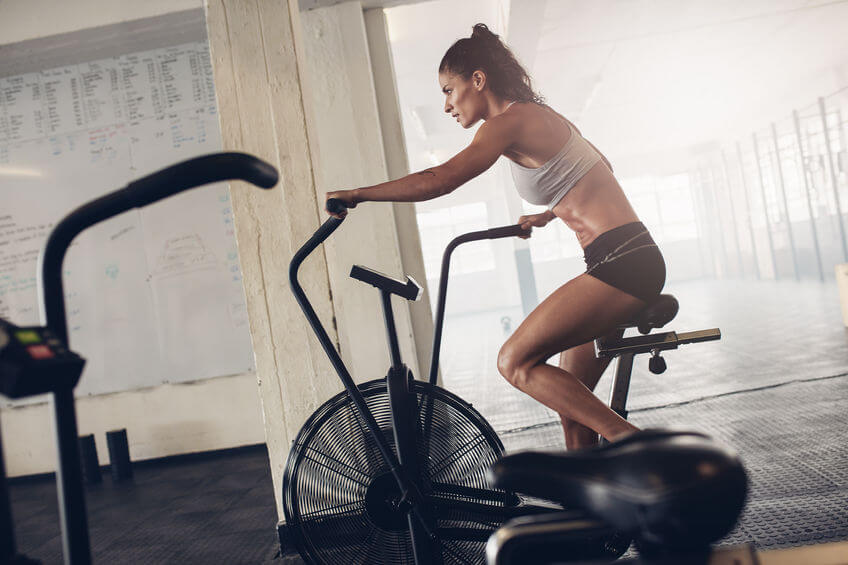 Shaping, toning, building leg muscles
The stair stepper is special among cardio machines. It is able to give an aerobic workout, with a strength training workout for the legs.
This works to build muscle, shaping the butt, thighs and calves into the sexy body you want.
You may not realize, but there are several ways to use the revolving Stairmaster to work various muscles.
You can work the inner thighs by stepping up sideways. Face backwards and step up (slow speed, please) to work calves. To further tome the butt, try skipping a step and stepping up two at a time.
Great for home gyms
The versatility of step machines makes them a good choice for a home gym.
Steppers both give an intense workout and help lose weight, as well and tone and strengthen, and several models are compact enough for a bedroom or apartment.
Some people go to the gym just to use the Stairmaster. Why travel when you can get that workout at home any time you want?
Good Cardio option for Senior Citizens
Low impact exercise just 15 minutes a day can increase life span and quality of life in senior citizens.
The Stairmaster can be adjusted to go as slow or fast as the senior can manage, and many are made with a low step up to make them easy to get on and off of.
During injury recovery
Stairmasters, and especially hybrid elliptical steppers are very low impact and easy on the joints.
One study used the Stairmaster on cyclists with knee injury and found that the Stairmaster had no negative effect, and helped the cyclists maintain fitness.
What to Pay Attention when Choosing a Stepper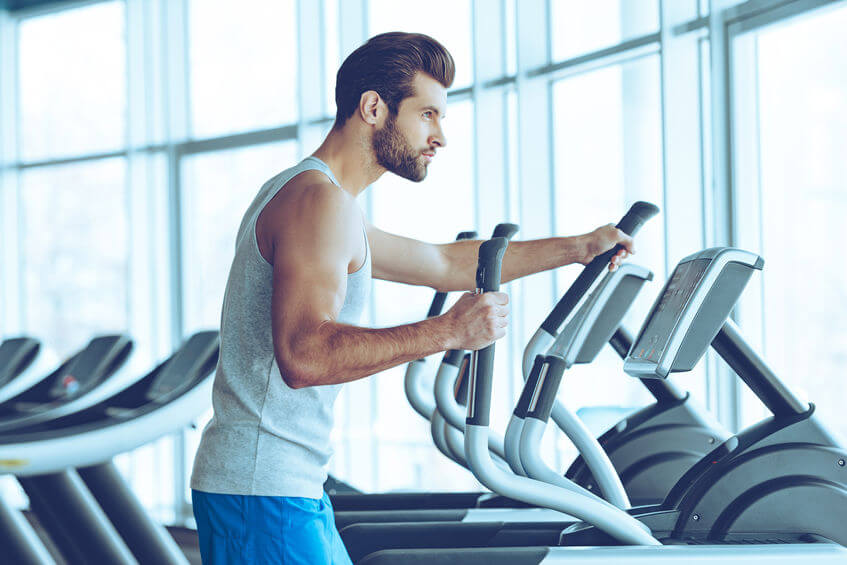 Machine Height, size and Weight
There are several machines in the reviews below that fit well in a home gym, bedroom or small apartment.
However, traditional revolving stair mills tend to be large, heavy, and tall, sometimes requiring 9 or 10 foot ceilings. Be aware of the unit size and measure your intended space before choosing the best stepper machine
Think about if you will ever need to move the unit.
Some Stairmasters weigh three or four hundrend pounds, while other stair steppers have manageable weights. In the reviews below are the best portable steppers, if you need one you can move.
Step height
Standard step height is 8", and there are those that have a height as low as 6 and as high as 12.
Decide what height you are comfortable with before deciding on a machine.
Display
Steppers vary quite a bit in the console and display. Some have simple basic displays with just workout data, while others have more involved consoles that allow you to choose different workouts, play music, upload and download data, connect to apps etc.
Stairmaster even has a unit where you can choose a console from three choices, and includes challenges like climbing the Eiffel tower.
Needless to say, the more intricate the console, the higher the price tends to be.
Note: Some steppers, like the stairmill style with revolving steps, need to be specially calibrated for use by persons weighing less than 120 lbs.
TOP 10 Stepping Machines for 2020 Reviewed
Precor CLM 835 Commercial Series Stair Climber
Review: The Precor CLM stair climber is set apart from the competition because it is self powered and requires little maintenance.
It has a smooth ride, an LCD console, heart rate monitor and ergonomic hand rails that support good posture.
Pros
Pulley system requires very little maintenance.
Built in heart rate monitor, plus polar compatible.
Console offer s 31 resistance levels and 14 different workouts.
Cons
Cup holder / book tray is on the hand rail and is awkward.
Takeaway
Simple high quality, quiet, fuss free machine. One of the best stepper exercise machines on the market today.
Jacobs Ladder StairWay GTL Ultimate Stair Climber
Review: The Jacobs ladder Stairway GTL Ultimate is a self powered revolving stair machine. Similar to the Stairmaster 7000 pt, this stair machine also has an 8" stem height and similar speed range of 25 to 160 steps per minute.
What makes this machine different is that the speed is controlled by tension on a waist belt worn by the user.
Pros
Shorter than stair masters, fits where they may not.
Self powered, or user powered, including the console.
User controls speed by how high they climb via a waist belt.
Cons
Takeaway
Best exercise stepper for the price. Less expensive than a stair master of similar quality with just about all the same features.
Bowflex Max Trainer M7 Cardio Machine
Review: If stair steppers entered a fashion contest, this Bowflex Max M7 machine would win.
It is a really sharp looking upright step machine with a backlit speedometer display on the console, two sets of handholds with built in heart rate monitor, controls within easy thumb reach, a place for keys and phone under the console and a book or tablet above.
It is obvious a lot of thought went into the aesthetics and user experience of the machine.
Pros
Small footprint, 49″ L x 30.5″ W x 65.5″ H, could feasibly fit in a bedroom.
Upper and lower body workout with resistance arm bars.
Performance targeted programming that uses your past performance and goals to fine tune your workout today.
Cons
Several users mentioned creaks and squeaks developing with use.
Takeaway
The best home stepper, with unbeatable innovation and style.
Avari Programmable Stepper
Review: The Avari Programmable step machine is one of the more affordable machines reviewed in this list. It is a simple, yet stable, quality machine.
Pros
Affordable Price.
Easily fits in a home gym or bedroom with 8' ceilings.
Motorized resistance.
12 preset programs, data display and built in heart rate monitor.
Cons
Console is touchy and challenging to use.
Takeaway
No frills step machine that capably gets the job done.
StairMaster GAUNTLET Series 8 StepMill
Review: This stair master shares the rotating staircase, 8" step height and speed range with previous stair master models.
The features that set this gauntlet apart are choice of console, novel new landmark climb challenges, a small step up installed near the floor to get up on the machine, and a 'hot bar' a hand bar with hear rate monitor, stop button, and in bar controls.
Pros
Choice of console, with special new programs.
Built in heart rate monitor and controls in the front hand bar.
Realistic stair climbing experience, electronically controlled, precise resistance.
Cons
Requires a ceiling height of 10 feet and weighs 343 lbs.
Takeaway
The latest Stairmaster with all the best features from the past, combined with new innovative console technology.
Bowflex TreadClimber TC10
Review: This affordable Tread climber by Bowflex combines treadmill, elliptical and stepper in one machine. It is closer to walking uphill than climbing steps, but it does give a decent workout.
Pros
Large numbers on the LCD display.
Cup holders, emergency stop clip on safety key.
Small and compact, shorter than a treadmill or rotating staircase stepper.
Very easy on the joints, more so than traditional steppers.
Cons
Some feel the treadmill/steps are too short.
Takeaway
As close to an uphill hike experience as you can get on a cardio machine.
Kettler Home Exercise/Fitness Equipment: Montana Stair Stepper
Review: This Kettler Stair Stepper is the best stair stepper machine in this price range.
It operates using adjustable resistance hydraulics, and has an ample sturdy hand rail, wide set feet that keep the machine stable, and an LCD console that displays basic data like total time, steps climbed, heart rate and energy consumption.
Pros
Unit includes an ear clip heart rate monitor.
Sturdy stable upright step machine.
Very affordable, but not "cheap" feeling.
Compact machine, can be used in a home gym, bedroom, even an apartment.
Cons
Some portions of the display use German, as the unit is German made.
Takeaway
Best portable stepper, quality at an excellent price.
Review: Finally, a smaller Stairmaster! This stair master is the best exercise stepper from Stairmaster that is appropriate for the home.
This machine has smaller 6" stair height, but has a similar speed range as commercial Stairmaster models.
Pros
Built in heart rate monitor on the handle.
Console displays basic data and offers several workout programs.
Far More affordable than commercial Stair Master models like the Gauntlet.
Cons
Loud.
Not as rugged as commercial machines.
Takeaway
A real Stairmaster at an accessible price, for the home.
ProForm Cardio HIIT Elliptical Trainer
Review: This ProForm is not a strict step machine, but it is still one of the best step machines reviewed.
It is a step machine with a 5" elliptical path, which actually lowers the impact on joints, while still giving a step experience. In addition to that, this stepper incorporates the arms with "punching action" arm bars.
Pros
Upper and lower body workout.
10" step up, that is 2" more than the commercial Stair Master.
Console holds a tablet on top, water bottle below and even has a built in fan.
Built in heart rate monitor in the static handles.
Cons
Users mention occasional problems with the heart rate monitor not working.
Takeaway
Best home stepper for a full body workout, with a compact footprint for home use.
StairMaster 7000 PT Stepmill
Review: The Stairmaster 7000 PT gives a realistic step experience with standard size 8" high stairs on a revolving staircase that has a step speed between 2 and 162 steps per minute.
Pros
Backlit LCD display to track workout stats and stimulating built in programs to follow.
Revolving staircase for a realistic stair climbing experience.
Book/water, accessory rack built in.
Polar compatible heart rate monitor.
Cons
The unit itself weighs 409 lbs.
Takeaway
Smooth running realistic stair climbing machine.
Remember, the best stepper machine for you is one that fits the space you have for it, is aligned with your budget, and meets your fitness goals.
There is no denying, stair stepper machines offer an intense, low impact, cardio workout that tones legs and backside and torches calories quickly.
Stair steppers are a great asset to any home gym.
Questions? We are here to help. Leave a comment below and we will get back to you.