TOP 13 Best Stepper Machines Buying Guide & Reviews 2020
The stepper machine gives you a great workout. If you are not using it, you should give it a shot!
Maybe the gym that has a few, but they are always occupied, usually by someone with a great figure who is very sweaty. (The stair master is an intense workout).
Maybe you think a stair-stepping machine is not a viable option for the home gym. (It actually is!).
The stair stepper machine is not only great for cardio, but it strengthens legs, hamstrings, glutes and claves. It has less impact than running and the treadmill, and works for people at all fitness levels.
I am going to explain just how stair-stepping machines will benefit you and review 13 of the hottest, best stepper machines of 2020.
TOP 13 Stepping Machines for 2020
Bowflex Max Trainer Series
Review: The Bowflex Max series steppers are a cut above most other steppers designed for home use. To start with, this machine is built like a tank and does not feel flimsy at all. It also works your arms and legs/glutes at the same time. Talk about efficient!
This multitasking stepper includes the Max trainer app which acts as a personal trainer to track your data, keep you motivated and offer instructional content.
Another noteworthy feature of the Bowflex Max 7 trainer is its small footprint, this is a serious workout that is great for small spaces and compact home gyms.
Pros
Compact footprint.
Exercises both upper and lower body – full-body workout.
Easy on the joints – low impact.
Includes Max Trainer app that instructs, motivates and tracks.
Cons
The stride may feel short to really tall folks.
Takeaway
Best stepper machine of 2020 for home gyms. It's compact, powerful, delivers a full body workout and will last a long time.
StairMaster 10G Gauntlet 10 Series Stepmill
Review: The new 10G by StairMaster is no joke. It is more than a standard stair stepper. This unit is designed to give you a tough HIIT workout that simulates Sled Push and Farmers carry exercises, along with the standard stepping motion.
The handles on the 10G are unlike any you have ever seen on any stepper. They allow three different hand positions and are designed to allow push movements like the farmers carry and sled pull.
The unique drive train allows you to feel like you are carrying a load upstairs, giving your legs some resistance training. The 10G is also an excellent cardio machine and the stairs can be quite fast, up to 190 steps per minute.
Pros
Drive train allows for pushing movement.
Versatile, multi-grip and multi-level handrails.
Largest step surface with the lowest step height.
Cons
Pricy and large, weighs over 600 lbs.
Takeaway
If you want the best of the best, and the most intense StairMaster workout there is, the top-quality 10G is it.
Review: The SteelFlex is a commercial grade stepper at a great price. It's not as fancy as the brand name steppers, but it will give you a great workout all the same.
It has a small display and preprogrammed workouts to keep your workout challenging and give you the feedback you need during your routine.
It has an integrated HR monitor and water bottle holder, 16 levels of magnetic resistance, and self generates its own power, so no need to plug it in.
Pros
Generates its own power.
Integrated heart rate monitor.
High max user weight of 400 lbs.
Commercial quality at a reasonable price.
Cons
Takeaway
The best affordable commercial grade stepper you can get for the money. Simple and durable.
Review: The Sole climber is a unique stepper that integrates stepping and climbing using both arms and legs, so your whole body is challenged.
The handles can be adjusted in different orientations that allow you to work arm muscles from different angles.
It is far more sturdy and secure than the cheaper as seen on TV climbers, and it will last longer too.
It has an integrated tablet holder above a basic data readout screen, so you can monitor your stats while viewing your favorite media on your tablet.
Pros
Adjustable handles to accommodate users of all heights.
Increase or decrease resistance at the turn of a dial.
Tablet and cup holder.
Cons
LCD screen and workouts are pretty basic.
Takeaway
A sturdy and stable stepper and climber in one for a whole body workout you feel safe using.
If you like the idea of a stepper with a combined arm workout, maybe a vertical climber is the right choice for you. I created a list and reviewed the best vertical climbers here.
StairMaster 8 FreeClimber
Review: The StairMaster 8 Freeclimber is one of the highest quality steppers you can get. This step style is preferred by some because, unlike the revolving staircase style, the step style allows you to keep your feet firmly planted on each pedal.
This High-quality stepper has all the creature comforts you need to push through a tough workout, including a full-color LCD screen with OpenHub, cup holders and an electronically controlled step decent.
It is plenty fast for most athletes, at 174 steps per minute, accommodates folks up to 350 lbs and has a small footprint compared to most, so it fits small home gyms well.
Pros
20 training levels up to 174 steps per minute.
Comfortable and ergonomically correct step.
No need to lift feet off the pedal as you step.
Cons
Because it is not a revolving staircase, the faster you go, the shorter the step up.
Takeaway
Best stepper machine for home use because it's of good quality and very compact.
Sunny Health & Fitness Stair Stepper
Review: The Sunny stepper is a manual hydraulic stepper that is similar to those floor steppers you see for real cheap, but it is better than those flimsy steppers.
Why?
First of all, it has a handle you can use to keep you balanced and upright. It has a small LCD to track your fitness data and best of all, you can fold it up and store it in the closet when you are done.
This is the best stepper in the low-end budget price range.
Pros
Compact, space-saving and folding.
Affordable.
Adjustable resistance via the hydraulic cylinders.
Cons
Only holds riders up to 220 lbs.
Not ideal for riders over 6' 2" because the handles are not tall enough.
Takeaway
Pricewise it's a cheap stepper that gets the job done with reasonable quality for the money, for those on a tight budget.
If you have been considering a mini stepper for your home, or as a supplement to your training regimen, be careful what you choose. There are a lot of duds out there. Take a look at this list I put together of the best mini steppers available and pick up a good quality mini stepper that will not disappoint.
Body Power 2-in-1 Elliptical Stepper Trainer
Review: This Body Power stepper combines the movement of an elliptical trainer and stepper in one to give you a high powered, yet low impact workout.
The curve crank of the pedal means you must always apply force, and work your muscles, to keep the machine moving. No more dead spots in your pedal rotation means more calories burned
I also love that your arms are included in the action thanks to the arm cranks, and this machine is compact enough for a bedroom or small apartment, but delivers a commercial gym-quality workout.
Pros
Small, compact space-saving footprint.
Works both upper and lower body.
Curved crank means your legs are always working – more calories burned per minute.
Accommodates riders up to 250 lbs.
Cons
The quality of this machine is not on par with brand name steppers and climbers.
Takeaway
An affordable machine that works both upper and lower body and is an efficient calorie burner for compact spaces.
StairMaster Gauntlet Series 8 StepMill
Review: This StairMaster shares the rotating staircase, 8" step height and speed range with previous StairMaster StepMill models.
The features that set this gauntlet apart are choice of console, novel new landmark climb challenges, a small step up installed near the floor to get up on the machine, and a 'hot bar' a hand bar with heart rate monitor, stop button, and in bar controls.
Pros
Choice of console, with special new programs.
Built-in heart rate monitor and controls in the front hand bar.
Realistic stair climbing experience, electronically controlled, precise resistance.
Cons
Requires a ceiling height of 10 feet and weighs 343 lbs.
Takeaway
The latest StairMaster with all the best features from the past, combined with new innovative console technology.
Jacobs Ladder The Stairway GTL Stair Stepper
Review: The Jacobs Ladder Stairway GTL Cardio Stair Stepper Climber is a self-powered revolving stair machine. Similar to the Stairmaster 7000 pt, this stair machine also has an 8" step height and a similar speed range of 25 to 160 steps per minute.
This machine is self-powered and compact, you won't have to plug it in, and it fits smaller home gym spaces.
Pros
Shorter than stair masters, fits where they may not.
Self-powered, or user-powered, including the console.
Revolving staircase, very challenging and realistic.
Cons
Takeaway
Best exercise stepper for the price with a revolving staircase. Less expensive than a stair master of similar quality with just about all the same features.
Avari Programmable Stepper
Review: The Avari programmable step machine is one of the more affordable machines reviewed in this list. It is a simple, yet stable, quality machine.
Pros
Affordable price.
Easily fits in a home gym or bedroom with 8' ceilings.
Motorized resistance.
12 preset programs, data display and built-in heart rate monitor.
Cons
Console is touchy and challenging to use.
Takeaway
No frills step machine that gets the job done.
Kettler Montana Stair Stepper
Review: This Kettler stair stepper is the best stair stepper machine in this price range.
It operates using adjustable resistance hydraulics, and has an ample sturdy handrail, wide-set feet that keep the machine stable, and an LCD console that displays basic data like total time, steps climbed, heart rate and energy consumption.
Pros
Unit includes an ear clip heart rate monitor.
Sturdy stable upright step machine.
Very affordable, but not "cheap" feeling.
Compact machine, can be used in a home gym, bedroom, even an apartment.
Cons
Some portions of the display use German, as the unit is German made.
Takeaway
Best portable stepper, top quality at an excellent price.
Review: Finally, a smaller StairMaster! This stair master is the best exercise stepper from StairMaster that is appropriate for the home. It has a revolving staircase which makes for an intense workout that mimics the movement of climbing a real flight of stairs.
This machine has a smaller 6" stair height, but has a similar speed range as commercial StairMaster models.
Pros
Built-in heart rate monitor on the handle.
Console displays basic data and offers several workout programs.
Far more affordable than commercial StairMaster models like the Gauntlet.
Cons
Loud.
Not as rugged as commercial machines.
Takeaway
A real StairMaster at an accessible price, best stair climber machine for the home.
ProForm Cardio HIIT Elliptical Trainer
Review: This ProForm is not a strict step machine, but it is still one of the best step machines reviewed.
It is a step machine with a 5" elliptical path, which actually lowers the impact on joints, while still giving a step experience. In addition to that, this stepper incorporates the arms with "punching action" armbars, making it a full-body workout.
Pros
Upper and lower body workout.
10" step up, that is 2" more than the commercial StairMaster.
Console holds a tablet on top, water bottle below and even has a built-in fan.
Built-in heart rate monitor in the static handles.
Cons
Users mention occasional problems with the heart rate monitor not working.
Takeaway
Best home stepper for a full body workout, with a compact footprint for home use.
First Things First, What is a Stair Stepper Machine?
A stair stepper machine is essentially a cardio machine, designed to mimic the action of climbing stairs.
Target muscles of the stair stepper are:
Quads
Glutes
Hamstrings
Calves
There are three general styles of stair stepper machines:
Rotating or revolving stepmills – Stairmasters are famous for have revolving stairs that move around and around as you step. They look like traditional steps, except they move down and around as you step up.
Vertical motion pedal steppers – This type of stepper is usually less expensive than the revolving staircase designs. The steps move up and down, as you step. They are designed to keep in contact with your foot at all times.
Hybrid machines – there are several step machines that have pedals, like the vertical step machine, but follow an elliptical, or oval, path as you move. These machines often have arm handles that move and bear some resistance as well, giving a full-body workout.
What are the Benefits of Stepper Machines Compared to Other Cardio Machines?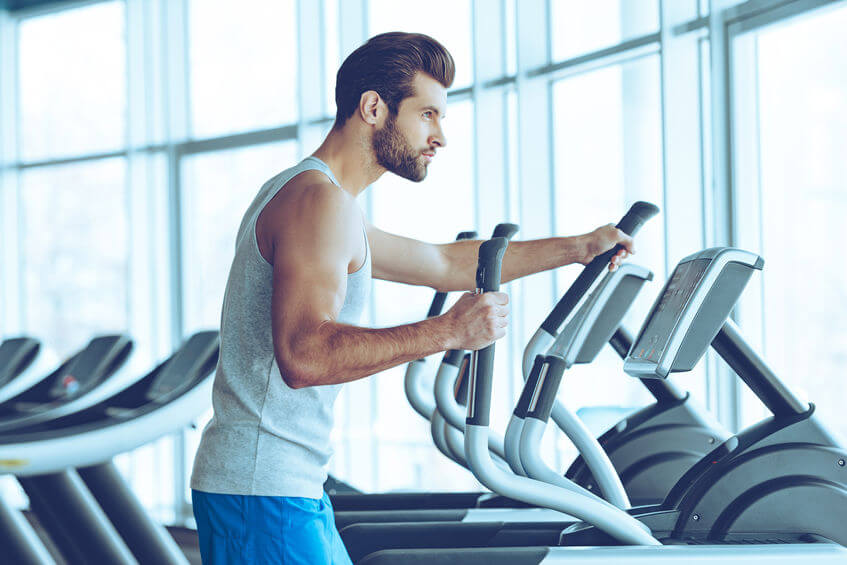 Shaping, Toning, Building Leg Muscles
The stair stepper is special among cardio machines. It is able to give an aerobic workout, with a strength training workout for the legs.
This works to build muscle, shaping the butt, thighs and calves into the sexy body you want.
You may not realize, but there are several ways to use the revolving Stairmaster to work various muscles.
You can work the inner thighs by stepping up sideways. Face backwards and step up (slow speed, please) to work calves. To further firm and shape the glute muscles, try skipping a step and stepping up two at a time.
Great for Home Gyms
The versatility of step machines makes them a good choice for a home gym.
Steppers both give an intense workout and help lose weight, as well and firm and strengthen, and several models are compact enough for a bedroom or apartment.
Some people go to the gym just to use the Stairmaster. Why travel when you can get that workout at home any time you want?
Good Cardio Option for Senior Citizens
Low impact exercise just 15 minutes a day can increase life span and quality of life in senior citizens.
The Stairmaster can be adjusted to go as slow or fast as the rider can manage, and many are made with a low step up to make them easy to get on and off of.
During Injury Recovery
Stairmasters and especially hybrid elliptical steppers are very low impact and easy on the joints.
One study used the Stairmaster on cyclists with a knee injury and found that the Stairmaster had no negative effect, and helped the cyclists maintain fitness.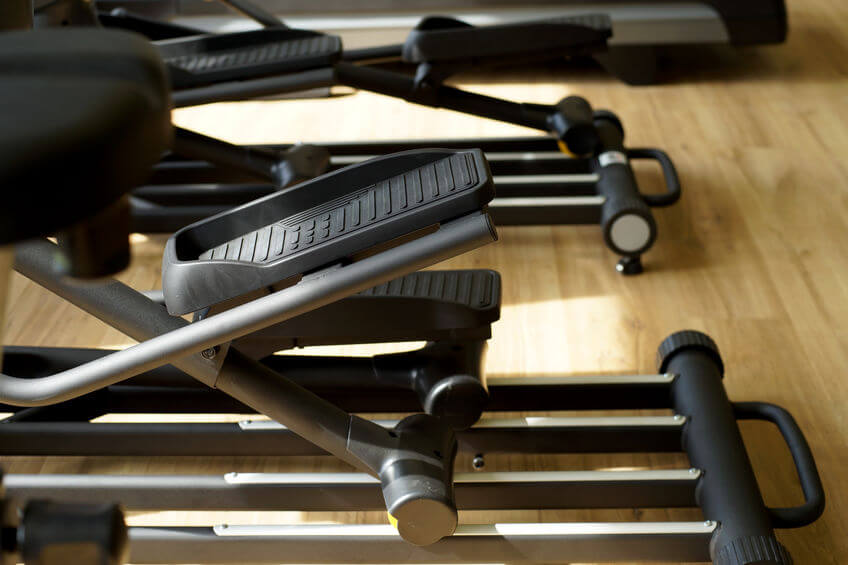 What to Pay Attention When Choosing a Stepper
There are several machines in the reviews above that fit well in a home gym, bedroom or small apartment.
Stepper Machine Height
However, traditional revolving stair mills tend to be large, heavy, and tall, sometimes requiring 9 or 10 foot ceilings. Be aware of the unit size and measure your intended space before choosing the best stepper machine
Stepper Machine Weight
Think about if you will ever need to move the unit.
Some Stairmasters weigh three or four hundred pounds, while other stair steppers have manageable weights. In the reviews above are the best portable steppers, if you need one you can move.
Step Height
Standard step height is 8", and there are those that have a height as low as 6 and as high as 12.
Decide what height you are comfortable with before deciding on a machine.
Display
Steppers vary quite a bit in the console and display. Some have simple basic displays with just workout data, while others have more involved consoles that allow you to choose different workouts, play music, upload and download data, connect to apps, etc.
Stairmaster even has a unit where you can choose a console from three choices, and includes challenges like climbing the Eiffel Tower.
Needless to say, the more intricate the console, the higher the price tends to be.
Note: Some steppers, like the StairMill style with revolving steps, need to be specially calibrated for use by persons weighing less than 120 lbs.
Stair Stepper and Stair Climber Machine FAQs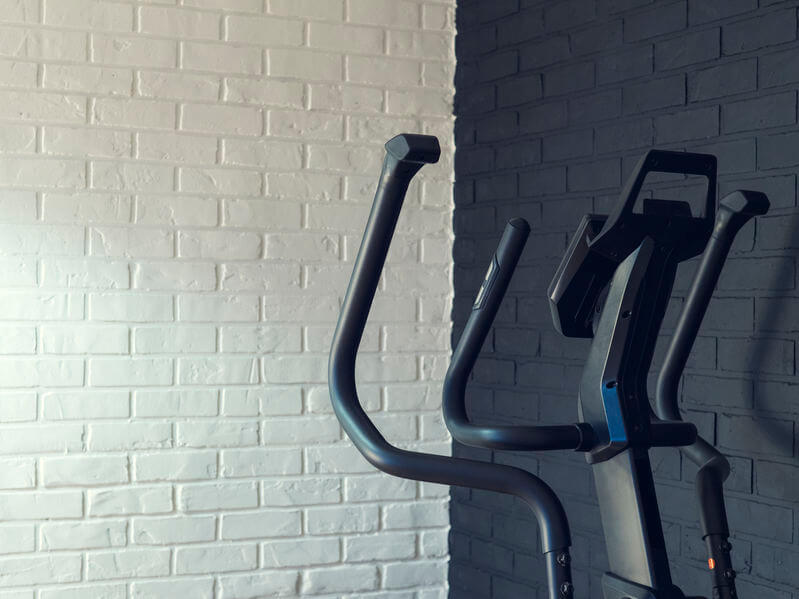 Is a Stepper as Good as Walking?
Walking is good for cardiovascular health, and certain fitness watch manufacturers would have us believe that we need at least 10,000 steps per day…
…but what is better, the stepper machine or walking?
For a 150 lb person, a moderate workout on a Stairmaster burns 260 calories. A Stepmill revolving staircase style workout at a moderate pace can burn nearly 400 calories. Not bad.
Compare that with walking at 4 mph, which only burns 160 calories. You would have to walk uphill, with a 12 lb load, to equal what you would burn on a Stairmaster.
Plus, a Stairmaster strengthens and firms the thighs, hamstrings and glutes better than walking… so there is that. Almost everyone would like a more firm, toned backside.
What's Better Treadmill or Stepper?
Essentially, using a treadmill is equal to walking or running, albeit with less stress on the joints than walking and especially running cause.
If you have bad knees, a treadmill may be a better choice, but personally I would recommend an elliptical trainer before a treadmill.
A stepper burns more calories per minute because you are using the weight of your body as resistance and the stepping up movement firms and shapes your thighs, glutes and hamstrings more than the flat motion of a treadmill.
If you like the idea of an elliptical trainer, I have a list of the best elliptical trainers here. An elliptical trainer combines the low impact benefit of a treadmill, with the strengthening and toning aspect of a stepper.
Ellipticals don't burn as many calories as steppers, but they strike a happy medium and are a good choice for those with knee, hip and joint issues.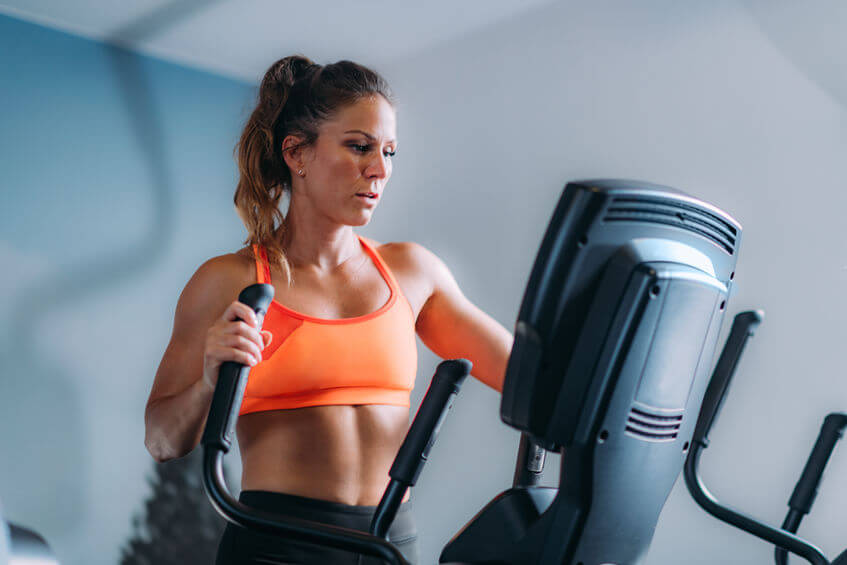 What's Better Elliptical or Stair Stepper?
Elliptical trainers and steppers each have their pros and cons.
Stepper Pros and Cons
A stepper will burn more calories, forces you to carry your body weight and push it up, repeatedly, so it builds leg and butt muscles, and it tires you out faster than just about all the other cardio machines at the gym.
The drawback to stair steppers is they can be quite challenging if you are out of shape, and they may be hard on the knees if you have bad knees.
Elliptical Trainer Pros and Cons
An elliptical trainer will be easier on the joints and knees than a stair stepper, but the workout will not be as intense as a stepper workout because you are not pushing up your body weight the same way you do when you step up.
Ellipticals, overall, give a gentler, less intense workout.
If you think an elliptical may be the best choice for you take a look at this list of elliptical trainers under $1000.
Why is Stair Stepper so Hard?
What is it about climbing a flight of stairs or going past level 4 on a Stairmaster that leaves us out of breath and gasping for air?
Even people who are trained athletes and those who are "in shape" find the stair stepper is brutal.
But why is the step machine so hard?
The reason is intensity. When you are doing any INTENSE exercise, like HIIT, sprinting, going full bore on an air bike or yes, the dreaded stair stepper machine, your body is using your ATP stores and glycogen in our muscles up fast. This energy comes from our phosphocreatine system.
Since the stair stepper machine literally forces us to push our full bodyweight up repeatedly, it uses a lot of energy.
After our body uses up the energy from the phosphocreatine system you will feel exhaustion and your body must move on to the aerobic system, which uses oxygen to create energy, hence the labored breathing.
Eventually, our bodies acclimate to the training and it gets a little easier as the workout progresses. So stick with it, and soon the stair stepper will be the cardio machine you love to hate.
Are Stair Steppers Bad for Knees?
If you use a stair climber the right way, it will not cause injury.
But…
If your knees are already hurt the stair stepper may not be the best choice for you because it can aggravate an injury or weak knee.
Why?
The stepper machine works muscles attracted to the knee and muscles that stabilize the knee.
When you step up, you activate these muscles and place stress on the knee joint itself because you place the weight of your body on the knee joint.
If the knee joint is not working properly, is injured, swollen or weak, the stress from the stepping motion will make it worse.
Is a Stepper a Good Way to Lose Weight?
Yes! The stepper, done at an intense pace is a form of HIIT exercise which burns calories long after the exercise is finished.
Steppers also burn more calories per minute than walking, elliptical and treadmill. The reason the stepper machine burns more calories is because you are lifting nearly your entire body weight up with each step. That's a decent load for just about anyone. Lifting a heavy load repeatedly uses a lot of energy and burns a lot of calories.
If your goal is to lose weight, cardio should be a regular part of your routine.
I put together this list of the best cardio machines for your home gym here, check it out.
Summary
Remember, the best stepper machine for you is one that fits the space you have for it, is within your budget, and meets your fitness goals.
There is no denying, stair stepper machines offer an intense, low impact, cardio workout that tones legs and backside and torches calories quickly.
Stair steppers are a great asset to any home gym.
Do you love home and garage gym gear?
So do we!
Sign up for the Garage Gym Power newsletter and we will let you know when new gear and equipment reviews are released.