TOP 13 Best Stepper Machines Buying Guide & Reviews 2021
The stepper machine gives you a great workout. If you are not using it, you should give it a shot!
Maybe the gym that has a few, but they are always occupied, usually by someone with a great figure who is very sweaty. (The stair master is an intense workout).
Maybe you think a stair-stepping machine is not a viable option for the home gym. (It actually is!).
The stair stepper machine is not only great for cardio, but it strengthens legs, hamstrings, glutes and claves. It has less impact than running and the treadmill, and works for people at all fitness levels.
I am going to explain just how stair-stepping machines will benefit you and review 13 of the hottest, best stepper machines of 2021.
TOP 13 Stepping Machines for 2021
First Things First, What is a Stair Stepper Machine?
A stair stepper machine is essentially a cardio machine, designed to mimic the action of climbing stairs.
Target muscles of the stair stepper are:
There are three general styles of stair stepper machines:
What are the Benefits of Stepper Machines Compared to Other Cardio Machines?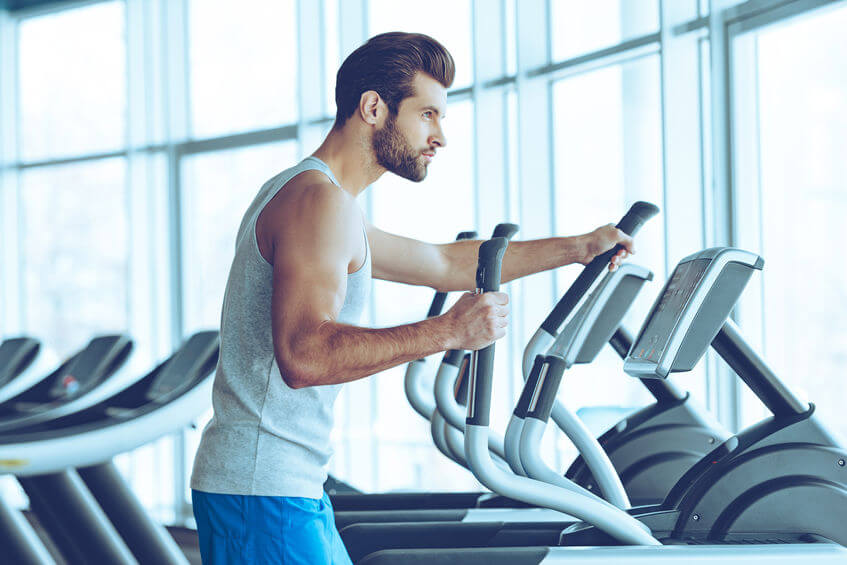 Shaping, Toning, Building Leg Muscles
The stair stepper is special among cardio machines. It is able to give an aerobic workout, with a strength training workout for the legs.
This works to build muscle, shaping the butt, thighs and calves into the sexy body you want.
You may not realize, but there are several ways to use the revolving Stairmaster to work various muscles.
You can work the inner thighs by stepping up sideways. Face backwards and step up (slow speed, please) to work calves. To further firm and shape the glute muscles, try skipping a step and stepping up two at a time.
Great for Home Gyms
The versatility of step machines makes them a good choice for a home gym.
Steppers both give an intense workout and help lose weight, as well and firm and strengthen, and several models are compact enough for a bedroom or apartment.
Some people go to the gym just to use the Stairmaster. Why travel when you can get that workout at home any time you want?
Good Cardio Option for Senior Citizens
Low impact exercise just 15 minutes a day can increase life span and quality of life in senior citizens.
The Stairmaster can be adjusted to go as slow or fast as the rider can manage, and many are made with a low step up to make them easy to get on and off of.
During Injury Recovery
Stairmasters and especially hybrid elliptical steppers are very low impact and easy on the joints.
One study used the Stairmaster on cyclists with a knee injury and found that the Stairmaster had no negative effect, and helped the cyclists maintain fitness.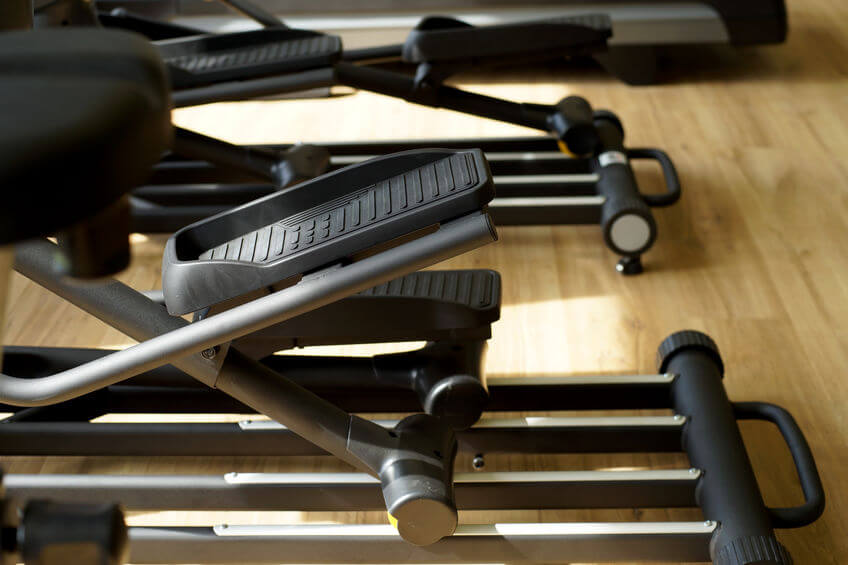 What to Pay Attention When Choosing a Stepper
There are several machines in the reviews above that fit well in a home gym, bedroom or small apartment.
Stepper Machine Height
However, traditional revolving stair mills tend to be large, heavy, and tall, sometimes requiring 9 or 10 foot ceilings. Be aware of the unit size and measure your intended space before choosing the best stepper machine
Stepper Machine Weight
Think about if you will ever need to move the unit.
Some Stairmasters weigh three or four hundred pounds, while other stair steppers have manageable weights. In the reviews above are the best portable steppers, if you need one you can move.
Step Height
Standard step height is 8", and there are those that have a height as low as 6 and as high as 12.
Decide what height you are comfortable with before deciding on a machine.
Display
Steppers vary quite a bit in the console and display. Some have simple basic displays with just workout data, while others have more involved consoles that allow you to choose different workouts, play music, upload and download data, connect to apps, etc.
Stairmaster even has a unit where you can choose a console from three choices, and includes challenges like climbing the Eiffel Tower.
Needless to say, the more intricate the console, the higher the price tends to be.
Stair Stepper and Stair Climber Machine FAQs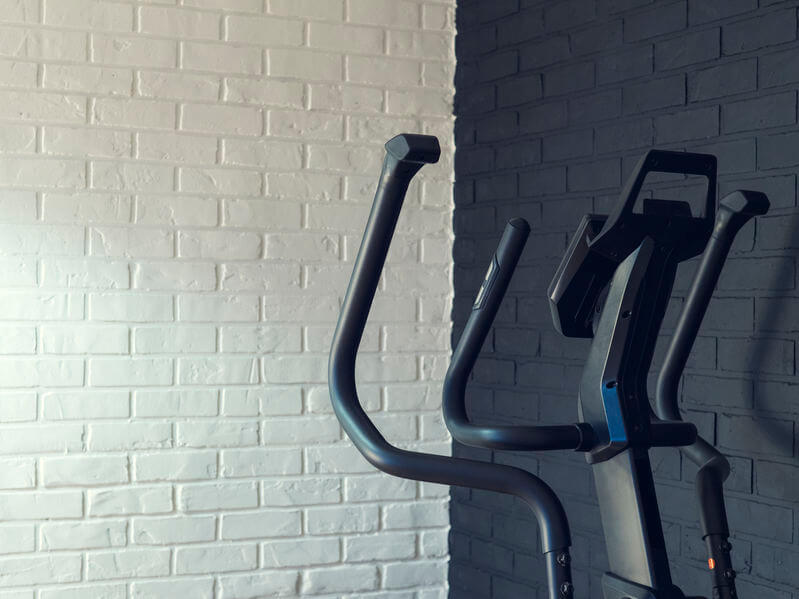 Is a Stepper as Good as Walking?
Walking is good for cardiovascular health, and certain fitness watch manufacturers would have us believe that we need at least 10,000 steps per day…
…but what is better, the stepper machine or walking?
For a 150 lb person, a moderate workout on a Stairmaster burns 260 calories. A Stepmill revolving staircase style workout at a moderate pace can burn nearly 400 calories. Not bad.
Compare that with walking at 4 mph, which only burns 160 calories. You would have to walk uphill, with a 12 lb load, to equal what you would burn on a Stairmaster.
Plus, a Stairmaster strengthens and firms the thighs, hamstrings and glutes better than walking… so there is that. Almost everyone would like a more firm, toned backside.
What's Better Treadmill or Stepper?
Essentially, using a treadmill is equal to walking or running, albeit with less stress on the joints than walking and especially running cause.
If you have bad knees, a treadmill may be a better choice, but personally I would recommend an elliptical trainer before a treadmill.
A stepper burns more calories per minute because you are using the weight of your body as resistance and the stepping up movement firms and shapes your thighs, glutes and hamstrings more than the flat motion of a treadmill.
If you like the idea of an elliptical trainer, I have a list of the best elliptical trainers here. An elliptical trainer combines the low impact benefit of a treadmill, with the strengthening and toning aspect of a stepper.
Ellipticals don't burn as many calories as steppers, but they strike a happy medium and are a good choice for those with knee, hip and joint issues.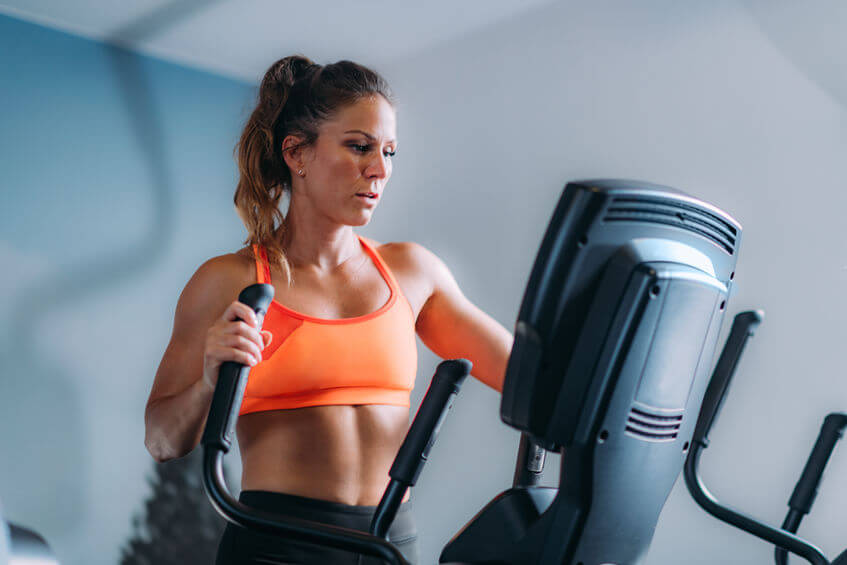 What's Better Elliptical or Stair Stepper?
Elliptical trainers and steppers each have their pros and cons.
Stepper Pros and Cons
A stepper will burn more calories, forces you to carry your body weight and push it up, repeatedly, so it builds leg and butt muscles, and it tires you out faster than just about all the other cardio machines at the gym.
The drawback to stair steppers is they can be quite challenging if you are out of shape, and they may be hard on the knees if you have bad knees.
Elliptical Trainer Pros and Cons
An elliptical trainer will be easier on the joints and knees than a stair stepper, but the workout will not be as intense as a stepper workout because you are not pushing up your body weight the same way you do when you step up.
Ellipticals, overall, give a gentler, less intense workout.
If you think an elliptical may be the best choice for you take a look at this list of elliptical trainers under $1000.
Why is Stair Stepper so Hard?
What is it about climbing a flight of stairs or going past level 4 on a Stairmaster that leaves us out of breath and gasping for air?
Even people who are trained athletes and those who are "in shape" find the stair stepper is brutal.
But why is the step machine so hard?
The reason is intensity. When you are doing any INTENSE exercise, like HIIT, sprinting, going full bore on an air bike or yes, the dreaded stair stepper machine, your body is using your ATP stores and glycogen in our muscles up fast. This energy comes from our phosphocreatine system.
Since the stair stepper machine literally forces us to push our full bodyweight up repeatedly, it uses a lot of energy.
After our body uses up the energy from the phosphocreatine system you will feel exhaustion and your body must move on to the aerobic system, which uses oxygen to create energy, hence the labored breathing.
Eventually, our bodies acclimate to the training and it gets a little easier as the workout progresses. So stick with it, and soon the stair stepper will be the cardio machine you love to hate.
Are Stair Steppers Bad for Knees?
If you use a stair climber the right way, it will not cause injury.
But…
If your knees are already hurt the stair stepper may not be the best choice for you because it can aggravate an injury or weak knee.
Why?
The stepper machine works muscles attracted to the knee and muscles that stabilize the knee.
When you step up, you activate these muscles and place stress on the knee joint itself because you place the weight of your body on the knee joint.
If the knee joint is not working properly, is injured, swollen or weak, the stress from the stepping motion will make it worse.
Is a Stepper a Good Way to Lose Weight?
Yes! The stepper, done at an intense pace is a form of HIIT exercise which burns calories long after the exercise is finished.
Steppers also burn more calories per minute than walking, elliptical and treadmill. The reason the stepper machine burns more calories is because you are lifting nearly your entire body weight up with each step. That's a decent load for just about anyone. Lifting a heavy load repeatedly uses a lot of energy and burns a lot of calories.
If your goal is to lose weight, cardio should be a regular part of your routine.
I put together this list of the best cardio machines for your home gym here, check it out.
Summary
Remember, the best stepper machine for you is one that fits the space you have for it, is within your budget, and meets your fitness goals.
There is no denying, stair stepper machines offer an intense, low impact, cardio workout that tones legs and backside and torches calories quickly.
Stair steppers are a great asset to any home gym.
Do you love home and garage gym gear?
So do we!
Sign up for the Garage Gym Power newsletter and we will let you know when new gear and equipment reviews are released.