Review
Top 15 Best Vertical Climber Machines
Products analyzed
15 Best chosen
If you are pressed for time a vertical trainer is the cardio machine for you!
If you follow LeBron James, you know he uses the Versaclimber as part of his routine to stay ballin'.
What's good for LeBron James is good for you too!
A vertical climber is a high-energy workout that burns three times as many calories as other types of cardio machines in just a fraction of the time.
If you are ready to climb your way to the top of your fitness game, choose one of these 15 best vertical climbers and get to stepping!
This is how we select and evaluate products on GGP
In this article, we review a number of popular products that we have found using in-depth research and analysis work. The products you find in the article are sold by one or more of our partners. Although these partnerships may influence the range of products in the article, our recommendations are based on an overall assessment of the product.
We evaluate and compare products in the article based on:
1

Official and impartial product tests

2

Customer reviews and opinions about the product

3

Data on user behavior and preferences

4

Specifications, characteristics, and disadvantages of the product

5

Guarantees, service, and reputation of the dealer
Apart from that, we compare the price and quality of each product and deliver our subjective assessments and recommendations to our readers. The position of the product in the list does not necessarily reflect its quality, as all the products we review are picked as the best choice for certain users.
Premium Choice
VersaClimber SM Sport Model
This commercial gym quality machine comes from the best rated vertical climber brand around, Versaclimber. This machine sets itself apart from the rest by offering a wide range step and arm width so it will fit any climber, regardless of size.
It easily accommodates up to 350 lbs while remaining secure and stable so you can grind away the steps and the calories without being preoccupied by flimsy craftsmanship – not something you can say about the cheap knockoffs.
Check Price at Rogue Fitness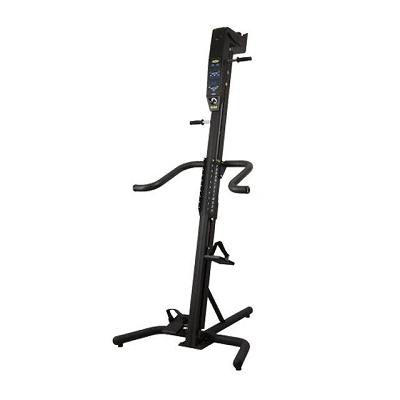 Pros and cons for VersaClimber SM Sport Model
Pros
Very sturdy and stable holds up to 350 lbs.
Bluetooth capable.
Tension adjustable up to 500 lbs.
Integrated heart rate monitor.
Commercial grade – ideal for a commercial gym or CrossFit Box.
More about VersaClimber SM Sport Model
Another feature of this particular Versaclimber is adjustable resistance. This commercial SM Sport model Versaclimber allows you to adjust resistance while other vertical climbers simply use your body weight as resistance.
If you want the best of the best, this Versaclimber SM Sport Model is it!
Editors Choice
Relife Rebuild Your Life Vertical - Climber
This popular vertical climber is on the low end of the price range, making it a great choice for beginners and those who just want to climb a few times a week.
It has neoprene coated comfort handles that adjust to your height, a stable U shaped base, and is more durable than other vertical climbers because it uses sliders instead of a wheel that can wear down easily.
Vertical Climber Exercise Machine for Home Gym with 4 Metal Guide Rails Folding Exercise Climber Cardio Workout Machine 5-Level Resistance Stair Stepper Newer Version,Easy to Assemble
💪【Newer Version Climber】Step metal plate thickening, foot support rod is thickened, spare parts of grease and foam packaging prevents parts from breaking in transit. ONE-YEAR WARRANTY on main frame, LIFE WARRANTY on all other vulnerable parts. If you have any question, please feel free to contact us through E-mail.
💪【Four Metal Guide Rails & Lubricating grease】4 Metal guide rails supporting, make it more stable and durable. The free Lubricating grease will offer you a smooth & quiet workout experience. Weight Capability is 260 LBS.
💪【Radian Design】Pedal have a little bit inclination, make the person's center of gravity close to the main, it is more stable when do exercise, will not turn to the outside.
💪【5 Levels Adjustable】Different level have different effects, you can think of it as resistance. 1-2rd levels is jogging, 3-4th is running, the 5th level is rock climbing. You can adjust it based on your own situation, easy to put together and sturdy.
💪【Folding Exercise Equipment】Adjustable design, you can put the climber in corner or under the bed. The folding size is 72*28*16.1 inch.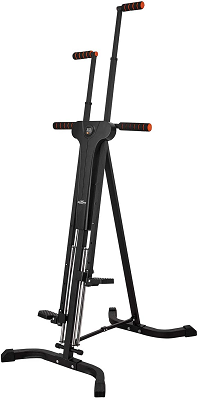 Pros and cons for Relife Rebuild Your Life Vertical
Pros
Folding model – easy to stow away.
Up to 260 lb weight limit with no problems.
Great price – a good addition to a home gym routine.
Really easy to assemble – just 4 parts to put together.
Cons
Craftsmanship – such as welds and electronics are inferior to high end models.
More about Relife Rebuild Your Life Vertical
If you are on a tight budget, this Rebuild Your Life Climber is the best vertical climber for the money.
X Factor Vertical Climber
The X Factor vertical climber is a great choice for a home gym on a budget.
If you just want to give vertical climbing a try, or plan to use it a few times a week in combination with other exercises, this is the vertical climber for you.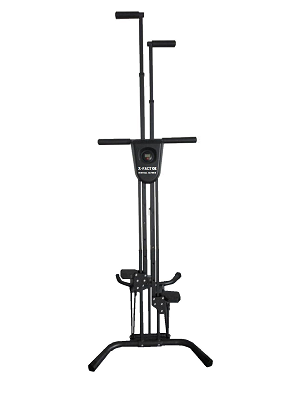 Pros and cons for X Factor Vertical Climber
Pros
Folds for easy storage, ideal for apartments and small home gyms.
Holds riders up to 250 lbs.
Very affordable.
Cons
Rollers are prone to wear.
More about X Factor Vertical Climber
A good vertical climber for a tight budget or a small home gym.
VersaClimber H/HP Consumer Model
This consumer model Versaclimber uses body weight resistance like other vertical climbers. Where it stands ahead of other models is the quality materials and build.
Versaclimber combined aircraft quality aluminum and steel to construct the frame.
Check Price at Rogue Fitness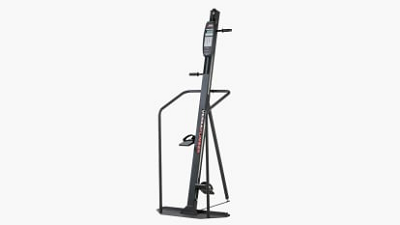 Pros and cons for VersaClimber H/HP Consumer Model
Pros
Wide flat base with integrated handles – most stable consumer model available.
Holds people up to 350 lbs.
Side handles allow you to use this climber as a stepper – two machines in one.
Cons
More expensive than other consumer models.
More about VersaClimber H/HP Consumer Model
This model has handrails built into the base for the best stability and security you can get from a vertical climber, and can be used as both a stair stepper and vertical climber depending on what you decide.
The best vertical climber machine 2022 for consumers, home and garage gyms.
VersaClimber LX Model
The Versaclimber LX features adjustable resistance, a wide step and arm movement range to accommodate all rider heights or strides, and best of all, it sits on a flat metal platform with two integrated wrap-around handles for maximum stability.
This is a commercial grade climber just like the Versaclimber SM Sport model.
Check Price at Rogue Fitness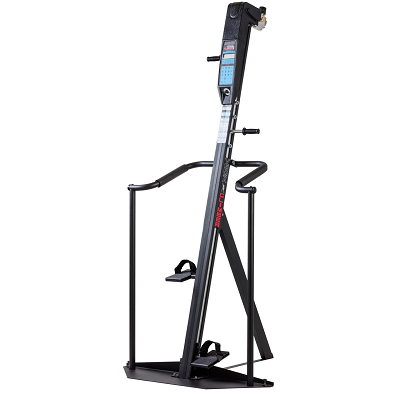 Pros and cons for VersaClimber LX Model
Pros
Holds users up to 350 lbs.
Has variable resistance – only found on commercial grade Versaclimbers.
Wide flat stable metal base.
Commercial grade.
More about VersaClimber LX Model
You may want to know what the difference is between the Versaclimber LX and the Versaclimber SM sport.
Let me lay it out here.
The SM sport model has contralateral gait, Bluetooth capability and a heart rate monitor, while the LX does not.
One of the best vertical climbers for 2022 for commercial or garage gyms.
Best Choice Products Total Body- 2-in-1 Vertical Climber
This two-in-one cardio machine is a great value. It is an exercise bike on one side and a vertical climber on the other.
The bike has 8 level adjustable magnetic resistance and a comfortable adjustable height seat.
The vertical climber has height adjustable handles and a generous 330 lb weight limit.
Best Choice Products 2-in-1 Total Body Vertical Climber Magnetic Exercise Bike Machine, Black/Gray
Vertical climber combines both cardio and strength training, allowing you to bring the gym to the comfort of your home
Designed with adjustable climbing arms and non-slip foot glides, it mimics the motions of rock climbing to engage major muscle groups for a total body workout
Crafted with a quiet, 8-level magnetic resistance, adjustable pedal straps, and a display screen that tracks: scan, speed, time, distance, and calories
Offers a low-impact cardio workout that requires very little floor space, and folds down for easy storage after your workout session
Overall Dimensions: 46"(L) x 26"(W) x 65.75"-90"(H); Weight Capacity: 330 lbs.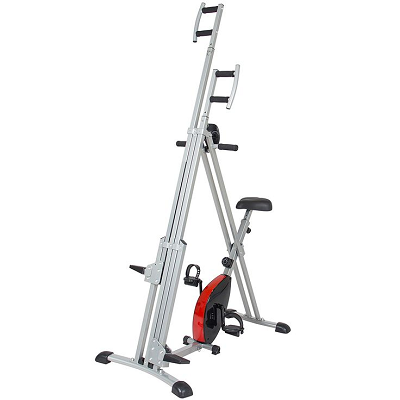 Pros and cons for Best Choice Products Total Body
Pros
Quiet operation – can exercise while watching TV.
Two machines in one, both an upright bike and vertical climber.
Adjustable resistance on the bike.
Holds up to 330 lbs.
Cons
Foot pedals are a bit small.
More about Best Choice Products Total Body
A great value, two-in-one vertical climber and bike so you can add some variety to your workout.
Conquer Vertical Climber
This is the slimmest of all the vertical climbers I know of. It is easy to put together, and easy to fold and put away if you don't want a vertical climber as a permanent part of your interior decoration.
It has adjustable handles and a max weight of 220 lbs, so it is ideal for smaller climbers and smaller spaces.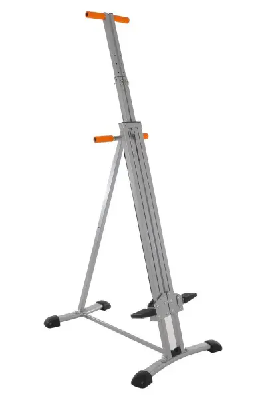 Pros and cons for Conquer Vertical Climber
Pros
Very affordable.
Folding slim profile model – ideal for small spaces.
Adjustable handles.
Cons
Chain drive makes this climber a little rough on the joints.
More about Conquer Vertical Climber
A slim, low profile, vertical climber for a small home gym or garage gym.
Ancheer Vertical Climber
The Ancheer is another budget-friendly vertical climber. I love that the handles adjust and they took the time to apply a rust and corrosion resistant coating to the alloy steel metal, so I feel like it will last.
The pedals are smallish, but if you wear good workout shoes, this is a non-issue.
ANCHEER Vertical Climber, Climber Indoor, Folding Versa Climbing Exercise Machine, Cardio Workout Machine, Compact Stair Climber, Adjustable Height with Display
✔️【Whole Body Challenge】This vertical climber machine simulates the natural climbing action of the human body to perform full-body exercise & reduce fat to reshape you body. It gives a great cardio and strength training workout by using your own body weight as resistance. A complete mountain climbing action will affect the whole body All major muscle groups, including arms, back, abdomen, buttocks and legs, it's a good helper for efficient exercise.
✔️【5 Adjustable Height】This climber machine can be adjusted according to height and exercise needs, or focus on the upper and lower body exercises. Whether beginners or advanced, both can get suitable and slightly challenging exercises, so as to ensure the appropriate amount of exercise and exercise intensity for personal.
✔️【Full Motion Data Monitoring】LCD digital monitor will record your vertical climber workout time and keep all your fitness progress like time, speed, distance, calories burned.These data can be used as you to provides an effective training plan to keep you motivated.
✔️【Complete Detail Design】The whole adopts sturdy steel alloy & triangular structure design. The non-slip module of the base will ensure your stability and safety during use. The surface of the product is coated with healthy anti-rust paint, and each handle is wrapped in rich and soft non-slip foam, which would provide a comfortable using experience.Max user weight: 350 lbs.
✔️【Easy Assembly & Storage】Comes 90% pre-assembled and contains all necessary products and tools, with concise instructions and video links to help you complete the installation. The foldable design will save your indoor place and especially suitable for home gym/office use.US Stock, back up with 30 days risk free return, 1 year guarantee on material;Any question, pls feel free to contact us and we will try to solve your problem.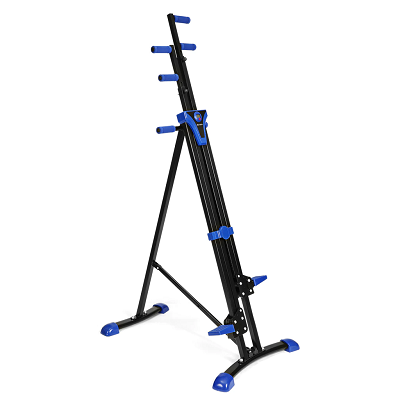 Pros and cons for Ancheer Vertical Climber
Pros
Very quiet operation.
Folds up to store.
Handles adjust for easy storage.
More about Ancheer Vertical Climber
The soft handles and attractive blue trim details are also a nice touch, but since you probably don't want it for its looks, it folds up neatly and you can scoot it under a bed or in a closet no problem.
Easy to put together and fold, with a price tag that is hard to beat.
Best Vertical Climber Machine
MaxiClimber
MaxiClimber is probably the most well-known popular brand Vertical climber. It is made for consumer use, with an accessible price point and is smooth gliding, well-crafted and sturdy.
While the MaxiClimber is not the cheapest vertical climber on the market, believe me when I say "You get what you pay for." The MaxiClimber is worth the extra you pay for it.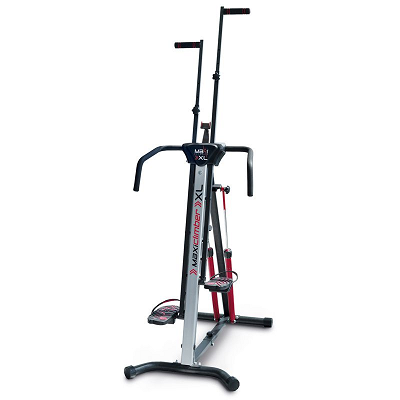 Pros and cons for MaxiClimber
Pros
Easy to assemble – package weighs less than 50 lbs.
Height adjustable to accommodate all climbers.
Foldable and space saving-easy to store away.
Cons
Only hold riders up to 240 lbs.
Rubber glider needs to be maintained to prevent wear.
More about MaxiClimber
Body Champ Leisa Hart Cardio - Vertical Stepper Climber
I love that this vertical climber has wrap around handles that are attached to the base, and a base that is wide and stable.
It is just simply better in terms of stability than most other vertical climbers out there.
It is ideal for beginners and those who need a little extra security when using a vertical climber. It is a low impact too, so you won't damage knee joints or exacerbate back pain.
Body Champ Leisa Hart Cardio Vertical Stepper Climber / Includes Assembly Video, Meal Plan Guide, Workout Video access BCR890,Gray
Total body toning: forget about stepper machines and stationary bikes. Experience a different, more effective workout that simulates the challenge of rock climbing from the comfort of your home
Exclusive bungee suspension System: our engineers designed a better, safer exercise machine to ensure safe isometric and dynamic body movement - and prevent harsh strain and damage to Knees or joints
Safety and ease: features an enhanced wide base for superior stability, full contoured support rails, solid steel pedals, non-stick handle grips, and built-in Transport wheels for easy storage
Target arms, legs, ABS & buns: by simulating the intense and demanding activity of rock climbing, build up, and tone multiple muscle groups in your arms, legs, and core - as well as your buns
A machine built to last: if you're worried about quality, don't be. We make a point of using premium quality materials and state-of-the-art manufacturing processes and strict quality control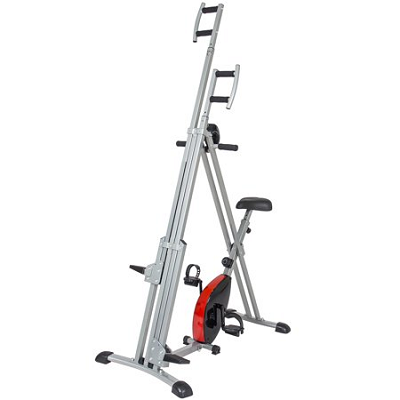 Pros and cons for Body Champ Leisa Hart Cardio
Pros
Smooth motion thanks to bungee guided resistance that eliminates jerky movement.
Wrap around handles welded to the base for added stability.
Adjustable height.
Cons
Not for really tall or heavy users (250 lb weight max).
More about Body Champ Leisa Hart Cardio
A great choice for ladies or petite folks. It's safe, secure and well built.
Merax Vertical Climber
The Merax Vertical climber uses body weight as resistance, as do most vertical climbers in this price range. The Merax is quiet and stable, and you cannot beat the price.
This particular machine is rated for climbers up to 350 lbs, considerably more than others in the same price range.
Be sure and get the 2.0 model instead of the 1.0 because the 2.0 is sturdier and holds more weight.
Vertical Climber Fitness Climbing Cardio Machine Full Total Body Workout Fitness Folding Climber 2.0 (Black)
[Intense Full Body Workout] The natural climbing motion has you working against gravity for an intense cardio workout; manipulate intensity by varying the height and length of each reach and stride targeting your legs, abs, triceps and biceps, building muscle and toning while burning fat in the process.
[Maximum Strength Steel Frame & Folding Design] Manufactured with industrial grade black steel and designed for easy folding to be stowed away in a corner or closet when not in use, saving valuable space in your home
[LCD Monitor Display] Keep track of your progress and monitor your calories burned, time, speed and distance to maintain motivation as you watch your stats improve over time
[Adjustable For All Heights] Fix the 5-gauge adjustable frame to your preferred height for a customized fit to your own height for optimum comfort while working out.
[Specifications] Weight Capacity: 350 lbs, Product dimensions: 27.2 x 35.8 x 62.4-74.8 inches (W x L x H), Folding dimensions: 27.2 x 16.5x 62.4 inches (W x L x H)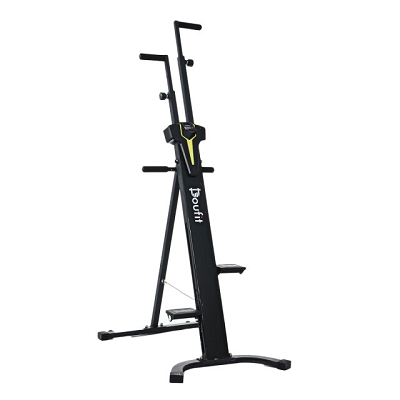 Pros and cons for Merax Vertical Climber
Pros
Holds up to 350 lbs.
Easy to fold up and store.
Wide U shaped base – climber is very stable.
Cons
Some people received climbers with dead batteries.
More about Merax Vertical Climber
Most durable vertical climber in this price range.
Popsport Vertical Climber Machine
The Popsport vertical climber is another good budget choice option. It has a reported weight limit of 440 lbs, meaning it can hold just about anyone.
This weight limit is the highest in this price range, from what I have seen.
Popsport 440LBS Climber Machine Fitness Stepper Climber Exercise Equipment Vertical Climber for Home Gym Exercise Stepper Cardio Climbing System (P8008,Black)
【Climber Machine Type】P8008;Resistance:440 lbs;Overall size: 37"x 28"x 70";Overall weight: 33 lbs;Material: Steel,PP,PVC;Sporting a reinforced pulley for extra durability
【Burning calories】This is black vertical climber.Muscle toning, and aerobic exercise in one simple step. Using the climber machine for 1 hour will result in an average of 500 calories being burned
【LCD Monitor】The climber targets leg muscles, buttocks, arms, and core muscles have digital calorie and step counter function,adjustable height
【Natural climbing exercise】Tone and shape muscles and improve your balance to build endurance and strength,keep you in peak physical performance.
【Easy to Storage】Ergonomically designed for all body types, easy-to-use. climber features adjustable height Climbing system compact folding design allows for easy storage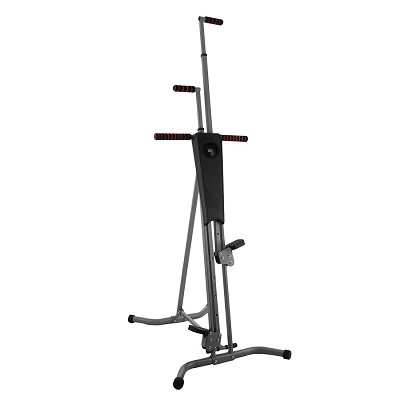 Pros and cons for Popsport Vertical Climber Machine
Pros
Holds a monstrous 440 lbs.
Great price – affordable to all.
Really lightweight – unit weighs just 35 lbs.
Cons
To fold, you must remove a screw.
More about Popsport Vertical Climber Machine
If you are looking to give vertical stepping a trial run, this stepper is a good choice.
Pexmor Upgraded Vertical Climber
The Pexmor vertical climber is one of the best vertical climber machines in this price range.
It holds up to 350 lbs and comes equipped with a tube of lubrication, which must be applied to the pistons from time to time. All vertical climbers need maintenance and this climber is no different.
While the max user weight is high, the machine is surprisingly light, at just under 40 lbs, plus it folds up, so you can move it out of the way quickly.
PEXMOR Upgraded Vertical Climber, Folding Climbing Machine for Home Gym Fitness, Stepper Climber Exercise Machine, Adjustable Height with LCD Display 2.0
√ For Whole Body Workout: PEXMOR foldable climbing machine is designed for low impact, high intense and full body workout. Users can exercise biceps, triceps, core and leg muscle at the same time. With climbing workout, users can burn more calories than treadmill in the same amount of time.
√ Durable Construction & Safety Performance: Vertical climber exercise machine with resistance is using high quality square steel tube, which designs to ensure stability when you workout. The pedal of the stair climber machine is anti-skid, which can effectively prevent you from slipping out in the course of movement, ensure the safety of use. Maximum capacity: 350 lbs.
√ 5 Adjustable Height & LCD Monitor: This steppers for exercise offers five adjustable height to ensure you getting the all-round various upper and lower body workouts. It is also safe to prevent injury for beginners. The LCD display circularly shows time, distance and calories burned during your exercise, which is very convenient during your exercise workout.
√ Easy Assembly & Folding Design: Comes 90% pre-assembled. Clear and brief instruction make it much easier to put together. Aims at easy storage and space saving, this stair stepper exercise machine can be easily folded up and put in the corner when not in use. It is not only suitable for gym, but it also can be used at home, office and other places.
√ Specifications: If you have knee problem, please follow your doctor's advice to use this machine. Product dimension: 28.7 x 37 x 59.8-75.2 inch (L x W x H), Folding dimension: 28.7 x 19.6(L x W). 30-Days money back guarantee and 2-Year warranty apply to Vertical Climber.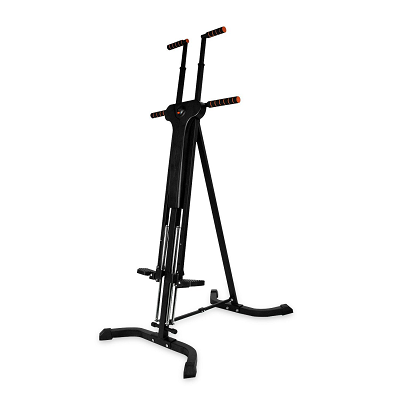 Pros and cons for Pexmor Upgraded Vertical Climber
Pros
Super quiet operation.
Holds riders up to 350 lbs.
Folds up to store when not in use.
Cons
Display is small and hard to read.
More about Pexmor Upgraded Vertical Climber
A great vertical climber at a great price, easy to move and stable to use.
Fitness Step Climber Exercise - Machine
The fitness step vertical climber holds users up to 330 lbs and is strong and stable enough you can ride it from the front or the back.
It folds up so you can move it when you don't need it, making this vertical climber a good option for a small gym or workout area.
It adjusts the height easily, so it fits just about anyone.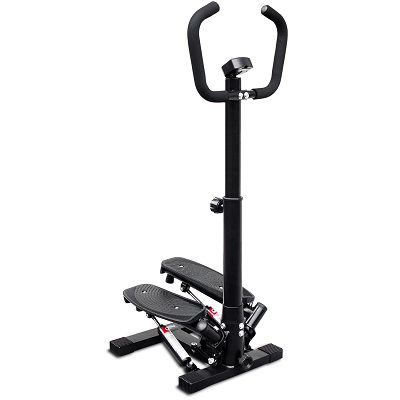 Pros and cons for Fitness Step Climber Exercise
Pros
331 lb weight max capacity.
Foldable.
Adjustable height – 4 different adjustment levels.
Cons
Small display, hard to read.
More about Fitness Step Climber Exercise
A great choice for small spaces and larger riders.
Hurbo Vertical Climber
The Hurbo vertical climber is a budget-priced climber that holds a modest 220 lbs, and folds up so you can quickly get it out of the way when you need to.
It's offered at a really reasonable price and would make a great cardio addition to your routine, especially if you are tight on space and funds.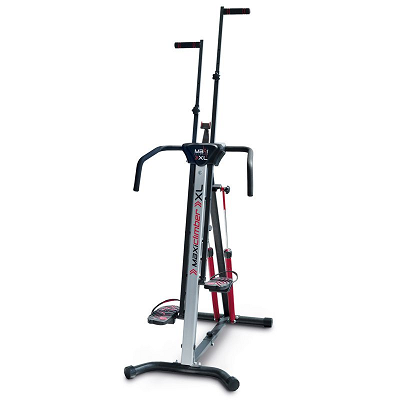 Pros and cons for Hurbo Vertical Climber
Pros
Folds for easy storage.
Really affordable.
Burns calories rapidly.
More about Hurbo Vertical Climber
A good choice for small spaces and petite riders at a great price.
Your Quick Guide to Vertical Climbers – Factors You Should Consider Before Buying
Price range
Vertical climbers range in price from just under 100 dollars to over 4000 dollars, and to tell you the truth, there is not much middle ground.
At the low end, the Leisa Hart Body Champ is my favorite, and for a mid-range price, the Maxi Climber is a good choice.
And of course, at the high end, you have the Versaclimber consumer model, and the Versaclimber club model.
The Commercial Versaclimber is the one you will see at the gym, and the one LeBron James talks about.
Stability
The Versaclimbers have the best stability. You can get crazy on one of these without feeling like a tippy canoe.'
The Versaclimbers have a flat metal base and integrated handles, which makes them more expensive, but way more stable too.
At the lower end, again, the Leisa Hart Body champ is one of the most stable, thanks to handles that go to the floor and integrate with the base.
Adjustability
Most vertical climbers have height adjustment, either in the handle, the foot pegs or pedals, or both, so they can hold all height riders.
At the low end, you have vertical climbers that hold 220 lbs, and many people will exceed that. A good vertical climber should hold at least 300 lbs or more.
Foot Pedal Size
Cheap vertical climbers have cheap and small pedals, which can be annoying, feel insecure or even be unsafe.
Look for wide secure pedals with good grip.
Resistance
The only model Vertical climbers that have built-in resistance are the commercial level versaclimbers.
All other vertical climbers use body weight resistance.
Body weight resistance is more than enough to get a solid workout – in fact, it may be too much for those who are really out of shape.
What are the Benefits of Vertical Climbers?
Unlike a treadmill or bike or traditional stair steppers, vertical climbing works both upper and lower body at the same time.
Vertical climbing increases VO2 Max significantly more than running and treadmill, according to studies.
Vertical climbers are compact and take up less space than most other cardio machines.
Are Vertical Climbers Worth it?
If you want a FAST cardio workout that covers both upper and lower body, then yes, vertical climbers are a great buy.
Think of the vertical climber as a tool to get the job done.
It all depends on what work you are willing to do, but yes, the climber is an excellent tool to assist you in your goals.
The vertical climber is not a scam – it is a real workout and after you use it for a few minutes you will feel the burn.
What Muscles Does a Vertical Climber Work?
The Versaclimber, and other vertical climbers, work the whole body.
This includes all major muscle groups, including these muscles:
Glutes
Hamstrings
Quads
Calves
Biceps
Triceps
Abs
Pectoral or chest Muscles
What is a Vertical Climber Good for?
In a nutshell, a vertical climber is good for getting a fast, Intense, HIIT style cardio workout that conditions and trains all major muscle groups at the same time.
Is a Vertical Climber a Good Workout?
YES, because it uses the whole body, it gives an excellent workout.
I must warn you, do not be deceived by how simple it looks, vertical climbing is HARD, and may not be the best choice for those who are severely undertrained.
It's a butt-kicking workout, without a doubt.
Vertical Climber vs Elliptical?
The elliptical trainer works both arms and legs, just like the vertical climber. Where the two are different is the extent of arm muscle engagement the vertical climber requires.
Since the vertical climber requires you to pull yourself up, it strengthens arm muscles much more.
The vertical trainer is also much more intense, as you must use your legs and arms to pull your bodyweight up as you climb.
The one downside to a vertical climber as compared to an elliptical trainer is that an elliptical trainer is lower impact and better for bad knees and joints.
Vertical Climber vs Rowing Machine?
Both rowing machines and vertical climbers offer intense full-body cardio workouts. Where the vertical climber sets itself apart is the greater engagement of upper body muscles.
Since the vertical climber requires you to pull yourself up as you climb, it is excellent for strengthening the back, biceps, and triceps to a slightly greater extent than rowers.
To be fair, both the Vertical climber and rower offer killer workouts!
Vertical Climber vs Stair Stepper?
A stair stepper works the lower body, with a focus on the glutes.
A vertical climber works the whole body, thanks to the climbing action which requires you to pull yourself up using your legs and arms.
For a true full-body cardio workout, the vertical climber is a great choice.
How Many Calories Does a Vertical Climber Burn?
It's hard to say exactly how many calories you might burn on a vertical climber. Several variables come into play.
It depends on your size, fitness level, how much effort you are giving your vertical climber workout, and which machine you choose.
What I do know is this the vertical climber, according to this Washington State University study, is that the vertical climber VO2max, is higher for the vertical climber than for either a rower or treadmill.
VO2 max is correlated with calorie burning, so you can be sure you are getting an intense workout with a vertical climber.
Vertical Climber Workout Routines
How to use a vertical climber and what are good vertical climber workouts?
Using a vertical climber is pretty straightforward, but there are a few good workout routine resources out there, especially on YouTube.
This 20 minute routine by Rosalie Brown is good for beginners. It gives you an idea of how to use a vertical climber and shows you ways you can vary your exercise, and the muscles you engage while using the vertical climber.
It is a great place to start. Just because the routine is only 20 minutes long, does not mean it is easy. It is a truly heart-pounding, fat burning workout that will not disappoint.
There you have it!
With 15 of the best vertical climbers to choose from you have no excuse to put off your fitness goals any longer.
Get stepping and reach your goals faster with a vertical climber.
Do you like gear and fitness equipment reviews? Then subscribe to the Garage Gym Power newsletter and we will keep you in the loop.
Don't miss another review and subscribe today!