TOP 16 Best CrossFit Shorts for Women that DON'T Bunch Up with Reviews 2019
Article last updated: October, 2019
Don't you just hate it when you go to the gym, but your workout is not where it should be because your outfit is just one big malfunction waiting to happen?
Your leggings won't stay up, you constantly need to adjust, and your bra strap keeps falling off your shoulder.
You know the score.
*For lazy readers, here are our TOP 3 CrossFit shorts for women that DON'T bunch up. Want to see the TOP 16 with full reviews? Scroll down.
Picture

CrossFit Shorts for Women

Our Rating

Available

Editors
Choice
Epic MMA Gear WOD Shorts for Women
VIRUS Womens Training Short
Under Armour Women's HeatGear Armour 3
CrossFit shorts are notorious for riding up, showing a lil' butt cleave or giving the wearer camel toe.
We have all been there:
Embarrassing clothes mishaps have happened to us all at one time or another, but we promise, this article will show you what to look for when choosing the best CrossFit shorts for women.
We will cover the booty short basics, plus review 16 that we really like.
But first things first.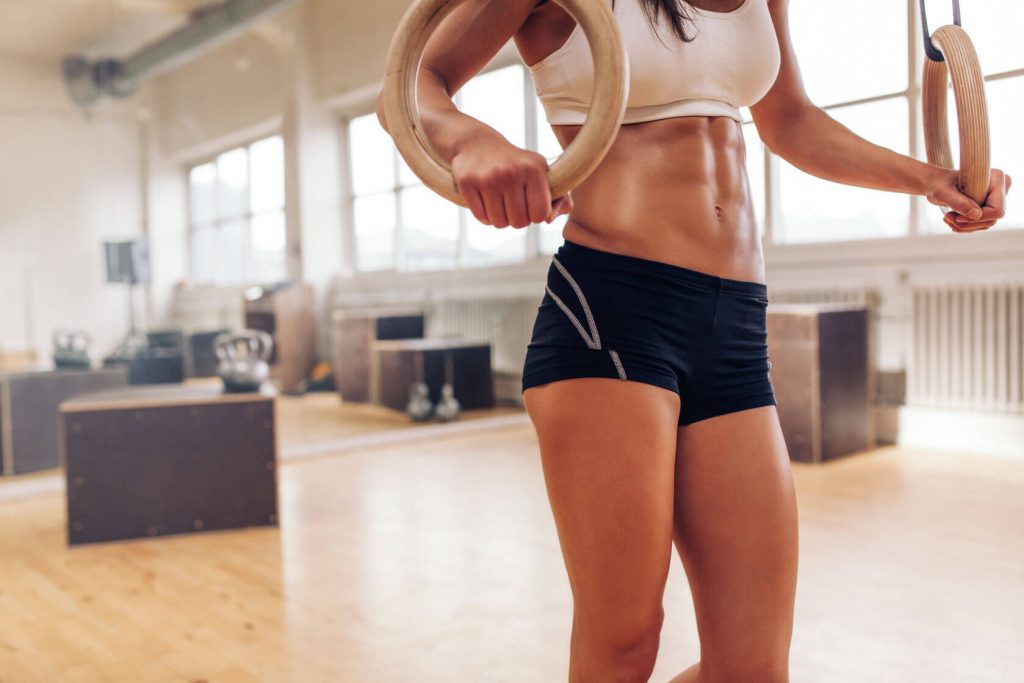 What makes CrossFit Shorts Different from Other Workout Shorts?
CrossFit shorts are made from fabric with a lot of stretch. You will be using your hip flexors a lot. Think box jump or any style of squat.
The fabric needs to move, not restrict.
Shorts designed for functional fitness need to be made with moisture-wicking fabric because you will be sweating.
CrossFit shorts must not be see-thru in the slightest. You will be bending and lifting, and you need to feel secure and comfortable doing so.
If you are distracted because you are worried people can see your underwear, it will hinder your workout.
Most Importantly:
The Best CrossFit Shorts for Women Must NOT:
ride up
bunch up
give you camel toe
dig in
show your cheeks (cheek peek)
chafe your skin
give you a muffin top
slide down
show your panties thru the material
hold moisture next to the skin
make you hot (like hot as in temperature, not hot as in how fine you look, sister)
It's a tall order for short shorts, but we know there are winners out there.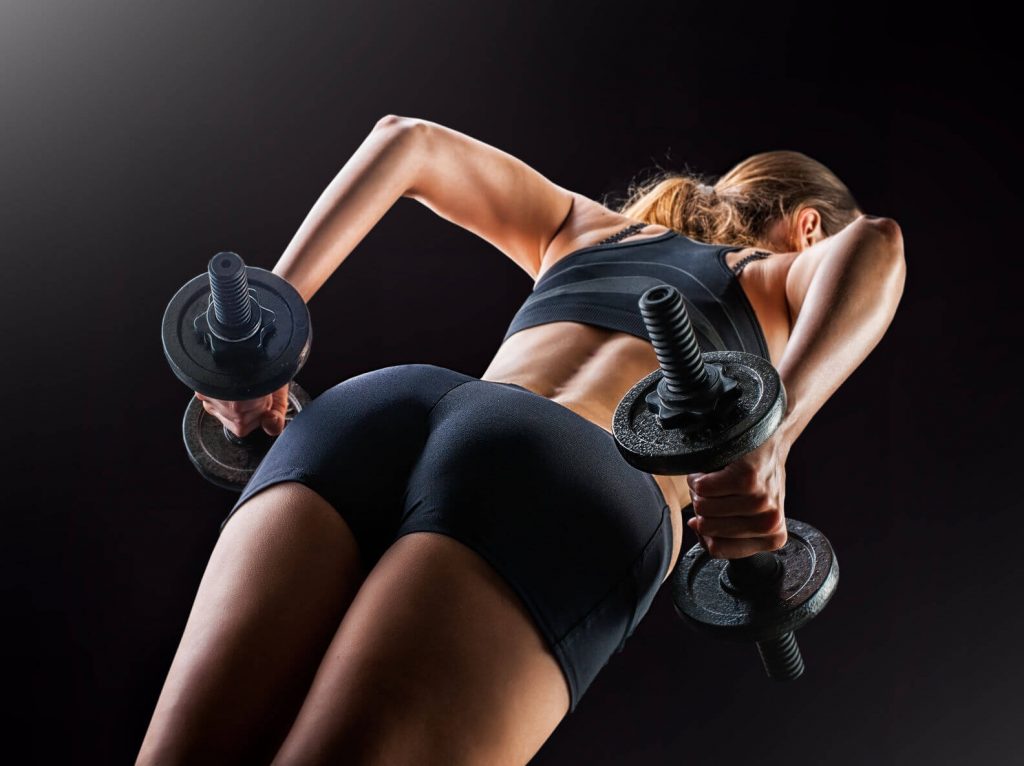 Stick with Me Here
I am going to discuss how to avoid these things before we move into the reviews, so you know specifically what to look for.
Riding, bunching, camel toe and digging into the skin are related to issues with the shorts design and personal fit.
Choose shorts that have a rise that works with your body.
What is a Rise?
On CrossFit shorts, the rise is measured from the seam between your legs, up to the top of the waistband.
All women have different measurements, so find out what the rise of the shorts are and measure to compare with your body.
Find out where the waistband will fall and see if that will be enough coverage, otherwise, you will be uncomfortable and find yourself hiking the shorts up and end up with camel toe or cheek peek.
Chafing
Chafing happens when a rough seam rubs against the skin, leaving something similar to a rug burn.
OUCH.
Look for shorts with a flat seam, or better, seamless shorts. Problem solved.
Waistband Woes
Many shorts for CrossFit have been designed with wide waistbands, because they look less dorky than one long "mom shorts" panel, offer a bit more coverage, and are comfortable.
If the waistband is too tight, you get muffin top and it can restrict movement. Too loose, and you are pulling them up constantly.
The wide band helps resolve these issues.
Material, Girls!
Material matters. OK, look for material that is not in anyway see-through.
That is pretty easy to determine from reading reviews (especially reviews showing real users wearing them).
Look for material that wicks away moisture and stays cool. Synthetic material will get hotter than say, cotton, but many manufacturers overcome these issues with special technology.
Look for that technology while reading the product description.
Germs, Bacteria, and Fungi-Oh My!
You probably realize that the gym or box is probably not the cleanest, most sterile place in the world, right?
Many shorts incorporate antimicrobial material or are manufactured with a material that prevents those nasties from growing.
I am so thankful.
Look for shorts with antimicrobial properties to eliminate odor. Yeah.
OK, now that we have those items out of the way, let's move on to those reviews.
TOP 16 Best Women's CrossFit Shorts for 2019
VIRUS Women's ECO22-Stay Cool Data Training Short
Review: These shorts are designed with the functional fitness athlete in mind.
The material incorporates jade stone which helps keep you cool and dry, wicking away moisture. This jade stone technology can reduce the surrounding body surface temperature by 10 degrees.
Pros
2" waistband.
Jadecool technology fabric, cooling, antimicrobial, dry.
UV protection of 30 to 50 SPF depending on color.
Cons
Limited colors available.
Hand wash only.
Our take
This novel booty short is our favorite because it stays cool and feels so good. Easily the best women's CrossFit shorts.
Under Armour Women's HeatGear Armour 5" Mid
Review: Not quite "booty" short, these Under Armor compression shorts still work great for CrossFit.
They have a generous 5" inseam, for gals that like a few inches more coverage or ladies with a little more in back. These won't ride up like shorter shorts might.
Pros
NOT see through.
Moderate, not high, compression.
No ride waist band.
Pelvic area gusset makes squatting and lifting easier-moves better.
Cons
If you have a rounder bottom, you may want to order a size up.
Our take
A little compression and a little more coverage while still functional and comfortable.
IABMFG Premium Woman's Compression Workout Shorts
Review: V2.0 of the IABMFG shorts are redesigned with Keiryo 4-way stretch sweat wicking fabric that stays in place so you aren't adjusting during your workout.
Gotta be honest, these are the only booty shorts I have seen with 4 different color Unicorn Rainbow prints to choose from. Super cute.
Pros
Light Compression.
No ride technology-stays put!
Reasonably thick material-not see through.
Cons
The legs may creep a bit if you have thick quads.
Our take
Cute and functional short booty shorts from an innovative NorCal CrossFit brand.
Oiselle Women's Roga Shorts
Review: These Oiselle shorts are great for the gal that wants snug shorts that won't snag or catch on equipment, but not so snug they show every crease and crevice.
They are short, with a 4" inseam, with a small side vent and a little "give" or leeway in the leg cuff. If you have large quads and a round bottom, with a smaller waist, these are the shorts for you!
Pros
Inner drawstring keep the shorts very secure.
TWO pockets, one inside and one zippered outside pocket.
Wide comfy and flattering waistband.
Cons
Pricy and not a huge selection, but worth it.
Our take
Made for a shapely woman, this booty short is snug around the derriere and a little looser at the cuff. Beautiful!
Review: These cute, comfortable short shorts feature a 3.5" inseam and a side phone pocket, which is hard to find on booty shorts.
These shorts are designed with a scalloped side hem so you can squat down low comfortably and a thick stay put waistband so you can focus on your lift and not your shorts riding or creeping.
Pros
Cell Phone sized Velcro close side pocket.
Functional shorts from popular MMA gear maker JACO.
Snug but not super tight in the leg.
Cons
Limited colors available (only black at time of writing).
Our take
These JACO shorts are worth a try, they are functional and they look good.
ODODOS High Waist Out Pocket CrossFit Shorts
Review: These ODODOS CrossFit shorts are available in either 6" or 9" inseam lengths for plenty of coverage.
They are snug with slight compression and will not catch or snag equipment as you work out. They have two cell phone size side pockets- very handy.
These shorts are engineered with a crotch gusset so they move and flex well too.
Pros
Moderately waist for tummy control reaches below belly button in most cases.
TWO side pockets.
Longer inseam for better coverage.
Cons
Run small, might order a size up.
Our take
Longer and functional, with two pockets at a price you will love.
Review: Excellent WOD short booty shorts. 3" inseam with a comfortable stay put 2 inch waist band.
These shorts feature a crotch gusset on the shorts made from printed fabric to prevent camel toe and allow easy movement. (The solid color shorts have no gusset).
Pros
Nice thick material, especially the print patterns.
Fair price.
Gusset allows for good range of motion and prevents camel toe.
Cons
Printed shorts run small.
Our take
The print fabric shorts are recommended for the nice thick material and gusset that allows easy movement.
Adidas Women's Training Techfit Short Tights
Review: These adidas Techfit shorts are made with cooling and sweat wicking climalite fabric which is pretty thin without being see-through.
They allow for a good range of motion and have moderate compression and a short 3" inseam.
Pros
Moderately high waist.
Some compression- not too soft.
Climalite keeps you cool and dry.
Cons
Rides a bit in the inner thigh.
Our take
High quality and light weight booty shorts that can be worn comfortably during a WOD.
Beachbody Women's Flex 2-In-1 Shorts
Review: Made from Sorbatek sweat wicking material, with a stretchy inner short and light breezy outer short, these shorts are perfect for the lady who wants short shorts with good coverage without revealing too much.
Pros
Handy zippered pocket in rear waistband.
Two in one, body hugging spandex inner shorts with loose fabric outer shorts.
Inner short has gusset that allows easy movement.
Cons
Our take
Short shorts with back waistband pocket and dual layer snug inner and breezy outer.
IAB Women's Energy Shorts
Review: These booty shorts have a 3" inseam that is short but not too short. They do not ride or bunch so you won't be constantly adjusting them. They stay in place.
Pros
Don't ride up during squats, no ride technology.
Soft with ample stretch.
Not see through.
Cons
Need more colors to choose from.
Our take
These are comfortable and stay put, cute without revealing everything, perfect women's CrossFit shorts.
Reebok Women's CrossFit Chase Shemagh Bootie Shorts
Review: These Booty shorts by Reebok have no awkward front seam, are made with antimicrobial lining, are shorter than Reebok's previous models and won't ride up or give you camel toe.
Pros
No front rise seam.
Short! 2.5" inseam.
Anti microbial properties.
Cons
The white shorts are a little see thru.
Our take
These fun shorts are for the daring CrossFit lady, and those who like the shorts really short.
Review: These LuLuLemon shorts offer more coverage with a flattering 6" inseam and a gusset free extra wide waist band panel, built for comfort.
Pros
6" inseam.
Seamless, no chafing. Yeah!
Super comfortable waistband/panel.
Shaping short, flattering fit.
Cons
Our take
If you are not into wearing super short booty shorts to the box, but you want the fit and comfort they offer, try these Lululemon shorts with more coverage and comfort.
They are still super cute (and plenty short).
Under Armour Women's HeatGear Armour 3
Review: These Under Armour CrossFit Shorts offer really great compression. They are also made of a very light material that won't show the whole world your undies.
Pros
4 way stretch.
Anti odor technology.
Flat seams to prevent chafing.
Super soft waistband.
3" rise, pretty short.
Cons
These run small but are designed to be tight.
Our take
If you like to feel compression from your shorts, these Heat Gear shorts fit the bill.
Epic MMA Gear WOD Shorts for Women
Review: These super cute, budget friendly CrossFit booty shorts come in like a million colors and patterns.
Pros
Flat stitching, no chafing.
Endless variety of colors.
3" inseam.
Easy on the budget.
Cons
May ride if you have the waist pulled up high.
Our take
If you are looking for a great deal, or need to buy many pair to rotate through, give these shorts a chance.
Plus, you can probably find them in your favorite color.
Review: These super short CrossFit and Lifting shorts will not show your underwear, or restrict your movement. They are durable and made for the hardcore athlete.
Pros
2" Inseam. Super short.
Thick fabric, no see-through problems.
Wide comfortable waistband, won't restrict and be uncomfortable.
Durable, high quality, serious lifting shorts.
Cons
These shorts run large, order one size down.
Our take
Squats, deadlifts, boxjumps, burpees, these short shorts have you covered. Outstanding quality and comfort.
FLEO Booty Shorts Smash 3.25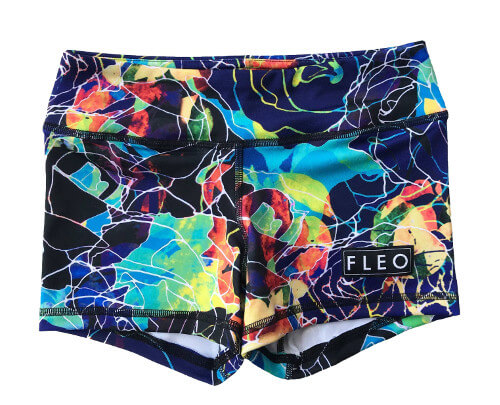 Click Here for Pricing and Pictures on Fleoshorts.com
Review: I got a few pair of these FLEO Booty shorts, one in the lined style, and another pair of unlined booty shorts. They are both 3.25-inch inseam, which fits perfect.
I got a size large and they are not too tight, in fact, they both fit great. For reference, I am about 5'7", 150 lbs, athletic with thick thighs from all those squats over the years.
I prefer unlined shorts because they are softer and stretchier than the lined shorts, which makes sense, as the lined shorts have more structure.
The first time I wore these for a workout they did great. They ride just a little during squats and lunges, but what booty short doesn't. They don't reveal anything, so it's cool.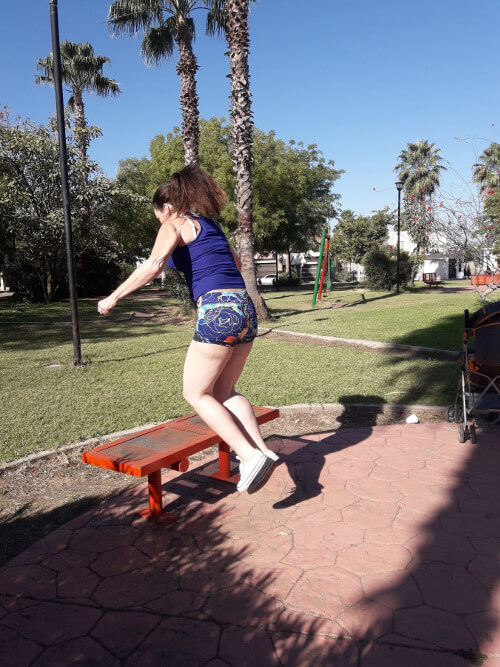 Click Here for Pricing and Pictures on Fleoshorts.com
I even took a nap in them, and honestly, also love to just wear them around the house because they are so dang cute and beyond comfortable.
Honestly, I have nothing negative to say, they did not even give me a muffin top, which is saying a lot, because my tummy is tore up from past pregnancies. They are a little steep, price-wise, but hey gals-you get what you pay for, so…
The other thing I noticed is that on the FLEO website, sometimes the style I loved was not available in my size.
On the other hand, they have many unique and seasonal prints, so it's pretty unlikely that another lady at your box or gym will show up sporting YOUR print. So that's cool.
OK Lil' miss beast mode.
These are the 16 best CrossFit shorts for women we found. That is all we have time for today.
So put on your big girl shorts and we will see YOU at the bar.
Want more? Sign up for the newsletter and we will give it to you!
New articles and exclusive content right in your inbox.
Subscribe today!