TOP 13 Best High Impact Sports Bras Reviewed 2020 to Boost Your Workout
You may be familiar with the far too common scenario where you get to the gym only to realize that the sports bra you chose for your workout isn't exactly…working out.
Lucky for you, we're here to give you the low-down on high impact sports bras because it's no secret that finding the right one, especially for intense workouts, is easier said than done. (Yes, that rhyme was intentional…)
So, sit back and relax while we guide you through our top picks as your support system when it comes to well…your support.
But first…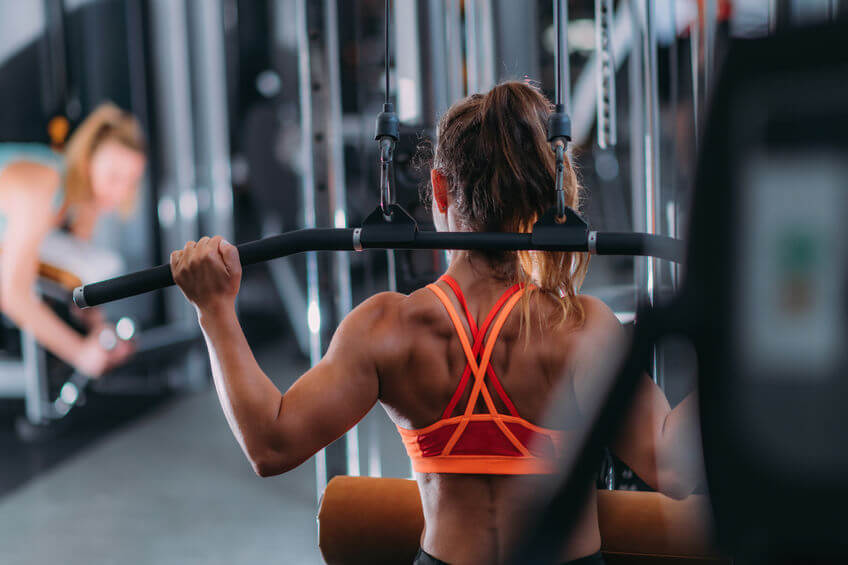 What's the Difference Between a High Impact Sports Bra and a Regular One?
Well, high impact is best for when you're doing activities that require maximum support like running and biking. If you're headed to a yoga class or going on a hike, a low or medium impact bra like the ones we reviewed here should do the trick.
But for when you need that added protection so that you feel comfortable, high impact is the way to go.
We have to note; however, that the level of support is relative to your chest size which means that if you have a fuller breast size, then you may want to opt for high impact support more regularly rather than just for when doing activities that involve more motion.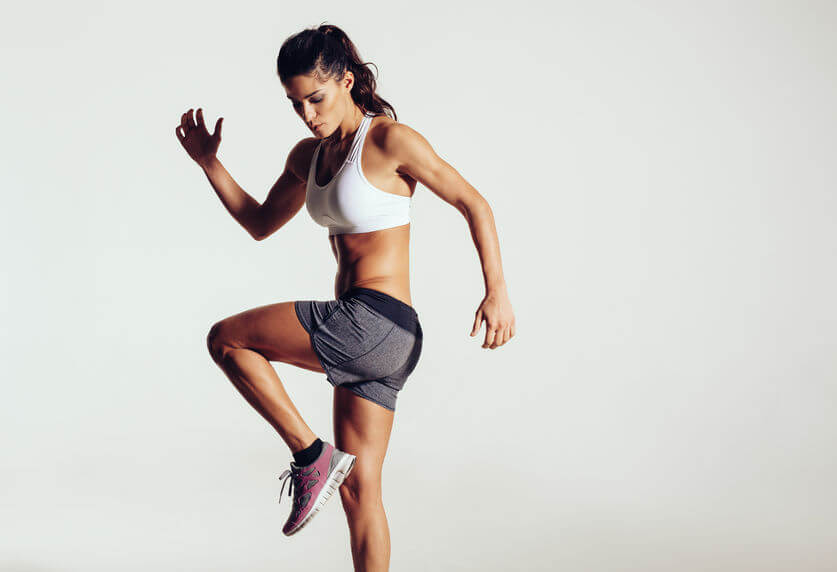 What Should I Look for When Shopping for a High Impact Bra?
There are a few key factors that you should keep in mind. From adjustability to the level of compression, making sure that you're fit properly is super important.
This will help to not only feel comfortable but ensure that you're giving yourself the proper support to avoid injuries down the road:
Encapsulation and Compression: A combination of these two will help to keep the ladies secure and in one direction throughout your workout session.
Straps: Wide straps offer the best support and can also help to prevent chafing. If you can, find a bra with an optional hook at the back that gives you the option to rearrange the straps to cross for extra support.
Adjustability: Everyone's body is different so finding a bra that you can adjust whether that be the band at the bottom, or the straps can help customize the fit.
Comfort: Your workout may not be comfortable, but your workout bra should be. Finding a bra that has breathable or moisture-wicking fabric along with solid ventilation is key when shopping high-impact bras.
So now that we've gotten the FAQs off our chest, it's time to explore which bras to put on it!
TOP 13 Best High Impact Sports Bras 2020
Enell Sport High Impact Sports Bra
Review: Enell Sport designed this high impact bra with generous compression for those intense workout sessions. If you're looking for maximum support without the need to double layer, then this is the bra for you.
Perfect for ladies with a fuller chest who want to be able to work out without feeling like they're sticking out.
Give your chest and your confidence a boost by wearing this bra for maximum support so you can enjoy a worry-free workout.
Reward: Best High Impact Sports Bra for Large Breasts.
Pros
Minimizes bounce without the need to double layer with another bra.
Underwire Free design and front closure enhance comfort, particularly around your back.
Wide straps won't dig into your shoulders.
Cons
Since it is designed without padding, some say that the nipple area can be a little too revealing.
There's also a thick seam across the breasts which is noticeable through your shirt.
Takeaway
Best for ladies with a fuller chest who want to feel properly supported during their workouts.
Syrokan High Impact Underwire Sports Bra
Review: Feel comfortable working up a sweat without breaking one from worrying about your sports bra. Syrokan designed this beauty to absorb moisture to keep you dry while also providing coverage for a workout without distractions.
Foam-lined underwire helps to minimize bounce and maximize support. With a racerback design, the straps can be adjusted to reduce shoulder pressure.
For days when you're really looking to push yourself, feel comfortable sweating it out thanks to the moisture-wicking material combined with high-performance mesh fabric that helps to keep you cool and dry.
Reward: Best for Sweating.
Pros
Moisture-wicking fabric combined with mesh panels to help keep you cool during and after a sweaty workout.
Adjustable straps so that you can feel comfortable.
Decent amount of stretch and full coverage.
Cons
The back closure makes it difficult to slip on and off over your head, which is especially difficult when you're sweaty.
Takeaway
The best bra to have you saying 'no sweat' when working up all the sweat.
Wacoal Sports Ultra-Soft Sports Bra
Review: Perfect for those who chafe easily, Wacoal Sport's ultra-soft bra is designed with underwire throughout so that you can wear in or out of the gym.
With two-ply fabric cups, this underwire extends around the entire bra to prevent chafing at the front or back.
Quality support makes this top perfect for workouts of all intensities whether low, medium or high.
Reward: Best to Prevent Chafing.
Pros
Moisture-wicking fabric to keep you dry during those sweaty sessions.
Soft and smooth fabric that feels good to add even more comfort when wearing.
Underwire throughout the entire bra and not just the front in an effort to prevent any chafing.
Cons
Designed to support workouts across any intensity level so some ladies reported that it isn't as supportive as other high-impact bras.
Straps can be difficult to adjust.
Takeaway
This is our top pick to have you chasing those workout dreams without the chafing nightmare. However, for ladies with a fuller chest who are looking for maximum support, this may not be the bra for you.
Mirity High-Impact Racerback Sports Bra
Review: For maximum ventilation throughout your workout, Mirity's high-impact racerback bra is made with smooth body wick fabric to keep you cool.
Designed with a built-in bra to offer additional support, the removable pads help to keep everything in one place while breathable fabric supports the air flowing at a good pace.
Reward: Best for Ventilation.
Pros
Ventilation Panels for increased breathability during your workout session.
Body-wick fabric to keep you feeling cool.
Built-in bra for additional support.
Cons
Removable pads are visible through the bra which might become frustrating.
Keeps everything in one position but could be more supportive.
Takeaway
Vent it out in our top pick for the bra that provides the most ventilation.
Reebok PureMove Sports Bra
Review: Tech it out! Designed with materials consisting a NASA-approved gel, Reebok's PureMove Bra is quite literally 'out of this world'.
It offers state of the art functions that keep you feeling supported and stylish at a mid-level price tag. Generous compression relieves any bounce so that you can focus on your workout and not your wardrobe.
Complete the high-tech look with a women's fitness watch which will be able to keep track of your workout, even though we wish it could keep track of the compliments you'll be getting after sporting this style.
Reward: Most Technologically Advanced.
Pros
Racerback bra made with sleek fabric that keeps you feeling cool and dry.
State-of-the-art material made with a NASA-approved gel, Sheer Thickening Fluid.
A minimal look with maximum support and coverage.
Cons
On the pricier side but still less than its counterparts.
Sizing doesn't align with sizes beyond XXL.
Takeaway
Shoot for the stars in our favorite bra designed with technology that's out of this world.
Review: Panache's Wired ultra-supportive bra is available both with and without a built-in underwire. With an adjustable hook, you can easily transform into a racerback for a super sporty chic look.
Silicone and fabric protect the underwire to help prevent any chafing or discomfort. Perfect for when you're headed to CrossFit or another high-intensity workout.
Reward: Best High Support Sports Bra.
Pros
A stylish look that easily adjusts to a racerback with the help of a hook.
Maximum support that is particularly beneficial for ladies with a fuller chest.
Wide padded straps and silicone-lined underwire help to prevent chafing and discomfort.
Breathable mesh panels to keep you feeling cool and dry throughout your workout.
Cons
Sizing ranges from 28DD to 40GG so ladies looking a bra with sizes below that may not be able to enjoy the benefits of this one.
On the pricier side.
Takeaway
This stylish bra is super supportive but with limited sizing, its designed specific for ladies with a full bust.
Glamorise Women's Full Figure Sports Bra
Review: Glamorise's MagicLift high-impact sports bra features double-layered cups that will surely be your cup of tea.
Designed with wonderwire so that you don't actually feel the wire, this bra is equipped with moisture-wicking fabric to keep you cool and dry throughout your entire routine.
Reward: Best Plus Size Bra.
Pros
Moisture-wicking fabric to keep you feeling as cool as you look.
Double layered cups for maximum support.
Seamless outer cups designed with stretch fabric.
Cons
While the cups are ultra-supportive, they do have a cone shape that is noticeable if you don't completely fill them out.
Takeaway
Combined with breathable fabric and advanced double layered cups, we give this bra designed for plus sized ladies an A plus!
Barfen Seamless Racerback Sports Bra
Review: Barfen's seamless racerback bra features a pull-on closure with removable pads.
The stretchable material is lightweight, breathable and will keep you dry thanks to moisture-wicking technology.
The super comfortable fit will have you enjoying your workout just as much as you are your workout clothes.
Reward: Best for Bounce Control.
Pros
Ultra-comfortable.
Moisture-wicking material.
High-quality bra with a budget pricetag.
Soft seams prevent chafing and discomfort.
Cons
Removable pads easily fall out in the washer so best to take them out before you throw into the machine to avoid any frustration.
Takeaway
Best bra to control bounce featuring removeable pads that don't require you removing too much money to buy it.
Rumere High-Impact Sports Bra
Review: Rumor has it that Rumere's high-impact sports bra is a breath of fresh air when it comes to support and comfort.
Quick-drying material is an added bonus to this bra made with elasticated hem and breathable material.
Reflective detailing adds a stylish touch to this functional top that is equipped with a built-in bra and removable padding for double the support.
Reward: Most Breathable.
Pros
Ultra stylish.
Reflective detail adds to safety features when heading outside to work out.
Offers generous support.
Cons
Removable pads don't stay in place so you may have to adjust periodically.
Takeaway
Designed with quick dry and moisture wicking fabric, this bra is our number one pick when it comes to breathability.
Under Armour Eclipse High Impact Sports Bra
Review: Get on track in Under Armour's Eclipse that we've chosen as our best high-impact sports bra for running.
Designed with soft and comfortable materials, no need to worry about annoying pinching, rubbing or chafing.
Match with a pair of our favorite leggings and get ready to run with the compliments.
Reward: Best for Running.
Pros
Adjustable Straps so that you can alter the length and style (crossed or U-Shaped).
Quick-dry and moisture-wicking material promote breathability and ventilation.
Maintains style and support.
Cons
Not the most expensive but still at the mid-budget level.
Takeaway
Maximum support and quick dry material make this bra ideal for running.
Nike FE/NOM Flyknit Sports Bra
Review: Perfect for ladies with a larger chest looking for maximum support when it comes to high-intense workouts.
Nike's Flyknit bra is lightweight with a high strength fiber that makes you feel like you're wearing next to nothing.
Reward: Most Lightweight.
Pros
Seamless design for a second skin feel.
Maximum support with maximum style.
Cons
High level of compression that results in a uni-boob.
On the pricier side.
Takeaway
For full busted ladies, this is the bra that gives you all the support but feels like you're wearing nothing.
Review: This bra will keep even the fullest of chests in place by using generous compression and encapsulation.
Along with its wire-free design, full-coverage cups help to maintain lift and placement by keeping the ladies in one position.
Super adjustable so that you can get the perfect fit that's just right for you.
Reward: Most Feminine.
Pros
Perfect for fuller chest during high-impact sessions.
Sporty yet feminine.
Adjustable so that you can get the fit just right for your body.
Cons
Some say that the cups run small.
Takeaway
This is the bra for you if looking for something sporty with a touch of femininity.
Elomi Energise Sports Bra
Review: If you're looking for support, Elomi's Energise bra is the perfect fit…quite literally.
Encapsulated cups combined with built-in underwire offer major support and lift that's super helpful during those high-impact workouts.
Available in a wide variety of sizes, this bra provides support, shape and comfort.
Reward: Best Sports Bra for High Impact.
Pros
Ultra-supportive with underwire and encapsulated cups to lift and secure.
Comfortable enough that it feels like a regular bra with extra support (I'm not a regular bra, I'm a cool bra).
Adjustable so that you can get the fit just right for your body.
Cons
To be honest, it's kind of ugly but if the style isn't your end game, then by all means, this is the bra for you.
Takeaway
While it isn't the most flattering, it's certainly our top pick for support.
Summary
So that's our top picks for the best high-impact bras that we think are the 'tits.' (sorry, I had to) Remember: when shopping for your bra, try them on, jump around, make sure that you're going to feel comfortable because the last thing you want is to feel uncertain when you're working out.
It's time to boost your energy, boost your confidence and boost the ladies! For other reviews on our favorite workout gear, don't forget to subscribe to our newsletter to be the first to find out about fun new products and tips to help you reach your fitness goals.
And on that note, I hope you were able to get a better idea around the best bras to add a little lift without having to lift a finger!