TOP 6 Best Yoga Swings & Trapeze Hammocks 2023: Elevate Your Yoga Practice
Looking to take your yoga to the next level?
Is that 'next level' in the air?
I hear you!
Anti-gravity yoga, or aerial yoga, introduces a whole new dimension to your yoga practice, literally.
But the best part, is that you don't have to go to a studio to do it!
Introducing the best yoga swings of 2023 and a wee guide to get you started!
TOP 6 Best Yoga Swings Reviewed 2023
Review: Yogabody's trapeze is one of the highest-rated yoga swings on the market right now. It's actually a full set that comes with the swing itself, three pairs of handles, four carabiners, two ropes and a carry bag.
This means that depending on where you set it up, you may not need any other equipment which makes it an excellent deal.
It's a very durable, high-quality kit that sets up quickly and easily and can easily be carried around if you feel like a change of scenery.
Pros
Parachute-Grade fabric.
Gym-Grade rubber grip handles.
10 year warranty.
Good value for what you get.
Comes with studio-grade ropes and carabiners.
Rated to 600 lbs.
Cons
Takeaway
This is definitely one of the best yoga swing sets available and a fail-safe choice.
UpCircleSeven Aerial Yoga Swing Set
Sale
UpCircleSeven Aerial Yoga Swing Set Ceiling Mount Accessories, Turquoise
Innovative Design - 25% larger & more comfortable thick padded foam handles along with a spacious triple stitched swing seat pushes the boundaries of comfort during any yoga swing exercise.
Easy To Assemble - Includes 2 Multi-loop climber strength daisy chains featuring an load capacity of 550 lbs to ensure your safety on any of our aerial yoga hammocks.
Relieve Your Back Pain - Whether using it for inversion therapy for spinal decompression or building upper body strength, it's sure to invigorate your back & health. It's Perfect for kids too!
Ceiling Mount Accessories Included - Includes ceiling mounts + screws to safely install and hang your inversion hammock into wood or concrete.
#1 Consumer Favorite Yoga Swing On Amazon - Heal your back or have fun doing yoga! Get the best yoga swing that is TRUSTED & APPROVED NATIONWIDE by your very own fellow yogis.
Review: Another very popular yoga swing is the set from UpCircleSeven. It's made of high-quality parachute material and comes with two climbing-grade daisy chains so you'll feel very safe wherever you choose to hang yourself.
It comes with three pairs of handles, four carabiners, a beginner's guide and a carry bag. The handles are well-padded and comfortable to use, and the swing seat is nice and big so anyone can use it. And, it isn't a bad place to hang out and read a book either.
Pros
550 lbs load capacity.
Includes beginner pdf guide.
Wide swing seat fits a range of booties.
Available in 6 different colors.
Cons
Takeaway
This is another high-quality and reliable yoga swing.
Aum Active Aerial Yoga Hammock
Aum Active Aerial Yoga Hammock - Durable Aerial Silk with Extension Straps, Carabiners, and Pose Guide - Aerial Silks for Home, Antigravity Yoga, Inversion Exercises, Yoga Starter Kit for All Levels
✔ IDEAL CHOICE: Enjoy your aerial yoga journey with our premium aerial silks. Made of Tricot , our aerial silk fabric is soft, durable and wide enough with just the right stretch for all practice levels.
✔ EASY TO USE: Get started immediately with our pre-knotted aerial yoga hammock. Adjust as you wish with our 6-loop extension straps and set it up anywhere indoor or outdoor. (Max height: 11 ft)
✔ NOT JUST FOR YOGA: Try different aerial yoga poses, train your core balance, relieve back pain, use as a therapy swing, or simply relax in it. Use aerial silks for home exercise or take it to the studio - practice anywhere you want! Make your own decision, it's your call!
✔ PEACE OF MIND: Twist and spin as you want, our aerial yoga hammocks are super sturdy! They can withstand up to 500 lbs while other rigging accessories can hold up over 2000 lbs.
✔ BONUS VALUE: Includes complete set of aerial silk (13x9 ft), 2 carabiners, 2 extension straps (3 ft), 2 o-slings, and a manual guide. ⚠️Mounting rig is NOT INCLUDED⚠️
Review: This is a slightly different yoga swing, in that it doesn't come with handles. It's more of a purist sling so it won't work for everyone and you may need to go to a class or two first to be taught some of the more complicated positions, like how to wrap your hands and feet in the silk instead of using handles.
But, the simplicity of it is kind of beautiful. The extension straps have different loops on them so you can adjust the height of the sling easily, and the tricot fabric is soft, strong and comfortable to work with.
Pros
660 lbs rating.
Comes with 2 carabiners, slings and daisy chains.
Comes with good instructions.
Soft, comfortable material.
Cons
You'll need a class or two before being able to do this by yourself at home.
Material may stretch a little.
Takeaway
If you secretly dream of being a circus acrobat, this silk hammock is your gateway drug. This is the best yoga hammock for beginners looking for a true silks experience.
YogaSwingPro Aerial Yoga Hammock
Sale
YOGA SWING PRO Premium Aerial Hammock Anti Gravity Yoga Swing Kit - Acrobat Flying Sling Set for Indoor and Outdoor Inversion Therapy
STUDIO GRADE MATERIAL: Made from premium grade 210T nylon parachute fabric to give you a comfortable stretch for yoga inversion. Triple Stitching provides added safety and durability which supports weight up to 500+ lbs
IMPROVED STRENGTH & FLEXIBILITY. Aerial yoga inversion exercises helps improving the back pain, spinal decompression and pelvic floor issues. It also helps to improve the body's strength and gain natural flexibility to cope with anxiety, stress and as a result you get restful sleep
SIMPLE INSTALLTION: Our portable and adjustable aerial yoga swing kit also includes installation guide to help you with its quick setup feature. It can be installed anywhere, be it your home, gym, or on a branch of a tree for the perfect yoga workout. Use it as a hammock outsides or a swing as your kids are going to love it.
SPIRITUAL UPLIFTING & STRESS RELIEVING BLEND: Yoga hammock psychological effects triggers your inner optimistic aura, stables your mind & acts as a mood booster. Its ideal to use for stretching & relaxing as it acts as a mood booster and stress reliever so you can get both Improved physical and mental health
PACKAGE INCLUDES: Premium grade yoga hammock kit comes with a portable travel bag that includes 1 yoga swing seat, 2 yoga sling arms with 6 ergonomic foam padded handles, 4 heavy-duty stainless steel locking carabiners, pair of multi-loop daisy chains and an installation guide
Review: This is another swing that comes with three pairs of handles for supporting yourself in different positions. It's made of strong parachute material and comes with stainless steel carabiners, daisy chains for altering the height and storage bags.
It's an affordable option for beginners just thinking about trying out aerial yoga, and it's lightweight but strong at the same time.
Pros
Handles are wide, soft and well cushioned.
Rated to 500 lbs.
Lightweight.
Affordable.
Cons
Carabiners could be replaced with stronger ones.
Takeaway
This is an affordable and good quality yoga swing and the best aerial yoga swing for beginners on a budget.
F. Life Aerial Yoga Hammock
F.Life Aerial Yoga Hammock 5.5 Yards Premium Aerial Silk Fabric Yoga Swing for Antigravity Yoga Inversion Include Daisy Chain,Carabiner and Pose Guide
There are many Aerial Yoga Hammocks on the market, but our Basic Aerial Yoga Hammock is made from Certified Quality Material And Hardware. 1 x 5.5 yards Elastic aerial hammock , 2 x Steel Screw-lock Carabiners (25KN), 2 x 3ft Nylon Reinforced Daisy Chains (23KN).Max rated for 2,000 pound dynamic load.
HIGH QUALITY MATERIAL – It is long lasting, comfortable, and can be used by the whole family. The fabric is 100% Nylon Tricot fabric and between 102 to 108 inches wide. It is tightly woven, durable, soft, and easy to clean. It stretches on the width not length so it will form to your body for comfort while maintaining the strength necessary for sitting in the hammock.The fabric is rated for 2,000 pound dynamic load.
EASY SET UP AND INSTRUCTIONS INCLUDED -Our aerial yoga hammock kit include Knot tying guide step by step, aerial yoga beginer pose guide.The Included Carry Bag Makes It Easy To Take yoga hammock With You And Do Any aerial yoga Away From yoga studio Or Your Home or Outdoor.
AERIAL YOGA BENEFITS-Aerial yoga uses a silk hammock to perform poses and stretches designed to increase flexibility, stretching, relaxation, stress reduction, and back pain.Aerial yoga also additional sensory, cognitive, and health benefits. yoga hammock gives the body more room to stretch.Small studies suggest that aerial yoga may help aid weight loss and increase balance and strength
TO OUR CUSTOMER:Thank you for your purchase of aerial yoga rigging equipment from F.Life. We appreciate your business. Also, due to many types of overhead environments, F.Life does not provide instructions on how to rig your ceiling. We suggest that you consult with a licensed contractor.
Review: This is another hammock style silk swing that doesn't have handles so you'll probably need some more instructions before diving in.
But it's versatile and durable so you'll be playing on it for many poses to come once you get the hang of it.
The nylon tricot material is very strong but soft and silky at the same time, and simply by retying the knots, the height is easily adjustable. It also comes with nicely detailed instructions.
Pros
Strong but soft 40D nylon tricot material.
Knot-tying guide included.
Easily adjustable height.
Comes with 2 locking carabiners.
Cons
May be too stretchy for beginners.
Takeaway
This is an excellent quality yoga swing and the best yoga hammock if you're looking for one without handles.
Review: This is another yoga swing that doesn't use handles, instead you wrap yourself in the many lengths of silk-like material. But, this one does come with two daisy chains which is a bonus, together with two locking carabiners and a storage bag.
The 40D Nylon tricot material is soft and silky but strong, and it even comes with three exercise bands which is another bonus.
Pros
Strong but soft nylon tricot material.
Easy to set up with included daisy chains.
Locking carabiners included.
Comes in different colors.
Cons
It doesn't come pre-knotted.
Takeaway
This is an affordable and great quality yoga swing and definitely one of the best yoga trapeze options on the market.
Inversion therapy
Portability
Back pain relief
Deeper backbends
Deeper stretches
Wide variety of poses
FUN!
[/su_list]
Things to Look For: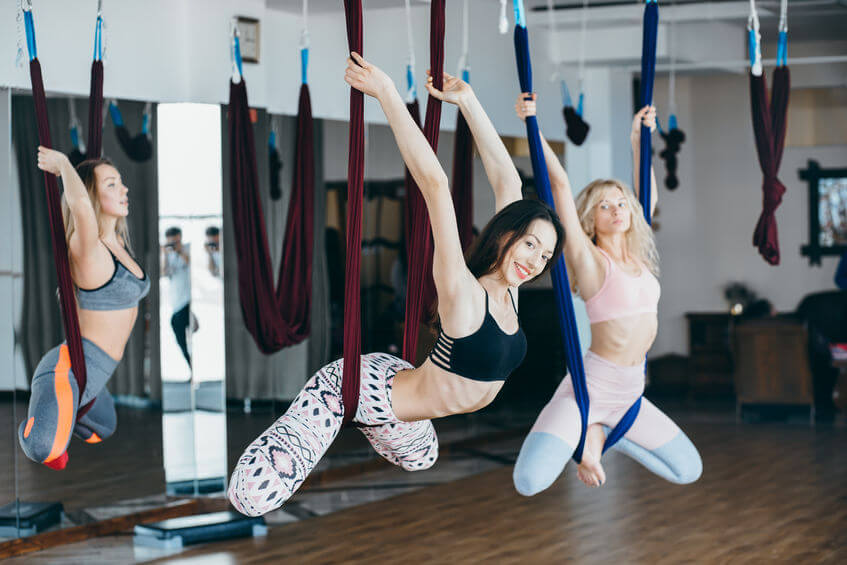 Weight Limit
Most yoga swings have a pretty high weight limit and what might be more pertinent is where you're hanging the swing from… but it can be a good thing to check for anyway.
Durability
This is pretty important for something you're going to be hanging your body weight on!
But again, all good yoga swings should be made of very strong material and come with climbing-grade daisy chains and carabiners.
The best yoga trapeze will come with locking carabiners that won't need replacing with stronger ones.
Handles or Simple Sling
This is a personal choice and will depend on how comfortable you are in the air and what sort of poses you want to be doing.
Almost all of the same poses can be done without handles, you just have to know what you're doing in order to wrap your arms and legs in the material in a safe and secure way.
Adjustable Height
If you're going to be hanging the swing in your doorway, having an adjustable height is particularly important or you may find that you're not far enough off the ground to do anything!
The best yoga trapeze will come with a climbing grade daisy chain so that you can easily adjust the height.
Size of Seat
If you're a bigger gal or guy, the size of the seat could be a pretty important factor in whether a particular yoga swing will work for you.
Some yoga swings sold for home use are smaller than studio ones, which is odd, but, it pays to check the dimensions if possible.
Portability
If you're not looking for a permanent set up but want something you can take to the local park or away with you on your camping trip, portability and ease of set up could be pretty important.
Most yoga swings come with travel bags so they can be easily carried from place to place with the necessary equipment and hardware for tying it to a tree branch or swing set.
Warranty
This is important not just for getting your money back, but because it demonstrates how much faith the company have in their product. A yoga swing is not something you want to purchase without a warranty of some sort.
If you've made it this far, you're probably pretty serious about getting a yoga swing.
In that case, you may want to think about what flooring you have where your new yoga swing will hang. If you have hard floors, you might want to invest in some cushioned mats to go underneath you while you get the hang of things.
Check out our complete yoga guide while you're here for a great foundation for everything yoga-related.
And if you're in a market for a new pair of leggings to go with your new sling (leggings are possibly more important for yoga swings than they are for ground yoga because excess clothing could easily get caught and be dangerous when you're changing position), then check out our list of best workout leggings before you go.
Alternatively, if you want to work on your backbends but think that something a little more at ground level might be where you're at for now, check out our article on the best yoga wheels for an interesting new yoga prop that could be what you're looking for.
FAQs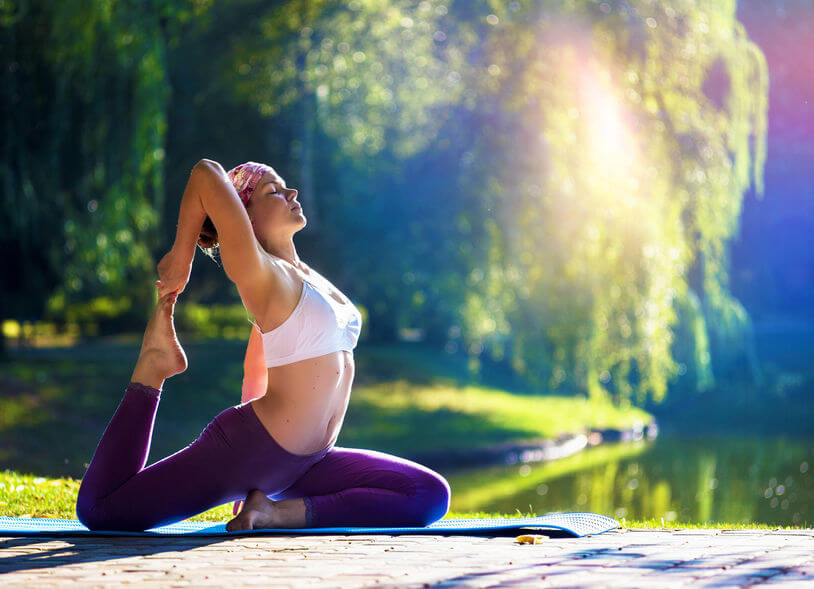 What is a Yoga Swing?
A yoga swing, also known as sling, hammock or trapeze, is a piece of silk-like material that allows you to hang from the ground and make yoga poses in the air, or just hand upside down for inversion therapy.
How to Hang a Yoga Swing?
This depends on where you're hanging it. The main thing is to make sure you've screwing into a stud if you're attaching it to the ceiling of your home. Using a stud finder would be a good call unless you have an experienced handyman to help out.
Also, make sure the hardware is strong and durable. You'll want long heavy-duty screws. YogaBody has instructions for both outdoor and indoor setups to make things easy.
Why Should I Use a Yoga Swing?
Because they're really fun?!
No, seriously though, you can take your yoga practice to a whole new level once gravity becomes your friend and you stop fighting it. Plus the additional benefit of inversion therapy, it's win-win.
How to Use a Yoga Swing?
There is no quick answer to this question. If you haven't done it before, your best bet is going to a studio for at least one class before trying it by yourself at home.
How Much Room is Needed for Yoga Swing?
It's possible to hang a yoga swing in a doorway, but you'll be more comfortable if you can extend your arms and legs in all directions without hitting anything.
Is Aerial Yoga Good for Weight Loss?
This depends on what you're doing when you're in the swing. If you're just sitting in the Zen position then probably not. But if you get into it and challenge your muscles, then yes, definitely you can lose weight doing aerial yoga.
How High Should a Yoga Trapeze be?
If you're just starting out, don't go too high above the ground in case you fall. A good guide is to stand in front of the yoga swing when it's hanging.
The set should be hanging about in line with your hips, or a little higher if you want to do inversions.
Best Material for Yoga Swing?
Nylon tricot is the best material for a yoga swing for its balance of strength, silkiness and moderate stretch.
Convinced?
Excited about your upcoming aerial yoga workouts? I am!
Above is a list of the best yoga swings out there right now so you won't have to look far before you decide which one to go for.
Have fun, stay safe, experience all the benefits of deeper stretches and inversion therapy together with your yoga practice, and be sure to subscribe while you're here for all the latest on the home-gym lifestyle.