TOP 12 Best Yoga Blocks Reviewed – Everything You Should Know Before Buying
So you're in the market for a yoga block?
Maybe this is your first one, or you're up for a replacement?
Either way, I've put together a list of the best yoga blocks of 2021 so you won't have to search far before deciding on your next yoga prop.
Read on for the inside scoop!
TOP 12 Best Yoga Blocks Reviewed 2021
Manduka Recycled EVA Foam Block
Review: If you prefer the feel and performance of EVA foam blocks more than cork, then this is a more environmentally friendly alternative, making use of post-industrial and post-consumer recycled EVA foam.
It's also high density and durable so it will likely be the only yoga block you ever need to buy provided you don't leave it out in the weather for days on end, or let the puppy chew it!
Pros
Slip-resistant grip.
Comfortable rounded edges.
9" x 6" x 4" dimensions.
9 lbs.
Cons
Not 100% recycled – only 50% – 75%.
Takeaway
This is a more eco-friendly alternative to all new EVA foam, while still being one of the best quality yoga blocks on the market and possibly the best foam yoga block all up.
Review: On the other hand if you love the cork look but still appreciate Manduka quality, this sustainable cork block is an excellent choice.
It's quite a bit heavier than the EVA foam option above, and depending on how you use a block in your practice, this could be either helpful or annoying. The cork is also really high quality, with a fine texture that won't chip or crack the way cheaper cork blocks might.
Pros
Easy to grip surface.
High quality, fine-textured cork.
Comfortable rounded edges.
9" x 6" x 4" dimensions.
5 lbs heavier weight provides more stability than light foam blocks.
Cons
Takeaway
One of the best eco-friendly yoga blocks and a reliable choice from Manduka.
Review: For another cork option from a well-known yoga brand, the cork brick from Gaiam is a reliable and eco-friendly choice.
It's heavier and more stable than their often too-light and soft EVA foam counterparts, and this brick comes in slightly different dimensions than your classic yoga block so you can experiment and experience a bit more versatility.
Pros
9" x 5.5" x 3" dimensions.
Heavier and more stable than foam.
Eco-friendly cork.
Good quality, fine grain cork.
Cons
Brick dimensions won't suit everyone.
Takeaway
A good quality and stable sustainable cork block with a slightly narrower width than standard blocks.
Yoga Design Lab Yoga Block
Review: This is a yoga block that you can definitely feel good about purchasing. It's made of sustainably sourced cork and the company even gives back a portion of each purchase to a charity that helps youth in need.
The high-density cork is non-slip, durable and firm enough to hold its shape under your body weight.
Pros
Beautiful Mandala designs.
Sustainably sourced cork.
A portion of the purchase goes to charity.
Cons
On the more expensive side.
Takeaway
This is another of the best eco-friendly yoga blocks and one of the best cork yoga blocks.
Review: This 100% high-density EVA foam block is a good choice if you're looking for affordability and prefer a slightly softer and more lightweight block.
It's durable enough for its price point and it has a nice easy-to-grip surface. It comes in three different colors and is also available as a set with another block and a strap.
Pros
Easy to grip surface.
Lightweight.
9" x 6" x 3" dimensions.
Also available as a set of 2 with a strap.
Cons
The surface will scratch and dent eventually.
Takeaway
This is an affordable and reasonably durable EVA foam block that is a great option for beginners.
Node Fitness Cork Yoga Block Set
Review: If you love cork and want a set of two, this set could be a great option. These blocks are beautiful quality with a fine grain cork texture that's smooth but easy to grip, anti-microbial, non-slip and hypoallergenic.
Pros
Weigh about 2 lbs each which is excellent for stability.
Smooth rounded edges.
9" x 6" x 4" dimensions.
Can last a very long time if you look after them.
Cons
May be too heavy for some people.
Takeaway
This is beautiful set of cork blocks that are high quality and durable.
Reehut EVA Foam Yoga Blocks
Review: REEHUT's yoga blocks are another excellent choice if you're not a fan of cork. They're another high-density EVA foam block that come as a set of two and won't break the bank.
They come in six different colors, are lightweight, moisture-resistant and slip-resistant. They have a little more give in them than a cork block so you won't be completely supported with your full weight on them but some people prefer a softer touch.
Pros
Lightweight.
Affordable.
Slip-resistant and moisture-resistant surface.
9" x 6" x 4" in a two pack.
Cons
May have a residual smell when new.
Takeaway
These are an affordable pair of good quality foam blocks.
Review: This is a set of two cork blocks and a strap which makes it excellent value. They are pretty lightweight for cork blocks which may not bode well for durability but are a great choice for people who like cork but prefer a lighter weight block.
Pros
Non-absorbent and naturally antimicrobial.
Each one weighs less than 2 lbs.
Odor-free once you let them air after being wrapped in plastic.
Cons
Just a little side note, this company sells foam blocks as well so if you want the cork ones, be sure to select the 'cork' from the color options.
The strap may be the weak point of the set quality-wise.
Takeaway
This is an excellent value and high quality set of two cork blocks and a strap.
Review: This is another 2-block set that comes with a strap as well. These blocks are EVA foam and are nice and firm so they remain supportive and stable under your body weight.
The 3" width is a little narrower than most which may or may not work for you. But overall these are great quality blocks for their price point.
Pros
Comes with extra-long 7 foot strap.
Firm and supportive high-density EVA foam.
9" x 6" x 3" dimensions.
Cons
Narrower 3" width may not work for everyone.
Takeaway
A durable and good quality set of blocks and a strap. The best yoga blocks for beginners on a budget.
Gaiam Essentials Yoga Block Set
Review: This is a very affordable set of two yoga blocks. And, to a degree you get what you pay for here.
Even though Gaiam is pretty well-known, these aren't top of the line blocks. But they're definitely good enough for beginner yoga, especially if you prefer a softer feeling to sit or lie on.
Pros
Lightweight and soft enough to comfortably sit on.
Very affordable.
Set of 2.
Cons
Not as firm as they could be, easy to scratch and dent.
You may not get 2 matching colors.
Takeaway
If you're not worried about them getting scratched or dented and affordable is your main priority, these are a decent set of blocks.
Review: But, at the end of the day, if you're not interested in brand and just want decent quality at a low price, you can't really go wrong with AmazonBasics. These yoga blocks are made of high-density foam, they come as a pack of two so you can use them together and they have reasonable grip.
Pros
Affordable.
Durable, high-density foam.
9" x 6" x 4" dimensions.
Lightweight, if that's what you're after.
Cons
Corners aren't as rounded as they could be.
Not as firm or easy to grip as better quality blocks.
Takeaway
These are adequate blocks for beginners on a budget.
Hugger Mugger Standard Yoga Bolster
Review: Maybe you've been looking at these blocks thinking, hmmm, they look a little hard and not exactly what I'm after? In that case, maybe a bolster is more your thing.
Perfect for comfortably holding long poses in more restorative, yin-style yoga, this bolster is firm enough to be supportive but soft enough to be comfortable.
It's filled with foam and cotton batting and has convenient handles for moving it around.
Pros
Removable cover can be machine washed.
Handles make for easy maneuvering.
Firm and supportive but soft and comfortable material.
Cons
The cover may be a bit of a mission to put back on after washing. (Some people use a pillowcase over the top to keep it clean and avoid having to wash it.)
Takeaway
If you're looking for something a little more forgiving than a hard block, this bolster could be the prop you're looking for.
Do I Need a Yoga Block?
Good question!
If you're really flexible and strong and are happy with the reach you can get in most yoga poses then a block may not be a necessary addition to your practice. But most of us aren't that awesome, at least when we starting out.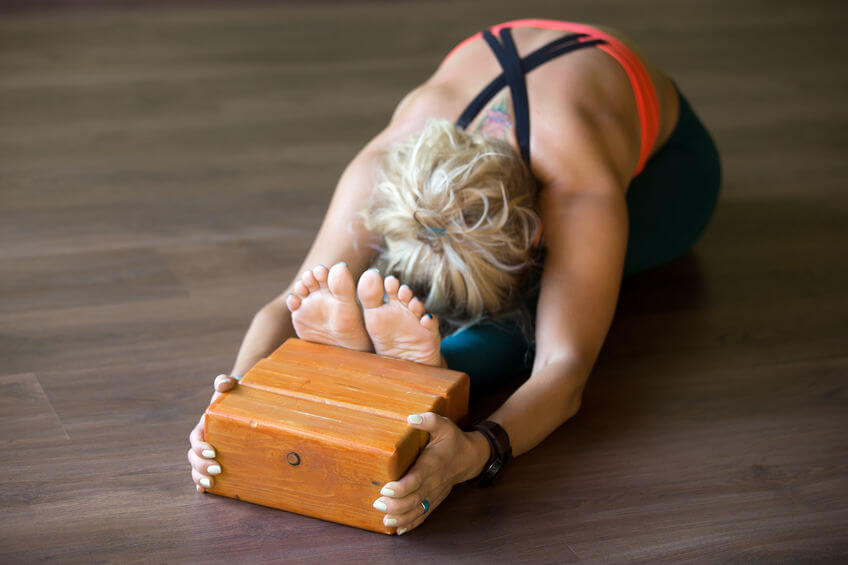 A block can really help you to stay aligned in a pose that you don't quite have the strength or flexibility to hold by yourself yet. (But I mean it when I say 'yet' – anyone who practices yoga knows how amazing it is for strength training – maybe even better than strength training itself!)
Triangle pose is an excellent example.
A lot of people think that the aim is to touch the ground. And this is true to a degree, but only if your hips are in the right alignment and your back is elongated. If you're having to round your back to reach the ground then you should probably be using a block instead.
Blocks can also provide good chest opening stretches by laying on them with the block between your shoulder blades, and they can make longer poses more comfortable by supporting a part of you that might be struggling, allowing other body parts to stretch without being tense.
Sold?
Here's what else you need to know:
How to Choose a Yoga Block
For the most part, buying a yoga block is pretty straight forward.
There will be slight differences in quality between brands so obviously the cheaper ones may not last as long, but a really expensive one is probably unnecessary because there's only so much that can been done differently to justify the price difference.
So aside from brand and budget, it really comes down to whether you have a preference over cork or EVA foam.
Cork is non-toxic, naturally antimicrobial and maintains its grip even when things get a bit sweaty. It's also environmentally friendly as cork trees can have their bark removed without being felled, can live for many, many years and don't require much water or pesticides compared to other crops.
EVA foam is obviously not natural and any synthetic foam product is going to have negative consequences for the environment during its manufacturing and once its disposed of at the end of its life.
But, as far as functionality goes, cork and EVA foam are pretty similar so it's going to come down to personal preference.
A well-made cork block could end up being more durable than a cheaply made EVA block and vice versa.
The one advantage that cork might have over EVA foam is that scratches won't be as visible so it will probably look good for longer!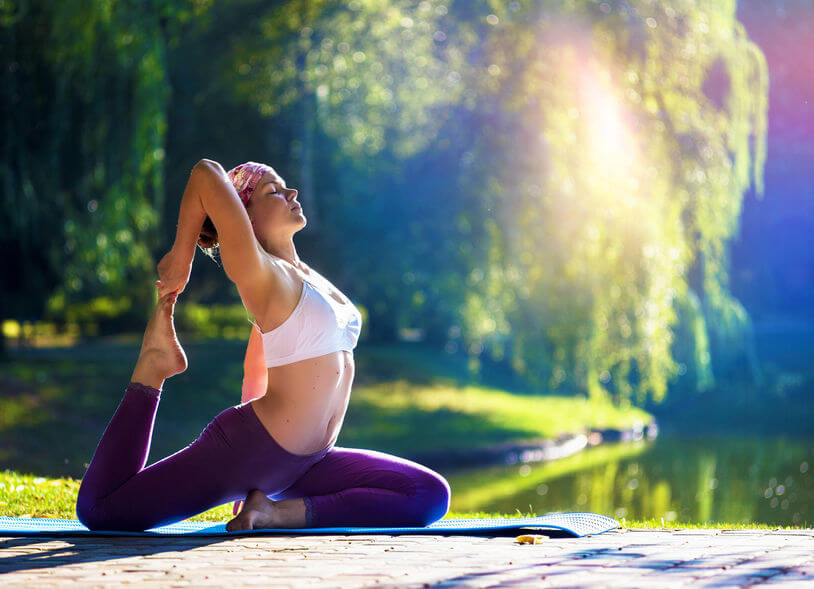 Interested in Mixing it Up?
Yoga blocks are all well and good. They're a tried and true yoga prop that will never been given up.
But there are some new kids on the block (see what I did there?) that you might be interested in too.
Yoga wheels are becoming a thing. They can be used in a similar way to blocks for some poses, while also serving as a prop for getting into deeper backbends while remaining supported so that you don't injure yourself in the process.
Alternatively, have you heard of aerial yoga?
If you're keen to get into some deeper stretches but being on the ground is sometimes too limiting, you might want to try out a yoga swing and see whether it makes a difference to your practice. You also get the massive added benefit of inversion therapy, because, let's face it, most of us don't have the best posture!
Too much? No worries. Stick with your mat and trusty block for now and have a read of our beginner's yoga guide to firm up your foundation and then maybe you'll mix it up a bit later.
FAQs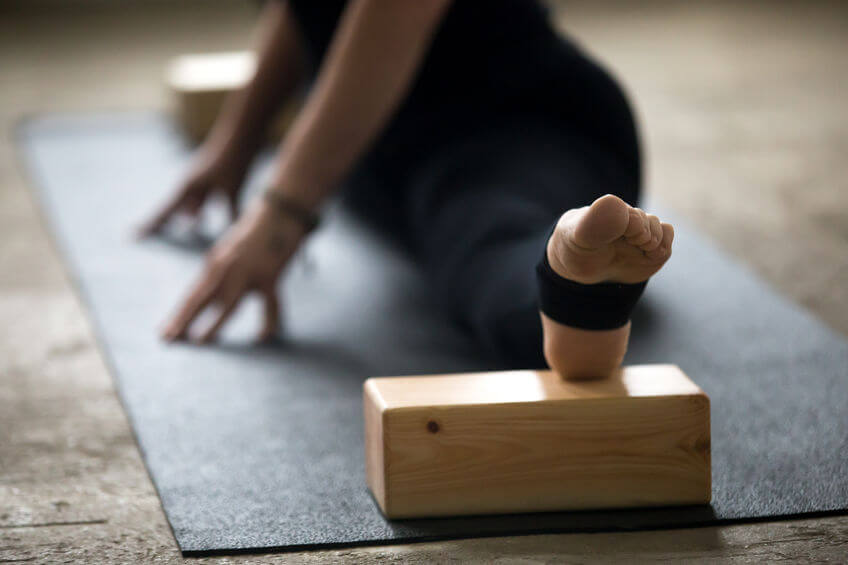 How Many Yoga Blocks do I Need?
This depends on which poses you'd like to use a block for. Most people are fine with one block but some poses require two. Start with one and see how you go.
How to Use Yoga Blocks?
Yoga blocks can be used in a variety of ways, but usually, they provide something to lean on or help you balance if you're partway towards being able to complete a pose but don't quite have the flexibility or strength to go the whole way yet.
Some people also like to sit on them for meditation, or place them between their shoulder blades and lay on them for a chest opening stretch. The options are endless.
How to Use Yoga Blocks for Back?
Yoga blocks can help relieve back pain by allowing you to stretch certain parts of your back more deeply by laying on the block in different positions. Try watching a video that demonstrates the different ways you lie on a yoga block for back pain relief.
What Kind of Foam is Used in Yoga Blocks?
Foam yoga blocks are usually made of high-density EVA foam, unless you buy a cork one that is.
Some blocks are also made of wood but they are too hard and uncomfortable for most people, so there aren't any wood blocks on this list.
What Size Yoga Blocks do I Need?
This depends on how you want to use your yoga block, but most come in the standard size of 9" x 6" x 4" and can be turned on their sides to make use of the three different height options.
How Much does a Yoga Block Weigh?
This depends on what your block is made out of. Foam blocks are very light and weigh less than half a pound while cork blocks weigh around 2 pounds.
How to Clean Yoga Blocks?
If your foam yoga block starts looking a little worse for wear, you can give it a gentle wash with warm soapy water.
But don't scrub it, and don't use harsh detergent or really hot water. Rinse and leave to dry in a warm, dry place but not in direct sunlight.
You shouldn't need to wash your cork blocks. A wipe over with a cloth if you've had a really sweaty practice is enough.
Now you've been introduced to the best yoga blocks of 2021, you should be pretty ready to make your pick your progress with your newly propped yoga practice!
Be sure to subscribe if you haven't already so we can keep you up to date with all the best info for your home gym and yoga practice!

Latest posts by Michael DuBoff
(see all)