TOP 10 Best Yoga Bolsters Reviewed 2021 – Must Read Before Buying
I get it, some yoga poses just take a while to master.
And really, yoga is about the journey rather than the destination, so it's totally ok if you never master it!
But, a little help along the way is definitely allowed.
Kitting yourself out with one of the best yoga bolsters of 2021 is a sure-fire way of getting the most out of your yoga practice, wherever you are on your journey.
I've made your search easier by putting together a list of the best yoga bolsters available right now and then I've gone into a little more detail on what to look for to help you decide.
TOP 10 Best Yoga Bolsters Reviewed 2021
Hugger Mugger Standard Yoga Bolster
Review: Hugger Mugger yoga bolsters regularly come highly-rated for their quality and firmness. If you're looking for something you can sit on that won't give underneath you, this is your bolster.
The cover can't be removed for machine washing so if you're worried about it getting dirty you might need to add your own removable cover.
Pros
Combination cotton batting and foam core.
Suitably firm to be supportive in all positions.
Handles on both ends.
Different colors to choose from.
Cons
A little on the pricey side.
Cover isn't removable.
Takeaway
A highly popular, firm and reliable yoga bolster. One of the best yoga bolsters of 2021.
Bean Products Yoga Bolster
Review: Bean Products yoga bolsters are another really popular choice for people who like firm bolsters made of natural materials.
These bolsters are so firm you will never feel unstable or unsupported. They come in either a rectangular or round shape and are filled with either organic latex foam and organic cotton batting, or regular foam and cotton batting if you don't select the organic option.
You can also choose between hemp, cotton or vinyl for the outer material depending on your preferences.
Pros
100% organic option available.
Rectangular or round shape available.
Very firm and supportive.
Extremely durable and long-lasting.
Convenient carry handle.
Cons
It's safer not to try and wash the cover in case it shrinks.
Takeaway
This is a very high-quality and top-rated yoga bolster and easily one of the best yoga bolsters out there.
Review: If you appreciate the use of all-natural materials, you'll be sold on this yoga bolster from Lotuscrafts. The outer material is made of organic cotton and the filling is all-natural kapok fiber from the kapok tree which is sustainably harvested leaving the tree still standing.
The bolster is nice and firm, but if you'd like it to be softer you can open it up and take out some of the kapok filling.
Pros
All natural materials.
2 sizes available.
Adjustable firmness.
Excellent quality and durability.
Cons
Takeaway
Definitely one of the best yoga bolsters if you're looking for something made of all natural materials.
Manduka Enlight Rectangular Yoga Bolster
Review: If you appreciate a soft, plush feel to your bolster, you'll love the microfiber cover of Manduka's yoga bolster.
It's also highly absorbent so if you're putting your bolster to use at the end of a sweaty session, you won't need to worry about it being uncomfortable. It's also firm enough to be supportive without being hard, and lightweight enough to easily carry around.
Pros
Hidden zipper.
Microfiber cover is machine washable.
Convenient carry handle.
Lightweight.
Cons
May be a little soft for some people.
Takeaway
This is a soft, plush, good quality, comfortable yoga bolster.
YogaAccessories Round Yoga Bolster
Review: If you like a firmer bolster with the option to add or remove filling, this a great option. The amount of cotton batting can be adjusted so that you can customize the thickness and firmness to exactly how you want it, and if it starts to compress a little over time, you can just add more.
Unfortunately, though, the natural cotton filling is negated a bit by the strong chemical smell that the bolster has while new.
Pros
Zippered cover is removable and machine washable.
Natural cotton filling.
Firm and supportive.
Cons
Chemical smell when first unwrapped.
Cover needs to be washed on a cold cycle so it doesn't shrink.
Takeaway
This is a firm and supportive bolster that allows you to add and remove filling as you see fit.
Review: This is an excellent quality and highly rated yoga bolster that comes in different shapes and sizes and is guaranteed to stay firm and supportive.
It's a popular choice for massage therapists and for people needing support while they sleep, but it also ticks all of the boxes for a perfect yoga bolster too.
Pros
Heavy duty, durable and long lasting.
Comes in different shapes and sizes.
Very firm and supportive.
Different colors available.
Non-slip bottom.
Cons
Cover is not machine washable.
Takeaway
This is one durable bolster that will serve you a long time, remaining firm and true to its shape. It's the best yoga bolster pillow if you're looking for something to sleep with as well.
Brentwood Home Yoga Bolster
Review: This is an excellent quality buckwheat-filled yoga bolster that is firm, supportive and allows you the option of adding or removing buckwheat in order to adjust the density.
The buckwheat filling also allows you to mold the bolster to your body shape while remaining supportive so you can customize the shape for different poses.
Pros
Removable outer cover.
Buckwheat filling.
Firm and supportive.
You have the option to add more buckwheat.
Cons
Takeaway
This is another bolster for fans of natural materials, with a buckwheat filling that creates the feeling of a dense beanbag.
ForPro Full Round Bolster
Review: If you're looking for a lightweight bolster that's easy to carry around, this could be a good option. It's filled with high-density foam and has a stain-resistant vinyl cover.
It's another bolster designed more for massage and physiotherapy but still a good option for yoga. The round shape is especially good for pranayama breathing exercises and chest opening.
Pros
Great value for money.
Soft feel.
Lightweight/easy to transport.
Vinyl cover is easy to spot clean.
Cons
May not be firm enough for some people.
Not natural materials.
Takeaway
This is a very versatile and affordable bolster.
Review: This is a reasonable quality yoga bolster with natural cotton batting inside. The cover is good quality and machine washable, and it's nice and firm. But, the batting is prone clumping and may result in a lumpy, misshapen bolster.
Pros
All natural cotton batting fill.
Removable cover is machine washable.
Convenient handle.
Soft, plush cover.
Cons
May be prone to losing its shape.
Takeaway
This is a good quality bolster for its price if you don't mind it not being a perfect rectangle.
Seat of Your Soul Meditation Cushion
Review: If you're looking for more of a cushion, or a bolster that is comfortable enough to use for meditation, this meditation cushion could be a good option.
It's filled with buckwheat so it's still pretty firm as far as cushions go, but that makes it excellent for doubling as a bolster. It's also a great option as far as natural materials, with an organic cotton cover and buckwheat filling.
Pros
All natural materials.
Meditation cushion-bolster hybrid.
Firm and supportive.
3 different shapes available.
Cons
Don't be frightened off by the isolated bug incident of 2017 – it's one of the risks of working with organic materials.
Takeaway
An excellent quality, all natural meditation pillow – yoga bolster hybrid.
What to Think About When Choosing a Bolster
So you're thinking about purchasing a yoga bolster.
That's great!
They're definitely a worthwhile investment for your home yoga practice and can be used to deepen and support stretches in a number of positions.
But how do we choose?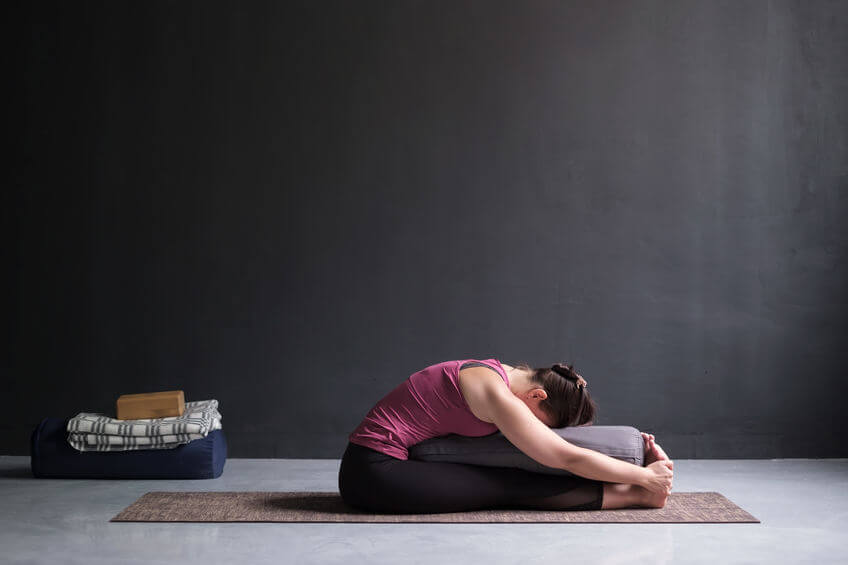 Like everything these days, there are so many options and the choice can feel overwhelming.
Luckily, there are a few key things to keep in mind when choosing the best yoga bolster for your home practice. And, it mostly comes down to personal preference and how you want to use it.
There are three key things to think about:
Weight and Filling Material
Weight and filling material are kind of two separate things, I'll admit, but they're closely linked!
Certain fillings are much heavier and more dense than others. So, the filling you choose will decide the weight of your bolster, and how firm it is.
Common fillings are either high-density foam or cotton batting. Cotton batting tends to be heavier, especially if there's a lot packed in. Foam can be pretty heavy and firm if it's dense and good quality, but this can vary a lot.
Other materials include buckwheat hulls, kapok fiber, recron or synthetic fiberfill.
Buckwheat hulls definitely make for a heavy, dense bolster, while synthetic fiberfill will be lighter weight and less firm.
If you're looking for a bolster that you can easily carry around, whether to a yoga studio or elsewhere, you'll probably want something fairly lightweight as yoga mats by themselves can be pretty heavy.
(On that note, if you're looking for a yoga mat bag to make transporting your mat an easier job, check out our article on the best yoga mat bags to shorten your hunt!)
Alternatively, if you're just going to be using your bolster at home, you can choose a heavier version that may provide more stability.
Size and Shape
There are four broad categories of yoga bolsters: Standard, round, junior and pranayama.
Standard yoga bolsters are your classic rectangular bolster and are commonly used in restorative yoga practices for a number of different poses. They should be firm and supportive and easily take your whole body shape without losing their form.
Round yoga bolsters are cylindrical rather than rectangular, though they should be just as firm as standard yoga bolsters. The round shape is just a personal preference and may be more comfortable for some people in certain postures.
Junior yoga bolsters are basically round yoga bolsters with a narrower diameter making them better for certain specific postures.
Pranayama yoga bolsters are designed specifically to support pranayama breathing exercises and are most commonly used by lying on them with the bolster running the length of the spine to open up the chest.
Firm or Soft
There's a degree of personal preference here depending on what you're going to be using your bolster for.
But, in saying that, most yoga teachers will tell you that a bolster should be firm in order to be supportive and not lose its shape when you put your weight on it.
If people are complaining in their reviews that a bolster is too firm, they're probably not experienced enough to know what a good bolster should feel like in order to do its job.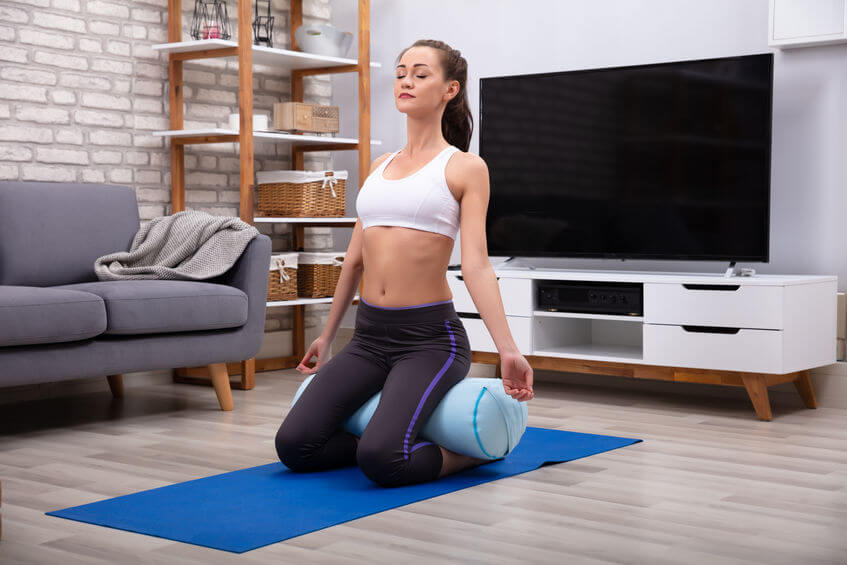 Other Considerations
Other things you'll take into account (aside from the color) include how easy it is to clean or wash the cover, the presence of handles to make it easy to carry, and whether the bolster can be opened to add or remove filling.
Still not sure?
Let's go into a bit more detail about the use itself.
How to Use a Yoga Bolster/What is a Yoga Bolster Used For?
Yoga bolsters are used in similar ways to other yoga props like yoga wheels and blocks, but they tend to be used for much longer holds in restorative yoga practices compared to the shorter holds that wheels and blocks might be used for.
For example, both bolsters and blocks can be used to lie on in order to open up the chest or provide some stretch to different parts of the back, but a bolster could have you hanging out in the same position for 10 minutes compared to one or two minutes on a block.
There are many different poses that can benefit from support with a yoga bolster, and poses that can only be done with the help of a bolster.
Check out a video like this one to get some ideas.
If you think that what you might be looking for is actually a prop for shorter holds or deeper backbends, then check out our articles on the best yoga blocks and wheels for more information.
How to Make a Yoga Bolster?
Alternatively, making your own bolster is definitely a good option if you're on a budget or you're not quite sure whether owning a bolster is really going to make a difference to your home practice.
Videos like this one (below) just use household items making it very affordable and eco-friendly! All you need are an old towel and a pillow! Then, if it turns out to be something you're using a lot, you can take the plunge and buy one of the bolsters from the list above.
How to Clean a Yoga Bolster?
This depends on the outer material that your bolster is made out of.
If your bolster has a removable cover then this makes things really easy! You can put the cover in the washing machine (on a cool, gentle wash) and then replace it once dry.
Some yoga bolster covers are really hard to get back on after removed so be warned!
For bolsters with non-removable covers, you can spot-clean with a damp cloth. Or, you can cover the bolster with a pillowcase and then wash that.
This is a particularly good idea if you're into hot yoga and might use your bolster for a relaxing hold at the end of a sweaty session. Wrapping it in a towel is also a good idea.
(If you are into hot yoga, be sure to check out our list of the best yoga mats for hot yoga!)
More FAQs…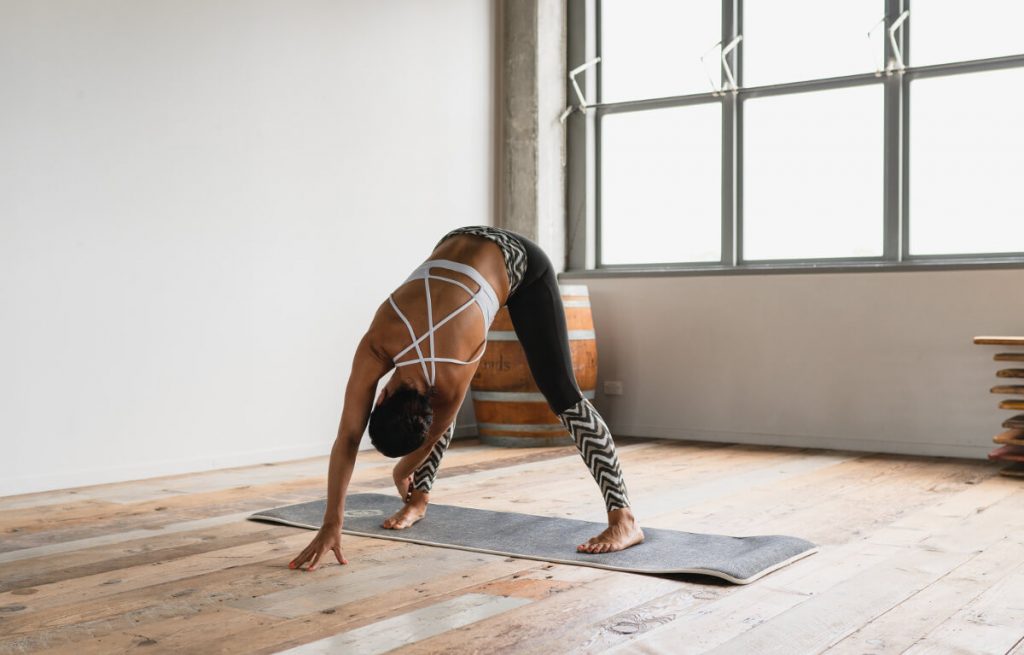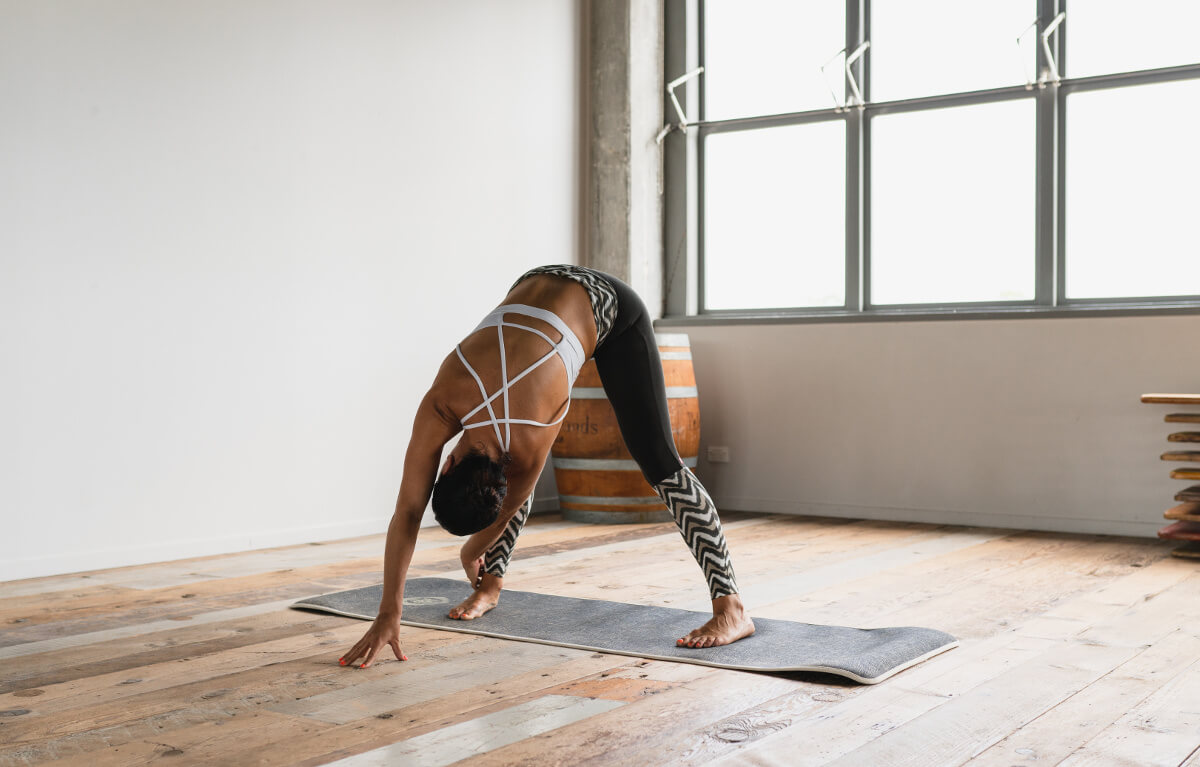 What is a Yoga Bolster Filled with?
Yoga bolsters are filled with different things, most commonly high-density foam or cotton batting. But some are also filled with other things like buckwheat hulls and natural fibers such as kapok.
What Type of Bolster Can be Used for Yoga?
Any bolster that is cushioned and comfortable to lean against, but firm enough to hold its shape if you put your whole body weight on it is suitable for yoga.
Don't be afraid if it feels hard, hard is good for yoga!
How Big of a Yoga Bolster do I Need?
As well as being firm, yoga bolsters are surprisingly big too. Make sure the bolster is about as long as your torso. Width and height can be more varied.
Hopefully, that answers all of your questions!
Do you feel knowledgeable enough to add a yoga bolster to your home practice routine now?
I hope so!
If anything, just because I think we all need some more rest in our lives!
If you're interested in something a bit different, have a look at our article on the best yoga swings and hammocks before you go – you might be surprised at the direction you could take your practice in!
Don't forget to subscribe if you haven't already so that you can be sure to get all the latest reviews straight in your inbox!

Latest posts by Michael DuBoff
(see all)