20 Best Squat Belts in 2020
Whether you are new to lifting weights or spend more time in the gym than anywhere else, you know that a squat belt is an important piece of equipment. A squat belt is protective and supportive for you during lifting. It is key that you use proper form, especially when hitting those PRs. A squat belt helps you keep form and reach your goals. While you probably realize that your body is different than everyone else's, you may not know that this impacts the type of belt that works best for you. It is important to know the differences in all the available squat belts to pick the best option.
What Are the Best Squat Belts?
When looking for a squat belt, some features make some better than others. These include the type of material, thickness, and the buckling system. Belt stitching is important as it makes it more durable. The more stitches it contains, the better the quality. The Pioneer Cut Lifting Belt is one of the best squat belt options because it checks all the boxes in quality material, comfortable suede liner, single prong, and patented buckle closure. This belt has a unique system that gives you the ability to tighten the belt in 0.5-inch increments, making it our favorite.
View the Best Squat Belts in 2020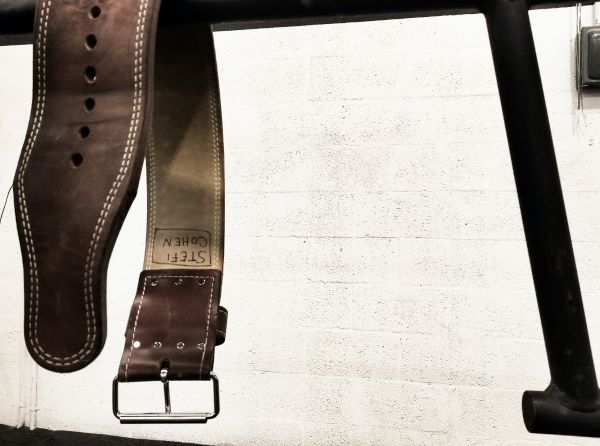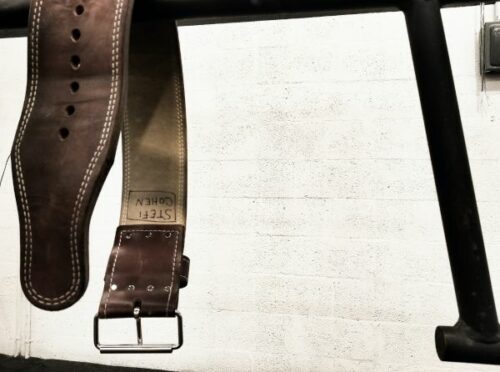 Why Use a Squat Belt?
Once there was a time when only powerlifters and Olympians wore weight belts. Those days are long gone, and now when you look around any gym, you will find a good amount of lifters wearing them. There seems to be a lot of confusion about whether or not a squat belt actually helps you during a lift. They can be incredibly helpful, especially if you need more support for your back or you have some weakness.
A squat belt can help you in two ways. One is it helps to reduce the stress on your low back. The second is it can prevent you from hyperextending when lifting overhead. A squat belt compresses the abdominals and causes pressure, which gives the bones in the lower back more support. This helps to reduce the stress put on your lower back. The pressure in your abdominals also helps to reduce the amount of compression on your lower back during a lift.
When you wear a squat belt, it helps you become more aware of your back's position. While it may seem simple, just feeling the back pressed against your skin may be enough to make you think about the position your back is in. It helps you activate your muscles and keep a good posture. A squat belt can limit the movement of your back and prevents you from twisting and bending in ways that you should not. If you are new to lifting, a squat belt can help you learn to squeeze your muscles properly. When you squeeze your abdominal muscles, you are helping to stabilize your body.
How To Wear a Squat Belt?
If you are going to wear a squat belt, it is important that you wear it properly to make it useful to you. It is important to note that you should only wear your belt while actively lifting. It is taxing on your body and not the best idea to wear it when walking around the gym. Your squat belt must be tight to work properly, and this can cause an increase in your blood pressure. You want to be sure to loosen or remove your belt between lifts. The key is to wear a belt when you are using your back during a lift, such as a deadlift, or you may cause your back to hyperextend, such as with a military press.
It is somewhat a personal preference where you wear your squat belt, but it should be positioned to cover your erector and abdominal muscles. This usually places it about 1 to 2 inches above your pelvis. This creates a maximum amount of intra-abdominal pressure. If you place the squat belt too low, it may rub against the top of your pelvis and cause discomfort. If you place the squat belt too high, it can pinch and put too much pressure on your abdomen. You want to be able to completely expand and contract your abdominal, oblique, and erector muscles.
How Much Does a Belt Add To a Squat?
Wearing a squat belt can be an effective way to protect your back while providing additional support. There is another benefit to using a squat belt, and that is the gains you may see. In general, using a squat belt can add about 25 pounds to 50 pounds to your maximum squat lift. Those of us that lift know that is a huge amount by simply adding a squat belt. Before you go out and buy a squat belt, try to add 50 pounds to your squat max and then attempt it, pause and keep reading.
Other factors help you increase your max squat, in addition to the squat belt. Your experience in training and lifting matters here. If you are an experienced lifter, you can see gains because you already know how to squat properly. If you are newer to lifting, do not throw more weight on the bar simply because you have a squat belt. You must be smart and make smart jumps in weight. Your age and history of injuries also matter. I am sorry to tell you, but the older you are, the fewer gains you may see. If you have injuries, especially in your back, do not load up your bar. Be smart and start with a weight that is lighter than you think it should be. Then fo up slowly. Allow your injures to heal and protect your back. Learn proper lifting form and technique, and you will see your PRs increase.
Can I Squat Without a Belt?
Yes, you can squat without a squat belt. It is possible, and many people will not use a squat belt. There are many different opinions on whether a belt is good or bad. It is always a good idea to provide support for your back and remove as much stress from your back as possible. Many lifters only wear squat belts when they are lifting heavy. There are times when it may not be necessary to wear a squat belt. If you are lifting lightweight and you can stabilize your back and abdominal. Keep in mind that wearing a squat belt may cause your blood pressure to rise. If you have high blood pressure or a heart condition, you want to wear a squat belt on limited occasions. There are some lifts when you do not need a squat belt because it will not provide you any assistance. If you are doing leg extensions, pull-downs, or bodyweight movements, you will not see any benefits from a squat belt.
Conclusion / Summary
There is our list of the best squat belt options. Personal preference makes a difference when it comes to selecting the right squat belt for you. As you grow and become more experienced as a lifter, you may find your needs and wants change when it comes to a squat belt. You may decide you want a different belt for different movements. You must pick the right squat belt that helps support your back while removing pressure and giving you the most comfort. We hope this article has given you some insight into squat belts and leads you to the best one for you.