Best Winter Running Jackets & TOP 15 Cold Weather Jacket Reviews 2020
Have you ever been for a run in weather that is so cold, you just never managed to warm up?
I have, and I can tell you, it's not fun.
A good winter running jacket will keep you warm and dry so that winter runs aren't limited to the treadmill.
This article will save you the time and hassle of finding a good winter jacket, by listing the best winter running jackets 2020.
Read on for the inside scoop on the best jackets and what to look for when clinching the deal!
So, What Should We Look for When Choosing the Best Running Jackets for Winter?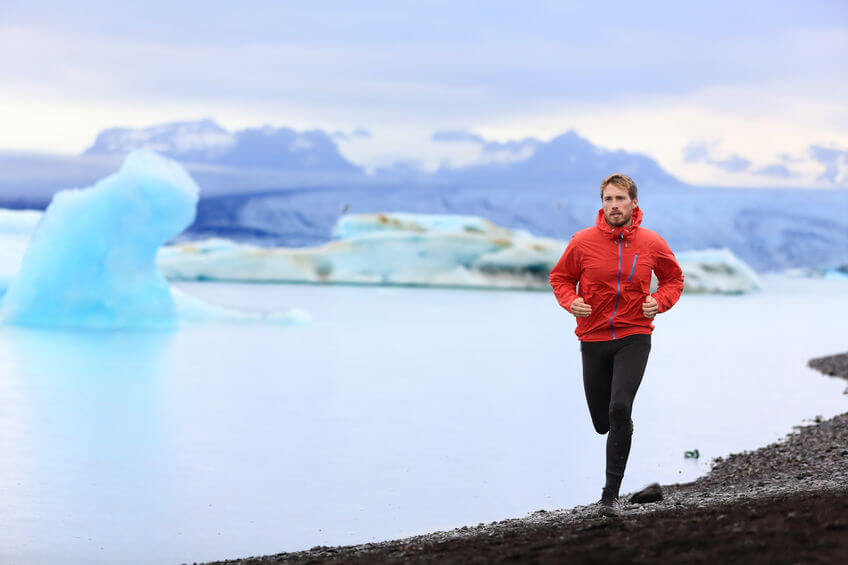 The 4 main things to look for in a good winter running jacket are a good balance of wind resistance, water resistance, breathability, and freedom of movement.
Insulation and Wind Resistance
They say to dress as though you're going out in weather that is 20'F warmer than it actually is if you're going to be running, as the heat you generate from running will make up for the difference.
It sounds simple enough. But putting it into practice can be tricky.
After all, running means that you're effectively generating a little wind as you move through the air, and wind chill always make you colder than simply being in cold air.
This means, that wind resistance is actually going play a greater role in keeping you warm than insulation in a running jacket.
If you're running in really, really cold temperatures, like far below freezing, then yes, insulation is going to be your friend.
There some amazing down or synthetic insulated jackets on the market for this. But for most winter climates, a good windproof jacket with a base layer will be more than enough once you get the blood pumping.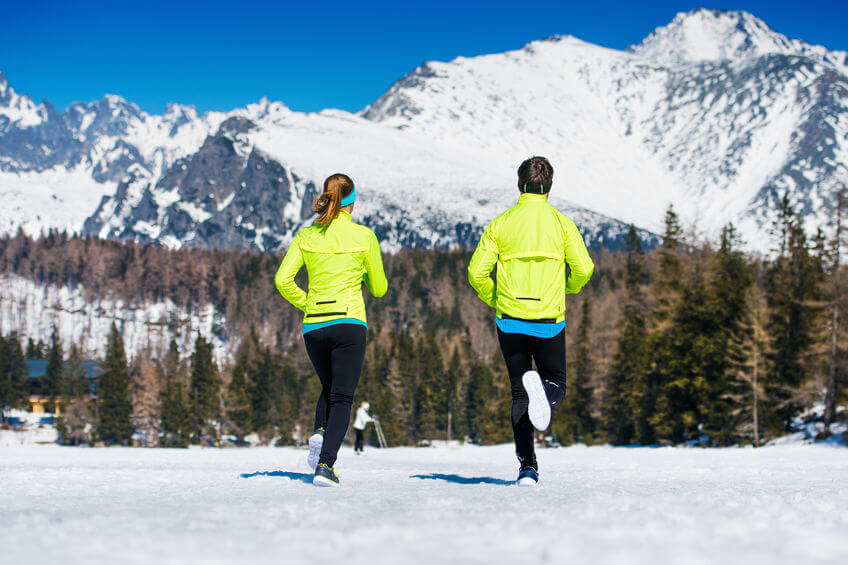 Water Resistance
Water resistance can be very handy when running through winter weather.
Note that I'm not saying "waterproof" here.
Waterproof jackets (unless you plan to be running through a storm of horizontal sleet and rain with sub-freezing wind chill temperatures) are not ideal for running in as they often don't have enough breathability to counter the sweat that you will inevitably produce.
Regardless of how amazing the technology claims to be, the fact is, even Gore-tex may not be able to handle your running sweat in a downpour.
There will be people who will disagree with me on this, but I have tried a number of top quality Gore-tex jackets and have not managed to stay dry in any.
It seems to me, that getting a bit wet when you run is kind of part of the deal, and it's often easier to make peace with getting wet, and focus more on wearing good base layers (such as merino) that will still keep you warm when wet, together with a good windproof outer shell.
But, back to water resistance.
Water resistance can be achieved while maintaining decent breathability, and can definitely help to keep you warm and dry in light rain and snow when you're not running fast enough to generate enough heat.
Breathability
Breathability is crucial, as explained above, there is little point in worrying about external sources of water if your jacket is going to trap all of your sweat and soak you from the inside out.
Most running jackets are designed to be breathable, but even so, this is something you should always check for specifically.
If you know you sweat a lot, zippered armpit vents can be a great asset.
Freedom of Movement
Not being restricted by your running attire is a big deal to us runners.
After all, isn't the freedom of being able to use your body the way it was designed one of the big attractions of running?
You will definitely want to make sure that your jacket is designed to allow your arms to swing freely and your body to rotate without feeling restricted.
Other Things to Consider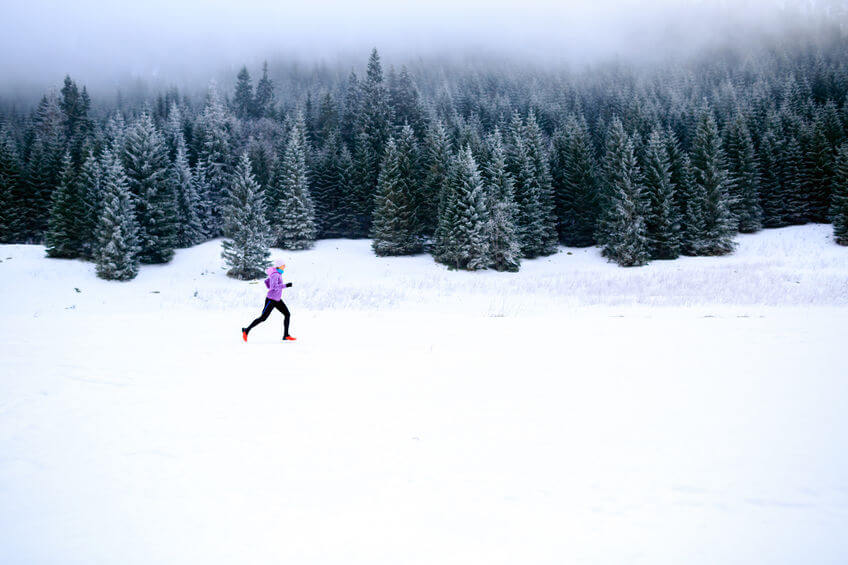 How much insulation do you actually want?
Some jackets are designed for below freezing temperatures and will likely cause you to overheat if your local winter is nearer the 10'c/10'F mark.
Choosing the right amount of insulation may sound obvious but could be the difference between having to take your jacket off mid-run, or finishing your run with blue lips.
Reflective details on your jacket can make running in the dark safer, so cars are more likely to see you.
Pockets pockets pockets! A breast pocket with a zip can be a handy place to store keys or your phone while you run (provided the jacket is snug fitting enough that they won't bounce around too much).
A hood can that can be tightened to fit snugly around your face and prevent chilled air from channeling down your neck can go a huge way towards keeping you warm in frigid temperatures.
Finally, this is a personal preference, but I really like thumb holes when I'm running. They keep my wrists and upper hands warm and stop drafts from getting up my sleeves.
So now that we've covered the main factors to be aware of when choosing your running jacket, here some great choices to consider:
TOP 15 Best Winter Running Jackets Reviewed 2020
Outdoor Research Men's Boost Jacket
Review: This is the jacket you'll want for those hill reps you'll be doing in a cool breeze. You won't overheat going uphill but you'll be protected from the wind on the downhill.
It has excellent breathability and wind resistance but no insulation.
Pros
Venting panels for excellent breathability.
Water and wind resistant.
Flexible and "Movement Mirroring".
Lightweight and easy to stuff into a compact package using the back pockets.
Zippered chest pocket.
Thumb and finger loops.
Cons
Takeaway
A very lightweight jacket with great ventilation, ideal for keeping a cool wind and light rain off you.
Salomon Men's Fast Wing Hybrid Jacket
Review: This is a lightweight running jacket designed to give you an extra layer of protection against the elements without weighing you down.
It can be taken off easily while running and stowed in the elasticated waistband for easy transport, and it has a hood, which not many lightweight jackets do.
Pros
Very lightweight, weighing around 4 oz.
Snug fitting with elasticated waistband and wrists to keep the warm air in.
Well-designed hood stays in place while running.
Cons
Not water resistant, this won't do much in the rain.
Little extra insulation, won't be warm enough in temperatures below freezing.
Takeaway
This is the ideal jacket for a little extra wind protection and warmth without overheating in moderately cold temperatures.
Under Armour Men's Outrun the Storm Jacket
Review: This is the raincoat you'll want on hand for wet runs. It's not designed with serious insulation in mind so it won't warm you up in freezing weather, but it will keep the water and wind off you while you run.
Pros
Excellent waterproofing and breathability make this a top choice for rain jackets.
Zippered side pockets.
Reflective details.
Lightweight, stretchy material.
Cons
Hood doesn't stay in place when running.
Slightly looser fit than might be ideal for running but means you have space for an extra layer underneath.
Takeaway
A good, lightweight jacket for the wetter, windier days on the road.
Arc'teryx Men's Incendo Hoody
Review: The Arc'teryx Incendo is an excellent all-rounder. It is form-fitting, water resistant, breathable, warm and has a hood. The ideal lightweight jacket for keeping you warm and dry.
Pros
Water resistant and wind resistant.
Fitted hood and wind flap.
Underarm mesh panels add to already excellent breathability.
Lightweight and packable.
Cons
Hood isn't adjustable so could be an issue if it doesn't fit.
Takeaway
A fantastic option for a lightweight windproof top layer that will stand up to a moderate amount of rain while maintaining excellent breathability.
Among the best cold weather running jackets with a good balance of insulation and weather resistance.
Marmot Men's PreCip Waterproof Rain Jacket
Review: For guaranteed waterproofing on wet runs, this is the jacket you should be reaching for.
It is the kind of durable that means it will serve you well for many years before it needs replacing, and all while being comparable in price to some much less durable jackets.
Pros
100% seam sealed, waterproof and breathable.
Well-designed adjustable hood.
Underarm zips for optional extra ventilation.
Cons
It is just a shell, there is not extra insulation so you'll need a good base layer or a mid-layer.
Takeaway
Though not designed exclusively for running, this could be the best waterproof winter running jacket.
Mizuno Men's Static Breath Thermo Softshell
Review: A little step up in terms of warmth from the lightweight jackets above, this jacket is light in weight, but not in insulation.
It is cozy and warm while being breathable and water resistant.
Pros
Wind and water resistant 100% polyester outer.
Breath Thermo inner fabric is moisture wicking and insulating.
Stretchy, flexible material.
Thumb holes.
Zippered chest pocket.
Cons
Won't feel warm until you've warmed up.
Takeaway
If you like the soft shell style, this is a great choice for a running jacket that is well insulated and comfortable.
Saucony Men's Nomad Jacket
Review: This is a very cozy jacket, likely too warm for less sever winters if you're running at a good pace.
It's soft fleecy lining and water resistant shell will keep you warm in light winds and freezing temperatures.
Pros
Water resistant flex shell.
Soft snug fleece interior gives good insulation in snowy weather.
Reflective features.
"Zipper garage" prevents chafing at the neck.
Cons
Surprisingly not as wind resistant as you'd expect from a warm jacket.
Takeaway
This is definitely a jacket for the colder temperatures, designed with breathable insulation in mind.
Altra Men's Zoned Heat Full Zip Jacket
Review: This is the insulation you'll want to put between you and the below freezing temps outside. Synthetic insulation is becoming a popular alternative to down.
Altra takes this insulation and places it using Zoned Heat Thermal Mapping so the parts of you that need to be kept warm are warm, while the parts that need to breath are covered with non-quilted material.
Pros
A non-bulky, lightweight design keeping you warm but still free to move.
Zippered side pockets.
Snug fitting wrists.
High, zip up collar.
Cons
Not waterproof, this jacket is only suitable for cold, dry weather.
No hood.
Takeaway
If you live a climate where the winters sit consistently below freezing, this the jacket you'll want for your runs.
The best men's winter running jacket if you're looking for insulation.
Brooks Women's LSD Jacket
Review: This is a surprisingly cozy, lightweight jacket. It is warm and wind resistant. It won't be enough for really cold climates, though it is a great choice for mild winters.
It also packs down really small so is convenient to stuff into a backpack or tie around your waist when you're not wearing it.
Pros
Wind resistant and lightly insulated.
Very lightweight (around 3 oz.).
White reflective stripe on the back.
Cons
Takeaway
Ideal for mild days when you want a warm layer to ward off the chills but won't be running through rain or snow.
Nike Women's Shield Flash Reflective Jacket
Review: This winter running jacket is the complete package. With a hood, cuff gloves, serious reflectivity, warmth and water resistance, what's not to like about this jacket?
Pros
Detachable scuba hood and cuff gloves with thumb holes.
Dri-FIT Knit fabric is moisture wicking and warm.
Huge reflective panels on front and back.
Nike Shield technology provides warmth and water resistance.
Cons
Takeaway
The Nike Shield Flash is easily one of the best women's winter running jackets, with enough warmth and other features to keep you toasty through the chilly months.
Pearl Izumi Women's Ultra Wind Blocking Jacket
Review: This is a soft shell jacket with good wind and water resistance while retaining its breathability.
It is comfortable to wear, designed with movement in mind, and insulated enough to keep you warm in moderately cold weather.
Pros
Moisture wicking thermal fleece panels provide good ventilation.
Internal cuff gloves help to keep your wrists and lower arms warm.
Zippered side and upper arm pockets that don't bounce when you have items in them.
Cons
Not enough warmth for temperatures below freezing.
Not designed for heavy rain.
Takeaway
This is good jacket for temperatures above freezing, providing an extra layer of insulation and wind resistance.
Colombia Women's Outdry EX Caldorado Jacket
Review: If you live somewhere where rain is almost daily guarantee in the winter, this is the jacket you'll want.
It is fully seam sealed and made of 100% Ripstop nylon with a waterproof hood.
Pros
Outdry Extreme Membrane is waterproof and breathable.
Designed to support the full range of movement of trail running.
Zippered chest pocket.
Lightweight with vents for breathability.
Cons
May not be as breathable as it claims so if you're working up a sweat you'll probably get a bit damp.
Takeaway
This is the best women's running jacket for running through the rainy season.
Nike Women's Essential Running Jacket
Review: This water resistant, fully insulated jacket is guaranteed to keep you snug and warm on the coldest of runs.
It's not waterproof, but ideal as an outer layer and mid layer all-in-one for runs in cold, dry weather.
Pros
Brushed thermal fabric has water resistant finish.
High zippered neckline for extra warmth.
Internal media pocket.
Cons
Takeaway
A great option if you're looking for a cozy insulated running jacket for sub-freezing temperatures.
Inov8 Women's Softshell Half Zip Jacket
Review: This hooded softshell jacket is composed of 3 layers for zoned weather protection, designed to protect the runner against cold winds on exposed runs.
It is snug, warm and form-fitting for a comfortable but unrestrictive fit.
Pros
Built-in hood and elasticated cuffs with thumbholes.
Stretchy material in female-specific design is form-fitting and snug while not restricting movement.
Well insulated against cold wind from all directions.
Reflective details.
Cons
Takeaway
Designed with cold wind in mind, this is the jacket you'll want to be wearing when running in windy, exposed places.
Lululemon Women's Down For a Run Jacket
Review: There are so many features in this jacket I don't have space to list them all. But it seems Lululemon have thought of everything, which hopefully justifies the steep price point.
If you're going to be running in sub-freezing temperatures, it's safe to say that this jacket will keep you warm and dry.
Pros
Water and wind resistant outer.
Moisture wicking ventilation panels under the arms and down the sides.
800 fill goose down quilted insulation.
Zippered chest vents for extra ventilation.
Cons
Takeaway
Easily the best women's running jackets for cold weather if you can afford the high price point.
SO, that wraps up this guide to the best winter running jackets on the market this season.
I hope you've found something you like the look of that fills your criteria and will keep you the right amount of warm and dry for your winter locale.
Don't forget to subscribe for more helpful articles!