5 Best Reverse Hypertension Machine
A reverse hyperextension machine is a specific piece of equipment with the intention of strengthening your back, especially after heavy lifting. They tend to be heavy, expensive, and take a lot of space in your gym, whether a professional gym or in your own house. Due to the specificity of the exercises, they must be done correctly and with the proper equipment. Please continue reading to find the best equipment to use for a reverse hyperextension, including our top 5 reverse hyperextension machine options.
What Is The Best Reverse Hyperextension Machine?
When it comes to gym equipment, Rogue constructs heavy-duty and durable pieces. That is why the Rogue Z Hyper is the best reverse hyperextension machine. This machine, while it may seem pricey, is actually a middle-range cost. This machine will last forever, probably longer than you will want to workout. It can hold up to 700 pounds in weight. It has adjustable handles and a thick pad to protect you while using the machine.
Rogue Z Hyper - Best Overall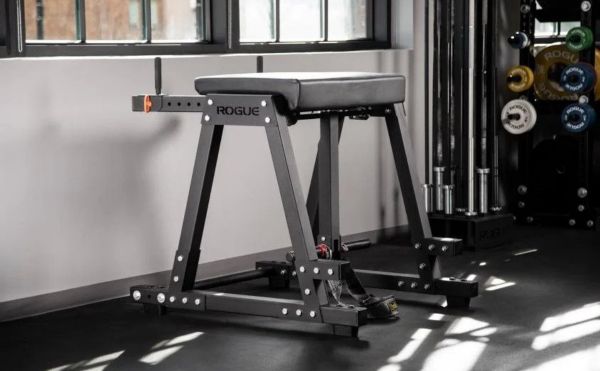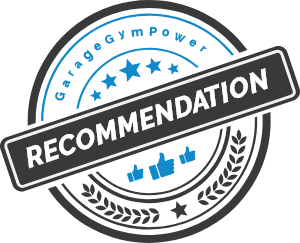 Review: This Rogue Z Hyper is made of the quality that you expect from a Rogue product. This is a heavy-duty and well constructed reverse hyperextension machine. The Rogue Z gives you a top-notch lower body workout while giving traction to your spine. You can rely on the Rogue Z to help reduce any tightness in your back while strengthening your hips, glutei, and hamstrings.
This machine is an 11 gauge construction of steel bolted together to make it easier to move around. The Rogue Z has a pad that is 35 inches wide by 24 inches deep. It is also made of 3 inches of foam and includes a 3-inch foam lip to provide the user the most comfort while performing exercises. This foam padding protects your hips, so they do not rest on the steel frame.
This machine can hold up to 700 pounds, which is more weight than you most likely need. No matter your height, this machine can meet your needs because the handles are adjustable. You can adjust them anywhere from 2 to 14 inches from the pad. They are simple to adjust, cutting down on the time it takes to transition. It has a step on each side of the machine that makes it easier for you to get into position. The base has a superior grip and protects the floor with its rubber feet.
Rogue is well known for customer service, giving you access to their warranty and exceptional customer service.
Pros
This is the perfect machine for stretching and rehabbing your lower back.
There are attachments you can purchase separately.
This machine is manufactured in the US.
Cons
This piece of equipment is heavy and it takes up a large amount of space.
Takeaway
This reverse hyperextension machine is the ideal machine for those needing physical therapy and back rehab.
Westside Dual Pendulum Reverse Hyper - Premium Choice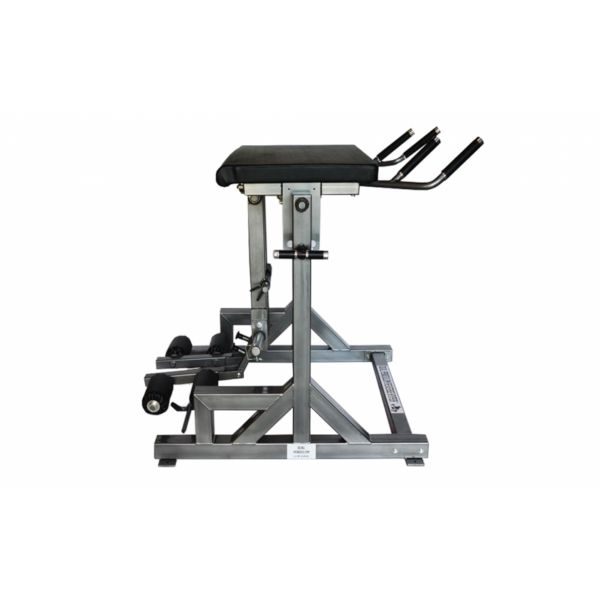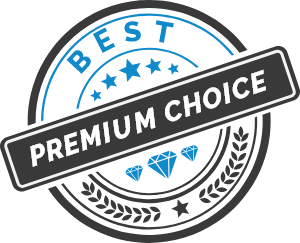 Review: This machine was constructed by Louie Simmons along with Westside Barbell. Louie Simmons is the Reverse Hyper machine's creator, so he knows a thing or two about building one. This particular machine allows you to train each leg independently from the other or train them both at the same time. The Westside Dual Pendulum Reverse Hyper is made from steel that is the heaviest gauge. It weighs over 350 pounds, and you can feel confident it is stable and not going anywhere.
This versatile machine allows you to get a full range of motion and flexion while building strength. You will be able to work on your hips, glutes, spinal erectors, low back, and hamstrings. This machine has all you need to get you on your way to a stronger backside. The tabletop is padded and adjustable providing you maximum comfort no matter which muscles you want to isolate. The tabletop tilts up to 15 degrees up and down. When it is put up, you can isolate the erectors and low back but still using your abs, hamstrings, and glutes. When you move it down, you focus on your hamstrings and glutes while still using the other muscles. This machine also has weight posts giving you the ability to load weights to suit your needs.
Pros
This is a professional grade machine used by top athletes.
This machine can help rehab a tight and injured back, including bulging discs.
Includes retention pins for a quick change between single pendulum to dual pendulum mode.
Cons
This is an incredibly expensive reverse hyperextension machine.
Takeaway
This is a great machine for someone who wants to isolate one leg at a time.
Westside Scout Hyper- Editor's Choice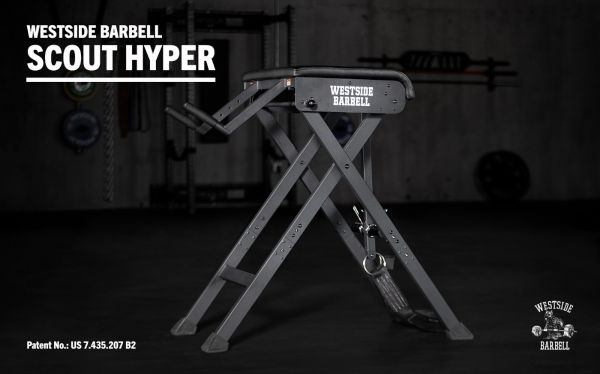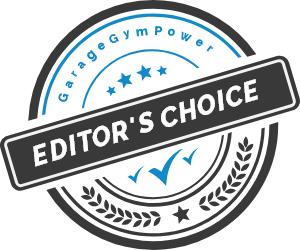 Review: The Westside Scout Hyper is a reverse hyperextension machine that has been created by Louie Simmons, the founder of the reverse hyper. This machine is foldable, which allows you to pick it up and move it anywhere you want to workout. The price on this reverse hyper allows you to buy a piece of equipment you may have been unable to in the past because of the high cost.
When you fold the machine, it completely collapses and is only 13 inches when collapsed. The machine can stand on its own when folded, but you should place it flat to ensure it does not fall over. When fully opened, you lock the machine in place, giving you complete confidence in its stability. This machine was constructed with younger or less experienced athletes in mind. The pad on the machine is 2 inches thick to protect your hips from bumping up against the machine. The pad is 27.5 inches wide by 21.5 inches deep.
The machine is also equipped with a nylon webbed strap, two posts for weight, and spring collars to hold the weight in place. The weight posts are 5.25 inches long, giving you room for all the weight you need. The handles are 6 inches long.
Pros
It does not take up much space and can be put away when not in use.
Additional pieces may be purchased to help users with shorter arms and need the handles closer to the pad.
The step is covered with rubber to ensure you can safely get up and down from the machine.
Cons
It does require some users to set-up, but it should only take you about 30 minutes.
Takeaway
This machine is great for the person looking for a quality machine at an affordable price.
Westside Ultra Supreme Reverse Hyper
you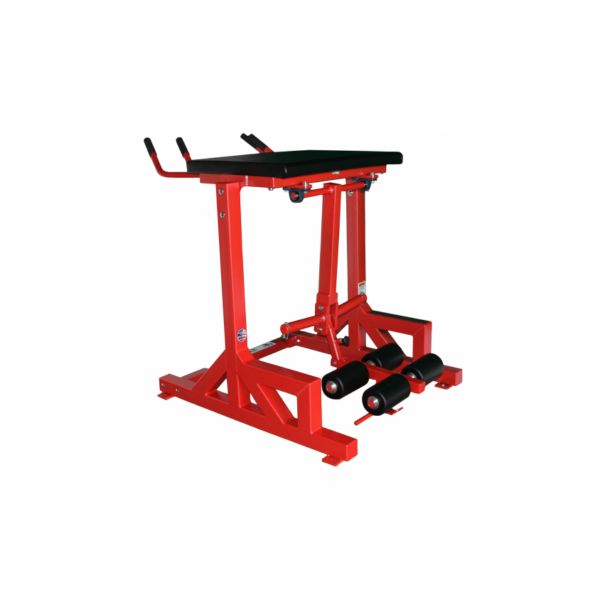 Review: The Westside Ultra Supreme Reverse Hyper has been created by Louie Simmons in combination with Westside Barbell. This machine provides a tabletop pad that is adjustable into 3 different positions. This machine is intended to keep your back healthy, as well as get it back to a healthier state.
The pad can be adjusted by tilting it up to increase the traction. It can also be tilted down to activate the glutes. The pad's tilting gives you more range of motion, which helps movement and strength in hamstrings, lumbar area, glutes, and spinal erectors. The result of all of this is that you become more flexible and stronger. These two together help protect you from injury.
The Westside Ultra Supreme Reverse Hyper is constructed of heavy gauge steel, providing you durable stability that you can count on every time you use the machine. It has a straight pendulum and takes up a decent amount of space. The machine is 51 inches high by 45 inches wide by 49 inches deep.
Pros
This machine causes traction of the spine while allowing the sacrum to rotate.
You can use additional included equipment, such as straps and rollers, to enhance the exercises.
This machine is made in the US.
Cons
The machine is heavy and may not be easy to move around your workout space.
Takeaway
This machine is great for athletes looking for an adjustable machine that provides traction and rotation during a reveres hyperextension.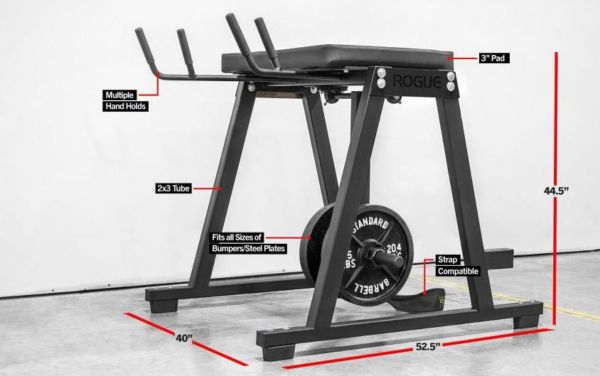 Review: The RH-2 Rogue Reverse Hyper is a durable and solid piece of machinery. You can trust the quality and the value that you have come to expect from all Rogue equipment. Louie Simmons, the creator of the reverse hyper machine, has given Rogue approval and permission to build these reverse hyper machines. This heavy-duty machine is slightly over 200 pounds and is a black matte finish matching all other Rogue equipment. The machine is made of steel that comes directly from Rogue's steel facility. The base is 2 x 2 steel with legs that are parallel forming the base. The frame and swingers are constructed from 2 x 3-inch tubing.
This machine is easy to use; even beginners have no problem adjusting. It is great to back rehab with lighter weight or working the hamstrings and glutes with heavier weight. It can hold your 45-pound plates with no problem. The pad on this reverse hyperextension machine is 3 inches thick and can comfortably accommodate even the biggest lifter. It includes a strap and rogue collars to secure your weights. Rogue offers equipment that you can buy separately to increase the usability of your machine.
Pros
This machine is shipped fully assembled, and there is no work for you.
It is compatible with all plates at any increment.
The handles offer multiple handholds when you are using the machine.
Cons
The powder coating gives the machine a rough look that may not appeal to everyone and may be difficult to keep clean.
Takeaway
This machine is for the athlete that does not mind spending a little extra on a machine intending to isolate specific muscles and movements.
How To Pick the Best Reverse Hyperextension Machine?
When you are interested in purchasing the best reverse hyperextension machine, there are several features that can help guide your decision. The location you plan to use this machine matters because if you are purchasing it for a professional gym where many people will use it, you want professional-grade equipment. You want to have a clear understanding of your space and how much room you have for a machine. The best reverse hyperextension machine takes up a lot of space, but compact and foldable versions are available.
Quality matters when it comes to all gym equipment, but especially for a reverse hyperextension machine. Price is not the only way to determine the quality of a piece of equipment. The way to determine the quality of the steel in a piece of equipment is by the gauge. The lower the number means, the stronger the steel. 11-gauge steel is stronger than 14-gauge steel. All reverse hyperextension machine options have padding to protect the user from hurting themselves when using the machine. Some machines offer adjustable pads to accommodate users of different sizes.
How To Safely Use Reverse Hyperextension Machine?
The reverse hyperextension machine has been called the back saver because it can help strengthen and rehab your back. It is important that you use the machine properly. If you want to rehab your back, you should use a lighter weight. If you want to build strength in your hamstrings and glutes, you can use a heavier weight.
You want to position yourself, so you are prone on the reverse hyperextension machine. You want to make sure that your hips are at the end of the pads so your hips can move freely without overextending your low back. You want to hold your legs straight and contract your core. This minimizes the extension of your lumbar area. You also want to make sure you keep your chest forward on the pad of the machine. This ensures that your hamstrings lengthen as you bring your legs closer to the floor.
When you lift your legs, you want to use your glutes and your hamstrings. You want to try hard not to jerk the top part of your torso. This jerking motion can put an excessive amount of strain on your lower back. Every time you move your legs, you want it to be a controlled motion. You want it to be fluid, allowing your legs' momentum to help you with your movements. Once you have developed strength from using the machine, you can do this as a strict movement where you do not use any momentum. When you are finished with your movement, you can bring your legs back to your starting position. You want to make sure you do not lose control after your set. If you do, you can put stress on your lower back.
How To Do Reverse Hyperextension Without Machine?
While a reverse hyperextension machine is an effective piece of equipment, sometimes you do not have access to one. The good news is, you can still work the same muscles with alternative equipment. You can use a table in place of a reverse hyperextension machine. If you do not have a table, you can substitute a box or a bench. A table is the better option because it allows you to have a better range of motion as it is higher from the ground. Be careful when using a table because it may not be stable, and it may flip over while you are on it. You should lie on your stomach on the table with your hips at the edge of it. Since the table does not have handles, you should hold on to the edge. Then slowly lift your legs up as high as you can without arching your lower back.
You can use a fitness (stability) ball or a bosu ball to do back extensions. You should lay down on top of the ball but make sure your feet are up against a wall to give you stability. This allows you to focus on your back instead of balancing on the ball. You can lie your stomach on the ball, with it closer to your waist, if you are experienced. If you are a beginner, you want to keep the ball closer to your chest. You slowly move your upper body up as far as you can and then slowly lower it concentrating on tightening your back muscles as you move.
You can also do a superman. This is a back extension exercise you can do without any equipment. You lie on the floor with your arms extended in front of you, like superman flying. You keep your legs straight. You lift both legs and both arms at the same time as high as you can. Do not be surprised if it is not high at all. You want the motion to be slow and controlled as you squeeze your back and your abdominals
How To Build a Reverse Hyperextension Machine?
You have been pulled in by the magic of the reverse hyperextension machine, and now you want one. The problem is they can be expensive and take up a large amount of space. Many people do not have space or money for one. The good news is that you can build your own reverse hyperextension machine. I have seen quite a few different do-it-yourself versions of the reverse hyper, and they are all impressive sights. However, they involve plans and cutting and drilling, and I am not convinced that just anyone can build them. The person who came up with the design always says otherwise, but I am skeptical.
Instead, I have found another solution to creating your own hyperextension machine. It is not the prettiest you have ever seen, and you are not going to be able to sell it, but it works, and that is what matters. You can take this idea and use it in just about any gym set up. You do need a power rack, 2 x 6s, and some bands or ankle weights.
You want to make sure the pins of your power rack at set at your chest height. You take two 2 x 6s and glue or nail them together. Once you have done that, you can put your 2 x 6s on the pins. You loop your bands around the bottom of the power rack. You want to use a yoga mat or some other cushion you have at the gym to protect you from the hardwood. You have just created your own reverse hyperextension machine. You lean on the boards, put your feet in the bands, and perform the movements just as you would on an expensive piece of equipment. You can hold on to the rack to give yourself some stability. This set up allows you to have a maximum range of motion. If you want more resistance, you can add more bands. You can also use ankle weights instead of or in combination with the bands.
Is Using Reverse Hyperextension Machine Safe?
Using a reverse hyperextension machine is safe for anyone that does not have a back injury. If you have a back injury, you may or may not have pain when attempting a reverse hyper, depending on the injury. If you have an injury, you should start with light or no weight. You can use a reverse hyperextension machine with bodyweight until you strengthen your back. If you have any pain in your back, you should stop doing the exercise. The reverse hyper can help decompress the spine while working the muscles of your posterior chain. These exercises help to strengthen the muscles that help to stabilize your spine. They also allow blood to pump through the area that is injured, which can promote healing. Even for individuals that have bulging discs, a reverse hyper is a great exercise to help rehab the back.
It is important to remember that you must do the reverse hyper properly. If done incorrectly, it can cause more pressure on your spine and damage to your back. There is a proper way to complete this exercise so that it decompresses your spine and creates traction.
Conclusion / Summary
There you have it. Everything you need to know about a reverse hyperextension machine: it really is an amazing piece of equipment. It is a shame that they tend to be expensive and take up a significant amount of room. Just about anyone that trains can benefit from using this machine. If you are really looking for one, remember to get one made of quality construction and is durable. You can also try your hand at building your own if that is what moves you. When you know all the information about what is available to you, it helps you make an informed decision that you can feel good about. Best of luck on your search for the best reverse hyperextension machine.