Best Headphones for CrossFit with TOP 11 Reviews 2023
Music just makes things better.
Listening to the right music while you power through your WOD or Metcon can make it a much more enjoyable experience.
But listening to that music on crappy headphones can really ruin your focus and the flow of your routine.
That's why today I am going to review 11 of the best headphones for CrossFit so you can find a pair that is sweat proof, won't cut out, fall apart, sound crappy or lose battery life before you finish your set.
Ready to look at some of the best workout headphones?
Before we jump into the reviews, I want to quickly describe what features make headphones ideal for CrossFit.
What do Headphones Need to be Gym Worthy?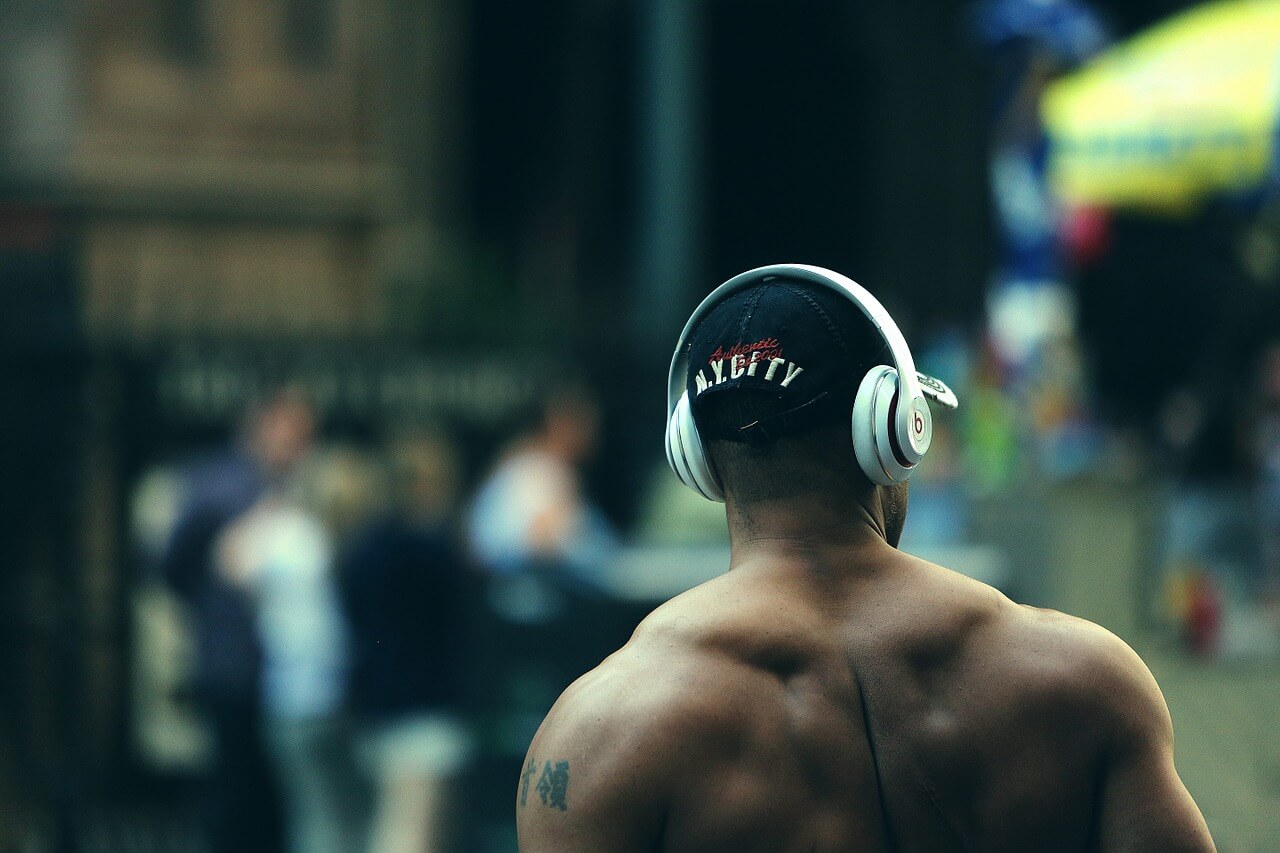 Waterproof Sweat Resistant and IPX Ratings
Any headphones you use in the gym must be sweat proof.
Some claim to be water resistant, but you might find after wearing them to workout a few times that your perspiration seeps in and ruins them.
What can you do to prevent this annoying problem?
The best workout headphones have IPX ratings. IPX ratings are standardized ratings with specific definitions for each rating.
While I am not going to put you to sleep describing each rating, just know that the higher the rating, the more water, sweat and dust proof they are.
IPX4 is good, sweat and rain will not affect them.
IPX 7 is great; you can even shower with IPX7 rated headphones on.
Bluetooth and/or NCF connection
Using wireless headphones is practically a must at the gym.
Getting tangled in wires and cables is a distraction and your movements can pull the headphones out causing you to lose focus, which can be dangerous if it happens during a heavy lift.
In addition to that:
All the tugging and movement is bound to break the wires eventually. Plus, if your headphones are attached to your phone and they fall off, you risk damage to the phone jack or worse, your phone may fall on the ground.
Not cool!
Noise Cancelling Sound Isolation or not? Which makes the best headphones for CrossFit?
Noise cancellation is a blessing and a curse, depending on circumstances.
On one hand:
Headphones that block out the outside world can be great because they allow you to focus and concentrate on your moves.
They also prevent you from having to listen to the less than stellar music the gym manager has decided to impose on everyone, or the disturbing grunting of "that guy over there" who feels the need to let the whole gym know he is lifting heavy.
On the other hand:
Headphones that completely block noise may leave you pulling them out to hear what your workout partner said.
If you workout outside, or decide to go for a run, noise cancelling headphones are a no-go, because you can't hear traffic, dogs, or other important noises in the environment.
You decide what works best for you.
In my reviews below I let you know what headphones block all, some or no noise so you can make the best choice for your needs.
I promised I would keep it short, so now let's get on with those reviews.
TOP 11 Best CrossFit Headphones Reviews 2023
Bose SoundSport Wireless Headphones
Review: These Bose soundsport wireless headphones have a great sound quality and an ear fit most people love, but they are not strong at noise cancellation, which is good or bad, depending on what you want.
These ear buds come with a free app to connect your music to your headphones, plus with the built-in mic you can make and receive phone calls.
Battery Life: 6 Hours.
Water and Sweat Resistance: Highly water and sweat resistant, IPX4 rated.
Pros
Bluetooth and NFC pairing.
Excellent sound quality.
"Stayhear" Sport tips on these buds make them comfortable and secure- these will not fall out.
Cons
Round neck cable causes friction.
Takeaway
If audio quality is important to you, these are good headphones for CrossFit.
Mpow Flame Bluetooth Waterproof Headphones IPX7
Review: These Mpow Flame Headphones not only come at an excellent price, they are useful at the gym or on the go. The built in mic allows you to take and make calls.
They are not completely noise cancelling, so you can still hear people, cars and other important sounds around you. There are convenient in ear buttons to skip songs, answer the phone and pause the music.
Battery Life: 7 hour battery life.
Water and Sweat Resistance: IPX7 Rated can be submerged in shallow water, very sweat resistant – you can even shower with them in.
Pros
Great price.
Audio stays connected, does not cut out-plus headphones pair quickly.
Excellent water resistant rating- no need to worry about sweat at the gym or box.
Cons
Not the best for people with small ears.
Takeaway
High quality earbuds at a budget price.
Jaybird X3 In-Ear Wireless Bluetooth Sports Headphones
Sale
JayBird X3 Sport Bluetooth Headset for iPhone and Android – Blackout
MINI WIRELESS BUDS – The X3 Headphones by Jaybird are designed to be as small as possible without sacrificing performance and looks
UNIVERSAL SECURE FIT –The patented silicone ear fins securely attach to the top and back/lower surface areas of the ear for a snug fit, locking the earbuds in during workouts and intense physical activities; Includes multiple sizes of silicon and Comply tips for maximum noise isolation, fit, and comfort
SWEAT PROOF – Built to last with a sleek yet rugged design, the X3 Headphones are great for sports, workouts, and all weather conditions; Their hydrophobic nano coating will keep moisture away, whether it's sweat, rain, or snow
LONG BATTERY LIFE – Don't let a low battery interrupt your day; The X3 has an 8 hour battery life; 15 minutes of charging gives you a full hour of playtime, so you'll always be ready for anything; Operation : Operating: 32º F: 113º F (0º C: 45º C ; Storage: 14º F: 122º F ( 10º C: 50º C)
PERSONALIZED SOUNDS – The MySound App allows you to tweak and customize the sound of your X3 headphones for a personalized experience, and save them for later as a profile
Review: Many athletes swear by the Jaybird X3 as their go to workout earbuds. This model is smaller than the "freedom" model and the remote on the cable is a lot slimmer so it won't pull the headphones out.
You can easily make and take calls. The earbuds are highly customizable with a separate bag of Silicone tips, ear wings and foam tips to give you the best fit.
Battery Life: 8 hr
Water and Sweat Resistance: Sweat proof, with a hydrophobic nano coating.
Pros
Very good sound quality, deep base, bright and clear mids.
Includes 6 different sized of Ear Wings, foam tips and silicone tips- Highly customizable to give you the most secure fit.
Flat cord lays better than a round cord found on less expensive wireless headphones.
Cons
Sweat proof coating tends to peel after prolonged use.
Takeaway
For fit and quality, these are some of the best CrossFit headphones you can get.
Anker ZOLO Liberty+ True Wireless Earphones
Review: These ZOLO Liberty + headphones offer noise cancelation, but have a unique feature that turns on the mic so you can hear the outside world with the push of a button.
These are TOTALLY wireless, which means no annoying behind the head cord, and they have slide and twist secure fit tips so they stay in while you are pounding out your daily WOD.
Battery Life: 3.5 hrs from 1 charge, with a boost given from the included charging case.
Water and Sweat Resistance: IPX 5 rated, splash and sweat resistant.
Pros
Ability to EQ balance the headphones from the Smartphone app.
Completely wireless.
Includes easy to use charging case which boosts charge time to 48 hrs.
Toggle audio isolation on and off.
Cons
The seal on the earphones is not great, some users would prefer memory foam style tips, but these do not include that style.
Takeaway
One of the best wireless headphones for CrossFit that are truly wireless.
Apple AirPods with Charging Case (Previous Model)
Amazingly easy to use, Air Pods combine intelligent design with breakthrough technology and crystal clear sound
AirPods provide rich, high-quality AAC audio; And when you want to be heard, dual beamforming microphones filter out background noise when you make calls or talk to Siri
Just take them out and they're ready to use with all your devices, put them in your ears and they connect instantly
Double-tap either AirPod to activate Siri, without taking your iPhone out of your pocket
Review: You may not think of these as gym headphones but a lot of people love using them to workout. The Apple Airpods are a truly wireless headphone that use the latest technology to deduce when they are in your ear or not.
These headphones automatically turn on when you put them in your ear and turn off when you take them out. The Airpods do not block out all ambient noise, so you can still hear what is going on around you and they are pretty sweatproof.
Battery Life: 5 hr battery life on one charge and up to 24 hrs with the charging case
Water and Sweat Resistance: Sweat and moisture resistant.
Pros
Slimmer and lower profile than most other truly wireless headphones.
Charging case adds extra charge time to 5 hours you get from just one charge.
Extremely easy to pair with any Bluetooth device.
Can be used for hands free phone calls.
Cons
Several people mention these are difficult to keep in, there are silicone covers you can buy to help.
Takeaway
Best Bluetooth headphones for CrossFit in a completely wireless style.
TREBLAB X2 Bluetooth Earbuds
Review: These truly wireless headphones have a shape that somewhat resembles the airpod with a small tube that projects from the bottom, but unlike the airpods, these come with ear fins, silicone and foam tips to get the best fit.
Their battery life is the same as the airpods, except the charging box only carries an extra 5 hours compared to the charging box of the airpods that carries 24 extra hours.
They are just a fraction of the cost of airpods and they have some great features like beryllium HD sound, Siri support, and noise canceling tips you can change out if wanted.
Battery Life: 5 Hr battery life + another 5 more from the charging box.
Water and Sweat Resistance: IPX4 rated sweat and water resistant.
Pros
Supports phone calls and Siri Commands.
Variety of ear fins and tips to get the perfect fit and most comfort.
Sweat and water resistant.
Great price for truly wireless headphones that work well.
Good noise cancellation.
Cons
Mic quality is not the best.
Takeaway
These truly wireless headphones deserve a second look, they may just end up being your best wireless headphones for CrossFit.
Bose SoundSport Free Truly Wireless Sport Headphone
Sale
Bose SoundSport Free, True Wireless Earbuds, (Sweatproof Bluetooth Headphones for Workouts and Sports), Black
TRULY wireless Sport headphones for total freedom of movement, packed full of technology that makes music sound clear and powerful
Earbuds are sweat and weather resistant (with an Ipx4 rating) and come with 3 different pairs of Stay hear and Sport tips (in sizes S/M/L) that provide a comfortable and secure fit
Up to 5 hours of play time with each charge and an additional 10 hours with the included charging case and also features a charging time of 2 hours
Track lost earbuds with the Bose connect App's "find My buds" feature
Firmware update to improve Audio video synchronization for customers using iPhones, iPads and other Bluetooth devices that support AVDTP version 1.3 or later, available via connect app. Connectivity Technology: Wireless Bluetooth
Review: These truly wireless headphones by Bose are a little larger than most but they do have a 5 hour battery life, plus the case holds another 10 hours, so you will always have your music available.
They feature Bose quality sound that will not disappoint and they stay in very well while you work out.
They are completely wire free and they have easy to use toggle controls on the earbud to answer calls or change the track. Plus they have both Bluetooth and NFC pairing to keep you connected to your tunes.
Battery Life: 5 hrs per charge and case holds 10 extra hours.
Water and Sweat Resistance: Sweat and moisture resistant, but not for showers or steamy conditions.
Pros
Superior sound quality.
Stay hear with sport tips ensure these headphones stay in even during vigorous activity like jump rope.
Truly wireless headphones with included charging case for extra battery life.
Cons
Mic picks up background noise.
Sound delay when watching videos.
SENSO Bluetooth Wireless Headphones
Sale
SENSO Bluetooth Headphones, Best Wireless Sports Earphones w/Mic IPX7 Waterproof HD Stereo Sweatproof Earbuds for Gym Running Workout 8 Hour Battery Noise Cancelling Headsets
UPGRADED TRUE HD HIGH FIDELITY SOUND Featuring latest Bluetooth 4.1 CSR technology and state of the art acoustic components that produce incredible sound quality with deep bass and crystal clear treble.
ADJUSTABLE EAR-HOOKS WITH MEMORY METAL TECHNOLOGY FOR SECURE FIT - ActivBuds feature Ergonomically designed adjustable ear hooks with gel flex silicone earbuds to ensure your headphones stay comfortably firm in place to guarantee fatigue free ears and tangle free COMFORT FIT FOR ANY EAR SIZE
LONGEST BATTERY LIFE - The new and improved lithium polymer battery allows seamless enjoyment of music for up to 8 hours and 240 hours stand-by with a quick charge of only 1.5 hours.
BLUETOOTH V4.1 WIRELESS TECHNOLOGY WITH CVC 6.0 NOISE SUPPRESSION TECHNOLOGY - Connect seamlessly with all Bluetooth enabled devices up to 30 feet away. With Noise Suppression technology focus on your favorite music and answer calls without skips or missed words.
1 YEAR WARRANTY AND BONUS ITEMS - Bonus Accessories with 1-Year Manufacturer's Warranty and 30 days no-questions-asked return policy. Value for money guaranteed, Buy the Senso ActiveBuds worry free today.
Review: With one of the best prices and a great waterproof rating it is hard to go wrong with choosing these as your go to gym headphones.
They have a great battery life too, and for the price, the sound is pretty good. They are not completely noise cancelling, but they do block out and cut down outside noise quite a bit.
The ear hooks are adjustable and flex to fit your ear shape. They stay in quite well, even during a vigorous workout.
Battery Life: 8 hr battery life.
Water and Sweat Resistance: IPX 7 rating, shower proof and sweat proof.
Pros
Great price.
Adjustable ear hooks, set of 3 silicone tips, and one set of memory foam tips mean you can create the perfect fit for your ear.
Excellent sound for the price.
One of the highest IPX ratings in this list, IPX 7 is sweat, shower and rain proof (not submergible, no swimming).
Cons
Some users notice occasional audio skipping.
Takeaway
Easily the best headphones for CrossFit 2023 in the budget price range.
BlueAnt Pump - Wireless HD Sportbuds
BlueAnt - Pump HD Bluetooth Sportbuds, Military Grade, Rugged Design and Premium Audio Components (Black)
UNRIVALED AUDIO FOR INTENSE ACTIVITY: Pump HD Sportbuds deliver unrivaled audio for intense activity and extreme conditions. Featuring best-in-class wireless range, PUMP delivers crystal clear audio and is currently the only set of wireless sport earbuds to carry the IP67 waterproof distinction.
SUPERFIT SYSTEM: With PUMP's Superfit System, no matter how hard you go, they go with you, allowing you to move with complete freedom and confidence during rigorous workouts and activities.
LIVE UNLEASHED: Train, play and live unleashed with the ultimate multi-sport wireless headphone that lets nothing limit where the music takes you.
PRODUCT SPECS: Play time: up to 8 hours. Standby time: 2 weeks. Bluetooth: 3.0. Profiles: A2DP, AVRCP, HFP, HSP. Codecs: APTX, AAC. Product Warranty: 12 Months.
PACKAGE CONTENTS: PUMP - HD Sportbuds - Black, ComfortSeal Tips, Comply Awareness Tips, Stabilizers, Cable Zip, USB Cable, User Guide.
Review: What makes these headphones great for the gym is the waterproofing technology incorporated into the design, and the fact that the earbuds stay put.
The headphones use Kevlar and Teflon with a watertight mesh to repel water and sweat. The ear hooks are hearty and firm, and will not move no matter how intense your routine is.
They also work outside the gym for calls and pairing with a computer or tablet.
Battery Life: 8 hr battery life, audible beep lets you know the battery is getting low.
Water and Sweat Resistance: Completely sweat and rain resistant. Not designed for swimming, because of the signal cuts under water.
Pros
Really strong sweat, moisture and rain resistance. Military grade, according to them.
Longer range than most wireless headphones. Up to 100 meters.
Moderately noise cancelling, especially with properly fitted tips- blocks a decent amount of ambient noise.
Rich vibrant sound with good volume.
Cons
While the packaging and presentation are excellent, the earbuds come with no case. Perhaps they should invest more in a carry case and less on fancy packaging.
Takeaway
The best bluetooth headphones for CrossFit if you sweat buckets and are looking for a low to mid price range set. These will not disappoint!
Plantronics BackBeat FIT Wireless Bluetooth Workout Headphones
Plantronics BackBeat FIT Wireless Bluetooth Workout Headphones - Waterproof Sports Headphones for Running and Workout, Green, Frustration Free Packaging
WORKOUT HEADPHONES: Specifically constructed with a flexible design so sports earbuds remain stable in your ear throughout all levels of exercise; Case not included with running headphones.
WATERPROOF AND SWEATPROOF: Designed with invisible nano-coating technology to protect sport earbuds against water and sweat during running and workouts.
LONG LASTING BATTERY LIFE: Impressive 8 hours of wireless listening time per charge allows you to spend more time working out with these sports headphones. Frequency response: 50-20,000 Hz
WORKOUT FUNCTIONALITY: Easily accessible on-ear controls let you control music and calls through our Bluetooth technology; use as Bluetooth headphones for running, biking, and more.
SPORTS EARBUDS SAFETY: Running headphones features a safety-oriented eartip design that allows you to hear your surroundings during outdoor exercise and activities.
Review: These mid level price range wireless headphones by plantronics were made specifically for sports.
They are sweat resistant with an impressive IPX7 rating and can even be used in the shower, just not swimming.
These headphones were designed so you can hear ambient noise, so they do not block outside sound much. They also work for phone calls and can access Siri or Alexa with the push of a button.
Battery Life: 8 hr battery life.
Water and Sweat Resistance: Waterproof IPX7 Splash, sweat and shower proof.
Pros
Firm/flexible behind the neck band stays put better than a behind the neck wire.
Strong water and sweat proofing.
Great for running or when you need to hear those around you, they do not block ambient noise.
Cons
Not great for phone calls because the caller may have a hard time hearing you.
Takeaway
If you need to hear the world around you while you have the headphones on, these might be perfect for you.
Phaiser BHS-750 Bluetooth Headphones
Phaiser BHS-750 Bluetooth Headphones Runner Headset Sport Earphones with Mic and Lifetime Sweatproof Guarantee - Wireless Earbuds for Running, Blackout
HD SOUND - 8mm Speakers combined with Bluetooth 4.1 create super accurate HD sound with powerful bass. The bullet-shaped Comply T-400 M memory foam tips provide Total Isolation from external noise.
MAGNETIC - Easily stow your Ear buds by wearing them around your neck. Instantly access your Earphones anytime without searching your pockets. Looks cool as well!
SWEAT PROOF - Say Goodbye to Water-Damage! Protected by Liquipel Nano Coating your Buds withstand sweaty workouts and will survive accidental dropping into water - Guaranteed!
SECURE FIT - The patented winged earphone tips hold your Buds in place during rigorous workouts. Over- and Under-Ear fit options included.
LIFETIME SWEATPROOF WARRANTY - Don't be afraid to push your workouts to the max! We'll replace your Earbuds if they ever get damaged by sweat! No questions asked.
Review: These Phaiser BHS-750 headphones are good for blocking ambient noise is you use the included Comply memory foam style tips.
They also incorporate liquipel water resistant technology which means they work at the gym, even during the most intense sweat producing workouts.
All these features are offered at an unbelievable price point. You won't be disappointed.
Battery Life: 8 hr battery life.
Water and Sweat Resistance: Liquipel waterproofing technology, sweat resistant, perfect for the gym.
Pros
Low price with good quality.
One pair of "comply" memory foam style earbud tips included – very comfortable and improve sound quality greatly.
Good sound isolation especially when using the included comply foam tips.
Magnets in the button on the ear bud allow you to stick the earbuds together so they stay in place around your neck when you are not wearing them.
Cons
The behind the neck wire tends to stick to the back of the neck.
Takeaway
One of the best budget priced headphones for CrossFit I could find.
Now that you have seen 11 excellent headphones for CrossFit don't hesitate to pick up a pair and rock them during your next trip to the gym or box.
What to see even more Gym headphone reviews? We have more reviews here.
Sign up for our newsletter to receive more reviews and fitness related news directly to your inbox.
Until next time, I will see you at the box!