Best Knee Sleeves for Squats and Lifting with TOP 5 Reviews 2018
A regular exercise routine is a key factor in living a long and healthy life.
A steady dose of physical activity offers a broad range of health benefits ranging from weight management, reduced stress, increased energy and increased mood.
There are many options to choose from in order to get your exercise in regularly.
However, it seems that most fitness fanatics agree on one thing – doing squats regularly is one of, if not the most important exercises you can do.
Doing squats regularly helps build strength in almost all parts of your body at the same time, from your legs up through your core.
Unless you have had major knee injuries, you should consider adding squats as a regular part of your routine – it is truly the king of exercise!
| Picture | Best Knee Sleeves for Squats | Our Rating | Available |
| --- | --- | --- | --- |
|   | Nordic Lifting Knee Sleeves | | |
|   | Rehband Knee Sleeves | | |
|   | BARBELL PRO Knee Sleeves | | |
|   | Kunto Fitness Knee Sleeves | | |
| | Impulse Sportz Knee Sleeves | | |
Keep in mind that your knees are put under more stress than most other parts of your body from day to day.
It is important to take action to prevent injury to your knees.
Buying a quality pair of knee sleeves for lifting is a great step in the right direction!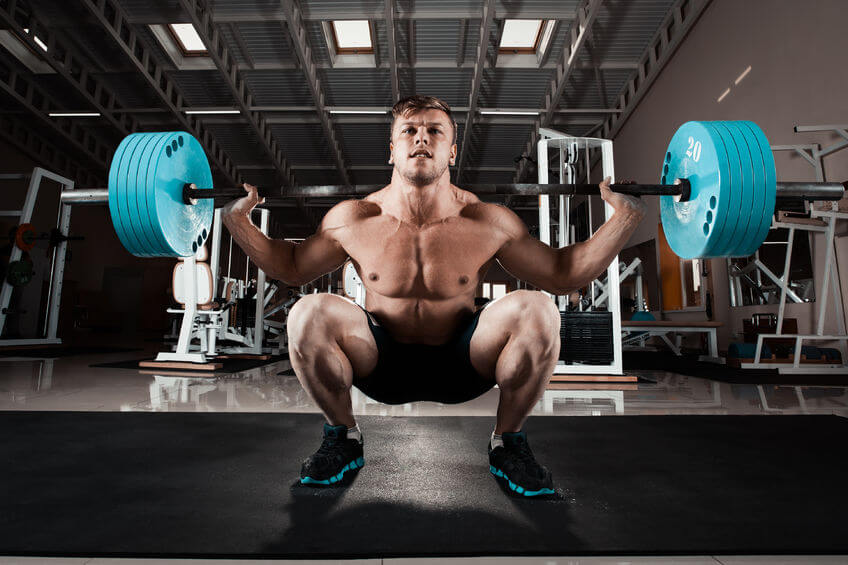 Are Knee Sleeves Really for me?
While knee sleeves are no replacement for proper form and technique, having the proper equipment can really help.
Knee sleeves that are geared to assist people in squatting are usually made of Neoprene with different thicknesses to fit your preference and workout plan.
A good pair of knee sleeves will offer compression to your knee and surrounding ligaments in order to help prevent any minor strains.
Because tight compression promotes blood flow in your knee, it will also help to warm your knees up pre-workout and assist with recovery post-workout.
Have you ever gone to workout and your knees feel a little sore or stiff?
Or maybe you just want to add a little extra spring to your legs as you come up from a deep squat. Some of the best knee sleeves for squats could help provide you with what you are looking for.
So What Makes Good Knee Sleeves?
Now that you know that knee sleeves are for everyone, you need to know what to look for before you buy.
Many companies will yell from the rooftops that their product is superior to all others. However, it is difficult to find the right pair to fit your squat routine perfectly.
As you begin looking around for your knee sleeves, there are certain qualities you must look for!
Range of motion
While your knee sleeves are intended to be tight to provide stability, you do not want anything to that will restrict your movements.
Durability
Your knee is constantly moving and bending.
Your knee sleeves will be under a lot of stress to move with your body.
Be sure to get a proven brand so that you have peace of mind they will last not just today, but for months to come!
Cost
Unless you have a money tree that you can stand under and shake for some extra cash, the cost of a product is important.
Do your best to buy some knee sleeves that will last. If it costs a little extra, so be it!
Fulfill your need
Don't buy any old knee sleeve and expect it to work. Buy sleeves that offer true support and are geared towards squatting.
Quality and functionality are also major keys to buying a great knee sleeve. For squatting and weightlifting, it is typically recommended to look for sleeves made of neoprene, or a similar material to maximize support and stability to your knee.
And, as always, if you don't think it looks cool, don't buy it. If you buy them, wear them and don't like the look of them, they'll end up in the back of your closet.
Guess what – that's even less cool.
Squat Away Today
You are probably already thinking to yourself, "Man I really need to start taking care of my knees!"
That is great because you are right!
Start protecting one of the most crucial parts of your body, especially when you squat.
Do not consider taking a shortcut here!
For your convenience, here are some of the best knee sleeves for squatting and lifting.
TOP 5 Best Knee Sleeves For Squats Reviews 2018
Nordic Lifting Knee Sleeves
Nordic Lifting puts their focus on providing gym equipment with functionality, unique designs and premium quality.
The knee sleeves they offer are made of a thick 7mm Neoprene material and reinforced stitching. For superb support and stability for your knees while squatting, you must check these out.
What's to like
7mm neoprene for supreme stability
Two knee sleeves per order
Maintains compression on your knee even after long periods of usage
One year replacement guarantee
Great value
Versatile to other types of exercise
What's not to like
Only one color and style available
Some buyers have complained of the sleeve slipping during running
Absorbs sweat
These knee sleeves come in some impressive looking packaging. One order will include two knee sleeves so there is also some pretty impressive value.
If you are looking for versatility, Nordic Lifting Knee sleeves also perform well when playing sports or running.
These knee sleeves are perfect for those hard working days at the gym!
Rehband Knee Sleeves
Rehband Knee sleeves are renowned in powerlifting circles. Rehband puts extensive time and research into their products to supply their customers with premium quality accessories, and these knee sleeves are no different.
These knee sleeves are highly regarded by powerlifters. These are truly one of the best for squats.
What's to like
5mm or 7mm neoprene for maximal support
Durable enough for the heaviest of lifters
Multiple design and color options
Adds bounce to your squat
What's not to like
Lacking in comfort
Only one sleeve per order
Difficult sizing makes it tough to get the perfect fit
Some buyers have complained that these knee sleeves do not wash well
Some of the strongest, heaviest squatting men in the world prefer Rehband knee sleeves over all other brands.
While you only receive one knee sleeve per order and they are a bit more expensive than other options, you can expect to get a long life out of your purchase.
Rehband also offers a thinner sleeve option for those who find the 7mm a bit too restrictive. If you squat heavy and squat often, Rehband Knee Sleeves might be the best option for you.
BARBELL PRO Knee Sleeves
Another brand who specializes in providing serious lifters with top-notch gear. Barbell Pro rocks an old-school logo on their thick neoprene knee sleeves.
These sleeves have a cross stitched design that offers a better range of motion and minimizes chances of slippage.
With premium support and stability, these knee sleeves could help bring out your best performances!
What's to like
7mm neoprene for exceptional toughness
Cross stitching for superior comfort
Designed to minimize the slipping of your sleeve
Added length to cover more surface area of your leg
Shock absorbing
Two sleeves per order
What's not to like
The long-term durability of these knee sleeves have been questioned by some buyers
One color option available
The sizing chart runs large making it tedious to find the ideal fit
Although the extended life or Barbell Pro Knee sleeves have been questioned, these knee sleeves do offer comparable stability and toughness to other higher priced brands.
These sleeves offer help with shock absorption if you prefer jerks of cleans at the gym. The cross stitched design should help to eliminate slippage during your workouts.
The Barbell logo also gives the impression of a tough, hard-nosed heavy lifter ready to tackle big time weights at the gym. One order will include two sleeves, so you will have both knees covered!
Kunto Fitness Knee Sleeves
Are you looking for the best knee sleeve for squats, but you prefer something a little lighter than the 7mm neoprene styles?
Don't miss these knee sleeves from Kunto Fitness!
These sleeves are made of a breathable compression fabric instead of the classic neoprene style.
Allow Kunto Fitness Knee Sleeves to provide you similar knee support while minimizing itchiness and discomfort.
What's to like
Breathable compression sleeve with four way weave construction
Non-neoprene
Thinner and lighter than classic knee sleeves
Versatile enough for other physical activities outside of squatting
Money back guarantee if you are not 100% pleased with the product!
Machine washable
What's not to like
Only one sleeve per order
One (funky) color option
Some buyers raised concern of these knee sleeves rolling up easily mid-workout
Does not provide the same level of support as classic neoprene sleeves
The Kunto Fitness Knee Sleeve offers similar support as the classic neoprene sleeves in a more relaxed form.
However, do not expect this sleeve to offer much if you are an extreme powerlifter. For any lifter who is allergic to neoprene, this is your top pick!
Overall, for the casual workout enthusiast, these knee sleeves will be durable and supportive enough for you to squat away every day.
Knee Sleeves by Impulse Sportz
Another one of the best knee sleeves for squats on the market. Impulse Sportz offers machine washable, lightweight sleeves for a value price.
These sleeves are well designed and have a high quality feel similar to higher priced products at a discount price. Machine washable and stylish!
What's to like
7mm neoprene
Three color options
Lifetime guarantee
Two knee sleeves per order
Machine washable
What's not to like
Strong "new" neoprene smell that requires several washing cycles to get rid of
Short in length so they are not ideal for taller individuals
Not as form fitting as other brands
Impulse Sportz promotes fitness and longevity as their greatest trait. It is no surprise then that their knee sleeves feel like the top of the line quality to provide excellent support and stability to your knees at a bargain price.
With an offer of a lifetime guarantee, have peace of mind knowing no matter how much torture you put these knee sleeves through you can always get more – for free!
When to Use Your Knee Sleeves
Lifting weights, running and even simply walking can wear on your knees over time.
If you have felt any grinding, popping or discomfort during your day-to-day activities, you should certainly be looking today to buy your knee sleeves!
A high quality knee sleeve will work to hold the interior of your knee compressed and help to eliminate any abnormal movements of your knee joints!
You should wear your knee sleeves during any activity that puts added stress on the knees. This especially includes squatting, but also includes activities such as running.
This also will include most sporting activities such as basketball, soccer or tennis.
Wearing your knee sleeves is not necessary for every workout in most cases. If you have a tendency to feel pain or discomfort from basic activities like walking then you may want to consider wearing your sleeve more often.
However, on leg day when you decide to load the bar with heavy weight your knee sleeves should be a must!
Stand Up and Take Charge
Protecting your knees is crucial to living a painless and fulfilling life.
The Huffington Post published a statistic suggesting that nearly one of twenty Americans over the age of 50 have artificial knees.
A statistic like that is hard to ignore. That seems like a lot of discomfort that often times can be avoided by taking the necessary precautions during your workouts.
If you really want to take your squats up a notch, you have to take charge today and protect your knees from future injury.
Add some spring to your squats, protect yourself from injury and increase your recovery times with some of the best squatting knee sleeves on the market.
Before you know it, you could be squatting big time weight with no fear of harming your body!
Why wait?