How Does Floyd Mayweather Train for a Fight
There is no doubt that Floyd Mayweather is one of the greatest, if not the greatest boxer of all time.
This will be soon put to test with the Conor McGregor fight, but still, everyone knows very well that Floyd is a spectacular boxer.
So what makes him so special?
It's the hard work that he puts in his training and nothing else.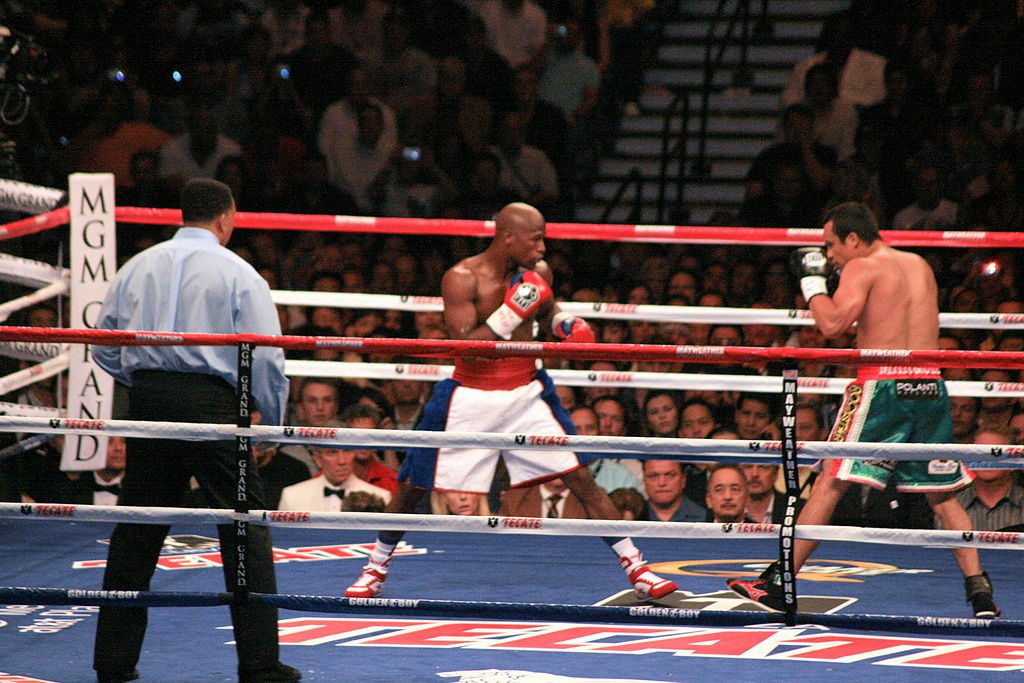 And that only means that you can do it too.
There is of course a lot to take in and learn. But there are some basic rules you can follow to get a good start.
Floyd Mayweather typically goes thru a 10 section training session
I have to say that this is not exactly what Floyd would do every single day. And there are many more things that one has to work on.
But all of the following will definitely help you with building a great, strong body.
Shadow boxing
Start up your session with simple shadow boxing that warms up your muscles and gets you ready for working on the bag.
This will also help you improve your technique. You can also work on defensive and offensive technique.
Sparring
This simply replicates a real boxing much as good as it can. All you need is a good sparring partner that helps you improve on your strength and technique.
Heavy Bag
Working on the heavy bag will help you maximize on striking and powerful punches.
Floor Work
This will help you strengthen your core which is essential when working to become a top fighter.
Pad Work
The one thing that will significantly improve your timing, coordination and speed.
Bodysuit Work
This is a significant part of your overall technique as it improves the way you work on opponents body.
Speed Bag
Improve the speed of your jab and become more effective on your overall timing that helps you work around your opponent.
Sit-ups, pull-ups, jump rope, dips and double-end bag
Doing at least 200 of these will significantly improve your endurance which played a mayor role in any athletes work.
Run
Another part of the workout that improves your endurance and overall body strength.
But this is not all
There are many more techniques you can use to improve further. And there is something interesting about the kind of work you choose to do.
Nowadays a lot of athletes choose to work with modern techniques and different technology. Guys like Floyd Mayweather still choose to go with classic workouts. This means using axes, heavy ropes and sledgehammers.
Remember the scene from Rocky when he was getting ready to fight the Russian boxer. It's basically the same thing.
And there really is something special about these kind of workouts. The biggest benefit of these workout are related to improved endurance of strength and explosive force.
What is more it gives great motivation because just how primitive these methods are. And there is no doubt that motivation and mental strength is truly important for all athletes.
Run, run, run
I know that running was already mentioned. But it should not only be a part of your regular training session.
Running should be done regularly on different tracks at different times of day. It is a significant part of building your body and is absolutely needed for your cardio.
Endurance plays a huge role in fighting sports and actually in any sports. So you have to work on that.
And the reason I'm saying all this is because I see a lot of new athletes do not want to do that. They only concentrate and building muscles. Which plays out bad in the long run.
Explosive power and great agility
Working on power that you can release quickly can pay of well if you are in the fight game. Of course, you need to work on precision while doing this as well because all that power has to be landed precisely where it matters.
If you manage to combine power with precision there is nothing that can stop you.
Don't get stuck
The most important lesson in all of this as that everyone can do it if you put in the work and do so the right way.
To truly improve your body and skills you can never get stuck in one place. That means you should not work on a single technique and strength only.
You have to combine everything there is to get the best possible result and an overall great body that is capable of doing everything that is needed to become the best.
This is what Floyd Mayweathers mindset is like and we can all see what results can be achieved when you push yourself to the limits in all aspects of training.
Now get up from your computer and start putting in the work that matters.
Image credit: commons.wikimedia.org
Comments