Best Cooling Towels for Workout and Sport Activities Reviewed 2020
Nobody likes to overheat when they're exercising.
Aside from stopping you from getting the most out of your workout, it can be really dangerous too.
Cooling towels can help to keep you feeling cool, refreshed and energized while you exercise.
If you haven't heard of them, or considered one for your gym kit, read on to find out what they're all about and see the best options reviewed.
Top 13 Best Cooling Towels Reviewed 2020
Review: This silky towel is one of the most popular on the market, staying cool for up to 3 hours and being thin and easy to tie in different styles.
The mesh-like style material allows for faster evaporation after snapping, giving the towel a cold feel.
Pros
Stays soft once it dries instead of hardening.
Provides SPF 50 sun protection.
Multiple colors and sizes to choose from.
Cons
Like all cooling towels that cool via evaporation, it won't be effective in high humidity.
Takeaway
This could be the best cooling towel 2020. It's reliable, good quality and is perfect for tying around your face and neck.
Review: Popular for golf and hiking, this is another top rated cooling towel made of top quality apathetic fabric.
The silky, mesh-like material is easy to wrap or tie around different parts of your body while providing sun protection at the same time.
Pros
Easy to tie into a bandana.
Large 47" x 14" size lends itself to a variety of uses.
Comes with a handy waterproof pouch and carabiner so you can leave the house with it wet and ready to snap into action.
Doesn't dry stiff.
Cons
Needs to be rehydrated and snapped occasionally to keep the cooling effect.
Takeaway
This is another top cooling towel, popular for its soft, silky texture, even when dry.
Chill Pal PVA Cooling Towel
Review: Made of slightly different material to the mesh-like fabric of the towels above, this cooling towel is made of thicker shammy material which doesn't require snapping but does need to be re-wetted.
Pros
Extra thick PVA fabric holds plenty of water for long-lasting evaporative cooling.
You can cut the towel into smaller sizes to customize your style and get two towels for the price of one.
Very soft, smooth material when wet.
Cons
Stiffens as it dries in direct sunlight which makes it difficult to pack unless flat.
Needs to be dried thoroughly between uses to prevent mold.
Not suitable for freezing.
Takeaway
Provided you're careful to wash frequently and dry between uses, this is a top performing cooling towel that definitely keeps you cool.
Frogg Toggs Chilly Pad Cooling Towel
Review: Frogg Toggs are one of the more well-known cooling towel brands and use a unique material made of bamboo derived rayon, that falls somewhere between PVA and microfiber in its properties.
It is super absorbent meaning it holds enough water to keep the evaporation process going for a while but feels dry to the touch.
Pros
Feels dry so you won't feel like you have a wet T-shirt hanging around your neck.
Cooling is claimed to last twice as long as microfiber towels.
Can be cut into different shapes and sizes unlike microfiber.
Machine washable.
Cons
A little thicker and heavier than microfiber towels.
Dries stiff in whatever shape you leave it in.
Takeaway
If you don't mind using something a little bulkier than the microfiber alternative, this towel is guaranteed to keep you cool for a long time.
Chill Pal Ultimate Mesh Cooling Towel
Review: If you're not a fan of PVA, this is Chill Pal's microfiber version of their cooling towel. It is one of the top rated cooling towels on the market, popular among users for its reliable quality.
Pros
12" x 40" size is ideal for wrapping and tying around your body.
Comes with a waterproof pouch and carabiner.
Dries soft unlike PVA which dries stiff.
Doesn't deteriorate after multiple uses and machine washes.
Cons
Less effective in really humid weather.
Takeaway
This is the best cooling towel for running, it is reliable, easy to use, comfortable and durable so will put up with tonnes of use.
Review: These microfiber towels from Syourself come very highly rated from users, being soft and comfortable to use, staying cool for up to 4 hours.
It is highly absorbent, soaking up your sweat while cooling you down.
Pros
Machine washable.
Versatile 40" x 12" size.
Plenty of colors to choose from.
Comes with waterproof carry pouch with carabiner.
Cons
Not suitable for freezing.
Only one size option available.
Takeaway
These are the best cooling towels if you want one with a jazzy pattern and color range to choose from.
SportsTrail Ice Microfiber Towel
Review: If you're looking for a massive cooling towel, this one is the towel to go for. The soft, silky material stays cool for a few hours and stretches to provide more coolness on the go.
Pros
Made of eco-friendly, antibacterial microfiber material.
Folds or rolls into a tiny compact pouch with carabiner.
SPF 50 sun protection.
Available in 3 different sizes including extra-large 60" x 30".
Cons
Not effective in humid environments.
Takeaway
The extra-large size makes this towel ideal for draping over your whole body after an intense summer workout.
Chill-Its 6602 Evaporative Cooling Towel
Review: Specially designed for active use, this cooling towel is ideal for intense workouts or running, comfortably wrapping around your neck.
It's very lightweight so it doesn't weigh you down on your body or in your bag.
Pros
Very affordable.
Machine washable.
Thick PVA material stays cool for 4 hours.
Cons
Dries completely stiff but if you fold it as it's drying out it will be easy to carry until you can re-wet it.
Takeaway
This is the best cooling towel for runners, staying cool for the duration of your run and sitting easily around your neck or forehead.
Mission Enduracool Microfiber Cooling Towel
Review: This is a good quality, versatile microfiber towel that is useful when dry as well, being soft and absorbent. It stays cold for 2 hours and protects you from the sun.
Pros
Enduracool also make helmet liners and headbands in the same material if you don't want a towel shape.
SPF 50 Sun protection.
Soft and absorbent when dry.
Cons
Fabric is dense and needs to be machine washed between uses to prevent odor build up.
Not suitable in humid environments.
Takeaway
This cooling towel is ideal for working out in hot weather and wearing around your forehead or neck while jogging.
Mission HydroActive Full Body Recovery Cooling Towel
Review: Though not designed to be worn while working out (there's nothing stopping you if you're really determined), this is an excellent option for post workout recovery in hot weather.
Pros
Full body towel with a hood to help you recover after an intense workout.
SPF 50 sun protection.
Stays cool for 2 hours.
Soft, silky material.
Cons
May make your clothes feel a little damp, but this is to be expected really.
Takeaway
Ideal for use between intervals on the track for cooling sun protection, or a full body cool down after a workout.
Review: This 2 pack of 36" x 12" towels is excellent value for money. They are versatile, being highly absorbent and effective at absorbing sweat at the same time as keeping you cool.
Pros
Comes as a pack of two with separate netting pouches.
Silky soft microfiber material.
Stays cool for up to 3 hours.
SPF 50 sun protection.
Cons
Slightly thinner material than some of the cooling towels above.
Takeaway
These are decent set of cooling towels, ideal for use as a gym towel with the added bonus of cooling you down at the same time.
Review: This microfiber cooling towel is another popular option, ticking all the boxes and being a good shape for tying around your head or neck.
Pros
Can be easily tied around the head, face and neck in different styles.
40" x 12" dimensions are ideal for tying around your body, being long and narrow.
Comes with a waterproof pouch and carabiner.
Highly absorbent, lightweight, soft material.
Cons
Doesn't come with any use or care instructions.
Takeaway
This is another reliable, good quality and affordable cooling towel.
Chill Pal Multi Style Cooling Band
Review: This is essentially a cooling towel that has been sewn into a tube shape for easy wearing around your head and face while exercising.
But, the tube shape doesn't stop you from using it like a regular towel while you're in the gym if you want that option.
Pros
Can be worn in 10 different ways.
Easier to wear than a towel while exercising.
Lightweight, silky material.
The product comes with plenty of information for use and care.
Cons
Sizing is on the small size so likely won't be comfortable for larger people.
Probably won't stay as cool for as long as the thicker cooling towels.
Takeaway
This is definitely the best cooling towel for sports such as a running, hiking and tennis if you're looking for something that will stay in place.
What is a Cooling Towel?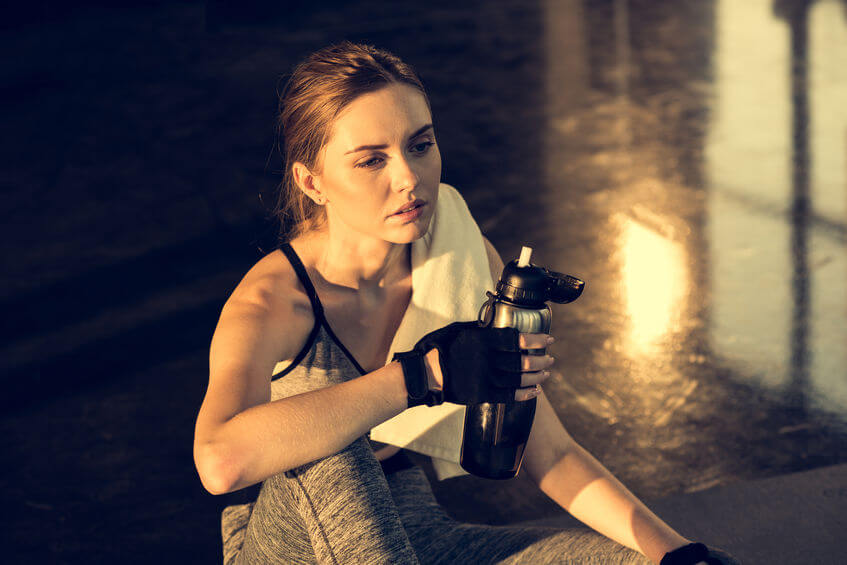 Cooling towels are towels that have been designed to be extra absorbent and so hold a lot of water, and yet have a large surface area in order to increase the rate of evaporation.
As evaporation creates a cooling sensation, the process of the water evaporating from your towel is what makes it feel cool.
Stretching, shaking or snapping your towel effectively forces more air past it and through it, speeding the rate of evaporation and making the towel feel cooler.
It's true, you could just wet a regular bath towel or hang a t-shirt around your neck, but the different material will hold less water and allow for a slower rate of evaporation so won't necessarily feel as cool.
Also, cooling towels are designed to not feel excessively wet to the touch the way a regular towel would.
The one downside is that as they depend on the process of evaporation, they won't be as effective in humid environments (no matter what the manufacturers claim).
Evaporation just doesn't happen as quickly in humid climates so the towels won't create as much of a cooling sensation. They'll still be a little cool, but definitely not as effective as in a dry climate.
Different Types of Cooling Towels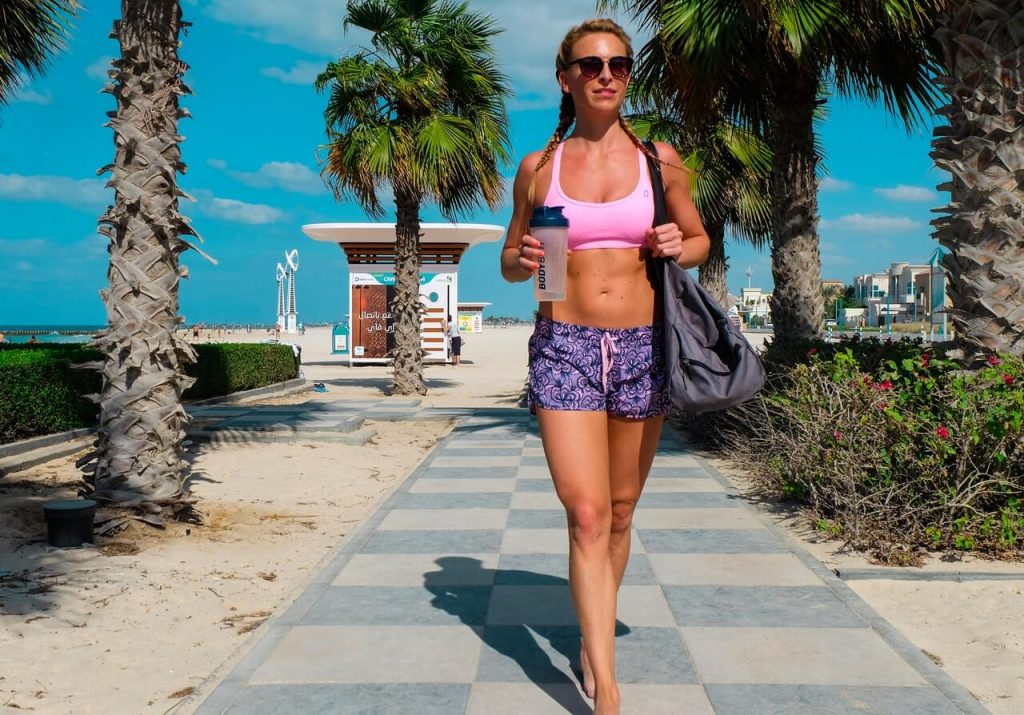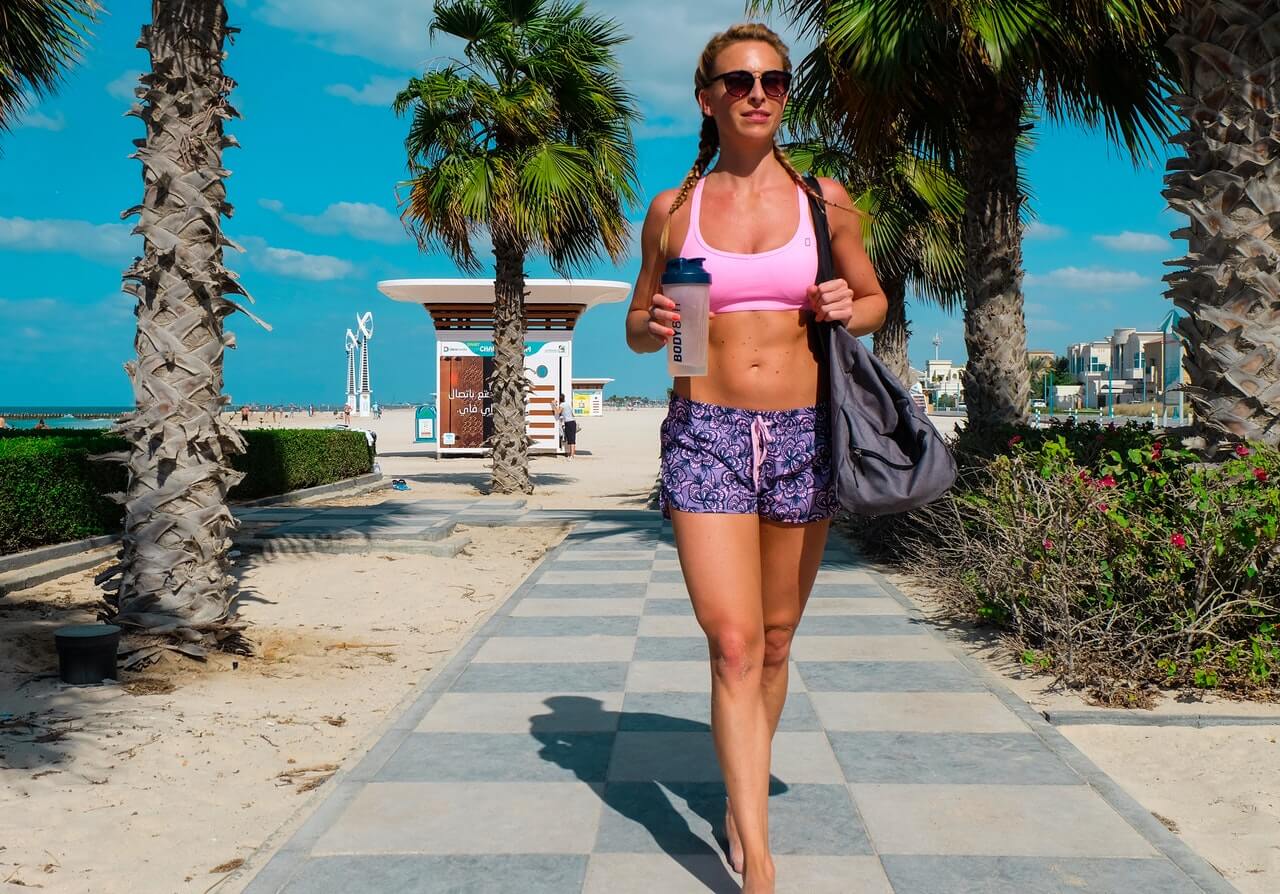 There are two main types of cooling towels, the difference being the material they're made out of.
They both work exactly the same way, using evaporation, but the different materials have slightly different properties.
PVA
Can hold a lot of water and so stay cool for a long time.
Can be cut into different shapes and sizes and won't fray.
Thicker, heavier and a more bulky, slightly spongy texture.
Dries stiff and in whatever shape you leave it.
Can have problems with mold unless you're careful to let it dry completely between uses.
Microfiber
Usually can't hold quite as much water as PVA so stays cool for slightly less time.
Can't be cut into smaller pieces as it will likely fray.
Much thinner lightweight and silkier in texture.
Dries soft and is easy to fold away when not in use.
How Do We Choose the Best Cooling Towel?
The best cooling towels for gym workouts are towels that are absorbent enough to use as a regular towel and soak up your sweat at the same time as keeping you cool and refreshed.
The best cooling towels for running are those that are thin enough and the right dimensions to easily tie around your head or neck so that they stay in place and are comfortable on the go.
So, it comes down to what you want to use it for, and whether you want the long lasting coolness of PVA the convenience of lightweight, soft drying microfiber.
Do They Work or Is it Just a Fad?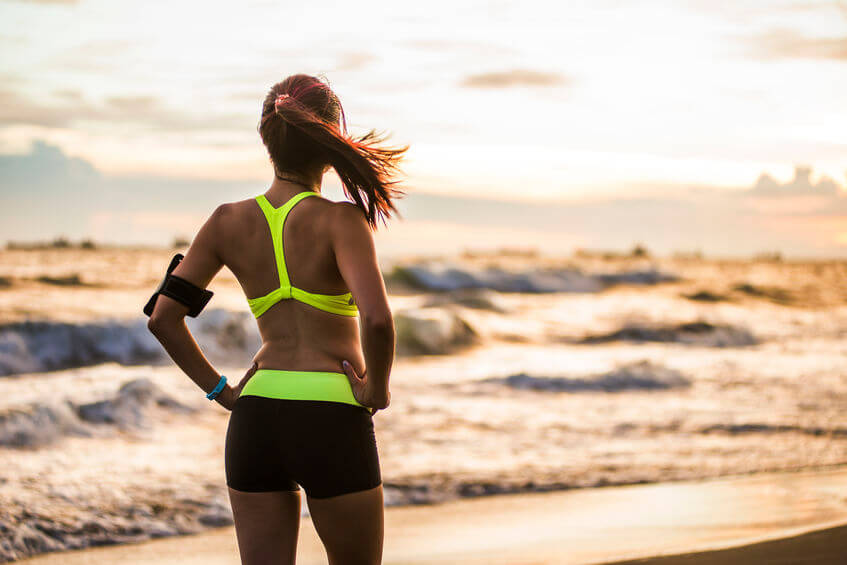 It depends on your expectations. If you're expecting magic, you'll be disappointed.
Cooling towels use basic physics to create a cool sensation, but they're not magic.
It's impossible for a towel to be wet and yet still feel completely dry (regardless of what manufacturers claim). All cooling towels will feel a little damp and clammy against your skin.
Then again, if you're really hot, you're not going to be against a little dampness if it's helping to keep you cool.
Cooling towels have the potential to be really, really useful in hot, dry environments where you would otherwise be pouring your drinking water over your head to stay cool.
They hold on to their moisture for longer and generally will be cooler to touch than regular wet material, making them a convenient way to stay more comfortable (and safe) in hot weather.
The SFP protection that they come with also makes them particularly well suited to sports like running, hiking and tennis where you're outside and exposed to the sun.
Wearing a cooling towel on your head to protect your ears and neck while keeping you cool is surely a no-brainer.
If you're interested some more direct body contact, check out our article on the best cooling vests.
Summary
Cooling towels are among the more recent products to hit the shelves and have us wondering what the big deal is.
But, these things actually do work, and as well as helping you to feel a whole lot more comfortable, can actually be a safety thing too.
The best cooling towels will help to keep you from overheating and allow you to get the most out of your workout regardless of the temperature.
Please comment below if you've used a cooling towel and thought it was awesome, or not!
And be sure to subscribe in order to get the latest reviews and articles direct to your inbox!