Best Cooling Towels for Workout and Sport Activities Reviewed 2023
Nobody likes to overheat when they're exercising.
Aside from stopping you from getting the most out of your workout, it can be really dangerous too.
Cooling towels can help to keep you feeling cool, refreshed and energized while you exercise.
If you haven't heard of them, or considered one for your gym kit, read on to find out what they're all about and see the best options reviewed.
Top 13 Best Cooling Towels Reviewed 2023
Alfamo Cooling Towel for Neck and Face, Green, Medium (40 x 13 inch)
💧Instant Cooling: The cooling towel provides an instant, refreshing cooling effect on your skin, ideal for use during exercise, sports or in hot weather conditions. Its innovative cooling technology is designed to lower your body temperature and decrease sweat production, allowing you to stay focused on your goals.
💧Long-Lasting Cooling Effect: Unlike traditional towels, the cooling towel stays cool for hours, ensuring that you remain comfortable and refreshed for extended periods of time. This makes it perfect for outdoor activities, sports events or simply relaxing on a hot day.
💧Soft and Absorbent: Made from high-quality materials, the cooling towel is soft and absorbent, providing ultimate comfort while wiping away sweat. Its gentle texture is suitable for all skin types, making it a versatile accessory for anyone looking to stay cool and rejuvenated.
💧Portable: Our cooling towel is ultra-lightweight and portable, making it an ideal companion for hot weather adventures. It's easy to carry in your backpack or gym bag, and it won't weigh you down on long hikes or bike rides. Plus, it occupies minimal space so you can pack more gear without sacrificing room for the towel.
💧Versatile Use: With its versatile nature, the cooling towel can be used for a range of activities, including sports, yoga, camping, hiking, or simply to cool down on a hot day. It's an essential item for anyone who enjoys outdoor activities, sports or wants to beat the heat during the summer months.
Review: This silky towel is one of the most popular on the market, staying cool for up to 3 hours and being thin and easy to tie in different styles.
The mesh-like style material allows for faster evaporation after snapping, giving the towel a cold feel.
Pros
Stays soft once it dries instead of hardening.
Provides SPF 50 sun protection.
Multiple colors and sizes to choose from.
Cons
Like all cooling towels that cool via evaporation, it won't be effective in high humidity.
Takeaway
This could be the best cooling towel 2023. It's reliable, good quality and is perfect for tying around your face and neck.
Balhvit Cooling Towel, Cool Towel for Instant Cooling Relief, Chilling Neck Wrap, Ice Cold Scarf for Men Women, Microfiber Bandana - Evaporative Chilly Towel for Yoga Golf Travel (Blue, 40 * 12)
HEAT AND HIGH TEMPERATURES ARE NOT AN ISSUE FOR YOU - Don't you find it hard to work, study or exercise due to the high temperature that makes you feel exhausted? Wouldn't you like to remain cool and comfortable throughout the day? Well, you can do it! All you need is this top notch, evaporative chill towel which can offer instant and long lasting relief. Just wrap it around your neck, reduce your body's temperature and combat heat in the most effective, easiest way.
SETTLE FOR NOTHING LESS THAN THE BEST - Stop wasting your money on cheaply made cooling towels that warm to body temperature in no time! This must have sports towel is made of high quality, functional apathetic fabric which is durable, breathable and absorbent. The microfiber towel will offer you a silky soft touch while it will wick moisture, providing you with the refreshing coldness you need to keep going.
ENJOY COUNTLESS POSSIBILITIES - You may use your chilling towel in many different ways! The 40''x12'' size gives you the chance to make it the perfect neck cooler, ice cooling scarf, instant heat relief bandana and chill headband. Whether you are at work, at the gym, doing Pilates at home or at camping, this cooling towel is the ultimate accessory for you!
YOU GET AN AMAZING BONUS - Along with this incredible cool towel for sports and workout , you will receive a waterproof carrying pouch at no additional charge! This practical bag features a carabiner clip that will allow you to effortlessly and cleanly take your cooling towel with you anywhere you go. Perfect cooling towels for athletes, runners and pets.
100% RISK FREE PURCHASE - We are dedicated to keeping you happy and satisfied. This is why we always stand behind our high quality products. This fitness cold towel comes with a 30 day money back guarantee! Place your order now and in case you have an issue with your purchase we will happily resolve it.
Review: Popular for golf and hiking, this is another top rated cooling towel made of top quality apathetic fabric.
The silky, mesh-like material is easy to wrap or tie around different parts of your body while providing sun protection at the same time.
Pros
Easy to tie into a bandana.
Large 47" x 14" size lends itself to a variety of uses.
Comes with a handy waterproof pouch and carabiner so you can leave the house with it wet and ready to snap into action.
Doesn't dry stiff.
Cons
Needs to be rehydrated and snapped occasionally to keep the cooling effect.
Takeaway
This is another top cooling towel, popular for its soft, silky texture, even when dry.
Chill Pal PVA Cooling Towel
Sale
Chill Pal PVA Cooling Towel (Ocean Blue)
New Packaging, Same Product - The manufacturer has updated from a tube package design to a pouch packaging design. The product is the exact same with an updated 2021 logo.
Easy Breezy – There are no complicated instructions here. Simply remove the Chill Pal, soak it in cold water, wring it out, and its ready to drape around your neck. If it starts to get warmer, simply rinse and repeat, and stay cool while fishing, hunting, hiking, or even on the job. Chill Pal also makes the perfect gift and stocking stuffer for the whole family!
The Secret – Truly, there isn't one. We use high grade and extra thick PVA with evaporative technology. The more water it comfortably holds, the longer it takes to evaporate, which means the longer it stays cool for you! It is durable design paired with workable science here to bring you the best cooling for your dollar, our promise!
Product Precaution – These cooling towels are made of PVA material. This is a harmless sponge like material; however, it is very absorbent. Please avoid excessive use of the cooling towel, where the towel is in contact with the skin for longer than 30 minutes. The towel can absorb the moisture and oil from the skin, resulting in dry skin.
This product is not for intended for children under the age of 3.
Review: Made of slightly different material to the mesh-like fabric of the towels above, this cooling towel is made of thicker shammy material which doesn't require snapping but does need to be re-wetted.
Pros
Extra thick PVA fabric holds plenty of water for long-lasting evaporative cooling.
You can cut the towel into smaller sizes to customize your style and get two towels for the price of one.
Very soft, smooth material when wet.
Cons
Stiffens as it dries in direct sunlight which makes it difficult to pack unless flat.
Needs to be dried thoroughly between uses to prevent mold.
Not suitable for freezing.
Takeaway
Provided you're careful to wash frequently and dry between uses, this is a top performing cooling towel that definitely keeps you cool.
Frogg Toggs Chilly Pad Cooling Towel
FROGG TOGGS unisex adult Towel, Longer Than Microfiber Towels, Biodegradable The Original Chilly Pad Cooling Towel, Sky Blue, 33x13 US
Constructed from Frogg Toggs' exclusive, hyper-evaporative material that retains water while remaining dry to the touch
Wetting the towel in water will allow it to activate quickly and cool up to 30 degrees
Perfect for working in the yard, sporting events, working out, golfing, fishing, camping, hot flashes and more
SINCE 1996 frogg toggs has endeavored to provide the world's best rainwear, waders, cooling products, footwear, and accessories at the best possible prices
33 x 13, towel provides reusable cooling relief and sun protection
Review: Frogg Toggs are one of the more well-known cooling towel brands and use a unique material made of bamboo derived rayon, that falls somewhere between PVA and microfiber in its properties.
It is super absorbent meaning it holds enough water to keep the evaporation process going for a while but feels dry to the touch.
Pros
Feels dry so you won't feel like you have a wet T-shirt hanging around your neck.
Cooling is claimed to last twice as long as microfiber towels.
Can be cut into different shapes and sizes unlike microfiber.
Machine washable.
Cons
A little thicker and heavier than microfiber towels.
Dries stiff in whatever shape you leave it in.
Takeaway
If you don't mind using something a little bulkier than the microfiber alternative, this towel is guaranteed to keep you cool for a long time.
Chill Pal Ultimate Mesh Cooling Towel
Chill Pal Mesh Cooling Towel (Pattern Change Blue, 12 x 40 inch)
A Different Way to Stay Cool – We've taken what we already know about staying cool, and changed things up a bit! The Chill Pal Mesh Cooling Towel utilizes a thinner, comfy, and amazingly breathable design to keep you cool! So to all you golfers, runners, hikers, and more: beat the heat anytime with Chill Pal!
Why Mesh? – It's soft, comfortable, and light on the skin. What's more, our built in evaporative technology keeps the cloth colder longer than the rest. Best of all, our "dry-soft" mesh design makes it easy to fold down, and it is easy to pack away.
Bigger and Better – With more overall area, you'll have more evaporative power to work with. Simply put, you get to stay cooler even in the longest of summer days! Worry less about keeping cool, and enjoy actually being cool, with Chill Pal!
Simple to Use – It's easy: soak, wring out, and enjoy! When it's about staying cool and beating the heat, nothing beats our fantastic Mesh Cooling Towel. Better still, it comes with it's very own carry pouch for easy transport.
Review: If you're not a fan of PVA, this is Chill Pal's microfiber version of their cooling towel. It is one of the top rated cooling towels on the market, popular among users for its reliable quality.
Pros
12" x 40" size is ideal for wrapping and tying around your body.
Comes with a waterproof pouch and carabiner.
Dries soft unlike PVA which dries stiff.
Doesn't deteriorate after multiple uses and machine washes.
Cons
Less effective in really humid weather.
Takeaway
This is the best cooling towel for running, it is reliable, easy to use, comfortable and durable so will put up with tonnes of use.
SYOURSELF Cooling Towel, Cooling Towels for Neck,40" x 12"Ice Towel for Instant Cooling Relief, Soft Breathable Chilly Towel, Perfect Yoga, Golf, Sports, Gym, Workout, Athletes Towel(Grey)
INSTANT COOLING TOWEL, REUSABLE - SYOURSELF cooling towels for neck and face quickly cools down by just soaking, wringing the water out and snap. The magical cooling effect can easy to reactivate it by repeating the same steps. SYOURSELF ice towel - cooling that lasts for 3 hours. Everyone can use cooling towels, even pets.e the cooling towel, even pets.
FASHION, COMFORTABLE FIT - provides a pleasing color scheme, decent size (40"x12"-large enough to meet your needs) and lightweight. It's soft breathable and attractive to use in public and a perfect size to be a sports towel, sweat towel, scarf, scarves, headband. It's just the right size to wrap around your neck or head. The edges are smoothly finished and the exquisite stitching prevents the 4 semicircular corners from unraveling. Use cooling towels any place for hot weather.
ECO-FRIENDLY(RoHS APPROVED), VERSATILE - works on the physical evaporation of moisture. No chemicals are used in the making of the SYOURSELF chilly towel. It's perfect for hot weather, outdoor activities, indoor exercise, sports, athletes, fever or headache therapy, heatstroke prevention, sunscreen protection, cooling while absorbing. Keep yourself cool during hot summer days, workout sessions, outdoor adventures or when someone has a migraine.
TOP QUALITY, GREAT GIFT - Softcool Extreme microfiber material, soft and doesn't drip water. It would be a thoughtful and fathers day gifts for your families or friends, gifts for sports enthusiasts, kitchen staff, outside workers, mom with baby,warehousing employee, who need a neck towel to keep cool, it absorbs heat or sweat quickly and takes a fair amount of time to lose its cooling effect but just snap cooling towel in the air and it gets it all back.
BONUS - nice portable pouch(CE APPROVED). It comes in cooling towels for neck, each cooling towel come with a waterproof carrying pouch along with a carabiner to attach or fit into your bag, which takes up a little room and weighs a little in your backpack or your purse when you are planning on a travel or outdoor activity.
Review: These microfiber towels from Syourself come very highly rated from users, being soft and comfortable to use, staying cool for up to 4 hours.
It is highly absorbent, soaking up your sweat while cooling you down.
Pros
Machine washable.
Versatile 40" x 12" size.
Plenty of colors to choose from.
Comes with waterproof carry pouch with carabiner.
Cons
Not suitable for freezing.
Only one size option available.
Takeaway
These are the best cooling towels if you want one with a jazzy pattern and color range to choose from.
SportsTrail Ice Microfiber Towel
Review: If you're looking for a massive cooling towel, this one is the towel to go for. The soft, silky material stays cool for a few hours and stretches to provide more coolness on the go.
Pros
Made of eco-friendly, antibacterial microfiber material.
Folds or rolls into a tiny compact pouch with carabiner.
SPF 50 sun protection.
Available in 3 different sizes including extra-large 60" x 30".
Cons
Not effective in humid environments.
Takeaway
The extra-large size makes this towel ideal for draping over your whole body after an intense summer workout.
Chill-Its 6602 Evaporative Cooling Towel
Sale
Ergodyne Chill-Its 6602 Evaporative Cooling Towel, Blue
INSTANT COOLING RELIEF Run under water for one minute or until saturated, wring out excess water for drip free cooling
LONG LASTING  Can last for up to 4 hours on a single soak. Simply re-wet to increase cooling duration
HOW DOES IT WORK? Cooling PVA material absorbs water and creates a cooling sensation as it evaporates
REUSABLE & MACHINE WASHABLE Air dry until material is stiff, re-wet until soft. Machine washable with mild detergent and air dry
HEAT STRESS PREVENTION Reduces the effects of heat exhaustion and fights fatigue while working or playing in the heat. Can also be used to help bring down fevers, hot flashes or night sweats
Review: Specially designed for active use, this cooling towel is ideal for intense workouts or running, comfortably wrapping around your neck.
It's very lightweight so it doesn't weigh you down on your body or in your bag.
Pros
Very affordable.
Machine washable.
Thick PVA material stays cool for 4 hours.
Cons
Dries completely stiff but if you fold it as it's drying out it will be easy to carry until you can re-wet it.
Takeaway
This is the best cooling towel for runners, staying cool for the duration of your run and sitting easily around your neck or forehead.
Mission Enduracool Microfiber Cooling Towel
MISSION Original Microfiber Cooling Towel for The Gym, Yoga, Golf, and More (Mission Blue)
COOLING + COMFORT TECHNOLOGY - Stay active longer even when the weather is hot with a cooling and invigorating MISSION Original Cooling Towel! Made of a soft, smooth, & durable brushed microfiber for optimal comfort.
COOLS INSTANTLY - When activated with water, MISSION performance fabric cools up to 30 degrees below average body temperature in under 1 minute! Activate quickly in 3 easy steps: Wet it, Wring it out, and Snap it.
LONG COOLING TIME - Wet it, this towel stays cool for up to 2 hours! To reactivate, just re-wet and snap so you can comfortably stay active longer. Wrap around your neck or wrist to cool off quicker!
STAY ACTIVE - Whether you're sweating at a hot yoga session, a summer golf game, a run on the beach, or doing your daily workout at the gym this towel will keep you active when the heat would otherwise shut you down.
CHEMICAL-FREE COOLING & UPF 50 SUN PROTECTION - This towel is machine washable and reusable  with permanent, chemical-free HydroActive Advanced Wet-to-Cool Technology that will never wash out. It also provides UPF 50 sun protection.
Review: This is a good quality, versatile microfiber towel that is useful when dry as well, being soft and absorbent. It stays cold for 2 hours and protects you from the sun.
Pros
Enduracool also make helmet liners and headbands in the same material if you don't want a towel shape.
SPF 50 Sun protection.
Soft and absorbent when dry.
Cons
Fabric is dense and needs to be machine washed between uses to prevent odor build up.
Not suitable in humid environments.
Takeaway
This cooling towel is ideal for working out in hot weather and wearing around your forehead or neck while jogging.
Mission HydroActive Full Body Recovery Cooling Towel
Mission HydroActive Max Full Body Recovery Cooling Towel, Cobalt Blue, 32" x 43.5"
Features a large hood and full body length towel for maximum recovery cooling effect
Patent pending, water-activated MAX cooling technology combines with soft, cool-touch fabric to deliver 30% increased cooling effect
To activate cooling technology simply soak in water, wring out and snap three times; to reactivate, simply re-soak and re-snap
Chemical-free and machine washable; stays cool for up to 2 hours when wet
UPF 50 protection against the harmful rays of the sun; dimensions 32" x 43.5"
Review: Though not designed to be worn while working out (there's nothing stopping you if you're really determined), this is an excellent option for post workout recovery in hot weather.
Pros
Full body towel with a hood to help you recover after an intense workout.
SPF 50 sun protection.
Stays cool for 2 hours.
Soft, silky material.
Cons
May make your clothes feel a little damp, but this is to be expected really.
Takeaway
Ideal for use between intervals on the track for cooling sun protection, or a full body cool down after a workout.
Idefair Cooling Towel,Ice Cold Towel for Men Women Evaporative Chilly Towel for Yoga Running Fitness Gym Workout Camping Work & More Activities (Purple&Rose Red)
【MULTIFUNCTION COOLING TOWEL】--Idefair Ice Towels is perfect for all indoor and outdoor activities. It provide a pleasing color and right size to be a towel, scarf, headband and bandana. For its super absorption ability you can also use it as yoga towel, fitness towel, sports towel, gym towel or golf towel. It is also suitable for pets.
【 PREMIUM QUALITY】--This sport towel is made of a high quality soft cooling fabric which is durable, breathable and absorbent. Working on the physical evaporation of moisture, no chemicals are used in the making of the cooling towels.
【STAY COOLING】--The super absorbent fiber technology adjusts the internal moisture and ensures water retention,and within seconds you get cold.The unique cooling system to draw the sweat away from your skin to providing you with the refreshing coldness.
【EASILY USE&RESUABLE】--Quickly cools down by just simply wet it, wring out any excess water.To reactivate, simply rinse and repeat the process and you can use it over and over again.
【SUPER SOFT&PORTABLE】--Our compact microfiber towels silky soft, pliable, easily folds up, and fits into any bag.You will also receive net pouch for easy storage and transportation.
Review: This 2 pack of 36" x 12" towels is excellent value for money. They are versatile, being highly absorbent and effective at absorbing sweat at the same time as keeping you cool.
Pros
Comes as a pack of two with separate netting pouches.
Silky soft microfiber material.
Stays cool for up to 3 hours.
SPF 50 sun protection.
Cons
Slightly thinner material than some of the cooling towels above.
Takeaway
These are decent set of cooling towels, ideal for use as a gym towel with the added bonus of cooling you down at the same time.
Polygon Cooling Towel, Microfiber Ice Sports Towel, Instant Chilling Neck Wrap for Sports, Workout, Running, Hiking, Fitness, Gym, Yoga, Pilates, Travel, Camping & More, 40" x 12", Gray
INSTANT COOLING, REUSABLE - just soak, wring the water and shake quickly to cool down the towel. The magical cooling effect lasts for hours and can be easily reactivated by repeating the same steps. The towel absorbs the sweat from your body and uses a unique cooling system to keep you cool. Everyone can use a cooling towel, even a pet.
EXTRA LENGTH & COMFORTABLE - 40" by 12" inches for your everyday use. It has a soft feel and is very attractive for use in public places, making it suitable for towels, scarves, headbands and headscarves. It is sized to wrap around your neck or head.
SAFE AND VERSATILE - For physical evaporation of moisture, no chemicals are used in the manufacture of polygon cooled towels. Suitable for any place where you need to cool down quickly, such as outdoor sports, indoor exercise, fever or headache treatment. It absorb heat or sweat quickly and takes a long time to lose cooling, but just shake it in the air and everything will come back.
TOP QUALITY, AWESOME GIFT ¨C Made with soft, lightweight and breathable material. This towel will be a thoughtful and caring gift for your family or friends who is sports enthusiasts, kitchen workers, outside staff, mothers with babies.
CARRIED WITH YOU ANYWHERE - It comes with a free waterproof carrying case and a carabiner that can be attached or loaded into your bag. When you plan to travel or outdoor, it takes up a small space and has a little weight in your backpack or purse.
Review: This microfiber cooling towel is another popular option, ticking all the boxes and being a good shape for tying around your head or neck.
Pros
Can be easily tied around the head, face and neck in different styles.
40" x 12" dimensions are ideal for tying around your body, being long and narrow.
Comes with a waterproof pouch and carabiner.
Highly absorbent, lightweight, soft material.
Cons
Doesn't come with any use or care instructions.
Takeaway
This is another reliable, good quality and affordable cooling towel.
Chill Pal Multi Style Cooling Band
Chill Pal Neck Gaiter Face Mask Cooling Towel (Blue, Full Size)
We all know how it feels to just be too hot, whether you're spending your summer at a theme park with your family, in the stands at a sports game, golfing, or relaxing at home. Spending your precious vacation sweating and overheating isn't our idea of a good time. That's why we developed the Chill Pal Multi Style Cooling Band: your coolest buddy! The band gets cold and stays cold, much more versatile than a normal cloth.
Easy Breezy – There are no complicated instructions here. Simply remove the Chill Pal, soak it in cold water, wring it out, and its ready to wear around your neck. If it starts to get warmer, simply rinse and repeat, and stay cool while fishing, hunting, hiking, or even on the job. Chill Pal also makes the perfect gift and stocking stuffer for the whole family!
12 Ways to Wear – With our new band, you can wear it as any of the following: A cooling neck gaiter, balaclava, headband, bandana, face cover, hair cover, full ninja cover, a dew rag and many other variations and styles of those.
Wear as Pictured - Simply place your head all the way through the tube so that your face is showing, with the band covering all of your head and the elastic below the chin. Then, take the extra material from around the neck, below the elastic under your chin, and pull the extra slack up over your nose to wear the band as a full ninja mask as seen in the photo!
Review: This is essentially a cooling towel that has been sewn into a tube shape for easy wearing around your head and face while exercising.
But, the tube shape doesn't stop you from using it like a regular towel while you're in the gym if you want that option.
Pros
Can be worn in 10 different ways.
Easier to wear than a towel while exercising.
Lightweight, silky material.
The product comes with plenty of information for use and care.
Cons
Sizing is on the small size so likely won't be comfortable for larger people.
Probably won't stay as cool for as long as the thicker cooling towels.
Takeaway
This is definitely the best cooling towel for sports such as a running, hiking and tennis if you're looking for something that will stay in place.
What is a Cooling Towel?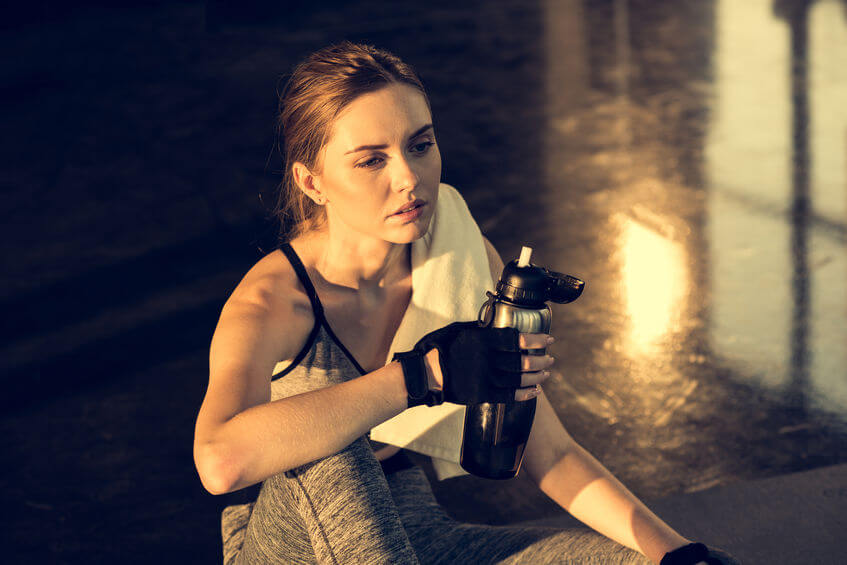 Cooling towels are towels that have been designed to be extra absorbent and so hold a lot of water, and yet have a large surface area in order to increase the rate of evaporation.
As evaporation creates a cooling sensation, the process of the water evaporating from your towel is what makes it feel cool.
Stretching, shaking or snapping your towel effectively forces more air past it and through it, speeding the rate of evaporation and making the towel feel cooler.
It's true, you could just wet a regular bath towel or hang a t-shirt around your neck, but the different material will hold less water and allow for a slower rate of evaporation so won't necessarily feel as cool.
Also, cooling towels are designed to not feel excessively wet to the touch the way a regular towel would.
The one downside is that as they depend on the process of evaporation, they won't be as effective in humid environments (no matter what the manufacturers claim).
Evaporation just doesn't happen as quickly in humid climates so the towels won't create as much of a cooling sensation. They'll still be a little cool, but definitely not as effective as in a dry climate.
Different Types of Cooling Towels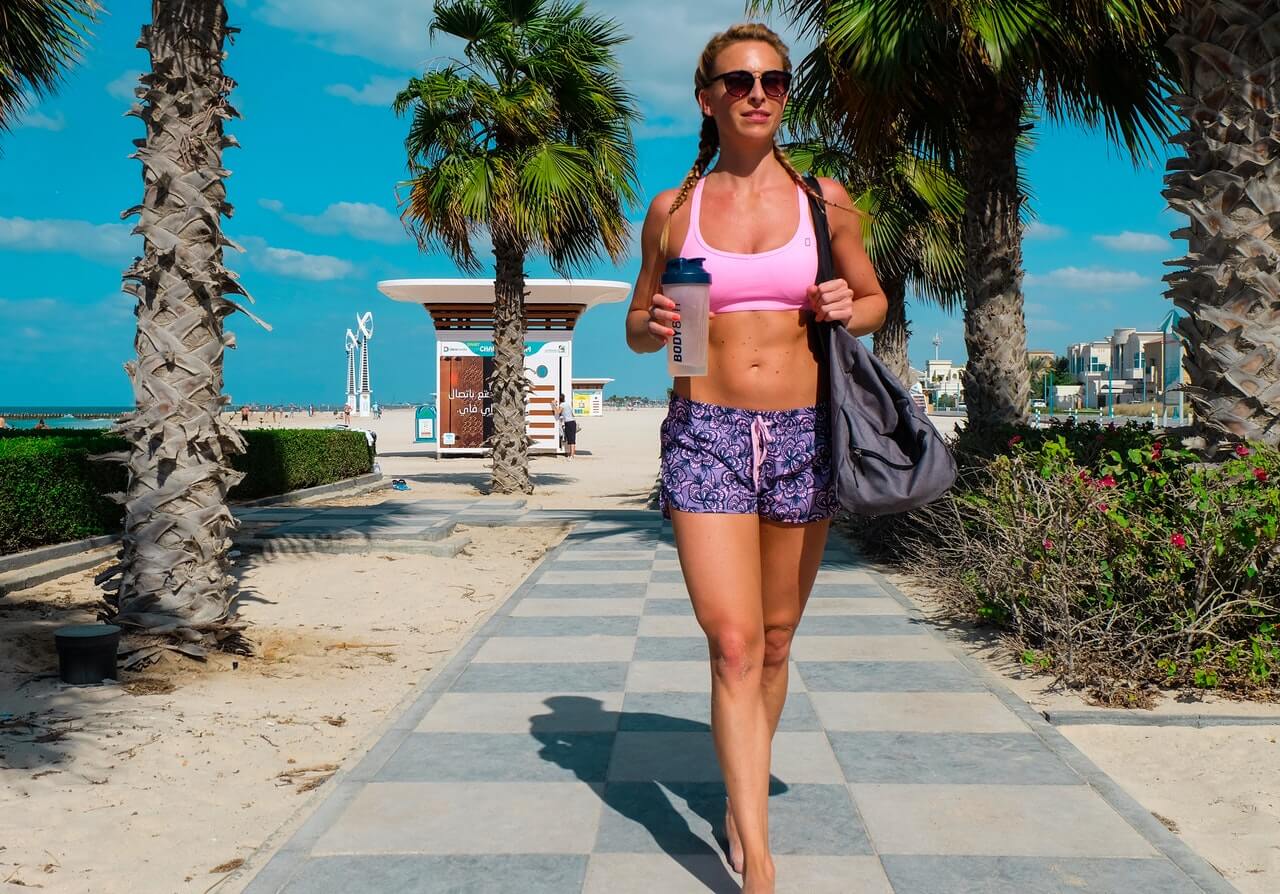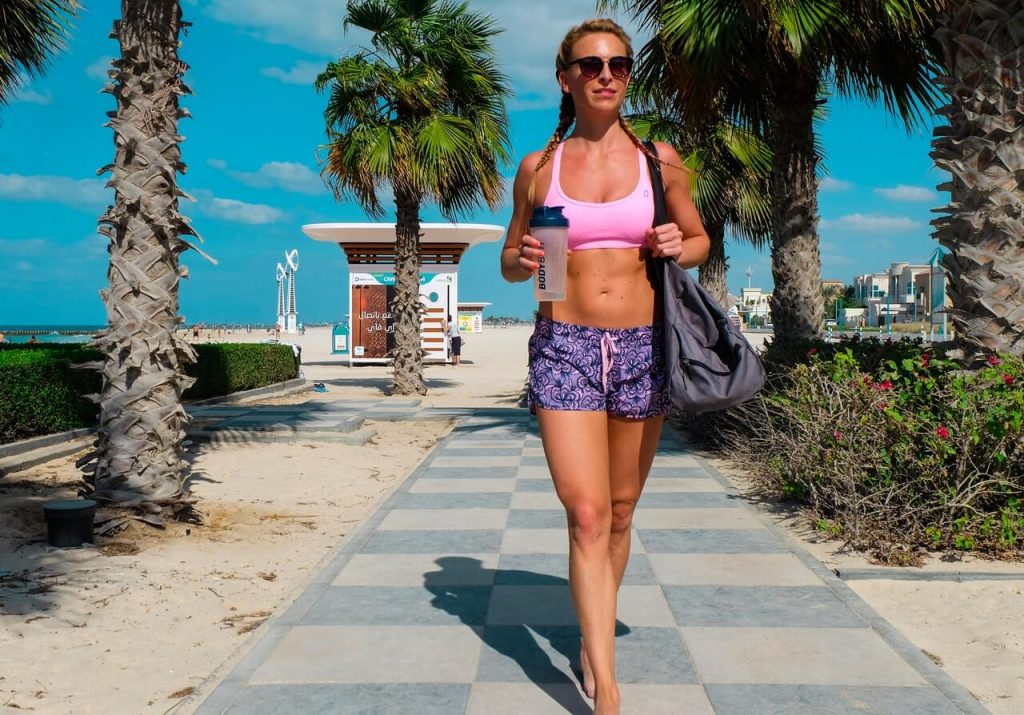 There are two main types of cooling towels, the difference being the material they're made out of.
They both work exactly the same way, using evaporation, but the different materials have slightly different properties.
PVA
Can hold a lot of water and so stay cool for a long time.
Can be cut into different shapes and sizes and won't fray.
Thicker, heavier and a more bulky, slightly spongy texture.
Dries stiff and in whatever shape you leave it.
Can have problems with mold unless you're careful to let it dry completely between uses.
Microfiber
Usually can't hold quite as much water as PVA so stays cool for slightly less time.
Can't be cut into smaller pieces as it will likely fray.
Much thinner lightweight and silkier in texture.
Dries soft and is easy to fold away when not in use.
How Do We Choose the Best Cooling Towel?
The best cooling towels for gym workouts are towels that are absorbent enough to use as a regular towel and soak up your sweat at the same time as keeping you cool and refreshed.
The best cooling towels for running are those that are thin enough and the right dimensions to easily tie around your head or neck so that they stay in place and are comfortable on the go.
So, it comes down to what you want to use it for, and whether you want the long lasting coolness of PVA the convenience of lightweight, soft drying microfiber.
Do They Work or Is it Just a Fad?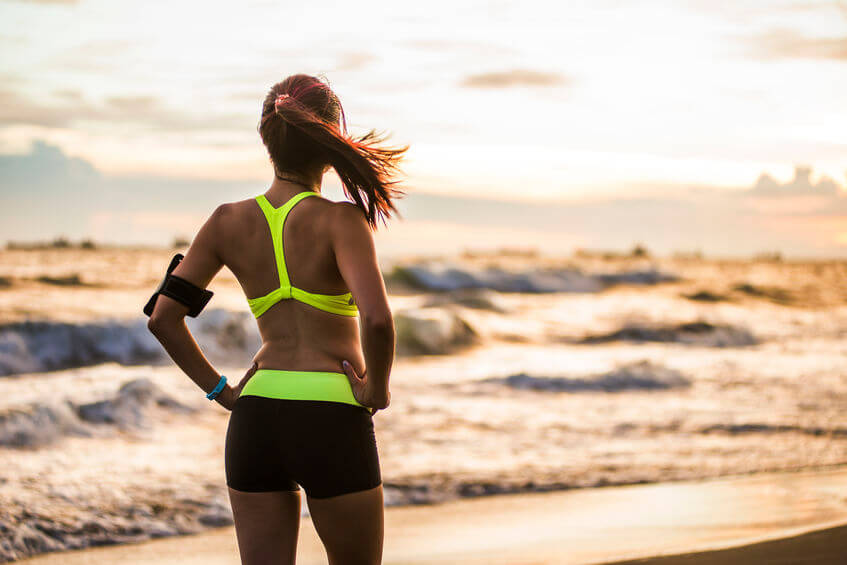 It depends on your expectations. If you're expecting magic, you'll be disappointed.
Cooling towels use basic physics to create a cool sensation, but they're not magic.
It's impossible for a towel to be wet and yet still feel completely dry (regardless of what manufacturers claim). All cooling towels will feel a little damp and clammy against your skin.
Then again, if you're really hot, you're not going to be against a little dampness if it's helping to keep you cool.
Cooling towels have the potential to be really, really useful in hot, dry environments where you would otherwise be pouring your drinking water over your head to stay cool.
They hold on to their moisture for longer and generally will be cooler to touch than regular wet material, making them a convenient way to stay more comfortable (and safe) in hot weather.
The SFP protection that they come with also makes them particularly well suited to sports like running, hiking and tennis where you're outside and exposed to the sun.
Wearing a cooling towel on your head to protect your ears and neck while keeping you cool is surely a no-brainer.
If you're interested some more direct body contact, check out our article on the best cooling vests.
Summary
Cooling towels are among the more recent products to hit the shelves and have us wondering what the big deal is.
But, these things actually do work, and as well as helping you to feel a whole lot more comfortable, can actually be a safety thing too.
The best cooling towels will help to keep you from overheating and allow you to get the most out of your workout regardless of the temperature.
Please comment below if you've used a cooling towel and thought it was awesome, or not!
And be sure to subscribe in order to get the latest reviews and articles direct to your inbox!