13 Best Fitness Trackers Under $50
You might notice that the muscles in your legs are getting stronger. You can probably tell that you can run much further without taking a break. However, if you want an accurate depiction, you'll want to purchase a fitness tracker. They monitor your progress, so you can set, update, and know if you reach real fitness goals. For some, these might be a way to encourage exercise growth and even know if you should see a doctor over certain health issues. 
With so many fitness trackers on the market though, it's difficult to choose one. We already covered the best fitness trackers in the world in general but in this article, we covered the best fitness tracker under $50 that we're sure are going to serve the purpose just as expensive ones!
What Are Best Fitness Trackers Under $50?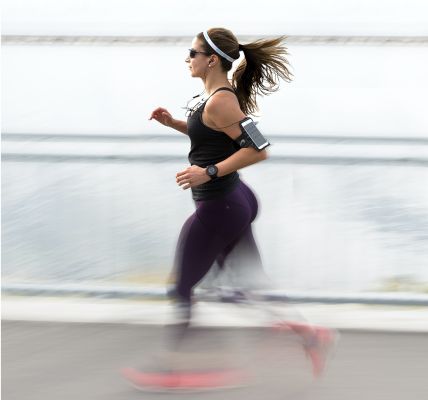 Buyer's Guide
What to Look for When Buying a Fitness Tracker Under $50
When you're looking for a fitness tracker that's under $50, you want to make sure it has the main features you desire. For instance, if you looking for a fitness tracker and want to know your heart rate, make sure it offers that feature because not all of them do.
Additionally, you want to take into consideration if you want to monitor your fitness while you swim. A majority of fitness trackers are waterproof to a certain extent, but you can't use all of them while you swim.
It's also important to consider if you want one that monitors sleep and to what degree they monitor sleep. Some of them only monitor how long you sleep while others monitor your vitals and the depth of your sleep.
If you're a person who owns a business or has plenty of friends and family, you may want to consider one that offers you the option to sync it to your phone. You'll be able to receive texts, calls, and messages while you're active, so you may remain active and not worry about missing important calls or messages.
Overall, you also want to look into one that offers the style you want. You'll be more likely to use it if you find one you like.
How to Choose Best Fitness Tracker Under $50
First and foremost, you want to take into consideration which features you want your fitness tracker to have. Not all of them have the same features and can monitor as much. You also want to consider how in-depth you want your fitness tracker to be. For instance, do you want a fitness tracker that can monitor you during certain activities, or is a basic one useful enough for you?
If you have a kid that you're choosing a tracker for, you should also look into the styles and if the band will fit him or her well. Not all of them are adjustable enough for children's small wrists.
Accuracy is another aspect you want to consider. Even if you're choosing one based on price, you still want it to work at least close to accurately.
Finally, you want to consider how it charges and how long it charges. If you're a person who doesn't want the hassle of one that needs to be recharged frequently, you want one with long battery life. You should consider how it charges. Many can charge with your computer rather than having another dock you have to deal with. You can even choose one that charges magnetically.
Which Fitness Tracker Under $50 Is the Most Accurate?
The most accurate fitness tracker under $50 is definitely LETSCOM Smart Watch that also takes a second spot as our Premium choice for best fitness tracker under $50.
A majority of the fitness trackers that were on this list are relatively accurate. A few were known to have errors when they reported, but that's not common.
Once you narrow down your choices to a few, you may want to read reviews on your own to find the solution that will function optimally, so you can accurately monitor your health and fitness.
It may also help to choose one that has a warrant, so if you notice it doesn't seem accurate, you can take it back or receive a replacement one.
While it's a difficult decision to deem the most accurate one, we'd have to say that the Smart Bracelet I'MSO ranks as the most accurate one in terms of your steps.
Expensive Fitness Tracker Vs. Cheap Fitness Tracker
You can find durable and accurate fitness trackers in both price ranges. You can find ones that have a number of features in either category as well. Some of the less expensive ones have a better style than the more expensive one. Certain more expensive brands aren't as accurate and don't last as long. Therefore, it takes you to compare your options to find the one that most suits your needs.
With the expensive ones, you can usually track a lot more aspects of your health and sometimes more in depth. Some of them are known to last a lot longer than the inexpensive ones. Often, the more expensive ones also look more expensive and have more features. This takes you comparing your options to find the one that's right for your needs and is affordable to you.
Another aspect that often varies when you choose between an inexpensive one versus a more pricey option is the charging. Often, the ones that are more expensive hold a charge a lot longer than the inexpensive ones, so won't have to deal with charging them all the time or worrying that yours isn't charged when you need it. They often charge a lot quicker than the inexpensive ones.
Sometimes, you'll notice a difference in the quality of materials that they're made of. However, smart bands, watches, and bracelets don't always follow the rule that you get what you pay for, so you may find inexpensive ones that meet your needs, function well, and look stylish.
Summary
Bottom line, you can find a fitness tracker that has everything you want at a price you can afford. This is especially important if you're just trying one out and aren't sure you're going to want to use it for a prolonged period. It's also beneficial to choose an inexpensive one for a child since you don't know if he or she will like it or use it regularly once the appeal wears off.
You can find ones that play music, send messages, and so much more, so it's important for you to know exactly what type of features are most important to you. Above all, you want to choose one that's accurate because inaccurate results can affect your progress and hinder you from knowing if you're actually reaching your fitness goals each day.