TOP 10 Best Trail Running Headlamps of 2023 – Don't Let the Dark Stop You!
Trying to fit in your mid-week trail runs can be a challenge when the days are short.
But, having a good headlamp could be the difference between running freely and easily over the trail at night, and running slowly and cautiously, afraid that the nearby branches could be snakes, or that you'll come around a corner too fast to see that rock that you need to jump over.
I've put together a list of the 10 best headlamps for trail running so you can skip to the chase and choose one quickly without having to debate over the different options.
Read on for the inside scoop!
TOP 10 Best Trail Running Headlamps 2023
Sale
Review: This headlamp is widely considered to be the best of the best when it comes to trail running.
It's an intelligent lamp which means that it adjusts its brightness according to ambient light changes while you run. This means it saves battery power and puts less pressure on your eyes.
The quality of the light is also nicer than most standard LEDs, you don't get any glare and colors are vivid.
It's powerful, with a long beam distance, rechargeable battery pack, and the free MyPetzl Light App.
Battery life ranges from 1.5 hours to 15 hours depending on the settings used, and the rechargeable battery can easily be swapped out for AAs mid-run if you get stuck.
Pros
750 lumen capability.
USB rechargeable battery and AA compatible.
Lightweight – 6.5 oz.
460 ft. beam distance.
Red safety light at the back.
Cons
Hefty price point (but arguably worth it).
Takeaway
This is the best ultra trail running headlamp on the market right now for its impressive illumination and battery life, and the best headlamp for trail running at night due to its intuitive hands-free brightness adjustments.
Black Diamond Sprinter Headlamp
BLACK DIAMOND Sprinter headlamp Smoke Blue 200 Lumen
1 DoublePower LED with 200 lumens (max setting) projects a strong, oval beam
Red taillight strobe with on/off programmability for visibility in urban areas
Powered by a lithium polymer rechargeable battery (5-hour USB charge time)
Settings include full strength, dimming and strobe
Regulated for constant illumination on all brightness settings
Review: Black Diamond is the other big name alongside Petzl when it comes to headlamps, and the Sprinter is the best of the bunch when it comes to trail running.
It's been around for a few years but the fact that it still makes the list is testament to excellent quality and design. It's one of the few headlamps on the market specifically designed for runners – and it makes a difference.
It has a red tail light which is a great safety feature when you're sharing the trail with mountain bikers, and it's so lightweight and well-balanced that you won't have to worry about it slipping or bouncing.
Pros
Incredibly lightweight (3.8 oz.) and well-balanced.
164 ft. beam distance.
Strap is fully adjustable and has over-head component.
Rechargeable battery with good burn time (42 hrs).
IPX4 waterproofing.
200 lumens.
Cons
Not as bright as some of the competition.
Takeaway
If a lightweight and stable headlamp that you'll barely notice you're wearing is what you're after, this is the headlamp for you.
Petzl - REACTIK+ Headlamp, 300 Lumens, Bluetooth Enabled, Orange
REACTIVE LIGHTING TECHNOLOGY: headlamp automatically adjusts brightness to the needs of the user, offering a maximum of 300 lumens
ENERGY EFFICIENT: enjoy a longer burn time as the headlamp beam automatically adjusts brightness to the user's specific needs
MIXED BEAM: produced by the primary light source and activated with a light sensor
RECHARGEABLE: no need to carry around extra batteries. Headlamp runs on an 1800 mAh Lithium-Ion battery with an integrated USB port for convenient charging
WASHABLE AND ADJUSTABLE HEADBAND: this two-part system is constructed for optimal positioning during dynamic activities
Review: If you're after Petzl quality but don't quite have the budget for the Nao, the Reactik is a great choice. You still get really impressive battery life and beam distance, the MyPetzl Light App with Bluetooth connectivity, all in a very lightweight and comfortable package.
It also features the reactive lighting technology that adjusts the light output based on the ambient light of your environment, saving battery power without you having to use your hands to adjust any settings.
The headband is also wide and adjustable, and the lamp has a locking feature so that it won't turn on in your bag and drain the battery.
Pros
300 lumen capacity.
Very lightweight – 4.1 oz.
Rechargeable battery and AAA compatible.
360 ft. beam distance.
IPX4 waterproofing.
15-hour battery life on the lowest setting.
Cons
The app and Bluetooth connectivity may not yet be at the point where they're really useful.
Takeaway
For this price, you really can't go wrong with the Reactik. It's easily one of the best trail running headlamps of 2023.
Petzl Actik Core Headlamp
PETZL - ACTIK CORE Headlamp, 450 Lumens, Rechargeable, with CORE Battery, Black
HAVE A LIT ADVENTURE: The powerful and lightweight ACTIK CORE is built for mountaineering, running, cycling, hiking, and backpacking.
BRILLIANT BEAMS: Features two beam patterns (wide and mixed) to meet your need for high-performance lighting for outdoor activities.
TURN YOUR BRIGHTS DOWN: The red lighting preserves night vision and prevents blinding other members of the group.
NEVER GET CAUGHT IN THE DARK: Featuring a max autonomy burn time of 160 hours and a max power of 350 lumens.
GET RECHARGED: Every ACTIK CORE comes with a CORE rechargeable battery that charges via micro USB port, and is also compatible with AAA batteries.
Review: With just another slight step down in price and the number of features, the Petzl Actik Core is another reliable choice for trail running. It has 350 lumens, a rechargeable battery, and an incredible 160 hours of battery life.
The mixed beam lighting combines both wide-angle and focused beams so you get very bright illumination in the middle of your view and then it gradually fades out so there are no black spots in your peripheral vision.
It doesn't have the reactive technology of the Reactik or Nao, but that's what makes it more affordable.
Pros
350 lumens.
Rechargeable battery and AAA compatible.
Red lighting for night vision.
310 ft. beam distance.
Cons
Takeaway
This is an affordable but high quality head lamp from Petzl that has excellent brightness and battery life.
Black Diamond Spot Headlamp
Black Diamond Spot Headlamp Black
One QuadPower LED andone DoublePower white LED emit 300 lumens
Red SinglePower LED for night vision has dimming and strobe settings and activates without cycling through white mode
PowerTap Technology allows instant transitioning between full and dimmed power
Review: The Spot is another really popular Black Diamond headlamp for runners, being powerful but lightweight and comparatively affordable.
It's designed to work exclusively as a focused beam rather than a wide-angle light, so bear this in mind when making your choice. But aside from that, this headlamp scores top points for battery life and brightness at this price point.
Pros
Very affordable.
260 ft. beam distance.
300 lumens.
Lightweight – 3.5 oz.
180-hour battery life.
Cons
Not rechargeable (but you can choose to use rechargeable AAAs).
Complicated control to switch modes.
Some users note a yellow circle in the middle of the beam.
Takeaway
A very bright and lightweight option at an affordable price, this is a good trail running headlamp for seeing far into the distance.
Black Diamond Icon Headlamp
Black Diamond Icon Headlamp, Black
One Quad Power LED spotlight and 1 Double Power white LED emit 500 lumens (max. setting)
Brightness memory allows you to turn the light on and off at a chosen brightness without reverting back to full power
Red, Green and Blue night vision modes cover the spectrum of night vision needs
Three-level power meter shows remaining battery life for three seconds after switching on headlamp
IP67: waterproof and dust proof-best for saltwater and extremely wet or dusty environments. Unit is completely sealed and tested to operate up to 1 meter underwater for 30 minutes
Review: This is a heavier and bulkier headlamp than the others on this list, but it has the longest battery life on high power.
So, if you're an ultra-marathon runner and need something that will see you through the whole night, this is the headlamp for you.
It does drop to a medium brightness after 30 minutes of use, but its medium brightness is still brighter than most other lamps will sustain for the same amount of time.
It seems Black Diamond has thought of everything, as they've designed the battery pack with an extension cable so that you can wear it inside your jacket in really cold weather.
Pros
Reasonably lightweight – 8.1 oz.
320 lumens.
Insanely long battery life.
Uses 4 AA batteries.
Battery pack can be worn on the back of your head, or elsewhere using the extension cable.
Cons
A little heavy.
Not rechargeable.
Takeaway
This is the headlamp you want if battery life is your priority, and it's the best headlamp for adventure races in cold, wet weather.
Black Diamond Storm Headlamp
Black Diamond Storm Headlamp, One Size, Octane
One Quad Power LED and one Double Power white LED emit 350 lumens
Red, green and blue Single Power LEDs for night vision have dimming and strobe settings and activate without cycling through white mode
Power Tap Technology allows instant transitioning between full and dimmed power
Settings include full strength in proximity and distance modes, dimming, strobe, red, green and blue night-vision, and lock mode
Waterproof and dustproof: Sealed housing withstands immersion up to 1m for 30 minutes
Review: Black Diamond's Storm is a mid-range, reliable headlamp that is completely waterproof – hence the name.
It can survive being underwater for up to a minute which makes it the best option for adventure races that will involve lots of mud and water, or for running in heavy downpours.
It has eight different settings with white, red, green and blue lighting options available, the lights are really bright and the battery life is excellent.
Pros
350 lumens.
279 ft. beam distance.
Affordable.
Lightweight – 3.88 oz.
120 hours of battery life on low.
Cons
Not rechargeable.
A little complicated to use until you get the hang of it.
Takeaway
This is a great option if you're looking for a bright light in a very durable and weather-proof package.
Petzl Tikka Headlamp - Compact, Lightweight 300 Lumen Headlamp for Proximity Lighting for Hiking, Climbing, and Camping - Blue
LIGHT FOR EVERYDAY ADVENTURES: The Petzl TIKKA (300 Lumens) has three white lighting levels: proximity, movement and distance. Red lighting feature preserves night vision and prevents members of a group from blinding each other.
LIGHTWEIGHT and COMPACT: At only 82 g 2.9 oz, the TIKKA will light your path on the trail, on the rock, or in camp. Without weighing you down.
HYBRID CONCEPT: Petzl headlamps can run on either the CORE rechargeable battery or three AAA batteries without an adapter.
RELIABLE PERFORMANCE: With Petzl's 50:50 Brightness-to-Burn-Time ratio, your Petzl headlamp will retain 50% of its original brightness halfway through the Burn-Time, rather than the 20-30% brightness you get in other brands.
INTUITIVE DESIGN: The Petzl TIKKA has a: single button for quick and easy selection of brightness or light color, phosphorescent reflector (useful for locating the lamp in the dark), and a detachable, washable headband.
Review: If affordability is what you're after, the Petzl Tikka is an excellent choice.
It comes in at around a third of the price of most of the headlamps on this list while still offering 300 lumens, a wide consistent beam, and a red lighting option.
It's easy to use, durable and perfectly adequate for trail running if you're on a budget.
Pros
Compatible with the Core rechargeable battery (sold separately) or 3 AAAs.
300 lumens.
Very, very lightweight at just 2.9 oz.
120 hours of burn time on the lowest setting or 2 hours on high.
IPX4 waterproofing.
Cons
None at this price point.
Takeaway
This is a good trail running headlamp for runners on a budget who don't need extreme brightness for long periods.
Review: Rivaling the big names, Fenix's headlamps are very bright, while remaining affordable. 950 lumens is definitely more than you need for trail running, but the lower settings provide excellent quality of light and 100+ hours of battery life.
The strap is also a massive pro for this headlamp, as even though the whole thing is pretty light anyway, the over-head strap makes it very secure and comfortable to wear.
You won't have to worry about it slipping down or bouncing around.
Pros
Incredible 950 lumens.
Rechargeable via micro-USB.
Overhead strap makes it very secure.
Very lightweight – 4.3 oz.
381 ft. beam distance.
100 hour battery life on low power.
IPX8 waterproofing means it can be safely submerged.
Cons
Gets a little warm on high power.
Takeaway
This is an excellent trail running headlamp at a mid-range price.
Princeton Tec Remix Headlamp
Sale
Princeton Tec Remix LED Headlamp (300 Lumens, Black w/Red LEDs), One Size (RMX300-RD-BK)
Maxbright LED - The highest quality LED available, Princeton Tec's Maxbright LED is extremely bright and efficient; This single LED emits a smooth, powerful, white light useful for a wide range of tasks
Ultrabright LED - The Ultrabright LED is bright and efficient; The smooth, white, wide-beam light emitted by Ultrabright LEDs is ideal for close to mid-range tasks
Multiple Modes - Multiple settings gives you the flexibility to adjust your light's brightness to illuminate greater distances or to conserve battery power, depending on your needs
Burn Time - Up to 17 hours of runtime off of a single lithium CR123 battery, providing excellent performance in cold weather
Water Resistant - With a IPX4 rating, these lights are designed for water resistance to splashing and quick dunkings
Review: With similar specs to Petzl's Tikka, Princeton's Tec Remix is very lightweight, comfortable to wear and puts out a very decent 300 lumens on its maximum setting.
The quality isn't quite as bulletproof as Petzl's, but it's still a decent headlamp for its price.
Pros
300 lumens.
150 hour burn time.
Very lightweight at 2.9 oz.
Red lighting option.
IPX4 Waterproofing.
Cons
Not rechargeable.
Doesn't tilt to change the angle of the beam.
Casing isn't as durable as it could be.
Takeaway
This is an affordable mid-range option, not quite as good as Petzl but still reasonable quality for its price.
Now that you've seen the list…
What Makes a Headlamp Worthy of Your Trail Runs?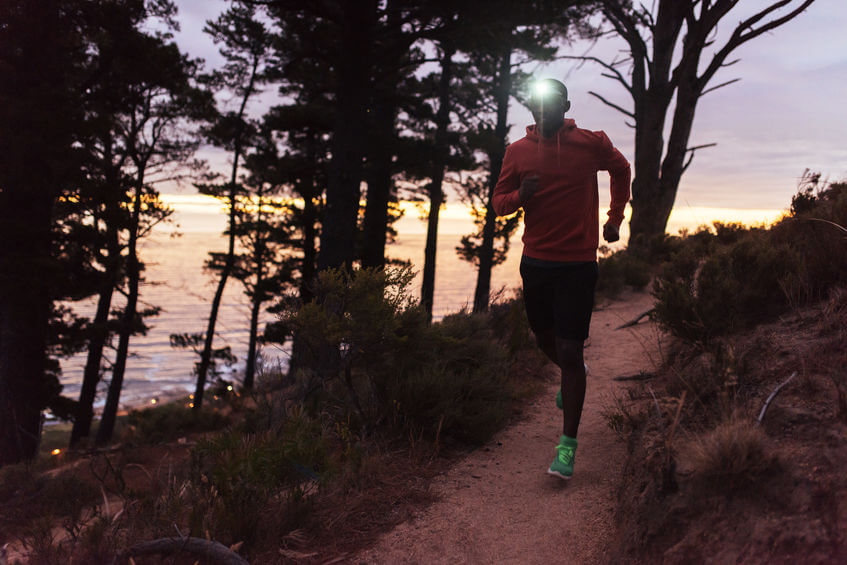 There a few things to consider when making your choice, the most important being brightness, or the number of lumens that the lamp provides.
However, the lumens are only as good as the beam distance. If the headlamp only provides a wide beam but can't focus the light far enough into the distance then you might be limited in how fast you can run.
Other things to consider are:
Waterproofing
How securely the strap fits around your head to avoid slipping or bouncing
Battery life
Rechargeable batteries versus regular batteries
Red light option
Ease of controls
Options for spot versus flood style lighting
How Many Lumens do I Need for a Trail Running Headlamp?
This is a matter of preference and depends how fast you run (the faster the run, the brighter your head torch needs to be as you need to see further into the distance).
But, 200 lumens is a safe starting point.
Unfortunately, the brighter the light, the quicker the batteries will run out, so if you need your headlamp to last you through a longer run, you might need to choose a lower setting.
Similarly, you'll need to choose whether seeing far into the distance or having a good spread of light immediately in front of you is your priority.
200 lumens will vary in beam distance depending on whether you choose a focused or wide beam.
What is the Brightest Headlamp for Trail Running?
The Fenix HL60R is the brightest headlamp on this list. There are brighter headlamps out there, but they'll likely be too heavy and cumbersome to run with.
Past a certain point, brighter isn't necessarily better.
Most of the headlamps on this list sit around the 300-350 lumen mark, and that's because this level of brightness provides the best battery life to performance ratio.
Can I Wear these Headlamps in Rain and Snow?
Yes! All headlamps recommended for trail running come with at least an IPX4 rating which means they should cope with getting rained on.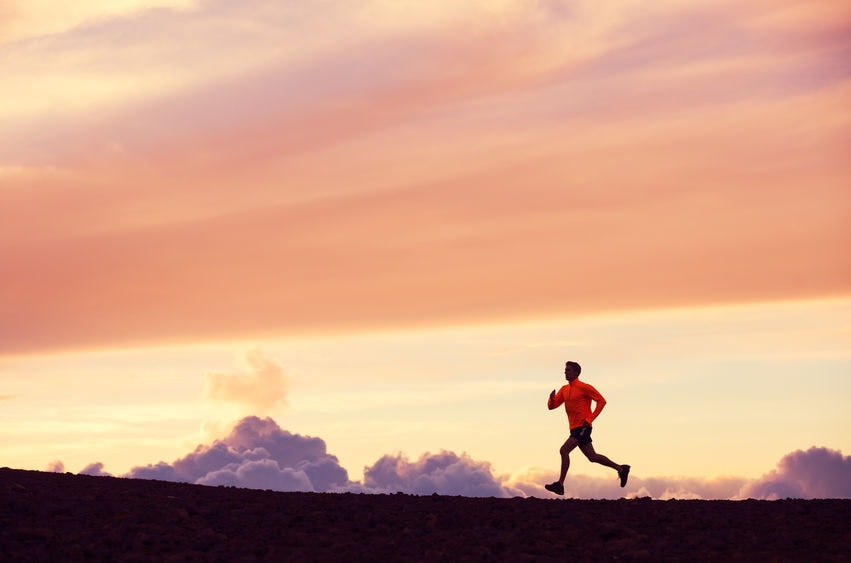 What About the Straps?
Having an over-head strap is a massive plus for trail running. But, oddly enough, not many headlamps actually offer this strap configuration.
All should be wide (with the exception of the Nao), comfortable and adjustable enough to get a good fit.
Battery Life and the Rechargeable Debate
Obviously the longer the battery life, the better. That, we can agree on.
But there is debate surrounding rechargeable versus regular batteries.
The environmentalist in me will always be in favor of rechargeable over regular batteries. But, I get that having a rechargeable battery go flat on you in the middle of a long run is obviously a down buzz.
Provided you always remember to recharge before your run, this shouldn't be a problem. And, Petzl's hybrid headlamps also allow you to swap out the rechargeable with regular batteries so you can carry spares for emergencies.
At the very least, if you choose a headlamp that takes regular batteries, choose rechargeable alternatives like these guys (link to Amazon.com) and get a little charger (link to Amazon.com) to go with. Easy.
Why is There a Red Light on My Headlamp?
On some headlamps, especially those designed specifically for trail running, the red light at the back of the head strap is for safety purposes so that you can be seen by other runners or traffic.
If the red light is an alternative to the white light at the front, however, this is for night vision.
Using a red light means that you don't have to wait for your eyes to adjust before looking away into an unlit area. It's a much lower intensity light that will allow you to see without lighting everything up with artificial daylight.
Buttons Buttons Buttons!
The main take away on the controls is to read the instructions that come with the headlamp first.
Most headlamps come with one button that gets pressed for different amounts of time depending on what kind of light you want, and you often have to scroll through a few different options before you get to the one you want.
Yes, you'll probably get there eventually by playing around, but you'll figure it out more quickly if you read the instructions!
And sometimes there's a lock to override to make sure your headlamp doesn't turn on by itself in your bag and drain the battery.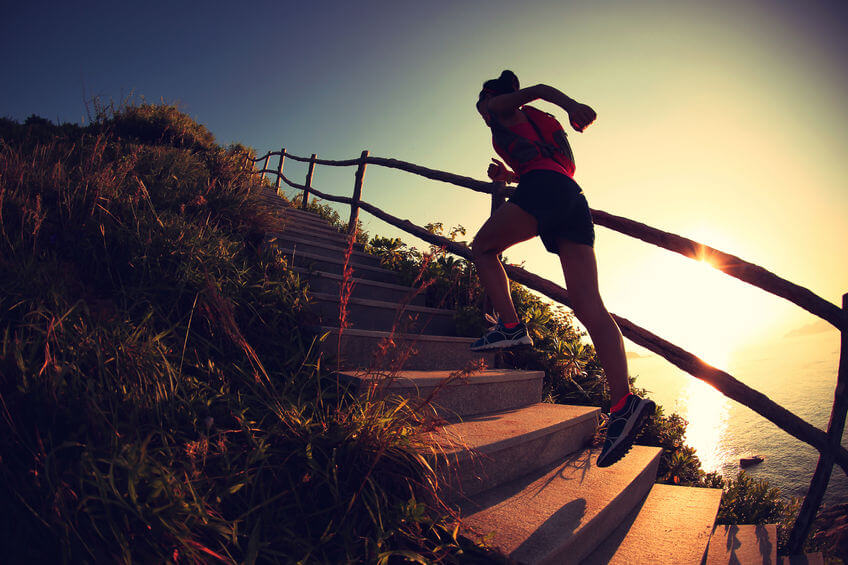 Hopefully, that answers all of your questions!
While you're here, are you on the hunt for any other trail running gear we can help you with?
We have fantastic articles listing the best trail running shoes for women, the best trail running shoes for flat feet, and the best waterproof running shoes. Your feet are a pretty important tool when it comes to trail running so looking after them with the best possible shoes is one of the best investments you can make for your running career.
Aside from your feet, maybe your wrist needs some attention? That's right, we have an article for that, letting in you in on all the best GPS running watches so you can track your stats and know exactly where you are with your run at any time of day!
In the meantime, I hope you enjoyed being introduced to the best headlamps for trail running and good luck with your upcoming night runs!
Any of the choices on this list will effortlessly light up your path for some exhilarating twilight trail runs.
But if you'd like to be kept in the loop with more awesome gear reviews, be sure to sign up for our newsletter and save time researching your next purchase.