TOP 15 Best Waterproof Running Shoes for Trail & Road Reviewed 2023
Nothing can ruin a good run like wet socks or cold feet.
You might end up with blisters or your feet could even go a little numb leaving you with painful chill blains once they start to warm up again.
But, wearing waterproof running shoes can solve this problem and make running in the rain possible, even enjoyable.
I'm going to provide some in-depth reviews of the 15 best waterproof running shoes of 2023 and then give you a few more tips on what to look for.
TOP 15 Best Waterproof Running Shoes of 2023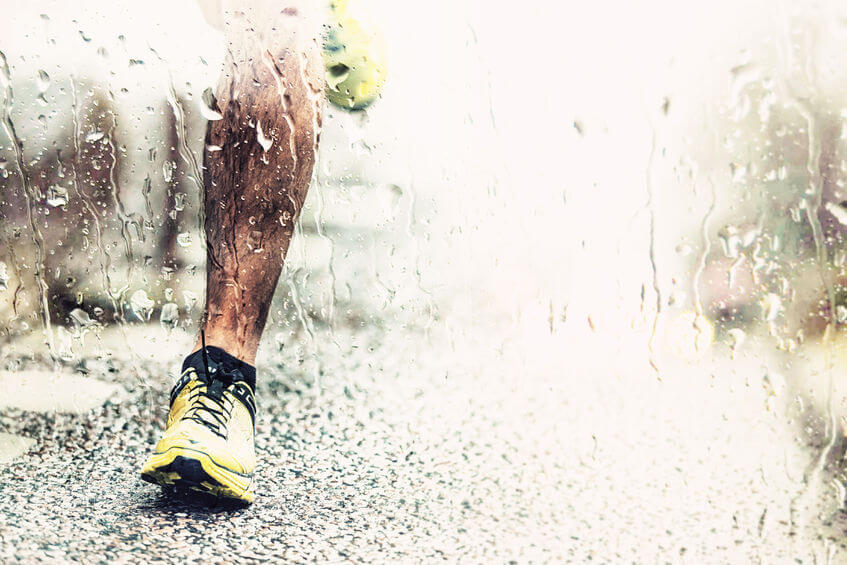 Why Wear Waterproof Running Shoes?
There are a number of reasons that choosing waterproof running shoes over regular shoes could be a good call.
First and foremost, most people think of the comfort factor.
Running in wet shoes and socks can be cold as well as leading to potential blisters. Once your shoes get wet and sodden they can also be much heavier and weigh you down.
And, they may take time to dry out, most likely not being dry in time for your next run.
This leads to the durability factor.
If you live in a very wet climate, shoes that are not designed to be constantly wet just won't last as long. They will perish more quickly and you'll end up needing to replace them sooner, which is not ideal!
Then, there's the safety factor.
Waterproof shoes often have better traction as they're designed to be worn in the rain. So, they should be more reliable on wet, slick surfaces.
Those are some pretty compelling reasons to choose a waterproof shoe!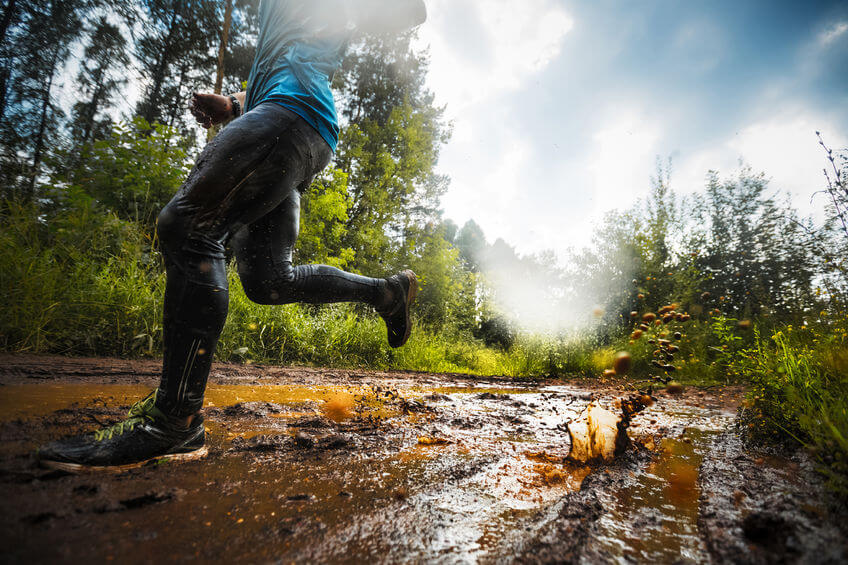 So, What Makes a "GOOD" Waterproof Running Shoe?
For a long time, a good waterproof running shoe mainly consisted of a durable, stable shoe that provided a layer of separation from cold and moisture.
However, technological advancements over the past several years have made breathability, weight and flexibility more possible, and so worth looking for in a good waterproof running shoe.
The top-rated waterproof running shoes in this article all use specific technology – for example, Gore-Tex, eVent, or Polartec – that ensures maximum protection from the elements while maintaining breathability and some flexibility.
The materials are designed to work as both a waterproof and a breathable membrane that keeps water out while also allowing for the moisture produced by your sweat to escape. Polartec has the added benefit of providing an excellent insulating layer on top of the other standard waterproofing features.
There are now just as many good options for waterproof road running shoes as there are for trail running shoes now, and trail running shoes themselves also vary in ruggedness, weight and stiffness.
In general, most people can agree that the best running shoes for rain would ideally be no heavier than a regular shoe, while also being just as flexible, breathable and durable.
It sounds simple, but it's not an easy feat and some shoes manage this better than others.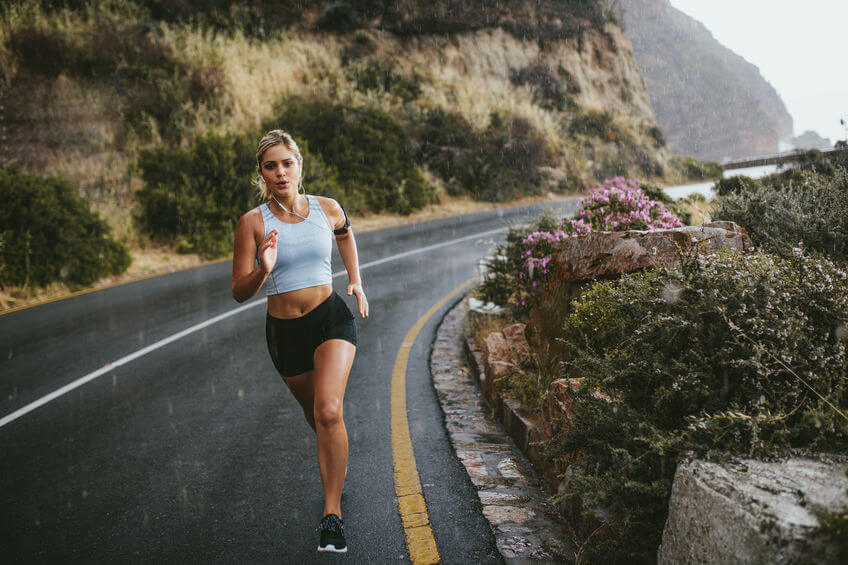 Other things you can do to make running in the rain more comfortable:
For more guidance on running in the rain, check out our article on wet weather running.
Alternatively, maybe running in the rain isn't your thing? Maybe you think you'd prefer to stick to treadmill running until the weather clears?
That's completely fair. Be sure to have a read of our guide to the best treadmills if that's the case.
FAQ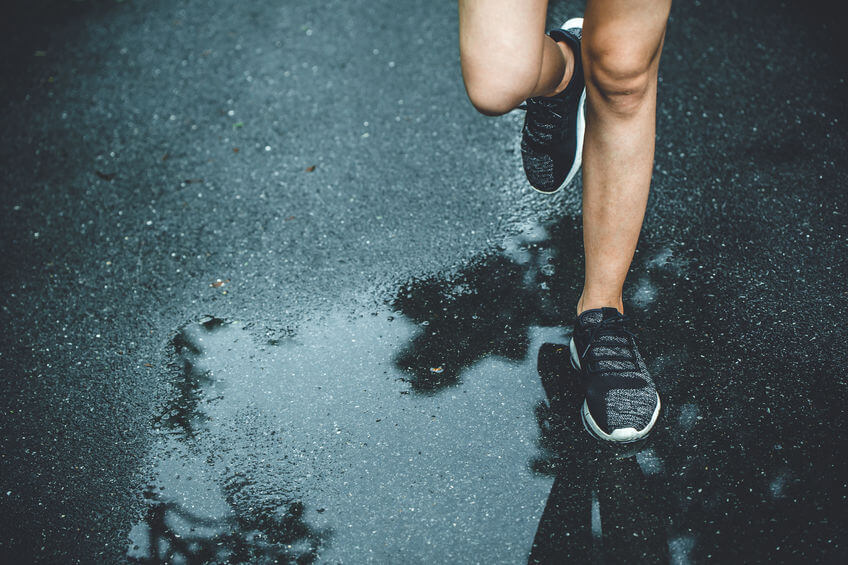 Which Running Shoes are Waterproof?
All of the shoes on the list above are waterproof and are great examples of running shoes that will help to keep you dry, warm and comfortable.
Do You Need Waterproof Running Shoes?
This a personal preference and depends heavily on what kind of running you're doing.
But, for people who run in the rain a lot or live in a really wet climate, waterproof running shoes are a very sensible choice.
What are the Best Waterproof Sneakers?
This does depend on your needs and how you plan to use your shoes, but Salomon Speedcross and Adidas Terrex Agravic are great options.
Does Rain Ruin Running Shoes?
The odd wet run will not ruin your running shoes if they get a chance to properly dry out afterwards and don't sit around damp for too long.
But, if you're running continuously in wet conditions and your shoes spend more time wet than dry, then yes, they will start to fall apart earlier than they would otherwise, and may also start to suffer from mildew!
What Should I Wear for a 10k in the Rain?
Your best bet for a wet 10km is a lightweight waterproof road shoe like the Mizuno Wave Rider 21 GTX, Adidas PureBoost RBL, or, your regular racing flats, because it doesn't really matter if you get wet feet for the occasional run!
Is Gore-Tex 100% Waterproof?
Getting a material to be 100% waterproof is easy. Any impermeable material will be waterproof. The problem is trapping sweat inside and leading you to get wet that way.
So, what Gore-Tex aims to be is both waterproof and breathable. The breathable part is the key.
Conclusion
That concludes this article on the best waterproof running shoes of 2023.
Remember, the best running shoes for running in inclement weather will not only be waterproof but also be lightweight and flexible enough to remain comfortable to run in.
Please feel free to leave a comment below with any questions or thoughts about this article – I always love to hear from our readers!
Our newsletter is also a great source of information, so subscribe today in order to get notified whenever new content gets posted to the site.