Best Waterproof Running Shoes for Road and Trail + 12 Reviews 2020
Runners are notoriously stubborn and rarely let anything stand in the way of their training routine.
This includes racking up the miles in unfavorable weather conditions, which can often include prolonged exposure to rain and snow.
Nothing can ruin a good training session or a new personal best like wet socks or cold feet. Without good waterproof running shoes, blisters begin to form and finding decent traction also becomes difficult.
In order to get the most out of the days when Mother Nature decides not to cooperate, it's very important to know what to look for in top rated waterproof running shoes.
So, how exactly do we identify the best waterproof road running shoes? What role does circulation and breathability play?
There are certainly many different factors to keep in mind.
Thankfully, you have found a great guide full of valuable and practical information to combat the elements when running in less than ideal weather.
We will first take a deeper look at the importance of wearing waterproof or water-resistant footwear when running before providing some in-depth reviews of the Top 12 best waterproof running shoes 2020.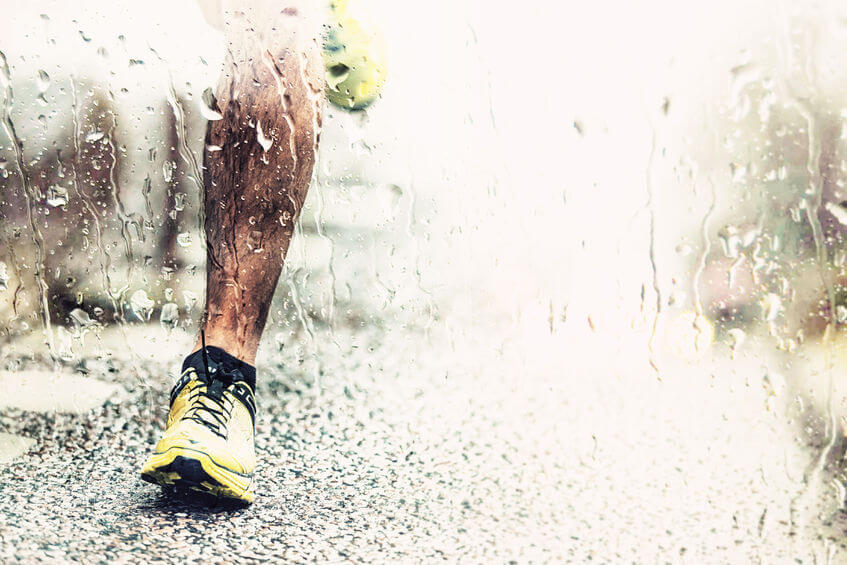 Why are Waterproof Running Shoes so Important?
Ensuring your feet are comfortable and well protected against unwanted cold and moisture is really vital to having a successful running experience in suboptimal conditions.
Without this extra line of defense to protect your feet and keep your socks dry, running in inclement weather becomes a huge chore.
It's easy to make excuses to stay indoors if bad weather equates to a bad training experience.
Not to mention the fact that it is incredibly difficult to keep a positive attitude when performance and safety become negatively impacted due to external sources.
Comfort isn't the only issue to consider when considering purchasing waterproof trail or running shoes.
Safety during slippery or sub-optimal road conditions must also be taken extremely seriously.
Without proper footwear that is specifically designed to handle slick pavement or soggy terrain, injuries due to slips or falls can easily come into play.
No matter how you look at it, having an enjoyable run in rain or snow requires specific shoes that come complete with the latest advancements in waterproof technology.
What Makes a "GOOD" Waterproof Running Shoe?
For a long time, a good waterproof running shoe mainly consisted of a durable, stable shoe that provided a layer of separation from cold and moisture.
However, several technological advancements over the past several years have made circulation, ventilation, and flexibility also important to look for in a good waterproof road running shoe.
Finding a shoe that performs well across the board in questionable weather that also balances performance and safety usually boils down to a measured comparison of the usual factors (circulation, breathability, flexibility, weight) that are imperative to having a successful, pain-free running experience.
The top rated waterproof running shoes in this article all use specific technology – either Gore-Tex, eVent, or Polartec – that ensure maximum protection from the elements.
Although each of them varies slightly in how they perform this task, their general function remains very similar.
The materials are designed to work as both a waterproof and a breathable membrane that keeps water out while also providing above average ventilation. Polartec has the added benefit of providing an excellent insulating layer on top of the other standard waterproofing features.
You now know exactly what to look for in a waterproof running shoe- and why it's so important to select a shoe that balances performance with waterproofing/insulating technology based on individual needs.
Without further adieu, here is an extensive look at some of the best options on the market in 2020.
Let's get started!
Top 12 Best Waterproof Running Shoes Reviewed 2020
Adidas Outdoor Men's Terrex Agravic GTX Shoe
Review: The Terrex Agravic GTX from the Adidas Outdoor line is definitely one of the best waterproof trail running shoes available on the market in 2020.
It boasts a ton of great features including GORE-TEX lining and a Continental Rubber outsole.
The outsole really stands out from a lot of the competition due to its fantastic traction and trail adaptability. It shines on a wide variety of both wet and dry terrain.
Pros
GORE-TEX Lining.
Continental Rubber outsole.
Excellent cushioning.
Stylish.
Abrasion Resistant.
Cons
Takeaway
An excellent way to keep your feet dry and comfortable while trail running, the Terrex Agravic GTX performs well in almost every category.
La Sportiva Men's Ultra Raptor GTX Trail Running Shoe
Review: This shoe has a whole lot more to offer than just a flashy name.
It combines both GORE-TEX lining and GORE-TEX Extended Comfort to provide fantastic waterproof protection.
It also features abrasion-resistant AirMesh to ensure breathability while the FriXion XT sole guarantee traction and stability across several different terrains.
The Ultra Raptor GTX also provides top of the line foot support, especially in the heel/ankle areas due to the TPU Transkinetic Heel.
This technology is extremely impressive, as it increases foot protection while also keeping the total weight of the shoe quite reasonable.
Pros
GORE-TEX Lining.
FriXion XT sole.
TPU Transkinetic Heel.
Durable and breathable AirMesh.
Cons
Takeaway
A fantastic example of one of the best waterproof trail running shoes, the La Sportiva Ultra Raptor GTX really makes a bold statement.
Despite carrying a hefty price tag, it really does a wonderful job of combining waterproof technology with high running performance.
The North Face Men's Ultra 109 GTX
Review: The North Face has a long track record of outstanding performance when it comes to naming the best waterproof trail running shoes.
So it doesn't come as much of a surprise that the Ultra 109 GTX once again is one of the top options in this particular category.
Both the traction and stability of this shoe are far, far above average. It also features GORE-TEX Extended Comfort Range uppers that are both waterproof and breathable.
The TPU Snake Plate provides excellent forefoot protection while the UltrATAC rubber outsole performs well across multiple surfaces.
Pros
Fantastic shock absorption.
GORE-TEX Extended Comfort Ranger Uppers.
Durable Rubber Outsole.
TPU Snake Plate protects and stabilizes.
Cons
Questionable insoles that may have durability issues.
Takeaway
The Ultra 109 GTX is a quality waterproof running shoe that is close to flawless.
It is comfortable, sturdy, and versatile – it definitely holds its own pretty much across the board.
Salomon Men's Snowcross CS Trail Running Shoe
Review: The ultimate winter trail running shoe, the Salomon Snowcross CS is designed for runners who constantly brave snowy conditions and subzero temperatures.
Featuring Quicklace technology for a secure fit and an amazingly easily on/off transition, this shoe is nothing but top of the line across the board.
Salomon's Climashield also ensures that your feet are safe from the cold while still being able to breathe.
Pros
Extremely stylish.
Climashield technology.
Quicklace transition system.
Lightweight.
Cons
Very Expensive.
One dimensional.
Takeaway
The Snowcross CS blows away most of the competition in the winter-specific trail running category.
To top it all of, they are wonderful to look at – it's really hard to beat the visual appeal of Salomon's 2ND Skin seamless construction.
If you live in an unforgiving and extremely cold climate, these shoes won't disappoint.
Saucony Men's Ride 8 GTX Road Running Shoe
Review: The Saucony Ride 8 GTX is a big hit with a lot of runners that need a durable, waterproof shoe that functions well on the open road – the updated design is flashy and sleek, while the feather light GORE-TEX (Gore Flex technology) bootie provides excellent protection from the elements.
To top it all off, the Grid technology sole increases provides stability and cushioning to a wide range of body types.
Pros
Aesthetically pleasing.
Fantastic cushioning in the sole.
Gore Flex bootie increases flexibility.
Light.
Great in snow as well as rain.
Cons
Takeaway
The Ride 8 GTX is a fantastic option for runners who stick to the pavement – rain or shine.
It easily is one of the best waterproof road running shoes on the market, as the Gore-Tex inner bootie provides protection from the rain as well as insulation from the cold during the winter.
New Balance Men's 910v3 Neutral Trail Running Shoe
Review: New Balance really outdid themselves with their latest trail running offering, as the 910v3 Trail Running shoe offers excellent water protection and industry-leading grip and stability.
The removable EVA footbed and air mesh upper are both fantastic features that ensure dry, comfortable feet in both rain and snow.
The REVlite lightweight foam midsole drastically reduces the overall bulk-factor with this shoe –it is sleek and feather light.
Pros
Lightweight.
Affordable.
Performs well in rain and snow.
HyrdroHesion HHR rubber outsole.
Cons
Takeaway
New Balance has done a fantastic job with this particular shoe.
The removable EVA footbed does an impressive job at keeping feet dry while also being quite breathable.
It is definitely one of the best lightweight waterproof running shoes on the market and an easy option to recommend.
La Sportiva Women's Wildcat 2.0 GTX Trail Running Shoe
Review: La Sportiva always creates fantastic waterproof footwear, and the Wildcat 2.0 GTX is certainly no exception.
Breathable, lightweight, and comfortable are just some of the words that can be used to describe this latest model.
The GORE-TEX Extended Comfort construction really shines, as does the FriXion sole. This shoe really does it all across a wide variety of different terrain and weather conditions.
Pros
GORE-TEX Extended Comfort.
Extremely lightweight.
Dual density midsole.
TPU Transkenetic Heel.
Cons
Takeaway
The Wildcat 2.0 GTX is easily one of the best women's waterproof trail running shoes available.
It is light, comfortable, and does a great job protecting against rain and moisture. The fact that the sole provides such fantastic traction certainly doesn't hurt either.
Salomon Women's Speedcross 4 GTX Trail Running Shoes
Review: Salomon really outdid themselves with the Speedcross 4 GTX – it just might be the best waterproof running shoe on the market today.
From the breathable and lightweight GORE-TEX frame to the Wet Traction Contagrip, this shoe delivers on all fronts. It even offers Sensifit technology, which provides a virtually customized fit around the entire foot that keeps things snug and secure.
Pros
Extremely stylish.
GORE-TEX construction.
Wet Traction Contragrip performs well on all surfaces.
Sensifit technology ensures a great fit.
Cons
Takeaway
Boasting a ton of fantastic features crammed into one running shoe, the Speedcross 4 GTX is a clear fan favorite for obvious reasons – it is easily one of the best water resistant running shoes available in 2020.
The Wet Traction Contragrip is an excellent feature that provides impressive traction on even the most slippery surfaces.
Brooks Women's Ghost 10 GTX
Review: The Ghost 10 GTX offers a ton of comfort and stability on top of the GORE-TEX waterproof membrane.
Specifically designed for road running, the engineered mesh upper provides an optimized fit and fantastic feel.
The Segmented Crash Pad conforms to a wide variety of landing styles, while the Omega Flex Grooves promote natural forefoot movement.
Pros
GORE-TEX Membrane.
Optimized fit.
Lightweight.
Brooks BioMoGo Cushioning.
Cons
Takeaway
One of the best options for a road-specific waterproof running shoe, the Ghost 10 GTX wonderfully combines functionality and performance.
It is manages to remain lightweight while still providing fantastic protection and support.
Mizuno Women's Wave Rider 21 GTX
Review: Another strong running shoe designed with all-weather protection in mind, the Wave Rider 21 GTX is lightweight and extremely responsive.
It performs well across a wide variety of trail-based terrain while also functioning well on pavement.
Mizuno's patented Wave Technology for shock absorption and cushioning really helps to provide a smooth, comfortable ride.
Pros
GORE-TEX Breathable Upper.
Lightweight.
Wave Technology for shock absorption and cushioning.
Performs well in rain, sleet, AND snow.
Cons
Extended breaking-in period.
Takeaway
One of the best waterproof road running shoes available, the Wave Rider 21 GTX also shines off of the pavement in more trail rugged environments.
Its excellent waterproofing features make it an shoe to recommend.
Saucony Women's Excursion TR11 GTX
Review: A waterproof running shoe that also features impressive traction and protection, the Excursion TR11 GTX certainly has a lot going for it.
The GORE-TEX upper combined with the Heel GRID system is a great one-two punch that offers great value for the price.
Pros
Plenty of heel and arch support.
Heel GRID cushioning system.
GORE-TEX Upper.
Inexpensive.
Cons
Not aesthetically pleasing.
Takeaway
If you can manage to look past this shoes somewhat awkward appearance, you will be extremely impressed with the waterproof protection that it provides.
There isn't all that much more you can ask for from a shoe in terms of stability and traction either.
SCARPA Women's Neutron GTX
Review: A great looking trail running shoe that also provides top-notch protection against rain, sleet and snow, the Neutron GTX should definitely be more widely known.
It has a GORE-TEX mesh upper that combines nicely with the Archwrap construction of the midfoot.
Finally, the Vibram Megagrip outsole provides a sense of stability and high-performance traction on a wide variety of surfaces.
Pros
GORE-TEX upper.
Vibram Megagrip outsole.
Inexpensive.
Visually appealing.
Lightweight.
Cons
Limited protection against cold temperatures.
Takeaway
Although they aren't exactly a household name just yet, SCARPA certainly does make fantastic trail running shoes.
The addition of the Neutron to their growing running lineup really makes fantastic use of GORE-TEX technology.
This is a great looking shoe that blends minimalist design with extensive functionality. The Vibram Megagrip outsole really makes running in less than ideal conditions feel safe and enjoyable.
Conclusion
Hopefully, you found a ton of useful information about the importance of utilizing the latest advances in waterproof technology when training in rain, sleet, or snow.
Remember, the best running shoes for running in inclement weather will not only be waterproof but also offer exceptional stability, traction and support to prevent injuries due to slips or falls.
Finding a pair of waterproof running shoes that provide breathability and good circulation is also extremely important, as maintaining a good attitude when running in poor weather is much easier with dry and comfortable feet.
Please feel free to leave a comment below with any questions or thoughts about this article – I always love to hear from our readers!
Our newsletter is also a great source of information, so subscribe today in order to get notified whenever new content gets posted to the site.