Best Push Up Bars for Garage Gym and TOP 7 Handles Reviewed 2021
Building strong hands and pectoral muscles without heavy weights and machines is not a myth anymore!
Even if you have an injury and the doctor says you can forget about hard CrossFit WOD that has push-ups in the routine, we've got you covered!
You can choose between the best push up bars for workouts or WODs.
Push up bars offer a great way to boost your endurance and burn your upper body like you never did before.
Were your wrists previously injured? We guide you through the best push up bars for wrist pain too!
Push Up Bar Purposes
You may have taught that only a super muscular athlete or a gymnast does an endless number of push-ups, but you are forgetting other tremendous benefits:
Combination of power and endurance;
An ability to train your whole body at once;
Various arm width and a chance to hit different muscle groups;
On higher levels, balance training and stability exercises;
An ability for both men and women to build Batman's arms – excellent looking but very powerful;
Endless push-up variations.
Grip Width And Position Manipulations
When it comes to the best push up bars, it is vital to understand why the width of your arms might play the crucial role in different muscle group strengthening.
Push up bars are usually in the level of your shoulders. This is regular hand position. But what if you are a very creative coach who likes to change positions of arms?
Well, that is why you can satisfy each client's needs – you have seven ways to combine grip width and position. It means tons of various push-ups! And arms and abdominal muscles are always involved!
Narrow grip
Your hands stand as close to each other as possible. This is the best way to isolate triceps brachii, but it is the most difficult push-up.
Normal grip
Place your hands on the width of your shoulders. This exercise targets your triceps and chest muscles.
Wide grip
Your hands are more than shoulder-width apart. If you want to isolate chest and shoulder muscles, here is your chance!
Hands in the level of your stomach or lower
It is an excellent way to increase the difficulty of the exercise.
One hand low position, another hand high position
Have you ever tried to put right hand in front of your shoulder, and left hand in the level of your stomach? This is not a symmetrical workout but difficulty is superb!
Hands in the level of your head or higher
Some people call it "Russian push-up style". With the hands in front of your head, the difficulty is supreme, and it kills your shoulders and scapula wing muscles!
What To Look For When Choosing The Best Push Up Bars For Workouts
In the endless offer of push up bars, you need to choose something that fits your needs perfectly. It means a great handle and maximum wrist protection.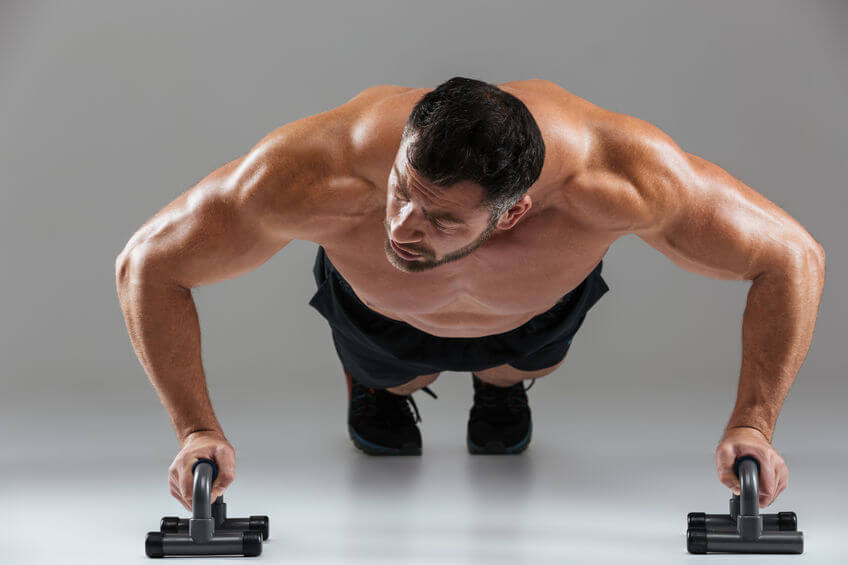 Material
You can choose among many, from metal to rubber, depending on your goal.
Metal push up bars is featured by world-class durability and extreme workouts. But when you want best push up bars for wrist pain, stick to the rubber or plastic ones.
The plastic ones provide better comfort. Foam handle covers are also a good choice.
Value
This is the most critical part since you sometimes need to fit everything into a very tight budget.
Try to focus on good durability and longevity. You don't need a bar which will break easily.
Sometimes a downloadable DVD workout routine might be great, especially if you are a beginner.
Mobility
When you want to disassemble parts for travel purposes, metal bars are again critical. It is easier to train on the road with plastic ones but metal bars are better for garage gym training.
Your training routine
Do you need the product for home workout, garage gym, or travel purposes?
Previous injuries
Are you going for the best push up handles or best push up bars for wrist pain? Well, the history of your wrist or elbow injuries will answer the question.
Does your health issue allow more mobility or you need something to protect wrists and elbows?
The last thing you need is a chronic wrist injury and new rest periods over and over.
Format
Push up bars or handles with circular shape protect your wrist by taking the pressure of it. If not stable on the ground, it will also give you a chance to target different core and upper body muscle groups.
Don't forget to warm-up properly before your training session starts, you will minimize the chance of injury. Now let's go to the best push up bars of all categories!
List of TOP 7 Best Push Up Bars 2021
Review: This is probably one of the best push up bars for wrist pain. Rotating stands to protect your wrists and improve the difficulty of the exercise at the same time.
Pros
Cheap.
It won't slide.
Maximum comfort.
Very light and portable.
Great durability.
An ability to change the grip angle with ease.
Good elbow and shoulder protection.
You get a jump rope in the package too.
Cons
A range of motion is limited because it is not tall.
Takeaway
As a mixture of plastic, rubber, and steel, with handles made of rubber and plastic, Elite Sportz is probably the best value push up bar.
Garren Fitness Maximiza Push Up Bars
Review: Highly durable steel push up bar with foam pads for maximum protection of your wrists and joints. Suitable for all seven ways of grip and positioning – an excellent choice for a creative coach.
Pros
Maximizes pain reduction.
Very stable and sturdy.
Portable and it takes very little space.
Very cheap.
Amazing range of motion – no limits.
Good for difficult and easy exercises.
Cons
It doesn't come with other equipment.
It should be padded more.
Takeaway
If you want long-lasting and wrist-protecting push up bar, don't hesitate!
Perfect Fitness Perfect Pushup Elite
Review: It is made to rotate slightly and increase the difficulty of the exercise.
Ergonomic grips can distribute weight on wrist and elbow evenly – probably the best all-around push up bar.
Pros
It can handle 400 lbs practitioner.
Steel ball bearing system.
Good choice for a creative coach.
It comes with a 21-day workout chart.
Cons
A bit too expensive.
Not the best choice for travelers.
Takeaway
Extra price is worth since it combines wrist protection with a possibility to train all muscle groups.
Legend Pushup: Push Up Bars + Stability Trainer
Review: This push up bar is a product for an advanced practitioner who has the complete control of his own body and who tries to develop his training program into calisthenics.
Legend Pushup will combine brutal core exercises, world-class balance adjustment drills, and outstanding stability requirements.
Pros
Eliminates wrist pain.
Improves the growth of chest muscles, shoulders, triceps, back, and shapes core muscles.
You can try all kinds of advanced exercises, including the most difficult ones.
Exercise videos are a part of the offer.
Very stable.
Great durability, made of metal, with rubber grips for Stability Mode and high-quality foam grip for Rocking Mode.
Cons
It is not recommended for beginners.
Mid-range price.
Takeaway
Any serious fitness enthusiast who has serious plans for his body should purchase Legend Push Up. It is probably the best choice for CrossFit or calisthenics workouts.
CAP Barbell Pair Of Push Up Bars
Review: It is a fantastic choice for a traveler. CAP Barbell Push Up Bars really take very little space in your backpack, it is very mobile, and the design is awesome.
Pros
Good choice for a creative coach.
Affordable.
Made of chrome, plastic, and rubber.
World-class durability.
Rubber footpads provide more stability during advanced exercises.
Cons
Not the best choice for someone who has wrist problems.
No additional accessories.
You might need to readjust between the sets if your hands are bigger.
Takeaway
The most suitable choice for someone with a low budget and no wrist problems. You can even pack it into the smallest partitions of your rucksack or baggage.
Review: Pulchra Push Up Stands is a great choice. It doesn't take too much space, and it can make your movement deeper.
Pros
Made of very light material, and extremely durable.
It can handle up to 660 lbs (300 kg).
Sponge grips will keep your hands dry for a prolonged period of time.
Unique 9.6 degrees incline for outstanding wrist protection.
Skid-resistant.
Mobile.
Cons
It is harder to perform calisthenics exercises.
Grips and rubber base should be thicker – you might have problems if you have big hands.
Takeaway
This is an ordinary push up bar which offers high-quality experience and a great way to develop the muscles of upper body and core.
Review: This is the best push up bar for someone who wants to affect every muscle of the upper body.
The design is colorful, and it is very easy to orientate.
Pros
Excellent durability.
Awesome choice for your garage gym and harder training sessions.
Lightweight.
Multi-functional push up bar.
You get access to a Youtube channel for strength and conditioning.
Non-slip hand grips.
Excellent way to track progression and grip width.
Cons
Expensive.
Very large and non-suitable for small space.
It is not mobile.
Takeaway
Power Press Push Up is worth spending some extra money. Your training session can be varied and fun like never before!
Wrap Up
The best push up bars are the ones that support your training style and provide the best results!
Maybe you want to be a super pro, and maybe you just like to train for enjoyment!
Push up bars are an excellent way to combine creativity, balance, momentum, beginner and advanced exercises. You can also set a new goal every day and track your progress.
Please write us a comment. Which push up handles are your choice and why?

Latest posts by Michael DuBoff
(see all)