18 Best Running Belts & Runners Waist Packs for Keys, Phone & Small Items 2019
Are you tired of holding your phone while you run?
Are you afraid your keys might bounce right out of your pocket mid-race?
Need a place to store your cash, ID, and Chapstick?
Then it sounds like a running belt is just what you need!
But what are the best running belts?
There are a lot out there, but choose wisely or else you might end up with a belt that bounces or flops around, won't fit your smartphone, or worse, allows your keys to slide out, never to be seen again.
Check out this list of the top 18 running belts for small items and see what the best running belts are – and what you should avoid, so you can run confidently.
TOP 18 Best Running Belts Reviewed 2019
SPIbelt Adult Large Pocket Running Belt
Review: This SPIbelt large pocket running belt's best feature is it does not bounce. If you need to keep larger items handy as you run, this is a great choice.
It can hold large smartphones like the ginormous iPhone 8. This belt is stretchy and does not ride up as you run.
If you want to, you can even conceal the belt under your shirt and you may even forget you are wearing it.
Pros
Pocket large enough for oversized smartphones.
Fits waist size 25″ through 47″.
Soft, comfortable, will not ride up.
No bounce!
Cons
Not waterproof or resistant.
Takeaway
Best running belt for phones, especially large phones.
Review: The FlipBelt is comfortable and practical and great for going on a run. You can fit a Chapstick, your keys, a phone and a few bills into the pocket and be on your way.
The pockets have no zipper, they hold things in by compressing them. There are several little pocket openings along the length of the belt.
The Spandex-Lycra blend material keeps everything in pace and prevents the belt from edging up or bouncing. It's a genius design.
Pros
No bounce.
No chafing – fits comfortable, you won't feel it on.
Multiple openings to access small pockets at different points along the belt.
Has a hook to clip your keys to.
Cons
Not for oversized cell phones – smaller phones do fit.
Takeaway
No fumbling with zippers while you run, the FlipBelt holds your things snug and secure as you run.
Fitletic Running Belt - Ultimate II Race Belt
Review: The Fitletic running belt has lots of useful extras other belts don't have such as number or bib toggles to hold your race bib, loops to hold energy gel packs, an insulated zipper compartment, sewn in reflective loops and a small key holder.
This belt stays in place and won't move around.
Pros
Water resistant (not waterproof).
Stays secure, won't bounce or move.
Lots of places to hold your essential items.
Cons
Not small enough for really petite frames.
The key compartment is small.
Takeaway
Best running waist pack for half marathons and short races.
Review: The Belt of Orion running belt is as beautiful as it is handy. It has three pockets, the main pocket is zippered and separated to help you stay organized and secure on the run.
The Orion belts are slim enough to discreetly conceal under sportswear and so comfortable, you forget you are wearing it.
Pros
Made from comfortable, thin wetsuit style material.
Fits credit card/ID, keys, phone, and a lot more.
Separate internal credit card pocket.
Key clip prevents keys from falling out.
Cons
Won't fit some oversized smartphones, especially those with an Otterbox Defender case.
Takeaway
Easily one of the best running belts for 2019 for sports, running and travel.
Amphipod AirFlow Microstretch Belt
Review: The best thing about the amphipod is that it is very breathable and one of the lightest running belts out there.
The pocket is made from an ultralight mesh material that is semi see-thru. It is a zipper pouch, so your items stay secure.
This zippered pouch expands to hold a phone and other necessary items while you are running. The microstretch material, stretches, as the name implies, so your stuff is not jiggling around as you run.
Pros
Extremely lightweight stretchy material.
Expandable main pouch.
Pouch is zippered so items stay secure.
Cons
Really breathable, but not water or sweat proof. Slightly see thru.
Takeaway
A very light running belt with a decent capacity, best running waist belt for a minimalist runner.
SPIbelt The Original Running Belt
Review: This slim profile minimalist running belt is the original SPIbelt and holds a little less than the SPIbelt Large Pocket running belt but if you only like to carry a few small items, you might prefer this belt.
The zippered pocket is stretchy and expands to hold a phone, keys and other small items. The width of the belt is just one inch, and it is a stretchy elastic so it is comfortable, yet snug and will not bounce as you run.
Pros
No bounce.
Pocket stretches to expand and fit a phone.
Band is elastic and is body-hugging.
Cons
The belt will not fit waists over 47 inches, and is tight at that measurement.
Takeaway
Most comfortable running belt with a minimalist feel.
Nathan The Hipster Running Belt
Review: The Hipster running belt is designed to be worn at the hips, is soft and wide and very comfortable to wear.
The width of the belt helps keep it in place, while the lack of hardware like zippers and toggles make it comfortable.
Pros
Body hugging, can be concealed under clothes.
Pockets have no zippers so they are easy to access without fumbling around while running.
Soft comfortable fabric, no hard buckles or zippers.
Machine washable.
Cons
A few people mention their phone falls out since there is no zipper.
Takeaway
Soft and body hugging running belt that is comfortable to run in.
The Tube Wearable Waistband for Running
Review: The Tube is a wide fabric waistband with three pockets to store and conceal your belongings as you run, jog, walk, or go about your day. The wide width means this running belt holds large or oversized smartphones-no problem.
It can be worn under a shirt and you won't feel it on. One pocket has no zipper, just small openings so you can get your phone or other small items out quickly with one hand.
The other two pockets do have zippers to keep important items like money, ID, keys and credit cards secure.
Pros
Holds large and oversized smartphones.
Extra wide belt is comfortable and form fitting.
Will not bounce
3 pockets, two with zippers, one without.
Cons
Things may slide out of the pocket because it has no zipper.
Takeaway
Really versatile, really comfortable, tons of room, yet body hugging running belt.
SPIbelt Endurance Race Belt
Review: The SPIbelt endurance running belt is different from the SPI large pocket and original belt.
The Endurance Race belt is water resistant, holds three energy gels in outer loops, the pocket is a bit bigger than the original SPIbelt, the elastic waistband is wider at 1.5 inches, and this model has race toggles and can hold your race bib.
Pros
Large zippered front pocket.
Room on the outside for 3 energy gel packs.
5-inch wide elastic waistband – wider than the SPIbelt original.
Holds your race bib.
Cons
Pocket does not have as much stretch as other models.
Takeaway
One of the best running belts for marathons and longer races, more space than a minimalist style running belt.
Review: The Neo Fitletic Race belt is slightly lighter and less bulky than the Fitletic Ultimate II race belt, but is has many of the same great features with a slightly smaller profile.
It has race bib toggles, a water-resistant zippered, neoprene pocket that fits large cell phones, reflective tabs, an adjustable elastic belt, and an interior credit card pocket to keep your money separate and easy to get to.
Pros
The stretchy adjustable waistband will not bounce.
Internal pocket for organization of credit card, ID and cash.
Water and light rain resistant (not waterproof).
Cons
Takeaway
Very comfortable running belt to wear on race day.
RooSportPlus Magnetic Pouch
Review: The Roo Sport Plus pocket is a little different than a belt but serves the same purpose.
Instead of securing it around your waist like a belt, you clip it to your waistband with one side inside your shorts and the pocket side on the outside.
It is held in place by powerful magnets, essentially becoming a part of your shorts or pants. The pocket is large enough to hold your phone, passport, and keys.
Pros
No belt – fits all sizes – completely attached to your pants or shorts.
Uses powerful magnets to hold it in place.
Will not ride up because it is attached to your waistband.
Cons
Cannot load the pocket too heavy – just the bare essentials.
Takeaway
Compact running pocket that eliminates the need to strap on a belt, a good alternative to a running belt.
Review: The Apparatuz running belt is one of my favorite running belts due to its simplicity and minimalist design. It is a fabric waistband that you can adjust to fit using Velcro.
The pockets have no zippers, yet still hold your items secure, it can hold larger phones like the iPhone 8, and it is easy to listen to music using earbuds since the open pockets allow a cable to port out easily.
Pros
Wide comfortable Velcro adjustment band.
Comfortable fabric tube waistband style running belt.
Can hold larger items like passport and large phone.
Cons
Can slide or shift.
No back pocket, only two front pockets.
Takeaway
Comfortable running belt that holds larger items and can be concealed under your shirt.
PakRat Running Belt Waist Pack
Review: This fabric band tube style running pack allows you to load up your belongings into the three pockets, then fold the band over to secure everything.
The band uses no zippers or adjustment hardware so it is comfortable and will not ride up or shift while you walk or run.
It can hold larger phones and has a key clip to secure your keys so you have peace of mind.
Pros
Made in the USA.
Load and lock in items, all using the fabric zipper free material and pockets.
One large front pocket, two back pockets, and a key clip.
Cons
Not easy to access items once they are packed in.
Takeaway
Secure, comfortable tube style running pack that will not drop your belongings.
Review: The highlight of the Bandi belt are the fun colors and patterns available and the super soft spandex material that will not chafe your skin.
The main pocket has a fold over fabric flap to keep items secure and a separate inner divided pocket to hide a credit card, ID or hotel key.
The waistband is adjustable, and the pack fits larger phones.
Pros
Lots of colors and fun patterns to choose from.
Super soft spandex material.
Adjustable belt with buckle.
Separate inner pocket for credit cards.
Cons
Some users mention the belt riding and bouncing because the material is so soft.
Takeaway
The best running waist pack for running errands & activities where you need your hands free.
Avanto Slim Fit Running Belt
Review: The Avanto is a useful and affordable tube style running waistband. The front pocket has two openings, one that loads from the top and one that loads from the side.
The Avanto fits close to your body so it does not bounce or shift much. This belt has a slim fit and you can conceal it under a shirt if you use it for travel, plus the front pocket is big enough to hold a passport.
Pros
Upright passport-sized pocket and side lying slide in the front pocket for your phone.
3 pockets in total.
Does not bounce – slim wide, body-hugging fit.
Cons
Challenging to access your stuff while running.
Takeaway
Keep your belongings safe and your hands free with this comfortable running belt.
SPIbelt Waterproof LokSak Liner Running Belt
Review: Finally, a waterproof running belt! This SPIbelt includes a large Loksak that can fit an oversized phone and passport.
This Loksak fits inside the belts large, expandable front pocket to keep your things safe as you run, hike, paddleboard and more.
Pros
Waterproof inner Loksak pouch included.
Large expandable front pocket.
Wide adjustable elastic waistband.
Cons
Waterproof inner pouch only, not the entire belt is waterproof.
Takeaway
Best WATERPROOF running belt!
Review: The Soren running pack is designed by an ultra-marathon runner so it is made with your needs in mind.
It converts to a hydration belt by unzipping and expanding the water bottle pocket. It has a zippered front pocket that you can open from either side, a key clip, two side pockets, reflective trim and bungee that loosens of tightens to secure a water bottle.
Pros
Converts to a hydration pack.
Zippered front pocket opens from both sides.
Fits large phones.
Bungee cinch cord holds water bottle securely in place.
Cons
Looks a little fanny-pack like, but more hip.
Takeaway
Smart design! No bounce, large phone holding, water bottle securing running belt.
Nathan Peak Hydration Waist Pack
Review: The Nathan Peak hydration running hydration pack is a minimalist style running pack. It has a small zippered pocket that is capable of holding your smartphone, and a water bottle pouch and flask for hydration.
This belt also sports an attached bungee loop that can hold a layer if you need to remove a layer during your run.
Pros
Zippered pocket holds your phone.
18 oz Speed Draw Flask included.
Bungee cord holds the water bottle securely in place.
Cons
Not for large or oversized phones.
Takeaway
Best running belt with a water bottle.
A Quick Guide to Running Belts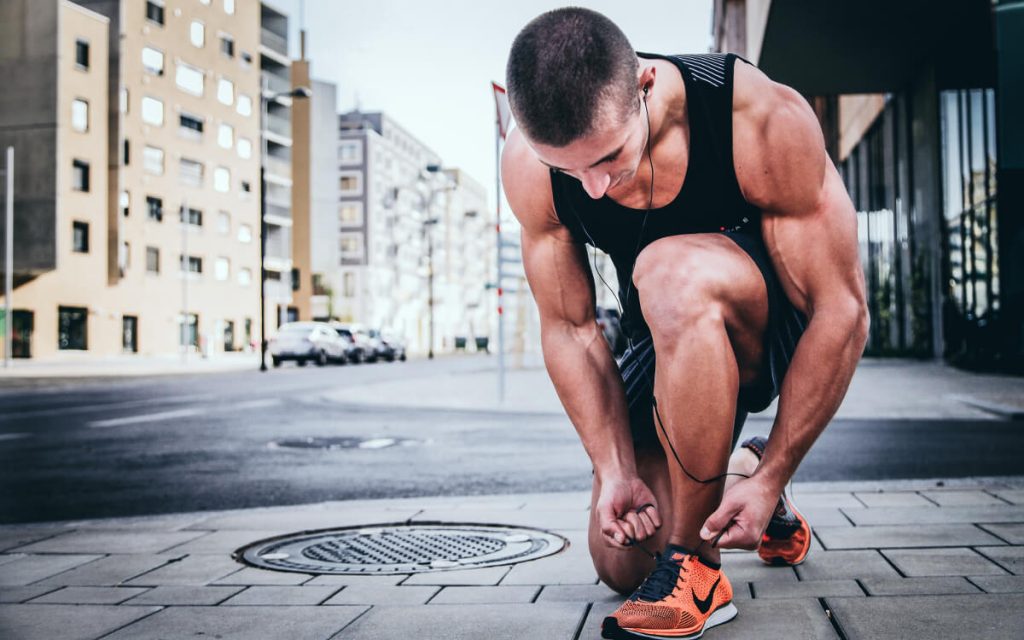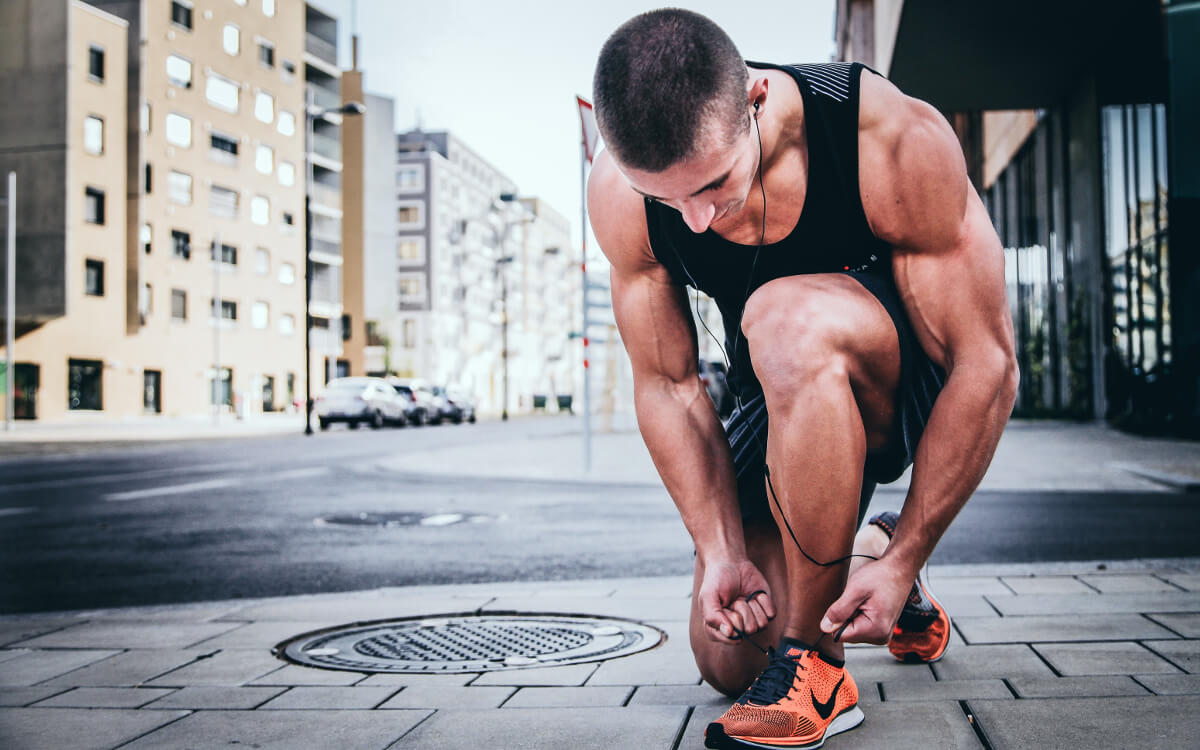 What Factors to Keep in Mind Before Buying the Best Running Waist Pack?
Function First!
What do you want your waist pack to carry? If you are like the average runner, you want it to hold your phone, keys and maybe some cash or an ID.
It's easy!
Find a pack that holds your items securely.
The best running packs use zippers so you don't drop your phone into the porta potty at a race event, a key clip so your keys don't slip out leaving you stranded, and holds some cash so you can buy some merch or a snack pre or post race.
Material Matters
Make sure the material the belt is made from is both comfortable, yet tight enough that your belt will not bounce.
A bouncy belt is an annoying distraction during a race and totally interrupts your flow.
Not cool!
Pay Attention to Details
Not all race belts are created equal. The best race belts have key clips to secure your keys, reflective tabs to make you more visible as you run, loops to hold your race bib, zippers to hold your stuff secure, internal organization pockets so you can find your stuff easily, and holes or ports that allow you to attach earbuds to your phone so you can listen to your music as you run.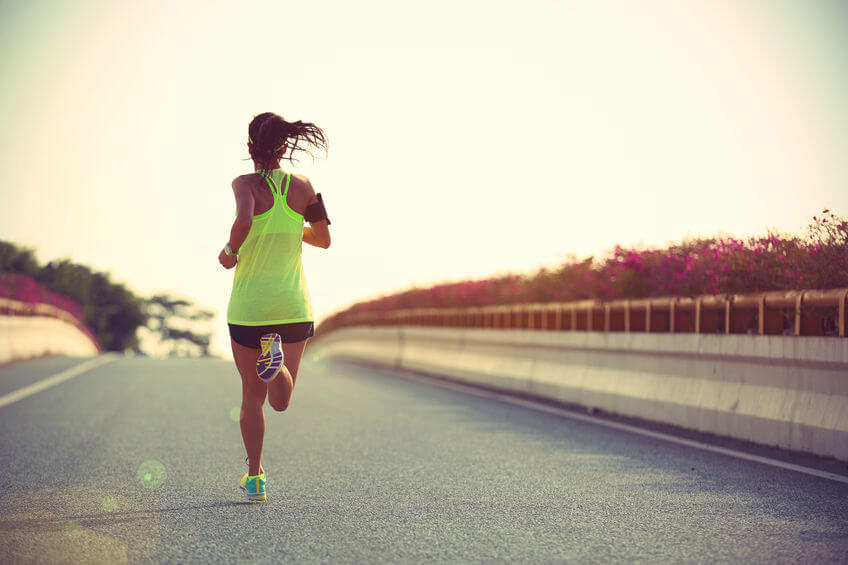 How to Choose the Best Running Belt? What to AVOID!
Here is what you should avoid when choosing the best race belt:
Avoid a belt that slides, rides or shifts around. The belt should lay flat and not bounce or move as you run.
Avoid a belt that will not fit your phone. Find a belt that is known to hold your specific phone, especially if you have a plus size phone or use a large case like the otterbox case.
Avoid belts with pockets that are hard to get to. The last thing you want to do during a race is stop – that kinda defeats the purpose of being in a race. If you have to stop to get your stuff out-look for a new running belt.
Avoid the inclination to carry too much stuff. Seriously consider if you really need everything you plan to carry. The more stuff your stuff into your running belt, the more likely it is to shift and bounce, and more stuff makes it hard to find things fast.
What are Running Belts For?
Simple running belts are designed to hold just your essentials as you race.
That means your phone, keys, cash, and ID. In some cases, they hold your race bib too.
Hydration belts are different from running belts.
Hydration belts are designed for holding water or other hydration beverages as you run. If you are looking for a hydration belt, we have some reviews here.
Running Belt FAQs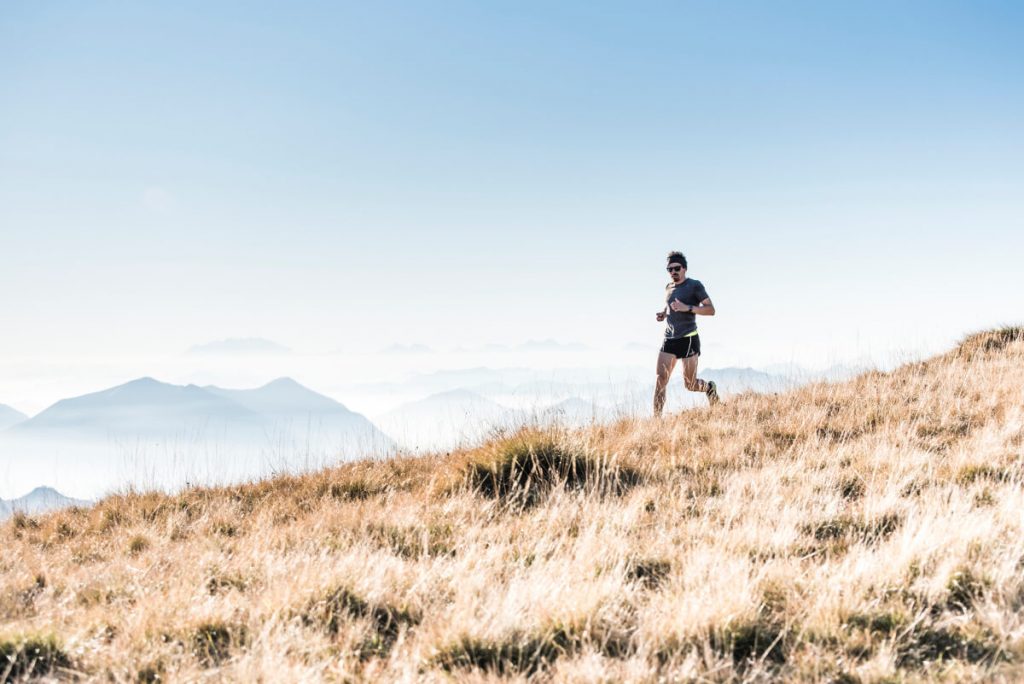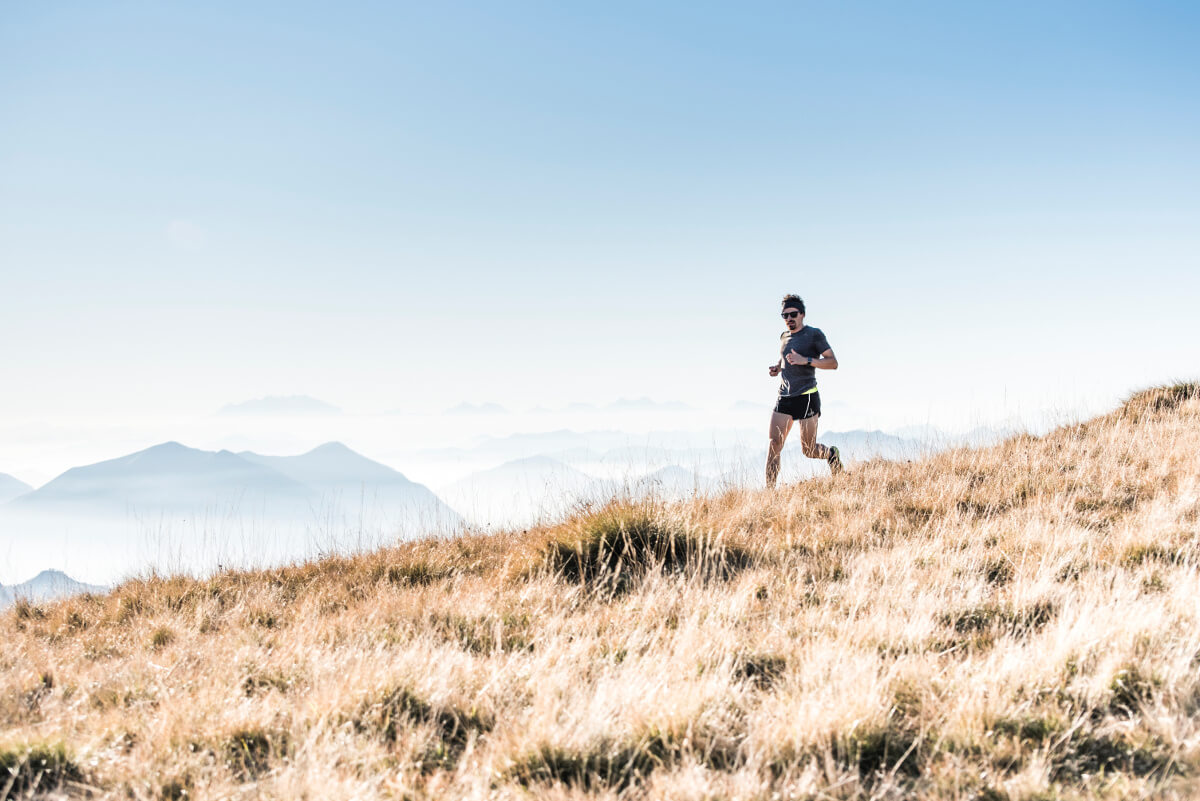 Are Running Belts Comfortable?
Some are, some aren't.
The best running belts should be worn, but not felt. They should not bounce or slide. My personal favorite is the Fitletic Ultimate II because it is comfortable and holds everything I need as I run.
The SPIbelt original is another runner's favorite and the first choice of many.
How to Keep Your Running Belt From Riding Up – How to Use or Wear a Running Belt?
The best way is to but a brand that is known for not riding up. Some other tips to prevent the belt from riding up:
Wear the belt around your waist instead of at the hips (best tip for ladies).
Use a smaller than normal size or cinch the belt really tight.
Wear it backward, with the main pocket over your rear. It works!
Carry less stuff in it.
Don't wear it over slippery material (cotton shirts are less slippery).
The Finish Line…
These reviews of the 18 best running belts are focused on small running belts to hold your number, keys, phone, and other small items.
If you are looking for reviews of hydration packs and running belts that hold water bottles for flasks, be sure to sign up for the newsletter to be notified. The hydration pack reviews are coming up next!
Love running gear?
We do too!
Check out our top picks for running shoes and running watches here.