Best Tasting Protein Powders for Women & TOP 15 Reviews for 2019
Ladies, are you looking for a protein powder you don't have to choke down and dread drinking every day?
I have just what you need!
A list of the 15 best tasting protein powders for women, including reviews of each one.
I realize every woman has their own reason for indulging in a protein drink, so my list includes protein powders for:
Weight Loss
Lean Muscle Gain
Vegans
Organic, Non-GMO, Grass Fed Protein Powders
Low Carb, NO carb or Keto powders
Meal replacement protein drinks for ladies on the go
With the exception of the two vegan choices on this list, the other powders in my list of top 15 best tasting protein powders for women get their protein content (mostly) from Whey Protein.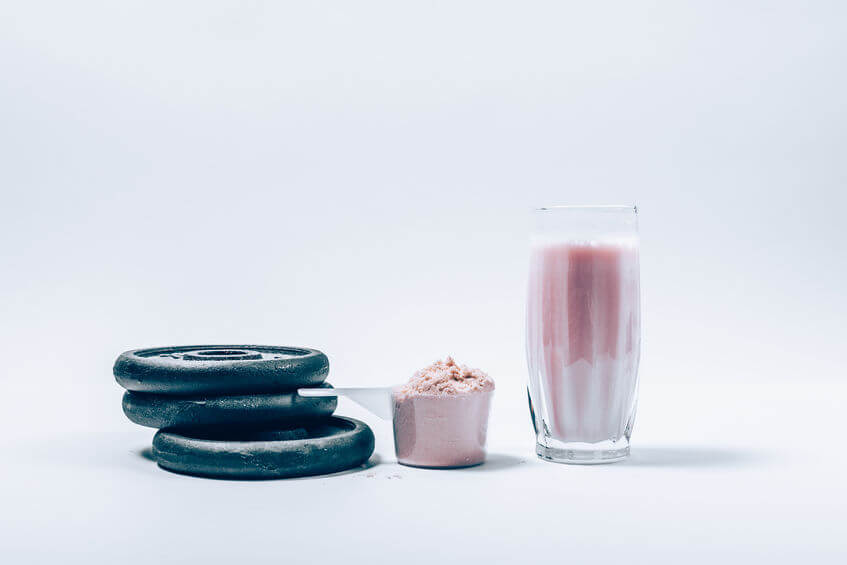 Why Women Would be Wise to Consider Whey
Whey protein is a pretty amazing product.
It used to be considered waste and trown out, until its benefits were discovered.
The reason I found most surprising and compelling for the use of whey is this:
These are benefits I had not thought of, but was pleased to learn. With diabetes and heart disease on the rise in the US, this benefit cannot be overlooked.
Whey has many other benefits too:
Whey is faster acting and superior at muscle building than casein protein or soy protein.
Whey protein, especially when consumed right before or after a workout, help women maintain existing muscle. This is especially helpful if you are dieting and want to shed fat without losing muscle.
Whey is affordable, it is an inexpensive byproduct of milk processing, in addition to being highly nutritious.
With that info out of the "whey", let's take a look at the 15 best tasting protein powders for women.
Top 15 Best Tasting Protein Powders for Women 2019
IdealLean Protein Powder for Women
Review: For lean muscle growth and fat loss, IdealLean is a great choice.
Made with 100% whey protein Isolate, it delivers 20 grams of protein per serving, less than one gram of carbs, fat burning Chromium, and the best part-it tastes great.
Pros
Low Carb (less than 1 gram per serving), NO sugar.
20 grams of protein per serving.
Includes generous dose of Vitamin D, Folate and Chromium.
Cons
Contains sucralose artificial sweetener.
Takeaway
Best tasting protein powder for women who are active and want to lean out without losing muscle.
Dymatize ISO 100 Whey Protein Powder Isolate
Review: Dymatize ISO Protein powder is a continual favorite because it is made from easy to digest, hydrolyzed pure whey isolate, it is very low in sugar and fat, is free of lactose and gluten which can cause tummy issues, and has 71 servings in each 5 lb tub.
The gourmet chocolate flavor tastes so good you will want to use this drink as a snack.
Pros
71 servings in each tub.
Pure Whey Protein Isolate as the protein source.
Generous 25 grams of protein in each serving.
Cons
Uses sucralose artificial sweetener.
Takeaway
Excellent lactose free protein powder for women.
Ascent Native Fuel - Whey Protein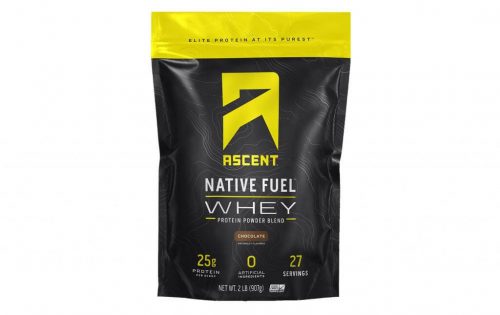 Review: Could it be true? A delicious protein powder with a real chocolate flavor that uses no artificial ingredients, flavors or sweeteners?
Yup.
Ascent Native Whey uses a blend of Isolate and Whey concentrate, along with natural flavors and sweeteners to formulate one of the best tasting whey protein powder for women.
Pros
Substantial 25 gram dose of protein per serving – as much as 1 small chicken breast.
Uses real Cocoa in the chocolate flavor-not artificial junk.
Sweetened with Monk fruit and stevia – no artificial sweeteners.
Cons
Takeaway
A protein powder you will enjoy drinking every day, guilt free with no added junk.
Fitmiss Delight Protein Powder
Review: FitMiss Delight is a protein shake and meal replacement drink designed to help you shed fat, maintain sexy lean muscle and control hunger.
What more could you ask for?
As if that was not enough, the FitMiss makers add 500 mg of green and superfoods, including flax, blackberry, broccoli, spinach, and more to each serving.
Pros
16 grams of protein and just 90 calories in each serving.
Uses Solathin, a vegetable based protein that helps you feel full longer.
500 mg of superfoods concentrate in each serving.
Includes helpful digestive enzymes Protease and lactase.
Cons
Takeaway
Really good at taming hunger, a perfect protein powder drink for weight loss.
Isopure Zero Carb Protein Powder
Review: Isopure is a true protein powder with 25 serious grams of protein per serving, plus it is like taking a multi-vitamin mineral sup at the same time.
The formula contains only pure whey protein isolate as the protein source and the added vitamins and minerals are included in generous amounts.
Pros
25 grams of 100 % pure Whey Protein Isolate as its protein source, per serving.
Provides significant amount of key vitamins such as A, C, E, K, B Vitamins, Zinc, Mag and Selenium.
Free of gluten and lactose with can cause tummy trouble.
Cons
Some flavor choices may use soy products or added sugar.
Takeaway
Protein powder and multivitamin in one, a great choice for ladies looking for a little boost with their protein drink.
Metabolic Nutrition Protizyme Whey Protein Powder
Review: Protizyme whey protein powder is specially crafted to include 7 different digestive enzymes that serve to make the 25 grams of protein in the formula much more bioavailable and easy to digest.
They also included a complex of vitamins and minerals to add value, and if that is not enough, this formula is also one of the best tasting in this lineup.
Pros
Ample serving of Protein, 25 grams.
Just 126 calories per serving.
Added vitamin and minerals.
7 digestive Enzymes included in the formula.
Cons
Takeaway
Possibly the best tasting women's protein powder.
P2N Peak Performance Nutrition P2N Whey Protein
Review: This whey isolate and concentrate blend is ideal for women who want to add lean muscle to their physique.
As an added bonus it includes a recovery matrix of lean muscle building creatine, Taurine and L-Glutamine.
Learn more about how creatine can help the female athlete Here.
Pros
Serious protein with 30 grams per serving.
Recovery blend contains Creatine, Taurine and L-glutamine.
Affordable price per serving.
Cons
Serving size is 2 scoops and 180 calories.
Takeaway
An affordable protein powder that tastes great and helps build lean muscle and aids in recovery.
Biochem 100% Whey Protein
Review: This high quality Whey protein contains top notch ingredients from natural sources and is surprisingly affordable considering the protein comes from grass fed cows, the flavors come from natural vanilla and real cocoa, and the sugar is organic.
The drink is tasty and good for you.
Pros
Contains Real French vanilla flavor, real cocoa and real cane sugar.
20 grams of whey protein isolate from GRASS FED cows as protein source.
Gluten and soy free.
NON GMO tested.
Cons
Contains added sugar, although its organic cane sugar and only 6 grams per serving.
Takeaway
Affordable, simple and clean drink that has the protein you want, without the junk you don't need.
Jay Robb - Grass-Fed Whey Protein Isolate Powder
Review: Minimal, simple, pure ingredients make up this low carb shake by Jay Robb. For one scoop you get 25 grams of protein for only 110 calories because the product uses no added sugar.
The mix uses protein in the form of 100% whey protein isolate which is cold processed and comes from grass fed cows.
Pros
Generous portion of 25 grams of pure whey protein isolate from Grass fed cows, per serving.
Only 1 gram of carb, low carb, stevia sweetened, no added sugar.
Uses real cocoa and natural flavors.
Cons
Takeaway
High protein, low carb and delicious protein powder that will help you meet your fitness goals.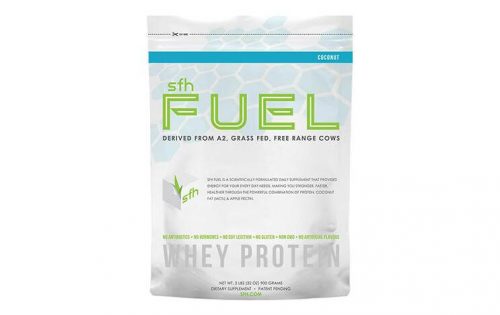 Review: SFH Fuel starts with grass fed free range sourced non-denatured whey protein, then MCT providing coconut fat and coconut milk powder are added along with energy providing apple pectin and stevia to add sweetness without adding sugar.
It is a recipe for deliciousness and is designed to help you achieve fitness success.
Pros
19 grams of whey protein from free range, grass fed cows.
Added Coconut milk powder and apple pectin give you boost in energy.
No added sugar, sweetened with stevia.
Coconut flavor is absolutely delish. Best Coconut flavored protein powder you can get.
Cons
Takeaway
Clean, tasty and natural source of high quality protein.
Optimum Nutrition Gold Standard Plant Based Protein Powder
Review: The feature that sets this protein powder apart from the rest is that it is Vegan. Vegan protein powder is not usually known for great taste, but ON Gold Standard is different.
It tastes great and is certified organic too. Plus it has 24 grams of plant based protein to replenish your muscles after a workout.
Pros
Vegan and tasty, a hard combo to come by.
Certified USDA Organic.
24 grams of protein per serving.
No grain and no gluten.
Cons
Takeaway
The best tasting vegan and organic protein powder.
Nature's Bounty Optimal Solutions Protein & Vitamin Shake
Review: This protein powder is a great choice for women who want to take in lean muscle producing protein and get a good dose of hair, nail and bone supporting ingredients at the same time.
The formula also includes digestive enzymes and probiotics which support gut health and help you achieve health and beauty from the inside out.
All this and it is delicious too!
Pros
15 grams blend of whey protein concentrate and soy protein isolate per serving.
Includes vitamin, minerals and collagen for healthy nails, hair and strong bones.
Digestive enzymes and probiotics help optimize gut health.
Excellent value, affordable.
Cons
Takeaway
The Protein powder that helps beautify you from the inside out.
MusclePharm Combat Protein Powder
Review: This popular protein powder contains a blend of 4 protein sources, with added lean muscle building glutamine and digestive enzymes to enhance protein bioavailability.
The hefty dose of protein and superior flavor make this one of the most sought after protein powders available today.
Pros
24g protein blend of whey concentrate, Whey isolate, Whey hydrolysate, Micellar Casein and egg albumin.
Protease and lactase digestive enzymes for digestibility.
Best tasting protein powder at this price point.
Cons
Uses artificial sweeteners.
Takeaway
An excellent value for a great tasting high protein mix.
Orgain Organic Plant Based Protein Powder
Review: All organic protein powder with 21 grams of protein and no funny stuff. Orgain Organic protein powder tastes good and won't hurt your tummy.
It works for people with milk allergies, as this vegan protein powder contains no milk or milk products or other allergens like eggs, soy or gluten.
Pros
21 grams of plant based protein.
Vegan and organic.
Made with natural organic sweeteners and no added sugar.
Gluten and soy free.
Cons
Comes in a very large container that is about half filled.
Takeaway
A vegan organic option with no added sugar or artificial junk that actually tastes good.
Body Fortress Super Advanced Whey Protein Powder
Review: Body fortress contains 30 grams of protein from Whey Protein Concentrate and Whey Protein Isolate and added amino acids, plus added creatine, glutamine and taurine are in the mix for enhanced recovery and promotion of lean muscle.
Pros
One scoop contains 30 grams of protein.
Includes added creatine, glutamine and Taurine recovery matrix.
Excellent flavor and mix-ability.
Cons
Contains Maltodextrin and artificial sweeteners.
Takeaway
Great tasting source of protein at a fair price.
I hope you find this list useful and discover the best tasting protein powder for women that meets your needs.
If you want to see more protein powder reviews, check out this list of best protein powder brands.
As long as you are looking at protein for recovery, why not check out the best pre-workouts for women here to give you an edge during your workout too?
Don't forget to sign up for the newsletter for periodic updates. All we need is your email address and we promise not to take advantage and overfill your inbox.