Best Winter Running Shoes and TOP 18 Shoe Reviews 2019
Winter can put a dampener on your running plans.
Yes, we could resort to treadmill running and escape the challenging winter conditions that way. But, it's not quite the same, is it?
I think we can all agree that we'd rather be outside clocking the miles in the fresh air.
Luckily, there are some great winter running shoes on the market that can make winter running a lot more comfortable, and safer too.
This article will list the best winter running shoes 2019, with a healthy mix of road runners, trail shoes and mountain running shoes to suit all needs and preferences.
Later in the article, I will provide some useful information and pointers for choosing the best winter running shoes for your needs.
So, now for the shoes:
TOP 18 Best Winter Running Shoes Reviewed 2019
Let's start with winter running shoes for men…
Salomon Men's Speedspike Trail Running Shoe
Review: Seriously rugged and designed to cope with the most challenging trails, these are the trail runners you'll want to rely on in the winter.
Traction doesn't get much better than this, and the shoes are extremely durable and stable too.
Pros
A mudguard and a waterproof forefoot help to keep your feet dry.
A rubber sole with aggressive lugs and 15 carbide spikes mean that traction will never be an issue.
Very warm.
Stable and with good arch support.
Cons
Narrow toe-box.
Not suitable for road running.
Takeaway
These are some of best winter trail running shoes on the market, with an unbeatable combination of ice-worthy traction, durability and warmth.
Inov-8 Arctic Claw 300 Trail Runner
Review: Designed to cope with extreme Ice and winter off-road conditions, the Arctic Claw has unbeatable traction and a durable, water repellent upper.
This is actually a unisex shoe which is uncommon in the running shoe world, so make sure you try before you buy to get the sizing right.
Pros
Tungsten Carbide spikes for reliable traction on ice.
Durable, canvas and leather water repellent upper (though not Gore-Tex).
Comfortable snug fit.
Cons
Not suitable for road running.
Heavy when waterlogged.
Takeaway
Designed for off-road winter running, these shoes have unbeatable traction and a comfortable supportive fit.

La Sportiva Men's Crossover 2.0 GTX Running Shoe
Review: These waterproof mountain running shoes are the high tops of the running world, with built in gaiters to ensure that you're feet stay completely dry.
They have formidable traction and a Gore-Tex lining for breathable waterproofing.
Pros
Excellent traction for snow and ice.
Zippered gaiter protects feet and ankles from snow and water.
Stable, snug and a comfortable fit.
Cons
Not suitable for road running.
Sizing runs small.
Takeaway
For the serious mountain runners who want to feel invincible and protected in the snow, these are the best winter running shoes for mountain runners.
Saucony Men's Peregrine 8 Ice+ Sneaker
Review: This is the Ice version of the extremely popular Peregrine 8 Trail running shoe. The difference is that this version has a waterproof upper and an ice specific outsole.
This is a versatile shoe that copes well with ice but isn't as limiting as studded or spiked shoes.
Pros
Arctic Grip outsole is ideal for icy conditions.
Waterproof Flex shell upper.
Everrun top sole provides cushioning and good energy return.
Cons
Low rise ankle will let a little water in if you splash through any sizable puddles.
Takeaway
These shoes are ideal for keeping your feet warm and dry in icy conditions with incredible traction and waterproof upper. They are among the best trail running shoes for winter.
Salmon Men's Speedcross 4 GTX Trail Running Shoe
Review: Made for serious winter trail running through any amount of mud. These shoes are lined with Gore-Tex and reinforced with a Wet Traction Contragrip outsole.
They are designed to keep your feet dry and cushioned on the trail.
Pros
Well cushioned with EVA foam.
Speedcross lug-pattern on the outsole is designed to cope with the gnarliest of terrain (though it is aimed at mud, not ice – look to the Speedspikes above if ice is your thing).
Gore-Tex Techno fabric upper is flexible, comfortable and waterproof.
Cons
Unsuited to road running.
Outsole wears out a little faster than some shoes.
Takeaway
If mud runs or wet trails are your thing, these are some of the best winter trail running shoes 2019.
Adidas Men's Ultra Boost All Terrain Running Shoe
Review: These cozy shoes are ideal for winter temperatures that aren't too wet and slushy.
The water resistant knit upper extends into a sock like gaiter around the ankle keeping out light rain, splashes or snow while being warm and snug.
Pros
Responsive Boost cushioning.
Rubber outsole provides enough traction for most winter road running bar the most icy surfaces.
Sock-like knit upper is warm and snug while protecting your feet from debris and water.
Cons
Expensive.
May not have enough traction for serious winter running such as on ice or snow.
Takeaway
These are some of the best running shoes for cold weather when running in urban environments.
Hoka One One Men's Speedgoat 2 Running Shoe
Review: The Speedgoat 2 isn't a specific winter shoe, but its fantastic traction and high stack height makes it a decent winter option when worn with warm socks.
This shoe gives a very cushioned, stable ride with enough grip to deal with any trail conditions.
Pros
Vibram MegaGrip outsole with 5mm lugs will provide reliable traction.
Very lightweight while being extremely cushioned.
Upper is made of thick mesh which is actually quite warm despite not being a winter shoe.
Cons
Narrow toe-box so likely only suitable for narrow feet, especially if worn with thick socks.
Takeaway
If you're after a lightweight but well cushioned trail shoe with excellent traction for slippery winter conditions, this is your shoe.
New Balance Men's 910v4 GTX Running Shoe
Review: These trail runners are a slightly heavier duty version of regular New Balance shoes, coming fitted with a rock plate and toe protection, along with Gore-Tex waterproofing and a grippy rubber outsole.
Pros
Available in multiple widths.
Gore-Tex membrane for breathable waterproofing.
Hyrdo Hesion rubber outsole provides good traction.
Cons
Takeaway
This is a versatile trail shoe that will serve you well in the winter months, keeping your feet protected while remaining lightweight and breathable.
Brookes Men's Ghost 11 GTX Running Shoe
Review: The Ghost 11 GTX is a neutral shoe with a 12mm drop and a solid amount of cushioning.
The main difference between this shoe and the standard Ghost which is popular year-round, is the Gore-Tex membrane that's been added.
Pros
Lightweight for a winter shoe, will feel more like a summer running shoe.
Well cushioned and comfortable.
Waterproof and breathable Gore-Tex membrane.
Cons
Traction may not be enough for slippery surfaces.
Takeaway
If you love the Ghost but want a little extra protection for the winter, this could be the shoe for you.
Adidas Men's Terrex Agravic GTX Running Shoe
Review: These Adidas shoes are a popular choice for winter road running being waterproof, springy and with great traction.
These are a versatile shoe that could lend themselves to some light winter trail running too, with enough rugged durability and traction to cope with some mud and a bit of ice.
Pros
Continental rubber outsole is durable and grippy.
Springy energy return from the Boost midsole.
Gore-Tex membrane for waterproofing.
Cons
Could be more breathable.
Takeaway
A versatile winter shoe that is waterproof and sturdy with enough traction for the handling the road and trail in winter conditions.
Women's Winter Running Shoes…
La Sportiva Women's Tempesta GTX Running Shoe
Review: This women's technical trail running shoe is well suited to all winter weather conditions, being waterproof, with excellent traction and yet being lightweight and comfortable.
Pros
Lightweight and flexible.
Gore-Tex weather proofing.
Aggressive lugs for reliable traction in snow and mud.
Integrated tongue helps with waterproofing and warmth.
Cons
Takeaway
This is the shoe to go for if want all the rugged durability and weather proofing of a trail running shoe but without the weight and stiffness.
These could be the best winter running shoes for women.
Asics Women's GT 2000 2 GTX Running Shoe
Review: Asics have taken the reliable GT 2000 and given it a winter makeover by adding a Gore-Tex membrane and stepping the traction up a notch.
They remain a great choice for over-pronators, providing all of the necessary arch support and comfortable cushioning.
Pros
Waterproof and breathable Gore-Tex membrane.
Good traction.
Reliable stability and arch support for those who need it.
Cons
Takeaway
This is a great option if you usually run in the GT 2000 and want a slightly, warmer, waterproof winter option. Among the best women's cold weather running shoes.
Altra Women's Lone Peak 3.5 Running Shoe
Review: These are the zero drop shoes of the trail running world that will keep your feet dry and protected through the winter.
With a quick drying mesh upper and drainage holes, these shoes are an alternative to Gore-Tex, helping your feet to stay dry by not trapping water.
Pros
Foot shaped toe-box provides plenty of room for toe splay.
4 point gaiter trap technology and stone guard help to keep the insides free of debris.
MacTrac Rubber with Trail Claw outsole provides plenty of traction.
Well cushioned with dual layer EVA foam.
Cons
Takeaway
These shoes provide a great minimalist alternative to waterproof winter shoes, if you're looking for something fast drying with excellent traction that will still protect your feet from debris.
Brookes Women's Cascadia 13 GTX Running Shoe
Review: These neutral waterproof trail running shoes are the winter-proofed version of the regular Cascadias.
They have a Gore-Tex membrane and a 3D printed rubber mud guard making them well suited to wet and boggy trail runs.
Pros
Aggressive multi-directional grip will cope with slippery surfaces.
BioMoGo DNA midsole provides supportive cushioning.
EVA Ballistic rock shield between mid and outsole protects feet from rocks and sharp objects.
Cons
Low rise will allow water in at the ankle.
Takeaway
These are the ideal shoe for those looking for a neutral, waterproof trail running shoe with good traction. They are some of the best women's winter running shoes.
ON-Running Women's Cloudrunner Winter Running Shoe
Review: These are the winterized version of ON's Cloudrunners, holding on to the springy, lightweight cushioning we love about ON, while adding a waterproof and insulated upper with a little more traction.
Pros
Waterproof and insulated for warm, dry feet.
Grippy rubber outsole.
Very well cushioned and comfortable.
Cons
Not suited to trail running.
Takeaway
Ideal for urban winter runs, this shoe will keep your feet cozy, warm and dry while also being well cushioned.
Nike Women's Air Zoom Pegasus 35 Shield Running Shoe
Review: The Pegasus 35 Shield is the weather proof version of the very popular Pegasus model, with a water repellent upper and grippy outsole.
Pros
Water repellent finish.
Full length foam midsole for comfortable cushioning.
Reflective upper for safer running at night.
More durable overall than the regular Pegasus with extra traction added to the outsole.
Cons
Not enough traction for serious snow and ice running.
Takeaway
These are the best Nike running shoes for winter, being warm, water repellent and with good traction that is well suited to damp road running.
Vibram Women's FiveFingers Lontra Running Shoe
Review: These are the winterized version of the classic FiveFinger running shoes that took the minimalist world by storm.
They have a micro-pile fleece liner that helps to keep your feet cozy and warm while the neoprene heel cuff keeps out water and debris.
Pros
4mm midsole gives a little more protection from sharp objects on the trail.
Insulated laminate upper is waterproof.
High ankle rise protects against splashes and rain from getting inside.
Cons
Possibly not enough traction for really slippery ice.
Takeaway
These are easily the best winter minimalist running shoes on the market.
But make sure you're already used to running in the barefoot style before you clock up too many miles in these shoes!
Icebug Women's Aurora BUGrip Running Shoe
Review: This is a lightweight, sleek running shoe with impressive traction by Swedish company, Icebug. The studs are designed to keep you balanced and stable while running on snow and ice.
Pros
Lightweight and well cushioned.
Durable ripstop nylon upper.
TPU weather shield provides water resistance.
Studded outsole for reliable traction on ice.
Cons
Low rise ankle will let in some water if you splash through a puddle.
Studs make them unsuitable for road running.
Takeaway
For the serious snow and ice runners, these are the best shoes if you're looking for fail-safe traction in a lightweight package.

How to Choose the Best Running Shoes for Winter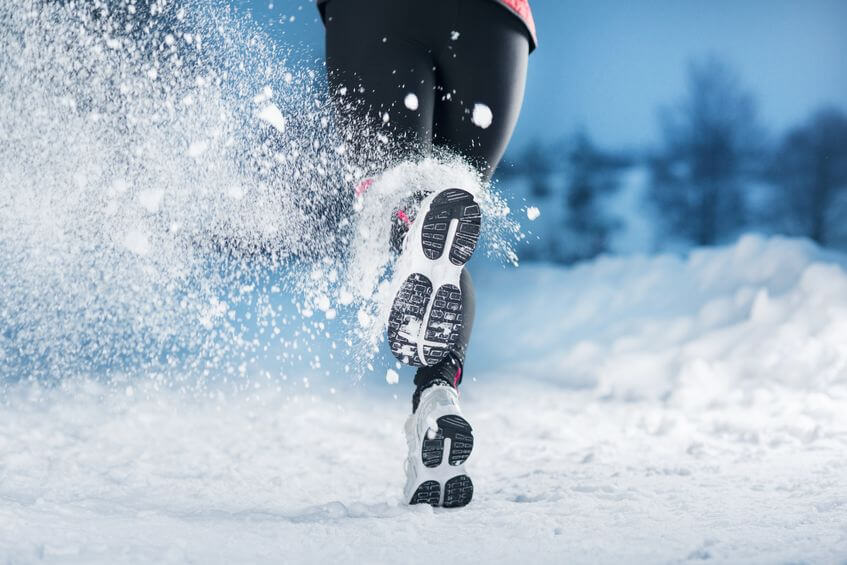 First, we need to think about what the difference is between winter and summer running shoes.
Otherwise, why not just wear the same shoes all year round?
Well, you can, strictly speaking.
But, you'll be less comfortable, and depending on the sorts of surfaces you'd like to run on, less safe.
Regular running shoes just don't have the traction necessary to keep you safe on icy surfaces. They're also likely to be less durable when getting wet every day, and colder too!
Some things will remain important in your running shoe regardless of the season.
For example, the right support for your foot type and the right heel-toe drop for your running style should not change with the season (unless you're actively trying to transition towards a barefoot running style – in which case, a slipper winter probably isn't the best time to do this).
So what does change?
What makes a good winter running shoe? Read on to find out!
Traction
The one thing that is absolutely non-negotiable when it comes to winter running shoes is traction.
The best kind of traction for ice includes the use of studs and spikes. But you'll also want decent traction when running on wet roads (think: rubber outsole) and muddy trails (think: multidirectional lugs).
So, now we can agree that it's not a winter running shoe unless it's got plenty of traction.
What else?
Waterproofing is the Next Thing to Consider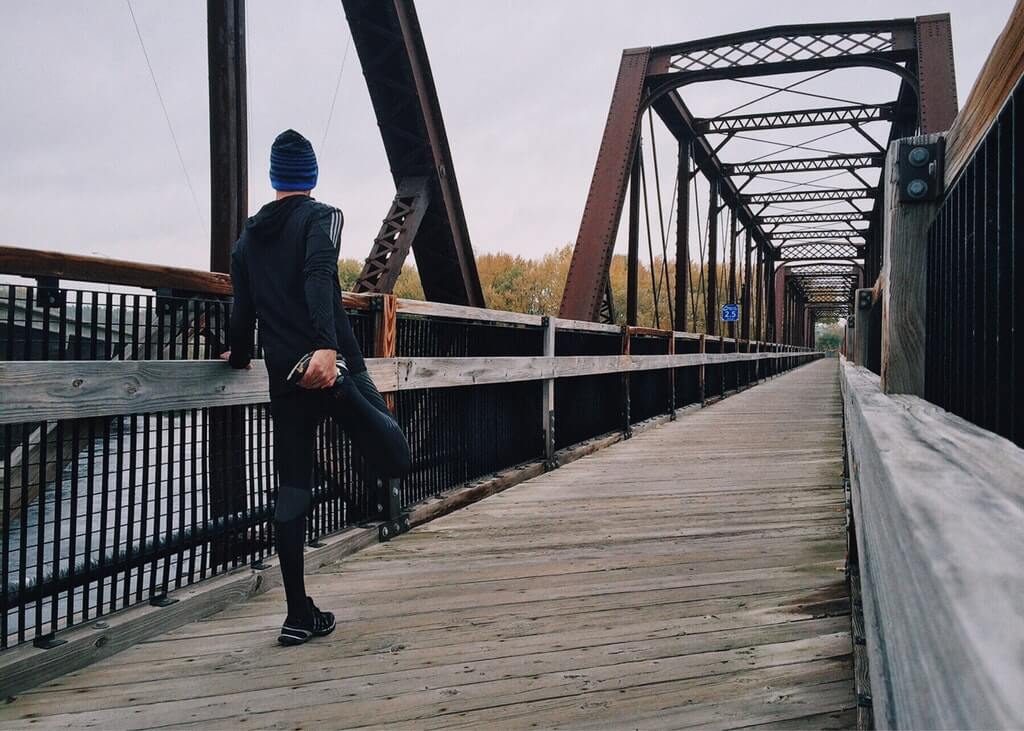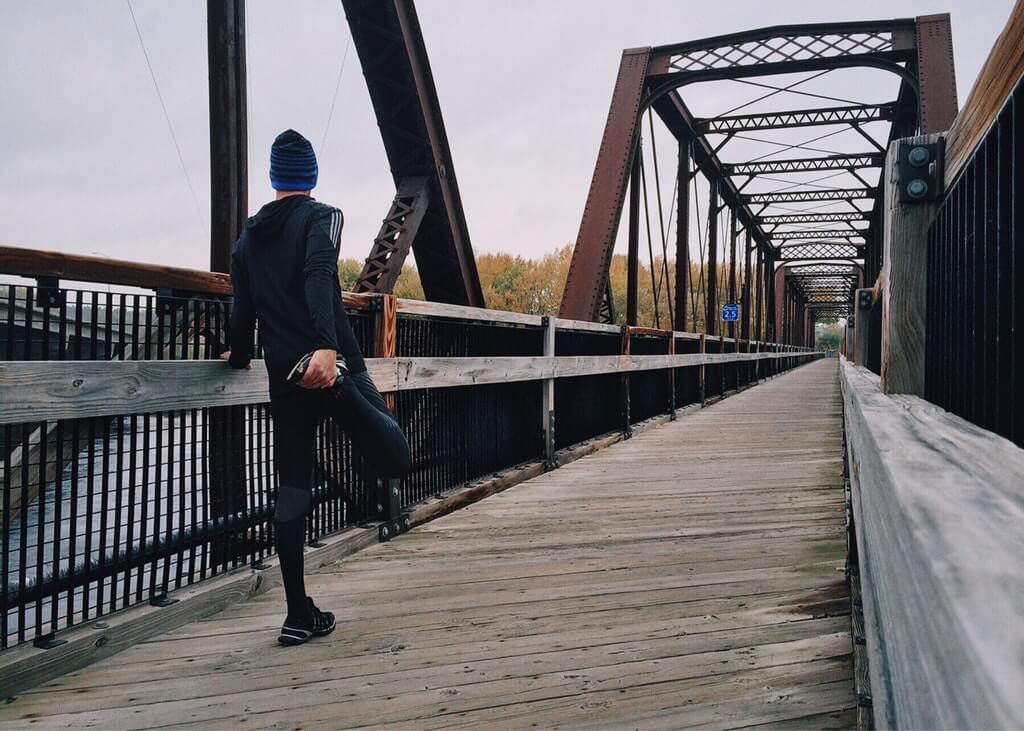 However, how to achieve a waterproof winter running shoe is not as clear cut as it may seem.
After all, we all know what happens when you run through a puddle that goes over the top of your shoe: Your shoe fills up with water and you spend the rest of your run sloshing around with wet feet.
Unfortunately, if you like jumping in puddles, it doesn't really matter whether your shoe is waterproof or not.
But there are things we can do to help minimize the sloshing.
Many winter running shoes on the market include a Gore-Tex membrane, chosen for its superior breathability and waterproofing.
The purpose of Gore-Tex is to keep you dry by allowing your sweat the chance to escape, while keeping water out.
But this is only going to be useful if you're not running in torrential rain or through deep puddles that will fill your shoes regardless of what they're made out of.
Also, the downside of most Gore-Tex running shoes is that once they get wet, they take a very long time to dry out, and they will hold onto the water inside your shoe, keeping your feet wetter than they would have been in regular mesh uppers.
So, how to optimize the right amount of warmth and waterproofing depends on the type of conditions you'll be exposed to.
What might work for a someone running through the endless snow and below freezing temperatures of a Canadian winter could be quite different from someone dealing with endless rain and deep puddles, or whether that's cold and a little damp.
Similarly, winter trail shoes are going to be quite different from winter road shoes.
If you're mostly going to be running through snow and ice, Gore-Tex is a fantastic option that will definitely help to keep you warmer and dryer than you otherwise would be.
If you're going to be running through drizzle and cold grey weather but think you can avoid the puddles in favor of keeping your feet dry, Gore-Tex will help here too.
However, if you're going to be slogging it through downpours and splashing through deeper puddles or streams, you may be better off going for a quick drying shoe with a mesh upper that allows good drainage, and just making peace with having wet feet while you run.
At least you know that you won't be waiting weeks for your shoes to dry once you get home!
Another way to counter wet feet, is to wear gaiters, or choose shoes with built in gaiters, or higher cuffs around the ankle.
However, if this isn't your style, Gore-Tex socks could also serve to help keep your feet dry even after your shoes get wet.
Next on the List of Things to Look Out for is Insulation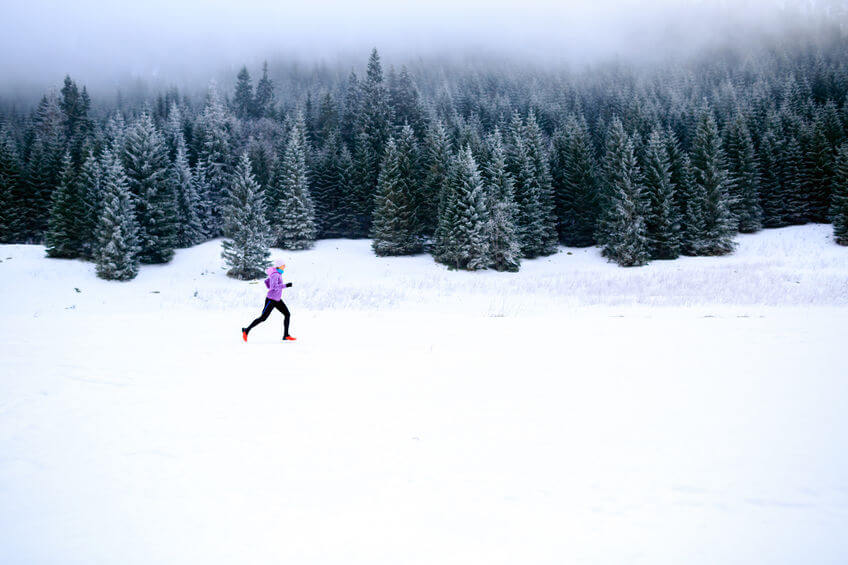 Yes, you can just wear thick socks. This can be a great option.
But it may not always be enough.
Obviously, if you're going the route of quick drying mesh shoes, insulation isn't going to be part of the package. This is where Gore-Tex socks would come into play.
But, if you're running through below zero temperatures and encountering more snow than rain, well-insulated shoes with a breathable inner liner will go a long way towards keeping your feet comfortable and warm.
Finally, comfort, comfort, comfort!
There is no point in spending ages looking for a shoe that fulfills all of the above criteria if it's not comfortable!
Remember, always, always try your shoes on before you buy them and take them for a little jog up and down an aisle of the store to feel for the right amount of snugness in the fit.
Pay attention to the heel cup as you definitely don't want a sloppy fit when running in slippery conditions.
To summarise, the best running shoes for winter weather will have significantly increased traction, a little more insulation for keeping warm and some water resistance or a Gore-Tex membrane.
Provided you've made sure to choose the right kind of support for your foot, and the right heel-toe drop for your running shoes, looking for these 3 characteristics should stand you in good stead.
There is definitely something on the list above for everyone, whether you're hitting the mountain trails, running on icy roads, or through muddy forests, you won't go wrong using this list as your starting point.
And finally, be sure to subscribe to our newsletter for more helpful articles!