TOP 13 Best CrossFit and Gym Workout Timers Reviewed 2023
Ready? Set. Go!
Are you still propping up your smartphone to time your CrossFit or interval workouts?
Take your CrossFit home gym to the next level with a dedicated CrossFit interval workout timer.
Here are 13 of the best workout timers for your home or garage gym. Plus what you should look out for before you buy.
TOP 13 Gym Timer Clocks of 2023
Rogue Echo Gym Timer - Best Gym Timer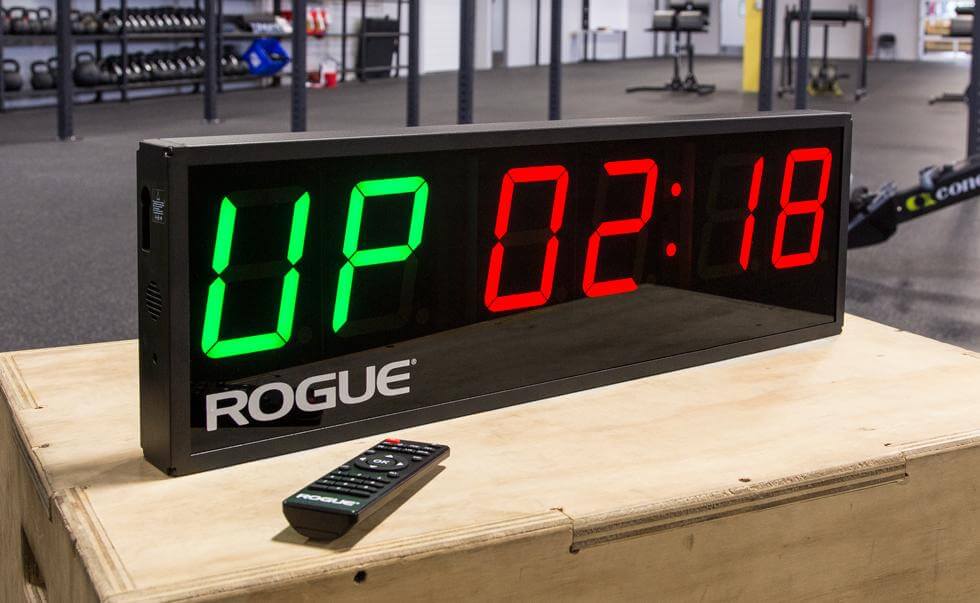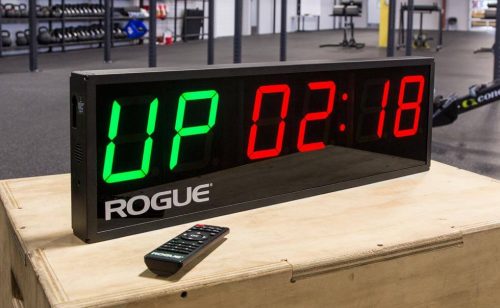 Review: This handsome Rogue CrossFit gym timer is the best gym timers on the market. Its crystal clear LED display, 4 inch high numbers, easy to use remote, complete programmability and preset programs make it a pleasure to work with.
This gym timer can be wall mounted or used with a stand.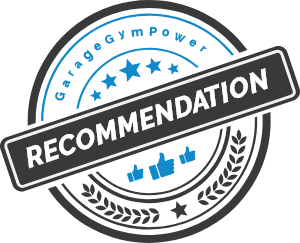 Pros
Clear vibrant display with 4-inch high numbers.
Preset Tabata timer, plus other preset CrossFit timers.
Displays time in red and rounds in green.
Incudes remote.
Cons
Takeaway
High quality Rogue CrossFit clock timer that will not disappoint.
Flex Timer Home Edition CrossFit Timer - Premium Choice
Sale
GymNext Flex Timer - Home Edition - Bluetooth App-Controlled Wall Mounted 13" LED Gym Clock with Medium 2.3" Digits for CrossFit, Tabata, HIIT, EMOM, MMA, Boxing, Interval Training, Circuits, Workouts
[GREAT FOR ALL GYMS AND WORKOUTS] - Use the Flex Timer in your home gym, garage gym, CrossFit box, commercial/chain gym, high school, team workout facility, boxing or MMA studio, and so much more. With 11 main timer modes (including Standard Count Up/Down, Round, Interval, Tabata, EMOM, Work-to-Rest Ratio, Multi-Segment, and Laps/Stopwatch) and various sizes of crystal clear LED displays, there is a Flex Timer for everyone!
[UNMATCHED IN CUSTOMIZABILITY] - The Flex Timer allows for extreme personalization so you can fine-tune the settings to your personal needs by changing the length of your rest or work intervals, the number of intervals, programming additional rest periods, repeating common structures, and much more. The Flex Timer goes above and beyond the competition so you can too.
[SIMPLE TO USE APP] - Connect quickly and reliably to your Flex Timer via Bluetooth with almost any iOS or Android device. Quickly choose a recently-used timer, an old favorite, or select a pre-made workout and customize it to your needs. Our customers rave about the ease of use and reliable connection that let's them focus on their workout and not the timer.
[SYNCS WITH YOUR BLUETOOTH SPEAKERS] - Your interval cues can be played through your speakers alongside your music. The Flex Timer will automatically fade your music in and out so that you don't miss your interval cue and can get back to working out. Or, simply use the built-in buzzer to stay on top of your workout.
[LINK YOUR FLEX TIMERS TOGETHER] - The Flex Timer app wirelessly synchronizes the timer across multiple Flex Timer displays. Great for competition timing, larger gyms, or gyms with multiple rooms. Additionally, you can cast your timer onto a TV monitor using ChromeCast or AppleTV.
Review: The Flex Timer Gym clock for home use has a bright 2.3"display. See Flex gym version for a larger display and louder speaker.
You can sync this wall timer to your Bluetooth or external speakers so your music fades at the end of each round.
If you have a large gym or box and use more than one clock, these clocks can be synced to run together, a feature many other interval wall timers don't have.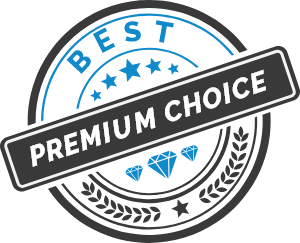 Pros
Can sync multiple clocks for the same time-ideal for large box or gyms.
Can be set up with Bluetooth speakers to fade music at the end of each round.
Can set the clock to display your heart rate, a great feature for home gyms.
Control the timer from smartwatch or smartphone – no remote to mess with.
Clear LOUD 85 dB alarm.
Cons
Can only use one phone at a time to control the timer.
Takeaway
This feature rich CrossFit clock is one of the best gym timers for your home gym.
BTBSIGN Programmable Timer for Gym and CrossFit - Editors Choice
BTBSIGN Workout Timer Wall Interval Clock Count Down/Up Stopwatch with Remote (2.3inch Blue and Red)
Interval timing - You can set several groups of training time and rest time.Like 4 Times 1 minutes Training and 30 seconds rest;Remote control's battery: 2XAAA
Set as this: F1 01:00 C1 00:30; F2 01:00 C2 00:30; F3 01:00 C3 00:30; F4 01:00 C4 00:30
Countdown Clock - It also can countdown anytime to zero like countdown 1 hour to 0 or 15minutes to 0
Stopwatch counts up to 99 minutes, 59 seconds and hundredths of seconds
Tabata Boxing - 40 secs for exercise then 20 secs for rest and repeat two times. Setting: (F1 00:40 C1 00:20; C-C - 02) 1st step: press "digit 1" button to interval timing mode, timer show "P1". 2nd step: press " F-A" button and input 00 40, press "enter" to save 3rd step: press "C-U" button, and input 00 20, press "enter" to save 4th step: press "EXIT" key to set repeat times.Input 02 and then press "enter" to save all the setting. Final step: press "START" key begin to run
Review: This budget priced wall CrossFit timer is a great buy for the home gym. You can program up to 9 intervals of any length, to use with Tabata, CrossFit, MMA or whatever sport you play.
The LED display is large and bright enough for a home gym with 2.3" letters and red for time with a blue/green that counts rounds.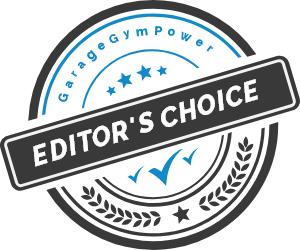 Pros
Can set up to 9 intervals.
Can count down and up.
Has a handy remote to start the timer.
2.3" high numbers.
Cons
Beeper/buzzer alarm is not very loud.
Takeaway
Best CrossFit timer for the home gym at an affordable price.
Gymboss Portable CrossFit and Tabata Timer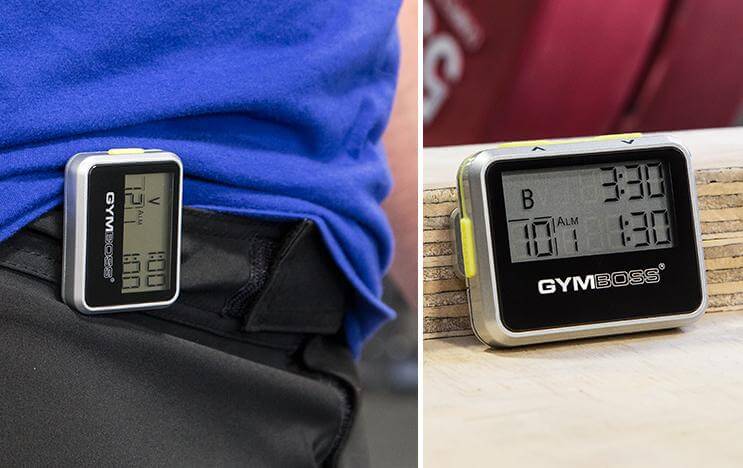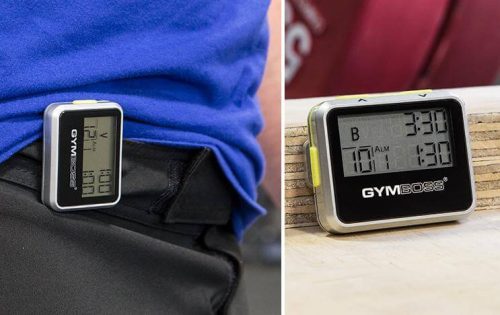 Review: The Gymboss is a small portable gym interval timer. It can be set for one or two intervals that repeat up to 99 times. It is great for Tabata and CrossFit drills.
It is conveniently battery operated with a long battery life. The Gymboss is water resistant, plus it has a vibrate alarm option notifies you even in noisy environments.
Pros
Counts intervals, stopwatch and countdown.
Small enough to carry in your pocket.
Water resistant.
Can be set to beep or vibrate.
Cons
Easy to lose due to size.
Takeaway
Best portable small gym timer clock for keeping track of intervals.
TITLE Platinum Professional Fight & Gym Timer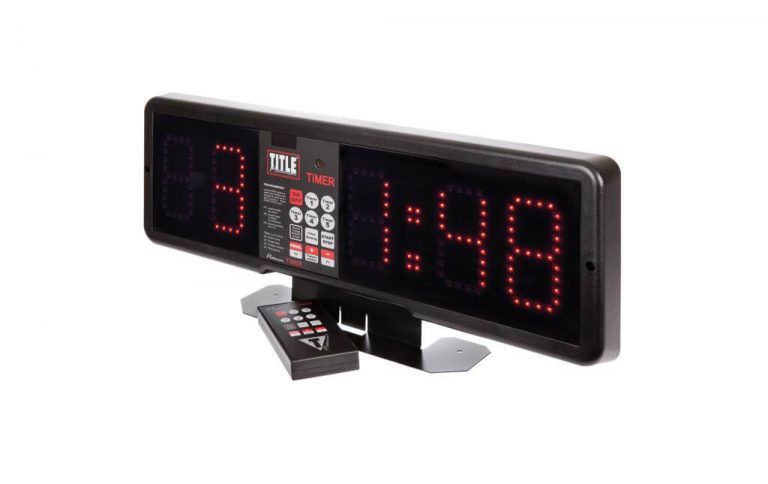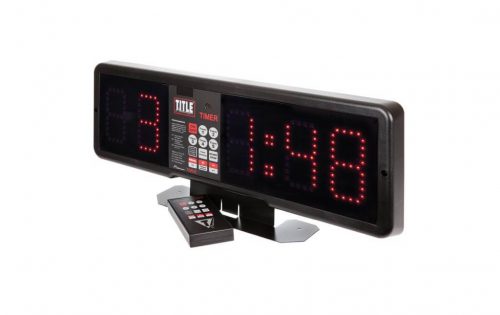 Review: This Title platinum timer has a large bright display, continues for up to 99 intervals, and has a loud buzzing indicator perfect for noisy environments and larger gyms or CrossFit boxes.
It has a hand remote that works from up to 50 feet away, plus, one of the best features of the timer are the on unit controls so you can use the timer without the remote.
Pros
Buttons and controls on the actual clock or use remote.
Can set up to 99 intervals.
Large 4" numbers.
LOUD buzzer.
Cons
Takeaway
The only workout gym timer with button controls of the timer itself.
HongHao GYM CrossFit LED Interval Timer
Review: This large bright wall timer gym clock has 4 inch high numbers that can be seen from a distance, a remote to easily control the clock, settings for Tabata and CrossFit, and a manual that shows you just how to program your own custom intervals easily.
All at an affordable price.
Pros
4" High numbers.
Counts rounds and timer intervals.
Preset for Tabata.
Includes remote.
Cons
Takeaway
Huge bright display, great for a home gym or as a CrossFit interval wall timer for a home box.
Pellor High Fitness Training Timer
PELLOR Fitness Training Gym Timer, Interval Timer Clock with Remote Control Indoor for Crossfit, Tabata, EMOM, MMA (2.3" Digits Height)
⏲️ Visible to Everyone ⏲️: With the large LED display and loud buzzer of the PELLOR interval timer, you'll know exactly how much work you've put in and how much work you have left. This professional-grade workout timer is perfect for your home or commercial gym. You can set the proper pace to maximize the benefits you get from your training with our Fitness Training Gym Timer.
⏲️ Customizable Multi-function Timer ⏲️: Our gym training timer has 5 different timer modes (Interval timer mode, count-up mode, countdown mode, stopwatch mode and real-time clock mode). Normal time with 12 and 24 hours in hours and minutes. Count down/up in minutes and seconds. Stop being hampered by the lack of interval options your clock can support.
⏲️ Pre-programmed Interval Timer ⏲️: Our timer comes preprogrammed timer settings. Save up to 10 preset workout times, and can assign your preferences to each shortcut key. Such as Tabata button: store 20seconds work time and 10seconds rest time, Repeat 8 times, say you want to assign your Tabata training to shortcut key P1, next time you can just press the number 1, you can quickly access your Tabata training.
⏲️ EASY TO USE ⏲️: Our fitness timer equipped with remote control for easy operation, remote control allows it to be operated conveniently even hang on the wall. The remote control can control the timer within 5 meters. When you use it, try to point the remote to the IR signal receiver so that the timer can respond to remote smoothly. The closer to the timer, the smooth the remote can be to the timer. CR2025 Battery for remote control is included.
⏲️ Great for All GYMS ⏲️: Our home fitness training timers work perfectly in many different settings, eg. Home gyms, weight rooms, Rec Centers, Health Clubs, Schools, etc. Remote control distance: 5M/16.5ft. Power work area 110-250V AC. Great for CrossFit, TBABA,7-minute workouts, fitness boot camps, and other interval training.
Review: This wall clock will give you a great bang for your buck. The numbers are just 2 inches high, but the display is very bright and the clock is programmable for Tabata, MMA, HIIT and other intervals.
This is a great wall timer clock for a home gym at a price you will love.
Pros
Budget price.
2 inch high numbers.
Bright display.
Cons
Timer does not come with a manual, but one can be found online.
Takeaway
Best workout timer clock for the price.
Rogue Echo Two Sided Timer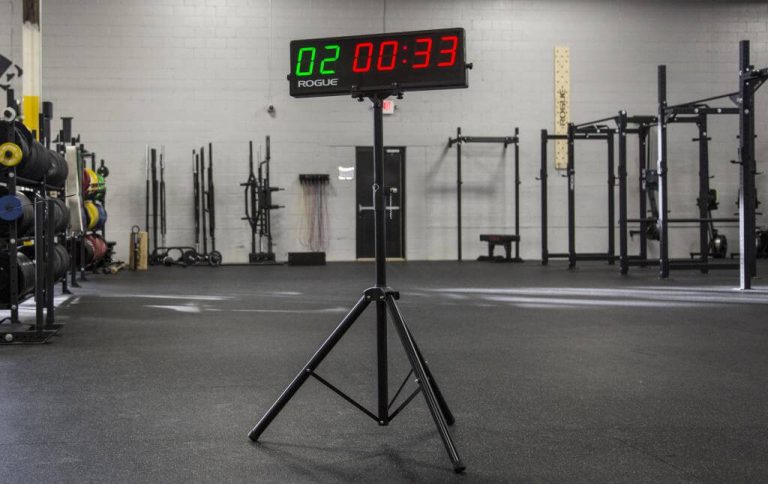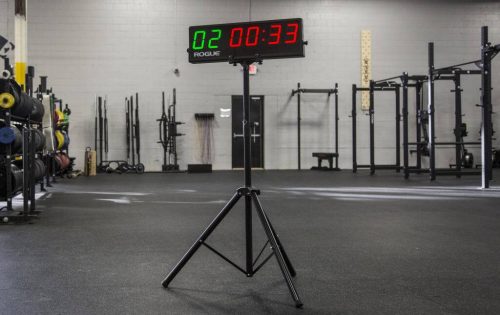 Review: This bright, clear, high quality CrossFit wall timer is perfect for a group gym class or CrossFit box.
The 4 inch high numbers are displayed on both sides of the clock and are bright and large enough for everyone to see.
Pros
Two sided display, great for large groups.
4" High Numbers.
Preset interval timers plus timer is completely programmable.
Can be used with a stand, sold separately.
Cons
The beeper sound needs to be louder.
Takeaway
This two sided Gym clock is the best CrossFit clock for groups.
Eu 6 Digits Interval Timer
Review: This smaller gym clock for CrossFit is perfect for a home gym. It has everything you need for your garage gym or home CrossFit box, including a clear display, remote, and the ability to program your own intervals.
The price is one of the best workout timers I have seen and for a small home gym on a budget, this would be my choice.
Pros
Very Affordable price.
Clear bright display.
Programmable – has remote.
Cons
Buzzer is not very loud.
Complicated to operate-read and keep the manual.
iHeartSynergee LED CrossFit Interval Wall Timer
Synergee 28" Workout Interval Timer. Programmable Wall Mounted Interval Timer. Gym Timer with Wireless Remote. Tabata EMOTM Stopwatch Count Up/Down MMA Clock.
★ PROFESSIONAL-GRADE DISPLAY ★ - The Synergee Premium Interval Wall Timer presents a crystal-clear LED and high contrast display. This professional-grade workout timer is perfect for your home or commercial gym. The bright red and blue numbers are easy to see from all corners of your workout space. The ticking numbers are awesome for timing rounds, rest, or for making you haul @$$ to beat your time cap!
★ PREPROGRAMMED & CUSTOMIZABLE ★ – This timer comes preprogrammed with the most utilized timer settings: 10 and 20 minute Tabata; 10 or 20 min EMOM; and Count up/Down. We know from our experience as gym owners and trainers which functions are necessary for you! Every function is totally customizable to time the exact rounds, minutes, and seconds your training requires.
★ EXCLUSIVE EMOM FEATURE ★ – "Every Minute On the Minute" or EMOM routines are perfect for getting your heart rate up, scheduling rest, and skill practice. Our timer will beep at second 57, 58, 59 and then hold a long beep on every minute to clearly notify you when the next round begins. You can customize the duration of your EMOM or use the preprogrammed 10 or 20-minute EMOM.
★ WHAT'S IN THE PACKAGE ★ – The Large Synergee Premium Interval Timer is wall mounted and measures 28" x 6". Each Timer comes with one remote (batteries not included) with a 60 ft range; an easy-to-read instruction manual is available on the manufacturer website. The volume is 80-85 decibels.
★ NO SWEAT GUARANTEE ★ – Leave the sweating and swearing for your training! Buying from Synergee means quick, hassle-free, and caring customer service! Plus, we offer a better-than-money-back guarantee: if there is an issue with your product for any reason, we will send you a new one quickly and absolutely FREE! 100% Customer Satisfaction is our Number 1 Goal!
Review: This Jumbo sized gym Interval timer has several helpful preprogramed intervals including Tabata and EMOTM, plus it functions as a stopwatch, even counts milliseconds.
Any athlete will appreciate the count up and countdown features and the size make this interval timer a good choice for large spaces.
Pros
Preprogrammed Tabata and EMOTM (Every Min on the Min) intervals.
Works as a stopwatch, counts seconds and milliseconds.
Large clock, spans nearly the width of a doorway.
Cons
Buzzer needs to be a little louder.
Takeaway
Best stopwatch for interval training for the home or garage gym.
AZOOU LED Gym and CrossFit Workout Timer
Sale
Review: The standout feature of the AZOOU gym timer is that it can be seen during daylight and used outside.
The jumbo sized 5 inch numbers and ultra-bright display means it can be seen, even in the light of day.
Pros
5 inch high numbers – very large wall clock interval timer.
Extremely bright, great for an outdoor gym or home CrossFit box outdoors.
Countdown, count up feature.
Cons
Remote does not include battery.
Does not count or time intervals.
Takeaway
The best home or gym race count up/countdown timer for outside.
Muscle Driver No Limits Programmable Interval Timer
Review: This Muscle Driver No Limits Gym Interval Timer has everything your gym needs, including interval timer, stopwatch, count up or down feature, and huge 4 inch high numbers that are clear and easy to see from far away. Displays rounds in blue and time in red.
Pros
Preprogrammed Tabata and EMOTM intervals – also programmable.
4 Inch high numbers.
Count UP count DOWN features.
Stopwatch goes to hundredths of a second.
Buzzer/ alarm is LOUD (but cannot be adjusted, sorry).
Cons
Challenging to program. Here is a link to the No Limits Interval Timer manual.
Takeaway
A useful, bright, large interval gym timer with a LOUD buzzer.
BTB LED Interval Workout Timer - Countdown Stopwatch
1.8'' LED Interval Workout Timer Countdown Stopwatch (Two Blue+Four Red)
FULLY FUNCTIONAL GYM TIMER FOR ALL YOUR FITNESS: This timer is perfect for cycling, running, lifting weights, exercise, workout, stretching, boxing, MMA, martial arts, circuit training, tabata HIIT / HIT, etc
VERSATILE INTERVAL TIMER: With variety of functions 12/24 hours time,countdown, count up, stopwatch, tabata,FGB and customize work time and rest time between sets and number of rounds. Change different modes by the remote control.
HELP YOU TRACK GYM WORKOUTS: This gym timer is flexible and easy to create your own workouts.It allows you to specify the workout time and rest time and number of rounds. For example you can create an 30 seconds work time and 10 seconds rest time and cycle 10 times[ F1 00:30 C1 00:10, C-C-10]. Or create a different intervals 1minute work time with 20 seconds rest, 30 seconds workout time with 10 seconds rest time and cycle 6 times [ F1 01:00 C1 00:20] [ F2 00:30 C2 00:10] [ C-C-06].
FRIENDLY REMINDER GARAGE TIMER: 10 seconds preparation countdown before start. 3, 2, 1 countdown setting to play a beep sound on each second for the last three seconds of each interval
QUICK ACTIONS TABATA AND FGB: The Presets allow you to easily start. You simply hit tabata or FGB key and hit Start key to begin workout. Our timer comes with one year warranty and please contact us to get a new one or full refund.
Review: The BTB 1.8 inch Wall Gym Interval Timer is a smaller gym clock, great for home gyms. This compact clock is attractive, counts rounds in blue and time in red, is programmable, and has all the features you need for a garage gym or CrossFit home box.
Pros
Small size, ideal for home gyms.
Counts intervals, acts as Stopwatch, Counts UP and DOWN.
8 inch number height.
Cons
Remote is not long lasting.
Takeaway
Great small workout interval timer for home gyms.
Guide to the Best Gym Clocks, What Keep in Mind Before Buying?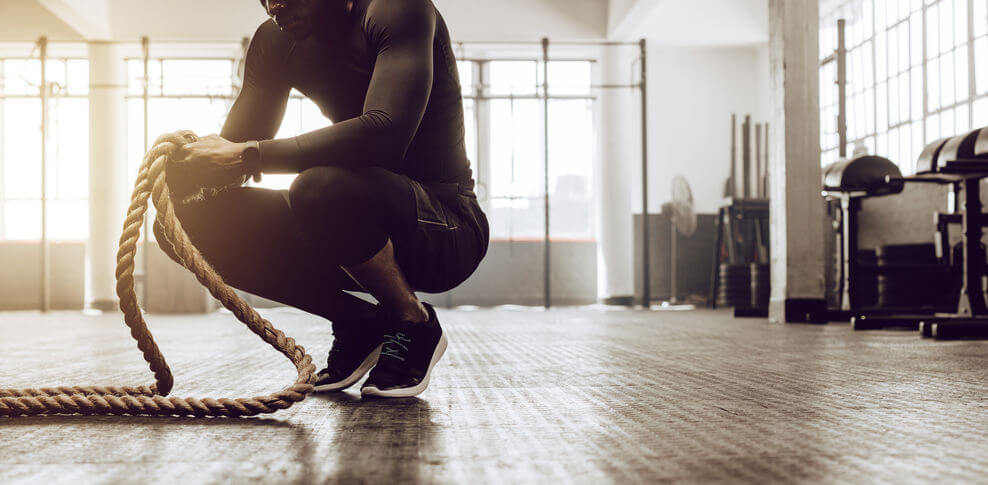 Size
Think about where you are going to put your new gym workout timer. Is it a small home gym, or a large CrossFit box?
A small home gym will get along fine with a timer that has 1.8" numbers, but a CrossFit box or commercial gym will probably do better with a larger wall timer.
Syncing Feature
Large gyms need to consider whether or not they are going to use two or more clocks. Some clocks can sync together to display the exact same time/count etc. Some cannot.
Check for this feature if you need to sync the workout timers. Both Home and Gym edition Flex timers have syncing ability.
Functions
Clock
Most Workout timers work as a clock when not counting down your Tabata routine.
But be aware, there are a few interval timers out there that do not have a clock function, so if you must have this feature- check the specs!
Count UP Count Down
Again, most interval timers have this feature, but better safe than sorry, check the specs before you hit the buy button.
Stopwatch
No doubt, a stopwatch is a great feature, but not all gym timers have this feature.
Also, some stopwatches only count seconds, while the best gym stopwatch timers count seconds and milliseconds.
Preprogrammed Tabata
Several gym timers have preprogrammed Tabata interval to make your life easier. If you plan to use the workout interval timer for Tabata, check to see if it has preprogrammed Tabata.
Both the Rogue Echo Gym Timer and the iHeartSynergee timers have a preprogrammed Tabata interval set up.
EMOTM (Every Minute on the Minute)
Some CrossFit WODs use EMOTH intervals for their interval timing. This is why I love the EMOTM preprogrammed gym workout timers.
The iHeartSynergee and the No Limits Muscle Driver Gym interval timers have EMOTM intervals already set up in their systems.
FGB (Fight Gone Bad)
Fight Gone Bad is a popular CrossFit WOD and some timers have the intervals set up in their programming already.
Remote
Most timers also come with a remote.
However…
Not all remotes are created equal. Some have a range of 10 feet, while other remotes allow you to start the intervals from over 50 feet away.
This is a case where you need to consider the size of your gym before you decide on the best gym wall interval timer.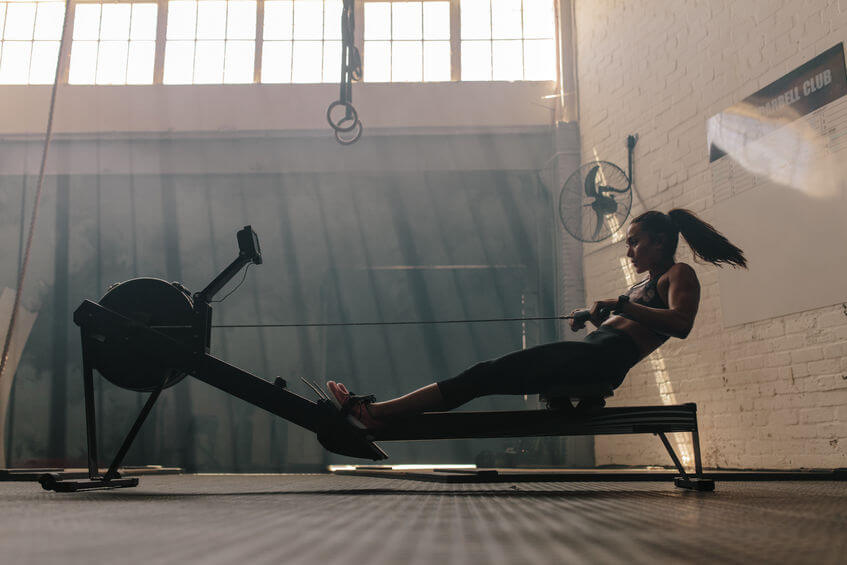 Wall or stand Mount?
Where are you planning to put the interval timer?
Out of the way of the Wall ball wall I hope!
Wherever you decide to mount the timer, just know that most mounts to a wall, and a few have the ability to mount to a stand that can be placed in the center of a room.
Just think about how you plan to use the timer before you decide what the best gym workout timer is.
Beeper-Buzzer-Alarm sound
The number one complaint against wall interval timers in general is the buzzer or alarm is not loud enough to hear over music or in a noisy gym.
A few models like the Muscle Driver No Limits and the Title Platinum Pro Interval Timer are known for having LOUD alarms, so if you have a loud gym or listen to music full blast, check out how loud the buzzer is on your gym timer.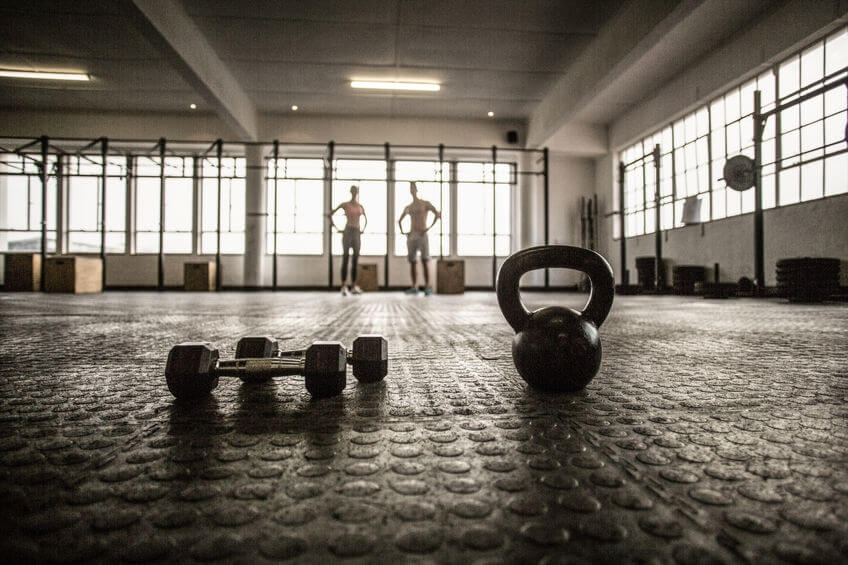 Is an Interval Gym Timer Really Worth it?
Gym timers are a great addition to your home gym or CrossFit box. Having a dedicated interval timer means no fumbling around with your smartphone trying to prop it up to see it.
Most gym workout timers, even small ones, are easier to see than a display on your phone. Plus, they don't interfere with whatever else you have going on with your phone.
You can run Spotify, Pandora or a workout tracker on your smartphone, and have the workout timer to do its job, instead of putting everything on your phone.
Plus, it's just handy to have a clock you can easily see, that you don't need to unlock every time you want to see what time it is.
Also, Gym Interval timers just look cool.
Is that not reason enough to get one?
Creating a dedicated and official workout space helps get your head in the game, and a wall timer helps create that "workout time" atmosphere in your home gym.
So, as you can see, there are many great workout interval timers on the market to choose from.
Editors Picks
My personal favorites for best workout timers are iHeartSynergee for the functionality, The Flex Gym Home edition because it has an 85 decibel beeper and lots of presets, the TITLE Platinum timer because it is loud and has controls on the timer itself, The Rogue Echo Timer because it is good looking and long lasting, and the No limits Muscle Driver because, again, it is large, has great features and has a loud buzzer.
I hope you find the workout interval timer that is the perfect fit for your gym.
Don't forget to sign up for the newsletter. We only need your email address to set up your subscription.
In return, we will send along access to exclusive guides and content no available to others.