TOP 10 Best Compression Running Shorts for Men & Women Reviewed 2023
Looking to add the benefits of compression to your running attire but not keen on going the whole way with tights?
You've come to the right place!
Compression shorts are a convenient alternative to tights for hot weather or if you want to focus the benefits on your upper leg area.
This article lists the 10 best compression running shorts out there right now and then answers your questions about the why and how.
Top 10 Best Compression Shorts for Running 2023
2XU Men's MCS Run Compression Shorts
2XU Mens MCS Compression Run Shorts Black/Gold Reflective XL
80% Nylon / 20% Elastane (Invista LYCRA)
Imported
MCS (Muscle-Containment-Stamping) applies run-specific targeted compression to quads for reduced mucle fatigue and greater stability
The only graduated compression technology proven to improve performance and speed recovery
This item is made of our PWX (Power-Weight-Flex) signature fabric that provides an unparalleled combination of powerful compression, lightweight feel and maximum flexibility
Review: These high-quality compression shorts from 2XU are made specifically with running in mind, supporting the muscles as they move through their paces.
They are the ideal length, reaching down to just above the knee and completely supporting the quads and hammies.
They're made of thin but dense material so you can't see through them even when they're stretched, and the multi-direction stretch provides support and protection from vibrations for your muscles.
Pros
Made of 2XUs Power-Weight-Flex fabric.
Moisture-wicking.
Convenient zip pocket for a key.
Muscle Containment Stamping (MCS) focuses on quads for running.
Flat elasticated waistband.
Cons
Takeaway
These are the best compression shorts for running of 2023. If you're looking for firm compression without feeling like you're wearing anything – these are your shorts.
2XU Men's Core Compression Shorts
2XU Core Compression Shorts, Black/Silver, Small
The only graduated compression technology Proven to improve performance and speed recovery
This item is made of our PWX (power-weight-flex) signature fabric that provides an unparalleled combination of powerful compression, lightweight feel and maximum flexibility
Drawstring elastic waistband for secure and comfortable fit
Moisture wicking technology to keep you dry and flatlock seams for chafe-prevention
UPF 50+ Sun protection;
Review: Similar to the Core Compression Shorts above but designed for a wider range of sports than exclusively for running, these shorts are still an excellent choice and provide a very similar compression.
They are designed to be worn during medium to high impact activity which makes them perfect for runners who also enjoy CrossFit or HIIT training.
They're lightweight and thin but designed to be worn by themselves, and their moisture-wicking technology and flatlock seams will have you leaving any thoughts of chafing far behind.
Pros
Made of 2XUs Power-Weight-Flex fabric.
Moisture-wicking.
SPF50 sun protection.
Thin but designed as outerwear.
Draw-string closure.
Cons
Takeaway
If you don't mind the price and you're looking for a versatile pair of compression shorts that will outlast their competitors, 2XUs Core Compression Shorts are your shorts.
Adidas Men's Alphaskin Shorts
adidas Men's Alphaskin Sport Short Tights Black Large
Compression fit moulds to the body for a supportive feel and helps reduce muscle vibration
Alphaskin wraps the body to support dynamic movement and delivers a locked-in feel
Soft non-restrictive elastic waistband; Short length
Review: These Adidas shorts are a great option for slightly less compression if you'd like something supportive but not too intense. The light compression is well suited to either recovery wear or for use during training.
They're just thick enough to be worn on their own but can also work well underneath your running shorts, and they come in at a reasonably affordable price too.
Pros
Suitable to be worn as outer shorts.
Wide elastic waistband.
Supportive compression.
Quick-drying and breathable.
Cons
Takeaway
Comfortable with light compression, these shorts a good choice for protection against chafing and keeping everything contained.
Under Armour Men's HeatGear Shorts
Review: Under Armour's compression shorts come very highly rated as some of the best men's compression shorts for running.
They don't reach quite as far down the thigh as the 2XU shorts which is a drawback, but aside from that, they are good quality.
Pros
Designed to fit like a second skin.
Better worn under gym shorts.
Anti-odor.
Sweat-wicking material.
Wide, elasticated waistband.
Cons
Might not be enough compression.
Takeaway
These are a great pair of shorts to wear underneath your regular running shorts to prevent chafing and provide light compression.
TSLA Men's Compression Shorts
Review: These TSLA shorts are an affordable option to be worn as underwear under your running shorts. They're primarily designed to prevent chafing and keep everything in place for the boys, but they do provide a good amount of compression for such affordable shorts.
What's great about these shorts is that you can actually customize the level of compression a little by either selecting your regular size (a good amount of compression) or a size up (less compression).
Pros
Affordable.
Good quality for the price.
Moisture-wicking and quick-drying material.
Wide range of color options.
Cons
None at this price point.
Takeaway
These are an excellent value set of compression shorts that make it easy to choose the level of compression you want by either sizing up or down.
Silkworld Men's Compression Shorts
SILKWORLD Men's Compression Shorts Pockets Sports Running Tight (Small, Navy(Grey Stripe)/(Pack of 1))
Sports compression short tights was made of excellent elasticity fabric enhances range of motion with max comfort and lightweight
Skin friendly and durable design. Flatlock seams add softness and protection without skin chafing and irritation
3.Comfort fit. Fashion elastic letters waistband is comfortable and anti-slippery, these running tight shorts can relieves muscle soreness and keep you in good shape to continue exercising, cool dry and breathable
SILKWORLD Athletic Compression Shorts protect your skin from the sun, stay cool and dry
Great workout shorts for running, training, gym, cycling and so on. If you want to experience more compression to skin tight, please order 1 size down than normally wear
Review: These shorts are another option for customizing compression by sizing down.
They also have a phone pocket which is ideal for running if you're not a fan of armbands, and overall they're made of good quality material that is comfortable and provides a nice amount of compression (provided you size down).
Pros
Flat lock seams.
Wide elasticated waistband.
Good compression achieved by sizing down.
Handy phone pocket.
Cons
Sizing runs a little large.
Waistband may start to curl after multiple washes.
Takeaway
These are good compression shorts for running if you're keen for an affordable option with a phone pocket.
Neleus Men's Compression Shorts
Sale
NELEUS Men's 3 Pack Sport Running Compression Shorts,6012,Black,Red Stripe,Green Stripe,US M,EU L
Check the size chart of the third picture to select the appropriate size
Streamlined made of soft,lightweight fabric,tight Fitting,like a second skin; Moisture Wicking/ Quick time Dry/ TWO-WAY Air Circulation;
Non abrasion fabric material with excellent elasticity and durability
Compression short in four-way stretch fabrication featuring logo waistband
Suitable for all seasons (training, baseball, basketball, soccer, American football, Squat, weight training, cycle, yoga, rashguard, skiing, snowboarding, all weather sports)
Review: This pack of 3 compression shorts is a bargain for runners looking for a little compression to wear under their regular shorts.
The fact that some people treat them like regular underwear does make you wonder about the level of compression. But, they're comfortable, so whatever works for you!
Pros
Excellent value as a 3 pack.
Quick-drying and moisture-wicking.
Flat seams are comfortable against the skin.
Cons
Sizing runs small.
May not be enough compression for serious runners.
Takeaway
These are a good budget friendly option for runners looking for a little support under their running shorts.
CW-X Women's Stabilyx Ventilator Shorts
Review: Coming in at a significantly higher price point but arguably worth it, CW-X's compression shorts are some of the best.
They are made specifically for compression rather than being tight shorts with a side effect of compression. The shape of the panels are designed specifically to support the major muscle groups, protecting from vibration and encouraging blood flow.
They are also made of cooling material that wicks away sweat, and they protect against harmful UV rays.
Pros
Coolmax fabric is moisture wicking and cooling.
Long length provides maximum compression for thighs.
Flat seams.
Drawstring provides an extra secure fit.
Support Web panels provide targeted compression for muscle groups.
Cons
Takeaway
If you don't mind the price, these are some of the best quality compression shorts for women on the market.
Baleaf Women's Compression Shorts
BALEAF Women's 7" Compression Yoga Long Shorts Spandex with Pocket Workout Running Black Size M
Engineered with functional fabric, these versatile, breathable and lightweight shorts are designed to wick away moisture and dry quickly for added comfort while you train
Wide elastic waistband provides a comfortable, natural fit
Back pocket is available for small items, like keys, bank card, etc.
Reflective elements for high visibility in low light
Designed without pad for a variety of training activities, specially white color is perfect for wearing under sport skirts or shorts like tennis, basketball to cut down on chafing all day
Review: These are a popular pair of compression shorts that are well-designed for running. They provide a good amount of compression with no need to size down, and they stay in place, not riding up.
The waistband is really wide, there is a convenient pocket for small items like keys or gels, and the moisture-wicking material is perfect for protecting against chafing.
Pros
Durable – will survive many washes.
Good length for compression.
Small pocket for keys or bank card.
Quick-drying and moisture-wicking.
Cons
As should be expected, the white option is not as modest.
Takeaway
These are some of the best compression running shorts for women at this price point.
Nike Women's Pro Dri-FIT Compression Shorts
NIKE Women's Pro 3" Training Shorts, Black/White, Medium
Innovative fabric helps keep you cool when the action heats up
Side seams trace your natural shape for optimal movement
Body-skimming fit makes this short an ideal base layer
Flat elastic waistband offers a smooth fit that stays in place
Swoosh design trademark is screen printed on the left hem
Review: These are short compression shorts meaning you only get the benefit of compression in your buttocks. If that's the muscle group you're primarily using then these are a great option.
But it seems most gals end up buying them for reasons other than compression, namely to protect against chafing.
They are worn as outer shorts rather than a base layer, and despite being short, they don't move around or ride up while you run which is a massive plus!
Pros
Moisture wicking Dri-FIT fabric.
Wide, flat elastic waistband.
They don't ride up.
Comfortable.
Triangular gusset for freedom of movement.
Cons
Too short to provide any compression for your thighs.
Sizing runs small.
Takeaway
These are comfortable short shorts offering light compression for your runs.
If you're not sold on compression, we have an excellent list of the best workout leggings for women so you'll be sure to find your ideal running attire without having to compromise.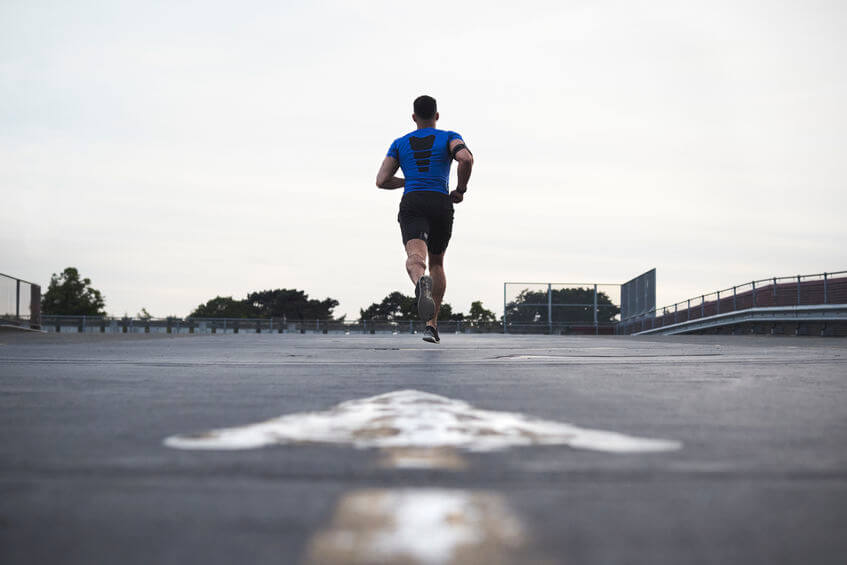 Why Wear Compression Shorts?
That's the big question!
And, to be honest, the science isn't definitive on how much compression actually helps with running.
But, the consensus seems to be that the increased circulation encouraged by compression results in faster return of oxygenated blood and clearing of lactic acid.
The support provided by compression clothing also reduces the intensity of vibrations experienced by high impact sports like running, reducing recovery time for the muscles.
As a result, some claim that wearing compression shorts or leggings while you run will slow muscle fatigue and allow you to run for longer.
This is a big claim and one that isn't backed up by any science. But, there does seem to be a cumulative effect of wearing compression clothing for running, resulting in improved recovery over time.
And that can only be a good thing, right?
Then you get the other benefits of protection against chafing and the cooling effect of moisture-wicking fabric.
All in all, they seem like a pretty good deal.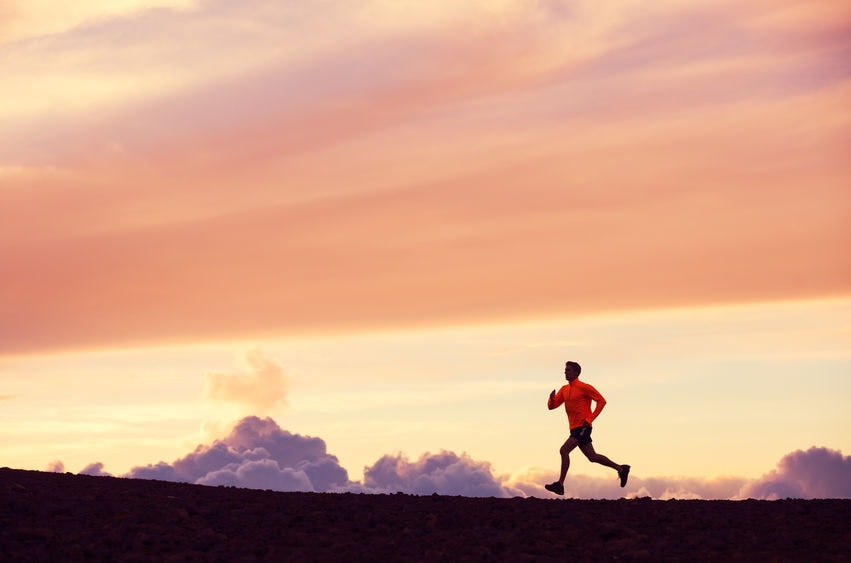 Factors to Look For
Not all compression shorts were made equally.
Some are designed with compression as their primary focus with contoured panels designed to target compression on specific muscles. Others are just tight shorts that give a more generalized light squeeze depending on the size you choose.
Have a think about these factors when making your decision:
Level of Compression
In other words – how tight they are.
This decides whether they're designed to be worn for longer periods of time during recovery, or whether they should only be worn for shorter periods of time while exercising.
(Tighter = during your runs only. Less tight = can be worn for longer periods when recovering.)
Length
Ideally, for optimum benefit, you want your shorts to reach just above the knee so that they can fully enclose and support the full length of your quads and hamstrings.
The shorter the shorts, the less compression you're getting.
Secure Fit
With shorts, this isn't something you'd immediately think about. But, they're designed to be stretchy, so unless they're well designed, they could end up riding up your legs and becoming short-shorts before you've even completed the warm-up.
Under vs Outer
That's right, not all compression shorts are designed to be worn by themselves. Some are best suited to being worn as a base layer underneath your regular running shorts.
If you're looking for aerodynamics, you'll need to make sure you choose a pair that are designed to be worn as outerwear.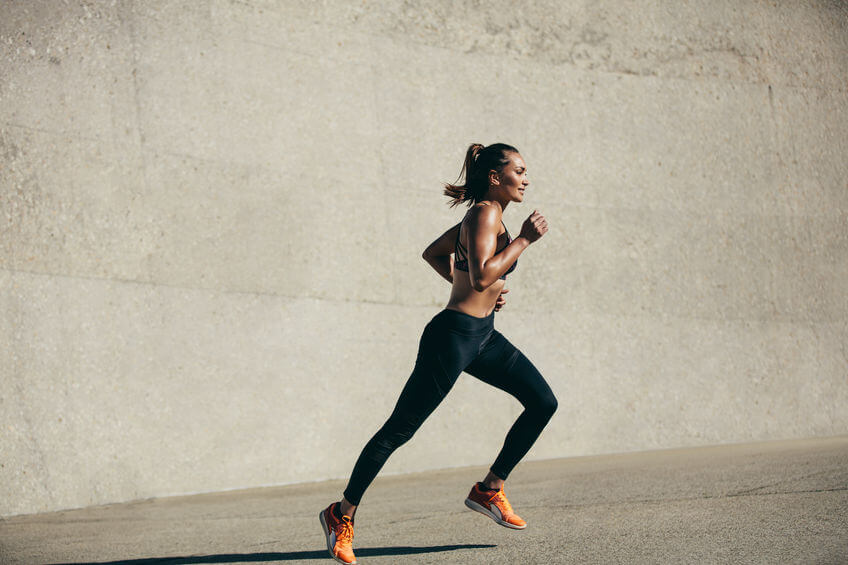 Shorts vs Tights
This is an interesting question as the answer combines a bit of science, aesthetics and personal preference.
Without over-generalizing, I would go as far as saying that shorts seem to be more popular with men and tights with the ladies… but the preferences extend beyond gender.
The Blood Flow Factor
Since part of the purpose of compression clothing is to support the movement of blood through the muscles, ideally back to the heart, it follows that shorts have the potential to encourage more blood flow downwards towards the feet, while not necessarily helping it to travel back up again.
It's common to see marathon runners wearing compression socks that reach up to the knee, or sleeves for their calves.
Both provide the benefits of compression while helping to overcome the downward pull of gravity that can result in swelling in the lower limbs.
So, it's not that there won't be any benefits to compression shorts, but that you're restricting the benefits to the muscle groups in your thighs and buttocks without supporting your lower legs, and arguably, it could be the lower legs that need the support more when you're running.
The Comfort Factor
The main reason people will choose shorts over tights is if they tend to get too hot in tights and prefer to let their legs breathe.
Alternatively, it may be that part of the reason for wearing skin-tight shorts is in order to prevent chafing between the thighs, in which case, tights aren't necessary.
The Injury Factor
If part of the reason you're choosing compression clothing is to support an injured muscle, or prevent injury in an injury-prone muscle group, then it makes sense that the style of clothing you choose will match the area needing compression.
If you're only looking to support the hips, buttocks or thighs, then you only need shorts.
As you can see, there are few things to consider in the shorts versus tights debate, not least the 'look' you prefer. But if you think after this that tights might be what you're after, have a read of our compression tights article before you make any decisions.
On the other hand, if you a lady reading this and you think conventional running shorts might be more your thing rather than compression shorts, check out our list of the best running shorts for women here.
FAQs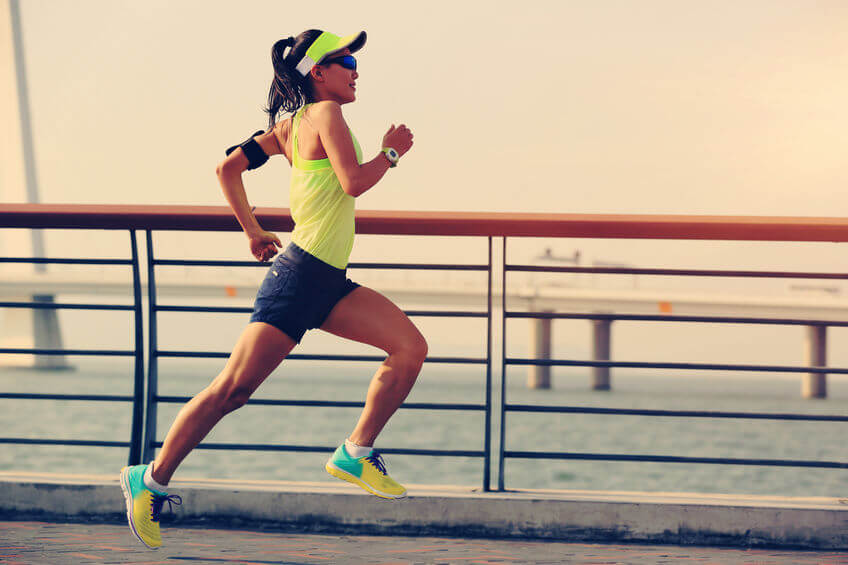 Are Compression Shorts Good for Running?
There isn't a huge amount of science to back up the benefits of compression shorts for running. But they definitely don't do any harm, and proponents believe that they experience improved recovery, so, why not?
How Tight are Compression Shorts Supposed to be?
Put it this way, you shouldn't feel any tingling or numbness in your extremities! They should be tight enough that you can feel a light squeeze and feel nicely contained, but not so tight that you feel any circulation being cut off.
Overall, they should be comfortable.
What are the Best Compression Shorts for Running?
2XU and CW-X make some of the best compression shorts for running, designed specifically with targeted support on the main muscle groups.
How to Wear Compression Shorts for Running?
Men tend to wear compression shorts as underwear, underneath their regular running shorts, unless they're racing and looking for aerodynamics. Ladies tend to wear shorts as outerwear.
What do Compression Shorts do for Guys?
Compression shorts provide the same benefits of compression to main muscle groups in the buttocks and thighs, with the added benefit of keeping everything in place and supported while you run, reducing friction and chafing.
Is it Bad to Sleep in Compression Shorts?
This depends on how tight they are. If they're just a light compression, then no it's not bad, you might even benefit from the recovery.
But generally speaking, it's better to avoid sleeping in compression shorts and let everything breathe!
So, what do you think? Are you sold on the best compression running shorts?
No pressure! (Pun intended) We have plenty of other options available if compression shorts aren't your thing, from the best workout shorts for ladies to all the best workout gear for both men and women, there'll be something that works for you.
And remember, subscribe to our newsletter and NEVER tumble dry your compression clothing!